Leica R Lenses to Sony E Lens Mount Adapter K&F Concept M21101 Lens Adapter
To
United States
Expedited Shipping
3-5
business days
K&F M21101 Leica R Lenses to Sony E Lens Mount Adapter Allow Leica R mount lenses used on Sony E NEX/Alpha camera body.

KF06.074

SKU:

KF06.074

21.99

https://www.kentfaith.com/KF06.074_leica-r-to-sony-nex-e-mount-adapter
Description
* Allow Leica R mount lenses used on Sony E NEX/Alpha camera body.
* Compatible with Sony E NEX/Alpha camera includes: Sony NEX-3, NEX-3C, NEX-3N, NEX-5, NEX-5C, NEX-5N, NEX-5R, NEX-5T, NEX-6, NEX-7, NEX-C3, NEX-F3, NEX-VG10, a7, a7R, a9, a3000, a3500, a5000, a5100, a6000, a6300, a6500, a7S, a7 II, a7S II, a7R II, a7R III etc.
* Made of brass and aluminum. Stable,precise and durable construction.Manually operated.Infinity focus allowed.
* For heavy medium format lenses, we suggest to use with a telephoto bracket and a tripod to balance its weight when shoot.
* 30 Days No Reason Return,12 months quality guarantee,100% satisfaction assurance.
Shipping
To
United States
Expedited Shipping
3-5
business days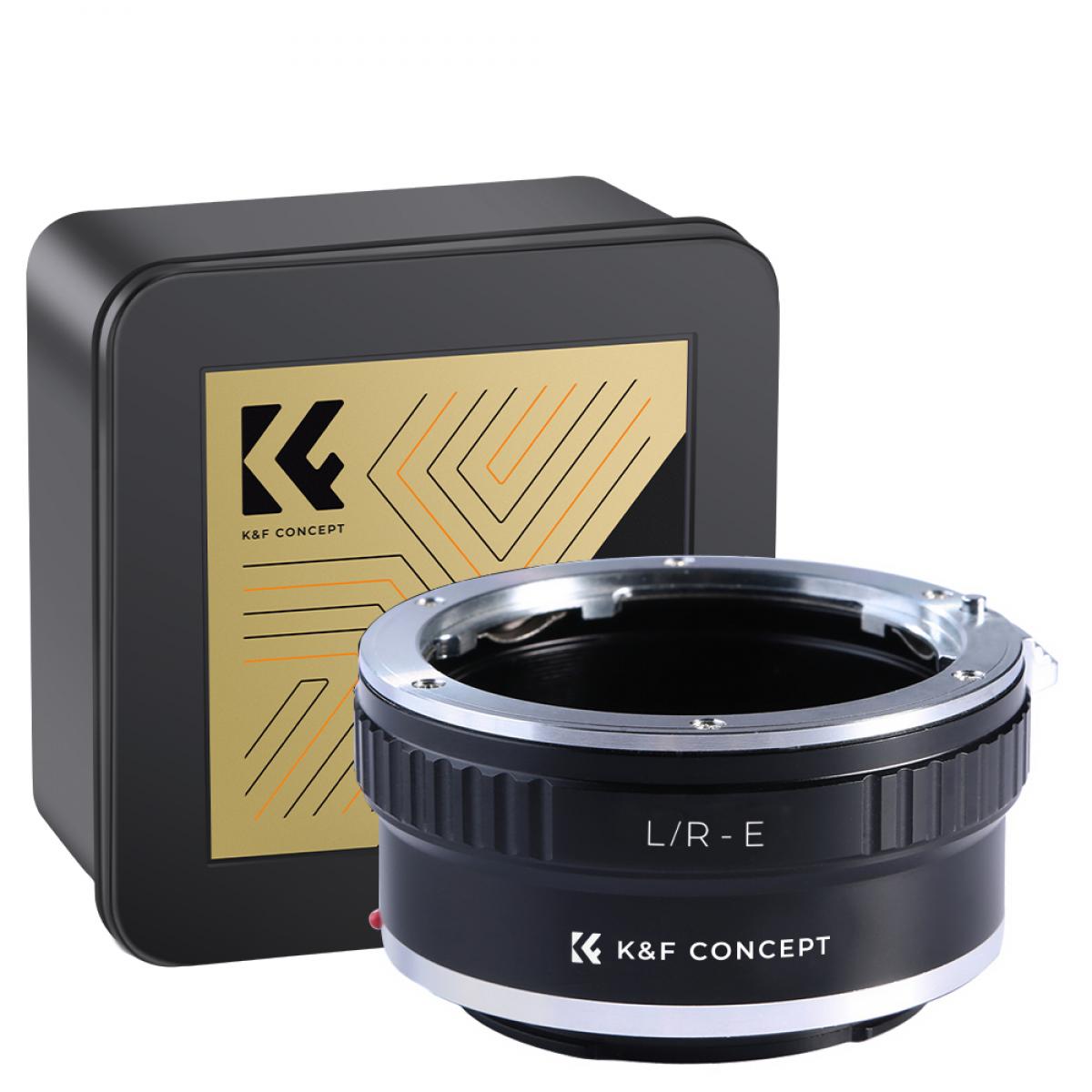 K&F Concept design and produce full range of lens adapters to fit lenses of Canon, Nikon, Pentax, Olympus, Leica, Contax Yashica, Minolta, Tamron, T2, C mount, Exakta, M39, M42, Pentacon etc used on Camera bodies of Canon, Nikon, Sony, Fujifilm, Pentax, Micro 4 3, Leica, M42, Cinema C mount etc.

All Reviews
Image

All Star

5 Star

4 Star

3 Star

2 Star

1 Star
Poor Stray Light Control
This is not flocked at all. You need to paint the inside matte black or line with adhesive felt to diffuse light in the adapter or you loose all contrast and get a washed out image especially if there is a bright light source.As for quality this adapter is solid. Turn the lens until it clicks into place, otherwise it will fall off.
12/10/2020
Good budget adapter
Good fit to lens, good value, but I was spoiled by the smaller K&F adapter for Leica M, which fit perfectly on both ends. The R adapter has a slight wobble at the camera end when usd with a heavy 180mm lens.
12/08/2018
Excellent value.
Extremely good value for money. Works perfectly.
04/12/2017
does the job fine.
My Leica R to Sony E mount adapater has a little bit movement when turning the focussing ring in either directions. Otherwise, does the job fine.
25/08/2017
Sony E mount camera to Leica R (Bellows)
We live in an age of adapters where legacy lenses and other historical kit can be rescued from obscurity to provide a new lease of life in a digital age. Many if not all of the adapters that I have previously purchased with the exception of Novoflex adapters have had a slight wobble on the lens fitting side but always a good click fit with the E mount.The K&F Concept® Lens Mount Adapter for Leica R Mount to Sony E-Mount provides an excellent fit to both the lens mount and the camera bayonet fitting.This adapter was purchased to be used on Leica R bellows. The Sony E mount camera fitted perfectly to the bellows. This K& F adapter is highly recommended.
08/03/2017
Get what you pay for.
Bought this to adapt for my leica-r to a7ii. It works fine. Built quality is good.What don't like is that its not a tight/snug fit. There is a little bit of wiggle when it's attached to lens and then body. I also have a metabone adapter and it fits perfectly with no play. Then again you have paid $$$ for the metabone. You get what you pay for. Works fine if you don't mine the wiggle/wobble.
30/12/2016
Quality for a giveaway price
Really not much to say about this Leica R to Sony E mount K&F adapter that's not superlativesIt's well made and fits well. A lot of metal in construction.It also works very wellFrankly I don't know how they can make them for this price but who's complaining !!!
30/11/2016
K&F Concept Lens mount adapter for Leica R to Sony E mount for my Sony A6000
I bought the K&F Concept Lens mount adapter for Leica R to Sony E mount for my Sony A6000the fit and finish of this adapter is amazing for the price. I have other adapters for other lens mounts but the K&R beats them all for quality.Easy to attach to my Leica Summacron 50mm F:2 and remove.Solid fit with zero play. If I need any more adapters I will look no further than K&F
22/11/2016
Works well
It works very well with Leica R mount lens to the Sony A6000. Solid build and good quality.
12/05/2016
Excellent adapter and at a reasonable price.
This K&F Leica R to SONY E mount is excellent. The fit on the Leica R- 60 mm Macro Elmarit and of the complex to the new SONY a6300 body are as any of the much "bigger" brand name (and much more expensive) adapters of Leica- R to Sony E mount cameras. There is no warble at all.I strongly recommend it.
18/03/2016
These images belong to KENTFAITH end users.
There are no faqs for this product.
Adapter
Camera
NEX
Lens
L/R
Ring Material