Canon FD Lenses to Sony E Mount Camera Copper Adapter
Buy KENTFAITH canon fd lenses to sony e mount camera copper adapter online, worldwide free shipping and 30 days return guarantee.

KF06.306

SKU:

KF06.306

27.99

https://www.kentfaith.com/USKF06.306_canon-fd-to-sony-nex-e-mount-copper-adapter
Description
* Allow Canon FD FL mount lenses used on Sony E NEX/Alpha camera body.
* Compatible with Sony E NEX/Alpha camera includes: Sony NEX-3, NEX-3C, NEX-3N, NEX-5, NEX-5C, NEX-5N, NEX-5R, NEX-5T, NEX-6, NEX-7, NEX-C3, NEX-F3, NEX-VG10, a7, a7R, a9, a3000, a3500, a5000, a5100, a6000, a6300, a6500, a7S, a7 II, a7S II, a7R II, a7R III etc.
* Made of 100% brass. Stable, precise and durable construction. Manually operated. Infinity focus allowed.
* For heavy medium format lenses, we suggest to use with a telephoto bracket and a tripod to balance its weight when shoot.
* 30 Days No Reason Return, 12 months quality guarantee, 100% satisfaction assurance.
Shipping
Free shipping worldwide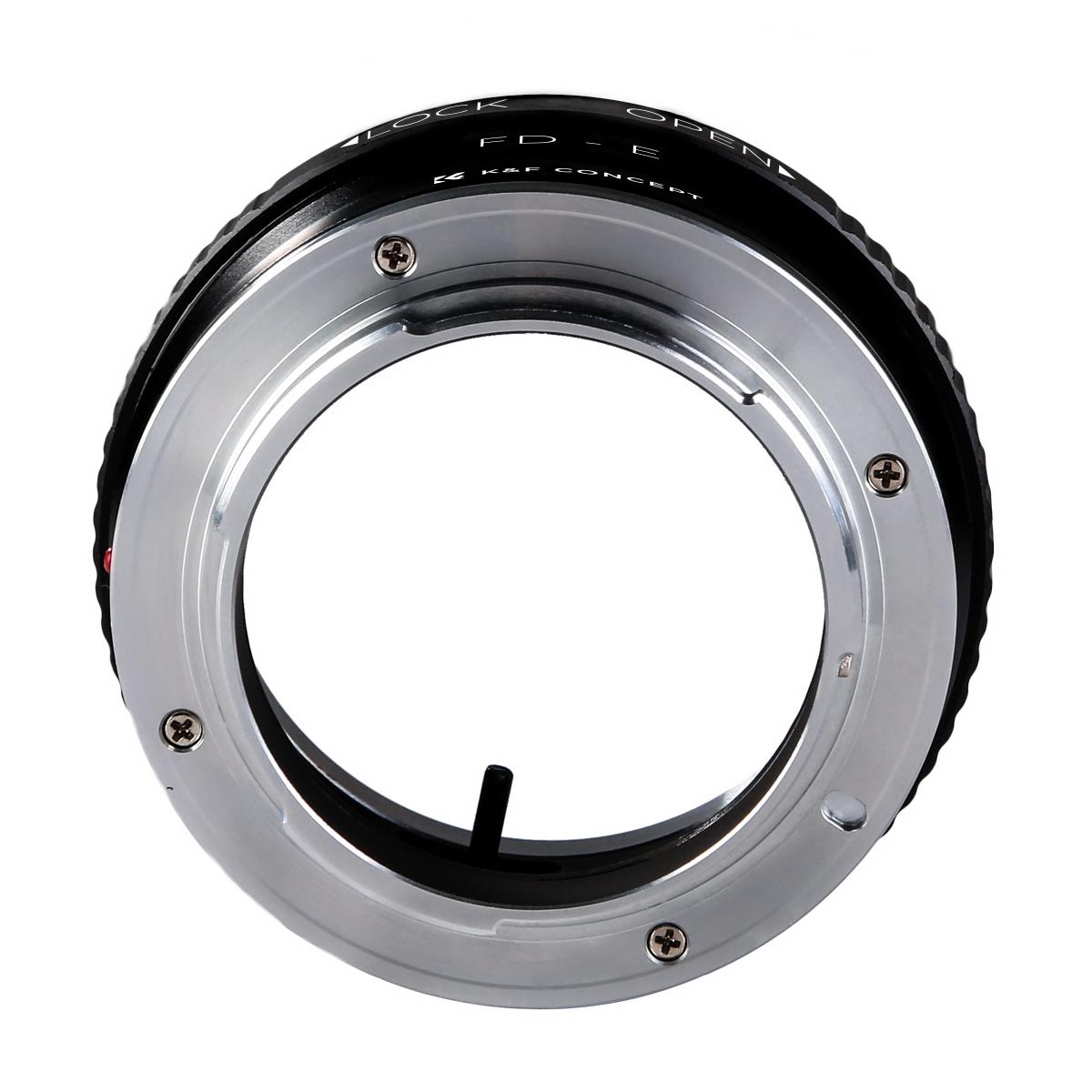 K&F Concept design and produce full range of lens adapters to fit lenses of Canon, Nikon, Pentax, Olympus, Leica, Contax Yashica, Minolta, Tamron, T2, C mount, Exakta, M39, M42, Pentacon etc used on Camera bodies of Canon, Nikon, Sony, Fujifilm, Pentax, Micro 4 3, Leica, M42, Cinema C mount.
All Reviews
Image

All Star

5 Star

4 Star

3 Star

2 Star

1 Star
Good quality
I have found the K&F Concept adapters well made and all mount easily without being too tight or loose. They make 2 different mounts, one cast metal, the other being chromed metal which are the ones I seek.
20/01/2020
I've just received my adapter today and it's working great so far.

Other reviews have pointed out that the OPEN/LOCK dial is a little loose and easily knocked. This can be remedied by tightening the black screw on the outside. I can't see it being much of an issue while shooting, but I have stuck a small piece of tape on just in case.

Otherwise brilliant!
27/12/2019
Significant improvements on the original K&F adaptor
This is the 2nd revision of the K&F adaptor. I also own the first. The 2nd revision is a significant improvement on the already stellar original. The adaptor feels sturdier and a bit heavier (in a good way). the camera mount is now made of chrome and the inside is now coated to prevent internal reflections. The first version is still available for a couple of dollars less but do yourself a favour and get this version.You can tell this version from the original in pictures by the camera side mount which is chrome in the new version and black in the original.
23/12/2018
Great price! Mounts my vintage lens!
Adapted a vintage lens to my Sony A7r3. Wonks as expected for a great price!
15/12/2018
K&F Concept adapters are just the best. They are high quality
K&F Concept adapters are just the best. They are high quality, fit perfectly, built to last and very good value. They are so reasonably priced, I buy one for each of my lenses and keep the K&F adapter on that lens permanently. I can't praise them enough.Michael Sirota
26/05/2018
It works properly
Adapter works perfectly for me. Shipping was fast. Using the Canon FD lens 50mm 1.4 is sweet
24/03/2018
Great Product for the price
The adapter is easy to install and made of good quality
17/03/2018
Gives a new life to good old fine lenses
The K&F Concept Canon FD Sony E-mount adapter is easy to mount. The instructions are simple enough : turn the « Open - Lock » ring towards the « Open » position, mount the lens, and turn the adapter's ring towards the « Lock » position, a nFD lens will click in just like on a camera. Lenses feel very securely mounted. You can check that it is properly mounted by turning its aperture ring, and you should see the diaphragm stopping down.As for use, it's important to know that the adapter allows the lens to focus beyond infinity (which is not a real problem, as not reaching infinity would be). So, if you turn the lens's focusing ring to its infinity mechanical stop, the image will be blurred, and it would take a tremendous amount of stopping-down to regain some focus. Instead, just pull back slightly from the infinity stop, and use any means on the camera to assist in focusing, like « peaking level » and having « focus magnifier » set on one of the custom buttons.Finally, just one weak point of the adapter : the « Open - Lock » ring is close to the lens's aperture ring, and I find it's easy to move it between the Open and Lock position, which could potentially upset the lens's proper stopping-down. Something to keep an eye on. Maybe I'll put a piece of tape on that ring when I do some intensive shooting…Altogether, a very fine piece of equipment, that gives a second life to those good old FD lenses. I'm very happy with it, highly recommended!
24/02/2018
Great Value.
Used this to mount Canon FD manual focus lenses to Sony A7II. It worked very well. Nice tight fit on both lens and camera body. Excellent product. Note manual focus and manual aperture select is required. I believe the reference to "copper" is actually refering to the use of brass material. This is supposed to be the improved Mark II version of K&F,s adaptor.
22/02/2018
Three Stars
i expected the costlier K&F type to fit better. this is a bit loose on the camera side.
03/05/2017
These images belong to KENTFAITH end users.
There are no faqs for this product.
Adapter
Camera
NEX
Lens
FD
Ring Material