60"/1.5m Carbon Fiber Camera Tripod Lightweight Travel Tripod 17.6lbs Load 360° Ball Head for Vlog,Travel & Work DSLR,C225C0+BH-25 (BA225)
To
United States
Expedited Shipping
3-5
business days
K&F Carbon Fiber Tripod BEST SELLER. Free Shipping Worldwide. 30 Day No Reason Return. K&F Concept Carbon Fiber Camera Tripod features an ultra-light carbon fiber tube design. Portable and easy to carry.

KF09.077V2

SKU:

KF09.077V2

115.99

https://www.kentfaith.com/KF09.077V1_kamp-f-ba225-carbon-fiber-tripod-2-section-bottom-axis-aluminum-alloy-triangle-seat-detachable-monopod-reflexable-ball-head-orange-carbon-fiber-kf-25-low-center-of-gravity-head
Description
* 【Lightweight & Portable】K&F Concept C225C0+BH-25 (old model BA225) Carbon Fiber Tripod tube made of quality carbon fiber weighs only 2.20lbs, measures 14" long when folded, super lightweight, and compact with a loading capacity of up to 17.63lbs / 8kg, making it ideal for indoor and outdoor photography.
* 【Convenient & Flexible】22mm tube diameter, 5-section legs with spiral type locking knob allows you to adjust the working height from 18.1" to 60.2" in seconds; Tripod legs can be adjusted in three levels of opening angle to stabilize on varying grounds and incline levels.
* 【Detachable Monopod】This carbon fiber lightweight tripod can be quickly disassembled with the central axis screw and transformed into a monopod, providing an alternative way of shooting with ease.
* 【360°Panorama Ball Head】The specially designed 25mm ball-head can rotate 360° and get free angles, allowing you to get the perfect shot and amazing panorama every time.
* 【High Compatibility】The quick release 1/4" screw of C225C0+BH-25 Carbon Fiber Tripod is suitable for most cameras, DSLR cameras, projectors, telescopes, etc; Your phone can be connected via an extra phone mount as well.
Shipping
To
United States
Expedited Shipping
3-5
business days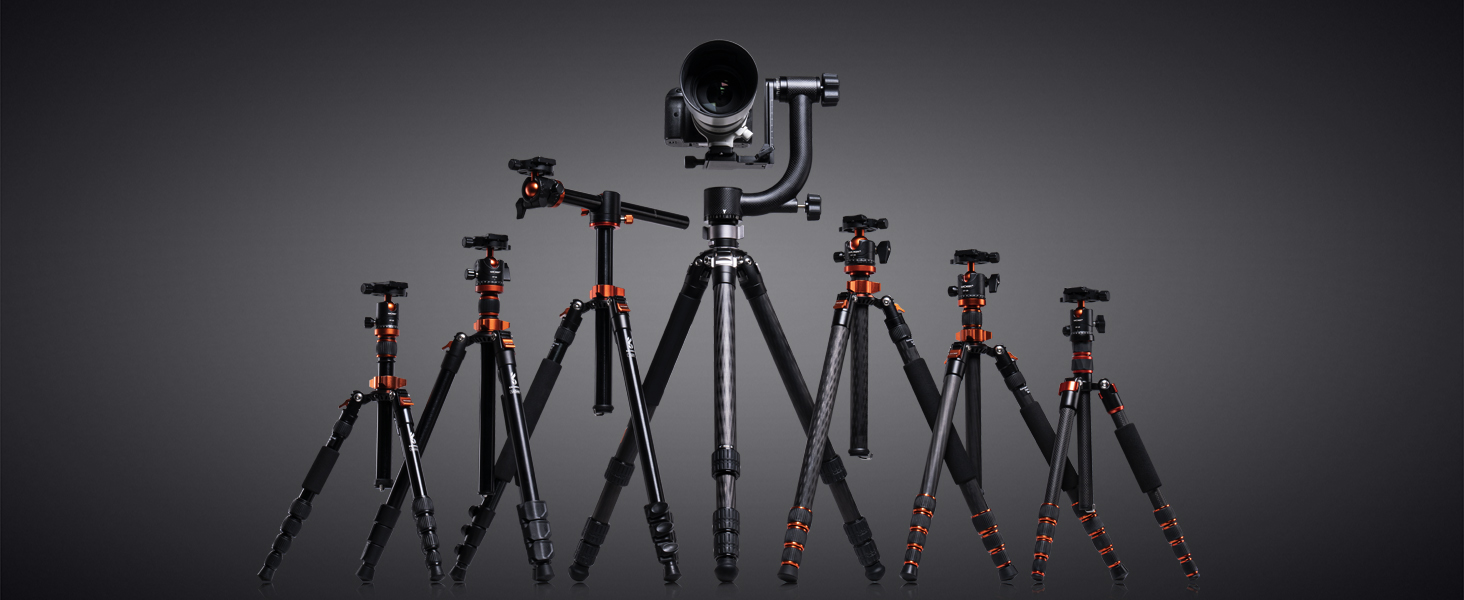 Rating

123 reviews.

75 reviews.

25 reviews.
Price

$189.99

$115.99

$199.99

$148.99

$259.99

$129.99

Model
KF09.077V2
KF09.093
KF09.109

Load Capacity

8kg/17.6lbs
10kg/22.05lbs
10kg/22.05lbs

Maximum Working Height

1520mm/59.84"
1720mm/67.72"
1600mm/63"

Minimum Working Height

460mm/18.11"
530mm/20.87"
535mm/21.06"

Folded Length

350mm/13.78"
420mm/16.54"
410mm/16.14"

Weight

1013g/2.20lbs
1325g/2.92lbs
1346g/2.97lbs

Materials

Carbon Fiber
Carbon Fiber
Carbon Fiber

Leg Lock Type

Twist Lock
Twist Lock
Flip Lock

Leg Diameter

10-22mm/0.39-0.87"
13-25mm/0.51-0.98"
16-25mm/0.63-0.98"
All Reviews
Image

All Star

5 Star

4 Star

3 Star

2 Star

1 Star
Amazingly light, compact and stable.
Even though I read the reviews, I was still surprised by the compact size and weight of this tripod. The components are all quality, it's well made. I'm 6'1" (185cm) tall and use a Pentax K1 with battery grip and 24-70mm f2.8 lens. It's a tall, heavy camera setup. My immediate concern was that the tripod will be too short and if I flip the camera vertically the tripod might fall over. To my surprise, fully extended, the camera viewfinder is almost too high for me. This places the lens over the heads of most people if you're in a crowd and most DSLR cameras have a tiltable LCD screen for viewing anyway. Its also quite stable for its weight. Horizontal or vertical, the camera was in no danger of falling. I wouldn't risk it on a windy day though.

On the ballhead there are 3 separate knobs to lock rotation, ball tilt and camera base plate. All very solid. The baseplate also has a really nice bubble level and a compass that will help you align the tripod to North for astrophotography.

If you're a hiker or traveler, I highly recommend this for the price / performance ratio.
13/08/2023
Compact and Perfect!
This tri-pod is everything you want. Sturdy, carbon fiber, twist lock legs. Fits inside my bag if I want to. A hook for a weight bag. The head feels a little tight not so smooth maybe it has to break in.
11/08/2023
highly recommend!
loving it so replacing my 20 year old tripod w this one; compacts down real nice and is slightly taller that my old one! time will tell how it holds up!!
07/08/2023
Great Tripod
I bought this K&F Concept Carbon Fiber Tripod for my new Sony A7III. It is really light and portable. This tripod meets my need perfectly. The legs also are very easily adjustable with a quick turn and I like the ball head that is really solid made and easy to adjust my camera.I am really recommend the good made and high quality tripod.
05/08/2023
Light-weight, sturdy, carbon tripod
Having spend a fair amount hiking and exploring, I was looking in the market for a lighter weight tripod (i had full-size alloy one ). I find this carbon fiber tripod affordable to buy within my budget. It is Very Light (1005 grams - Verified) so definitely helps for long hiking trips.
All three legs are carbon material which can be adjusted into multiple heights using 4 circular locks on each leg. Each circular lock tightens a leg in clockwise rotation for a particular height and releases the legs to expand in anti-clock rotation. The camera mounts on a plastic made base along with bubble level to align the camera straight. So far I have used this tripod on hiking trip only once and my camera sits without any wiggle on the plastic mount with kit lens, prime lens and telephoto zoom lens.
Each leg has 2 indexing positions which works well for me. My previous tripod had 3 index positions and to be honest, I never really used the middle one so it's not a huge loss for me. The legs extend with a twist-lock mechanism and slides and locks very smoothly, noticeably more smooth than my previous one. I do have a 70-200mm lens and feel I have to be a bit more careful when getting my shots set up because this tripod has a narrower stance than my previous one and with my lens mounted at full extension is a little less stable than I'd like. BUT, given my intended use and how compact and light weight this tripod is, I am very, very satisfied with it.
02/08/2023
This product lives up to it's description
This tripod is exactly what I wanted - super light / bullet proof strong / compact / sleek design = 5 STAR ... I will likely buy a couple more of these.
01/08/2023
Superb and Lightweight Tripod
This is a superbly lightweight and awesomely built tripod, I tried mine as soon as it arrived, k&f really do make some of the best quality items for the money, ideal for travelling due to its mere size, but extends to a height that's perfect for me, I decided to upgrade my tripods for my photography and videography and found that k&f suit my needs, i own a few k&f tripods now and they are perfect for the job, I would recommend these.
31/07/2023
Nice CF tripod
Its a very light tripod (I would say 2.5 lbs at most). It works great with my Nikon mirrorless with a 70 200 mm telephoto lens
30/07/2023
Nikel
Do the taf well, the feet look fragile with the 150 600 tamron g2, I'm not trying to put in the last one with 3kg5. We'll see in time
25/07/2023
Easy to adjust & light weight.
Light weight great for hiking & travel.
24/07/2023
K&F Concept Camera Backpack KF13.096 + Tripod KF09.077V1 | @Fernando pedro salgado
How to assemble center column
How to assemble tripod leg
Tripod General
Load Capacity
8kg/17.6lbs
Maximum Working Height
1520mm/59.84"
Max Height without Center Column
1195mm/47.05"
Minimum Working Height
460mm/18.11"
Folded Length
350mm/13.78"
Weight
1013g/2.20lbs
Materials
Carbon Fiber
Tripod Head
Ball Head
Color
Orange/Black
Bubble Level
Tripod Legs
Leg Lock Type
Twist Lock
Leg Positions
5
Leg Diameter
10-22mm/0.39-0.87"
Feet Features
Can be reversed 180° and folded
Tripod Center Column
Center Column Features
Center Column Inversion
Center Column Sections
2