- 24/7 Heart Rate Monitor & Sleep Tracker: 24/7 Heart Rate Monitor to check your heart rate anytime and get a better understanding of your heart rate trends. Automatic sleep tracks your deep, light and awake sleep patterns, and provides comprehensive sleep quality analysis (deep sleep, light sleep and wake-up time) to help you better understand your health and adjust your lifestyle accordingly.
- Accurate fitness tracker and connected gps: Supports 8 sports such as walking, running, cycling, hiking, mountaineering, spinning, hiking, fitness, treadmill, yoga, etc. Accurately record all-day activities such as steps, distance, calories burned, miles walked, active minutes. Connect to the GPS in your phone to track all your workout routes, distances and fitness during your workouts. Stay motivated all day long!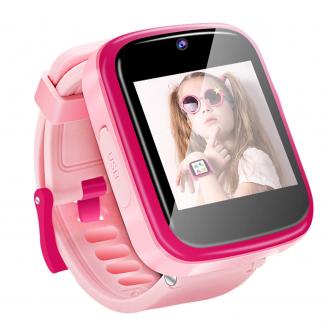 - Dual Cameras: Dual cameras can make taking pictures more fun for kids. Whether it's a selfie or a selfie, this toddler girl toy will satisfy kids' photo cravings! At the same time, high-definition cameras allow children to shoot videos to record their happy daily life. This kids watch has powerful storage and can take thousands of photos, so kids can take photos without restriction.
- ALL IN ONE: Alarm clock, calculator, calendar, clock answering, flashlight, personal video and pedometer are of course the basic features of this girls watch toy. The ultra-sensitive touchscreen makes it easier for kids to use. At the same time, MP3 music players and microphones allow children to be influenced by music since childhood, and ultra-high-definition microphones allow children to fully express their voices and express themselves without reservation.
$49.00 $31.99