Bluedio HS Neckband Portable Bluetooth Speaker, Wireless Wearable Body Speaker with FM Radio/Micro SD Card, Lightweight Outdoor Speaker Private Music for Cycling, Hiking, Hand-free Call
99$-15$ / 199$-30$ / 299$-55$ / 599$-120$
New customer gift package
Free shipping to eligible country
Brand:

KENTFAITH

Buy KENTFAITH bluedio hs neckband portable bluetooth speaker, wireless wearable body speaker with fm radio/micro sd card, lightweight outdoor speaker private music for cycling, hiking, hand-free call online, worldwide free shipping and 30 days return guarantee.

GW53.0063

SKU:

GW53.0063

40.99

https://www.kentfaith.com/GW53.0063_bluedio-hs-neckband-portable-bluetooth-speaker-wireless-wearable-body-speaker-with-fm-radio-micro-sd-card-lightweight-outdoor-speaker-private-music-for-cycling-hiking-hand-free-call
99$-15$ / 199$-30$ / 299$-55$ / 599$-120$
Description
* PORTABLE AND WEARABLE SPEAKER - Free your hands and ears, wear this wearable bluetooth speaker around your neck and you can enjoy your music whether you are cooking or doing outdoor sports like walking, biking, climbing, etc. You can free your hands and ears to enjoy music, answer calls and stay connected to the world around you.
* True surround sound and more than just music - the upward facing speakers point towards your ears, freeing your ears to maximize what you hear while minimizing what others around you hear. While enjoying the music, you can always know what's going on around you. Bluedio HS brings you closer to your music and to the world around you.
* MULTIPLE CONNECTION MODES - In addition to the latest Bluetooth 5.0 to connect to your smartphone, you can also use the TF/SD card (max 32G) slot to listen to your favorite music or FM mode to get the latest weather and important information for your area .
* LIGHTWEIGHT AND COMFORTABLE TO FIT - Ergonomically shaped, rests lightly on your shoulders to create a small stereo surround private music venue for comfortable listening all day long.
Shipping
Free shipping to eligible country
Sale
99$-15$ / 199$-30$ / 299$-55$ / 599$-120$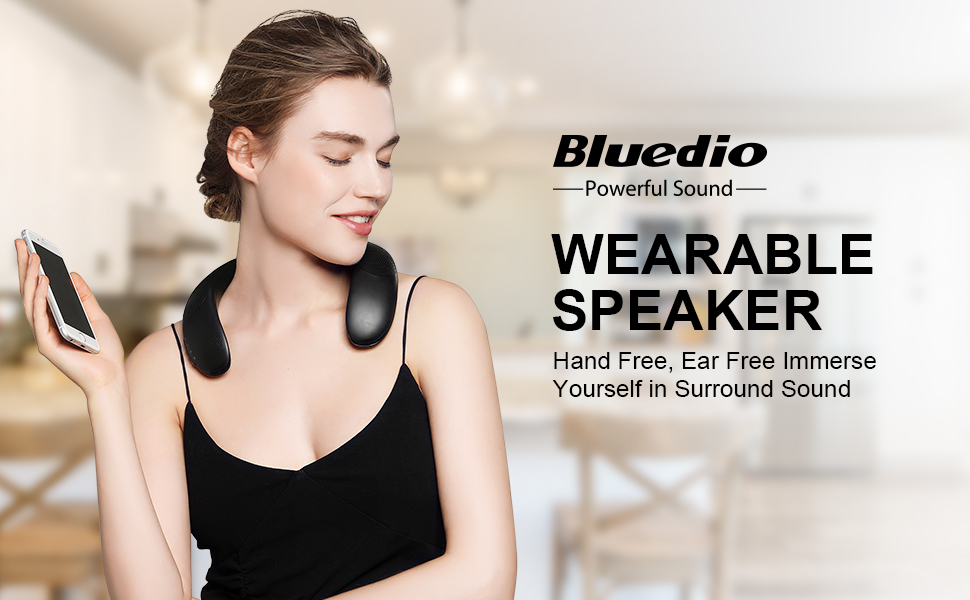 Bluedio HS
Neckband Wireless Wearable Personal Body Speaker
A wearable speaker packed with technologies that create a truly unique listening experience.It brings a new experience as if you are on the spot in watching movies, live images, or games. It surrounds you with clear, full sound while keeping you aware of your surroundings, too.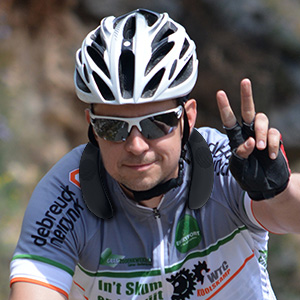 Free Up Your Hands and Ears
With this wearable bluetooth speaker on your neck, you can enjoy music whether you are cooking dinner or doing outdoor sports such as walking, riding bicycle, climbing mountains etc. You can free up your hands and ears to enjoy music, take calls and still stay connected to the world around you.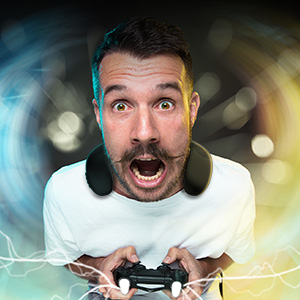 Accurate Positioning in Game Playing
TIPS:Bluedio HS CAN connect to your phone via Bluetooth NOT Gamepad,we only recommend that you use it while playing games on your phone!
---
Are you annoyed that you can't locate enemy's position when you play game with old style speaker? Now use Bluedio HS wearable speaker, left channel and right channel is separated, with stereoscopic sound effect together HS can help you locate position accurately, easily win the game!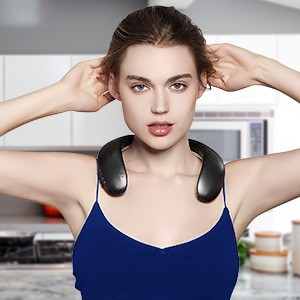 Create Your Personal Sound Zone
Upward facing speakers point toward your ears, with your ears free, maximizing what you hear, while minimizing what others hear around you. you can stay aware of what's around you while you enjoy your music. Bluedio HS keeps you closer to your music and stay connected to the world around you.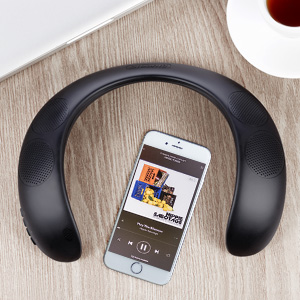 Bluetooth 5.0 Stable Connection
Latest Bluetooth 5.0 provides stable connection range up to 33ft with your Bluetooth devices. The superior Bluetooth connectivity enables easy hands-free communication.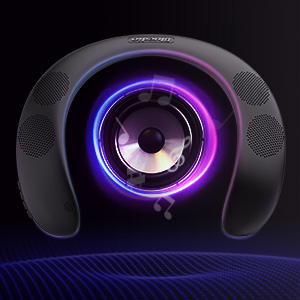 Support SD Card and FM Mode
Along with latest Bluetooth 5.0 that connects to smartphones, you can also use the TF/SD card(max 32G) slot to listen to your favourite music or FM mode to get up to date with the latest weather and important information for your area.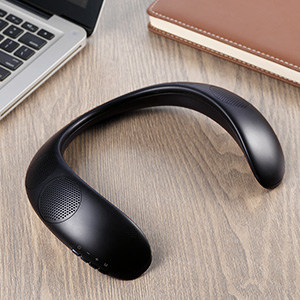 Ergonomics and Elegant Design
Ergonomic shape, leaning lightly on your shoulder to create a small stereo surround private music field, stay comfortable for listening all day.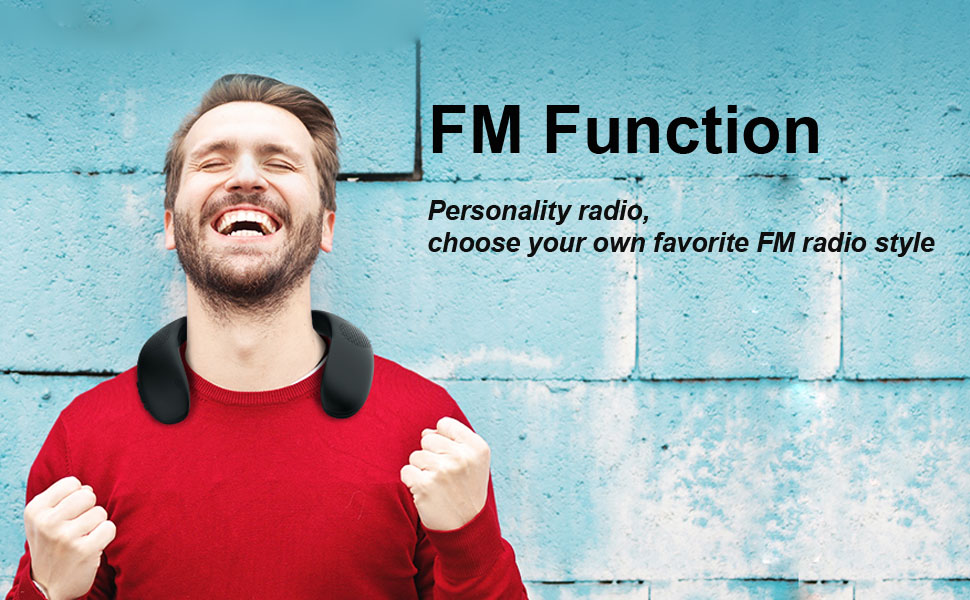 | | |
| --- | --- |
| Brand | bluedio |
| Model | HS |
| Colour | Black |
| style | hanging neck |
| Bluetooth version | 5.0 |
| Frequency range | 2.4GHz-2.48GHz |
| Supported protocols | A2DP, AVRCP, HSP, HFP |
| Frequency response range | 20Hz-20KHz |
| Battery life | 7-10H |
| Standby/Bluetooth standby time | about 1000 hours/300 hours |
| Music/talk time | 4 hours |
| Input voltage/current | 5V/≥500mA |
| Output power | 2*2W |
| Function | Auto Power Off, Auto Sleep, Song Track, Stereo |
| Connection | Wireless |
| Interface | Micro USB, TF card slot |
| Audio source | Bluetooth device, TF/micro SD card |
| Features | Surround Sound |
| TF card expansion | maximum 32G (not included) |
| Product weight | 200g |
| Packing weight | 400g |
| Product size | 24*16*5cm |
| Package size | 25.20 x 18.60 x 6.00cm |
| Package Contents | Headphone*1, Charging Cable*1, Instruction Manual*1 |
All Reviews
Image

All Star

5 Star

4 Star

3 Star

2 Star

1 Star
Solves my difficulties.
Buds never stay in my ear holes and I'm too paranoid to have over the ear phones when walking, So this fits my case! Don't drop out and don't isolate me from surroundings. Decent sound, as well.
09/04/2022
Surprising for the cost!
Like many of the other of yours for this product Oh, I was very surprised at the sound quality these $20 speakers provided. The sound quality is much better than you had to pay for something so cheap. The only reason I'm giving these headphones a four-star review instead of a five-star is product durability. I am only 5 ft 7 oh, so the product sits at a height of about 5 feet on my shoulders. One day the speakers fell off my shoulders onto my wooden floor, and now they have a tinny sound to them like something came loose and is vibrating at certain frequencies. If it gets too bad, I'll buy a new pair, but since I use these primarily in an office setting with the volume down low I don't notice it.
08/04/2022
Cool music Bluetooth speaker for personal use!
Buttons are small so get used to them before you start wearing the heck out of it. Gets the job done, speakers are directly under your ears so they sound much louder than they really are. Super great for music, but not so much running your mouth on the phone, folk on the phone might have a hard time hearing you clear and it will pick up the noises around you but if you need hands-free and your environment is not noisy, it's perfect for phone use. My recommendation: use it for your music and tell callers you'll get with them later.
29/03/2022
Neckband speaker nice option to headphones.
Got the neckband speaker so I would not need to use headphones or ear buds for computer audio when attending meetings. They work great, but had a few pairing issues. Just reset them and then the pairing worked fine. This has only happened a few times, so not a big concern. Glad I got them.
19/03/2022
Sound quality is not good
Sound quality is not good
19/03/2022
Good headphones with peace to ears
I have a thin neck so it does tend to move more than I'd like. My friend has a large neck and it stays put. He loves the sound quality and I'm ok with it for $20.
01/03/2022
Great product for $20
Nicely made but I can only hear them in a completely silent space. Not at all Loud Enough.
24/02/2022
I use it everyday
Great item at a great price
16/02/2022
Works well for what I need it for
Got as a gift. Too many turn it downs and with headphones on it's hard to hear if someone says something from another room. It's surprising how loud it is at your head a quiet a short distance away. They serve the purpose and reasonably priced.
09/02/2022
There are no faqs for this product.