Professional Heavy Duty Metal Gimbal Tripod Head 360 Degree Panoramic with Standard 1/4'' Quick Release Plate and Bubble Level for DSLR Cameras up to 44lbs/20kg
New customer gift package
To
United States
Expedited Shipping
3-5
business days
It's a professional heavy-duty metal 360 degree panoramic gimbal tripod head with standard 1/4'' quick release plate and bubble level for dslr cameras up to 44lbs/20kg

KF31.033

SKU:

KF31.033

84.99

https://www.kentfaith.com/KF31.033_kf-concept-professional-heavy-duty-metal-360-degree-panoramic-gimbal-bird-watching-head
Description
* 【Strong & Stable】 Made of high-quality aluminum alloy. The panoramic head combines strong design, structure with durability and stability. The maximum load capacity is 20kg, suitable for SLR and digital cameras.
* 【Panoramic shooting】The rotating base and vertical arm of the gimbal head can rotate 360 degrees to meet the needs of photography from different angles.
* 【Multi-angle adjustment】 You can use the scale to slide up and down within the 70mm lifting range to adjust the shooting height and field of view, allowing you to accurately locate the center of gravity of any lens and camera system.
* 【High compatibility】 Standard Arca-Swiss 1/4 "quick release plate and bubble level, non-slip design, detachable, fits all SLR cameras. The 3/8" bottom screw can be used for various professional tripods.
* 【Wide range of applications 】 Simple, fast and versatile image acquisition, suitable for nature, bird and sports photography, and ideal for wildlife and sports photographers.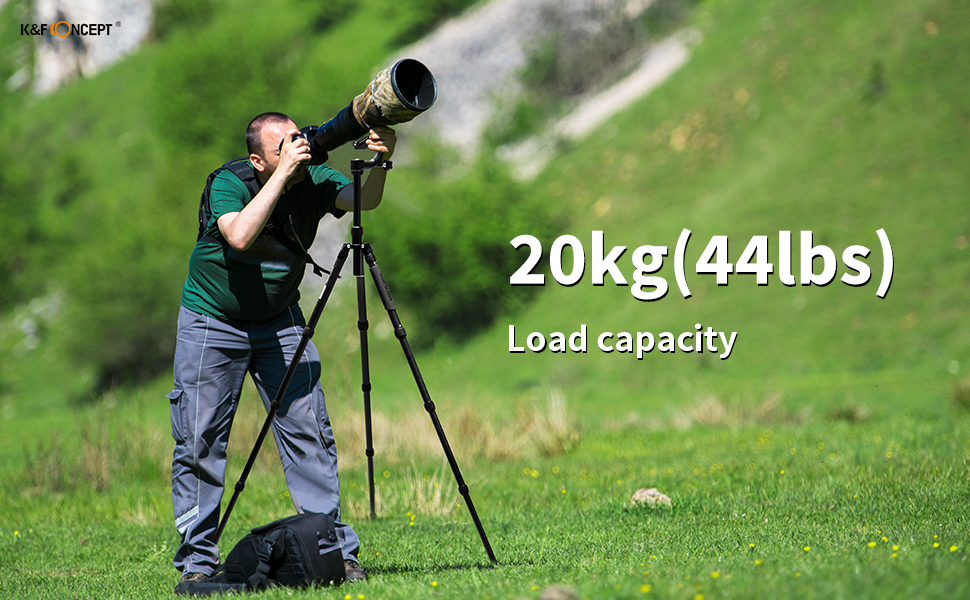 K&F Concept Professional Heavy Duty 360° Panorama Gimbal Tripod Head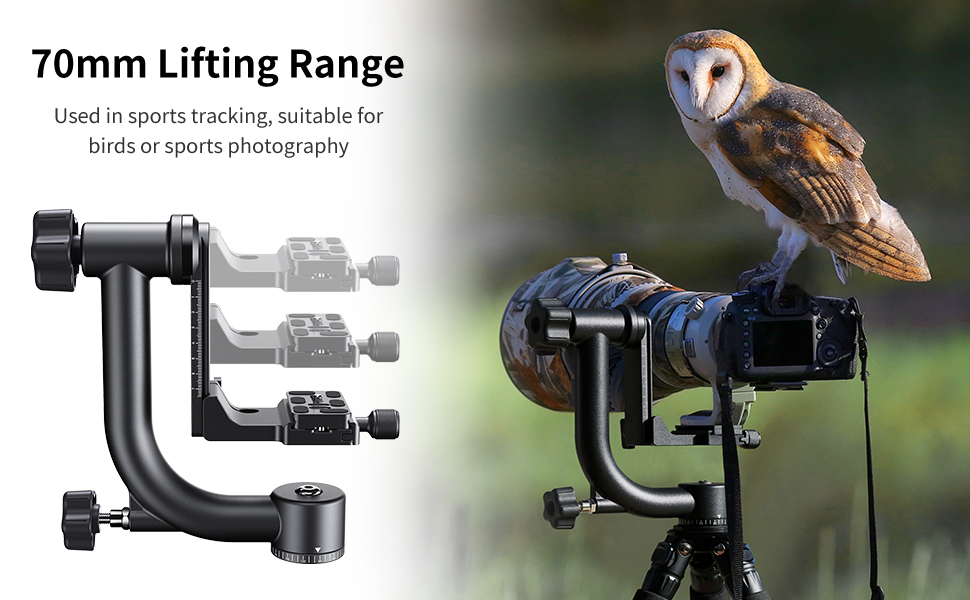 ·Robust and durable: Made of high-quality aluminum alloy, it provides a solid support point for your camera.
·High load capacity: This static head can hold up to 20 kg. Allows you to capture more beautiful moments in animal and sports photography
·Versatile rotation: The swivel base and vertical arm can be rotated 360° (horizontal and vertical) to meet the photographic requirements of different angles.
·Precise adjustment: Large knobs with spirit levels are easy to use, and numbered scales along the swivel base and vertical arm allow you to easily repeat your settings for different lens and camera combinations.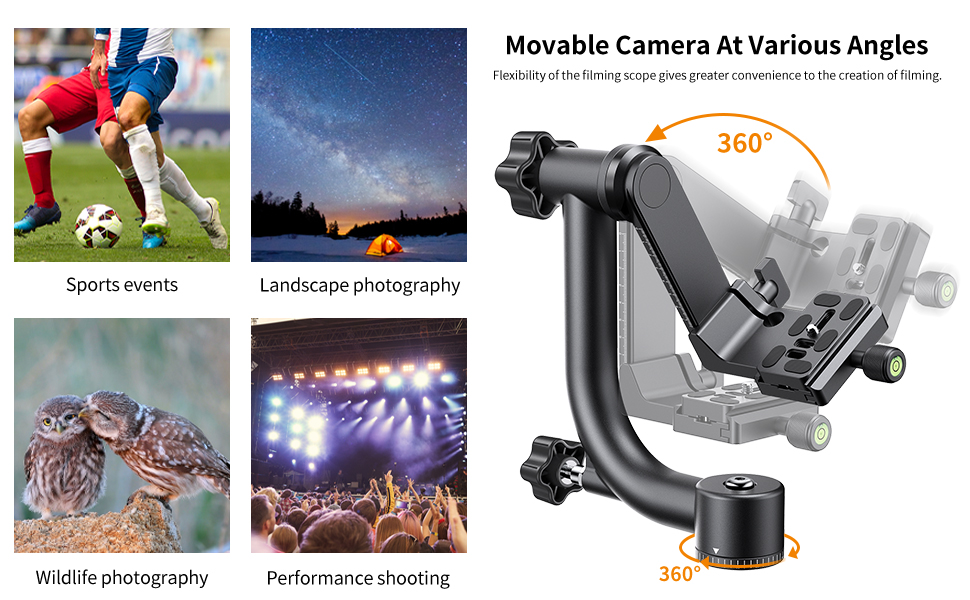 Tripod product specifications.
Material: Aluminum AlloyLoad Capacity: 20 kg. Height: 23 cm. Width: 19 cm standard 1/4 inch camera winch
Note: For cameras with telephoto zoom lens, you need to buy a tripod ring for it to work properly and for better balance.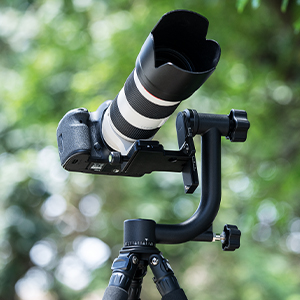 The swivel arm (horizontal and vertical) can be rotated 360 degrees for low angle and overhead shooting.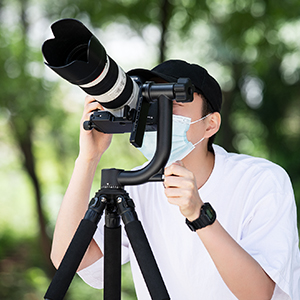 It's suitable for sports photography, wild bird photography, starry sky landscapes and stage photography.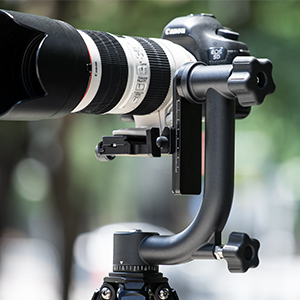 Adjust the height by 70 mm with the mounting plate to take a suitable position for shooting.
Photography panorama head
This head is used to take panoramic photos, thanks to this head that attaches to the tripod, you can shoot wide-angle landscapes without having a wide-angle lens.
The head material is very durable and has a very pleasant texture. The pieces have very good gripping systems and give a very good grip, we finish them looking beautiful.
As for the operation, I placed it on a tripod, and it screws in pretty well.
It can be easily moved.
I was able to take great photos, recommended!
24/11/2022
Looks good
I still haven't had a chance to use this yet but it looks and feels good. Very solid and looks well made. Delivery was a few weeks which is to be expected. The extra plate will come in handy with my big 600mm lens.
23/11/2022
Well built, works well.
This gimbal head gives me the stability I need to take pictures of wildlife. Its quality of manufacture and its finish are very beautiful, I am happy to have it. It's definitely a great tool to have, especially if you're using a larger lens.
22/11/2022
robust gimbal for a good price
bought the gimbal for bird photography and use it in conjunction with my Sony Alpha 7III and Sony 200-600G.
I use it a lot and find it very good for the budget.
it is powder coated, scratch resistant.
It is probably unsuitable for animal filmmakers because the resistance for the movement of the gimbal is difficult to adjust.
if both screws for the swivel and tilt movement are loose, everything rotates perfectly. However, if you pull them on a little to have more resistance, it often gets stuck.
it is quite heavy to travel far with it or hike.
So in short, for hobby animal photographers it is a great thing and serves its purpose.
Since then I have had much better bird photos because I can follow them properly.
20/11/2022
Get stiff in winter with the cold but otherwise very well!
Get stiff in winter with the cold but otherwise very well!
18/11/2022
Can recommend as a V Good Quality piece of mounting kit.
As a straight forward Ball Head Mounting piece this is very well made and everything about it says it's a quality made item. It functions exactly as it should & I'm getting a lot of use out of it, It turns beautifully on the rotation collar, very smooth and not at all sloppy.. you can undo the locking knob right off and it will not suddenly go slack and lose the position you were at - it still turns very slowly.. good positive hold ( in a horizontal position ).
18/11/2022
Very solid!
I attached a canon 70D with a 18-35mm ART From Signa, a very massive and heavy objective and this ball head takes it like without a problem. Based on this, I can take 99% of camera/lens configurations of enthusiast photographers!
18/11/2022
Good value.
Like the ball head. Worked great for me.
18/11/2022
K&F is no joke
I bought this because my old ball head on my travel tripod began to fail and while I contemplated buying a whole new tripod, I thought this might do the job. I am very happy with this purchase. While I am not a photography gear snob, I often invest in better gear because there is usually a reason that something is cheap. That being said I photograph waterfalls and do long exposure photography and I cannot have my camera slip at all. I'm happy with this company (check out their filters) and purchase. The controls are smooth and easy. Recommend.
18/11/2022
Tolles Teil
it was very stiff, i removed the original grease and replaced it with a ceramic paste, now it's perfect, thanks
18/11/2022