Aluminum Alloy 360 Degree Panoramic Gimbal Tripod Head with 1/4'' Standard Quick Release Plate
To
United States
Expedited Shipping
3-5
business days
It's a professional heavy-duty metal 360 degree panoramic gimbal tripod head with standard 1/4'' quick release plate and bubble level for dslr cameras up to 44lbs/20kg

KF31.033

SKU:

KF31.033

89.99

https://www.kentfaith.com/KF31.033_kf-concept-professional-heavy-duty-metal-360-degree-panoramic-gimbal-bird-watching-head
Description
* 【Strong & Stable】 Made of high-quality aluminum alloy. The panoramic head combines strong design, structure with durability and stability. The maximum load capacity is 20kg, suitable for SLR and digital cameras.
* 【Panoramic shooting】The rotating base and vertical arm of the gimbal head can rotate 360 degrees to meet the needs of photography from different angles.
* 【Multi-angle adjustment】 You can use the scale to slide up and down within the 70mm lifting range to adjust the shooting height and field of view, allowing you to accurately locate the center of gravity of any lens and camera system.
* 【High compatibility】 Standard Arca-Swiss 1/4 "quick release plate and bubble level, non-slip design, detachable, fits all SLR cameras. The 3/8" bottom screw can be used for various professional tripods.
* 【Wide range of applications 】 Simple, fast and versatile image acquisition, suitable for nature, bird and sports photography, and ideal for wildlife and sports photographers.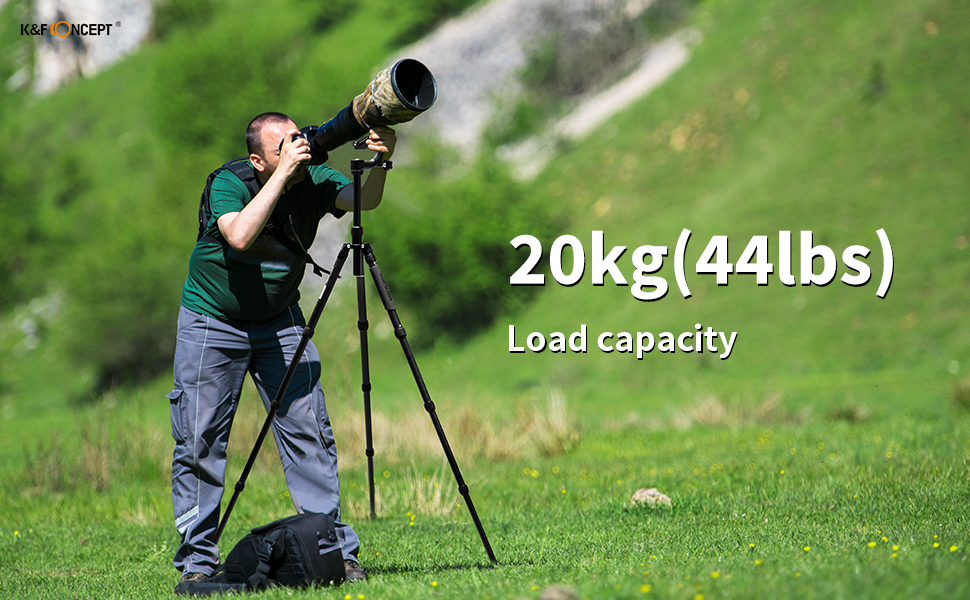 K&F Concept Professional Heavy Duty 360° Panorama Gimbal Tripod Head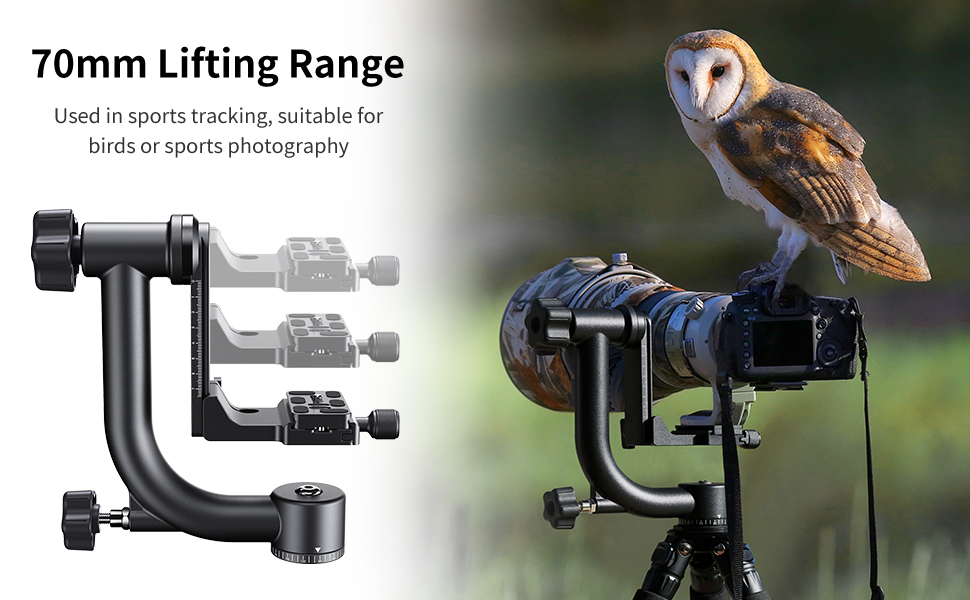 ·Robust and durable: Made of high-quality aluminum alloy, it provides a solid support point for your camera.
·High load capacity: This static head can hold up to 20 kg. Allows you to capture more beautiful moments in animal and sports photography
·Versatile rotation: The swivel base and vertical arm can be rotated 360° (horizontal and vertical) to meet the photographic requirements of different angles.
·Precise adjustment: Large knobs with spirit levels are easy to use, and numbered scales along the swivel base and vertical arm allow you to easily repeat your settings for different lens and camera combinations.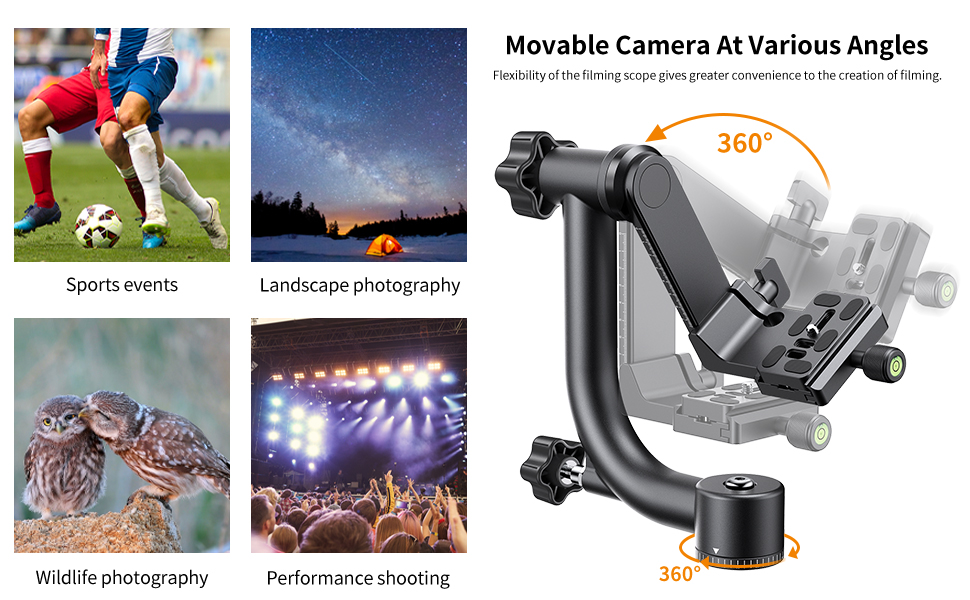 Tripod product specifications.
Material: Aluminum AlloyLoad Capacity: 20 kg. Height: 23 cm. Width: 19 cm standard 1/4 inch camera winch
Note: For cameras with telephoto zoom lens, you need to buy a tripod ring for it to work properly and for better balance.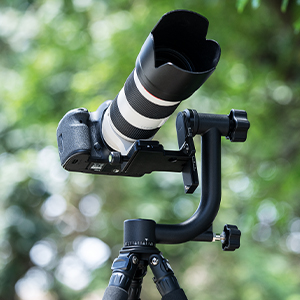 The swivel arm (horizontal and vertical) can be rotated 360 degrees for low angle and overhead shooting.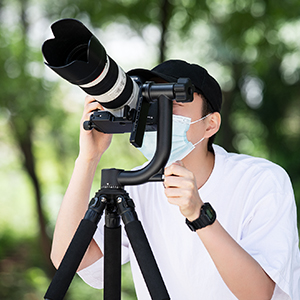 It's suitable for sports photography, wild bird photography, starry sky landscapes and stage photography.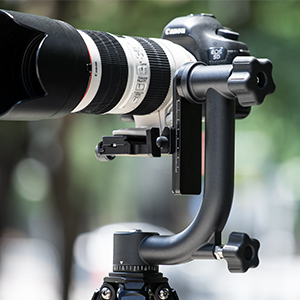 Adjust the height by 70 mm with the mounting plate to take a suitable position for shooting.
Rating

96 reviews.

10 reviews.

5 reviews.
Price

$164.99

$89.99

$259.00

$188.99

$149.99

$109.99

Model
KF31.033
KF31.047
KF31.052

Tripod Head Type

Gimbal Tripod Head
3D gear head
Gimbal Tripod Head

Maximum Weight

20kg/44lbs
6kg/13.2lbs
20kg/44lbs

Item Weight

1428g
810g/1.8lbs
1265g

Item Dimensions LxWxH

9.06 x 7.48 x 1.57 inches
0.55*0.51*0.45 inches
9.06 x 7.48 x 1.57 inches

Material

Aluminum alloy
Aluminum alloy
CNC Aluminum alloy
All Reviews
Image

All Star

5 Star

4 Star

3 Star

2 Star

1 Star
Gimbal beyond my expectetions.
Excellent quality, but as a gimbal, it must also be excellent (I do not have any experience) . Thank you one more time.
11/06/2023
great product
great product, stable and solid. I recommend it.
26/05/2023
Game changers!
Wonderful piece of gear, wish I had bought one sooner. Very good quality and easy to use.
07/03/2023
Sir
Excellent Product !! Great Value --
01/03/2023
Good quality
Very happy with the price and the design and finish. Look and work like a gimbal pro. Tks
01/03/2023
Great gimbal for bird photography
Has worked great from the start. Very robust device for the price
25/02/2023
Sturdy and well structured
Excellent value for money
25/02/2023
Professional Heavy Duty Metal Gimbal Tripod Head 360 Degree Panoramic
Correspond to description. Solid and strong
24/02/2023
Excellent value for money!
I think it would be significantly more expensive!
23/02/2023
Photo tripod, gimbal
Perfect to be able to move in all directions, easy to use
02/02/2023
Tripod Head
Tripod Head Type
Gimbal Tripod Head
Maximum Weight
20kg/44lbs
Item Weight
1428g
Item Dimensions LxWxH
9.06 x 7.48 x 1.57 inches
Material
Aluminum alloy