Professional 78"/2.3m DSLR Camera Tripod Flexible Overhead Travel Tripod 22lbs Load with Magnesium Alloy Rotatable Multi-Angle Center Column S210
Free shipping to eligible country
Brand:

K&F Concept

Free Shipping. 30 Day No Reason Return. K&F DSLR Camera Tripod features quality material, sturdy structure, stable construction, easy opration.

KF09.087V2

SKU:

KF09.087V2

109.99

https://www.kentfaith.com/KF09.087V2_kf-focuser-series-s210-tripod-foldable-back-and-detachable-one-leg-plastic-toggle-lock-magnesium-aluminum-alloy-kf28-head-orange
Description
• 【K&F Concept Brand New Design & Patented】Center column horizontal: The 90-degree central pillar system can not only extend vertically but also move horizontally, which provides you with amazing possibilities during shooting, especially for products and macro photography.
• 【22lbs Load Capacity & Strong Stability】 K&F Concept camera tripod has a large capacity of up to 22lbs, which is enabled by its large 23mm leg tube, provide security and stability support for your DSLR Canon Nikon Sony cameras, etc.
• 【Multi-Angle Shooting】 Center Column of the camera tripod can be inverted for low-angle shooting; The damping system of the ball head would set your camera at different angles easily(vertical shots or up-side shots) or and get the best shooting view, for panoramic shooting and macro photography.
• 【Wide Height Ranges】 The camera tripod can be adjusted from 19.7" to 91" in a few seconds. For detachable monopod, it can extend to 84.5", which is very stable and flexible, for various photographic conditions.
• 【Quick Foot Quick Locking System】With a quick flip locking system, foot legs can be loosened or tightened by one hand. The screw buckle is wrapped in soft rubber to provide a comfortable feel and an anti-slip effect.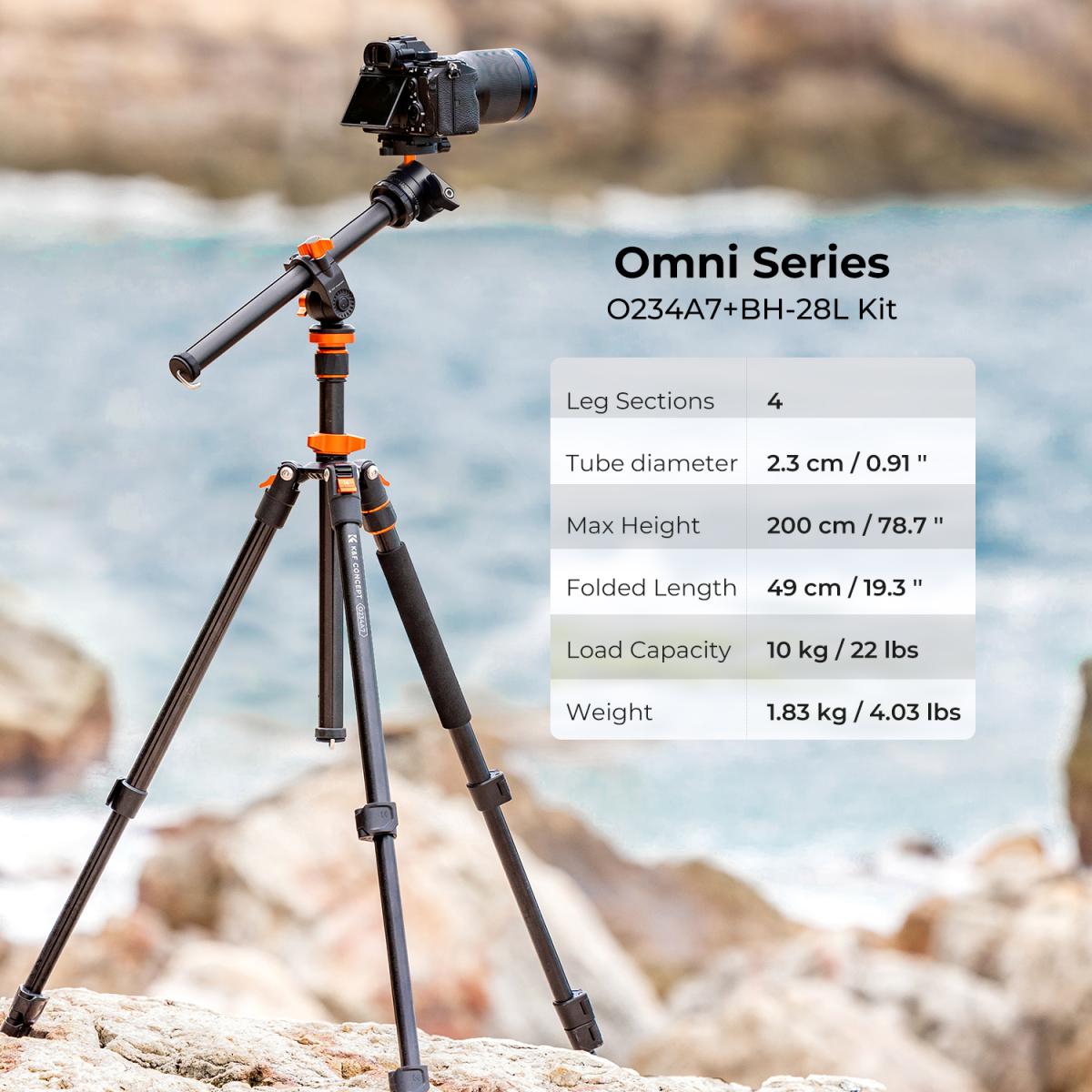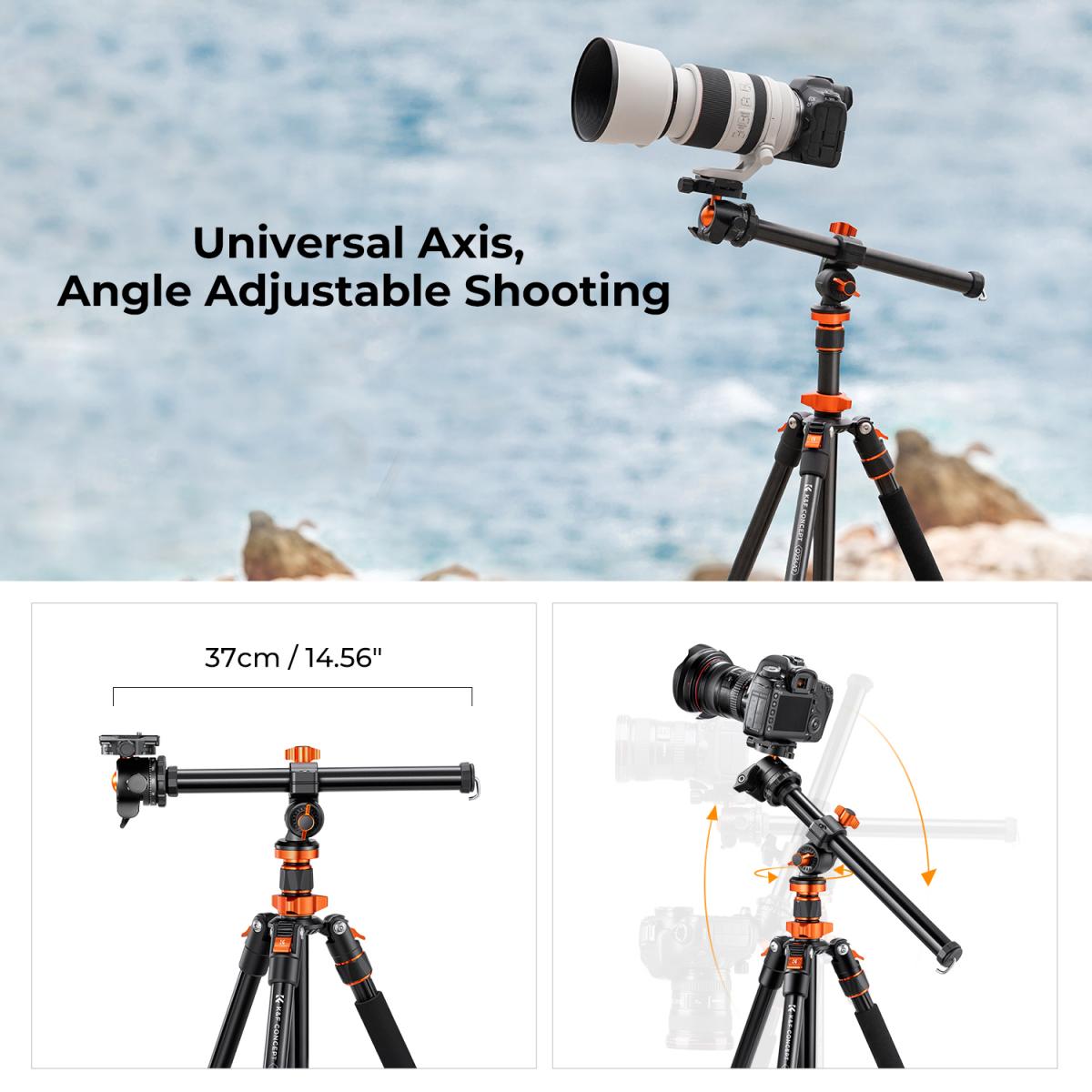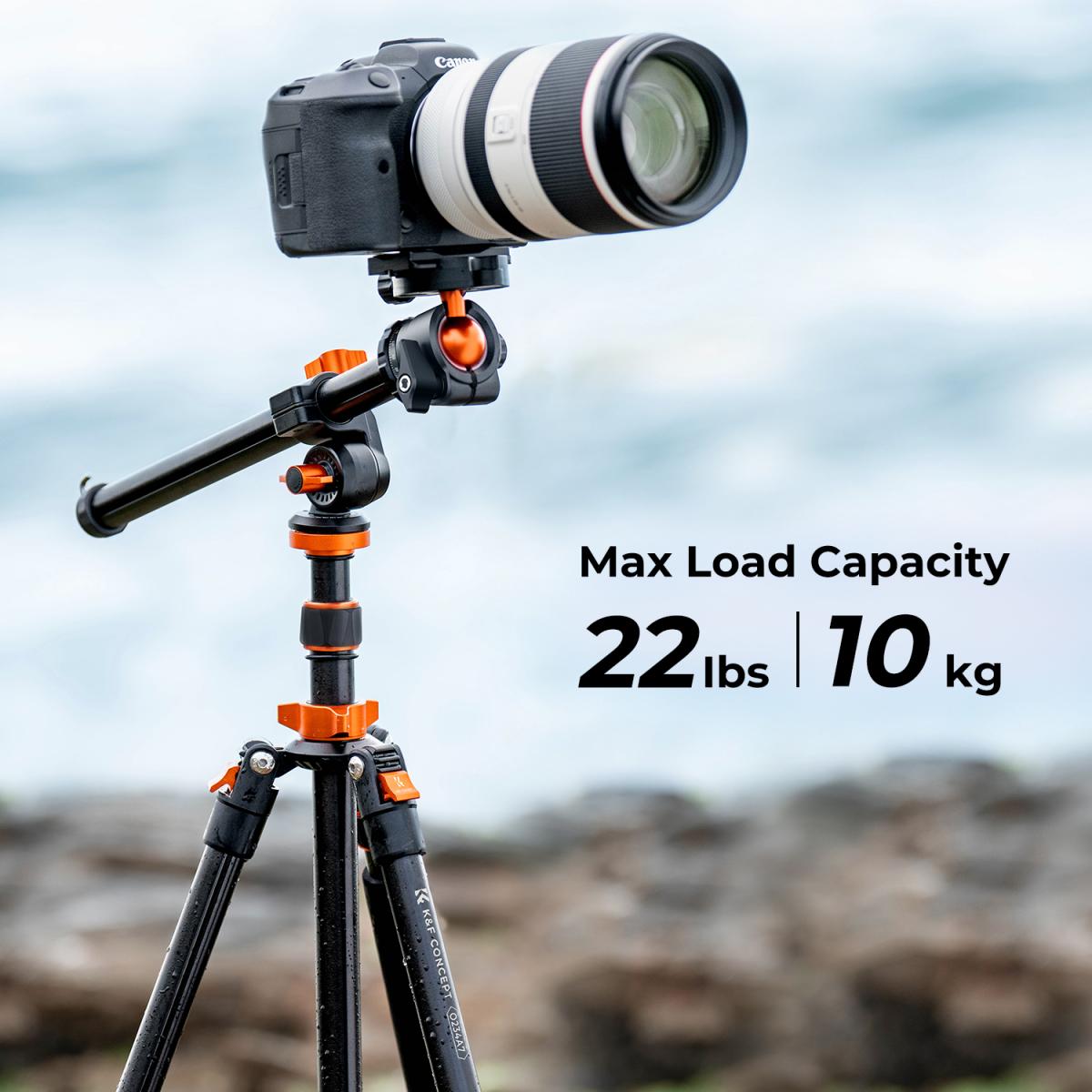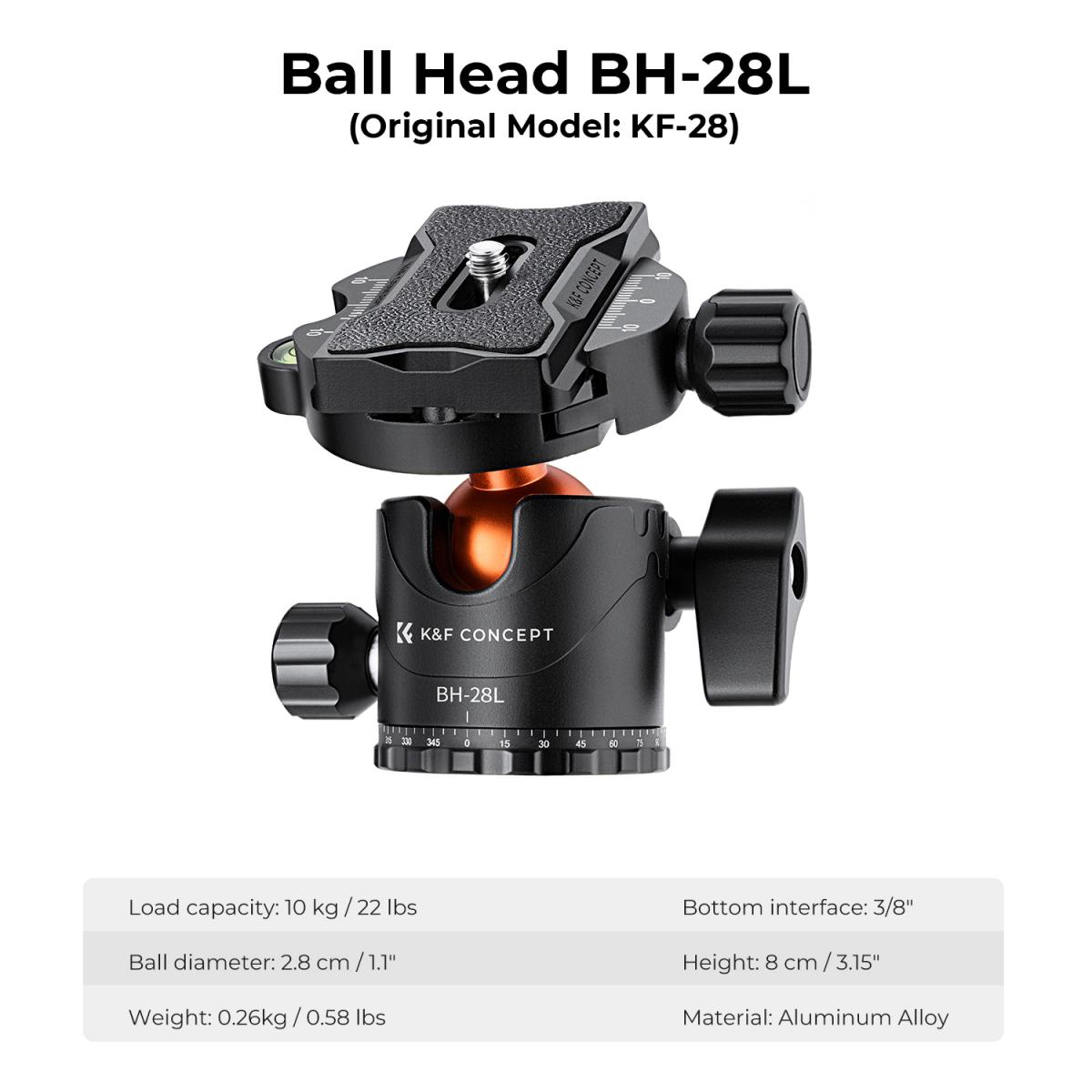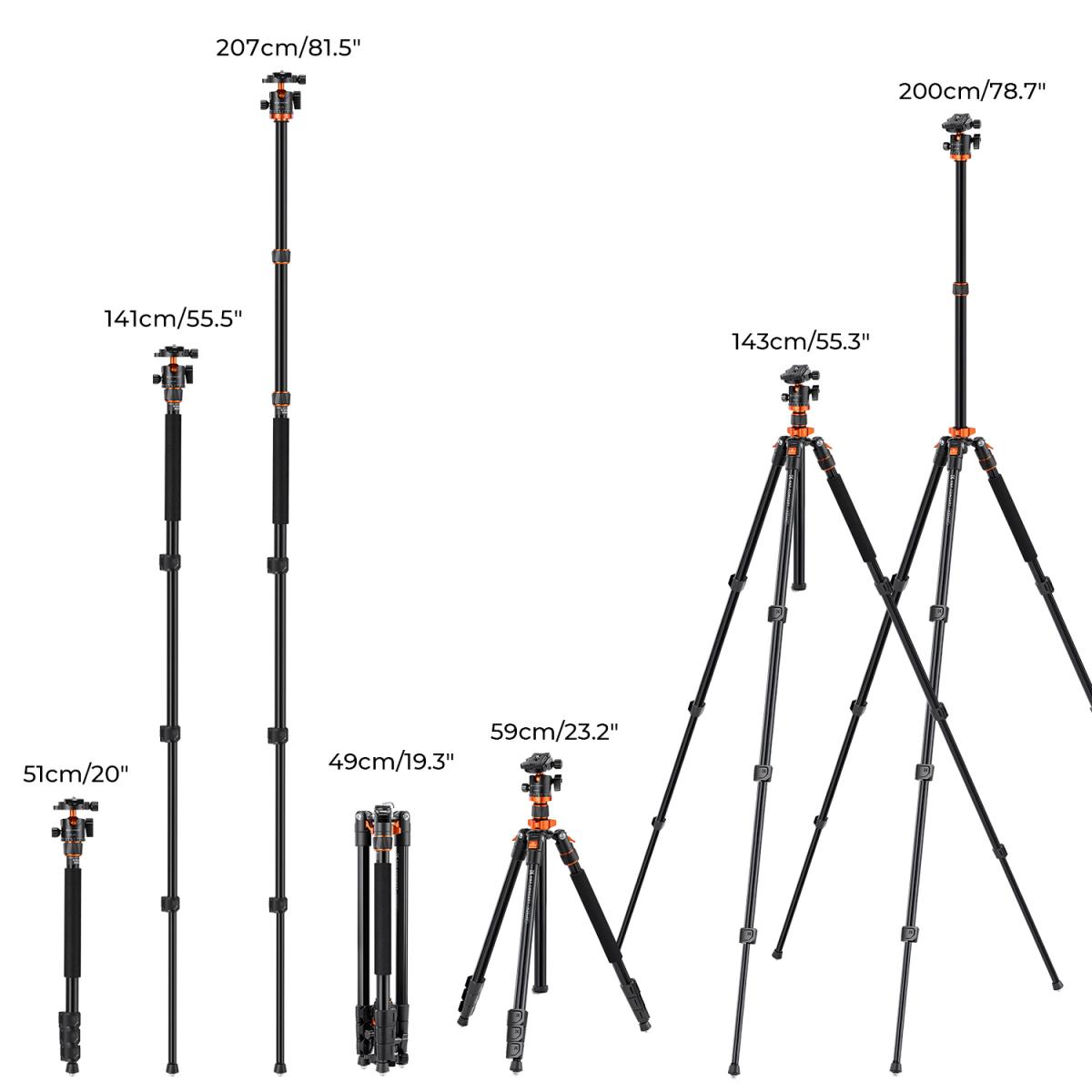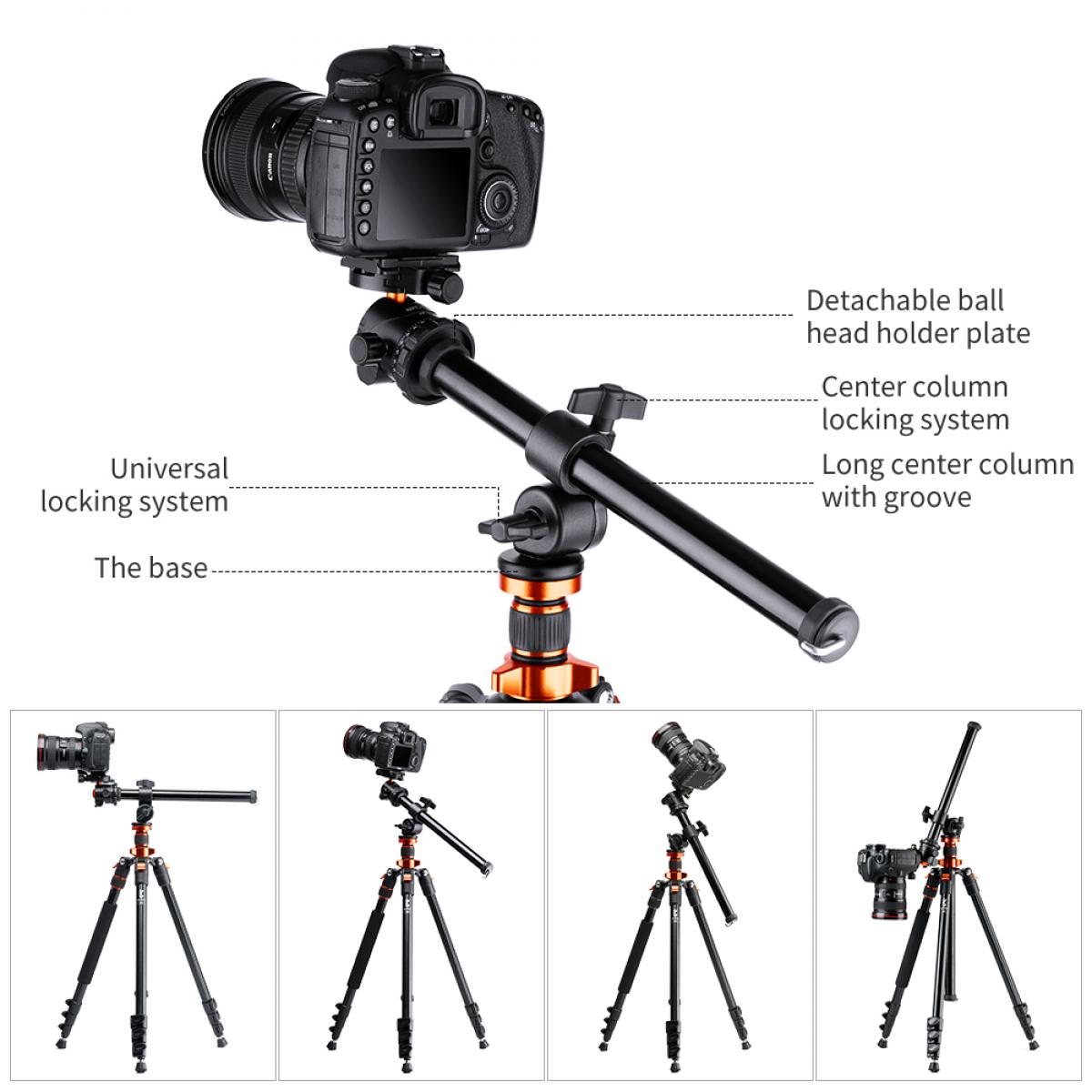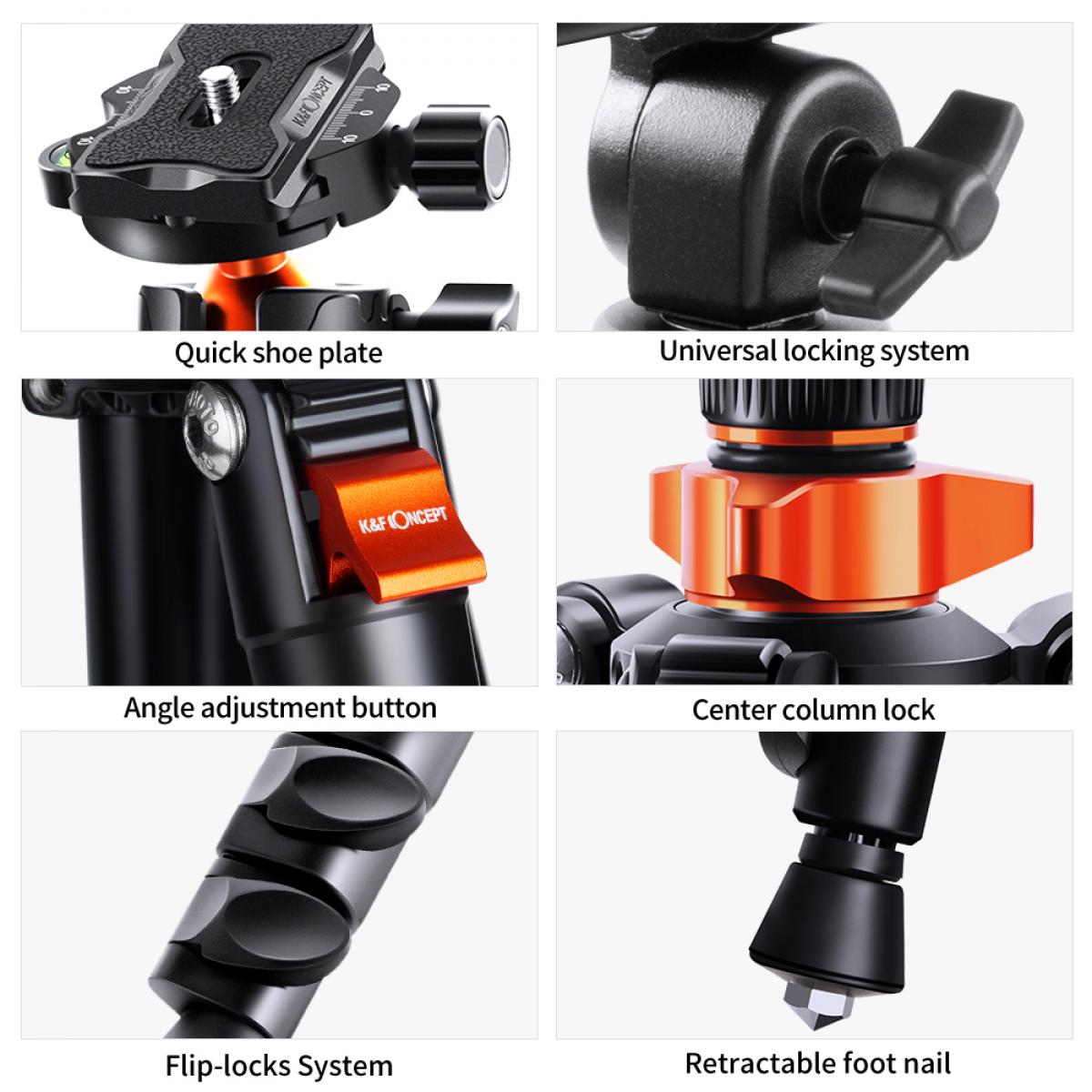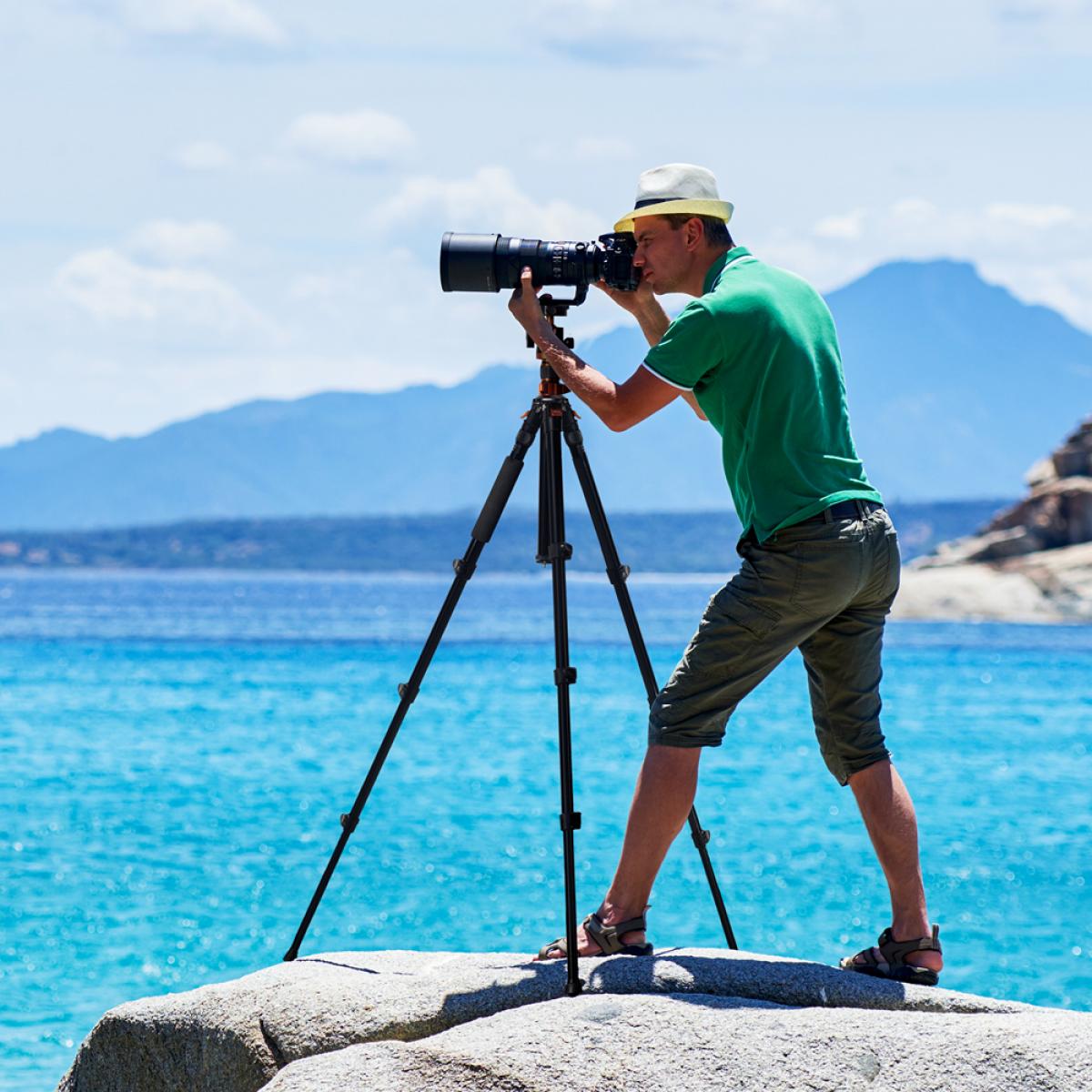 it's very light......just not sure of it's overall stability
it's very light......just not sure of it's overall stability. I used it once so far, and while I was very nervous about mounting my Nikon and 80-200 2.8 lens to it, it seem to hold up okay. But, I definitely wouldn't use it on a windy day/night. I have a 25 year old Slik which is far more stable, and I also ended up buying another one just like my old one, as I Know how sturdy it is. The new one I bought, is the exact same design, but now under the Bushnell name. I suppose this one would be good on a hike or something that takes me far away from my 4Runner as it is very light and compact. But my old/new Slik/Bushnell will be my main tripod. I need to know that my shlt isn't going to fall!!
27/07/2021
Works well
I had to upgrade tripod because of heavy lens just purchased tamron 150 600 and I'm impressed. Its plenty tall and the ball head is nice.had a worry from other reviews that it's hard to tighten to stabilize the weight but I have no issues at all.for the price it works well and no issues at all. I've had it for a few weeks now and was disappointed how the legs would slide on hard surfaces, after trying to remove the metal points on leg bottoms I discovered turning the rubber feet all the way out will conceal the metal points.if outdoors in grass or dirt just screw the rubber back out to expose the points ,now I'm happy again.
17/07/2021
Best Tripod
Love this product. Very sturdy. I have been using this everywhere and on all different kind of terrains and its done amazing. great height.
07/07/2021
Perfect for PCP Shooting
Nice and stable for shooting PCP air guns.
06/07/2021
Light and versatile...love it!
Great, versatile tripod. I moved from a big heavy studio Bogen to this. Depending on your equipment size/weight, you may want to add a drop down weight below the center (like a big rock, etc., tied up).
05/07/2021
Tripod General
Load Capacity
10kg/22lbs
Maximum Working Height
2310mm/91"
Max Height without Center Column
1400mm/55.1"
Minimum Working Height
590mm/23.2"
Folded Length
500mm/19.7"
Weight
1440g/3.17lbs
Materials
Magnalium Alloy
Ball Head
Ball Head
Color
Orange/Black
Bubble Level
Tripod Legs
Leg Lock Type
Flip Lock
Leg Positions
Independent Leg Spread
Leg Sections
4
Leg Diameter
23mm/0.91"
Feet Features
Tripod Center Column
Center Column Features
Tranverse Center Column, Center Column Inversion
Center Column Sections
2
Comparison of similar products
Rating

96 reviews.

75 reviews.

48 reviews.

31 reviews.

30 reviews.

33 reviews.
Price

$152.99

$109.99

$195.99

$115.99

$169.99

$79.99

$135.99

$74.99

$46.99

$59.99

$49.99

Model
KF09.087V2
KF09.079V1
KF09.084
KF09.097
KF09.048V1
KF09.050V1

Load Capacity

10kg/22lbs
10kg/22.05lbs
10kg/22.05lbs
8kg/17.64lbs
4kg/8.8lbs
4kg/8.8lbs

Maximum Working Height

2310mm/91"
1830mm/72.05"
1580mm/62.20"
1290mm/50.79"
1460mm/57.8"
1770mm/69.7"

Minimum Working Height

590mm/23.2"
600mm/23.62"
510mm/20.08"
440mm/17.32"
450mm/17.7"
530mm/20.9"

Folded Length

500mm/19.7"
490mm/19.29"
410mm/16.14"
337mm/13.27"
490mm/18.9"
570mm/22.4"

Weight

1440g/3.17lbs
1835g/4.05lbs
1547g/3.41lbs
1168g/2.57lbs
1.1kg/2.5lbs
1.7kg/3.71lbs

Materials

Magnalium Alloy
Magnalium Alloy
Magnesium aluminum alloy
Magnalium Alloy
Magnesium aluminum alloy
Magnesium aluminum alloy

Leg Lock Type

Flip Lock
Quick Flip Lock
Flip Lock
Spiral Type Lock
Flip Lock
Flip Lock