K234A7 Lightweight Travel Tripod Compact Aluminum Tripod 78" for DSLR with 360 Degree Ball Head and 10KG BH-28L (S210) Standard Version
New customer gift package
To
United States
Expedited Shipping
3-5
business days
K&F Concept K234A7 Lightweight Travel Tripod DSLR Camera Tripod features quality material, sturdy structure, stable construction, easy to operate.

KF09.087

SKU:

KF09.087

72.99

https://www.kentfaith.com/KF09.087_kf-concept-dslr-tripods-aluminum-travel-vlog-tripod-monopod-with-360-panorama-ball-head-1-4-quot-quick-release-plate-carrying-case-loading-up-to-17-6lbs-8kg-for-canon-nikon-sony
Description
* 【28mm Large 360° Ball-Head and Panoramic View】K234A7, With two independent control knobs, the specially designed ball-head can rotate 360 degree allowing you to take photos at any angle horizontally and vertically.
* 【Convenient: From 23'' to 78'' Flexible Adjustment】4-section column legs with 3 quick release flip-locks allows you to adjust the working height from 23'' to 78' in seconds.Winner in height! 18" folden size is easily took to anywhere for outdoor photography
* 【Lightweight and Portable】3.17lbs / 1.44kg tripod weight and 22.05lbs/10kg maximum load weight. 78'' in height and easily carried. This tripod can make it the best companion for your DSLR cameras and withstand a heavier loads compared to similar products yet remain stable.
* 【2-IN-1 Overhead Video Tripod Monopod】The tripod can be easily turned into a monopod or walking stick alone to make your photography more diverse. Multi-angles for shooting like low-angle shot and high-angle shot are allowed with this monopod as well.
* 【Multi-angle Shooting】Center Column could turn to invert situation for low angle shooting;The damping system of the ball head would set your camera at different angles easily(vertical shots or up-side shots) or and get the best shooting view. Note: new leg locking system is available and will be shipped randomly with the old version.
Shipping
To
United States
Expedited Shipping
3-5
business days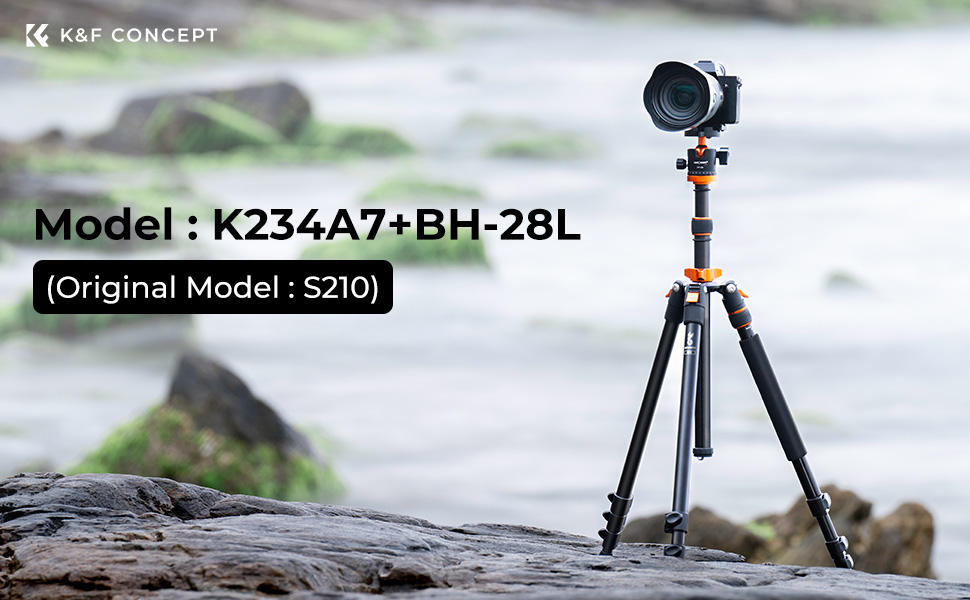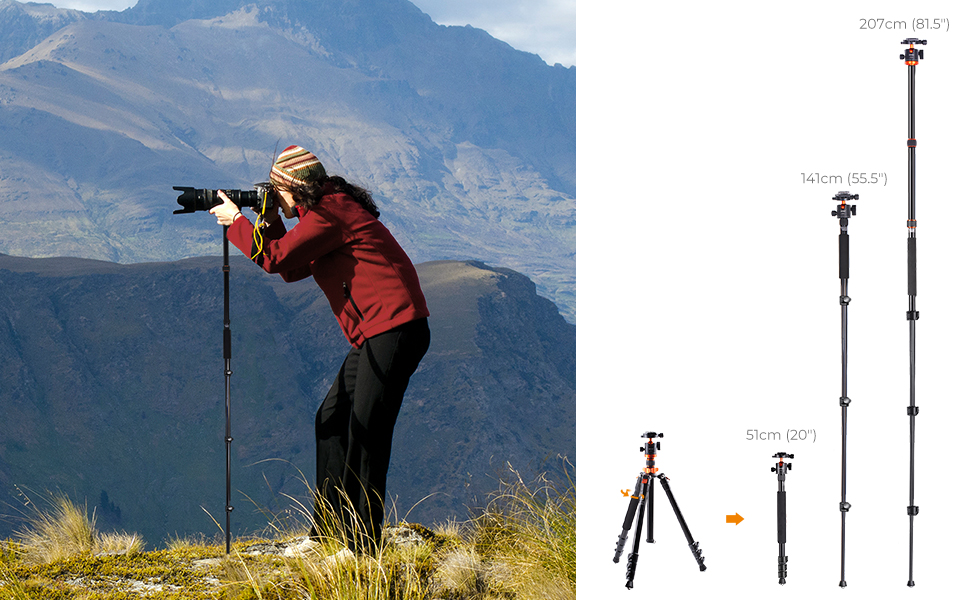 | | |
| --- | --- |
| Quick Release Plate | The size of the plate is: lenght 60mm/2.36 inch, width 37mm/1.45 inch. |
| Bubble Level | The bubble level help to judge the level and the accurate composition when shooting. |
| Quick Flip Leg Lock | Only use one hand can open and close all the buttons in a few seconds. |
| Center Column Lock | The powerful locking force makes it more stable when use the center column to extend the height. |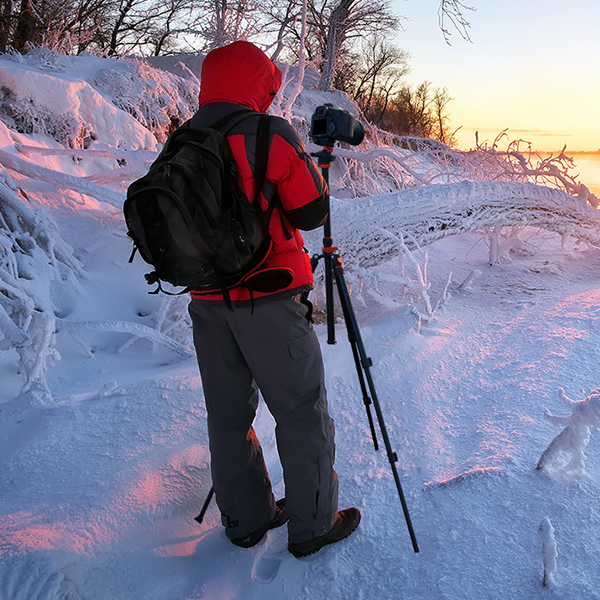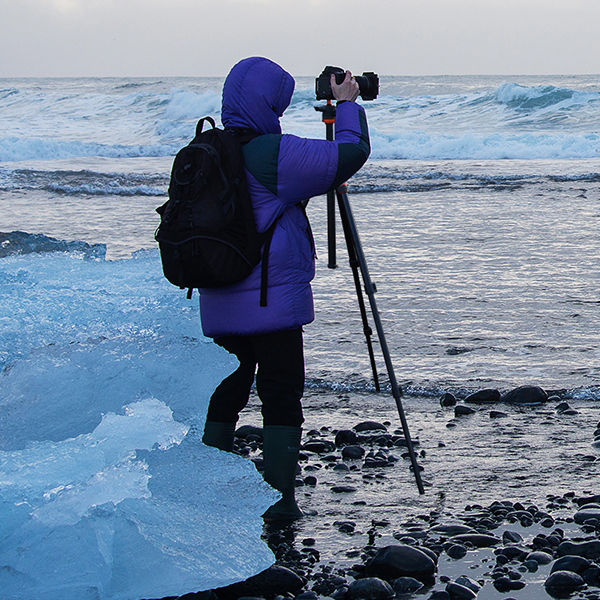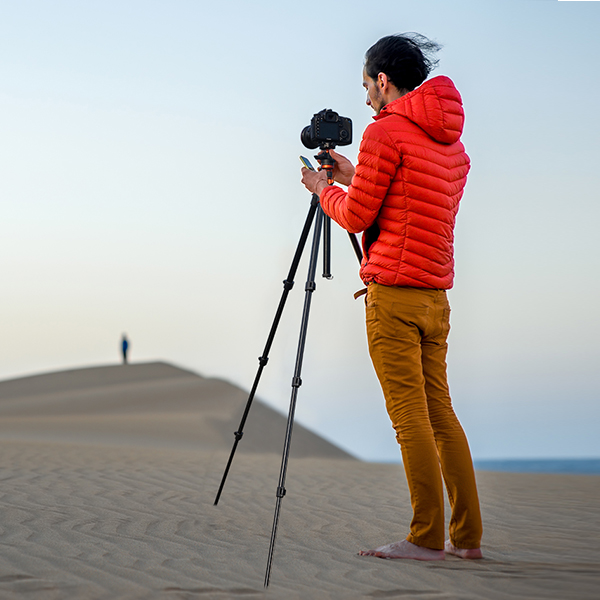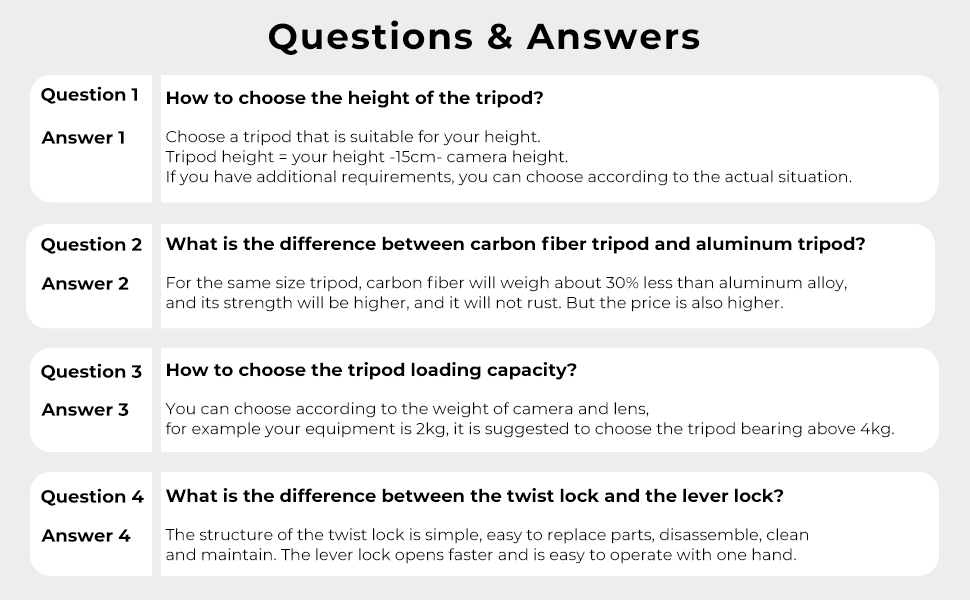 Rating

99 reviews.

83 reviews.

49 reviews.
Price

$182.99

$72.99

$189.99

$89.99

$199.99

$79.99

Model
KF09.087
KF09.083
KF09.084

Load Capacity

10kg/22.05lbs
10kg/22.05lbs
10kg/22.05lbs

Maximum Working Height

2000mm/78.7"
1710mm/67.32"
1580mm/62.20"

Minimum Working Height

580mm/22.83"
520mm/20.5"
510mm/20.08"

Folded Length

480mm/18.90"
420mm/16.54"
410mm/16.14"

Weight

1440g/3.17lbs
1500g/3.3lbs
1547g/3.41lbs

Materials

Magnesium aluminum alloy
Magnesium aluminum alloy
Magnesium aluminum alloy

Leg Lock Type

Flip Lock
Twist Lock
Flip Lock

Leg Diameter

14-23mm/0.55-0.91"
13-25mm/0.51-0.98"
16-25mm/0.63-0.98"
Monopod/Hiking stick/Selfie stick/tripod/production assistant
I haven't found anythin I don't like. Maybe add some usb ports?
10/11/2022
Unstable for use with heavy lens.
Aluminum tripods are not as sturdy as carbon fiber.
08/11/2022
Mejor, imposible
Este es uno de esos instrumentos que terminamos amando. Trípode sólido, fácil de manejar, de transportar. Es el soporte ideal para cualquiera que quiera cuidar su cámara. Muy recomendable y a un precio razonable.
23/10/2022
I like it!
A sturdy professional looking tool. Can't wait to take it to Acadia for some photos!
20/10/2022
Great tripod, which has a decent size if you want to visit higher places
I've only owned a small tripod so far, but it only has a certain "reach" and you can film or record smaller things with it. Since I'm not an expert myself, I looked at a few things and especially the color of the tripod and the size won me over.

So I needed a much larger tripod. The product comes with a bag which can be very useful for transportation.

+ A tripod that folds up on itself and is easily transported in your bag
+ It easily supports objects up to 10kg
+ You can adjust the length between 55cm and 200cm with a camera or other
+ A bag is included, that you can also wear with the cape included in the accessories
+ One of the best extras is the spirit level, which is built into the device, as this gives you the advantage of being able to set up the tripod straight and securely, even on a non-straight level.

+/- Not being an amateur photographer myself, I don't know if this tripod would be highly recommended, but by my standards it meets my needs and is easy to store, unpack and transport. I can't complain about that.

It's great fun to have a tripod that can be adjusted from small to large. A good alternative to the small tripod, which I have always used for my videos or my photos before.
16/10/2022
I'm not a photographer but works good for me
I recently moved back to America from Japan and had to leave a lot of stuff behind, Including a Manfrotto tripod so I needed a new tripod to sell some things to help me get back on my feet. I looked at geekoto and some other brands and they're all pretty much like this one except they either had plastic where I didn't want plastic or it wasn't clear where the plastic on the tripod is. Using the Manfrotto for years, I at least know where I like there to be metal and this K&F unit has a cast aluminum mount and ball and it's all very smooth.

Likes:
Ball head: is solid and smooth. I would have preferred a toggle over a screw for the quick release plate.
Legs: well they're legs, the aluminum feels solid. The also have stabby things at the bottom if you remove the rubber feet. Some one mentioned the locks for the leg extension were unfinished and sharp. Mine are comfortable to use.
Column: Not too much to say. It does it's job. All the locks have comfortable rubber grips. Someone mentioned the column will collapse if pushed down on. That's true of mine too but I have to make an effort. It's not something that's happened during normal use.
Portability: was not a selling point for me but it's nice to have the option
Monopod: also not a selling point but another nice to have the option. I've never used one before but now that I have the option I might.
Bag: not a selling point, but it's a nice one if the zippers stand up to use, aka not YKK zippers.

Dislikes:
Legs: the spring-loaded locks for the top leg extensions seem weak. On lock solidly clicks into place, the other two are kinda, meh. This might not bother you but it makes a difference to me when setting the tripod up in the dark. The audible clicks tell me where the legs are set.

Conclusion: Ball head is solid. With the exception of the leg locks not clicking solidly/audibly, into place, the unit is well built, uses high quality parts and is enough for what I want it to do and looks like it's versatile enough that I might try some stuff that I wouldn't try otherwise.
14/10/2022
Secure tripod even for heavier DSLRs
My new K&F Concept 200cm S210 tripod is neatly stored and compact in the carry bag with shoulder strap.
My DSLR is a little heavier due to the second battery grip, maybe heavy lens and accessories, but that doesn't bother the S210 camera tripod at all.
Even fully extended, on uneven ground, it cuts a fine figure and fixes the attached camera properly.
For the size and massiveness, the weight is quite acceptable.
All hinges and clamp connections are properly made and processed.
The 3 legs are fitted with removable rubber pads, including stainless steel end caps for outdoor use.
I have used the tripod several times without any problems.
I am absolutely satisfied!
A small highlight: A small removable insert shoe is provided to fix the camera. This can remain permanently mounted in the threaded connection of the camera provided for this purpose. It only takes a few seconds to install the camera on the tripod already installed. The camera is already firmly attached, can no longer twist and is ready to take pictures.
11/10/2022
Worthy every penny! You will be surprised by the quality
I am very surprised at the quality! I got it for prime day and I'm very happy with it! I already use it to record and take pictures with my Sony a 6600, top product
I'm very surprised at the quality! I got it for prime day and I'm very happy with it! I already use it to record and take pictures with my Sony a 6600, top product
30/09/2022
It is really sturdy and I'm so excited about this Tripod!
It is really sturdy and I'm so excited about this Tripod! Very easy to take photos especially long exposures.

It's very light and quite high. The ball head is metal! It will be my traveling tripod companion. I really like the case it came with. It is compact and feels very rugged and durable.

Definitely recommend having one of these for the travel tripod category!
23/09/2022
Tall and Sturdy
This was a gift to my "other half". He is exceedingly pleased with it. As he is quite tall (6'4") he needs a tall tripod, and it is difficult to find one at a reasonable price. Altogether, he says 5 stars.
19/09/2022
These images belong to KENTFAITH end users.
55" DSLR Tripods Aluminum Portable Travel Vlog Tripod Monopod 17.6lbs Load
How to assemble center column
How to assemble tripod leg
Tripod General
Load Capacity
10kg/22.05lbs
Maximum Working Height
2000mm/78.7"
Max Height without Center Column
1400mm/55.12"
Minimum Working Height
580mm/22.83"
Folded Length
480mm/18.90"
Weight
1440g/3.17lbs
Materials
Magnesium aluminum alloy
Tripod Head
Ball Head
Color
Orange/Black
Bubble Level
Tripod Legs
Leg Lock Type
Flip Lock
Leg Positions
Independent Leg Spread
Leg Sections
4
Leg Diameter
14-23mm/0.55-0.91"
Feet Features
Can be reversed 180° and folded
Tripod Center Column
Center Column Features
Transverse Center Column, Center Column Inversion
Center Column Sections
2