Camera Backpack, Beschoi Waterproof Camera Bag Fits 15 Inch Laptop 26L with Tripod Strap and Rain Cover for DSLR/SLR Camera, Speedlite Flash, Camera Tripod, Laptops, Lens
To
United States
Expedited Shipping
3-5
business days
beschoi waterproof camera bag photography bag with tripod strap and rain cover large capacity rucksack for dslr camera and accessories

813010019V1

SKU:

813010019V1

65.99

https://www.kentfaith.com/813010019V1_beschoi-waterproof-camera-bag-with-tripod-strap-and-rain-cover-large-capacity-rucksack-for-digital-slr-camera
Description
* 【Three separate compartments】17.3 x 11.8 x 9.4 inch, approx. 24 liters. The upper compartment is suitable for a 200mm lens or a Mavic Air 2 drone. Medium compartment for one camera, 2 standard lenses or 2 cameras. Lower compartment for 3 standard lenses or one camera, one lens.
* 【Quick access】 Side access for quick access to the camera and accessories while wearing - so that you are quickly at hand in the crucial moments.
* 【Additional storage bag】 Many functional pockets for storing cell phones, filters, data cables, chargers, wallets, memory cards, keys, glasses, IPAD, etc.
* 【15.6 inch laptop compartment】 The padded upper compartment offers space, especially for laptops, MacBooks and tablets up to 15.6 inches.
* 【Tripod holder & Rain Cover】 Contains a special side compartment with a strap and buckle to safely transport the tripod or hold water bottle ; Rain cover is on the bottom.
Shipping
To
United States
Expedited Shipping
3-5
business days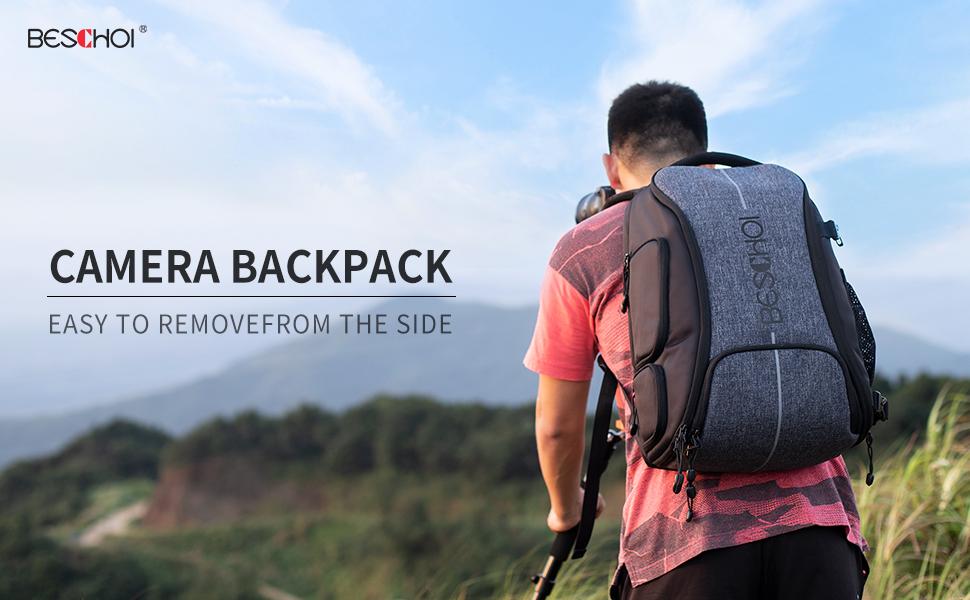 IP66 waterproof, use in extreme environments of -20°to 60°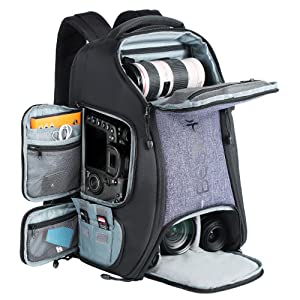 Beschoi camera backpack for SLR cameras and accessories
Protect and store your camera and accessories
Beschoi multifunctional backpack is optimized for the transport of the camera equipment, it offers protection due to the padding on the one hand of the sensitive technology, and on the other hand it helps with the internal organization. It offers three main compartments for your camera, laptop and accessories.
---
Waterproof with rain cover
The material is water-repellent, a rain cover offers the best protection for the equipment in rains. The supplied rain cover offers you perfect protection for the camera bag.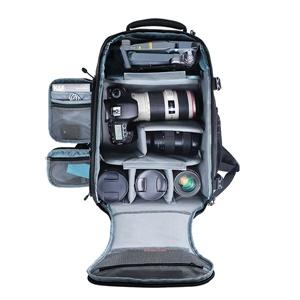 Nanometer Coating
The camera backpack supports fully open from the front, helps you organize all compartments and equipments clearly. You can put your cameras, accessories and drone orderly inside the bag without squashing each other.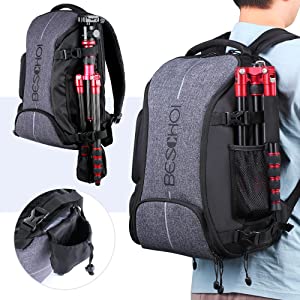 Tripod Holder
The backpack also contains exterior side tripod straps. You can take your travel tripod or monopod tripod. But it is better that the tripod length after folding is not more than 65cm in total.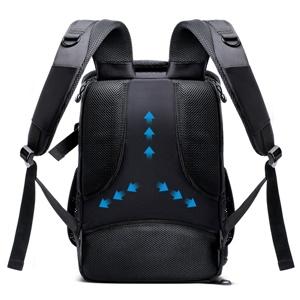 Comfortable Straps
Air mesh straps and well-padded back make the backpack comfortable to wear when you travel outdoors even if you are carrying heavy cameras or walking for a long trip.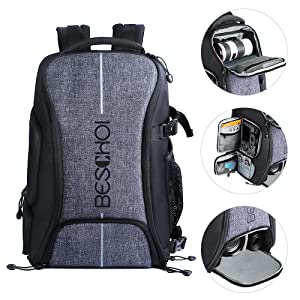 Multifunction Backpack
With the small pocket at the top you can quickly take a flash or other accessories. Additional laptop compartment for 10 inch tablet PC, 15.6" laptop on the back.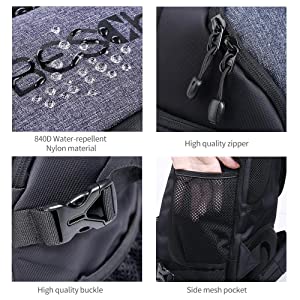 Good Quality Accessories
It comes with a waterproof cover to keep cameras dry. Please note that the waterproof cover is kept in the zipped pocket at the bottom of the bag.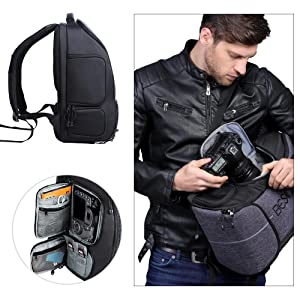 Quick Side Access
It is convenient to remove the camera quickly and not to miss the beautiful scenery on the way. Easy to take pictures whenever and wherever you want.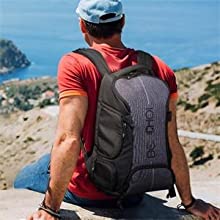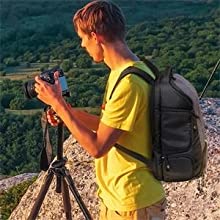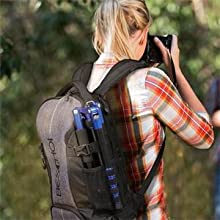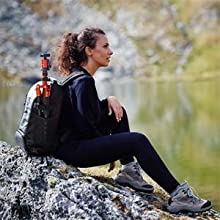 All Reviews
Image

All Star

5 Star

4 Star

3 Star

2 Star

1 Star
Very nice bag for good price
Very nice bag for good price, material looks firm and last longing. Inner space is practically arrange and bags came with multiple dividers, which gives plenty of option for inner configuration.
25/08/2023
Mr.
I am completely satisfied with the product and my order process was also flawless.
16/04/2023
Backpack
Very lightweight and durable. So spacious and it iks waterproof.
08/03/2023
Nice backpack
Solid backpack, a little bit small, but perfect to carry you camera an 3 prime lens ( no big ones ). I'm my opinion is a perfect bag for meet the city or casual walkings. Fully customizable inside .
01/03/2023
Practice for photographers
I found this backpack among the different options that there are 'that turn' and you can take out the camera sideways without any problem, so you can act quickly. This one seemed to me to be one of the most robust (considering that more or less they all go for the same price... at least it's one of the ones that will last).
This is a medium-sized backpack (there are smaller ones of this type, but that already depends on the equipment you want to transport...).
It has openings on almost all sides (as shown in the photo), reinforcements in the back and straps, as well as where the equipment needs to go. It also has a small pocket that can be removed from another interior to be able to put and support the legs of a tripod there.

As an inconvenience, it would make her not be able to open it completely... although that already suits her tastes, I have colleagues who prefer it this way to carry all the equipment in a more 'compact' way.
28/02/2023
Bolsa de cámara
Supero mis expectativas, sinceramente materiales de alta calidad y cubre perfecto mis necesidades, completamente lo recomiendo.
26/02/2023
Top for beginners
Since the summer holiday is so slowly coming and I want to take my system camera again, it was time for a new camera backpack.
Only in terms of appearance, the backpack makes a neat impression.
My highlight is the quick access for the camera because my old one did not have this and I always had to open the backpack completely.
Some had complained of the missing chest and lap belt, yes he has none. But I don't think he needs, because the shoulder straps are well shaped and the backpack fits so well. My old camera backpack (similar size) had chest and lap belt, the chest strap sat on the neck and the lap belt around the belly what was to expect because the backpacks are simply too small for something like that.
Can recommend the camera backpack to any beginner or someone who does not want to take extremely large or many lenses.
22/02/2023
Bolso para Cámara SLR
Excelente producto, supero mis expectativas, muchas gracias por el seguimiento oportuno desde el momento de mi compra y a lo largo de todo el proceso de envío, recomiendo completamente la marca y comprar en línea, recibí en perfecto estado en mi Ciudad de Residencia México CD.
20/02/2023
Meine beste Entscheidung bei Taschen
Nun nach 1 1/2 Jahren intensiver Nutzung (inkl. Tour durch die Wüste, Salzwüste und Dschungel) meine Resümee: out of the Box - unspektakulär, wirkte klein. O.K. was hat Platz: eine D850 mit angesetztem Tamron 35-150mm VC + Tamron 15-30mm 2.8 VC + Tamron 24-70mm 2.8 G2 + entweder 1x Nikon AF-P 70-300mm oder Tamron 70-200mm 2.8 G2 + Akkus+Filter+Tablet und ein paar Kleinigkeiten - wenn man mit "schwerem Gepäck" reisen möchte.(siehe Fotos). Der Rucksack sieht nach diesen intensiven 1 1/2 Jahren fast genauso aus, wie bei der Anlieferung. Extrem stabil, flexibel, robust und auch wasserdicht, besser gesagt regendicht - kein Starkregen (versenkt habe ich ihn nicht). Hat bei mir alles ausgehalten und wird mich hoffentlich noch lange begleiten. Meine beste Tasche bis jetzt in den letzten 30 Jahren. Einen absolute Empfehlung;
Nach weiteren fast 1 1/2 Jahren bin ich noch immer top zufrieden - und wollte mir für meine 2. Kamera noch eine kaufen. Leider ist - vielleicht durch die guten Bewertungen - der Preis mittlerweile um gut €50,- höher. Also packe ich doch weiterhin um. Trotzdem eine Empfehlung - wenn der Preis passt.
20/02/2023
A
The details on the bag says; " 【15.6 inch laptop compartment】 The padded upper compartment offers space, especially for laptops, MacBooks and tablets up to 15.6 inches."
Show more
Gimbal Stabilizers
Axis
28*22*42cm
Bag Compartment
Carrying/Transport Options
Backpack
Camera Support Strap
Yes
Camera Compartment
2
Lens Compartment
4
Laptop Compartment Screen Size
15 inch
Bag Exterior
Exterior Color
Black + Grey
Exterior Dimensions
29*24*44cm
Exterior Material
Nylon
Type of Closure
Buckle
Rain Cover
Yes
Bag Interior
Maximum Volume
26L
Weight
1.28kg