K&F CONCEPT OutdoorSecurity Camera Solar 4G camera LTE Wireless 2K PIR human sensor + AI human detection, EU version
New Year Sale: 99$-15$,199$-35$, 299$-55$, 599$-130$
New customer gift package
Free shipping to eligible country
Brand:

KENTFAITH

Buy KENTFAITH k&f concept outdoorsecurity camera solar 4g camera lte wireless 2k pir human sensor + ai human detection, eu version online, worldwide free shipping and 30 days return guarantee.

KF50.0019EU

SKU:

KF50.0019EU

159.99

https://www.kentfaith.com/KF50.0019EU_kf-concept-outdoor-4g-lte-security-camera-wireless-pir-human-sensor-ai-human-detection-a-variety-of-installation-structures-with-a-3-meter-extension-cable-european-version-of-the-4g-solar-camera
New Year Sale: 99$-15$,199$-35$, 299$-55$, 599$-130$
Description
* 【Outdoor 4G LTE Wireless Security Camera】: Solar and battery powered, PIR motion detection, IP66 waterproof, 2K IR night vision, 2-way audio, with solar panel and installation extension cable, not include micro SD memory card and micro SIM card
* 【K&F CONCEPT 4G Camera Waterproof】Wireless solar security camera, only works with mobile cellular 4G network, TD-LTE, TD-LTE / LTE FDD TD-LTE / LTE-FDD standard, and micro SIM card slot. Waterproof rating IP66. A suitable solution for outdoor surveillance. WiFi connection is not required and supported.
* 【Uninterrupted work and fixed monitoring range】 Solar security camera with solar panels, built-in high-capacity battery to provide the uninterrupted power supply. No need to take down the camera from the roof to charge. 4X digital zoom viewing effect, the dome camera with a rotation function.No need to adjust the monitoring area before installation, you can adjust the angle according to demand on the APP; App: Ubox APP
* 【2K Full HD and Spotlight Color Night Vision】 Solar-powered wireless security camera outdoor with a 3.6mm lens provides 2KP HD images and video. The built-in spotlight flashes bright light to switch to night vision mode, helping to view actual color night vision in real-time and see through up to 98 feet of darkness even in shallow light conditions.
* 【 PIR Human Detection and Instant Alert/Optional storage and data encryption protection】 PIR sensors and AI human detection alarms are used to detect the human body more accurately and reduce false alarms caused by light or insects. Supports instant alerts and recording. You can immediately see what is happening from your phone. LTE solar battery-powered outdoor security camera can be used for cloud storage or MicroSD card (up to 128G, K&F64G micro SD card is recommended) providing you with flexible data storage options. You can freely play a video anywhere, anytime via the cloud (additional subscription fee applies/free 7-day trial available). Mobile apps can be downloaded from Apple App Store/Google Play
Shipping
Free shipping to eligible country
Sale
New Year Sale: 99$-15$,199$-35$, 299$-55$, 599$-130$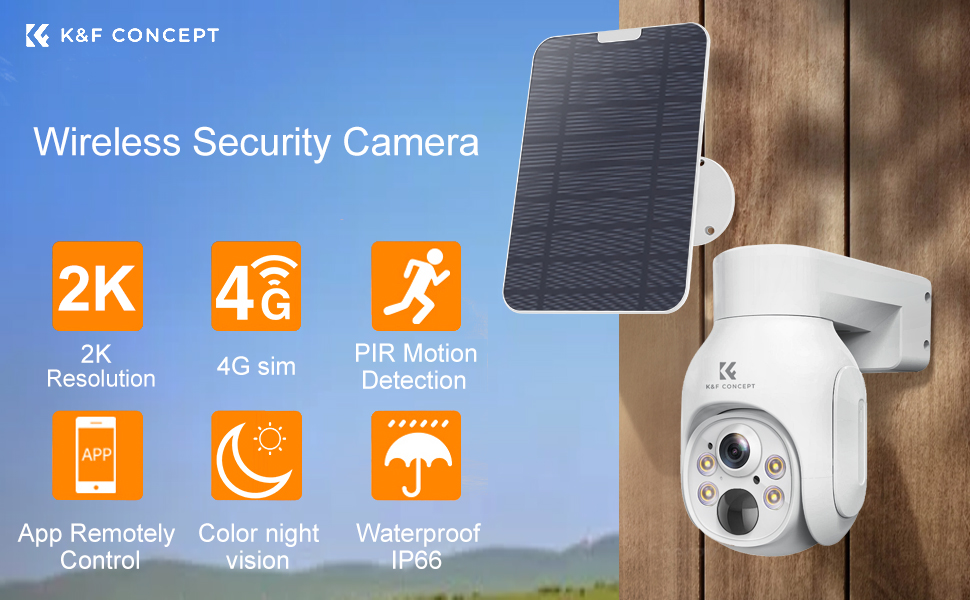 4G solar cell outdoor camera color night vision
High-efficiency 4W solar panel with adjustable angle.
Built-in large capacity 9000mAh battery storage.
2K HD orientation covers every corner Pan 355° Tilt 120°.
Local SD card slot and cloud storage with Class 10 4G to 128G support (not included).
IP66 waterproof, weatherproof from -20°F to 140°F (-30 °C to +60 °C).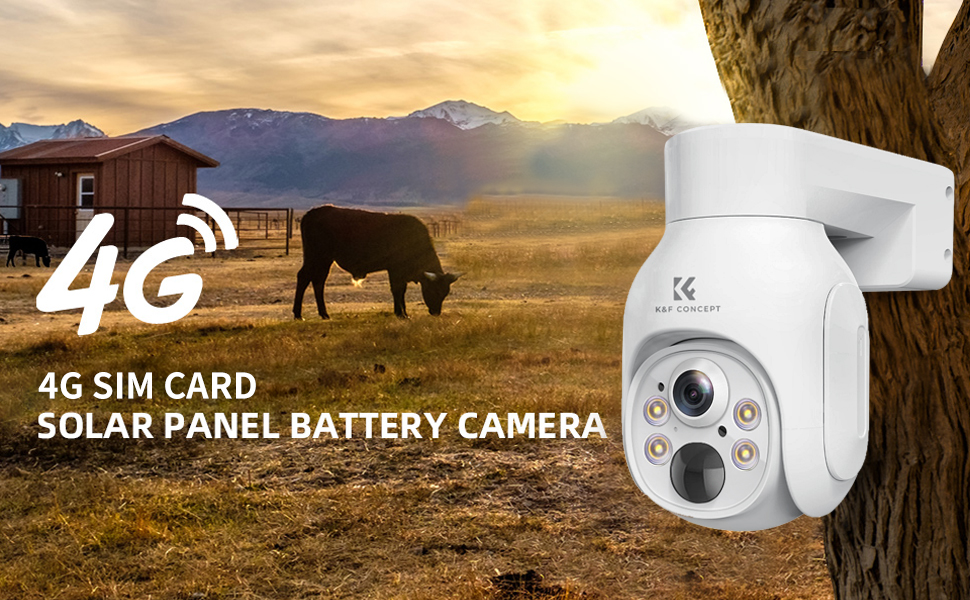 Why choose 4G solar security camera?
1. Compact, no wiring required: 4G solar security camera can do the job without connecting wires to remote areas, bringing you convenience.
2. No WiFi network required: One of the biggest advantages of 4G solar security camera is that it is independent of WiFi network, with no need for wired or wireless video transmission.
3. PIR intelligent detection: with PIR sensor and Ai human detection alarm function to reduce false alarms caused by large amounts of rain, flying insects, etc.
4. Real-time remote viewing and notification: support UBox APP to view and control remotely at any time.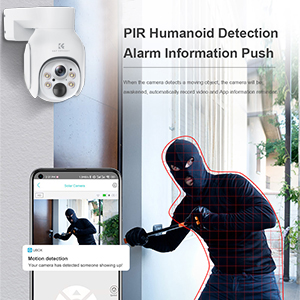 PIR motion detection and alerts
Get proactive notifications when something unusual happens, so you know if anything happens while you're away.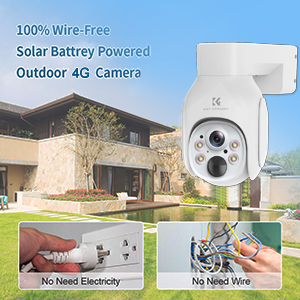 Solar-powered, 100% wireless
Built-in 9000mAh high-capacity rechargeable lithium battery and 4W solar panel, you don't need to worry about battery life and low power consumption, stay fully charged and achieve 100% wireless safety in the outdoors.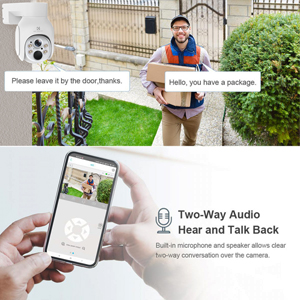 Two-way conversation
The built-in enhanced microphone and speaker make it easier to communicate even when you're outdoors.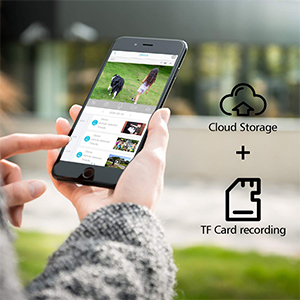 SD card storage and cloud storage
Support SD card storage, up to 128GB (not included), cloud storage (optional), providing 30 days of free cloud storage.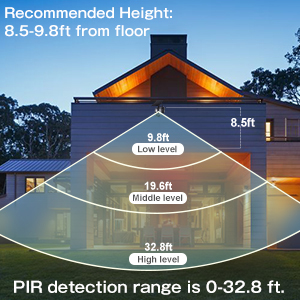 PIR Human Detection Distance
The solar-powered security camera has a monitoring range of up to 10m/32.8ft, with an ideal installation height of 8.5 to 9.8ft above the ground. The sensitivity range for monitoring can be set on the UBOX APP.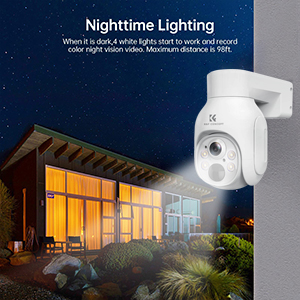 Full Color Night Vision
Equipped with 4 white LEDs and 4 IR lights, it provides black and white night vision and color night vision at a distance of up to 10 meters for a clearer picture.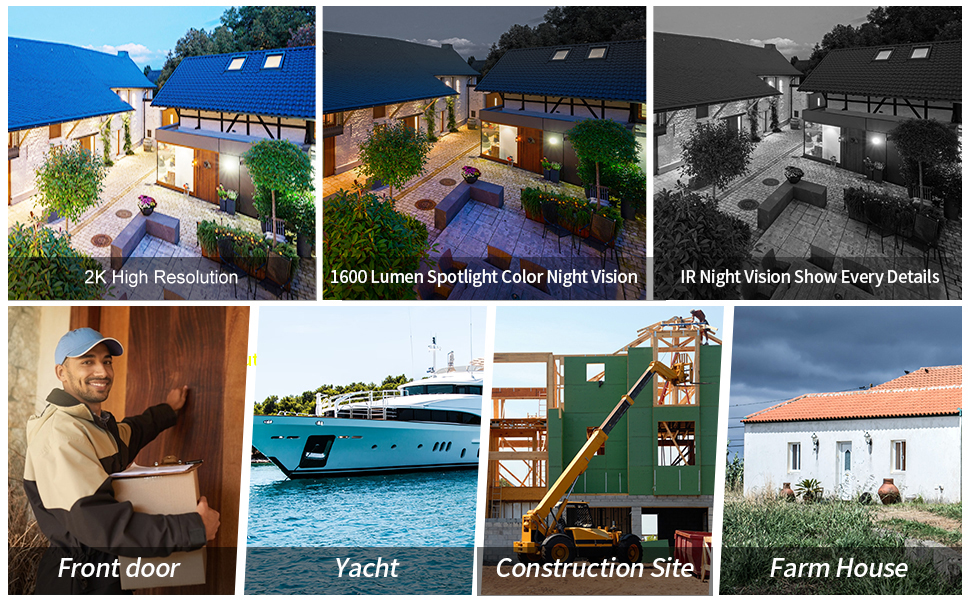 All Reviews
Image

All Star

5 Star

4 Star

3 Star

2 Star

1 Star
Best one out there!
I got this as a birthday present from my wife. At 48, this is the kind of stuff we get excited about! I thought it was just a security camera at first, but as I started setting it up I kept discovering new things … you can toggle it, night vision, motion detection! We have a property that is very far from where we live and I can't wait to set it up there so I can enjoy the views when I can't be there!
16/10/2022
Best performing camera on the market!
This K&F CONCEPT security camera is fantastic for me!
I can view the surveillance screen anytime, anywhere. The picture quality is clearer than other brands on the market with HD mode.
The motion detection function is very sensitive and can trigger monitoring accurately, and there are almost no false alarms.
13/10/2022
Best remote camera I have ever used
If you're looking for a remote camera without wifi and no power this is the camera system for you. I have 20 acres in a remote area with no power and no internet and this camera preforms better than my cameras that have power and internet.

The picture is super clear in HD mode and you can control the camera with instant movement from the controls on your phone. The camera is super easy to use and comes with everything you need to get started.

I strongly recommend this camera system for anyone that needs a remote camera that doesn't have internet or power available on the site you're trying to protect.
12/10/2022
Worth the money
As crime is getting worse in my area, I needed something to protect my family home. So many cameras out there it was so hard, I found myself coming back to this camera - I just took the jump and purchased it. I'm very happy so far with the purchase. Glad I decided to buy this on, knowing I can check my home anytime. Anyone comes on my property I've got them on cctv entering. Extra protection.
08/10/2022
Excellent video coverage for scenery as well as motion detection
Great quality product for low money
06/10/2022
Great Product and Great Company
This camera works great. The solar option helps so I do not have to remove and recharge the camera. This company also really stands behind their products. I previously bought a different camera from them, which had problems charging and I contacted them and they sent me a brand new one.
03/10/2022
Second Camera works
We had problems with our first camera returned it. The customer service wanted to proof the quality of the camera and sent us a replacement for free. This one works as described. Five star customer service for sure!
02/10/2022
Great customer service.
I like the camera, and the customer service has been awesome! Answers questions quickly. very good picture quality in HD mode.
02/10/2022
Quality build and great Picture / Video clarity
The camera is proving to be a excellent purchase.
30/09/2022
Up and running in less than 10 minutes
We were looking for a solution to place an outdoor camera in a section of our yard that was too far for our wifi despite our best attempts.

I was able to set up and connect the camera in less than ten minutes.

The picture quality is excellent, even in SD and the night vision even picked up some critters visiting at night.
29/09/2022
There are no faqs for this product.
Surveillance Cameras
Video Resolution
2K
Power Supply Method
Solar power
Built-in Battery Capacity
9000mAh
Storage
Cloud storage/micro SD (maximum 128G)
Pan Tilt
Horizontal 355°/Vertical 90°
Motion Detection
PIR
Motion Detection Range
10m/33ft
Waterproof IP Rating
IP66
Night Vision
Full Color Night Vision/Infrared Night Vision
Night Vision Range
10m/33ft
Alarm Method
Sound and light alarm
Two-way Talk
√
Connection Method
4G
Application
UBox