WIFI solar security camera System solar camera PIR human sensor + 2-Way Audio Built-in Battery 9600mAh AI Human Detection 2K Infrared Night Vision 8m/26ft white
Buy now in the K&F Concept WIFI solar security camera ► 30 Day No Reason Return ► Built-in Battery 9600mAh 2K Infrared Night Vision 8m/26ft ► Fast Shipping From US Free ► 3W Solar 2-Way Audio

KF50.0010

SKU:

KF50.0010

103.99

https://www.kentfaith.com/KF50.0010_kf-concept-wifi-outdoor-security-camera-dome-3w-solar-high-capacity-battery-pir-human-sensor-ai-human-detection-sound-light-alarm-with-3m-extension-cable
Description
* 【2K HD, see every detail clearly】2K HD resolution, full-color night vision up to 8 meters, can capture more details, the head rotates 355° horizontally and 120° vertically, panoramic surveillance without blind spots.
* 【Solar power and Quick installation】no need to lay wires, you can quickly install the product in more places outdoors, solar energy and batteries will continue to provide power for the product, do not worry about power outages, very convenient! The best choice to save time! Connect to the "K&F Cam" APP via wifi, you can operate and control the monitoring remotely.
* 【PIR motion detection and Sound and light alarm】upgraded high-sensitivity PIR combined with AI algorithm, accurate identification of moving objects, fast push messages, no matter where you are will not miss key information, night recognition of strangers intrusion, the product can actively open the sound and light alarm to drive away the intruder, to protect your property security.
* 【Easy Storage and Sharing】You can share the product with your family, up to 5 people can view the picture at the same time. No additional cost, insert an SD card to achieve video storage (up to 128G); you can also choose to subscribe to encrypted cloud storage service to save the video, you will get 7 days of free cloud storage service.
* 【 Safety and risk-free】Waterproof grade IP66, no fear of wind and rain, high temperature or cold, all-weather guard your home, patented products, fine quality, in line with the FCC, CE, ROSH, TELEC, PSE, and other certification requirements.
Shipping
Free shipping worldwide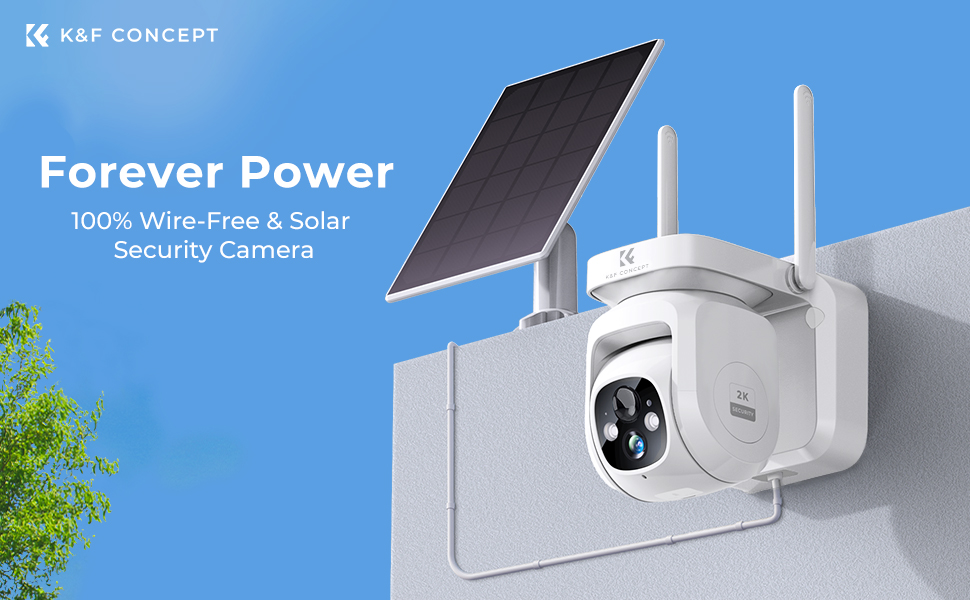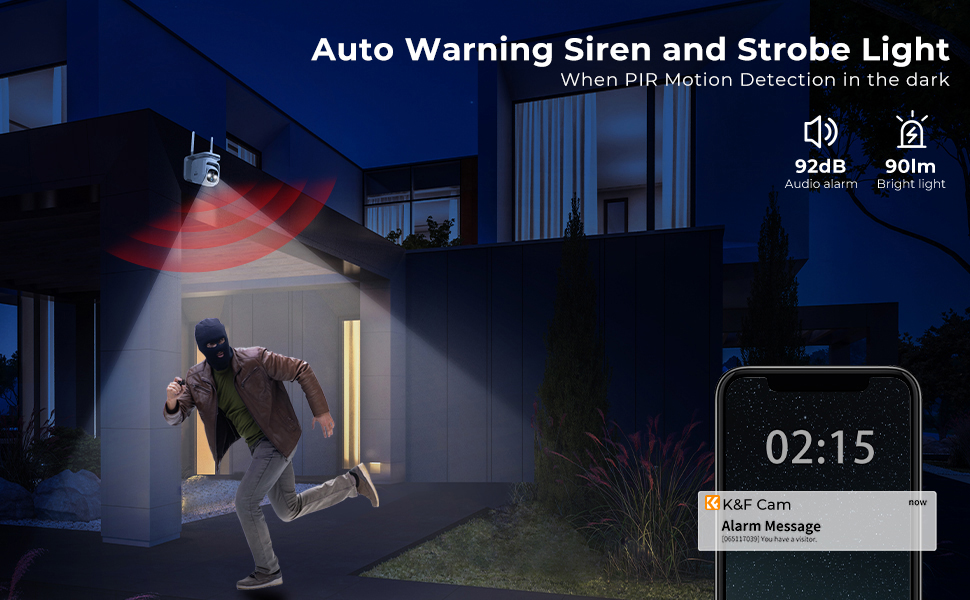 PIR motion detection and instant alerts
Outdoor wireless solar camera can detect moving targets in time. When the PIR sensor detects human motion in the dark, the product's spotlight lights up and a quick push alert notification is sent to the app. you'll know exactly what's going on around your home even when you're not there. You can also set audio warnings and alarm zones to scare away burglars who approach your home.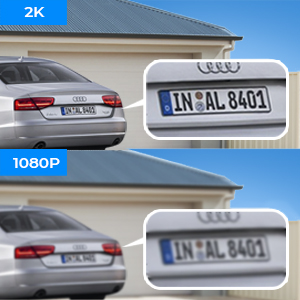 2K HD
The 3MP 1/2.8" CMOS color sensor and 4mm lens give you an all-day, high-resolution 2K image experience that's sharper than 1080p.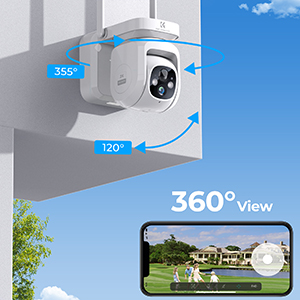 360° all-round protection
Outdoor wireless solar camera allows you to remotely control its left/right/up/down rotation through the gimbal function on the app, which provides 120° vertical and 355° horizontal rotation range, 360 degrees all-round protection for your home.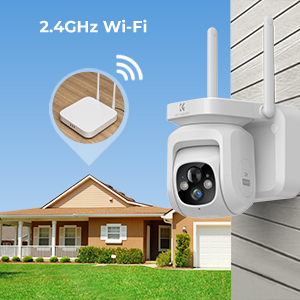 Supports 2.4GHz WiFi
Outdoor wireless solar camera is equipped with upgraded 4dBi dual WiFi antennas to provide more stable network connectivity and wider range, significantly reducing poor connectivity issues. Supports 2.4GHz WiFi, does not support 5GHz WiFi.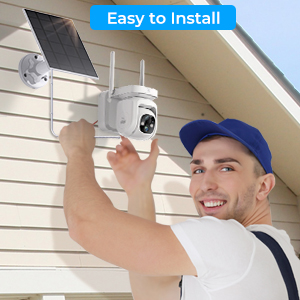 100% wireless, no plugs required
No need to run wires, you can quickly install the product in more places outdoors, solar power and batteries will continuously power the product. The best choice for saving time!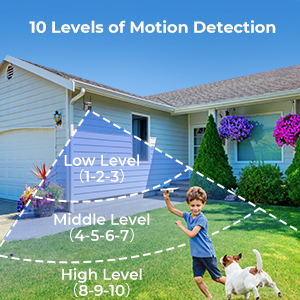 PIR motion detection
Equipped with advanced PIR sensor, it can accurately capture human motion and push messages in time, with 1-10 levels of adjustable sensitivity, if you want to detect cars or animals, please turn off the "motion detection" button.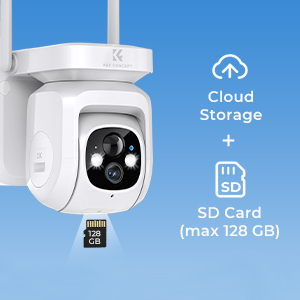 Local Storage and Cloud Storage
Local storage with support for up to 128GB Micro SD cards (not included). Requires FAT32 format with Class 10 read/write speeds.
Encrypted cloud service ensures your mobile trigger records are stored securely, and the product offers 7 days free cloud storage service.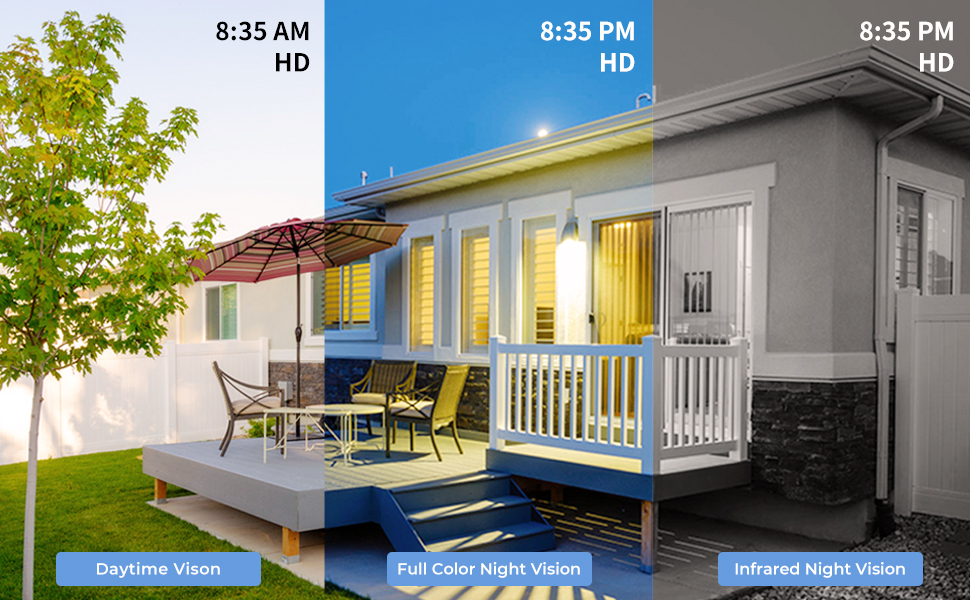 Three types of video screen
More night vision modes for you to choose from: full color, black and white.
With 2 white LEDs and 2 infrared LEDs built in, the k&f concept solar-powered wireless camera has night vision up to 33 feet, so you can see through everything even in the dark.
Rating

840 reviews.

731 reviews.

904 reviews.

794 reviews.
Price

$129.99

$103.99

$289.99

$209.99

$89.99

$55.99

$87.99
Model
KF50.0010
KF50.0031
KF50.0006AUS
KF50.0013A

Video Resolution

2K
2K
2K
2K

Power Supply Method

Solar power
Solar power
constant electricity
Solar power

Built-in Battery Capacity

9600mAh
28800mAh
/
9000mAh

Storage

Cloud storage/micro SD (maximum 128G)
Cloud storage/micro SD (maximum 128G)
7 Days Free Cloud and Micro SD card (up to 128G/cl
Micro SD card(up to 128G/NVR/Cloud)

Pan Tilt

Horizontal 355°/Vertical 120°
Horizontal 355°/Vertical 100°
Horizontal 355°/Vertical 120°
/

Motion Detection

PIR
PIR
PIR
PIR

Motion Detection Range

10m/33ft
12m39.4ft
Adjustable
7m/22,96ft

Waterproof IP Rating

IP66
IP66
IP66
IP66

Night Vision

Full Color Night Vision/Infrared Night Vision
Infrared Night Vision, Color Night Vision
Infrared Night Vision, Color Night Vision
Infrared Night Vision, Color Night Vision

Night Vision Range

8m/26.24ft
20m/65,61ft
8m/26,24ft
8m/26.24ft

Alarm Method

Sound and light alarm
Sound alarm
Sound and light alarm
Sound and light alarm

Two-way Talk

√
√
√
√

Connection Method

2.4GHz WIFI
2.4GHz WIFI
2.4GHz wifi
2.4GHz wifi

Application

CloudEdge/KF CAM
UBox
CloudEdge

App

EseeCloud
All Reviews
Image

All Star

5 Star

4 Star

3 Star

2 Star

1 Star
Top Kamera
Die Kamera ist mit der App super schnell eingerichtet und braucht entsprechenden WLAN-Empfang.Zusätzlich gibt es in der App noch zahlreiche Einstimmungsoptionen indem sich der Überwachungszeitraum, Alarmmethode (nur Aufnahme, Aufnahme und Licht und alles zusammen mit Alarmanlage) sowie die Möglichkeit bestimmte Bereiche auszublenden damit die Kamera nicht anspringt.Die Qualität der Videos, auch bei Nachtsicht ist erstaunlich gut und man erkennt auch die Personen, man hat kein Pixelbrei wie man es aus diversen Kameras bei Tatort kennt.Zusätzlich schickt auch die App verlässlich Benachrichtigungen wenn Bewegungen erkannt werden.Auch die Audio-Funktion funktioniert Einwandfrei, ich persönlich hätte mir nur gewünscht, dass man die Dauer des Lichts auch einstellen kann da ich die gefühlte Leuchtzeit von 0,5-1min recht lang empfand um ggf. Akku sparen zu können.Nichtsdestotrotz konnte uns das Produkt vollkommen überzeugen.
01/08/2023
Je recommande
Le panneau solaire universel 5V 4W K&F permet d'alimenter en permanence une caméra de surveillance sans perdre de temps à charger la batterie. Il a une taille de 20 cm x 14 cm et un câble de raccordement de 3 mètres de long. À la fin, il y a une prise USB-C. Avec le support inclus, le panneau peut être fixé aux murs de la maison, par exemple. Grâce à la rotule, le panneau peut alors être facilement orienté vers le soleil. Le panneau solaire et le support sont de couleur noire.La puissance de sortie indiquée ici est de 4 watts. Jusqu'à présent, le panneau solaire m'a convaincu et constitue donc une recommandation de ma part.
29/07/2023
Schwenkbare Einheit, Solarlademöglichkeit, vielfältige Kommunikation, kabellos, mit SD-Kartenoption.
Das schwenkbare Kamerasystem ist für vielfältige Einsätze bestens geeignet. Es verfügt über eine App-Ansteuerung, welche über das Internet funktioniert. Für Camper oder OFF-Roader ohne Internetanbindung gibt es keine Möglichkeit der Nutzung über eine direkte Ansteuerung z.B. über Bluetooth. Dies wäre für Camper besonders interessant. Ansonsten kann die Kamera ferngesteuert werden und es kann auch fern kommuniziert werden. So ist es kein Problem, aus dem Urlaub oder von der Geschäftsreise die Sichten über ein zubuchbares Cloudsystem aktuell abzurufen, aber auch Bewegungsmeldungen zu erhalten. Die Bewegungsmeldungen funktionieren ebenfalls gut. Wird die Kamera z. B. im Innern des Hauses, Büros, Lagers usw. eingesetzt, so wird jede Bewegung registriert, aufgezeichnet (bei Cloud-Betrieb) und als Bewegungsinformation an das Smartphone oder Tablet gesendet. Bei SD-Karten-Betrieb kann man dann selbst entscheiden, wann man die Aufzeichnung abruft. Ein lautes Signal kann dazu geschaltet werden. Beim Einsatz im Außenbereich kann auf die gleiche Art verfahren werden, da macht es jedoch keinen Sinn die Sirene einzuschalten, denn diese kann bereits durch eine vorbeilaufende Katze ausgelöst werden. Sehr vorteilhaft sind auch der implementierte Lautsprecher und das Mikrofon in der Kamera. Im Eingangsbereich kann somit nicht nur die Überwachung über die Bewegungsmeldung stattfinden, sondern auch die Kommunikation, und das aus dem Urlaub oder von der Geschäftsreise aus über das Smartphone. Die Kamera kann aber genauso für die Überwachung des Kinderzimmers genutzt werden.Aufgrund der hohen Auflösung, kann sie aber auch für die Überwachung und das Ablesen von Werten und Zuständen bei Zählern und Maschinen verwendet werden.Durch die Nachtsichtfunktion erweitert sich das Einsatzgebiet erheblich, jedoch muss man hier wissen, dass die Ausleuchtung nicht sehr weit geht. Man kann vielleicht noch einen Eingang oder Türbereich gut sehen, aber eine größere Fläche, wie z.B. eine ganze Hausfront geht nicht ohne den Einsatz zusätzlicher Infrarot-LEDs. Hierzu benötigt man einen zusätzlichen Infrarotscheinwerfer, also unsichtbares Licht, dann sieht man größere Flächen einwandfrei. Die Kamera liefert ein gutes und scharfes Bild. Auch mit Gegenlicht kommt sie gut zurecht.Die Erkennung von Bewegungen funktioniert sehr gut. Man kann die Empfindlichkeit auch noch zusätzlich nachjustieren.Der Anschluss der Kamera an das Internet ist relativ einfach. Die Kamera und das Smartphone müssen über ein WLAN an einen Router, Switch, Accesspoint oder Repeater angemeldet werden. Ohne eine Anmeldung geht nichts. Sobald diese synchronisiert ist und die Anmeldung via App stattgefunden hat, kann auf die Kamera zugegriffen werden. In der Dokumentation ist alles sehr gut in Wort und Bild beschrieben.Eine gute Internetverbindung ist Voraussetzung.Der Spezial-Akku der Kamera ist tauschbar. Die Lebensdauer der Kamera ist somit nicht von der Akkulebenszeit abhängig. Sicherlich wäre es einfacher, wenn es sich um Standard AA Eneloop Akkus handeln würde, welche im Bedarfsfall oder Schadenfall schnell ausgetauscht werden könnten. Geladen wird der Akku über eine microUSB Buchse und ein normales Ladegerät. Ein microUSB Ladekabel für die Dauerstromversorgung wird mitgeliefert. Die Kamera kann permanent am Ladekabel angeschlossen bleiben, falls eine Versorgung mit Solarstrom ortsbedingt nicht möglich ist.Der Anschluss an das mitgelieferte Solarpanel ist absolut professionell und sinnvoll. Das Solarpanel wird ebenfalls über microUSB angeschlossen. Das Solarpanel kann unabhängig vom Kamerastandort optimal zur Sonne ausgerichtet werden. Es ist mit einem langen Kabel ausgestattet.Im Außeneinsatz sollte die Kamera entweder regengeschützt angebracht sein oder ein zusätzliches Regen- und Schneedach bekommen.Die Montage der Kamera und des Solarpanels ist mit Hilfe der mitgelieferten Schrauben und Dübel problemlos möglich.Fazit: Es handelt sich um ein sehr gutes drahtloses und schwenkbares Kamerasystem mit optionaler Solarstromversorgung, so wie es sein soll. Die Bewegungsmeldungen und Bilder können über die App auf der ganzen Welt, wo Internet verfügbar ist unter Hinzunahme von Clouddiensten, empfangen werden. Die Installation und die Bedienung sind einfach gehalten, man muss sich lediglich an die Anweisungen in der guten Dokumentation halten. Die Verarbeitung und die Qualität sind sehr gut. Das Einsatzgebiet ist aufgrund der Schwenkbarkeit und der guten Aufnahmen unter Hinzunahme des Solarpanels sehr weitreichend und vielfältig.
29/07/2023
APP + Einrichtung + Funktionen + WLAN + Tiefenschärfe + Bildqualität >> ☆☆☆☆☆
Überwachungskamera Aussen Akku, K&F Concept 2K Kamera Nachtsicht mit Spotlight, Outdoor Camera kabellos mit Solarpanel, PTZ WLAN PIR Bewegungsmelder, Zwei-Wege-Audio, Cloud/SD, Ip66 (Schwarz)Besuche den K&F Concept-Store☆☆☆☆☆☆☆☆☆☆☆☆☆☆☆☆}Die meisten Überwachungskameras der neuen Generation haben oft eine runde oder stark abgerundete Form und sind weiß.Das ist hier mit dem quadratischen Würfel mit den angefasten Kanten anders und die Form gefällt mir sehr gut.Zudem ist auch die Farbe, die sehr gut zu unseren Fenstern Türen etc passt, nicht so auffällig wie eine weiße Kamera.Zur Inbetriebnahme muss man die App des Herstellers installieren und wie gewohnt und üblich ein Konto anlegen und die Kamera ins WLAN Netzwerk einbinden.Die Kamera unterstützt nur 2.4GHz-Netze und wenn man das Gerät (Tablet oder Smartphone) auf welchem man die App installiert hat, mit dem 2,4GHz WLAN verbunden hat und die Anweisungen in der App und der deutschen Anleitung befolgt, ist die Einrichtung problemlos und schnell erledigt.Die Kamera wird direkt mit dem Gehäuse mit hinterher durch Silikonstopfen verdeckte Schrauben an eine Wand etc. angebracht.Es macht bei mir zwar keinen Sinn die Kamera um 180° gedreht anzubringen, aber sollte das erforderlich sein, kann man in der App "drehen des Bildschirms" aktivieren, damit das Bild nicht auf dem Kopf angezeigt wird.Sehr gut gefällt mir, dass das Live-Bild in der App schnell und ohne große Verzögerung dargestellt wird. Bei meinen wesentlich teureren Kameras (Arl..Ultra) habe ich eine deutlich längere Verzögerung und das Bild ist bei denen auch nicht wesentlich besser.Die App bietet die üblichen Möglichkeiten zur Einstellung der Kamera und eine übersichtliche Darstellung der Aufzeichnungen auf der micro-SD-Karte.Es gibt eine Stromverbrauchsstatistik, so dass man in Verbindung mit den Alarm- und Video-Einstellungen die maximale Akkulaufzeit herausfinden kann.Wie üblich lassen sich auch Bereiche markieren, in denen keine Bewegung erkannt werden soll.Die Aufzeichnungen und das Live-Bild kann mit den Auflösungen SD oder FHD erfolgen. Eingestellt wird das mit zwei Klicks in der App.Dort wird auch die aktuelle WLAN-Stärke und Datenübertragungsrate angezeigt.Bei SD betrug sie bei mir ca.20KB/s und bei Full HD (FHD) bis zu 220KB/s.Das Bild wurde mit leicht sichtbarer Verzögerung (1-2s) sehr scharf und kontrastreich dargestellt.Beeindruckend ist der Bereich der Tiefenschärfe. Es wurde sowohl ein sehr nah (ca.30cm) an der Linse positioniertes Objekt als auch weit entfernte Objekte scharf dargestellt.Das digitale 4-fach Zoom funktioniert, sollte aber nicht überbewertet werden da dadurch selbstverständlich Details verloren gehen. Wer hier scharfe Bilder möchte, muss sich für eine Kamera mit optischem Zoom entscheiden.Über die der App kann die Kamera in einen sehr weiten Bereich mit einer sehr kurzen Verzögerungszeit geschwenkt werden. Horizontal sind das 355° und Vertikal 120°.Damit hat man einen Rundumblick und man kann den Himmel oder Boden betrachten.Was auch sehr gut funktionierte war die Bewegungserkennung mit dem PIR-Sensor, der ja dafür gedacht ist, nur Bewegungen von Personen zu erkennen und nicht bei jeder Bewegung von Sträuchern etc. eine Aufnahme durchführen soll.Im Alarmmanagement kann die Erkenungsempfindlichkeit in 10 Stufen eingestellt werden.Im "Alarmplan" werden Zeiträume festgelegt, in denen Aufnahmen erfolgen sollenMit dem Punkt "Alarmbereich" wird das Livebild der Kamera gezeigt und mit 144 Quadraten (16 horizontal und 9 vertikal) überlagert. Hier kann man durch Aktivierung der einzelnen Quadrate (die dabei deutlich orange eingefärbt werden) die Bereiche festlegen, in denen die Bewegungserkennung aktiv sein soll.Unter dem Punkt "Warnung mit Ton und Licht" kann eine von drei Optionen aktiviert werden."Wenn eine Bewegung oder Personen erkannt wird sendet die Kamera Warnung mit"• Alarm mit Ton (Sirene)• Alarm mit Licht• Alarm mit Licht und TonEin Unterpunkt im Alarmmanagement ist der "Alarmarbeitsmodus".Hier können drei Optionen aktiviert werden.1▪︎Im Energiesparmodus wird die Aufnahmezeit auf maximalm 10s begrenzt und die Erkennung von Personen ist aktiviert.2▪︎Im Leistungsmodus wird die Aufnahmezeit durch erneute Bewegungserkennung verlängert.3▪︎Wenn der "Benutzerdefinierter Modus" aktiviert ist hat man drei Möglichkeiten.• Aktivieren dass nur Personen bei Nacht und/oder bei Tag erkannt werden.• Die Aufnahme mit 10 • 20 oder 30 Sekunden durchgeführt wird• Alarmintervall ausschalten oder auf 2 • 5 oder 10 Minuten einstellen.Die Akkulaufzeit ist natürlich davon abhängig, wie viele Ereignisse aufgezeichnet werden. Im Energiesparmodus wird vermutlich die längste Akkulaufzeit erreicht.In der Stromverbrauchsstatistik kann man das überprüfen und entsprechend die Einstellungen im Leistungsmodus anpassen.Die Aufnahmen wurden auf einer micro-SD-Karte mit einer Kapazität von 128GB gespeichert. Meine Karte wurde zwar erkannt, musste aber in der Kamera formatiert werden. Deshalb sollte man auf der Karte vorhandene Daten vorher sichern.Positiv zu erwähnen ist, dass die Speicherung in der Cloud extra aktiviert werden muss. Die kostenlose Testphase beträgt lt. Beschreibung 7 Tage, die ich aber nicht in Anspruch genommen habe, obwohl das sinnvoll ist.Wird die Kamera entwendet ist auch die SD-Karte weg und man hat kein Beweismaterial bzw. Bilder von dem Dieb.In der Cloud sind die Videos auf jeden Fall sicherer gespeichert.Überrascht hat mich die WLAN-Reichweite, die im Vergleich zu anderen Kameras eine größere Entfernung vom Router ermöglicht.Hier kommt wieder der Vergleich mit den Arl..-Kameras, die -bei mir- eine wesentlich geringere Reichweite habenVermutlich ist das stärkere Signal -bei mir- mit den "verbesserte 4-dBi-Dual-WLAN-Antennen" zu erklären. Andere Gründe sind aber auch nicht auszuschließen.Die WLAN- Reichweite sowie auch die Bild-Qualität ist sehr gut, die Tiefenschärfe klasse und wenn es mal etwas dunkler ist und man farbige Bilder sehen möchte, kann man die eingebaute und helle "Scheinwerfer-LED" mit der App einschalten.Die kann optional auch bei einer Bewegungserkennung aktiviert werden und so ungebetene "Gäste" auf die Kamera aufmerksam machen.Eine zwar nicht sehr- aber ausreichend laute Sirene kann bei einer Bewegungserkennung für 30s aktiviert werden und vertreibt bei Bedarf -hoffentlich- ungebetene Besucher.Der eingebaute Lautsprecher ist zur Kommunikation mit Besuchern besser als ich es bei anderen Kameras gehört habe.Auf Grund der relativ kurzen Testphase kann ich die Akkulaufzeit beim derzeitigen Wetter (mit wenig Sonnenschein) und damit die Aufladung durch das Solarpanel noch nicht beurteilen. Zudem ist die Akkulaufzeit auch von vielen Faktoren abhängig so dass bei mir ermittelte Zeiten nicht als Referenz angesehen werden könnten.Zum Zeitpunkt meiner Bestellung kostete die Kamera nur 99,99€ worüber ich mich sehr gewundert habe.Derzeit wird sie für 149,99€ angeboten und der Preis kann mit "Rabattgutschein einlösen und 40€ sparen" reduziert werden.Aber selbst für 149,99€ bewerte ich das Preis-Leistungsverhältnis als sehr angemessen.Der Gesamteindruck ist auf jeden Fall so gut, dass ich die Kamera empfehlen und mit sehr guten fünf Sternen bewerten kann.Es ist eine der besten Kameras, die ich bisher ausprobieren durfte.
28/07/2023
Super kamara
Super mit hervorragenden BilderNr.1
18/07/2023
Wahnsinn
Wir haben die Kamera für unser zuhause bestellt und weniger als Überwachungssystem, sondern vielmehr dafür zu sehen, was unser Hund zuhause macht, während wir über einen längeren Zeitraum nicht zuhause sind. Die Kamera ist sehr leicht zu installieren und funktioniert über das Handy einwandfrei, sodass man leicht eine Verbindung herstellen kann, um zu überprüfen, wie es zuhause ausschaut. Durch ihre Größe und Erscheinung ist sie nicht sehr auffällig und sehr schön gemacht. Die steht bei uns auf einem Regal, wo sie auch nur auffällt, wenn man genauer hinschaut. Sie nimmt schon die kleinsten Bewegungen auf und signalisiert diese an das Telefon. Sie kann ebenfalls Videos aufnehmen. Zusätzlich ist zu erwähnen, dass die Qualität des Bildes auch sehr gut ist und auch bei Dunkelheit Bilder zu erkennen sind. Persönliches Highlight ist das solar Panel, welches es erlaub, die Kamera an jedem Ort ohne Steckdose zu installieren
17/07/2023
Gute Cam mit Rundumsicht
Die Überwachungskamera wird über den eingebauten Akku betrieben, welcher entweder durch ein Netzteil geladen werden kann oder über das dem Set beigefügte Solarpaneel. Ein Befestigungsfuß für das Solarpaneel liegt bei und ein 1 m langes Mikro USB-Kabel. Um die Kamera einzurichten, ist es notwendig eine App herunterzuladen, wofür der QR-Code auf Seite 24 der beiliegenden Gebrauchsanweisung abgedruckt ist. Nach erfolgter Einrichtung der Kamera lässt sie sich über die App steuern. Dafür muss sie im Heimnetzwerk (2,4 GHz) registriert sein. Bei der Videoauflösung lässt sich zwischen SD und HD wählen. Desweiteren lassen sich sogenannte Intercomgespräche führen. Dieses funktioniert in beiden Richtungen. Sie verfügt auch über einen sogenannten Bewegungsmodus. Sie erkennt Bewegungen und zeigt automatisch das Bild in der App an. Die Kamera verfügt über einen Nachtmodus dank Infrarotbeleuchtung. Es lassen sich zusätzlich 2 helleuchtende LEDs aktivieren für noch bessere Sicht. Die Bilder lassen sich auf einer SD Karte mit maximal 128 GB Größe in der Kamera aufzeichnen oder man benutzt einen Cloud Speicher. Desweiteren lässt sich über die App der Blickwinkel der Kamera steuern nach links und rechts fast 360 Grad und nach oben und unten 120 Grad. Das ausgegebene Bild in der App ist klar und deutlich. Dank ihrer Unabhängigkeit von einem Stromnetz lässt sie sich für besonders dunkle Ecken nutzen. Die Laufzeit der Kamera ist mit ca. 200 Tagen bei 10 Einschaltungen pro Tag á 15 Sekunden angegeben. Die Kamera ist wasserdicht IP 66.
13/07/2023
Preiswerte Kamera mit beachtlichen Leistungen
Günstiger Preis, schnelle Lieferung, angemessene Verpackung, gute Einrichtung - kann ich nur weiterempfehlen
12/07/2023
Einfache Handhabung und super Bild
Die K&F Concept 2K Überwachungskamera gefällt mir zu meiner eigenen Überraschung doch ganz gut. Auch wenn ich kein Fan von totaler Überwachung bin, so erfüllt diese Kamera in unserem Fall doch recht gut ihren Zweck. In unserem Fall wird sie im Garten eingesetzt, da dort mehrere Spielgeräte für die eigenen und die Nachbarskinder stehen. So hat man die Kids ein bißchen mehr im Blick, weil man ja auch nicht immer und ständig dabei sein kann.Kommen wir zur Kamera selbst. Das Hauptgerät an sich wurde uns in der Farbe grau geliefert und die Kamera macht einen qualitativ hochwertigen Eindruck. Das mitgelieferte Solarpanel lässt sich über ein ziemlich langes Kabel mit der Kamera verbinden und so läuft die Kamera auch ohne Strom. Um die Kamera zu nutzen, muss man sich vorher die dazugehörige App herunterladen. Die App ist so leicht und einfach gestaltet, dass ich nicht einen Blick habe in die Bedienungsanleitung werfen müssen um die Kamera in Betrieb zu nehmen.Leichter geht es kaum und ich bin auch total begeistert was die Bild- und die Tonqualität angeht.Aufgrund der jetzigen Jahreszeit kann ich leider noch nicht ganz beurteilen ob das Solarpanel tatsächlich auch im Herbst und Winter seinen Dienst tut. Wir sind gerade dabei das auszuprobieren und wenn die Kamera bzw. das Solarpanel auch dann richtig funktioniert, wenn keine direkte Sonneneinstrahlung da ist, bekommt das Teil von mir fünf Sterne. Bis dahin verbleibe ich erst einmal mit vier sehr guten Sternen.
09/07/2023
Funktioniert sehr gut und lässt sich leicht installieren
Hier bekommt man eine Überwachungskamera geliefert, welche keine Wünsche offenlässt. Sie wird über die App "K&F Cam" gesteuert. Die Einrichtung über das heimische WLAN-Netz ist in wenigen Augenblicken erledigt. Mit Strom wird sie über das mitgelieferte Solarpanel versorgt. Angeschlossen wird es mit einem an dem Panel fest installierten Kabel mit einem USB-Anschluss. Zur Aufzeichnung der Daten benötigt man eine Micro-SD-Karte, welche nicht im Lieferumfang vorliegt. Aber eine gut verständliche, deutschsprachige Installationsanweisung sowie eine Bohrschablone ist im Lieferumfang vorhanden. .Bei einer Bewegungserkennung werden Aufnahmen gemacht und eine Nachricht auf das Handy gesendet. Sehr schön ist, dass man den runden Kamerakopf in alle Richtungen steuern kann und so einen Rundumblick erhalten kann. Sie verfügt auch über eine Tonübertragung und eine Gegensprechanlage. Die Bildübertragung im Livemodus funktioniert einwandfrei und je nach Stärke der WLAN-Verbindung auch mit sofortiger Wirkung. Bild- und Tonübertragungen sind sehr gut. Man kann über die App auch eine Beleuchtung einschalten.Ich bin absolut zufrieden und kann hier eine eindeutige Kaufempfehlung aussprechen.
04/07/2023
K&F CONCEPT 2K Wireless Solar Security Cameras
Surveillance Cameras
Video Resolution
2K
Power Supply Method
Solar power
Built-in Battery Capacity
9600mAh
Storage
Cloud storage/micro SD (maximum 128G)
Pan Tilt
Horizontal 355°/Vertical 120°
Motion Detection
PIR
Motion Detection Range
10m/33ft
Waterproof IP Rating
IP66
Night Vision
Full Color Night Vision/Infrared Night Vision
Night Vision Range
8m/26.24ft
Alarm Method
Sound and light alarm
Two-way Talk
√
Connection Method
2.4GHz WIFI
Application
CloudEdge/KF CAM