A9 Mini WiFi Camera, 1080P HD Wireless Home Security Camera, Small Indoor and Outdoor Video Recorder with Mobile Monitoring and Night Vision
Buy 99$-9$, 199$-25$, 299$-39$, 599$-100$
New customer gift package
Free shipping worldwide
Brand:

KENTFAITH

Free Shipping. 30 Day No Reason Return. A9 Wireless WiFi Mini Camera features 1080P HD Portable, Video Recorder with Mobile Monitoring and Night Vision. Mini Size. Simple to Use. Stable WiFi Connection.

GW50.0038

SKU:

GW50.0038

24.99

https://www.kentfaith.com/KF33.035_a9-spy-camera-wireless-hidden-wifi-mini-camera-hd-1080p-portable-home-security-camera-small-indoor-and-outdoor-video-recorder-with-mobile-monitoring-and-night-vision
Buy 99$-9$, 199$-25$, 299$-39$, 599$-100$
Description
* The latest version of Wi-Fi mini camera in 2022: This mini camera A9 is the latest small-size wide-angle Wi-Fi camera with a built-in magnet. Thanks to the 1080P and 150-degree wide-angle lens, the mini camera can capture details clearly, allowing you to have a broader view of everything happening in the room. The compact design makes it easy to hide in any place such as home or office;
* All-in-one wireless mini camera: Although the camera is small, it has all the functions needed for a Wifi mini camera: 150° wide-angle, built-in magnet, 1080P real-time video, action activated push alert, night vision, recording while charging, playback/ Snapshot/remote recording, iOS and Android compatibility, SD card recording, free application, one application with multiple cameras, one camera with multiple users, etc.;
* Shooting mini camera while charging: This mini camera has a built-in high-quality 240mAh rechargeable lithium-ion battery, which can last for about 1 hour. In addition, you can plug it into a 10000mAh battery pack to record up to 30 hours. Or, you can plug the camera into the USB charger through the provided data cable to keep it in continuous working condition. Watch your valuables via live broadcast anytime, anywhere, giving you peace of mind.
* Motion detection and night vision: With upgraded smart motion detection, you can now manually set the sensor sensitivity. Once the motion is detected, the mini camera will send a push notification with the image to your phone. You can log in to the app to see what is happening in real-time without worrying about missing important things. The device adopts a concealed design of 6 non-bright infrared infrared lamps, and the night vision distance is 5M. You can open/close it remotely in the app;
Shipping
Free shipping worldwide
Sale
Buy 99$-9$, 199$-25$, 299$-39$, 599$-100$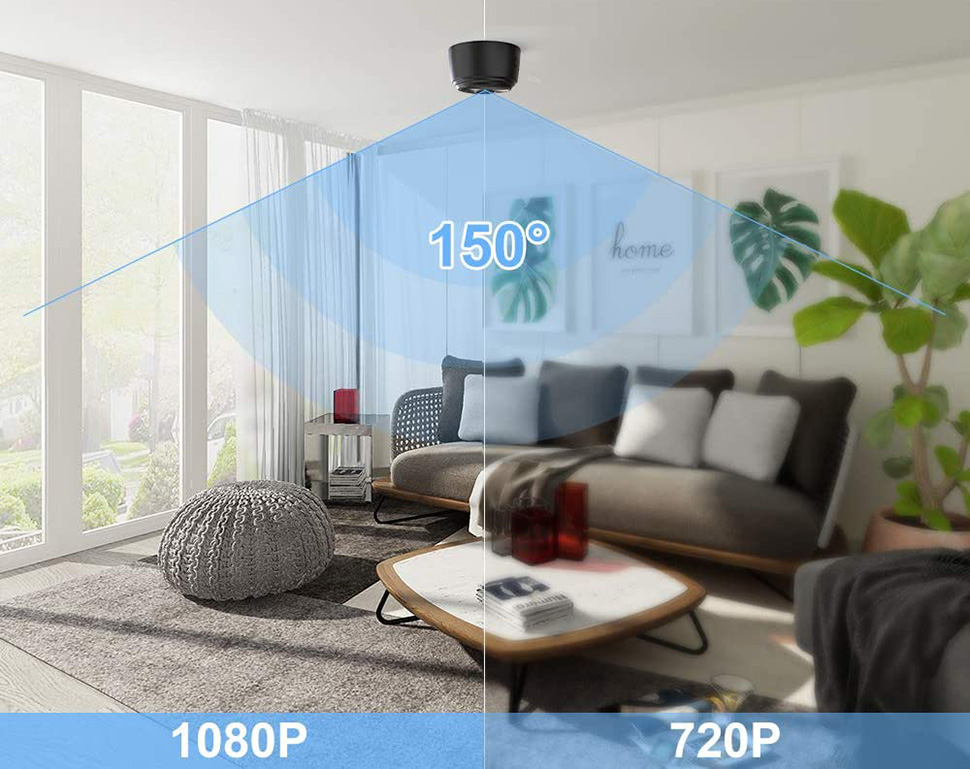 Are you bored with the traditional video camera? Mini WiFi Wireless Camera with Night Vision/Motion Detection/Video Recording/Remote Monitoring
We have long said goodbye to the traditional camera series, from the era of bulky cameras, after many years of hard work, finally succeeded in creating a small and light camera, whether it is the sound function, video function, are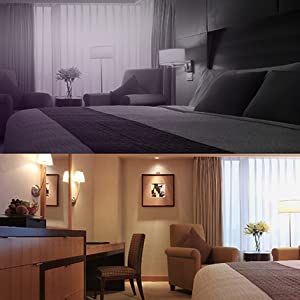 IR NIGHT VISION
Built-in premium 6 high-powered infrared (IR) LEDs deliver an outstanding night vision range up to 16.4ft (5m) away in a low light environment, even in the dark. The lightless IR LED design makes sure this WiFi camera will never disturb your sleep or rest.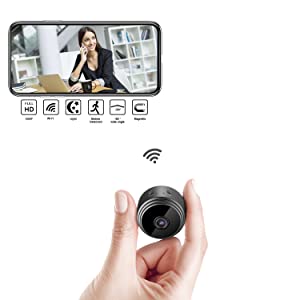 1080P RESOLUTION
The camera integrates a wireless microphone and high-power speaker, no matter where you are, you can communicate clearly with guests or your family through the APP.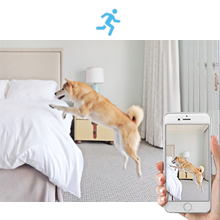 MOTION DETECTION
Upgraded intelligent motion detection sensor with the sensitivity manually settable. Once a motion is detected, the camera will send a Push Notification with images to your phone. You can log into the App to check it in real-time and never worry about missing something important.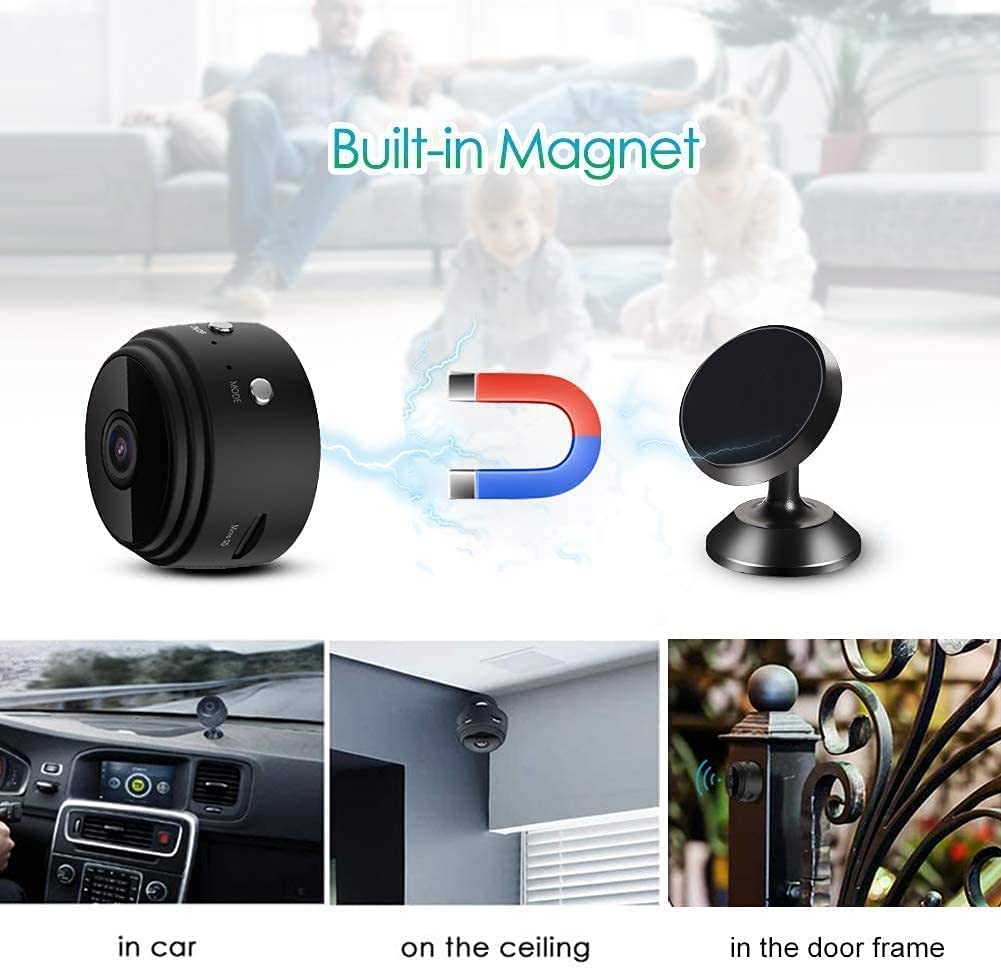 Reduce the installation procedure
Monitor your home security naturally.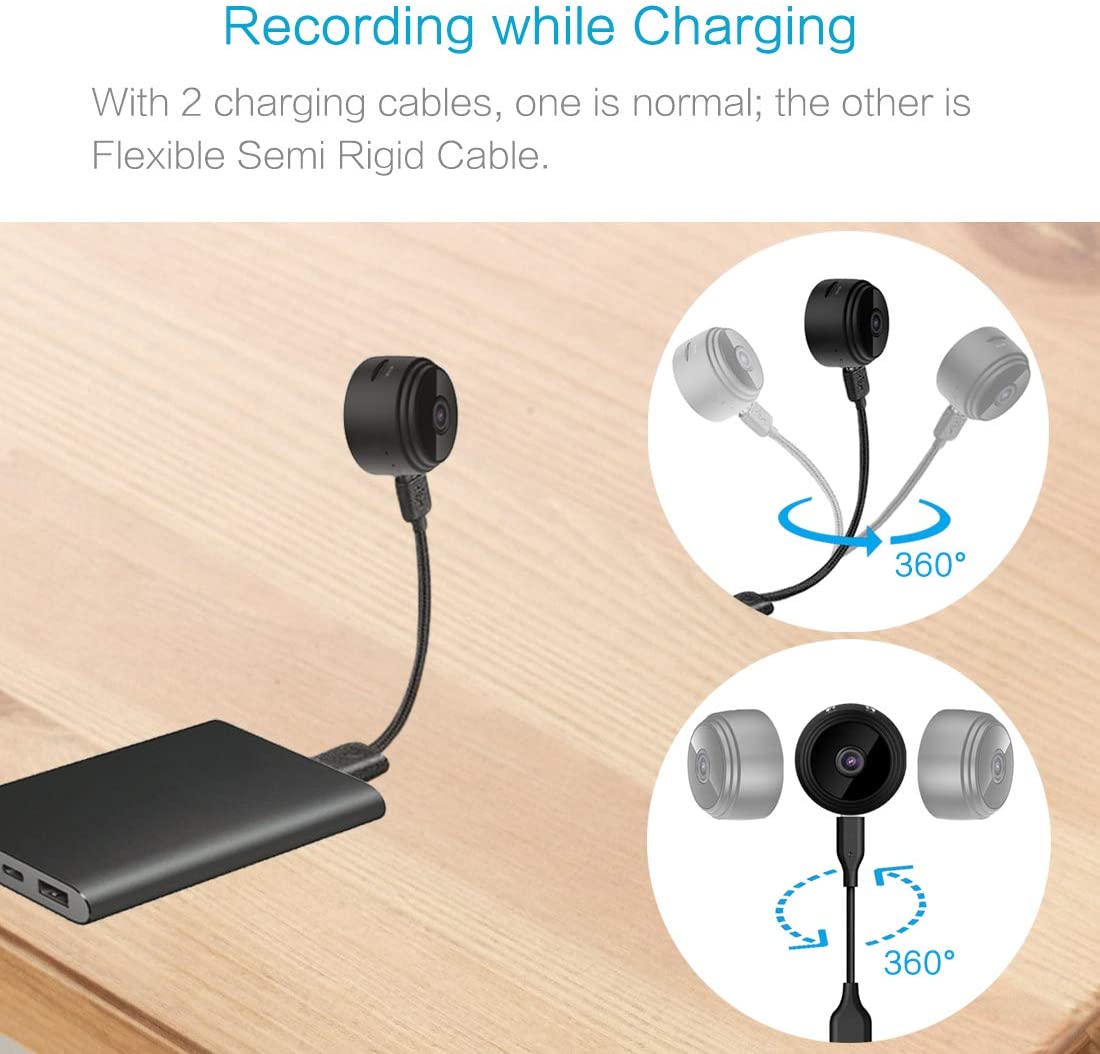 Simple to Use
Fix it easily! With a built-in strong magnet, the mini camera can be tightly adsorbed on an arbitrary iron surface. Using the extra magnetic mount included, you can install the camera at any place and adjust the camera in any direction manually. The mini camera comes with two USB charging cables. One is normal; the other is a Flexible Semi-Rigid USB Cable that can get the camera stand easily. You can also maneuver the cam at any angle or position by the cable as you need.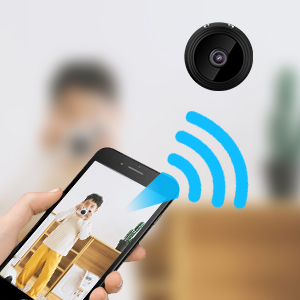 MINI WIRELESS CAMERA
Compact size easily places in the corner of home, office, store, car, put in your pocket or backpack, or adsorb on any iron with a strong magnet back. Powerful magnets allow you to place the small security camera on any surface. The Mini HD 1080p video camera works on 2.4GHz WiFi(not on Bluetooth and 4G)
| | |
| --- | --- |
| Memory card type | TF card (maximum support 64G) |
| Mobile phone operating system | Android/IOS |
All Reviews
Image

All Star

5 Star

4 Star

3 Star

2 Star

1 Star
Not good at all
You can't read instructions not a good device at all
16/10/2021
Very helpful GREAT TEAM keep it up
I love the picture qualityBest camera I definitely recommend AREBI spy camera
15/10/2021
Low quality
Camera disconnects, difficult toConnect then loses connection. Low quality picture, would not recommend.
14/10/2021
All 1 * nothing ever happens. Neve was able to connect/set up. Kept failing. It's a waste of money
Was never able to get it to connect to my WiFi network. Even after a dozen attempts. Would never recommend it.
10/10/2021
It's not working.
It's not working.
28/09/2021
However the camera goes off line regularly, it's not reliable
Leaving the area unsecured
22/09/2021
Picture quality much improved over A10
I debated back and forth between the A10, which I already have, and the A22. I'm glad I got the A22. The picture is awesome. There is less delay or jerky movement in the played video when it captures motion. I wish both my cameras were A22. The *only* difficulty I had was getting both cameras hooked up to my router at the same time. (I finally figured out I needed to disconnect the first one, connect the second, then reconnect the first one.) Customer support is awesome. Very fast response time. Very helpful and I felt confident they knew what they were talking about. There is an update to the software, but as long as it's working, I'm not going to tinker. (If it ain't broke, don't fix it.) ;-) Good product, good customer service.
21/09/2021
What's most important to know!
The camera works really good. But it will not keep a charge or more than 1.5 hr. Not really useful for a nanny cam.
17/09/2021
Good Camera, !GREAT! Customer Support
I bought a version of this camera 3 years ago and the app no longer supported it. 3 years ago the camera worked great! When I reached out to customer support about this issue they promptly sent me the updated camera that worked with the new app. New cam and app work flawlessly together. Great camera even better customer support!
14/09/2021
Little cameras are bomb.
Clear image. I watch my apartment while i am at work heheheh bomb.com
09/09/2021
There are no faqs for this product.