K&F JDL201 0.4 seconds Trigger HD Outdoor Waterproof Hunting Infrared Night Vision Mini Camera
Free shipping to eligible country
Brand:

K&F Concept

Buy K&F Concept k&f jdl201 0.4 seconds trigger hd outdoor waterproof hunting infrared night vision mini camera online, worldwide free shipping and 30 days return guarantee.

KF35.006

Availability:

In Stock

44.99

https://www.kentfaith.com/MINI301_suntekcam-mini-game-camera-12mp-1080p-waterproof-according-to-ip65-850nm-visible-light-night-vision-camera-for-observation-of-wild-animals-and-home-surveillance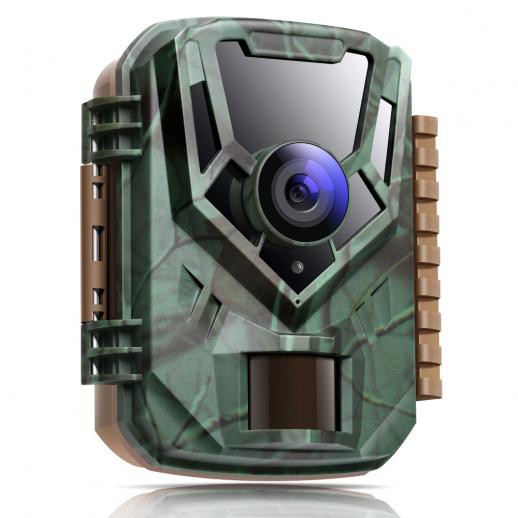 K&F JDL201 0.4 seconds Trigger HD Outdoor Waterproof Hunting Infrared Night Vision Mini Camera
Features
• 【High Resolution Image & Video】With high-performance chip, this trail camera captures up to 12MP sharp and vibrant images and HD videos with super-clear sound in vivid colors by day and black & white shots by night. The 80-degree camera lens offers wide visual angle, helping you to keep an eye on a broader view of the wildlife world.
• 【Fast Trigger Speed & Long Working Time】Our trail camera features an impressive trigger speed of 0.4 second, which allows it to record every exciting moment of the detecting places. Besides, the camera has an incredible-long standby time of up to 3 months when powered by 4 AA batteries and even longer when connecting to the solar pane(Not included).
• 【IP65 Waterproof & Sturdy Housing】With IP65 waterproof, dust-proof, drop-proof plastic housing, our hunting scouting cam is robust enough to withstand the rugged working surroundings like desert or rainforest with temperature from -20-70℃, which is an indispensable guarantee for long-last service life.
• 【High-sensitive PIR sensors】The hunting camera can capture every breathtaking moment within up to 80 degree detection range and 65ft/20meters detection distance. The 22 infrared LEDs invisible-light technology allow you to record incredible videos and photos, avoiding disturbing or spooking your hunting target.
• 【Easy Operation & Mounting】The trail camera is easy to setup and operate. It will be ready for use simply by inserting 4 batteries and a SD card(32G at most). And then you can set your personal demand on the user-friendly menu. Finally, complete the setup with a fixing belt or a tripod mount.
Frequently Bought Together
Product description:
Victure off-road camera can be used for hunting or wildlife observation, as well as surveillance and home security. Our products have a one-year warranty. If the defect and damage are non-human factors, you can enjoy 1 year warranty from the date of purchase. This warranty service does not apply to cameras with the following functions:
1. Ignorance or abuse (including but not limited to water damage caused by immersion, battery leakage or improper storage).
2. Unauthorized modification or repair.
3. Due to excessive collision, heat, or improper handling, the outer casing is cracked or damaged.
4. Damage caused by wild animals.
5. The SD card and battery are not included in the package.
Product specifications:
* Image sensor: 5.0 megapixels, 1/4 inch CMOS sensor
* Lens: f=4.0 mm; F/NO=2.6; FOV=90°
* Storage: SD or SDHC card, maximum capacity 32GB (category 6 or Higher)
* Trigger time: 0.4s
* Infrared lamp/PCS: 850 nm/22 pieces, adjustable brightness
* PIR distance: 0~20M
* PIR angle: 90°
* PIR delay: 5S~60min
* Screen: 2.0 inch TFT -LCD
* Working mode: shooting/video/photo+video/time decay
* photo resolution: JPEG, 1M/3M/5M/8M/12M
* video resolution: AVI 1920X1080P/1280X720P/848X480P/640X480P
* video length: available Optional, 5s~10 minutes
* Working voltage: DC 6V
* Battery type: 4 AA Battery type LR6(AA); 4 NIMH power battery, LR6(AA) Low self-discharge capacity
* External power supply: 6V/1.5A
* Waterproof rating: IP65
* Connection: Mini USB 2.0
package List:
1x wild animal camera
1 installation belt
1x wall-mounted installation
1 USB cable
1 This manual
no glow, security reasons catching thieves need camera invisible
It is hard to set up camera with a little buttons you can hardly see. The size of the camera is good. Easier to hide. Using the camera to catch thieves coming onto the property
Fantastic camera for the price and great performance
Things I really liked:1. It's VERY lightweight by itself, which means when you put the batteries in, it's not too heavy.2. The method with which the strap connects to the camera and then can attach to a tree or post is pretty effective and simple.3. I like how the camera opens up like a little book and you have all the settings, batteries and SD card all in the same area. Safe. It's good.4. Camera quality is decent, as stated, but maybe not as good as some of the pictures they post, but I didn't use the camera in super sunny conditions.Things that could be better:1. The plastic buckle for the strap is low-quality, although very effective. I'm afraid it could break, but it would be an easy fix.2. The instructions are sometimes hard to understand exactly, BUT things are relatively intuitive so you can still figure it out.
Decent trail cam
Pro's:• This is a smaller Trail cam than most I've seen. I like the smaller size• Setup is fairly easy• The camera comes with a web strap that you can use to strap the camera to a tree etc.. The strap is plenty long so it should allow strapping to just about any size tree• I've had mine mounted for about a month now and the original batteries I installed are holding strong• You get 15 seconds to move out of frame when arming the camera once mounted. You'll see a red LED flashing when it's arming• Good quality picture and video. I swap out the SD cards every two weeks to see what I've captured• The manufacturer includes a 24 months warranty which is solid for a device like thisCon's:• None at this timeFinal thoughts: This a nice little Trail cam that takes really good pictures during the day with the night pictures being a little less clear if whatever it's filming is farther away but that is to be expected. This is a decent set-up for under $60. I received this K&F mini-Trail camera set for free as part of the Vine program but feel I've given a fair unbiased review. I'll come back to update my review if anything changes my opinion on this camera but so far, this is a solid unit and I look forward to checking what the camera captures in our back yard.
Easy to use but not high quality photos
I love being able to put eyes on the horses out in the pasture as well as picking up animal video and photos as well. I have a card reader device for my phone so I can check it quickly etc. Besides being fun, I think it also deters would be thieves. I have signs up everywhere that surveillance is everywhere and it can easily be seen on the barn post. I got a locking tether for it just in case. If it is cold out you'll have to attend to batteries more often. I have some solar cameras to fill in the gaps. This is great value for the cost in my opinion. I've experienced no problems and picture is clear. Records as it should etc. Durable enough to hold up to bad weather, just keep the lens polished and clean.
Great value for cost
This is a pretty good little trail camera. This is probably the 10th camera I've owned and used. To be honest, I like the cheap knockoffs more than the name brands. This one is pretty good. Not the best picture quality but definitely good enough to get the job done. The user interface is easy enough for just about anyone to figure out with reading the instructions. Overall, it's a great value. Cheap enough to be affordable with plenty of the features you'd need to be effective. If you're new to trail cameras, make sure you format your SD card every time you can. It keeps them working perfectly for much longer. Just remember, it will delete any pictures/ videos on the card.
There are no faqs for this product.
These images belong to K&F Concept end users.