K&F JDL201 0.4 seconds Trigger HD Outdoor Waterproof Hunting Infrared Night Vision Mini Camera
Free shipping to eligible country
Brand:

K&F Concept

Buy K&F Concept k&f jdl201 0.4 seconds trigger hd outdoor waterproof hunting infrared night vision mini camera online, worldwide free shipping and 30 days return guarantee.

KF35.006

Availability:

In Stock

45.99

https://www.kentfaith.com/MINI301_suntekcam-mini-game-camera-12mp-1080p-waterproof-according-to-ip65-850nm-visible-light-night-vision-camera-for-observation-of-wild-animals-and-home-surveillance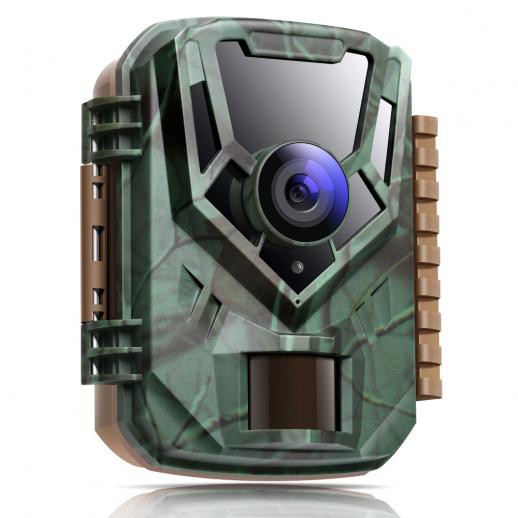 K&F JDL201 0.4 seconds Trigger HD Outdoor Waterproof Hunting Infrared Night Vision Mini Camera
Features
• 【High Resolution Image & Video】With high-performance chip, this trail camera captures up to 12MP sharp and vibrant images and HD videos with super-clear sound in vivid colors by day and black & white shots by night. The 80-degree camera lens offers wide visual angle, helping you to keep an eye on a broader view of the wildlife world.
• 【Fast Trigger Speed & Long Working Time】Our trail camera features an impressive trigger speed of 0.4 second, which allows it to record every exciting moment of the detecting places. Besides, the camera has an incredible-long standby time of up to 3 months when powered by 4 AA batteries and even longer when connecting to the solar pane(Not included).
• 【IP65 Waterproof & Sturdy Housing】With IP65 waterproof, dust-proof, drop-proof plastic housing, our hunting scouting cam is robust enough to withstand the rugged working surroundings like desert or rainforest with temperature from -20-70℃, which is an indispensable guarantee for long-last service life.
• 【High-sensitive PIR sensors】The hunting camera can capture every breathtaking moment within up to 80 degree detection range and 65ft/20meters detection distance. The 22 infrared LEDs invisible-light technology allow you to record incredible videos and photos, avoiding disturbing or spooking your hunting target.
• 【Easy Operation & Mounting】The trail camera is easy to setup and operate. It will be ready for use simply by inserting 4 batteries and a Micro SD card(32G at most). And then you can set your personal demand on the user-friendly menu. Finally, complete the setup with a fixing belt or a tripod mount.
Product description:
Victure off-road camera can be used for hunting or wildlife observation, as well as surveillance and home security. Our products have a one-year warranty. If the defect and damage are non-human factors, you can enjoy 1 year warranty from the date of purchase. This warranty service does not apply to cameras with the following functions:
1. Ignorance or abuse (including but not limited to water damage caused by immersion, battery leakage or improper storage).
2. Unauthorized modification or repair.
3. Due to excessive collision, heat, or improper handling, the outer casing is cracked or damaged.
4. Damage caused by wild animals.
5. The SD card and battery are not included in the package.
Product specifications:
* Image sensor: 5.0 megapixels, 1/4 inch CMOS sensor
* Lens: f=4.0 mm; F/NO=2.6; FOV=90°
* Storage: SD or SDHC card, maximum capacity 32GB (category 6 or Higher)
* Trigger time: 0.4s
* Infrared lamp/PCS: 850 nm/22 pieces, adjustable brightness
* PIR distance: 0~20M
* PIR angle: 90°
* PIR delay: 5S~60min
* Screen: 2.0 inch TFT -LCD
* Working mode: shooting/video/photo+video/time decay
* photo resolution: JPEG, 1M/3M/5M/8M/12M
* video resolution: AVI 1920X1080P/1280X720P/848X480P/640X480P
* video length: available Optional, 5s~10 minutes
* Working voltage: DC 6V
* Battery type: 4 AA Battery type LR6(AA); 4 NIMH power battery, LR6(AA) Low self-discharge capacity
* External power supply: 6V/1.5A
* Waterproof rating: IP65
* Connection: Mini USB 2.0
package List:
1x wild animal camera
1 installation belt
1x wall-mounted installation
1 USB cable
1 This manual
Great little camera
I've used more expensive trail cameras and didn't get the results I did from this one. The only "throw away" shots it took were due to squirrels and not wind, or sun glare or some other wasteful reason.

I'm supper happy with this camera and will be buying more.
I liked it enough that I am buying 3 more
I have been using this to see what has been killing my chickens, I figured it was a fox but I have caught so much more on camera. I installed the camera a month and a half ago and the batteries are half dead. I feel that getting 3 months out of the batteries is great, that's pretty much all of hunting season here. I think the price is great, and the quality of the photos is just as expected. Night time features work great to, I have many pictures of cats, raccoons, opossums, skunk, and fox. During the day I have pictures of many squirrels, cats, dogs, birds, and more fox. I have liked this so much that I am buying 3 more to use on the property.
I was happy with the video clarity and the photos as well. Easy to operate and user friendly menu.
Overall it's one of my best game cam for picture quality, wifi option, battery life remaining in percent....
you cant go wrong with this one
Construction is solid and of high quality. The camo pattern ensures the camera blends in nicely in the outdoors.
review imagereview image
These images belong to K&F Concept end users.