K&F Concept-301 16MP 1080P HD Wildlife Camera 0.4s Trigger Outdoor Waterproof Hunting Infrared Night Vision Mini Camera
Buy 2 get 5% off, Buy 3 get 10% off, buy 6 get 20% off
To
United States
Expedited Free Shipping
3-5
business days
Free Shipping. 30 Day No Reason Return. K&F trail camera features High Resolution Image & Video, 0.4s trigger speed, 3-month standby time, IP65 waterproof, High-sensitive PIR sensors, easy to use & mount.

KF35.006

SKU:

KF35.006

59.99

https://www.kentfaith.com/MINI301_suntekcam-mini-game-camera-12mp-1080p-waterproof-according-to-ip65-850nm-visible-light-night-vision-camera-for-observation-of-wild-animals-and-home-surveillance
Description
* 【High Resolution Image & Video】With high-performance chip, this trail camera captures up to 16MP sharp and vibrant images and HD videos with super-clear sound in vivid colors by day and black & white shots by night. The 80-degree camera lens offers wide visual angle, helping you to keep an eye on a broader view of the wildlife world.
* 【Fast Trigger Speed & Long Standby Time】Our trail camera features an impressive trigger speed of 0.4 second, which allows it to record every exciting moment of the detecting places. Besides, the camera has an incredible-long standby time of up to 3 months when powered by 4 AA batteries and even longer when connecting to the solar pane(Not included).
* 【IP65 Waterproof & Sturdy Housing】With IP65 waterproof, dust-proof, drop-proof plastic housing, our hunting scouting cam is robust enough to withstand the rugged working surroundings like desert or rainforest with temperature from -20-70℃, which is an indispensable guarantee for long-last service life.
* 【High-sensitive PIR sensors】The hunting camera can capture every breathtaking moment within up to 80 degree detection range and 65ft/20meters detection distance. The 22 infrared LEDs invisible-light technology allow you to record incredible videos and photos, avoiding disturbing or spooking your hunting target.
* 【Easy Operation & Mounting】The trail camera is easy to setup and operate. It will be ready for use simply by inserting 4 batteries and a SD card(32G at most). And then you can set your personal demand on the user-friendly menu. Finally, complete the setup with a fixing belt or a tripod mount.
Shipping
To
United States
Expedited Free Shipping
3-5
business days
Sale
Buy 2 get 5% off, Buy 3 get 10% off, buy 6 get 20% off
Mini Trail Camera
Catch every fantastic wildlife moment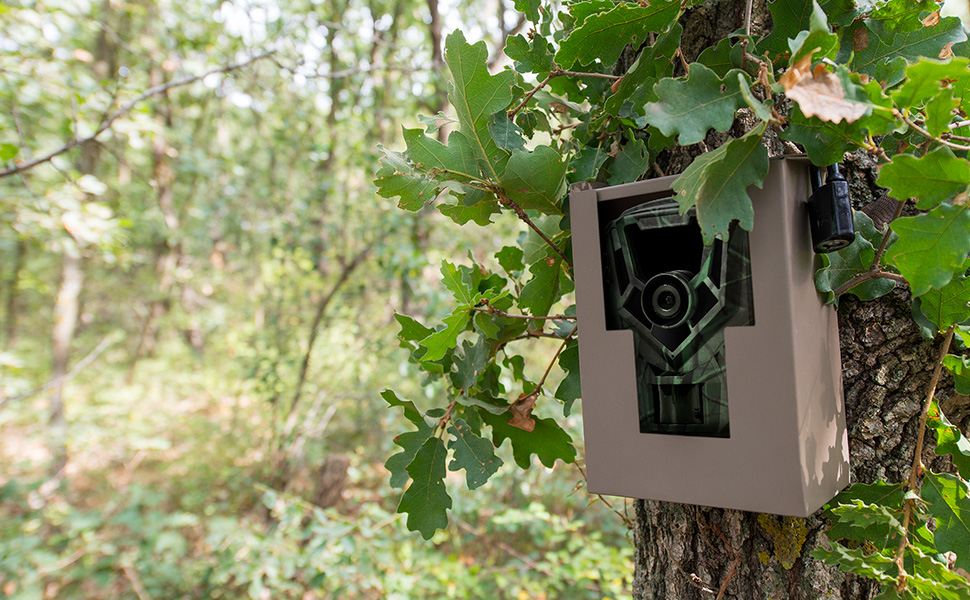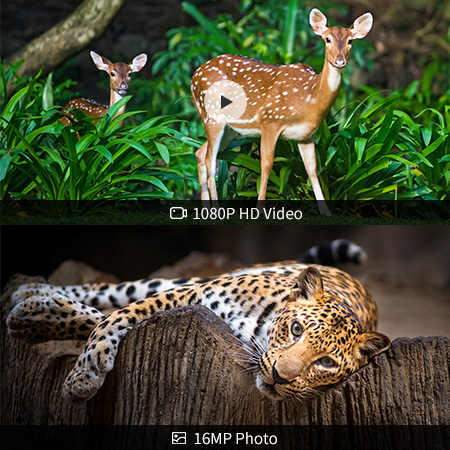 1080P Video and 16MP Image
This hunting camera captures 1080P vivid video and 16MP clear images each time motion. You will not miss any detail on your wildlife expedition.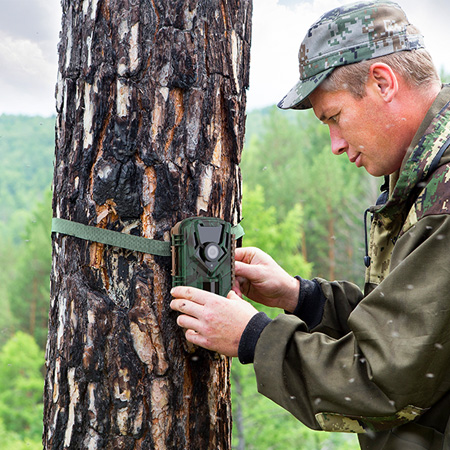 Easy to tie and install
Provides a wider field of view and more precise vision, captures more details, does not miss any points, and has an excellent concealment effect.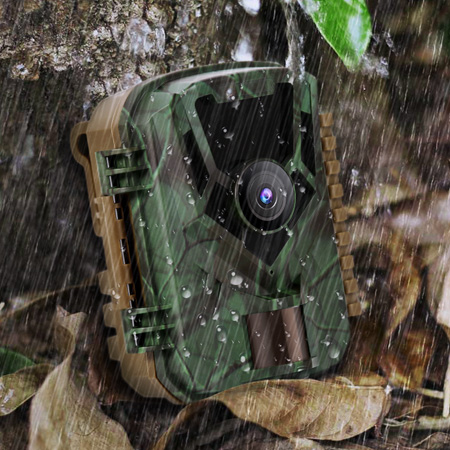 IP65 Waterproof & Sturdy
The hunting cam case has passed the waterproof test up to IP65, protecting it from rain and dust damage.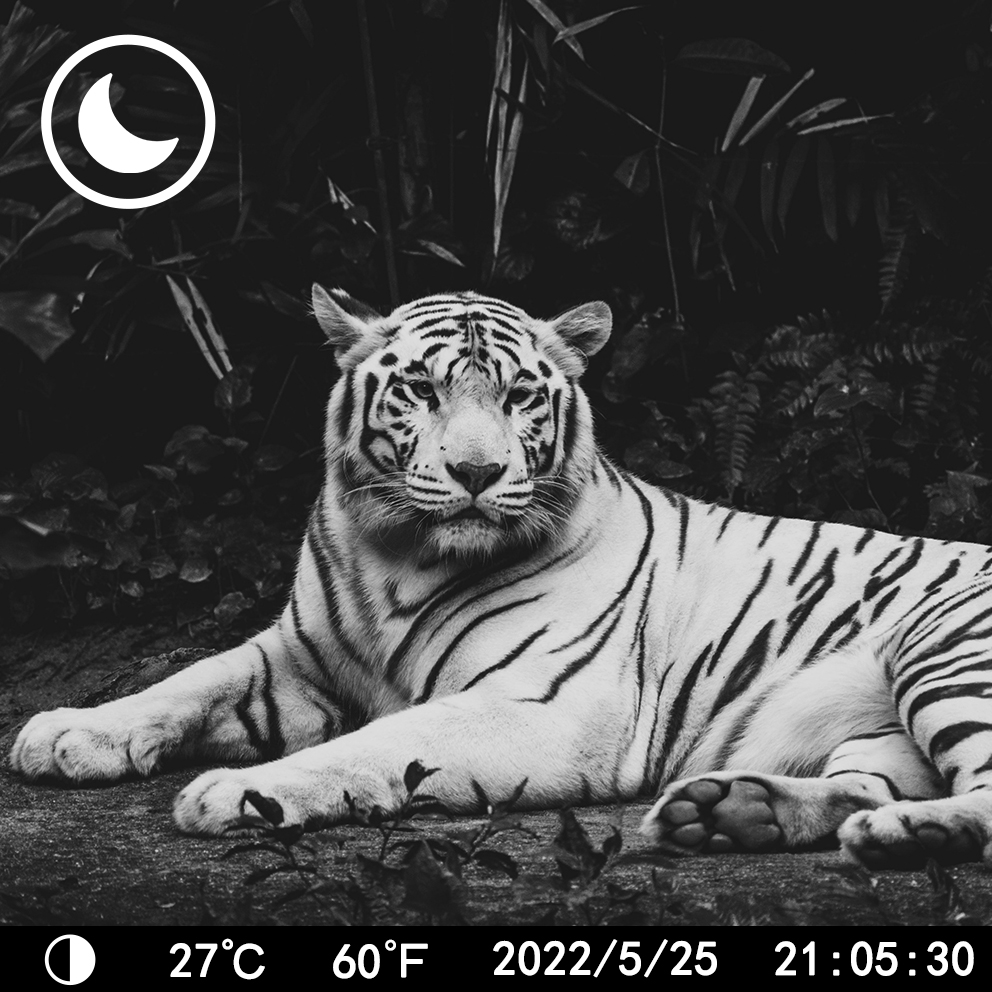 Super Clear Night
With one upgraded PIR and 22 pcs infrared no glow LEDs, this trail camera offers you a super clear night vision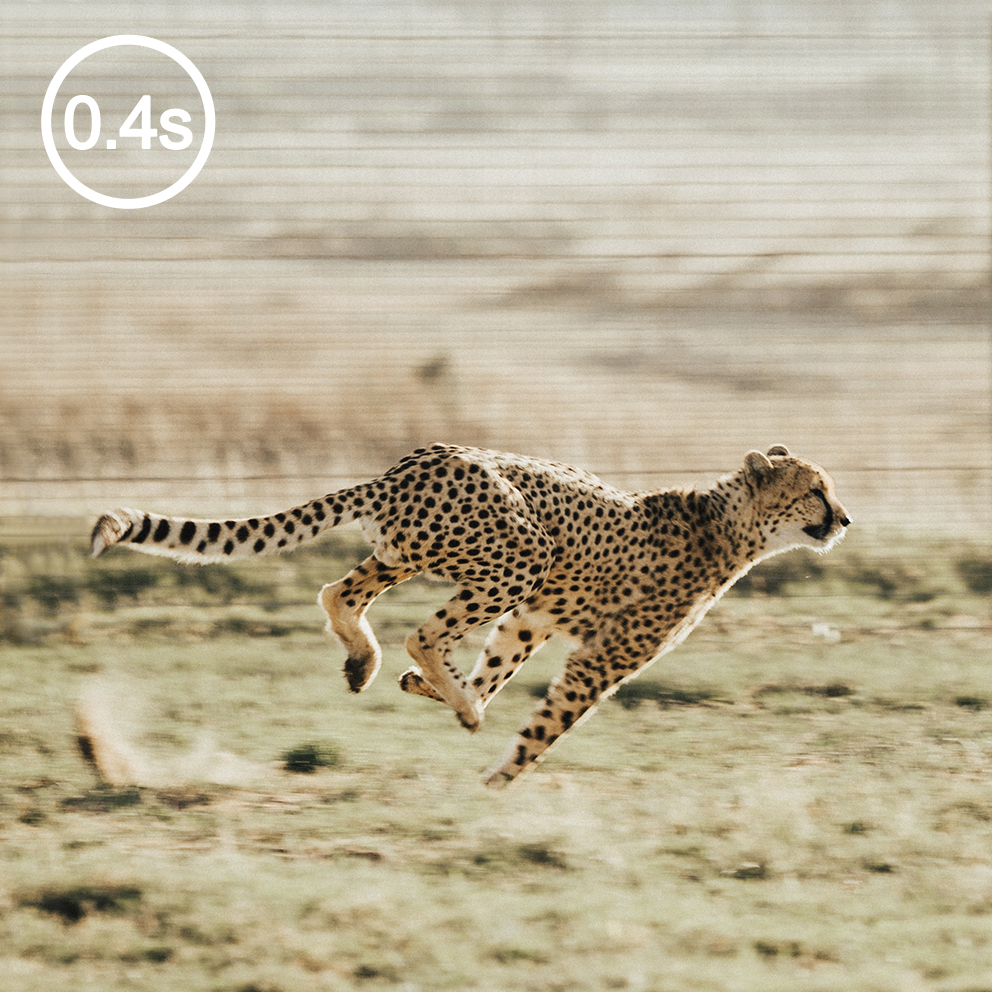 0.4S Trigger Speed
it allows you to record every exciting moment and offers a complete details of various animals that you want.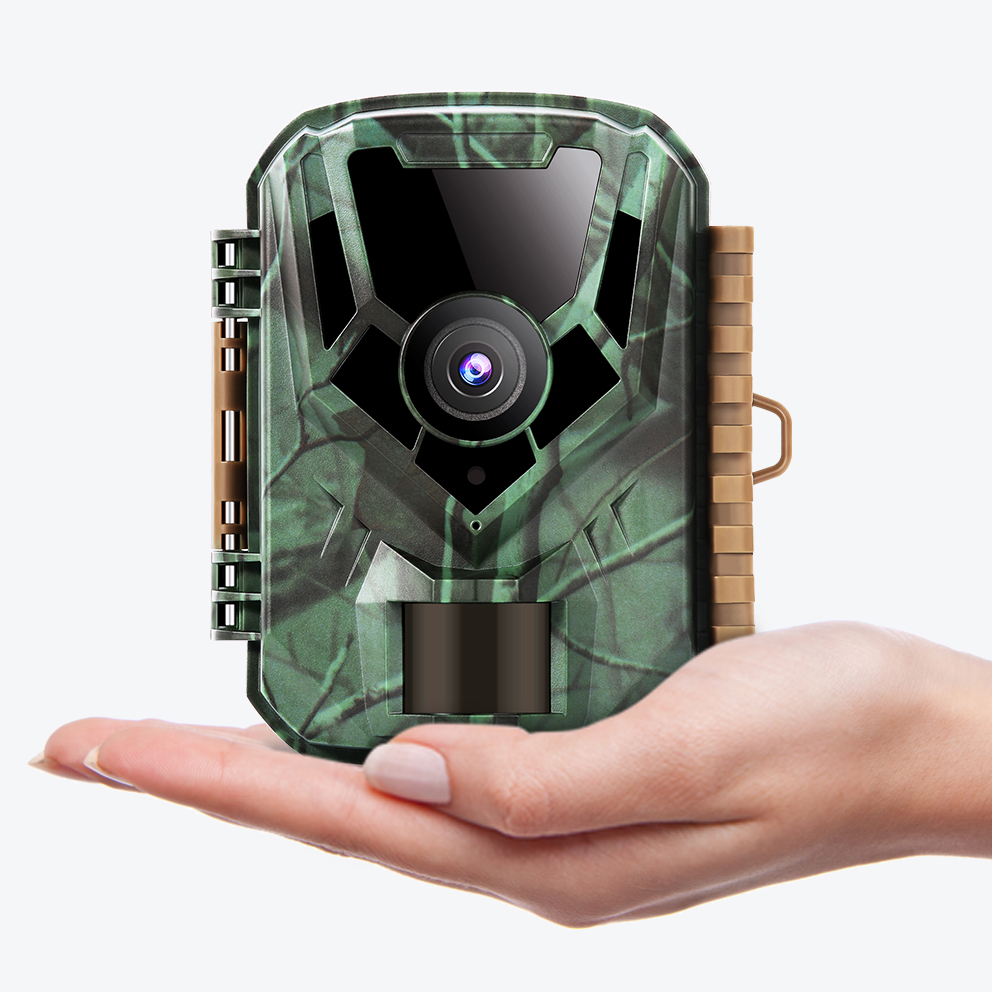 Mini Trail Camera
You can install it in any place and would not be found. Smaller than regular hunting cams though, the advanced function still.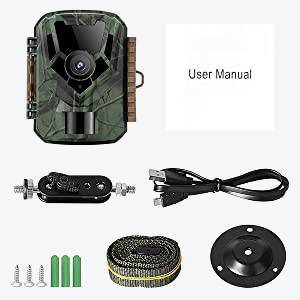 What's included in the box
1xTrail Camera 1x Strap 1x USB Cable 1x Tree Mount 1x User Manual 3× Screws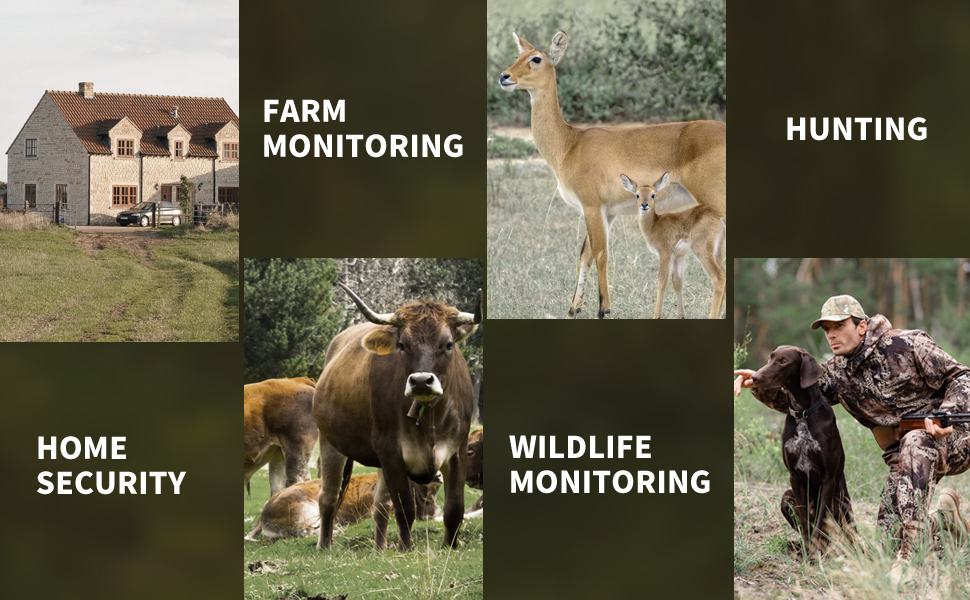 It could not only monitor the wild animals, scout the prey, but also gurad your house and protect your farm from burglar. with a super long standby, it is unnecessary to replace the battaries frequently and gives you a long-term and reliable guard.
Product specifications:
* Image sensor: 5.0 megapixels, 1/4 inch CMOS sensor
* Lens: f=4.0 mm; F/NO=2.6; FOV=90°
* Storage: SD or SDHC card, maximum capacity 32GB (category 6 or Higher)
* Trigger time: 0.4s
* Infrared lamp/PCS: 850 nm/22 pieces, adjustable brightness
* PIR distance: 0~20M
* PIR angle: 90°
* PIR delay: 5S~60min
* Screen: 2.0 inch TFT -LCD
* Working mode: shooting/video/photo+video/time decay
* photo resolution: JPEG, 1M/3M/5M/8M/12M/16M
* video resolution: AVI 1920X1080P/1280X720P/848X480P/640X480P
* video length: available Optional, 5s~10 minutes
* Working voltage: DC 6V
* Battery type: 4 AA Battery type LR6(AA); 4 NIMH power battery, LR6(AA) Low self-discharge capacity
* External power supply: 6V/1.5A
* Waterproof rating: IP65
* Connection: Mini USB 2.0
Good trail cam!
This camera isn't the greatest when compared to the 20 or so I have set up at the moment for testing and game tracking, but it's really good. After a very heavy rain I did have some water coming out of the control compartment but it did not appear to affect the performance. I am concerned about performance and longevity as it's repeatedly exposed, though. Photo and video are pretty good.
27/01/2021
Small and Clear
I have a few of the very small cameras at this point and the K&F Concept Mini Trail Camera is the best of them. I used the default settings on the camera when I placed at the edge of our yard near a spruce tree with Christmas lights on it.... except for setting the date, etc. I did change the sensitivity to high which might explain the photo of the buck's antlers in the included photos.I also included a day, night and distance shot in my photos. All of the photos have my camera number, (since I have 11),the photo number, the temperature, moon phase, date and time imprinted on the photos.The photos are clear, have a good wide angle and seem to do well at night also.It takes the common size memory card and four AA batteries. The camera is simple to set up. The on/off/set up switch is on the bottom so it is hard to see when its on the tree, so remember where on is when you attach it. The cameras did well in some near zero F. temperatures, snow and wind. I do not yet know the longevity of the camera, hopefully it last a long time. At this point I feel this is a very good camera, even better than some of my cameras that are 2-3 times the cost.
27/12/2020
Great, compact trail camera.
Great picture quality, night time vision. Easy to set up and use. Using to see stray cats in my backyard at night and caught them with this trail camera. Would purchase again.
10/01/2021
Captures movement almost instantly and is very clear, even at night.
Great trail cam foe the money, but with so many now out in the market. Others have same capabilities with a few more like Bluetooth and WiFi direct video feed.
10/10/2021
Excellent TRAIL CAMERA
Ok first of all this small little camera is excellent for hiding in hidden places around your home or property of for hunting or just observing wildlife in their natural environment it is just as described in the description of product. It takes excellent videos and pictures clear images this
k&F mini trail camera is overall one of the best game camera I've used it's easy to use and set up was a breeze if you are not familiar with using these type of cameras it comes with instructions that are really easy to use and understand
Overall
It comes with mounting strap and bracket. And instructions.
It's small and compact
Easy to set up
Easy to use
Takes great pictures
Takes a standard Size Sd card
Comes with TV cables RCA cables. And Mini USB cable all to be used if you want to hook camera up to Pc orTv for viewing pictures or videos
Camera takes only 4 AA BATTERIES TO OPERATE IT.
HAS. A external microphone on it to capture sound for videos
You can also hook up a 6vt external battery pack. For prolonged use of camera
Can handle a large capacitySD card. Like at 32 g or lager gig cards

I am using a mini sd card in mine it's a 512gb card that fits in a standard sd card holder

I Highly recommend this K&F compact camera
12/01/2021
Nice little deer camera
I got the K&F trail cam to capture images of the wild life in my yard and to see a record of who comes to my house when I am gone. I will likely use it out in forest next season. The camera is durable and seems well built. The styling looks very nice and blends right in when strapped to a tree. I really like the internal screen. It is big and clear and very similar to the back screen on a point and shoot camera. It is so great you can walk up and check what the camera has captured without ever taking the camera off the tree. I can easily delete photos I don't want and then leave it to capture more great images or videos. My buddy has to take the flash card back to his laptop to see what his camera got so I really appreciate this great feature of a built in screen. I am very happy with trail cam.
27/01/2021
Easy as pie
This is a great little trail cam to get you into the game or just set up for monitoring for a season.Everyone is making a transition to cell cameras but these serve a solid purpose as well.They are great to set out and forget about for a few months.Setup on this camera was easy and I had no problems with getting it to work right out of the box.4 batteries will go a long way with this as well.The look is nice and the build quality is as most trail cameras in this price range.What I liked most about it was a basic set it and forget it use.I personally like to have at least one cell camera around where I place my other cameras. This way Im notified if there is any action where I believe there might be and then the other cameras will pick up the trial to build the scene when I compose and review everything.Its important to have both types of cameras but if your just starting off this would make for a good start.Im looking forward to seeing the results in a few weeks.
01/01/2021
"NOT" No Glow
I ordered this camera due to it's small size and reportedly "No Glow" feature. I was planning on using this cam for night time security surveillance. I set it up in the daytime and was active in the area. I took the card out and checked the pictures and videos out on my computer. The quality was pretty good and for the price I was satisfied. I replaced the card and re-activated the camera. When cutting off the lights for the night and walking out I looked back to see "bright" glowing red IR bulbs that were "very noticeable". I have other more expensive full size No Glow cameras I use on dear trails but wanted this small camera due to its size and ease of concealment. I repacked the camera and returned it due to false claim of No Glow. If your just looking for a small cam and don't mind the red lights shining it may be a good cam for the price.Eric R
20/01/2022
GREAT CAMERA FOR THIS PRICE!
"Disclaimer"- This is my first game/trail camera so I have no other experience with them. / I got this to monitor coyotes at night and see how brave they are and if they are coming in to my yard. I've lost several small pets to them and want to track their movements so I can hunt them down. You get a lot of camera for this price! I set it up so that each time it is triggered it takes two pics and one 40 second video, which works very good for me to see what is happening. With a 32gig SD card installed, the wind was blowing hard so trees and bugs had it taking pictures and video practically all night long last night. Sensitivity can be changed so I will be adjusting that, still learning how to use this thing. But I am impressed, had a total of 276 pics/videos on the card when I went out this morning and the batteries are showing half charge and still working fine. The batteries are duracell that I originally installed when I first got the camera so there are 300 plus pics/videos on the batteries. The camera also has the ability to do time lapse but I haven't used that option yet, will play with it in the future. I left pic and video quality at default settings and I get very good results with that.So I think this is a very good camera at this price and am very satisfied with my purchase!The coyotes are staying away from my house for now. I've located a field where they travel. I think they're on to me……………...
29/10/2021
Good night shots.
Got this set up at my feeder last week. Few weeks to go to opening day. Got some great photos this week. The night / low light were really good. I did use some flat Gray fleck paint to take down the visibility of this unit. I'm hoping between the paint and the small size it won't get stolen like the last one. That's why I got the cheaper unit.
23/10/2021
These images belong to KENTFAITH end users.
There are no faqs for this product.
16MP 1080P HD Trail Camera 0.4s Trigger Outdoor Waterproof Hunting Infrared Night Vision Mini Camera
What is catched by K&F Concept trail camera
Trail Camera
Max. Storage
32GB
Image Resolution
16MP
Screen Size
2.0"
Video Resolution
1080p
WIFI+Bluetooth
NO
Amount of infrared lamps
22pcs (850nm)
Amount of PIR SENSORS
1pcs
Detection Range of PIR sensors
80°
Trigger Distance
20m (65ft)
Trigger Speed
0.4 s
Waterproof IP Rating
IP65