2PCS HC-900A 36MP//2.7K/0.2s Trigger Trail Camera HD Outdoor Game Camera Waterproof Hunting Infrared Night Vision Camera
Free shipping to eligible country
Free Shipping. 30 Day No Reason Return. K&F trail camera features high resolution image&video, waterproof&rugged housing, fast trigger speed, high-sensitivity PIR sensors, and easy to use.

KF35.003V2

SKU:

KF35.003V2

148.99

https://www.kentfaith.com/KF35.003V2_kf-hc-900a-20mp-0-3-seconds-start-1-pir-hd-outdoor-waterproof-hunting-and-hunting-infrared-night-vision-camera-for-sale-on-the-official-website-2pcs
Description
* 【High Resolution Image Video】With high-performance chip, this trail camera captures up to 36MP sharp and vibrant images and 2.7K HD videos with super-clear sound in vivid colors by day and black white shots by night. The 120-degree camera lens offers wide visual angle, helping you to keep an eye on a broader view of the wildlife world.
* 【IP65 Waterproof Sturdy Housing】With IP65 waterproof, dust-proof, drop-proof plastic housing, our hunting scouting cam is robust enough to withstand the rugged working surroundings like desert or rainforest with temperature from -20-70℃, which is an indispensable guarantee for long-last service life.
* 【Fast Trigger Speed Long Working Time】Our trail camera features an impressive trigger speed of 0.2 second, which allows it to record every exciting moment of the detecting places. Besides, the camera has an incredible-long standby time of up to 6 months when powered by 8×AA batteries and even longer when connecting to the solar pane(Not included).
* 【High-sensitive PIR sensors】The hunting camera can capture every breathtaking moment within up to 120 degree detection range and 65ft/20meters detection distance. 44LEDs 940nm invisible-light technology allow you to record incredible videos and photos, avoiding disturbing or spooking your hunting target.
* 【Easy Operation Mounting】The trail camera is easy to setup and operate. It will be ready for use simply by inserting 4 or 8 batteries and a Micro SD card(32G at most). And then you can set your personal demand on the user-friendly menu. Finally, complete the setup with a fixing belt or a tripod mount. Besides, you can review photos and videos directly on the machine screen or you can take down the Micro SD card and read it at your home.
Shipping
Free shipping to eligible country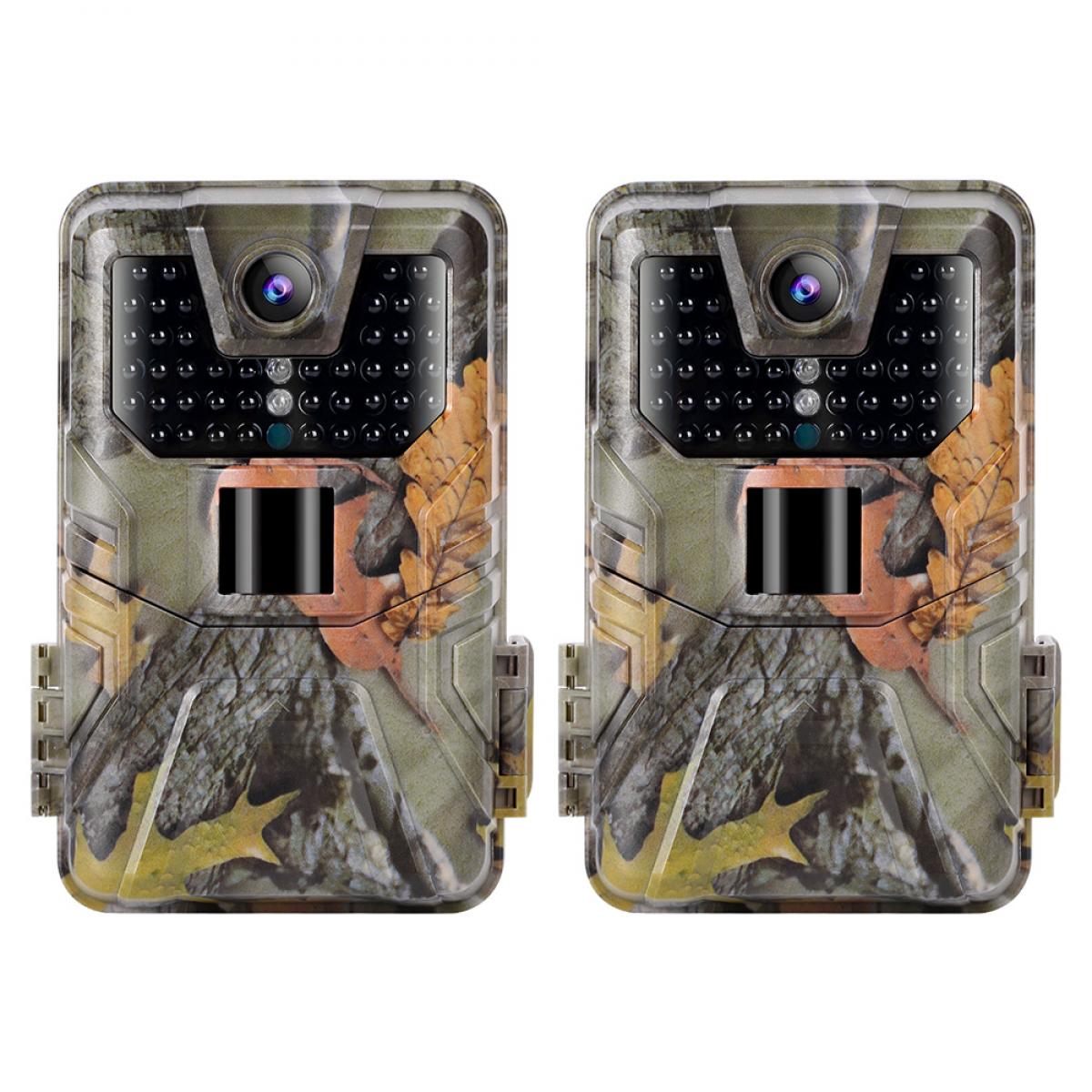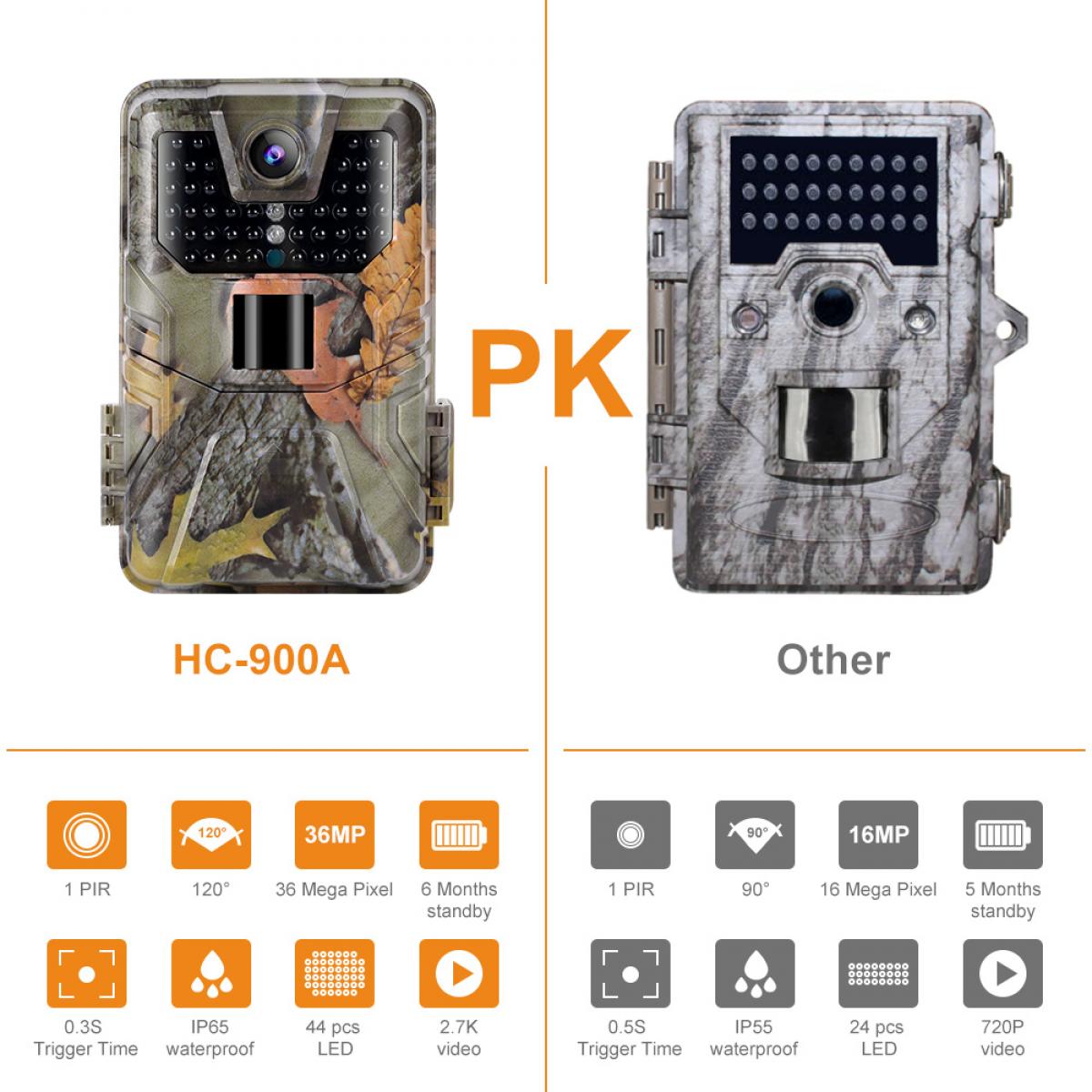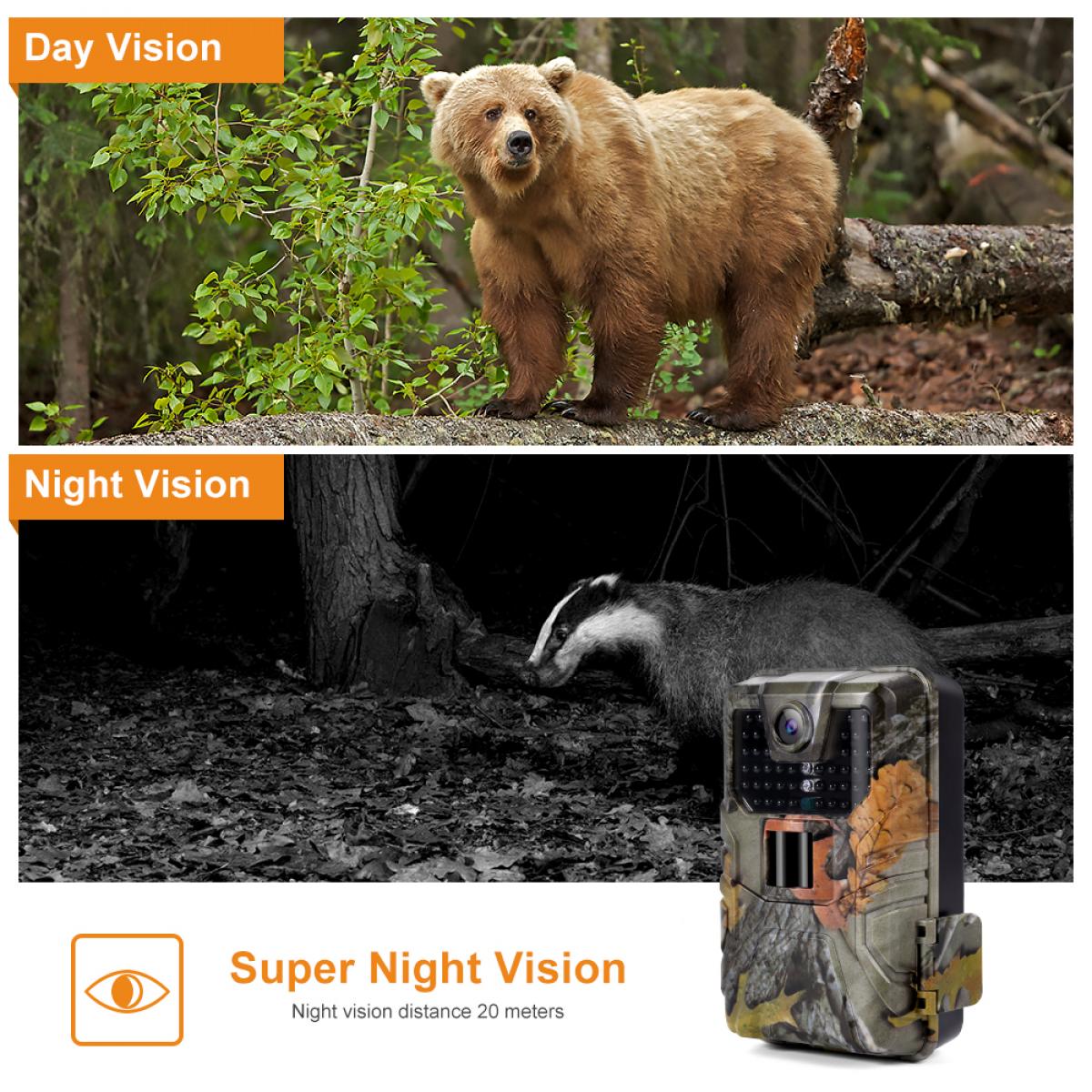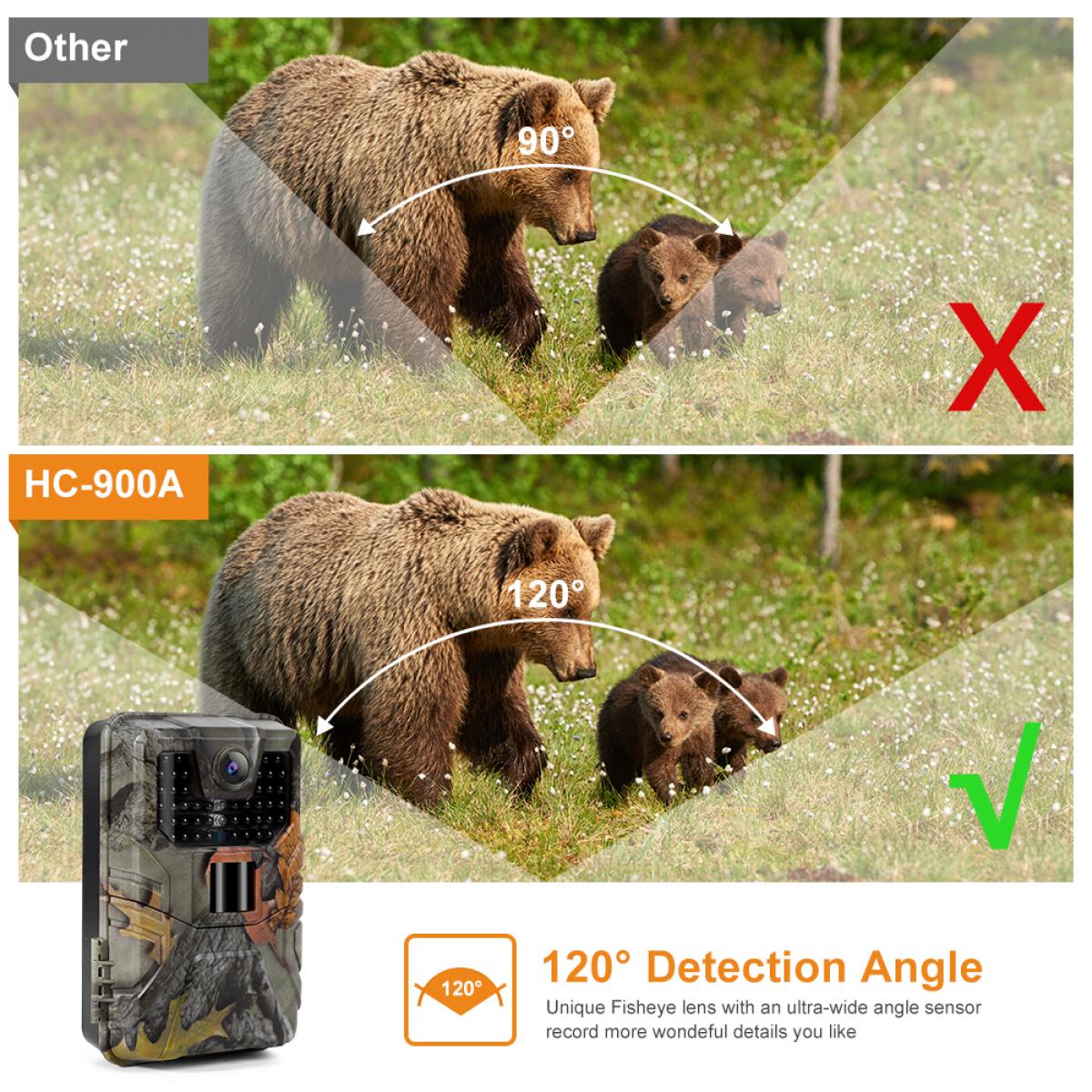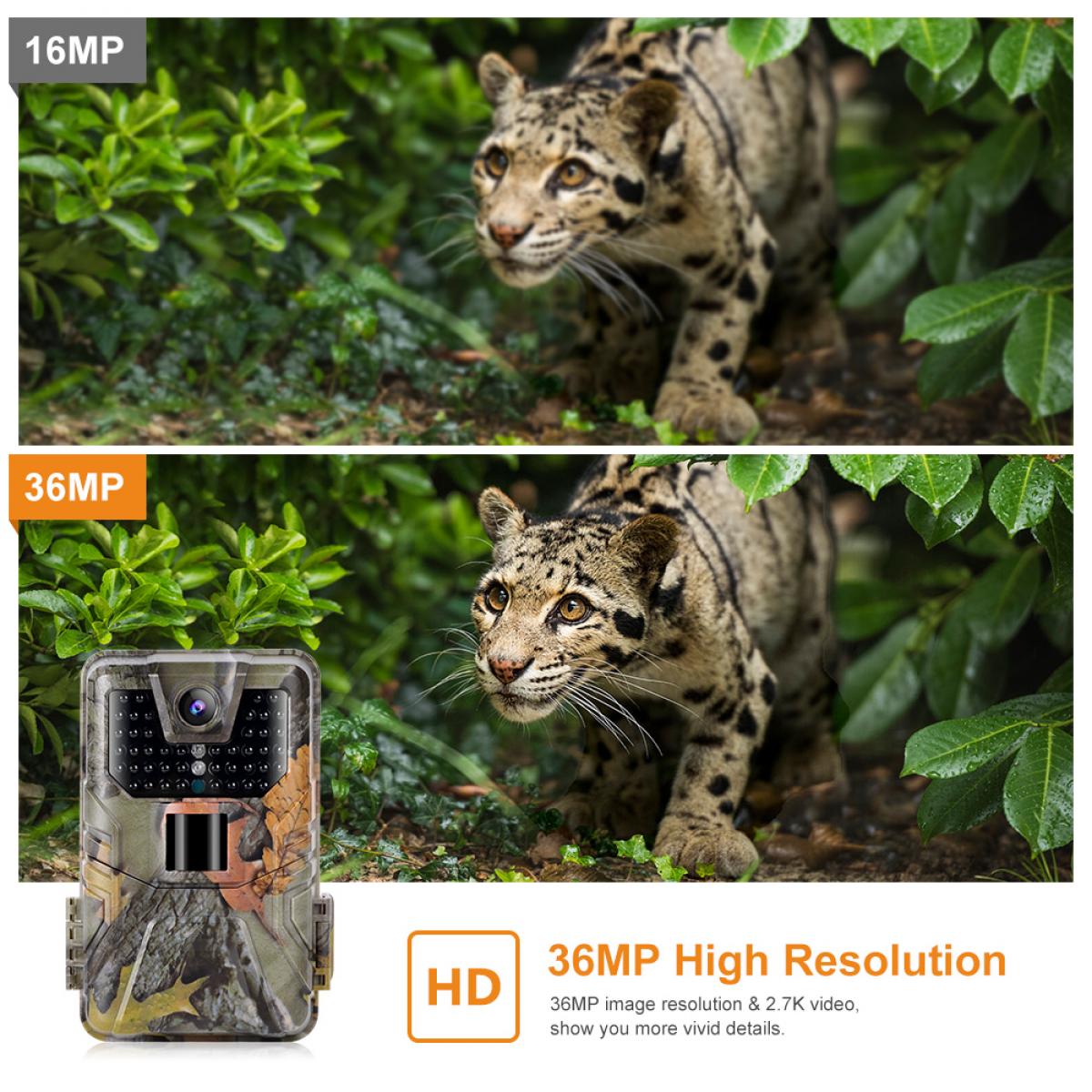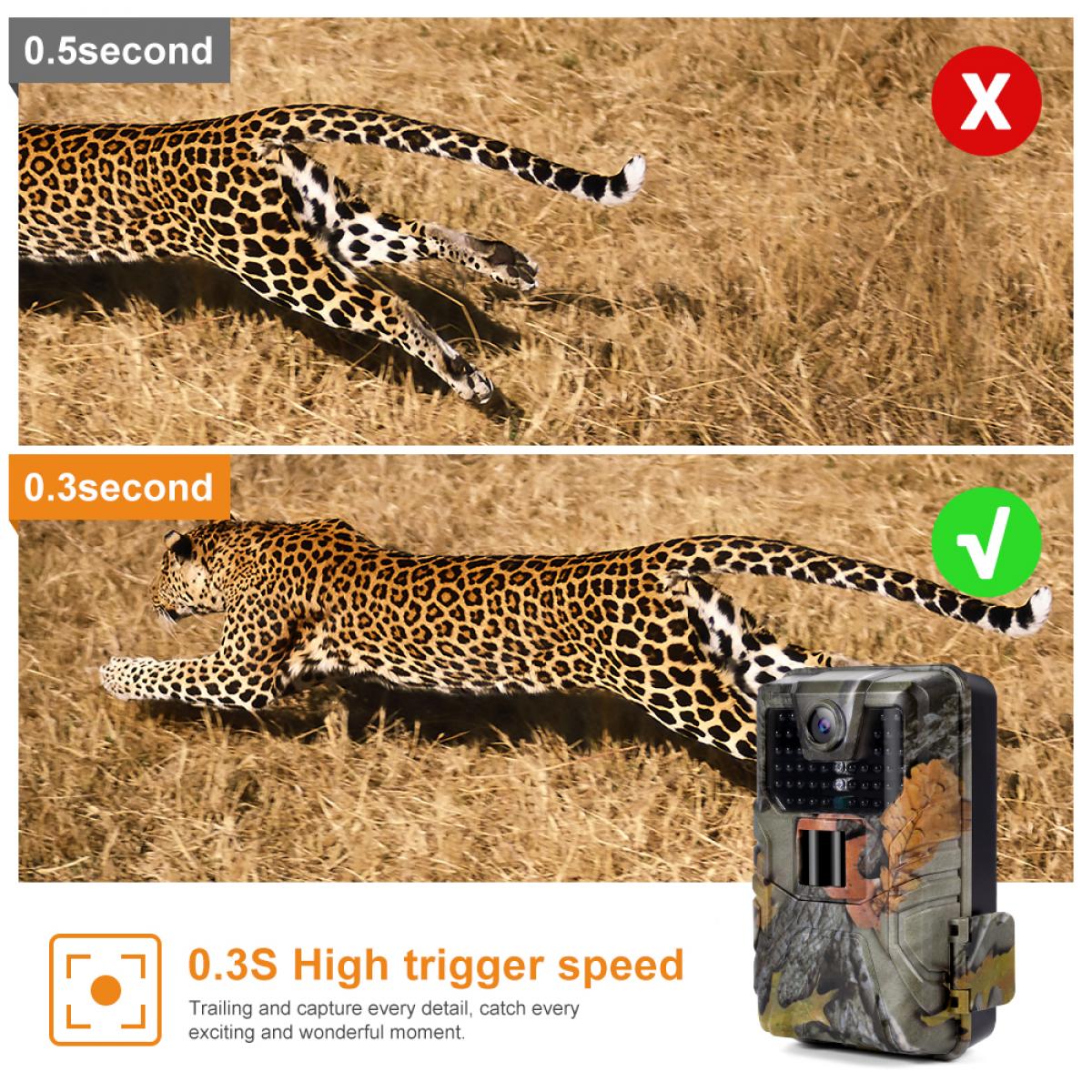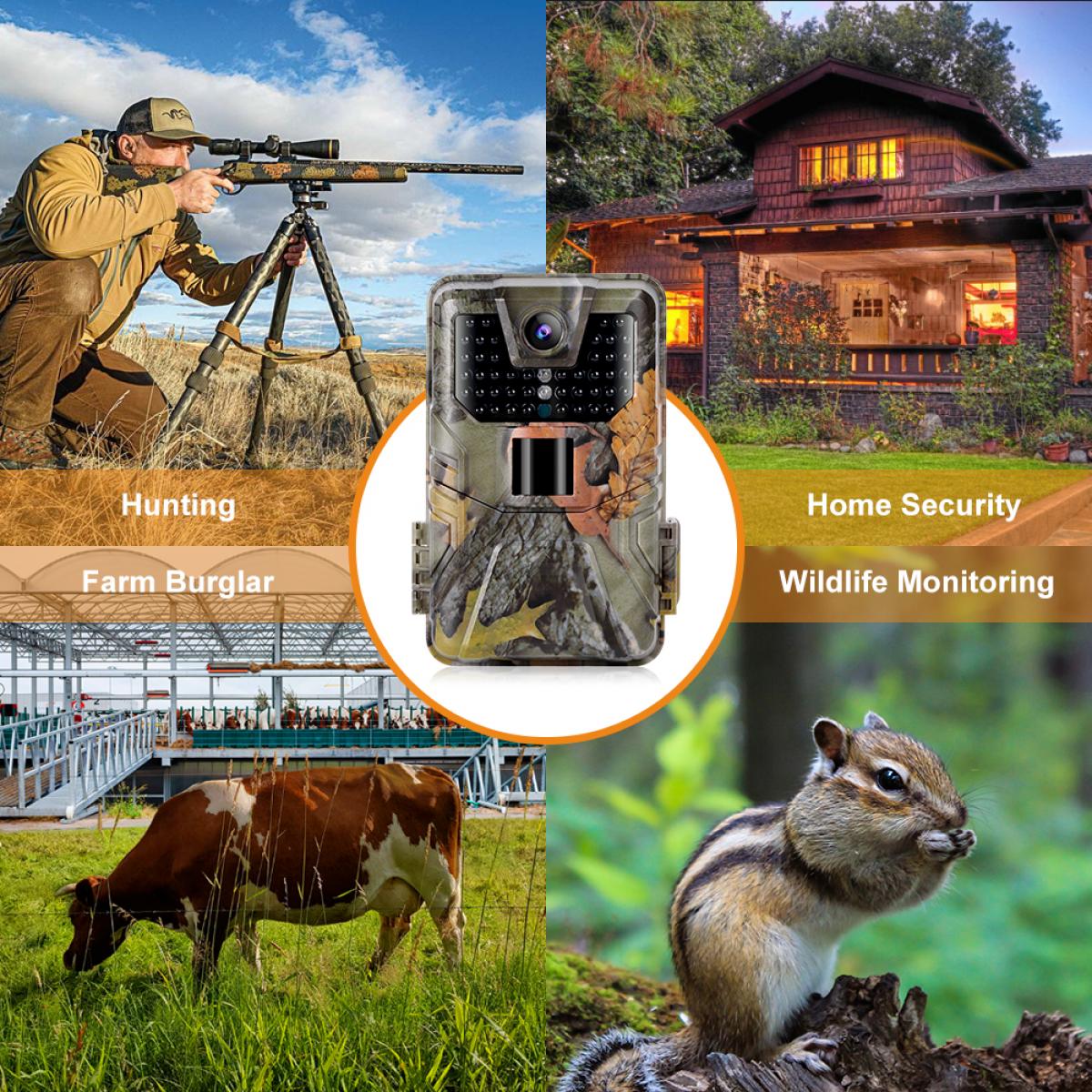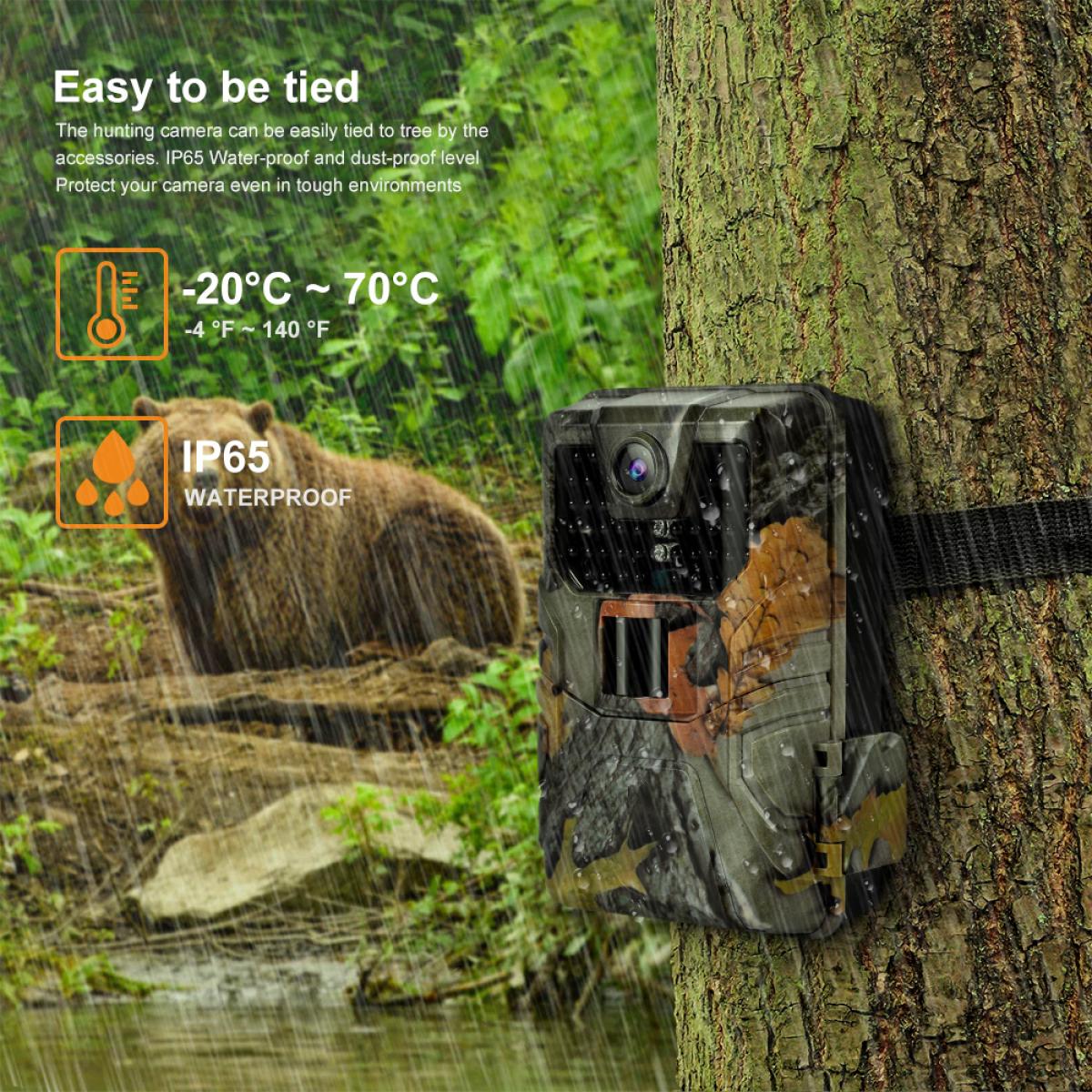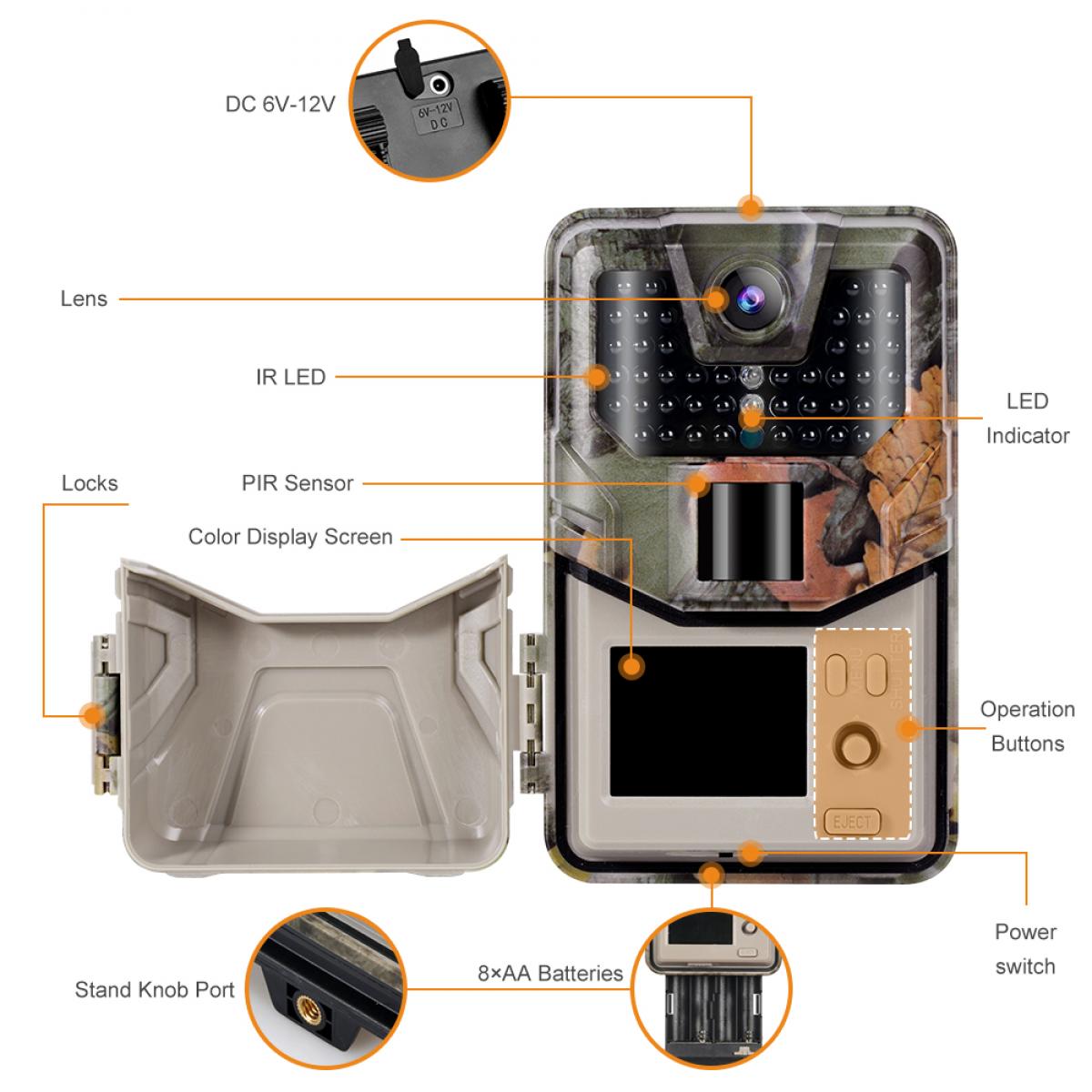 | | | | | | |
| --- | --- | --- | --- | --- | --- |
| | | | | | |
| | | | | | |
| | | | | | |
| Rating | 795 reviews. | 411 reviews. | 890 reviews. | 411 reviews. | 777 reviews. |
| Price | $148.99 | $117.99 | $141.99 | $120.99 | $106.99 |
| Model | KF35.003V2 | KF35.001V2 | KF35.002V2 | KF35.004V2 | KF35.005V2 |
| Max. Storage | 32GB | 32GB | 32GB | 32GB | 32GB |
| Image Resolution | 36MP | 24MP | 24MP | 20MP | 16MP |
| Screen Size | 2.0" | 2.0" | 2.0" | 2.4" | 2.0" |
| Video Resolution | 2.7K | 1080p | 2.7K | 2.7K | 1080p |
| WIFI+Bluetooth | NO | NO | NO | NO | NO |
| Amount of infrared lamps | 44pcs (940nm) | 36pcs (850nm) | 44pcs (940nm) | 42pcs (940nm) | 22pcs (850nm) |
| Detection Range of PIR sensors | 120° | 120° | 120° | 120° | 80° |
| Trigger Distance | 20m (65ft) | 20m (65ft) | 20m (65ft) | 26m (82ft) | 20m (65ft) |
| Trigger Speed | 0.3s | 0.5s | 0.3s | 0.2s | 0.4 s |
| Waterproof IP Rating | IP65 | IP65 | IP65 | IP66 | IP65 |
just that my son seemed to really like it.
My son seemed to love it.
15/01/2022
Not as good as l was expecting
I bought the garde A3 2 months ago. 1st thing that I'd noticed is there is no setting for 20mp pics?! 2,4,8,16 & 24mp. U might be thinking that's a good thing. Except I've always had good luck with sony stuff. I ordered this camera in part because the 20mp gardeA3 has the Sony whatever sensor. So does it?? Don't know. I do know that the the garde A5 is a 24mp camera without the Sony sensor. Mine is surely marked as an A3. What I do know for sure is I retrieved it from the woods yesterday. Went thru almost 1400 pics. Im not sure there's even one night shot that's what I'd call a good clear picture!! Totally disappointed. Another thing l noticed was the large number of deer that noticed the camera! In the day time sure but In the dark?! Weeks after it was put out. I will contact the company asap after this weekend to find out what features this particular camera has. I did purchase an SD card with a faster write speed. The one l had in there was a Sandisk image mate 90mb/s. I'd guess the write speed around 30. Now I will try the SanDisk extreme pro 170mb/s. That one says it's write speed is "up to" 90mb/s. Maybe it will clear up the night shots?? It does detect at a good distance. Last thing, I live in Minnesota there's been a couple nights to -20 while the camera was out. It says it's good to -4. I had a few pics that showed -5 but none on the coldest nights even though the camera was still on when i got to it. So either there were no deer or coyotes out and about those night. Which is kinda hard to believe or the camera stops taking pictures in severe cold but functions when it warms?? Don't know, yet. have fun
14/01/2022
Amazingly clear pics
Easy for me to set up, and put up on patio post.
13/01/2022
Affordable & easy to use
Compact and quality shots
13/01/2022
Fantastic!
Picture and sound are amazing. Motion sensor is sensitive which is good but make sure it is not installed where branches will sway in the wind or you will get lots of video of a windy day. Other than that it is perfect.
12/01/2022
Customer service
I bought 3 of these cameras mainly to record what wild life was roaming around at night as we live in the country and our dog and cat often alert to things we did not see. The cameras work well and are easy to program but one camera after about 12 months of continuous use suddenly decided to consume batteries at a prodigious rate but only recorded about 4 minutes of video in the process. I contacted Garde Pro and after some Q&A on set up and diagnosis they replaced the camera free of charge. That was unexpected as I thought perhaps at the most I would get a discount on a new camera so I consider this excellent customer service.
08/01/2022
Bang for the buck
I've been running two units for a month without any issues. Photo quality and detection is excellent. Very easy menu to navigate and set up preferences. Only con is that it's case design appears a little weak. Time will tell.
07/01/2022
Will be contacting customer service.
I just received this camera today. This camera seems very well built, great settings and seems like a quality camera from the outside. However, every time it takes a photo, it makes an intense high pitched squealing sound for about a second. When it takes a video, it lasts the entire length of the video. Not sure what is going on here and have not read any other reviews with this issue so I will contact the company and see how this problem is resolved. Will update this review with more details and photos/videos when a solution has been reached.
04/01/2022
High quality videos
Bought this for my hubby for Christmas. He loves it. We have captured videos of critters hanging out behind our house at night. It has all of the features he wanted at a reasonable cost.
03/01/2022
There are no faqs for this product.
Trail Camera
Max. Storage
32GB
Image Resolution
36MP
Screen Size
2.0"
Video Resolution
2.7K
WIFI+Bluetooth
NO
Amount of infrared lamps
44pcs (940nm)
Amount of PIR SENSORS
1pcs
Detection Range of PIR sensors
120°
Trigger Distance
20m (65ft)
Trigger Speed
0.3s
Waterproof IP Rating
IP65