Outdoor 4G LTE Security Camera Wireless, Solar and Battery Powered, PIR Motion Detection, Waterproof, 2K Infrared Night Vision, 2-Way Audio, Solar Panel EU Standard
New customer gift package
Free shipping worldwide
Brand:

KENTFAITH

K&F Concept 4G Camera LTE Security Wireless Camera, 24h non-stop power by solar and 10400mAh battery, PIR Motion Detection Waterproof 2K Infrared Night Vision, 2-Way Audio, Uninterrupted Power Supply, and 360° Full Coverage, Color Night Vision, PI

KF50.0009AEU

SKU:

KF50.0009AEU

165.99

https://www.kentfaith.com/KF50.0009AEU_outdoor-4g-lte-security-camera-wireless-solar-and-battery-powered-pir-motion-detection-waterproof-1080p-infrared-night-vision-2-way-audio-including-solar-panel-and-sim-card-us-version-different-versions-in-different-regions
Description
* 【PIR Human Detection and Instant Alerts】PIR sensors and AI humanoid detection alarms are used to detect human bodies more accurately and reduce false alarms caused by light or insects. Supports instant alerts and logging. You can instantly see what's going on from your phone.
* 【Uninterrupted Power Supply and 360° Full Coverage】The 4G solar security camera is equipped with a solar panel, and the built-in 10400mAh battery provides uninterrupted power, no need to remove the camera from the roof to charge. It achieves 355° viewing through 355° horizontal and 100° vertical rotation, 4X digital zoom, and 360° without blind spots. Application: Ubox APP
* 【2K Full HD and Spotlight Color Night Vision】K&F Concept 4G Solar wireless security camera outdoor equipped with 3.6mm lens, provides 2K HD decent images and videos. The built-in spotlight flashes bright light to switch to night vision mode, helping to see true-color night vision in real-time and see-through darkness up to 98 feet even in very low light conditions.
* 【PIR Human Detection and Instant Alerts】PIR sensors and AI humanoid detection alarms are used to detect human bodies more accurately and reduce false alarms caused by light or insects. Supports instant alerts and logging. You can instantly see what's going on from your phone.
* 【Optional Storage and Data Encryption Protection】The K&F Concept 4G LTE solar battery-powered outdoor security camera can be used for cloud storage or MicroSD card (up to 128G, not included) to provide you with flexible ways to save data. You can freely stream videos anytime, anywhere via the cloud (with an additional subscription fee). Mobile apps can be downloaded from the Apple App Store/Google Play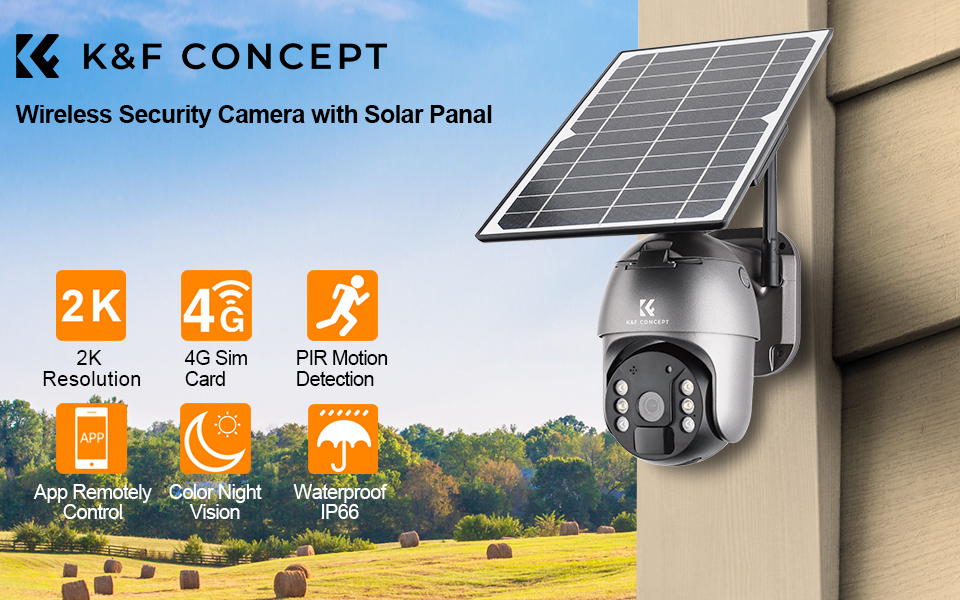 4G Solar Cell Outdoor Camera Color Night Vision
· 8W high-efficiency solar panel with adjustable angle.
· Built-in 10400mAh high-capacity power battery storage.
· HD 2K all-round coverage of any corner Pan 355°Tile 120°
· Local TF card slot & cloud storage, support Class 10 8G to 128G (not included)
· IP66 waterproof, weather resistance from -4°F to 140°F (-20°C to +60°C)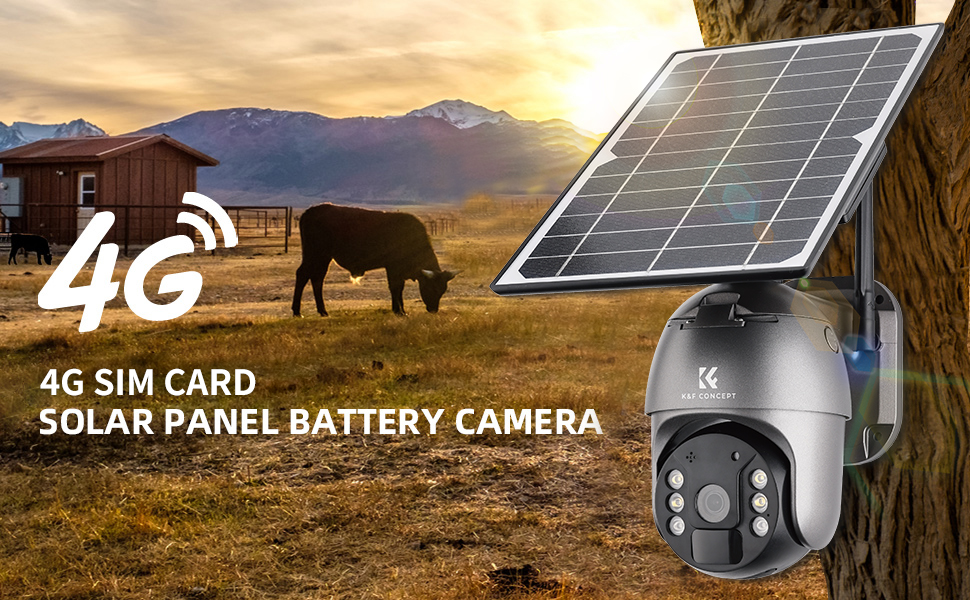 Why choose 4G Solar Security Camera:
1. No wiring, save money: 4G solar security cameras can get the job done without connecting cables to remote areas, saving you a lot of money and trouble.
2. No need for a WiFi network: One of the biggest advantages of a 4G solar security camera is that it is independent of a WiFi network, and it does not need to transmit video by wire or wireless at all.
3. Sensitive to motion: built-in PIR motion sensor + Ai humanoid detection alarm, reducing a large number of false alarm natural elements.
4. Remote real-time viewing and notification: Support remotely viewing and control the direction at any time with the UBox APP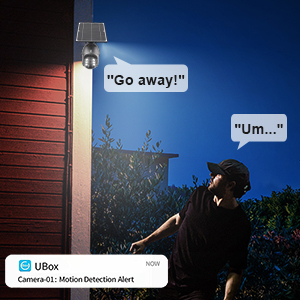 PIR motion detection and alerts
Get active alerts when something unusual happens so you know if anything happens while you're away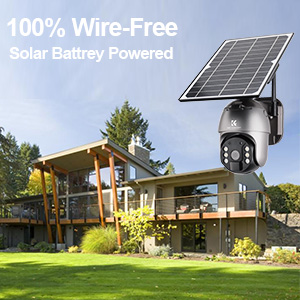 Solar-powered 100% wireless
Built-in high-capacity rechargeable lithium battery and 8W solar panel, no need to worry about battery life and low power, keep it fully charged, and achieve 100% wireless outdoor safety.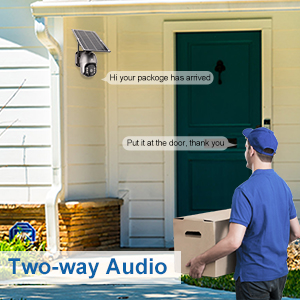 Two-way talk
Built-in enhanced microphone and speakers make it easy to communicate even when you're outside.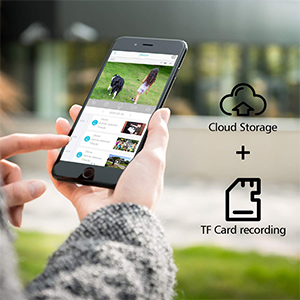 SD card storage and cloud storage
Support SD card storage, up to 128G (not included), cloud storage (optional)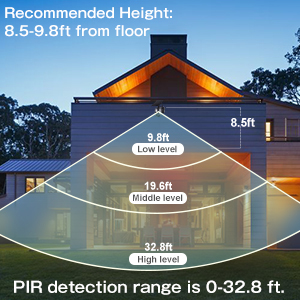 PIR human detection distance
The monitoring distance of K&F solar security cameras is up to 12m/39.37ft and will trigger instant alarm notifications through the APP. The ideal installation height is 8.5-9.8 feet above the ground.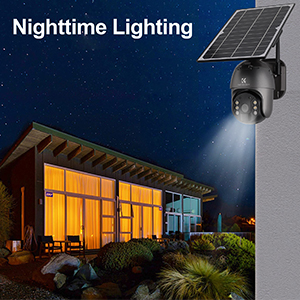 White light
Featuring 4 illuminated LED spotlights, enabling color night vision for clear video recording and 98ft live streaming.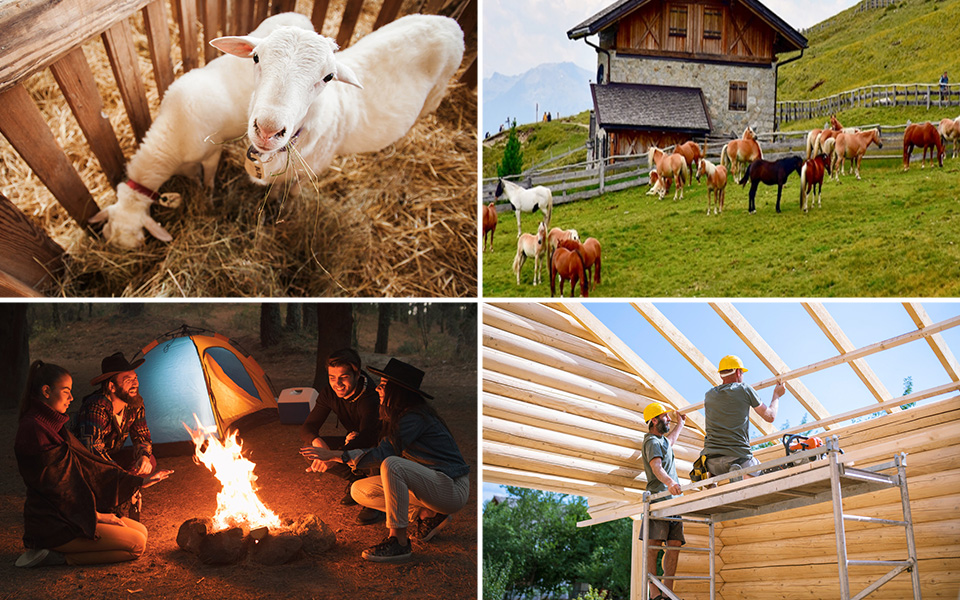 Suitable for home security/farm/construction site, etc. (built-in battery, please charge it with 5V2A adapter for more than 8 hours before first use)
All Reviews
Image

All Star

5 Star

4 Star

3 Star

2 Star

1 Star
Good surveillance camera
I personally feel safer when my house is guarded when I am not there. I also find it reassuring that I always know what's happening at and around the house. That makes me feel a little safer already. To that end, I wanted a camera that would take satisfactory pictures in the dark, since there is a lot of darkness in the winter. I found that this 4G ITE security camera is well suited for this use.
The camera looks like the photos. It's not too big so it's too noticeable on my door, but it's still visible so everyone is aware that they are being recorded. After all, that alone can make a big difference when it comes to security.
23/01/2023
Outdoor camera with 2K, which also enables bidirectional speech.
Included are power supply, drilling template, screws, dowels, instructions and of course the camera.
Equipment:
Again, there is no need to subscribe to a cloud provider for this. The alarms are stored on the SD card and can be viewed later in the app.
The app is always required for configuration. It is necessary to register first. The ease of setup in the app is an advantage. Movements and sounds can be detected. You can also set up motion tracking, which works, but the camera only rotates horizontally. Depending on where the camera is mounted, two axes would actually be needed for proper motion tracking.

The camera also has a speaker that you can talk to through the app. This also works very well. However, you cannot restrict the field of view in advance, but always have a full field of view. Caution is advised when taking pictures outside, as public areas are not allowed to be recorded in Germany.
Night vision is good, and thanks to the built-in LEDs, the camera can also illuminate the surroundings itself.
Attention:
For cameras that are accessible via the Internet, you have to trust the manufacturer, as you can't make the security settings yourself. You also have to hope that the manufacturer will react quickly when security vulnerabilities are discovered and provide a firmware update. Furthermore, if you are aware of the risk that comes with storing and transferring data to a Chinese manufacturer, you won't go wrong with this camera. It is easy to use and all the necessary functions are present.
21/01/2023
In night vision mode, you simply see more...
whereby three modes are offered here at once: an infrared mode, a color mode and an alarm mode .
► Brand manufacturers are making it increasingly difficult for other camera manufacturers to establish themselves successfully. To be able to compete here, the scope of services and also the price have to be right.
Can you already expect a good outdoor surveillance camera for currently about 165.99$, which offers instead of Full HD (1,080p) equal 2K, a light with infrared and alarm, two-way audio and a horizontal rotation range of 355 ° and 120 ° vertically ? Yes, you can, because I have not found any real weak point so far. So if you can do without 4K, you'll get a good device here at an attractive price, which tends to cost more with other manufacturers and also offers flawless workmanship along with good looks in terms of quality.

►► Short conclusion: appealing looks, impeccable workmanship, power connection required(!), sharp photos/ videos, Spotlight, two-way audio and with direct recording option (micro SD card), optional cloud storage, thanks to motor. Control 360 ° monitoring possible. This makes for a good overall convenience.
►►► Conclusion: Overall, the camera makes a good impression in terms of equipment and looks. Make sure you get the best possible reception, because there are many sources of interference in the 2.4 GHz network that can have an unfavorable effect. If this works, you get a smooth, sharp picture during the day, with a limited wide angle, but also motor. Control. The resolution in the dark is also good via spotlight, whereby quite a few details can be made out at some distance in addition to the color view.

Note: Alarms ("warning notifications") via motion detection/noises are possible, for my purposes o.k. and thus usable. Remote access works as well, which is a plus for security on the road. Nevertheless, you should generally fiddle a bit with any problems (too many/too few alarms) and also avoid moving backgrounds or disturbing noises as much as possible.
20/01/2023
excellent
I'm constantly taking trips out of town and have rabbits on the balcony that I can't do without without seeing them. I bought it for her and I am very happy to recommend it to everyone. The installation is quite easy I was also able to connect to the internet but I preferred the SIM card 3 months internet access. If I'm satisfied, I buy it online for a year.
20/01/2023
Surveillance camera-For outdoor and indoor
I chose the surveillance camera for outdoor use.

The total package comes with everything you need. Installation material is included. Everything is also included for wall mounting. Once everything is done, the app is installed.

Once the app is installed, you have to register. You also have to enter your e-mail address to receive the confirmation code.

The app is easy to understand. The camera records small video sequences when movements are made. It is also recorded more often, although you do not see any recognizable movement. Fortunately, this can be deleted again. The intercom works quite well so far.

The transmission during the day is crystal clear. But if the recording is not so good, the picture is shown only in black and white. At night, you can choose between color and black and white.
20/01/2023
After trying more expensive cameras, I found that some either had a confusing app or required a subscription to store video content.
not with this security camera - you can choose between the cloud or install your own micro sd card for video files that are saved as 5-minute clips in mp4, timestamped and dated so you can easily transfer to your mac/pc and browse footage in real time instead of streaming it (this can be cumbersome on a poor internet connection). I have 6 security cameras from this brand that use the same app, so I can easily swipe between all the cameras in different locations. More information about the camera can be provided upon request if needed.
19/01/2023
K&F Concept Solar 4G Camera Good image quality
good quality
lares image
easy to use
compatible with app
app is easy to use
instruction manual included
waterproof
Night vision has good quality
360 degree auto track
fair price
easy mounting
18/01/2023
Great picture and good connection with the app!
Arrived well packaged. Great design.
Connection with the app works without problems and the camera is recognized quickly. Installation is really easy and self-explanatory, you do not need much prior knowledge.

Convinced and I can heartily recommend.
17/01/2023
Professional outdoor surveillance camera
It is very good that the camera can be controlled via the app. Zoom also works.
You can also be alerted via cell phone in case of movement or noise. It is important here that the app receives the appropriate permissions.

Night vision is good, with the integrated LEDs it can also illuminate the surroundings.

With such cameras, which are accessible via the Internet, you have to trust the manufacturer, because you can not make any security settings yourself. You also have to hope that the manufacturer will react quickly when security holes are found, and update the firmware.
16/01/2023
4g lte security camera - Great features and performance at a reasonable price
The solar 4g camera must be located so that the 2.4 GHz WLAN signal is good. I put a heavy duty micro SD card in the camera for storage. The camera records to this SD card, or if you pay for a subscription, the video is stored in the cloud (in addition to or instead of local storage I suppose). When the camera is activated, it records all the time. The app has many settings to customize how it works, such as setting notifications, notification triggers (sound or motion), and motion detection in a preset region. Recorded footage can be viewed using the app and copied to the cell phone running the app. One can zoom into the video via the app. The quality of the video and sound during the day and night is amazing. Video is time and date stamped. Motion tracking is very good. Motion detection sensitivity can be adjusted. Camera view can also be controlled from the app, even with preset views. The live feed of the camera can be viewed - good smooth video too.
Initial pairing of the camera with the app can be a bit frustrating, but follow the instructions correctly and then everything is fine.
I would recommend this camera to anyone.
14/01/2023
K&F Concept Outdoor 4G LTE Wireless Security Camera | Installation Tutorial for KF50.0009
KF50.0009AUS 4G LTE Outdoor Security Camera Wireless Solar installation video
Surveillance Cameras
Video Resolution
2K
Power Supply Method
Solar power
Built-in Battery Capacity
10400mAh
Storage
Micro SD card (up to 128G/cloud storage)
Pan Tilt
Horizontal 355°/Vertical 120°
Motion Detection
PIR
Motion Detection Range
12m/39.37ft
Waterproof IP Rating
IP66
Night Vision
Infrared Night Vision, Color Night Vision
Night Vision Range
20m/65.6ft
Alarm Method
Sound Alarm
Two-way Talk
√
Connection Method
/(4G LTE)
Application
UBOX