Pro Large Camera Backpack Fits 17 Inch Laptop DSLR SLR Camera Bag 32L, Anti-Theft Waterproof Camera Case for Photographers,Men Women,with Rain Cover,Tripod Holder,Black
Terms
Terms and Conditions:
Coupons are valid for a limited time only. Kentfaith reserves the right to modify or cancel coupons at any time.
You must purchase the qualifying items added to your Cart when the coupon is in effect for the discount to apply.
If you later modify or cancel the subscription or delivery date for the qualifying item, the discount will not apply.
The coupon applies only to qualifying items displaying the coupon offer.
If you buy more than one item from the same coupon, the maximum discount amount of the coupon will be equal to either the percentage discount off or the face value of the coupon on one eligible item. The coupon may only be used on www.kentfaith.com.
The promotion is limited to one coupon per customer.
If you return any of the items purchased with a coupon, the coupon discount or value may be subtracted from the return credit.
To
United States
Expedited Shipping
3-5
business days
Outdoor Camera Backpack Large Photography Bag with Laptop Compartment Tripod Holder Waterproof Raincover Hiking Travel Professional DSLR Camera Backpack for Men Women Side Access

KF13.107

SKU:

KF13.107

141.99

https://www.kentfaith.com/KF13.107_outdoor-camera-backpack-large-photography-bag-with-laptop-compartment-tripod-holder-waterproof-raincover-hiking-travel-professional-dslr-camera-backpack-for-men-women-side-access
Description
* Professional & Large Capacity - Dimensions: 13.3"L*5.2"W*"21.2"H, weight: 2.9kg, Maximum volume: 32L. With a large capacity of 32 liters while enjoying style, comfort and space. It has multiple compartments that can hold 2 DSLR or mirrorless cameras, 6 lenses, camera flash, accessories and a 17-inch laptop.
* Quick Side Access- Side access design makes you take SLR camera fleetly. Wide opening with double-way zippers makes it easier to pick and place equipment.
* Anti-Theft & Waterproof - Anti-theft zippers can ensure safety of camera gear and laptop. Filled thicken foam around the whole bag to protect drones or camera equpiment from bumps and shock. Its water-resistant fabric with waterproof rain cover can protect camera from unexpected weather.
* Customizable Space - With 11 padded Velcro dividers that can be adjusted to suit your needs. It even detaches to transform it into a hiking backpack with one large compartment. Tripod attachment possible on the side of the backpack with an optional pull-out hidden pocket can be used for the tripod feet to avoid slipping. The included Go-Bag is an extra bag that fits in the bottom compartment. It can also be on the handle, over the shoe
* External Suspension System - can support a 60cm tripod, drone and tent, and the external strap can be equipped with trekking poles
Shipping
To
United States
Expedited Shipping
3-5
business days
Outdoor Camera Backpack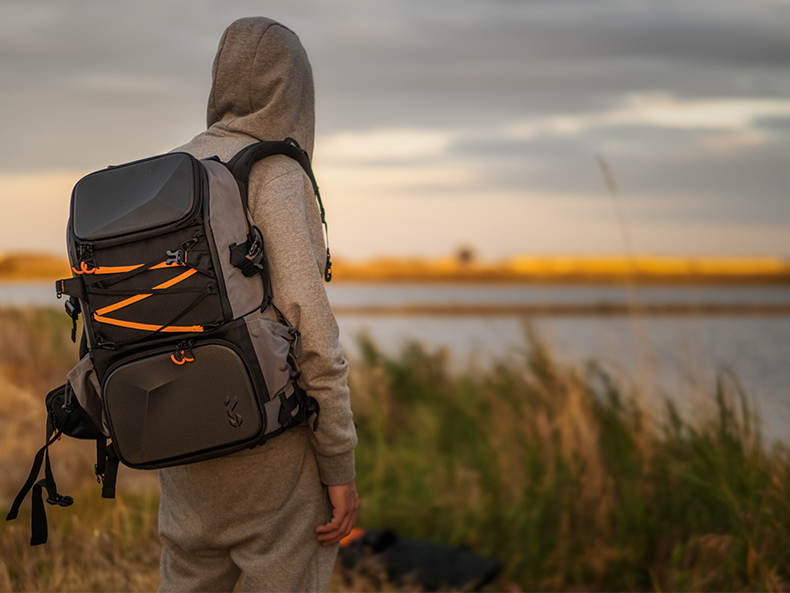 Product Size
Dimensions LxWxH (cm):34*22*54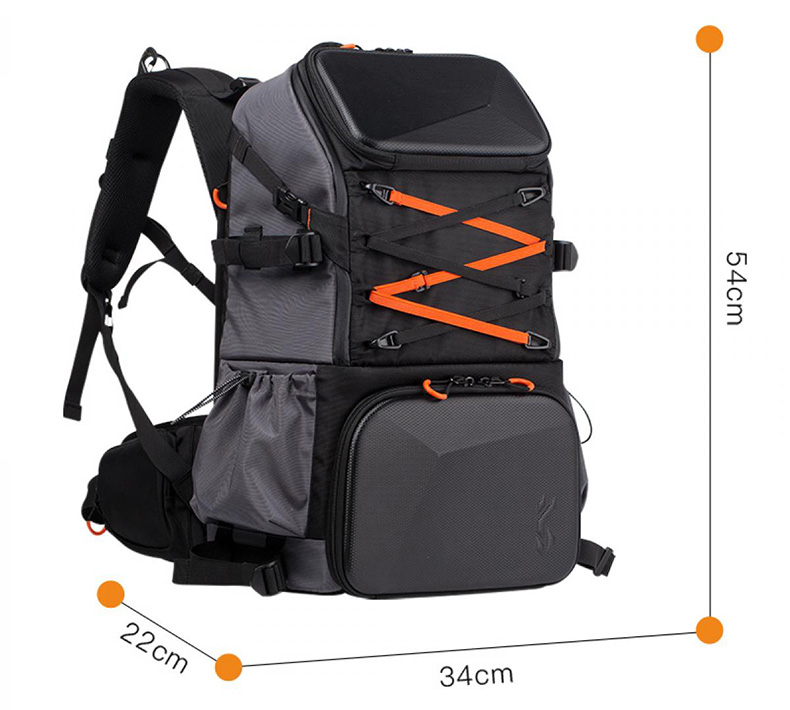 Large capacity
The upper bin has a capacity of 5-6 pieces of clothing and the lower bin has a capacity of 5 mirrors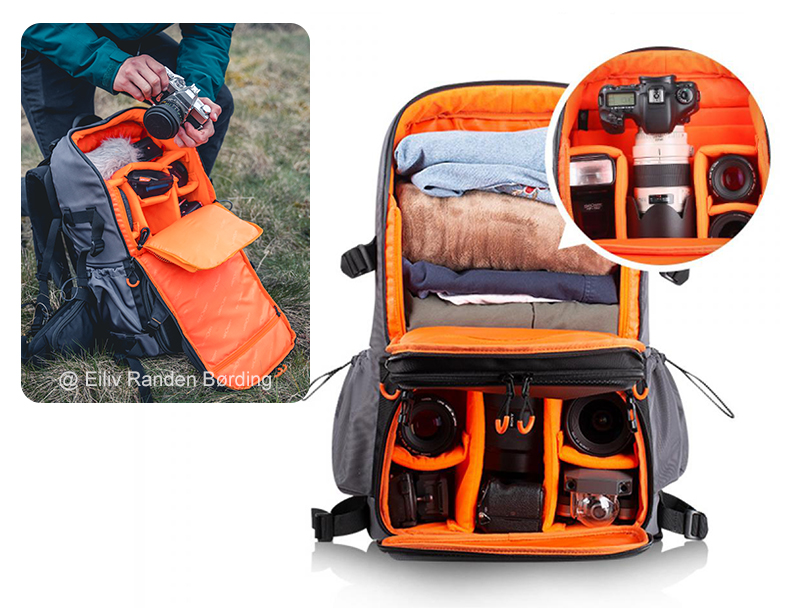 Two bags
A one-shoulder camera bag is included with the bag, can also be used as a waist bag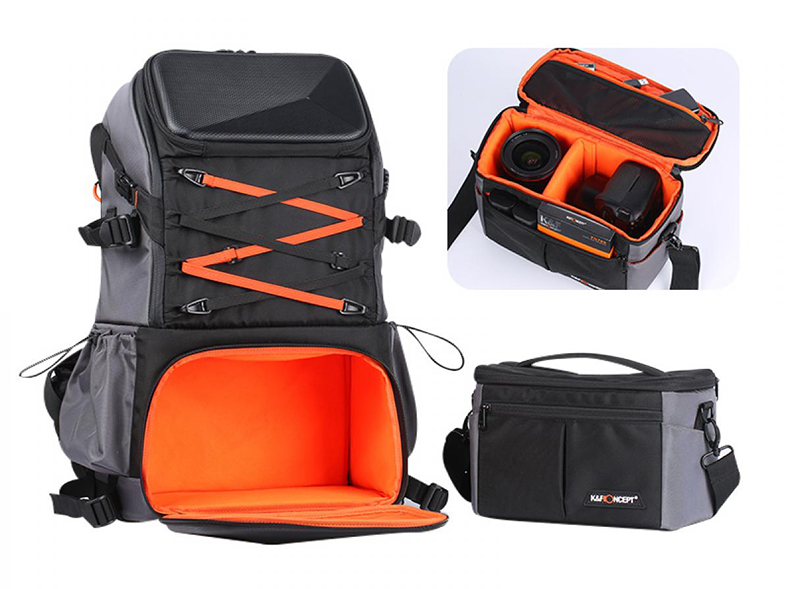 Two options
Use large bag when there are many equipment, and small bag when there are few equipment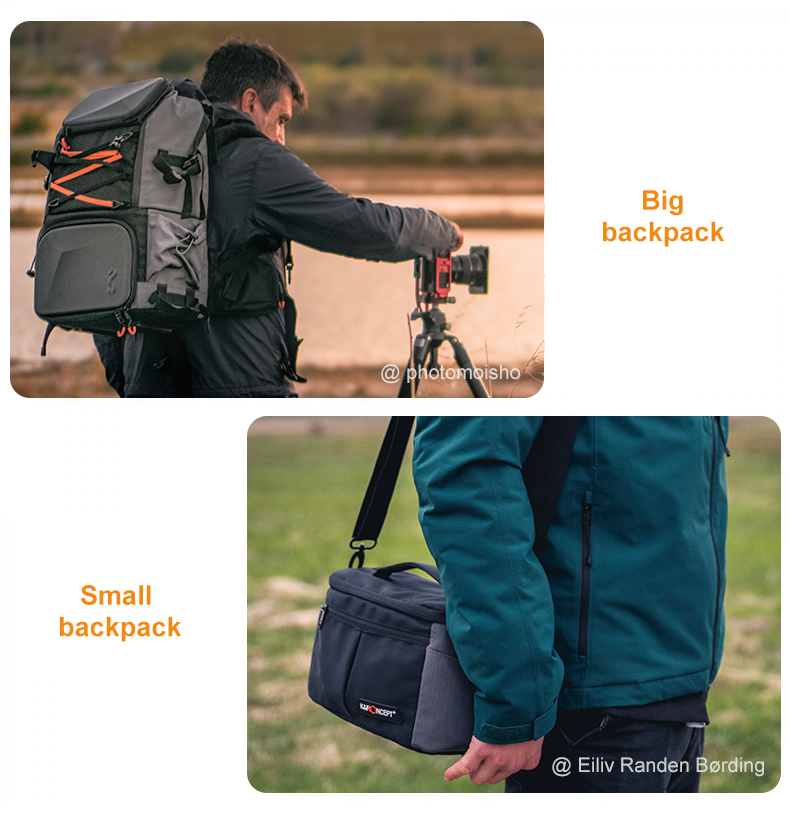 17-inch computer compartment
The upper warehouse is equipped with an ipad mezzanine to meet the needs of various equipment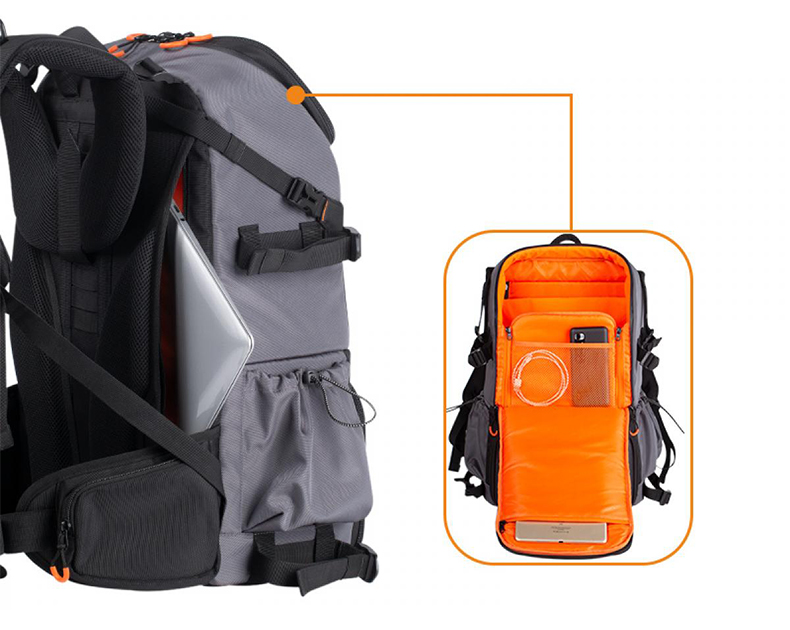 Comfortable backrest
It is filled with high-quality pearl cotton, mesh structure, breathable and comfortable and reduces the burden on the back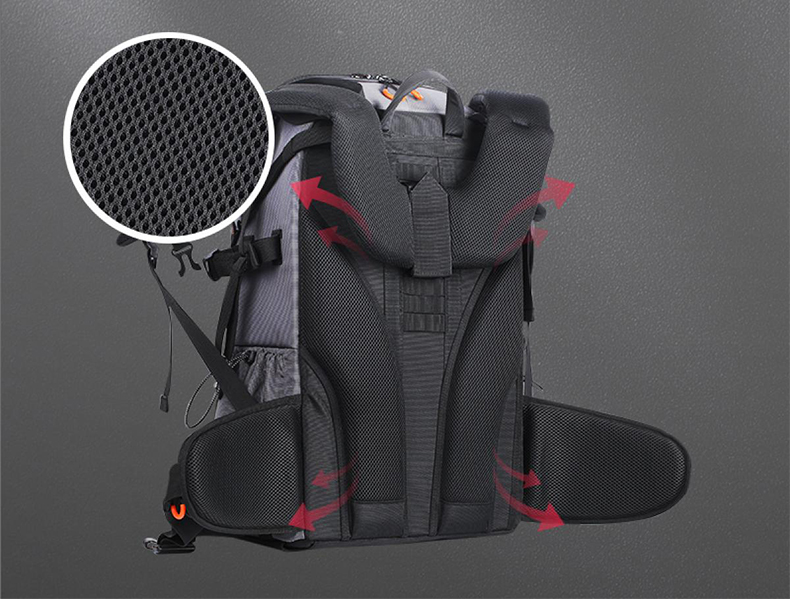 Three-speed adjustment
AC carrying system, set for different heights and body types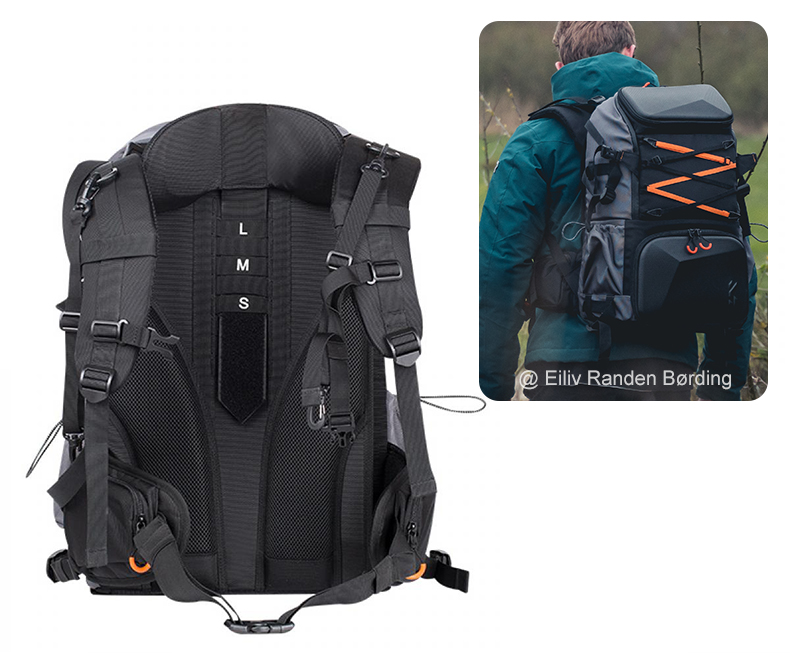 Tripod storage at the bottom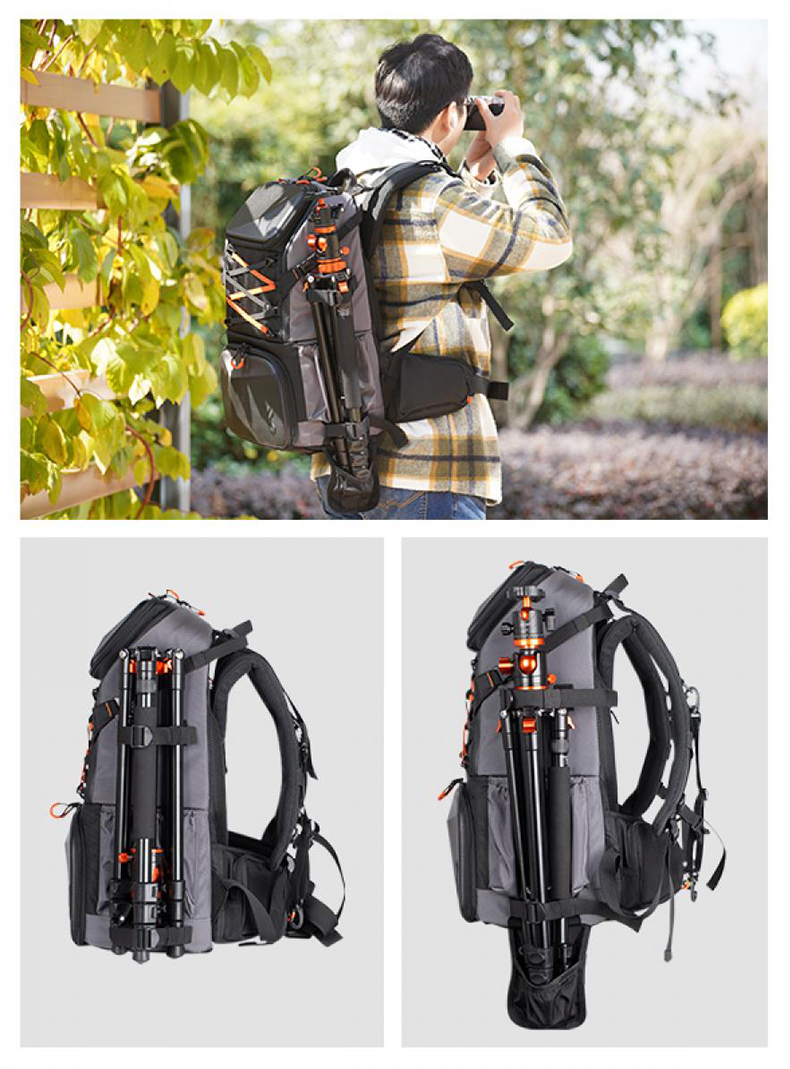 Wate repellent and teatesistant
A rain cover is provided with the package to protect your equipment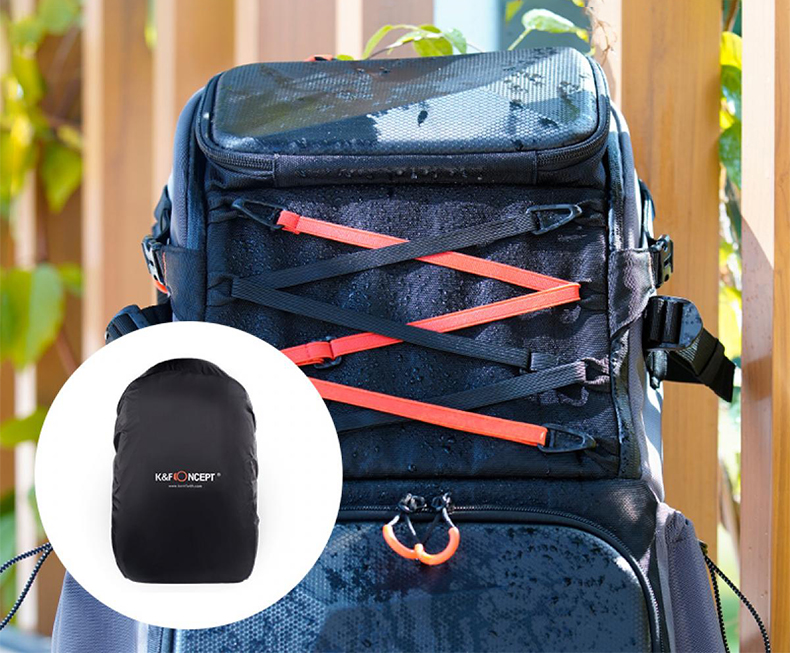 product details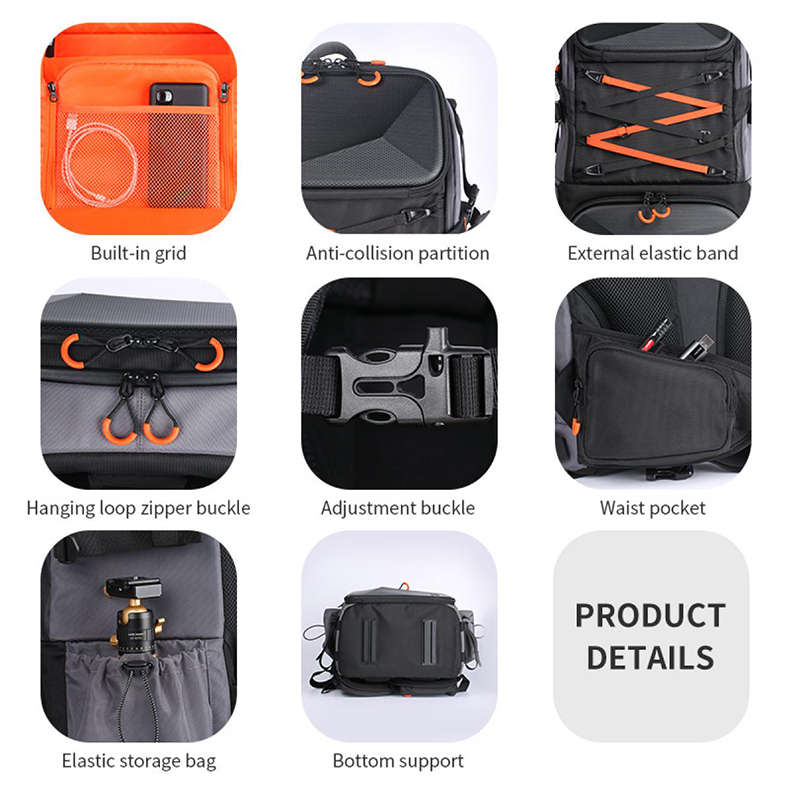 Real shot pictures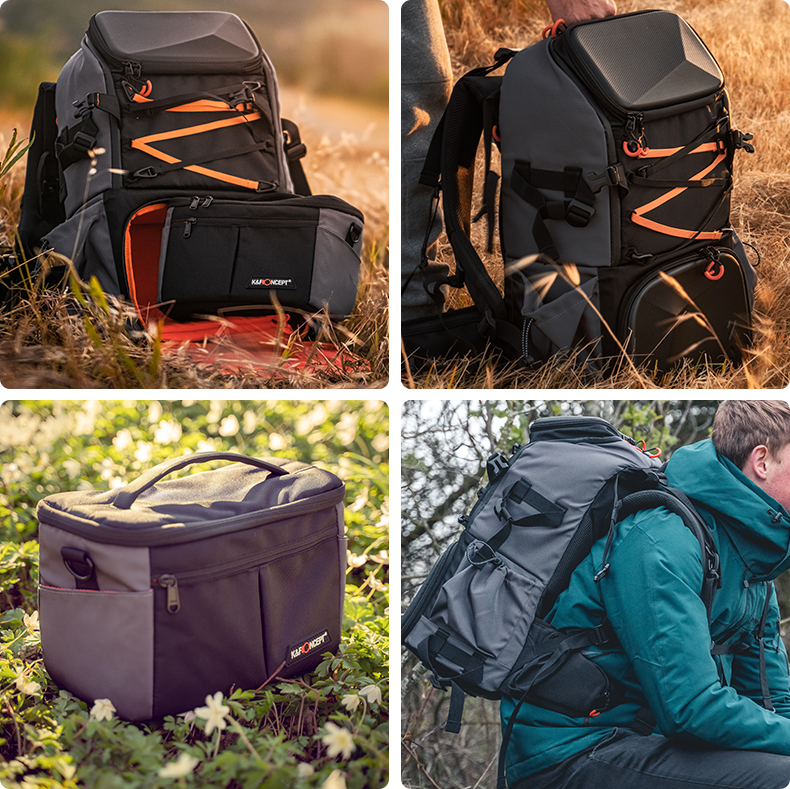 | | |
| --- | --- |
| Product Size | 34 * 22 * ​​54cm |
| Package dimensions | 36*24*55cm |
| product weight | 2.9KG |
| Package Contents | Photography bag*1, tag*1 |
All Reviews
Image

All Star

5 Star

4 Star

3 Star

2 Star

1 Star
mr
perfect shipping price was a big 10 i recomend K&F to my frainds
14/09/2023
Amazing backpack
It is all i wanted, a well build high volume backpack. It can carry even more stuff that I even taught. I highly recommend it !!!
26/05/2023
All purpose camera bag. Well suited for any job.
lots of room.external mounts .recommend for the hiker , race car euthenistsport euthenist.i carry it in my car as i drive as a service tech all over Indiana in rural area"s love historic buildings and old farmsalso go to several racing events during the year and yes grandkids sporting events.i don,t always carry my 500x lens but i can if i want to.can strap a tripod on if i want to.
02/03/2023
Chic photo backpack: perfect for travelling
In addition to my big backpack, I was looking for a small one that would fit the most necessary equipment and, above all, that would look good! I really like the look of the backpack - the "old-fashioned" look with the leather elements is beautifully designed.
The important part, the inner workings: The main compartment can be reached via 2 entrances, which is very practical because you can always get to it. There is enough space for a large DSLR and 2-3 smaller lenses and some accessories.
The "head compartment", which can be opened from above, offers additional storage space for equipment or a sweater etc. There is also water protection - top protection from wind and weather.

The backpack is perfect for traveling or a city trip!
28/02/2023
The perfect companion on hikes
It is perfect for photographic hikes. Offers a lot of space for the equipment as well as possibly other things such as drone, change of things or other. There is nothing to complain about in terms of quality and I am convinced that it will withstand one or the other hard use as well as rain. I'm looking forward to the first trips ;)
20/02/2023
Exactly the miracle of space I was looking for.
The camera backpack is exactly what I was looking for. When I'm on the way to shooting locations, I like to have everything with me. In the backpack I now have a Maviv pro with 4 batteries and all accessories, a Maviv Mini with 3 batteries and all accessories, a LUMIX fz 1000 2 with all accessories, various chargers and cables and a 17 inch laptop.
14/02/2023
Camera backpack
I've been using this backpack for about 3 weeks and it's super cool. There is enough space for camera and also for the other thing. Most importantly, this backpack is anti-theft. The color is also very nice. The backpack comes with a rain cape. This is really helpful to photograph in any weather. For me this is perfect backpack man can have.
11/02/2023
I am fully satisfied
The backpack is stable and has enough space for my three lenses. I even put all my equipment in the backpack, but I'm also a hobby photographer. It is very comfortable to wear on hikes and you can adjust the SL straps. It's also well padded and doesn't pinch anything
08/02/2023
High quality, BIG
This bag is BIG! And that's what I needed for my gear. I really love the quality of it. And I can just hope, that the quality will remain the same with time. Easy to recommend this bag.
02/02/2023
Technician
love this bag, very easy to retreat camera & compartment easy to configure.
09/12/2022
There are no faqs for this product.
KF13.107 Pro Large Camera Backpack Fits 17 Inch
Bag Compartment
Carrying/Transport Options
Backpack
Camera Support Strap
Yes
Camera Compartment
2
Lens Compartment
6
Laptop Compartment Screen Size
17-inch
Bag Exterior
Exterior Color
Black + Grey
Exterior Dimensions
34*22*54cm
Exterior Material
Polyester
Type of Closure
Buckle
Rain Cover
Yes
Bag Interior
Maximum Volume
32L
Weight
2.9kg