Outdoor Camera Backpack Large Photography Bag with Laptop Compartment Tripod Holder Waterproof Raincover Hiking Travel DSLR Backpack for Men Women
Free shipping to eligible country
Outdoor Camera Backpack Large Photography Bag with Laptop Compartment Tripod Holder Waterproof Raincover Hiking Travel Professional DSLR Camera Backpack for Men Women Side Access

KF13.107

SKU:

KF13.107

163.99

https://www.kentfaith.com/KF13.107_outdoor-camera-backpack-large-photography-bag-with-laptop-compartment-tripod-holder-waterproof-raincover-hiking-travel-professional-dslr-camera-backpack-for-men-women-side-access
Description
* As a professional mountaineering camera bag, large capacity 33 liters, upper and lower compartments, mother-in-son bag, multi-layer, two-machine multi-lens, 17 laptop, 11-inch IPAD, mobile phone, digital product charger and wire, dry and wet clothes separated
* Use brand new 1200D Kouji nylon, waterproof grade 5, with rain cover
* Two upper and lower EVA compression moulded shells on the front frame are strong, durable and impact-resistant, effectively ensuring cushioning against camera impact
* The external suspension system can carry a 60cm tripod, a drone, a tent, and the external strap can be equipped with trekking poles
* The carrying system can support 3 levels of height adjustment (L, M, S), suitable for people of different body shapes, effectively reducing the weight-bearing feeling, ventilation, and heat dissipation. The straps can be adjusted. The waist pad can effectively tighten the contact with the body and protect the waist.
Outdoor Camera Backpack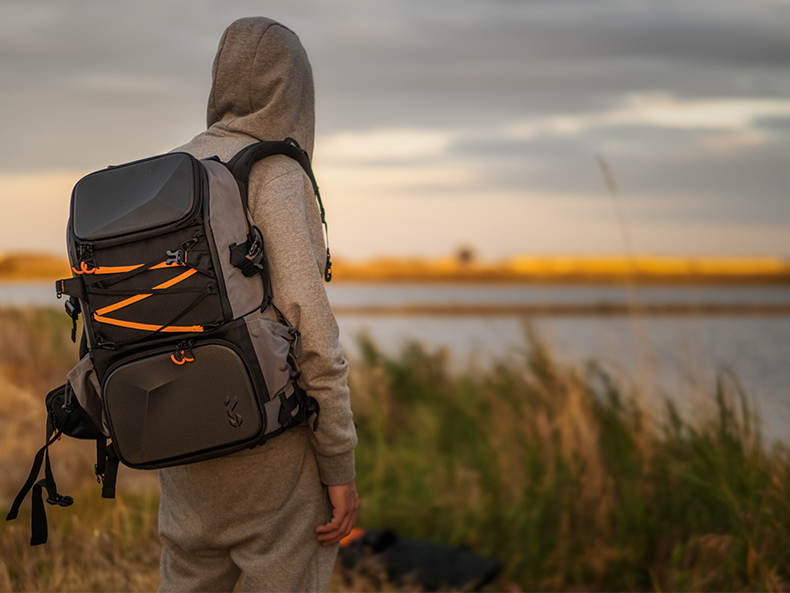 Product Size
Dimensions LxWxH (cm):34*22*54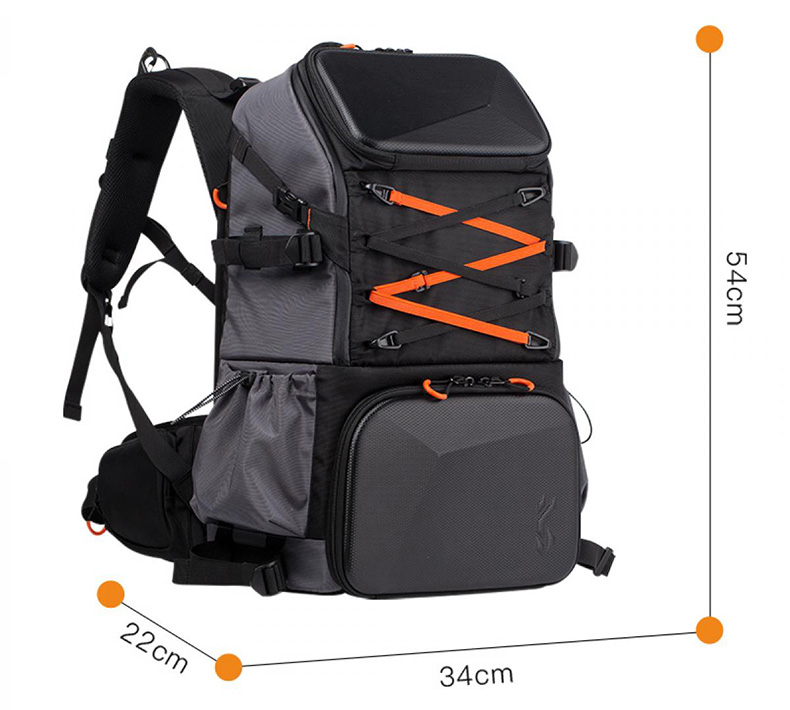 Large capacity
The upper bin has a capacity of 5-6 pieces of clothing and the lower bin has a capacity of 5 mirrors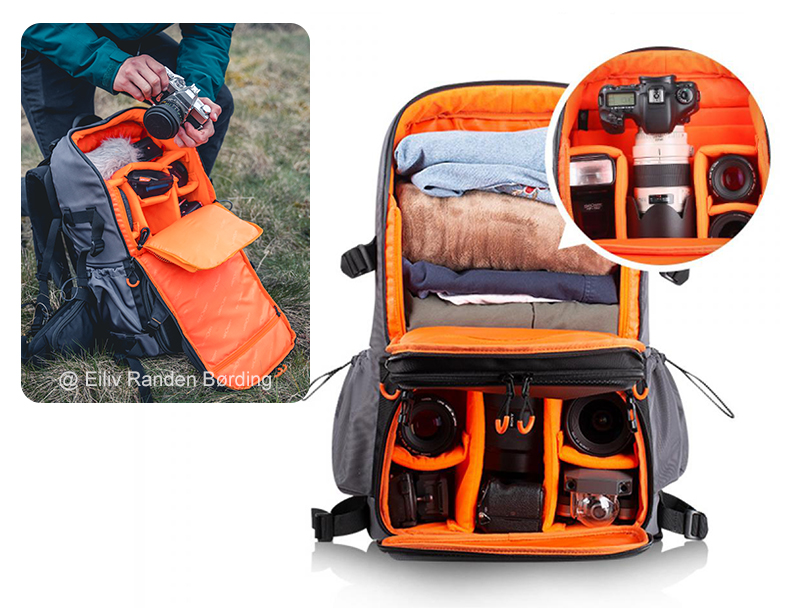 Two bag
A one-shoulder camera bag is included with the bag The shoulder bag can also be used as a waist bag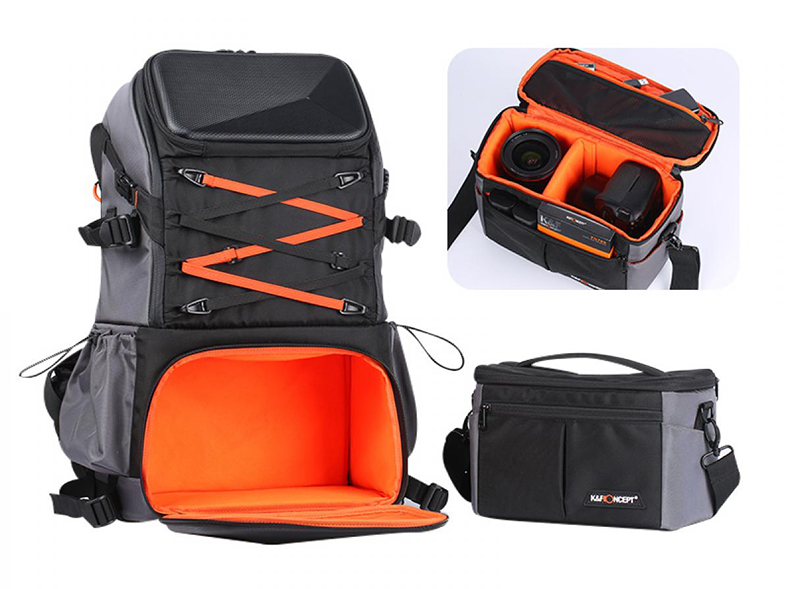 Two options
Use large bag when there are many equipment, and small bag when there are few equipment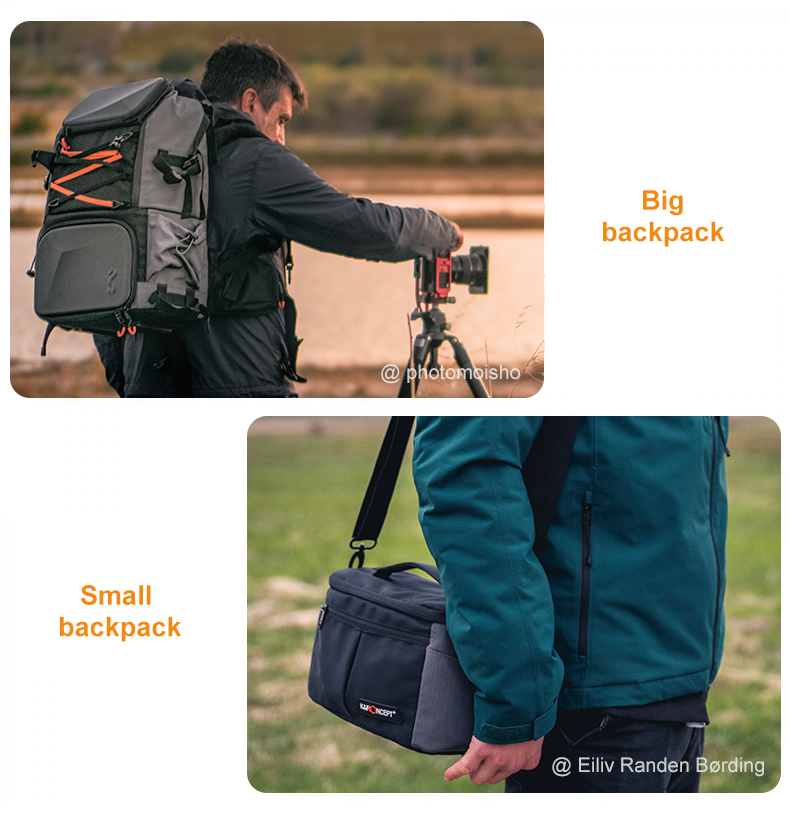 17-inch computer compartment
The upper warehouse is equipped with an ipad mezzanine to meet the needs of various equipment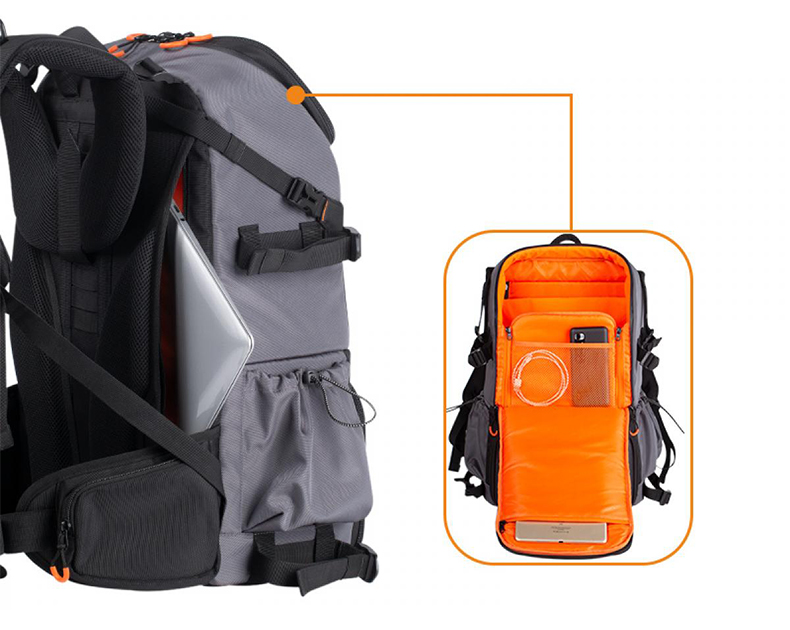 Comfortable backrest
It is filled with high-quality pearl cotton, mesh structure, breathable and comfortable and reduces the burden on the back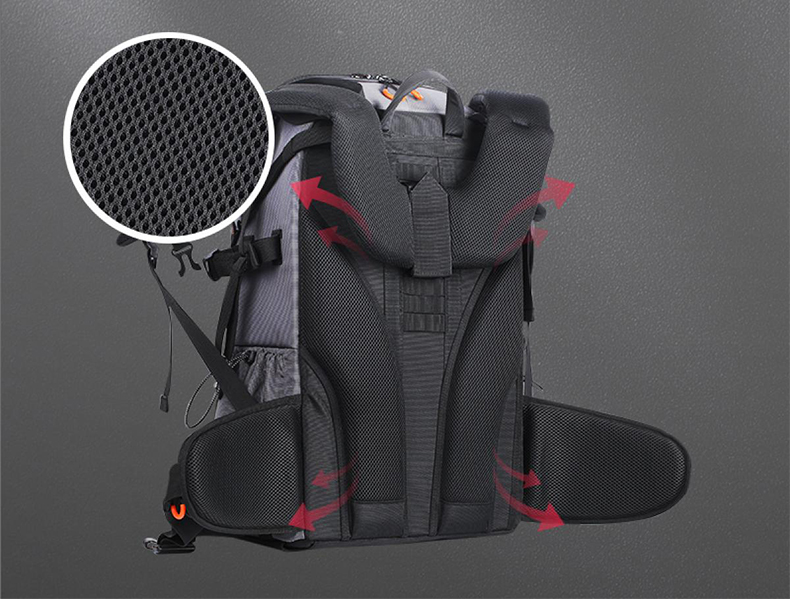 Three-speed adjustment
AC carrying system, set for different heights and body types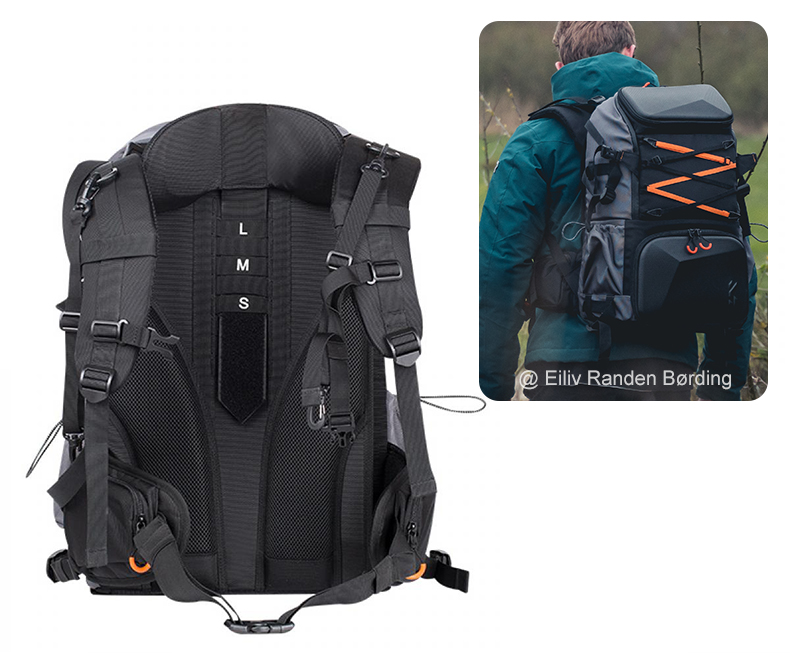 Tripod storage at the bottom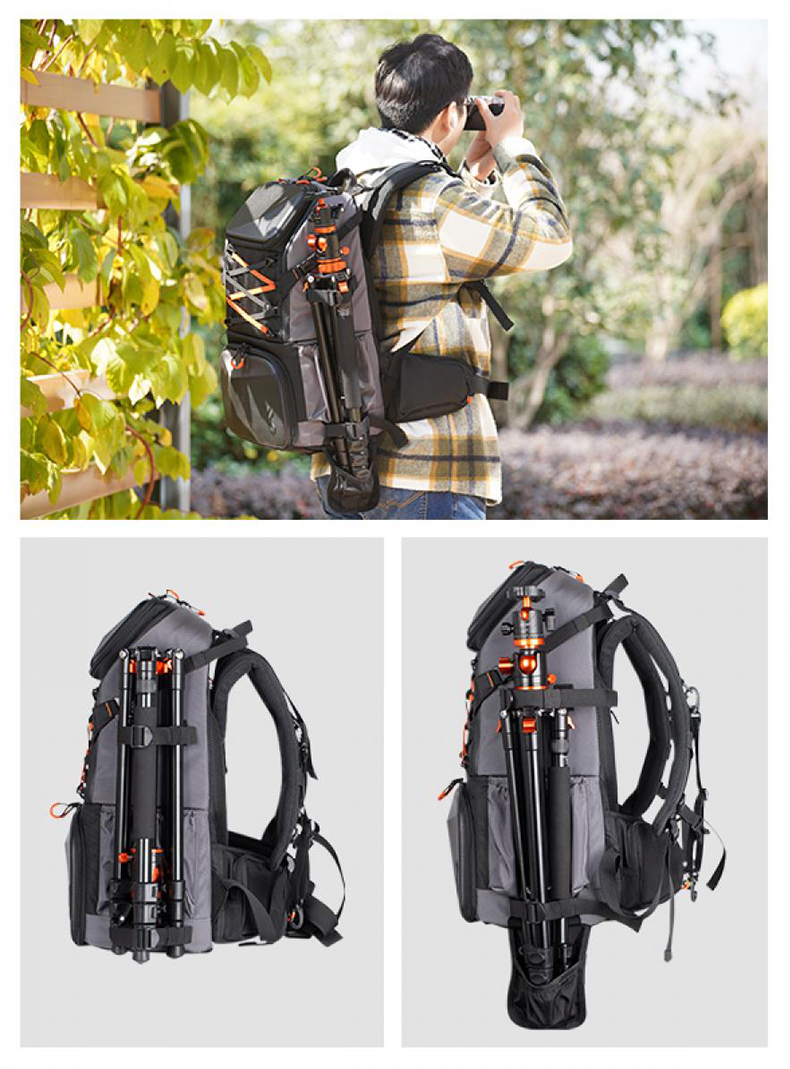 Wate repellent and teatesistant
A rain cover is provided with the package to protect your equipmen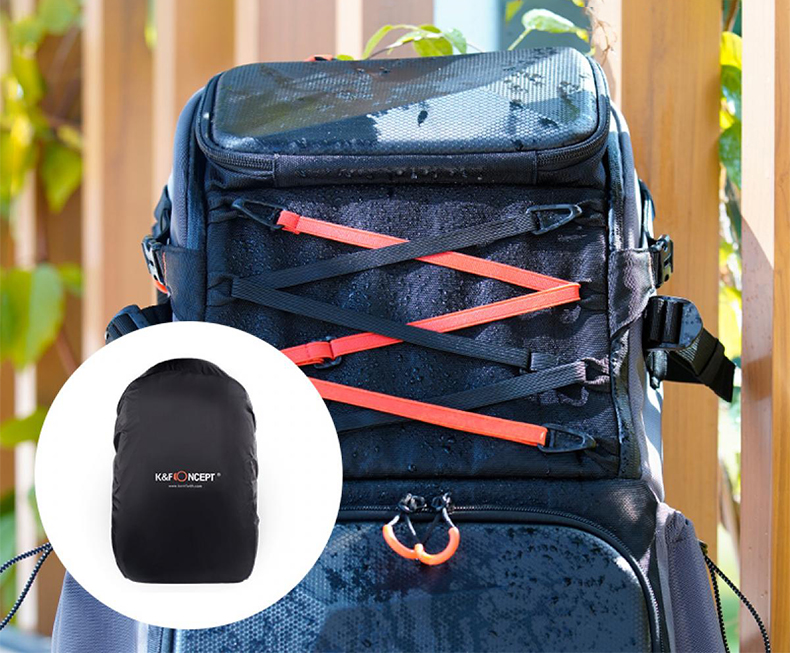 product details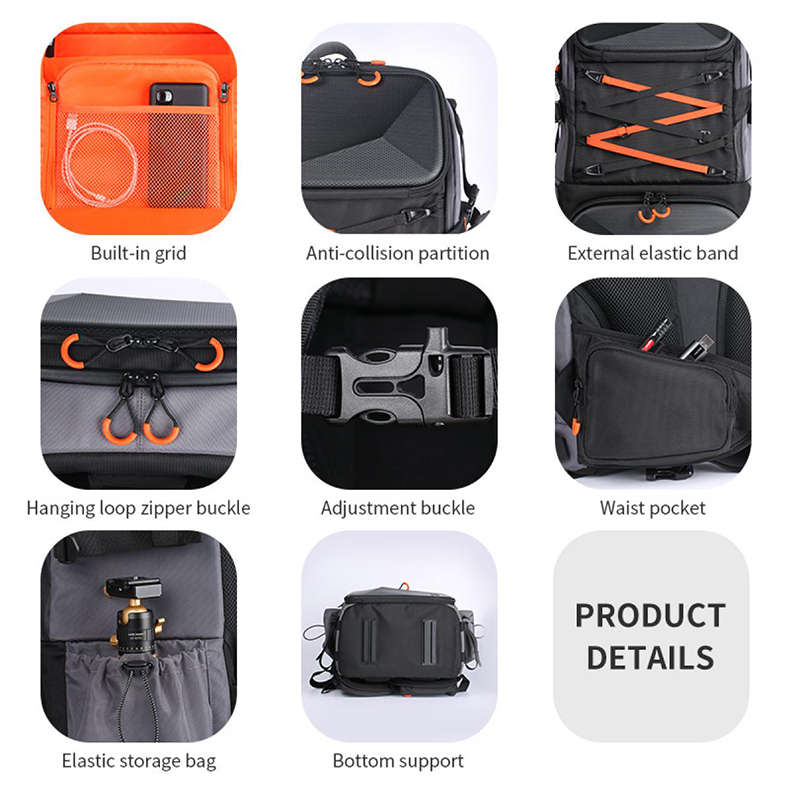 Real shot pictures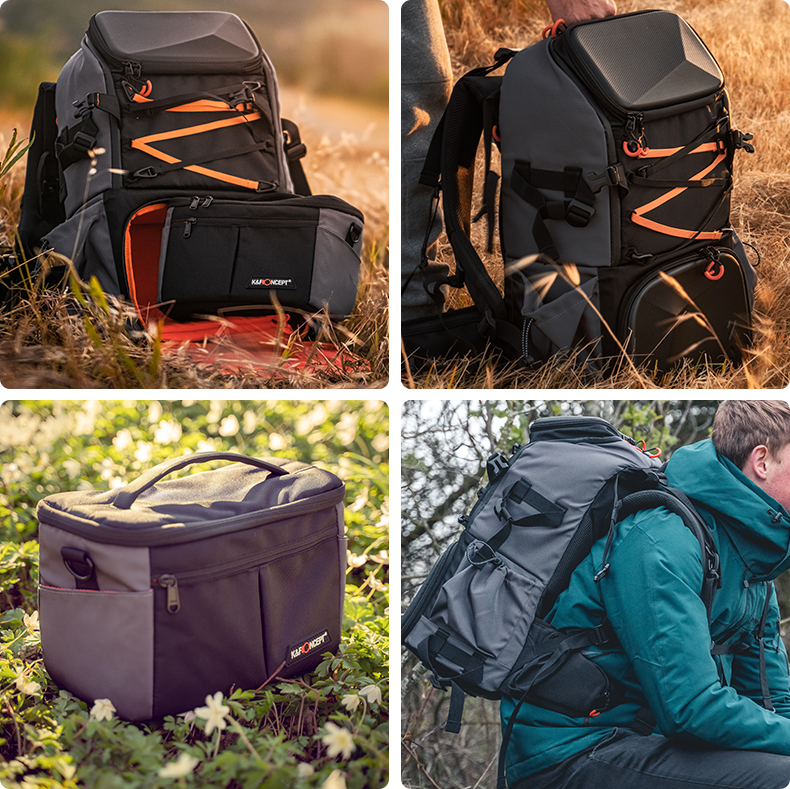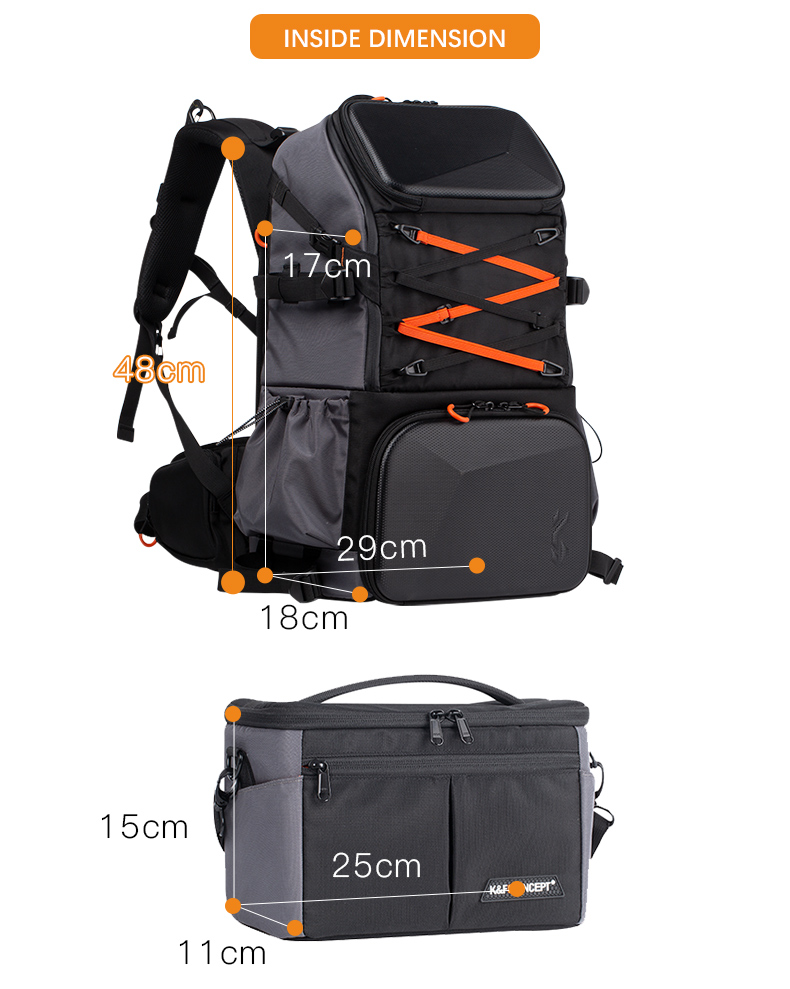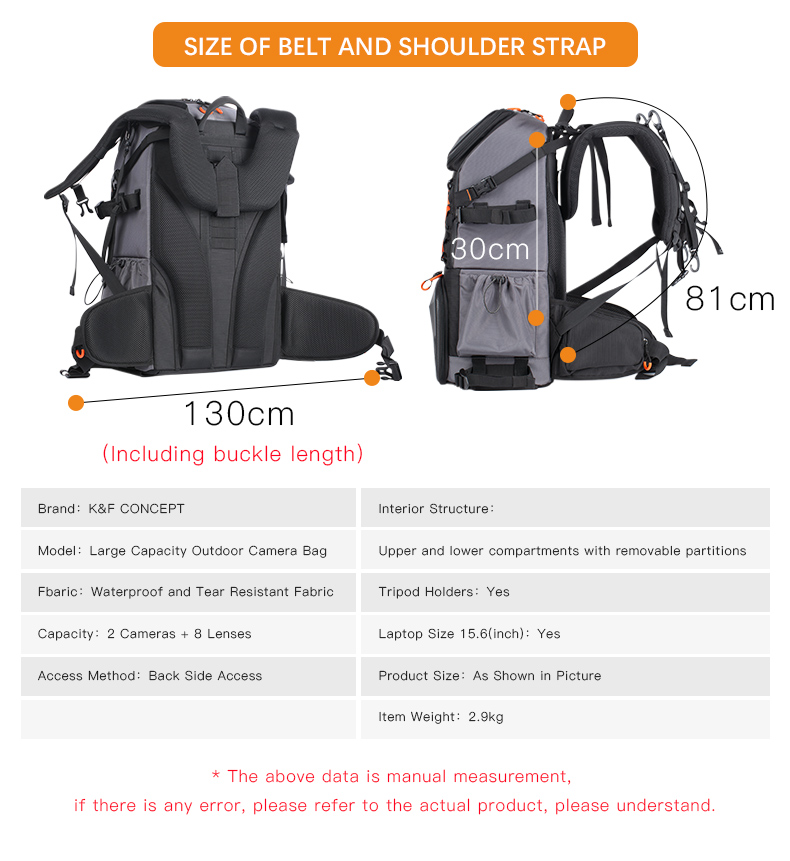 | | |
| --- | --- |
| Product Size | 34 * 22 * ​​54cm |
| Package dimensions | 36*24*55cm |
| product weight | 2.9KG |
| Package Contents | Photography bag*1, tag*1 |
Video review.
Here is my video review of this backpack. not using for standard photography but rather for my Drone and drone accessories.

https://www.youtube.com/watch?v=s4hXBFL8YTM
26/07/2021
Great bag for your camera gear!
I love this bag, it's plenty of room for alot of gear. The only thing I would change is the neon color, it stands out for attention if you ask me it should have just been black.
08/04/2021
Excellent Pro Bag
I've owned several expensive photography bags over the years, none comes close in comparison. I'm able to fit two pro cameras, Nikon D3x and Nikon D4 with several lens including a 24 - 70 & 70 - 200, countless accessories and my 13" MacBook Pro. This is a no brainer, well worth the money.
07/04/2021
All purpose camera bag. Well suited for any job.
lots of room.external mounts .recommend for the hiker , race car euthenistsport euthenist.i carry it in my car as i drive as a service tech all over Indiana in rural area"s love historic buildings and old farmsalso go to several racing events during the year and yes grandkids sporting events.i don,t always carry my 500x lens but i can if i want to.can strap a tripod on if i want to.
06/04/2021
Monster size
So I haven't had a decent camera bag that fits my sigma 150-600 lens. I finally found this one and the specs say it fits. It does!My backpack I was using felt heavy and burdensome. This takes the same amount of gear minus the boxes/cases and it is so much better with weight distribution.The small bag was a surprise to me- I guess I didn't realize the large bag came with it!I have to figure out how to best maximize my space, but overall this bag doesn't feel like it will be a disappointment and I'm nowhere out of room yet.I'm not small in the middle, but the waist strap fits which takes even more weight off my shoulders!I was looking at a different bag about half the cost but I already feel like I got a great deal on this backpack. It's comfy and roomy but secure.
02/04/2021
Fits my 150-600 sigma lens!
I was looking for a large camera backpack and I got it with this one. I fit my cameras lens Gopros and drone all in this one back pack
01/04/2021
Worth It!
I've barely used this backpack like twice and the shoulder straps are falling apart. It would be a great pack if it wasn't falling apart.
30/03/2021
Best value for the price.
The bag was REALLY convenient because you could carry a lot of things. BUT it is HEAVY. So if you're not in shape then this isn't the bag for you! I returned it because I do a lot of hikes that have inclines and so it was too heavy for me to enjoy my hikes cause I was dying the whole way up due to the weight of the backpack. But if you're in shape, then all means purchase the backpack!
17/03/2021
HEAVY
Great for organizing your gear and seems well built.
12/03/2021
There are no faqs for this product.
Bag Compartment
Carrying/Transport Options
Backpack
Camera Support Strap
Yes
Camera Compartment
2
Lens Compartment
6
Laptop Compartment Screen Size
17 inch
Bag Exterior
Exterior Color
Black + Grey
Exterior Dimensions
34*22*54cm
Exterior Material
Polyester
Type of Closure
Buckle
Rain Cover
Yes
Bag Interior
Maximum Volume
32L
Weight
2.9kg