Pro Outdoor Camera Backpack Large Photography Bag with Tripod Holder Waterproof Rain Cover for Hiking and Travel
New customer gift package
To
United States
Expedited Shipping
3-5
business days
Outdoor Camera Backpack Large Photography Bag with Laptop Compartment Tripod Holder Waterproof Raincover Hiking Travel Professional DSLR Camera Backpack for Men Women Side Access

KF13.107

SKU:

KF13.107

149.99

https://www.kentfaith.com/KF13.107_outdoor-camera-backpack-large-photography-bag-with-laptop-compartment-tripod-holder-waterproof-raincover-hiking-travel-professional-dslr-camera-backpack-for-men-women-side-access
Description
* The K&F Concept Pro camera backpack is made for professional photographers with a large capacity of 33 liters while enjoying style, comfort and space. It has multiple compartments that can hold 2 DSLR or mirrorless cameras, 6 lenses, camera flash, accessories and a 15.6-inch laptop for all editing.
* Use brand new 1200D Kouji Nylon waterproof class 5 with rain cover. Two upper and lower compression molded EVA shells on the front frame are strong, durable and impact resistant, guaranteeing to cushion against camera impact
* The external suspension system can support a 60cm tripod, drone and tent, and the external strap can be equipped with trekking poles
* The interior is customizable with 11 padded Velcro dividers that can be adjusted to suit your needs. It even detaches to transform it into a hiking backpack with one large compartment. Tripod attachment possible on the side of the backpack with an optional pull-out hidden pocket can be used for the tripod feet to avoid slipping. The included Go-Bag is an extra bag that fits in the bottom compartment. It can also be on the handle, over the shoe
* The carrying system supports 3 levels of height adjustment (L, M, S), suitable for people with different body shapes, effectively reducing the feeling of burden, ventilation and heat dissipation. The straps can be adjusted. The waist pad can effectively tighten the contact with the body and protect the waist.
Shipping
To
United States
Expedited Shipping
3-5
business days
Outdoor Camera Backpack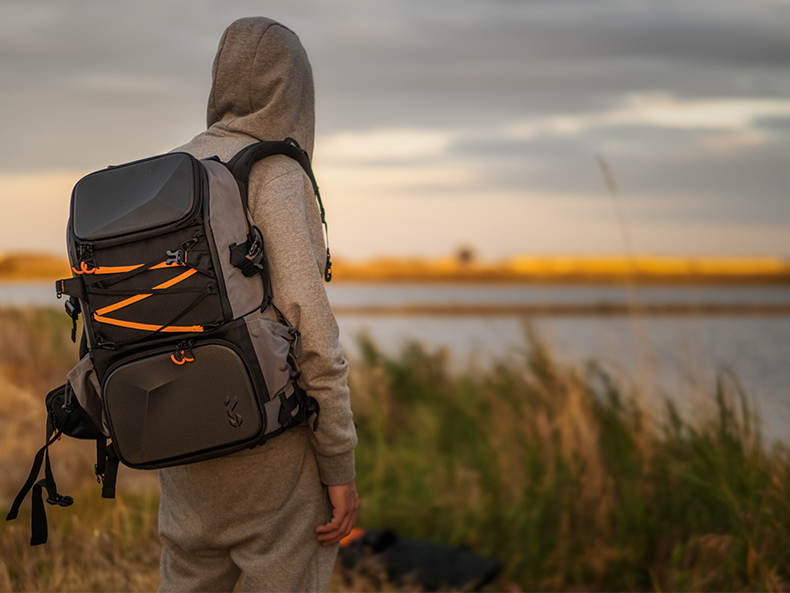 Product Size
Dimensions LxWxH (cm):34*22*54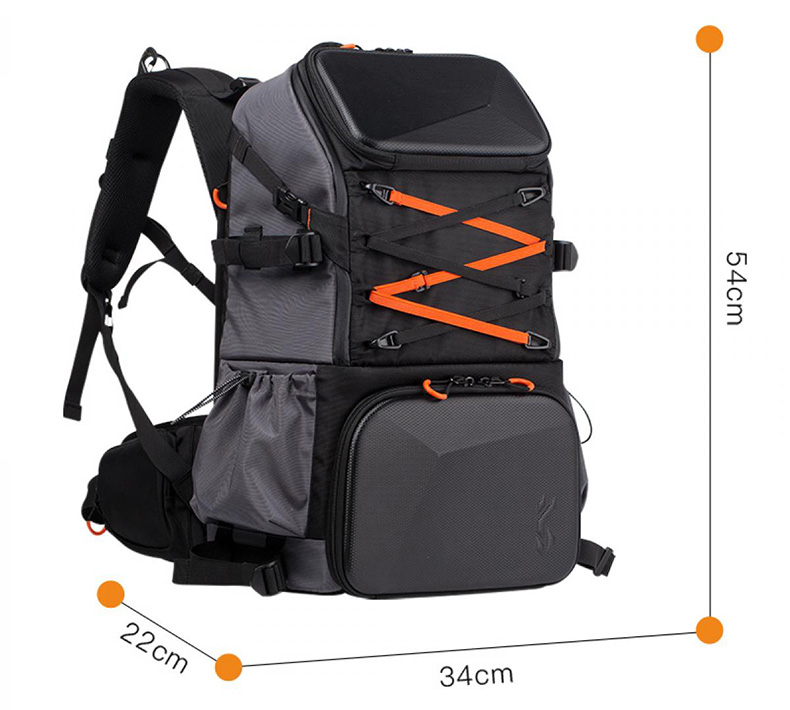 Large capacity
The upper bin has a capacity of 5-6 pieces of clothing and the lower bin has a capacity of 5 mirrors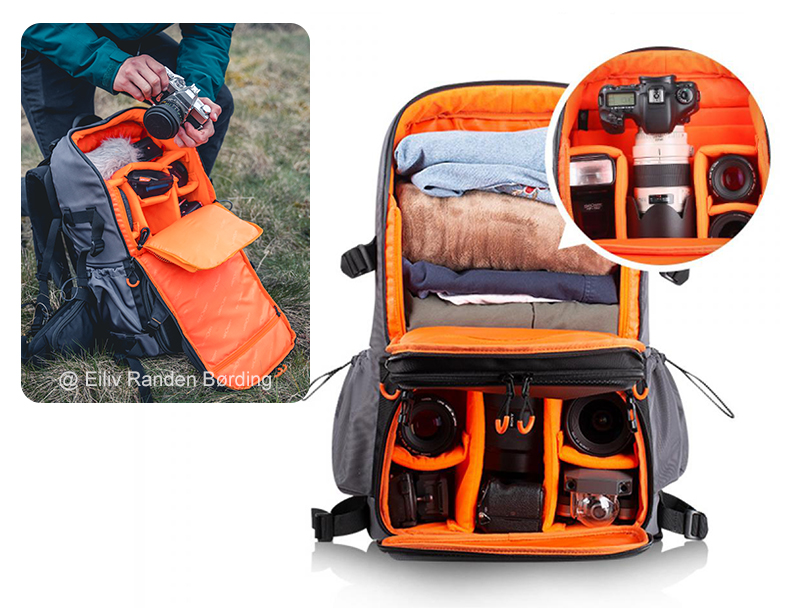 Two bag
A one-shoulder camera bag is included with the bag The shoulder bag can also be used as a waist bag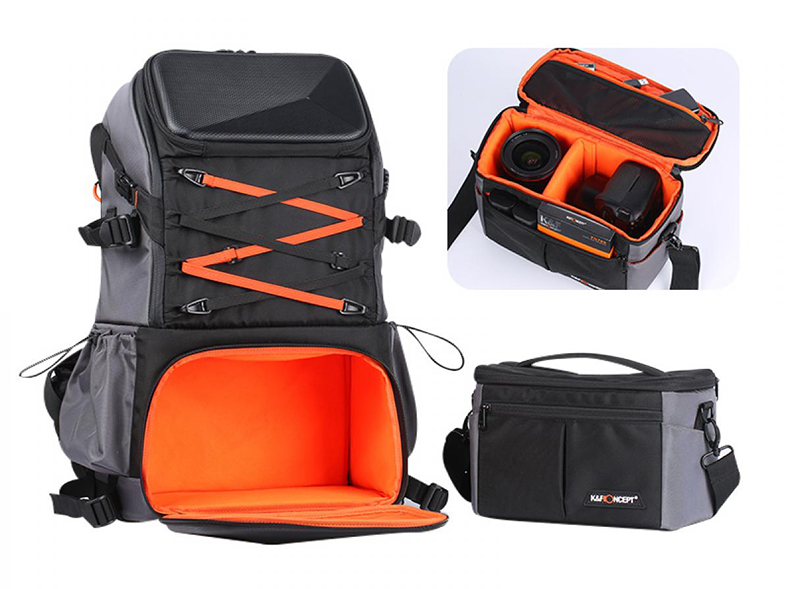 Two options
Use large bag when there are many equipment, and small bag when there are few equipment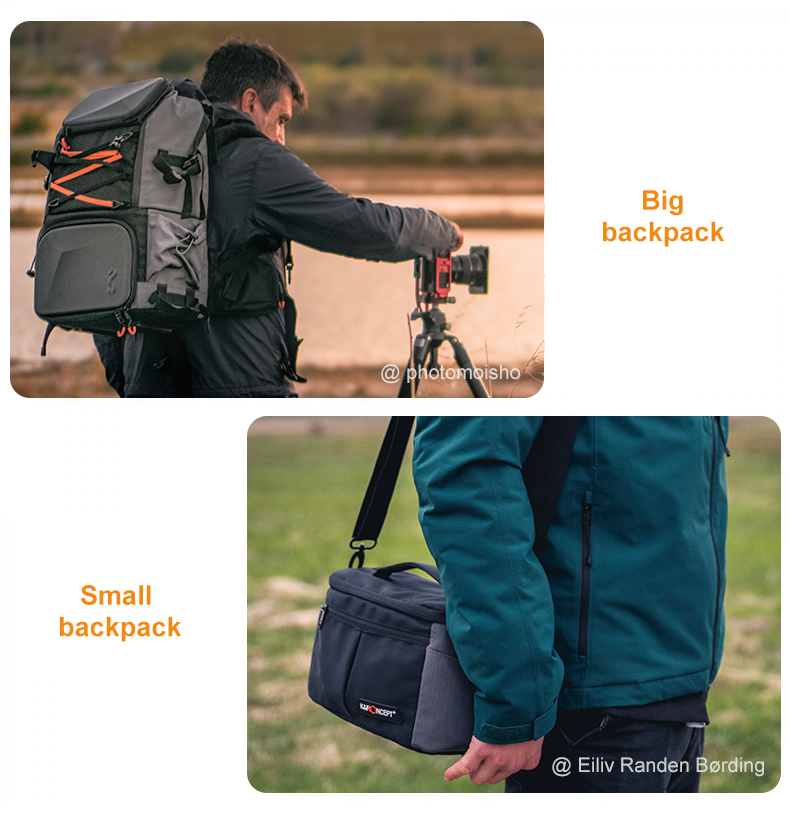 17-inch computer compartment
The upper warehouse is equipped with an ipad mezzanine to meet the needs of various equipment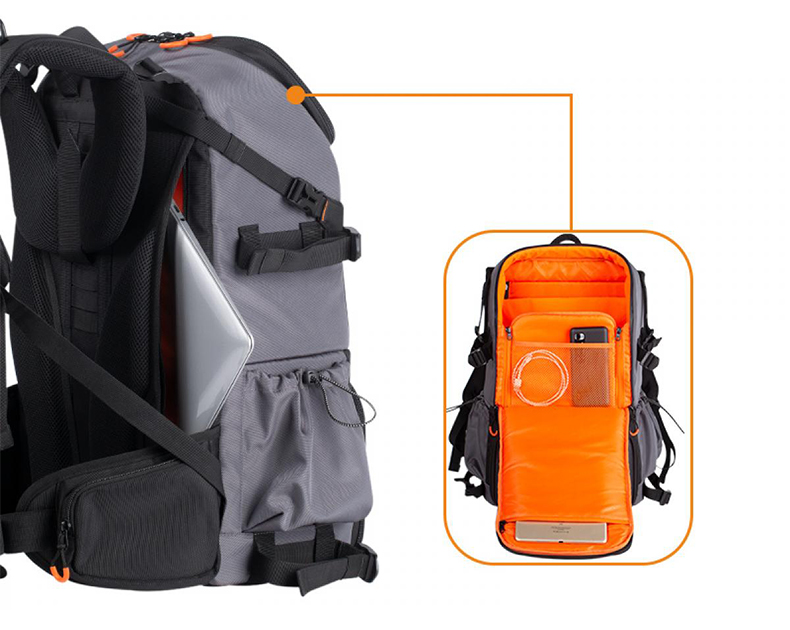 Comfortable backrest
It is filled with high-quality pearl cotton, mesh structure, breathable and comfortable and reduces the burden on the back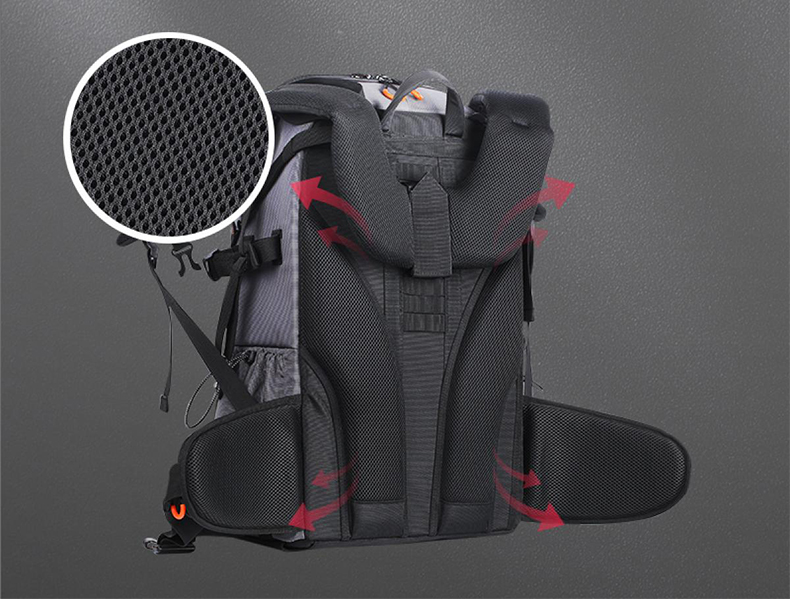 Three-speed adjustment
AC carrying system, set for different heights and body types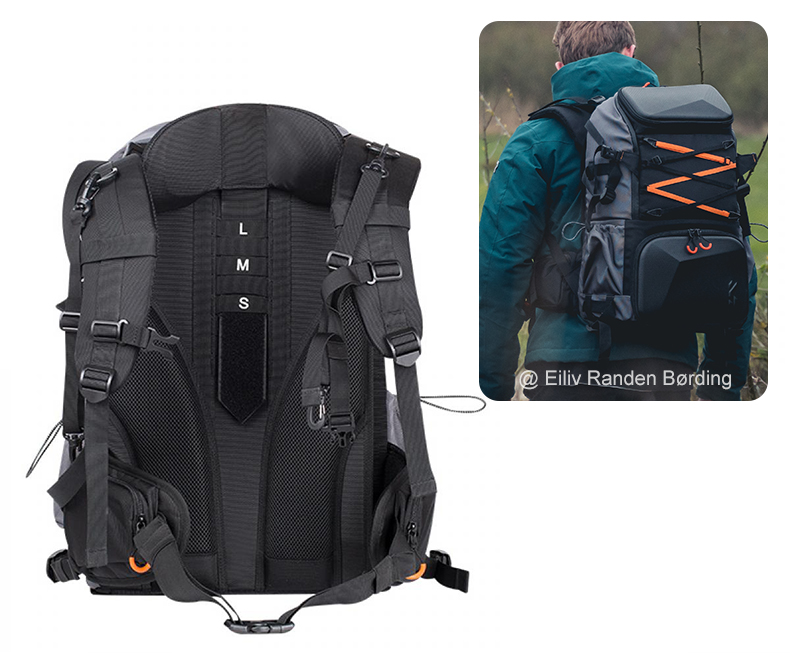 Tripod storage at the bottom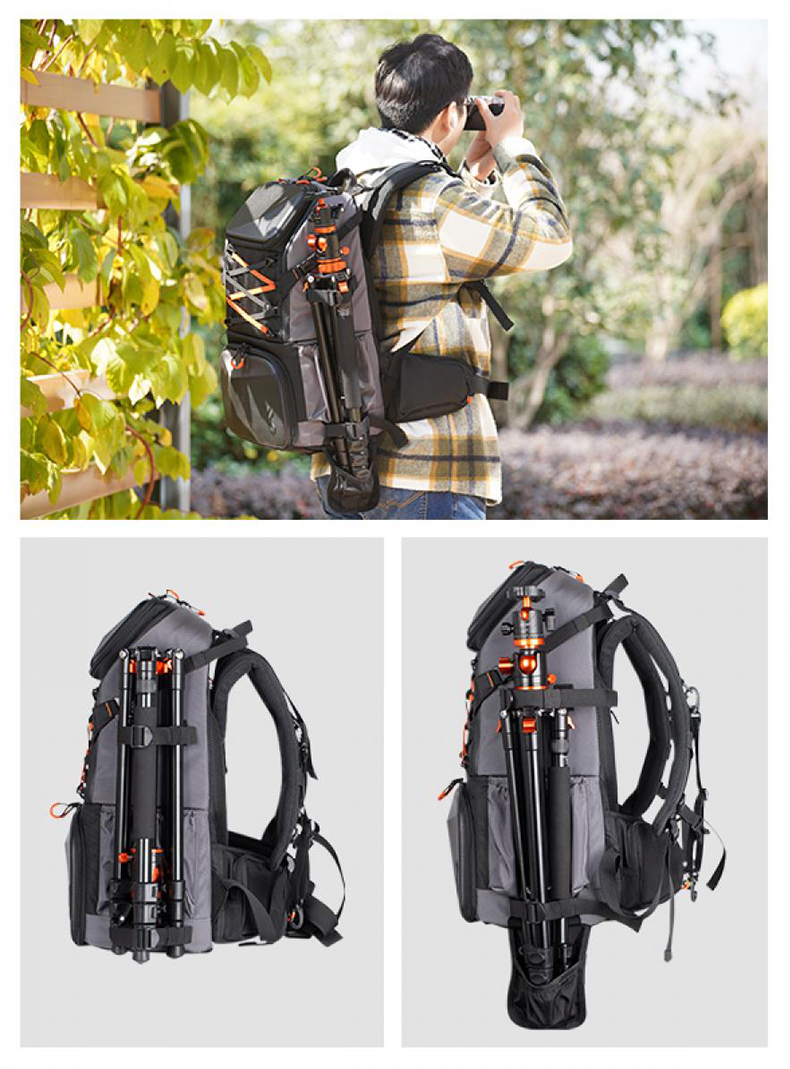 Wate repellent and teatesistant
A rain cover is provided with the package to protect your equipmen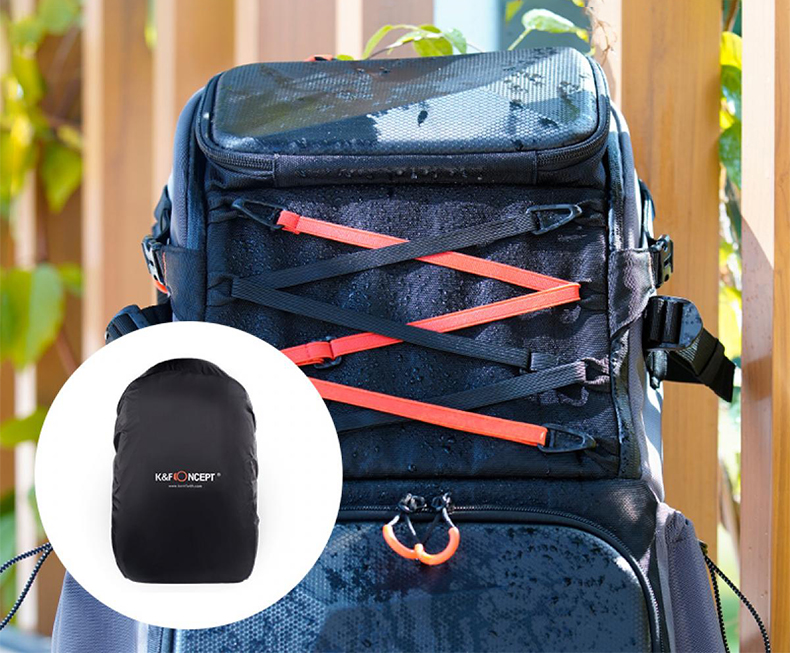 product details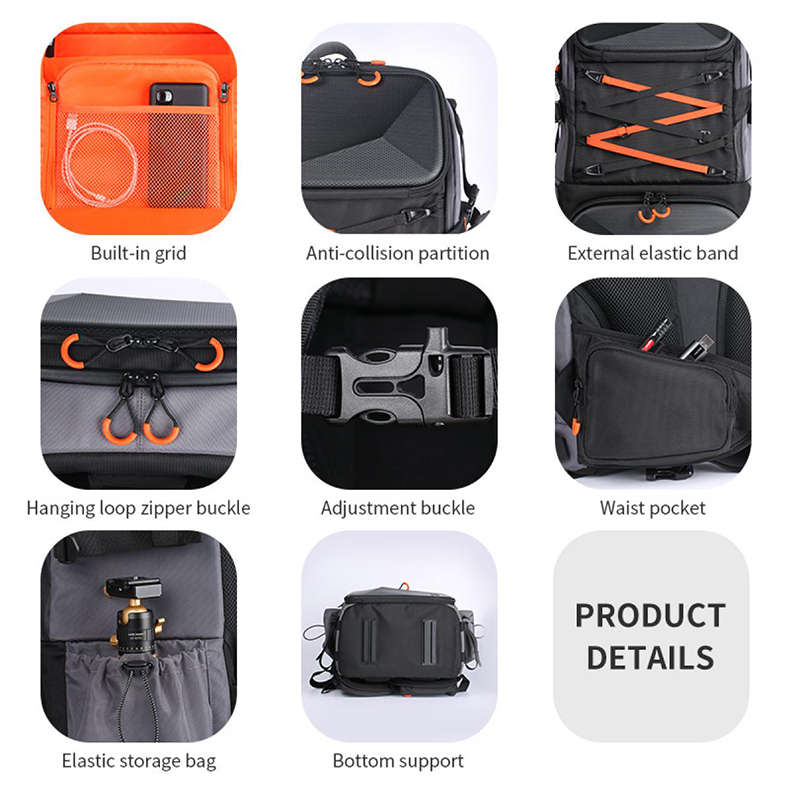 Real shot pictures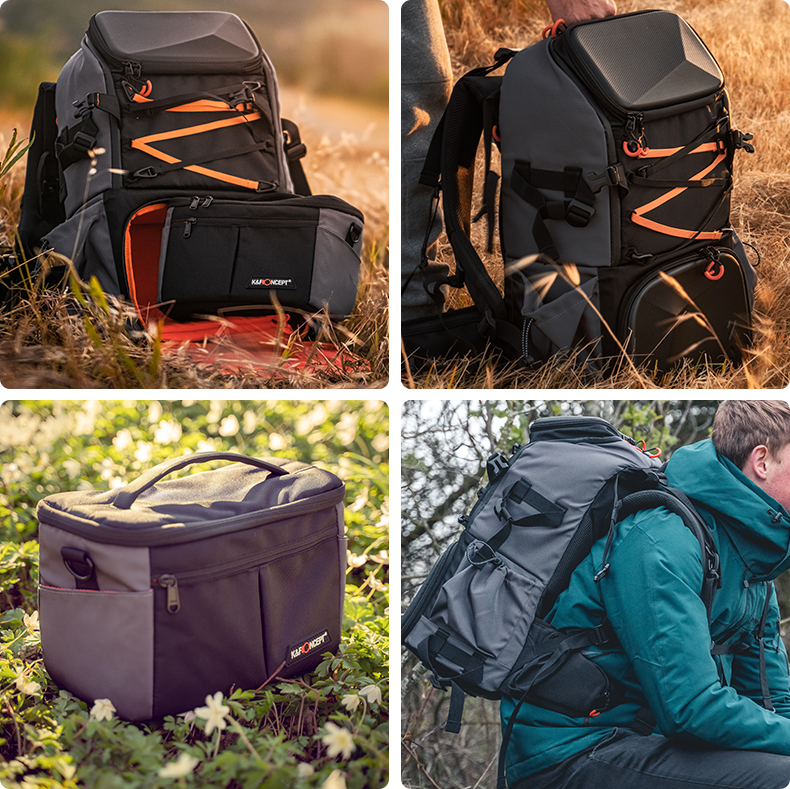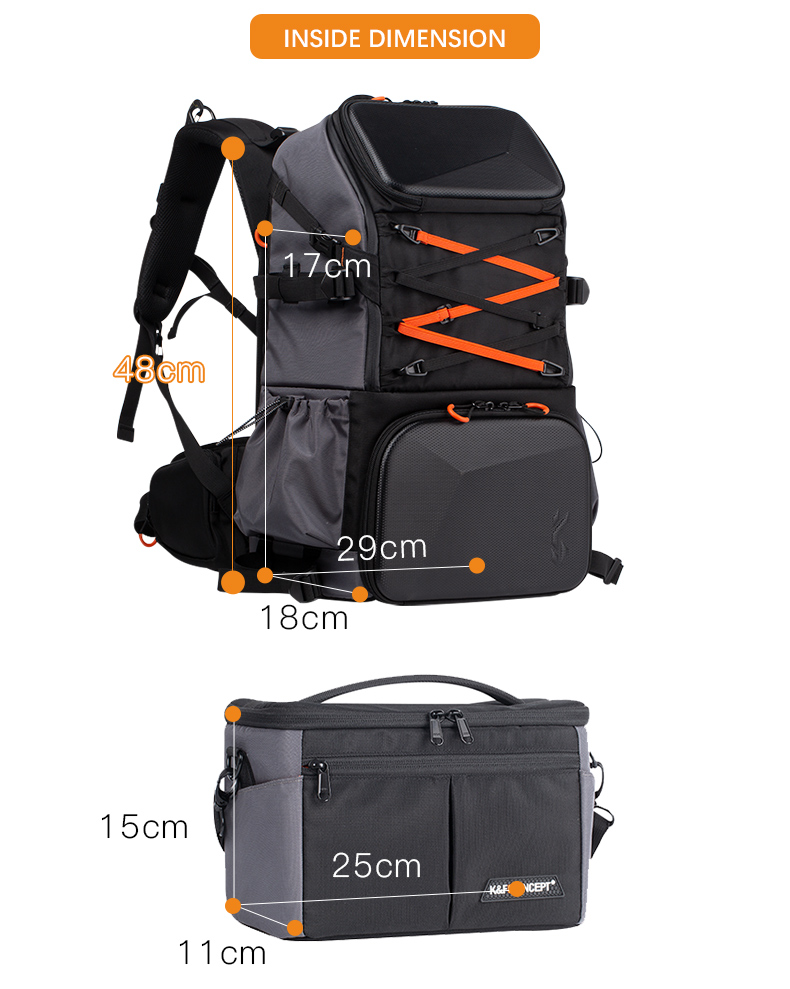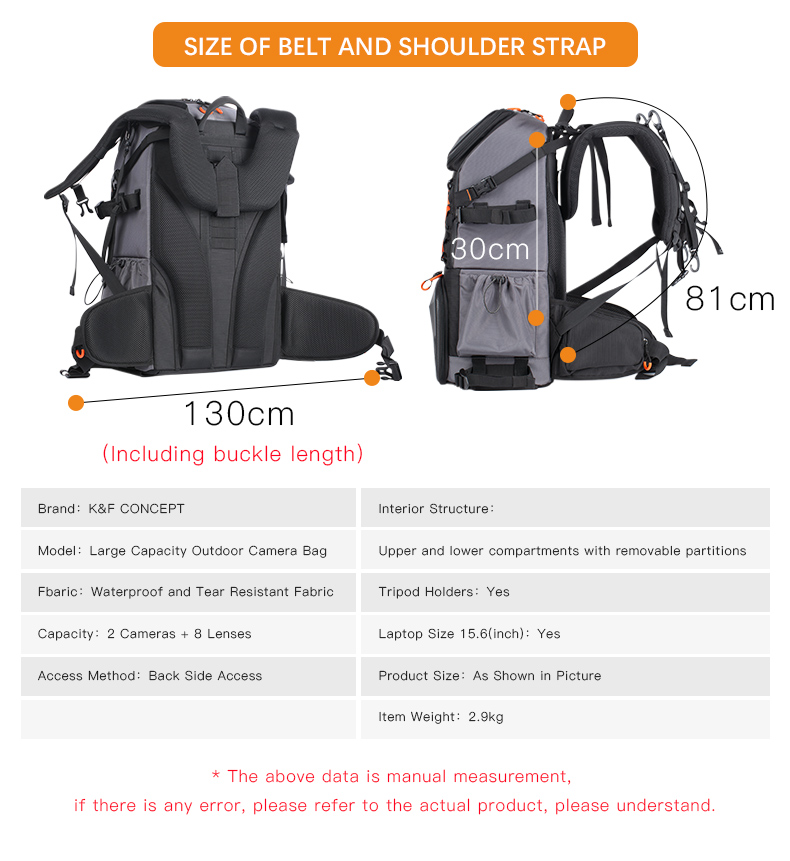 | | |
| --- | --- |
| Product Size | 34 * 22 * ​​54cm |
| Package dimensions | 36*24*55cm |
| product weight | 2.9KG |
| Package Contents | Photography bag*1, tag*1 |
I am fully satisfied
The backpack is stable and has enough space for my three lenses. I even put all my equipment in the backpack, but I'm also a hobby photographer. It is very comfortable to wear on hikes and you can adjust the SL straps. It's also well padded and doesn't pinch anything
04/09/2022
Top combination of hiking backpack with very flexible interior design for any photo equipment.
I ordered this backpack for hiking and travelling. It is comfortable to wear and super individually adjustable.
The backpack survived a rainy day without any problems, everything was dry.
The small extra bag is TOP because it fits perfectly for the Sony Alpha with 24-70mm or small telephoto.
I often use them with the strap on their own on tour and have my camera with me so safely, tangibly and compactly...
There are plenty of padded dividers to accommodate all configurations of gear. So you could accommodate all the equipment and tripods. I mostly have clothes & food upstairs and downstairs the photo equipment. The laptop compartment behind the back fits and doesn't get in the way, because the brackets and padding are so clearly separated that you don't notice anything on the back.
By the way: The first thing that came along was a "Monday model" that was missing a rubber foot, but K&F immediately exchanged it. Great service and correspondence!
01/09/2022
Chic photo backpack: perfect for travelling
In addition to my big backpack, I was looking for a small one that would fit the most necessary equipment and, above all, that would look good! I really like the look of the backpack - the "old-fashioned" look with the leather elements is beautifully designed.
The important part, the inner workings: The main compartment can be reached via 2 entrances, which is very practical because you can always get to it. There is enough space for a large DSLR and 2-3 smaller lenses and some accessories.
The "head compartment", which can be opened from above, offers additional storage space for equipment or a sweater etc. There is also water protection - top protection from wind and weather.

The backpack is perfect for traveling or a city trip!
28/08/2022
K&F camera backpack
Shipping was very quick. The backpack makes a good impression, both in terms of quality and robustness. But I can't judge the longevity yet. The camera and 5 lenses fit comfortably in the backpack.
28/08/2022
Very high quality stylish yet useful multipurpose case
So I didn't have a decent camera bag to fit my Sigma 150-600 lens. I finally found it and the specs say it fits. It does! My backpack that I used felt heavy and cumbersome. This requires the same amount of gear minus the boxes/cases and it's so much better with the weight distribution. The small bag was a surprise to me - I don't think I realized the big bag was there! I'm having to figure out how best to maximize my space, but overall this bag doesn't feel like it's going to disappoint and I'm nowhere short of space. I'm not small in the middle but the waist belt fits and takes even more weight off my shoulders! It's comfortable and spacious, but safe.
19/08/2022
The perfect companion on hikes
It is perfect for photographic hikes. Offers a lot of space for the equipment as well as possibly other things such as drone, change of things or other. There is nothing to complain about in terms of quality and I am convinced that it will withstand one or the other hard use as well as rain. I'm looking forward to the first trips ;)
19/08/2022
Price performance is very consistent here.
This is a photo backpack worth the money. I can pack 5 lenses and two large DSLR cameras and there is still room for snacks, batteries, chargers, a tripod and something to drink. I've hiked with it very often and a lot, thanks to the hip belt it's a very pleasant thing, highly recommended.
11/08/2022
Very good daypack backpack with plenty of storage space
This backpack is great and worth the money. The lower section is perfect for holding drones or additional gear, while the upper section still leaves plenty of room for your main camera and accessories. Going from a small bag to this bag will feel like a big step when you first wear it, but you will get used to it and really appreciate the step. It has 3 zipped pockets on the front for extra storage of cables or similar items and one of the pockets is a protected hard case, perfect for phones or smaller tablets that you want to carry and protect. It also has the zipped compartment on the back of the bag which is perfect for your laptop. This bag is definitely worth the money and I highly recommend it.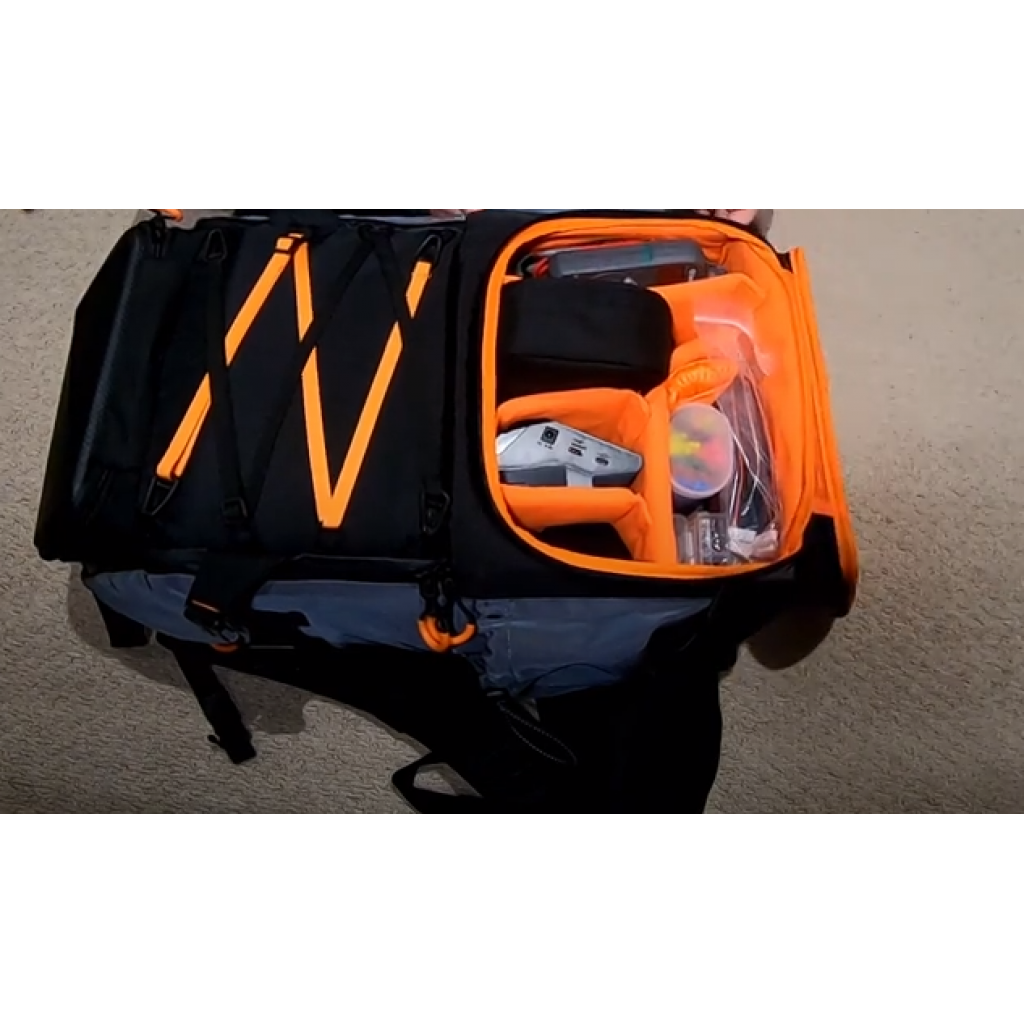 06/08/2022
Super backpack with a few mini flaws
I've had the backpack for almost 12 months now. I was looking for exactly one that can carry my 15" laptop + complete camera equipment (gimbal, tripod, body, 3 lenses etc.). The workmanship and the material is also great almost everywhere, but after less than 2 months I can carry both of them on the outside easily torn. which no longer guarantees the transport of smaller objects, such as a power bank, as these can now fall out. In addition, there is the poorly designed zipper (inner lid at the top). It gets caught every time I open it. I can only use it with it If it wasn't for these two things, I would give 5/5 stars, but I still recommend it!
06/08/2022
Photo & Film // One for all
I own various products from K&F Concept, various filters and also a different backpack. So I started looking specifically for the manufacturer in order to find a backpack that almost ideally covers my purposes. And that's the case here. My purposes relate to being able to juggle both film and photo equipment. Since I work with the Fujifilm system, I generally don't need too much space to have two cameras, each with a lens, and a gimbal (Ronin RSC2) with me on the go. Well, and then just a little bit of odds and ends in the form of 2 power banks, 4-8 batteries, case with memory cards, ND filters, cleaning cloths for glasses. For longer tours, I also wanted the option of taking a tablet (iPad Pro 12.9), because I can already save the recordings on the train on the return journey. The "Classic Camera Backpack L" stows everything safely and neatly. Great. I am also very satisfied with the quality, from the material to the zips to the outside pockets... all-round great. Wanted - found. It fits. I can recommend this backpack without hesitation.
06/08/2022
There are no faqs for this product.
Bag Compartment
Carrying/Transport Options
Backpack
Camera Support Strap
Yes
Camera Compartment
2
Lens Compartment
6
Laptop Compartment Screen Size
17-inch
Bag Exterior
Exterior Color
Black + Grey
Exterior Dimensions
34*22*54cm
Exterior Material
Polyester
Type of Closure
Buckle
Rain Cover
Yes
Bag Interior
Maximum Volume
32L
Weight
2.9kg