K&F M13131 Canon FD Lenses to Canon EOS EF Lens Mount Adapter with Optic Glass
Free shipping to eligible country
Brand:

K&F Concept

K&F M13131 Canon FD Lenses to Canon EOS EF Lens Mount Adapter with Optic Glass Allow Canon FD FL mount lenses used on Canon EOS Rebel camera body.

KF06.082

Availability:

In Stock

32.99

https://www.kentfaith.com/KF06.082_canon-fd-to-canon-eos-mount-adapter
Buy 2+ items get

10% off

!
Features
• Allow Canon FD FL mount lenses used on Canon EOS Rebel camera body.
• Compatible with Canon EOS Rebel camera includes: Canon 300D, 350D, 400D, 450D, 500D, 550D/T2i, 600D/T3i, 650D/T4i, 700D/T5i, 750D/T6i, 760D/T6s, 800D/T7i, 100D, 200D, 1000D, 1100D/T3, 1200D/T5, 1300D/ T6,Canon 77D, D30, D60, 10D, 20D, 20Da, 30D, 40D, 50D, 60D 60Da, 70D, 77D, 80D, 7D, 7D Mark II, 5D, 5D Mark II, 5D Mark III, 5D Mark IV, 5Ds, 5Ds R, 6D, 6D Mark II,-1D,-1Ds,-1D X,-1D C etc.
• Made of brass and aluminum. Stable,precise and durable construction.Manually operated.Infinity focus allowed.
• For heavy medium format lenses, we suggest to use with a telephoto bracket and a tripod to balance its weight when shoot.
• 30 Days No Reason Return,12 months quality guarantee,100% satisfaction assurance.
Frequently Bought Together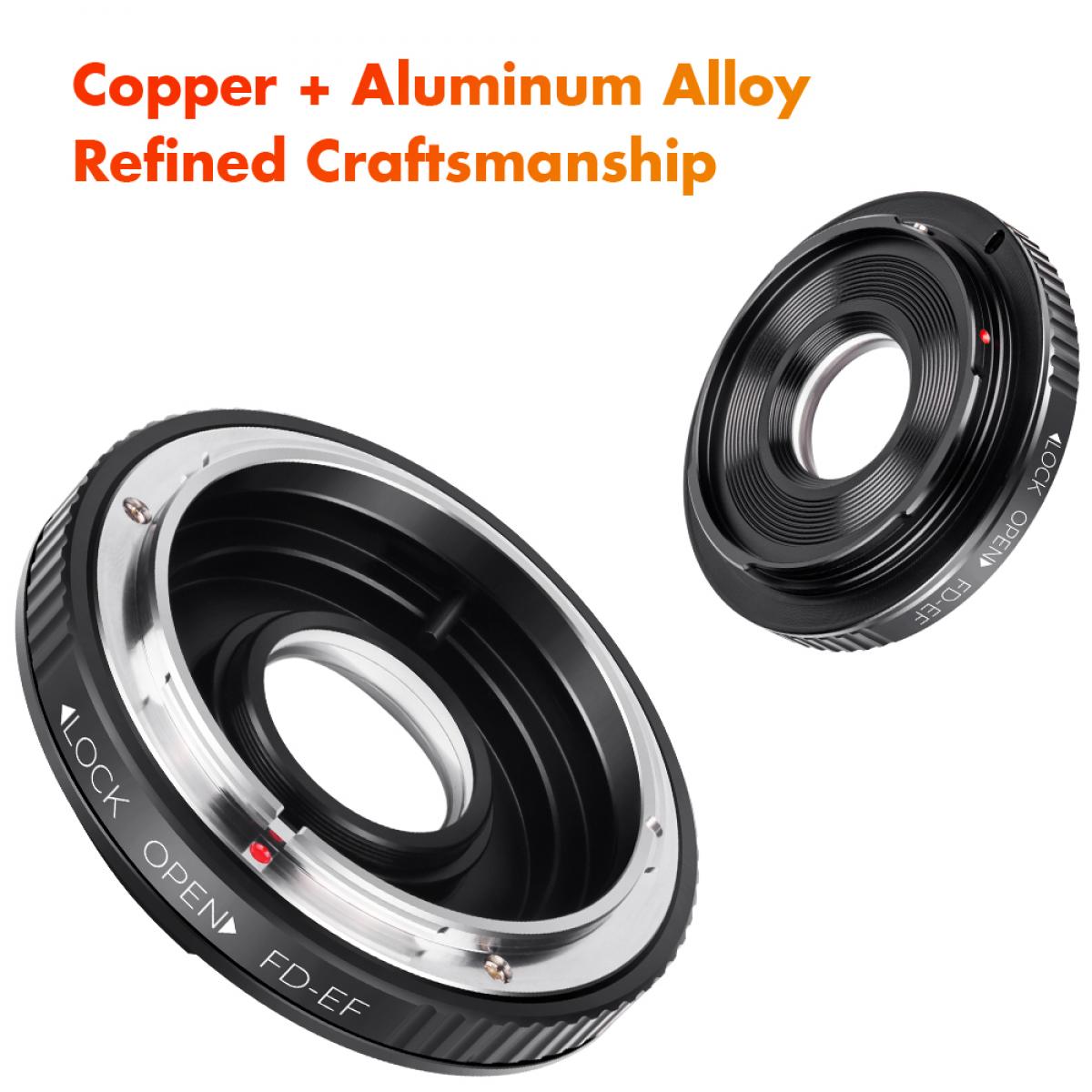 K&F Concept design and produce full range of lens adapters to fit lenses of Canon, Nikon, Pentax, Olympus, Leica, Contax Yashica, Minolta, Tamron, T2, C mount, Exakta, M39, M42, Pentacon etc used on Camera bodies of Canon, Nikon, Sony, Fujifilm, Pentax, Micro 4 3, Leica, M42, Cinema C mount etc.

Great adapter to use your old FD/FL lenses on your Canon EF camera!
This is a great adapter. I recently purchased a Canon FD 50mm 3.5 S.S.C lens that I wanted to use on my Canon 6D as a macro lens.In the picture you can see that the adapter is attached directly to the Canon 6D body and the other side attaches to the 25MM Extension Tube on my FD 50mm lens.The adapter does have a glass element in it, which is supposed to help the full frame camera be able to focus correctly as the lens was originally designed for a different body (FD Body Cameras).Just to make sure people understand, this adapter is so you can use your FD/FL mounted lenses on a Canon EOS body camera that takes EF mounted lenses.
Great quality on budget
Finally I can use my old school FD lenses on the new EOS R camera. Love the vintage look in the images. Highly recommended
Circular Haze? How to fix?
How do i get rid of the circular haze in the center?? Seems to ruin every shot.
Worth the money.I
Canon Mark IIII works like its supposed too. I have a few FD lenses that have still have life in them. This product wsa easy to install and use. Also fits a Canon 6D Mark II as well.
Adapter
camera
EOS
lens
FD
Ring Material
There are no faqs for this product.
These images belong to K&F Concept end users.
| Image | Lens | Mount | Filter Size (mm) |
| --- | --- | --- | --- |
| | Access P-MC 35-70mm f/ 2.5-3.5 | Canon FD FL | 58 |
| | Access P-MC 70-210mm f/ 3.5 (one ring) | Canon FD FL | 62 |
| | Access P-MC 70-210mm f/ 3.5 (two rings) | Canon FD FL | 62 |
| | Admiral G.M.C. 135mm f/ 2.8 | Canon FD FL | 55 |
| | Admiral MC Automatic 28mm f/ 2.8 | Canon FD FL | 52 |
| | Albinar ADG 75-300mm f/ 5.6 | Canon FD FL | 55 |
| | Albinar ADG MC 80-200mm f/ 3.9 | Canon FD FL | 55 |
| | Angenieux 35-70mm f/ 2.5-3.3 | Canon FD FL | 58 |
| | ARAX 80mm f/ 2.8 S&T | Canon FD FL | 62 |
| | Asanuma 100-300mm f/ 5 auto-zoom | Canon FD FL | 62 |
| Camera | Mount |
| --- | --- |
| Canon EOS 1000D/Rebel XS/Kiss F | Canon EF EF-S |
| Canon EOS 100D/Rebel SL1/Kiss X7 | Canon EF EF-S |
| Canon EOS 10D | Canon EF EF-S |
| Canon EOS 1100D/Rebel T3/Kiss X50 | Canon EF EF-S |
| Canon EOS 1200D/Rebel T5/Kiss X70 | Canon EF EF-S |
| Canon EOS 1300D/Rebel T6/Kiss X80 | Canon EF EF-S |
| Canon EOS 1500D/EOS 2000D/Rebel T7/Kiss X90 | Canon EF EF-S |
| Canon EOS 200D/Rebel SL2/Kiss X8 | Canon EF EF-S |
| Canon EOS 200D/Rebel SL2/Kiss X9 | Canon EF EF-S |
| Canon EOS 20D | Canon EF EF-S |