M42 Lenses to Canon EF Lens Mount Adapter K&F Concept M10131 Lens Adapter
Buy 99$-9$, 199$-25$, 299$-39$, 599$-100$
New customer gift package
To
United States
Expedited Shipping
3-5
business days
K&F M10131 M42 Lenses to Canon EF Lens Mount Adapter Allow M42 mount lenses used on Canon EOS Rebel camera body.

KF06.148

SKU:

KF06.148

16.99

https://www.kentfaith.com/KF06.148_m42-to-canon-eos-mount-adapter
Buy 99$-9$, 199$-25$, 299$-39$, 599$-100$
Description
* Allow M42 mount lenses used on Canon EOS Rebel camera body.
* Compatible with Canon EOS Rebel camera includes: Canon 300D, 350D, 400D, 450D, 500D, 550D/T2i, 600D/T3i, 650D/T4i, 700D/T5i, 750D/T6i, 760D/T6s, 800D/T7i, 100D, 200D, 1000D, 1100D/T3, 1200D/T5, 1300D/ T6,Canon 77D, D30, D60, 10D, 20D, 20Da, 30D, 40D, 50D, 60D 60Da, 70D, 77D, 80D, 7D, 7D Mark II, 5D, 5D Mark II, 5D Mark III, 5D Mark IV, 5Ds, 5Ds R, 6D, 6D Mark II,-1D,-1Ds,-1D X,-1D C etc.
* Made of brass and aluminum. Stable, precise and durable construction. Manually operated. Infinity focus allowed.
* For heavy medium format lenses, we suggest to use with a telephoto bracket and a tripod to balance its weight when shoot.
Shipping
To
United States
Expedited Shipping
3-5
business days
Sale
Buy 99$-9$, 199$-25$, 299$-39$, 599$-100$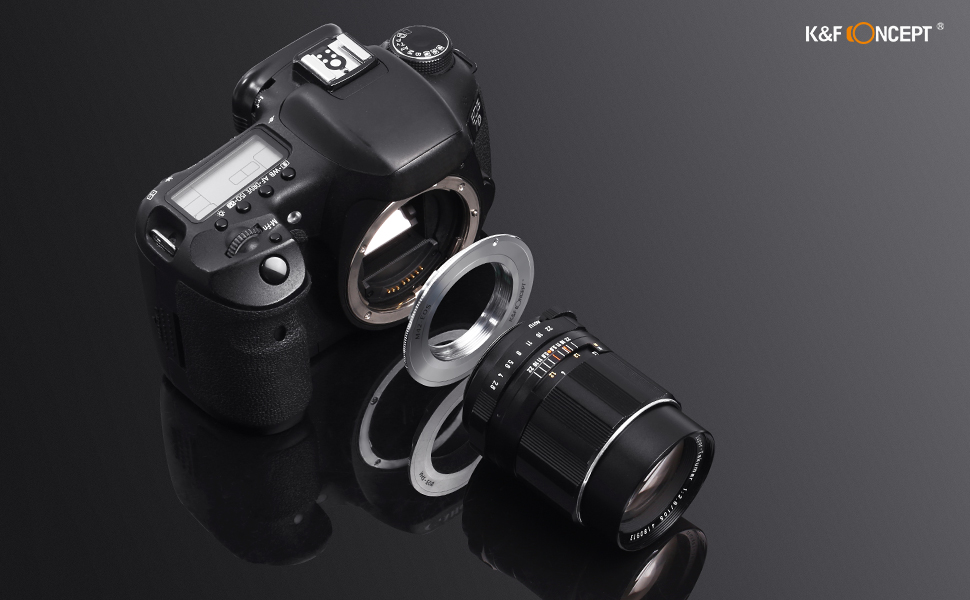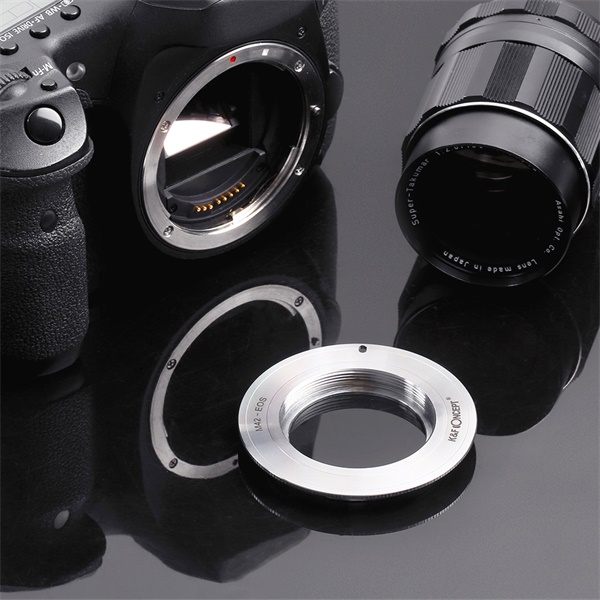 Why Should You Choose K&F Concept?
Professional camera accessory manufacturer.
Reliable partner in your photography life.
Premium picked up products.
Adapters are made of metal sealing ring, much tighter, with laser fonts, much durable.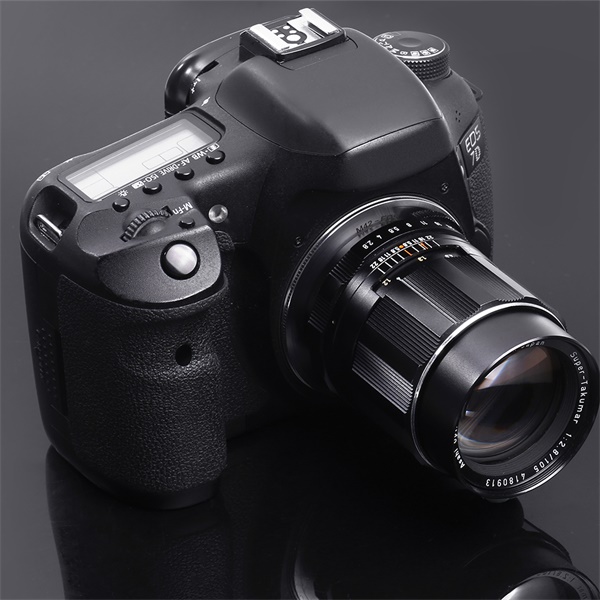 Features:
M42 to EOS Adapter, manual adapter without autofocus/auto diaphragm/aperture control
Camera: Camera: Canon EOS (EF, EF-S) Mount SLR Cameras: 1d/1ds, Mark II, III, IV, X, C, 5D, 5D Mark II/III, 7D, 10D, 20D, 30D, 40D, 50D, 60D, 60Da Rebel xt, xti, xs, xsi, t1i, T2i, T3, T3i, T4, 300D, 350D, 400D, 450D, 500D, 550D, 1000D, etc.
Compact and high quality with metal material
Precise production to ensure the perfect fit
Allows focus infinity
Elegant clear appearance
Properly installed when you rotate about 90 degrees and hear a light "click".
Please screw the lens adapter lightly and skillfully, needn't too much force.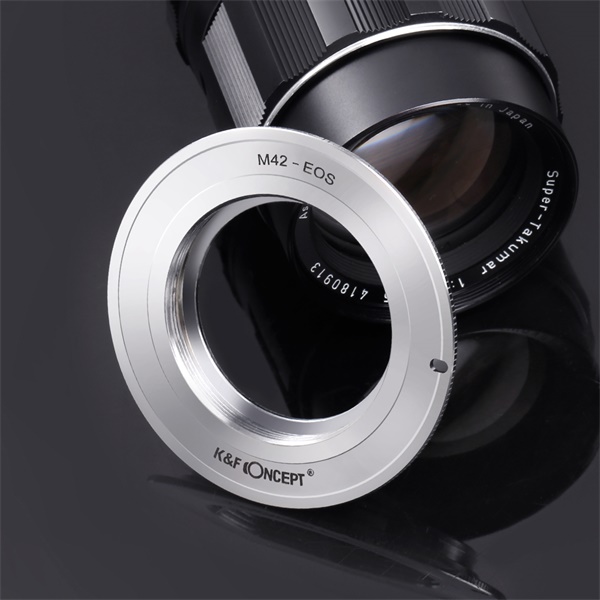 Advices:
Infinity focus position:
The position of the infinity mark [∞] of the telephoto lens or super telephoto lens is shifted slightly to the positive side to enable focus adjustment even when focus shift is caused due to temperature changes. The shift range is denoted by an L-shaped line, Be sure to check the focus through the viewfinder even when you shoot at infinity.
'No Lens Attached' - Warning Message Appears:
The camera needs to be set to function without an E-Mount lens attached. You can do this by changing the following camera setting: 'Menu' -> 'Setup' -> 'Release w/o Lens' -> 'Enable' (Exact naming and location of this option may change depending on camera model). If your lens does not have a manual aperture control ring, it will stop down to its smallest f/stop by default.
Set camera "release shutter without lens" to enable when using the adapter for the first time, or the camera will fail to recognize the lens and the shutter may not be released.

All Reviews
Image

All Star

5 Star

4 Star

3 Star

2 Star

1 Star
Excellent
Very satisfied with the product, the service and the skills of the site, thank you very much


15/10/2022
Good stiffness and accuracy
Because the structure is tight, the body and the lens are firmly fixed.
The orientation of the lens also turned up the distance indicator.
If you dare to raise the point of concern or rather difficulty, the color is silver, so if the
body and lens are black, the silver of the mount adapter will stand out.
It might be more compatible with zebra lenses.
18/09/2022
no problem
I bought the M42 lens to use with Canon EOS.
I could use it without any problems!
16/09/2022
does what it's supposed to.
The adapter can be easily used on both the camera (450D) and the lens (Tessar 4/135 from CZJ). The lens is about 60 years old and I was curious to see if it would still be possible to take pictures with it. This can be confirmed with "yes". Of course you have to do without automatic functions, you can only do it with manual exposure and focus adjustment, as it used to be. As far as the connection to the camera or lens, which has been mentioned several times, cannot be separated again, minimal lubrication BEFORE first use is announced and solves this "problem" before it arises.
14/09/2022
hace lo que se supone que debe hacer.
El adaptador se puede utilizar fácilmente tanto en la cámara (450D) como en el objetivo (Tessar 4/135 de CZJ). El objetivo tiene unos 60 años y tenía curiosidad por ver si todavía sería posible hacer fotos con él. Esto se puede confirmar con "sí". Por supuesto que tienes que prescindir de las funciones automáticas, solo puedes hacerlo con exposición manual y ajuste de enfoque, como solía ser. En cuanto a la conexión a la cámara o la lente, que se ha mencionado varias veces, no se puede volver a separar, se anuncia una lubricación mínima ANTES del primer uso y resuelve este "problema" antes de que surja.
14/09/2022
Fits perfectly and feels top of the class
Tremendous product. I was using my usual, cheaper, adapter for a newly purchased Takumar 50mm/1.4 and it tightened the lens up to the point where it was impossible to reach infinity and still move the f-stop. This adapter resolved the issue immediately, it felt like a much better fit and a much more professional product. The lens now moves freely and works perfectly - think I'll probably upgrade all my M42 adapted lens to this stirling effort.
12/09/2022
like this adapters
Thank you very much.
09/09/2022
Valuable processing
Perfect fit. Nothing wobbles.
02/09/2022
Simple, strong and secure adapter
So I've bought a vivitar, a helios and a pentax and each of them had fit and felt secure in this adapter.
The build is simple, strong and secure! Very happy customer.
02/09/2022
Great adaptor
This adapter comes with its own storage sleeve and feels very premium. Turned it on to my Pentacon 2.8/29 and plugged it into my Canon. The lens is recognized and the camera's exposure sensor works perfectly. Turning off the lens also worked without any problems.

Conclusion: High-quality adapter with good price/performance. 5 stars from me!
29/08/2022
There are no faqs for this product.
Adapter
Camera
EOS
Lens
M42
Ring Material