K&F M14131 Contax Yashica Lenses to Canon EF Lens Mount Adapter
Free shipping to eligible country
Brand:

K&F Concept

K&F M14131 Contax Yashica Lenses to Canon EF Lens Mount Adapter Allow Contax Yashica mount lenses used on Canon EOS Rebel camera body.

KF06.129

Availability:

In Stock

27.99

https://www.kentfaith.com/KF06.129_contax-yashica-to-canon-eos-mount-adapter
Buy 2+ items get

10% off

!
Features
• Allow Contax Yashica mount lenses used on Canon EOS Rebel camera body.
• Compatible with Canon EOS Rebel camera includes: Canon 300D, 350D, 400D, 450D, 500D, 550D/T2i, 600D/T3i, 650D/T4i, 700D/T5i, 750D/T6i, 760D/T6s, 800D/T7i, 100D, 200D, 1000D, 1100D/T3, 1200D/T5, 1300D/ T6,Canon 77D, D30, D60, 10D, 20D, 20Da, 30D, 40D, 50D, 60D 60Da, 70D, 77D, 80D, 7D, 7D Mark II, 5D, 5D Mark II, 5D Mark III, 5D Mark IV, 5Ds, 5Ds R, 6D, 6D Mark II,-1D,-1Ds,-1D X,-1D C etc.
• Made of brass and aluminum. Stable, precise and durable construction. Manually operated. Infinity focus allowed.
• For heavy medium format lenses, we suggest to use with a telephoto bracket and a tripod to balance its weight when shoot.
• 30 Days No Reason Return, 12 months quality guarantee, 100% satisfaction assurance.
Frequently Bought Together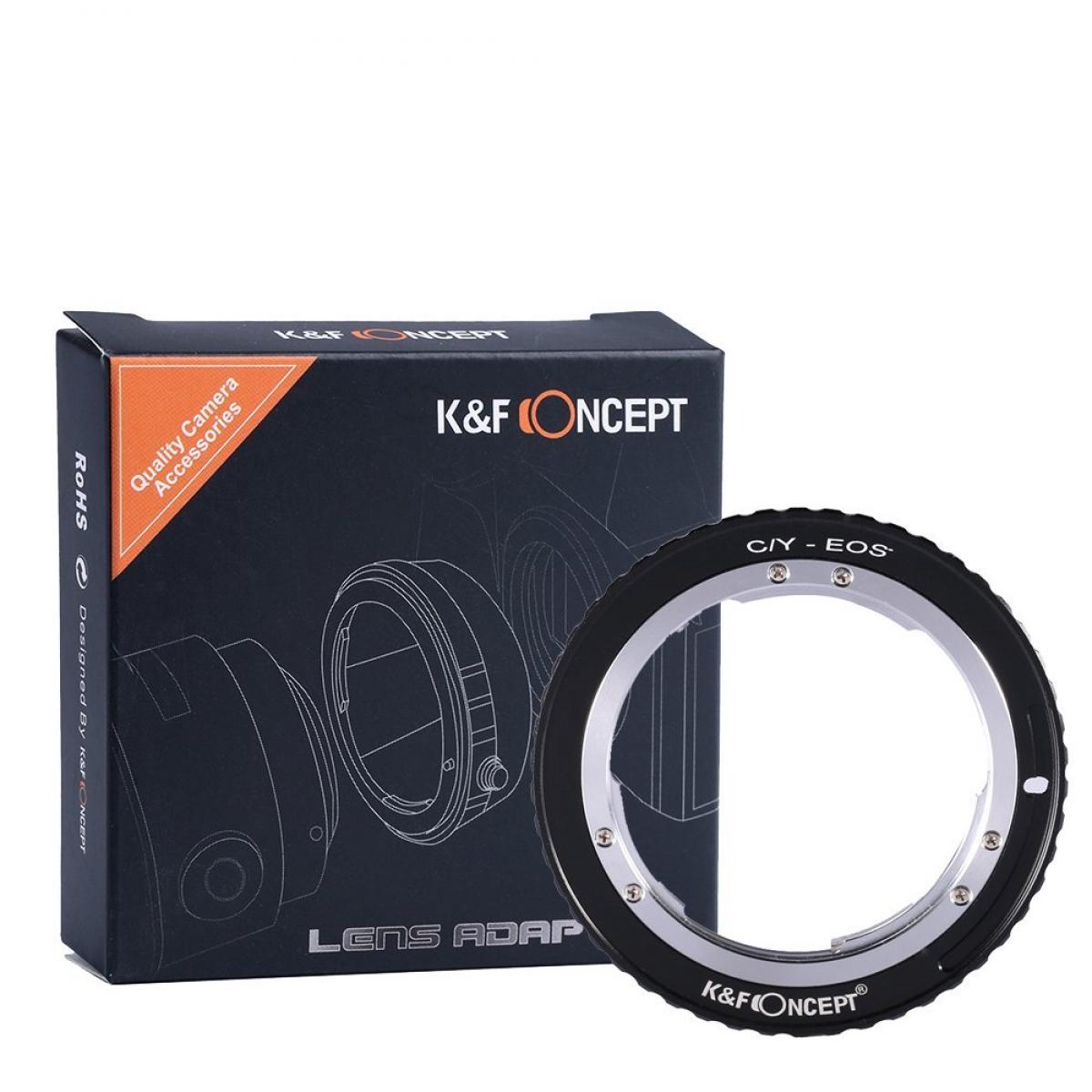 K&F Concept design and produce full range of lens adapters to fit lenses of Canon, Nikon, Pentax, Olympus, Leica, Contax Yashica, Minolta, Tamron, T2, C mount, Exakta, M39, M42, Pentacon etc used on Camera bodies of Canon, Nikon, Sony, Fujifilm, Pentax, Micro 4 3, Leica, M42, Cinema C mount etc.

works very well with my 2000D and my 2 Yashica lense
I never used this adapter with an auto lens. Works well with my Yashica 50mm and 135mm manual lens. Doesn't work as well with my Promaster 70-300mm the adapter is nice and tight on the Canon 2000D but the lens is allowed to turn and can unlock itself, this could just be a lens problem, I'm not sure.
For the $$ nice adapter, better support from K&F.
It's a ok quality C/Y to Canon EF, mounts tight to my Canon DSLR body only, had an issue and contacted K&F received a solution same day, 5 STARS for support.No adapter is as good as the original lense (YOU MUST UNDERSTAND THAT) but for a low cost of $28 kinda does the job, just be carful on the lense side not as secure as a C/Y camera body.
Out of the SIX adapters i bought, this is ...
Out of the SIX adapters i bought, this is the ONLY adapter that allows my Contax Zeiss glass to work on my Elan film cameras. I have two C/Y lenses (35-70 3.4*T and 80-200 f/4) that I used on my Contax RX and Sony A7r2, but wanted a film camera that was A) lighter and B) would work with my Zeiss ZE 21mm.This adapter WILL NOT clear an Elan IIE mirror on any focal length on these two lenses. The Elan 7 and Elan 7E it WILL work, except at infinity. So you have to stop just short of infinity, but that is a compromise I was willing to deal with. Otherwise a Leitax mount swap is the only way to get a C/Y mount lens to work; and even then, some C/Y lenses won't work with certain EOS cameras, digital or film.
Four Stars
it is what it is , it works!
Absolutely great!
I have had a plethora of adapters for both EF and E-mount, but this is by far the one that has had the least play. Feels more or less as sturdy as a Leitax conversion.
Adapter
camera
EOS
lens
C/Y
Ring Material
There are no faqs for this product.
| Image | Lens | Mount | Filter Size (mm) |
| --- | --- | --- | --- |
| | Access P-MC 35-70mm f/ 2.5-3.5 | Contax/Yashica | 58 |
| | Access P-MC 70-210mm f/ 3.5 (one ring) | Contax/Yashica | 62 |
| | Access P-MC 70-210mm f/ 3.5 (two rings) | Contax/Yashica | 62 |
| | Admiral G.M.C. 135mm f/ 2.8 | Contax/Yashica | 55 |
| | Admiral MC Automatic 28mm f/ 2.8 | Contax/Yashica | 52 |
| | Albinar ADG MC 80-200mm f/ 3.9 | Contax/Yashica | 55 |
| | Angenieux 35-70mm f/ 2.5-3.3 | Contax/Yashica | 58 |
| | ARAX 80mm f/ 2.8 S&T | Contax/Yashica | 62 |
| | Asanuma 17mm f/ 3.5 | Contax/Yashica | 72 |
| | Asanuma Auto-Wide 28mm f/ 2.8 | Contax/Yashica | 52 |
| Camera | Mount |
| --- | --- |
| Canon EOS 1000D/Rebel XS/Kiss F | Canon EF EF-S |
| Canon EOS 100D/Rebel SL1/Kiss X7 | Canon EF EF-S |
| Canon EOS 10D | Canon EF EF-S |
| Canon EOS 1100D/Rebel T3/Kiss X50 | Canon EF EF-S |
| Canon EOS 1200D/Rebel T5/Kiss X70 | Canon EF EF-S |
| Canon EOS 1300D/Rebel T6/Kiss X80 | Canon EF EF-S |
| Canon EOS 1500D/EOS 2000D/Rebel T7/Kiss X90 | Canon EF EF-S |
| Canon EOS 200D/Rebel SL2/Kiss X8 | Canon EF EF-S |
| Canon EOS 200D/Rebel SL2/Kiss X9 | Canon EF EF-S |
| Canon EOS 20D | Canon EF EF-S |