Automatic chicken coop door, solar powered chicken coop door, with timer and light sensor, all aluminum weatherproof multi-mode poultry coop door, with anti pinch design and American standards
3-5 Days
Refilling Supplies
Within About 3-5 Days
Brand:

KENTFAITH

Buy KENTFAITH automatic chicken coop door, solar powered chicken coop door, with timer and light sensor, all aluminum weatherproof multi-mode poultry coop door, with anti pinch design and american standards online, worldwide free shipping and 30 days return guarantee.

GW60.0030US

SKU:

GW60.0030US

166.99

https://www.kentfaith.com/GW60.0030US_automatic-chicken-coop-door-solar-powered-with-timer
Description
* Solar powered automatic chicken coop door: This waterproof automatic chicken coop door is made of high-quality aluminum alloy and AES material, and can work in snow, rain, and dust from -15 ° F to 140 ° F. Because its sturdy material can also protect your poultry from predators;
* Multiple power options: This automatic chicken coop door opener uses solar energy and can be charged through both solar and power sources. It is recommended to install the solar panel in a place with direct sunlight, which means that regardless of the weather, your door will remain in optimal working condition and your chicken will always be safe;
* Multiple modes of use: light sensing mode (automatically turned on in the morning and automatically turned off at night). Timer mode (set on/off time through programmable timer). Remote control or manual mode (always open/close the chicken coop door) You don't need to worry about wind and rain, nor do you need to worry about going out or getting up early, as this automatic door will take care of you;
* Easy to install: This automatic chicken coop door does not have complex wiring issues, and installation is simple and fast. It is equipped with complete assembly accessories, and the installation time for the door does not exceed 10 minutes. Note: In light sensing mode, it will close and open the door quite sensitively based on the intensity of the light. Please avoid strong lights such as flashlights and streetlights. We recommend using timer mode more.
* Widely used: This multifunctional chicken coop accessory can also be used as a door for ducks, geese, guinea pigs, rabbits, and other poultry. You can enjoy stress free weekends and holidays, and know that your chicken is safe.
Shipping
Free shipping worldwide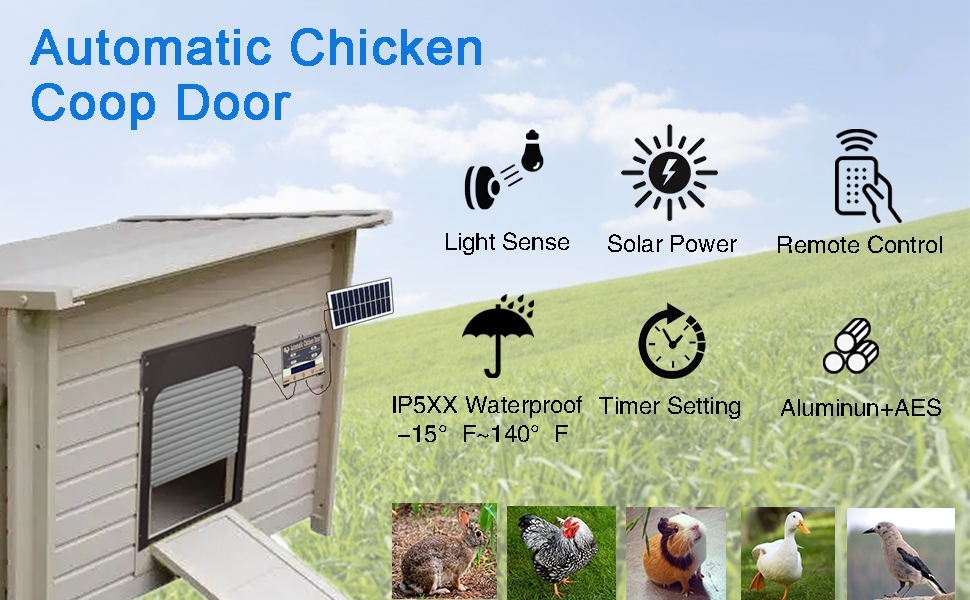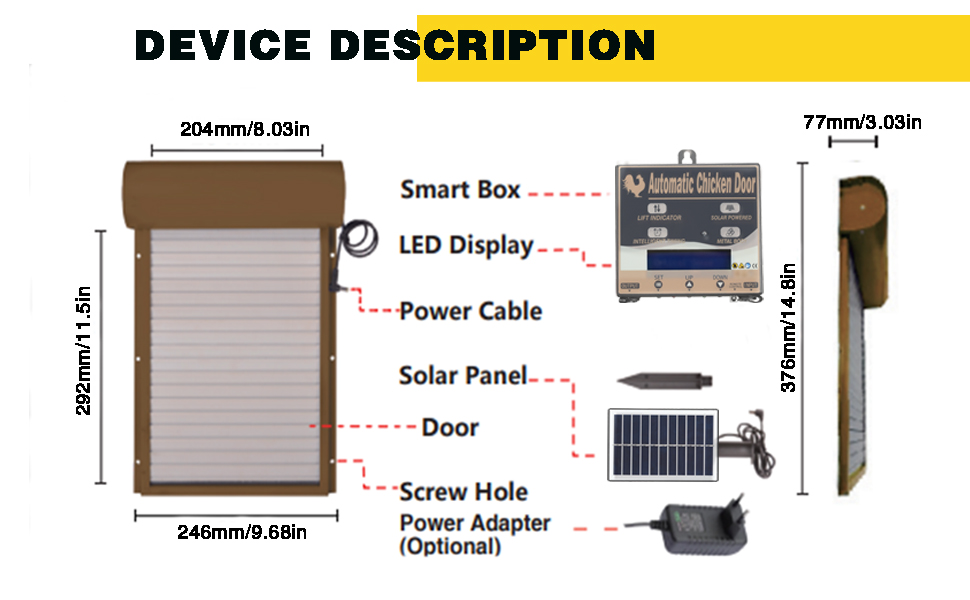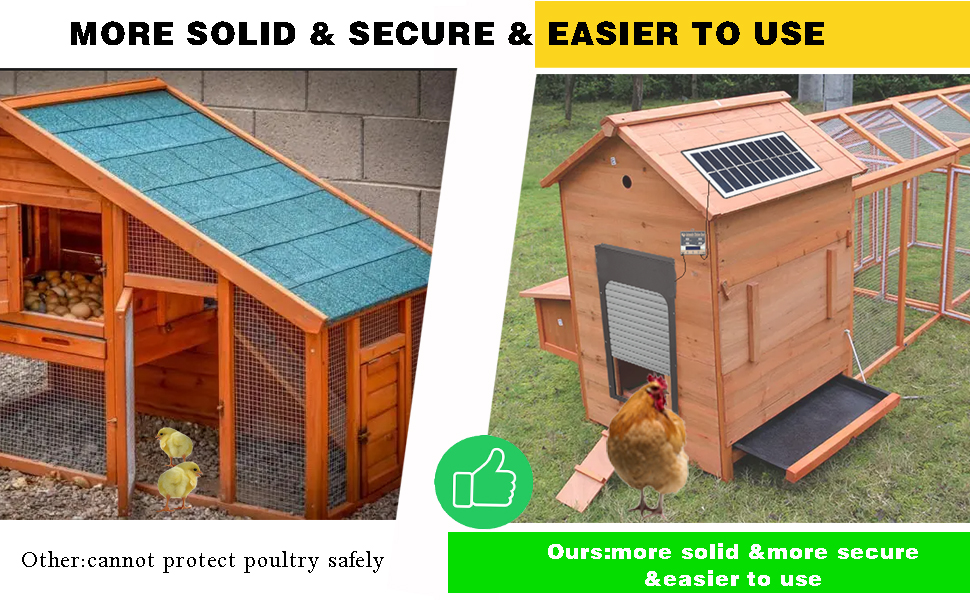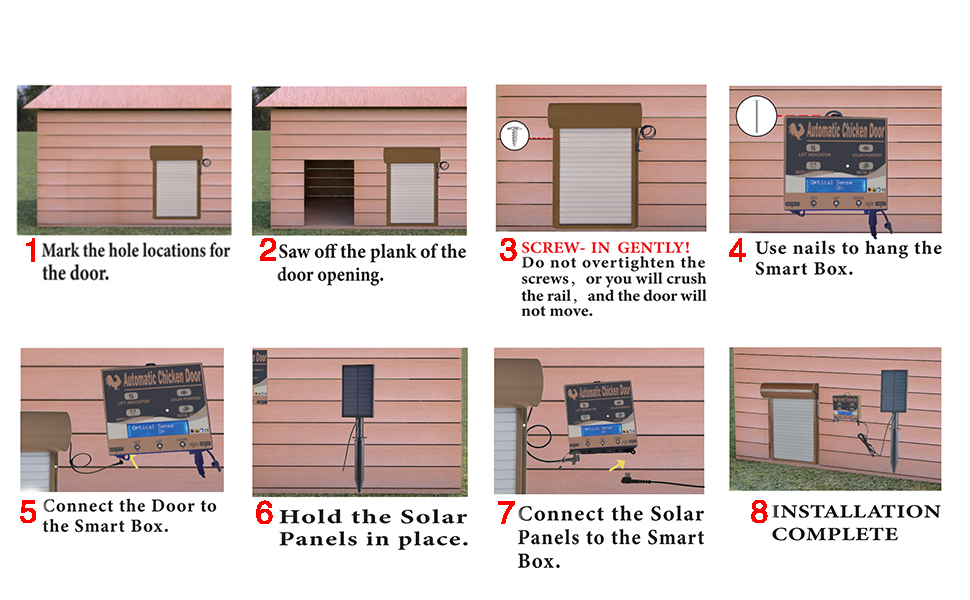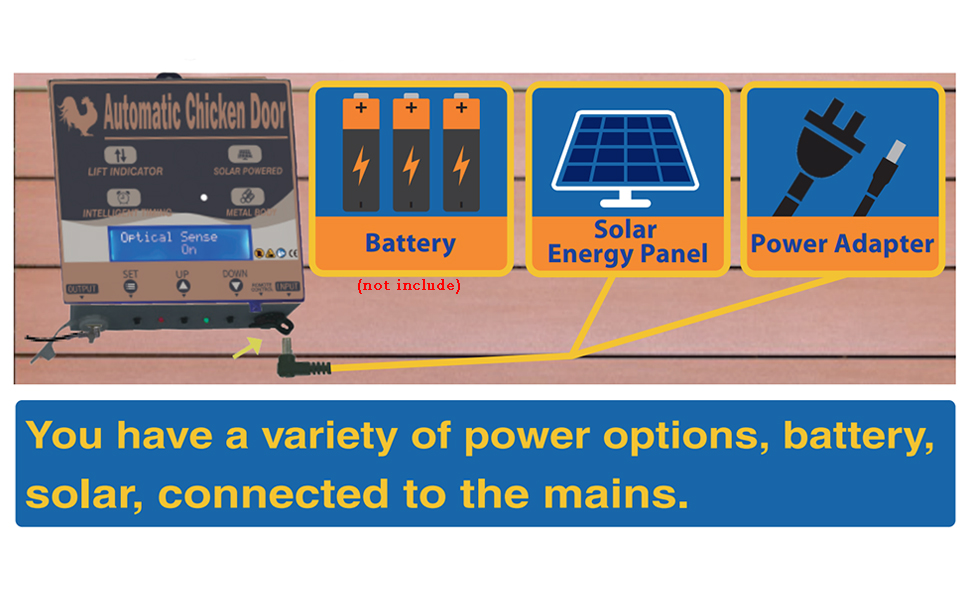 Specification
Packaging size
41 * 27.3 * 10.3cm
Packaging weight
2700g
Packaging List
Remote control * 1, timing * 1, light sensing * 1, manual * 1, solar energy * 1, adapter * 1
All Reviews
Image

All Star

5 Star

4 Star

3 Star

2 Star

1 Star
Good automatic chicken door! Keeps them in and predators out.
I got this for my mom so she doesn't have to go into her chicken coop every morning and evening to open and close her chicken door. This door works well; It opens and closes reliably according to its settings. My mother loves it!
12/11/2023
Can also be used as a cat door
I originally purchased this product for my chicken coop, but I ended up needing it in the house first. I'm currently using it as a cat door so the dog can't get to the litter box. It is very practical, very durable, the dog cannot destroy it, the cat cannot destroy it. Very easy to install. Simply cut a hole, screw the door over it and set the time. You can either plug it into the wall or insert batteries to adjust the opening and closing time.
10/11/2023
Protect the chickens!
This was ideal for our situation. If we come home late, our chickens will be safe from predators. We have been using the battery option for 2 months. So far no battery change is required. Easy to install, my 13 year old assembled it and attached it to the door of the chicken coop.
07/11/2023
I wish I had bought it sooner
I love the quality of this chicken coop door. It's working very well at the moment and I don't have to worry too much about the chickens now. I really enjoy not having to open and close the access door to the coop/coop for the chickens. The door does this by itself, very worthwhile. I will continue to update the usage situation.
04/11/2023
I love this thing!
This door is fairly easy to install and works great with the timer. I have it in a place where it closed too early with the light sensor. If you use this option, make sure the sensor is in a location that receives full light. I set it to open at 7:30 in the morning and close at 7:45. It took about a week, but now all my chickens go in before the door closes.
27/10/2023
I have just installed this device
I'm really looking forward to the prospect of not having to get up at 6 a.m. tomorrow morning. I'll still get up to see if it opens, but in two days I won't check again. The only thing I'm worried about is that many other automatic coop doors have sensors that would prevent the chicks and chickens from getting hurt if the door falls on them. This was not the case AND I did not notice that this safety feature was missing from this model. I love the versatility, but I'm worried one of my little boys might get crushed in the doorway. I stuck my hand in the door as she went down to check if she was stopping or reversing so as not to hurt the chicken, but she just pushed my hand down and I don't know how much it hurt my hand would have done any harm. I hadn't moved it. What now? I just hope the chickens go through the door quickly? Yikes.
22/10/2023
Great automatic chicken door.
I installed it in my chicken coop and it makes things much more comfortable. I like that it can be powered by either batteries or a power adapter/plug. I like that I can set the opening and closing time instead of just opening at sunrise and closing at sunset, as I have dogs that don't play well with the chickens and we need to make sure they don't by then are outside together. We have a run built for the chickens. Installation was easy and programming is easy. The instructions are clear and easy to follow. It is made of high quality materials and I am sure it will last for many years. Recommended
20/10/2023
Hyenas?
The first thing I did when I took it out of the box was plug it in. I must have accidentally pressed the down button because it caused the door to pop out from underneath. There is a piece of aluminum strip attached to the bottom to keep the door from going down too far, but there were no screws in it to stop it coming out. It's no problem to put it back together. You must remove the control/drive box to install the batteries. Well tested, fairly easy to program. The A/C input is a little loose and plugs into the bottom right of the box. All pictures show the control box from the outside, but I wouldn't recommend that. The height of the door opening is adjusted by the operating time of the motor. (Shorter run time, lower opening) The weak point seems to be the drive wheel, but if you clean the door regularly enough it should last a good while. It will be nice not having to get up with the chickens to let them out. I wouldn't rely on that to stop a raccoon. Or a hyena, like in the pictures. However, if your birds are already in a relatively safe area, that should be fine.
19/10/2023
Great electric chicken coop door for our chicken coop!
My husband and I love our farm's fresh eggs and have had almost 20 chickens for several years. We've had some issues with animals getting into the coop and hurting our chickens, so I ordered this automatic chicken coop door! What I like best is the automatic opening at 6:00 a.m. and the automatic closing at 6:00 p.m. in the evening. This guarantees the safety of my chickens and their eggs. We have had coyotes and birds disappear to feed in the night and injure some of our chickens and eggs. It comes with a battery and has an emergency power cable plug. I'm very pleased with the fact that it has high heat protection and is safe up to 140 degrees, so it still performs great even in the hottest summer months! I feel much safer now knowing that they are safe in the stable at night and that they have all learned to be in the stable before 6pm. I love that I no longer have to get up early and open the doors for them and they can run around freely in the morning!
15/10/2023
Easy to use
Setup and installation is easy. The material of the door is slightly thicker than other chicken doors I have used. This one is electric. There is no battery option that comes with all the pros and cons. In the summer I like to turn off my coop. That's the disadvantage. It seems to be working as it should.
09/10/2023