Securing Trail Cameras
Brand:

KENTFAITH

Buy KENTFAITH securing trail cameras online, worldwide free shipping and 30 days return guarantee.

KF35.133327

SKU:

KF35.133327

106.99

https://www.kentfaith.com/KF35.133327_securing-trail-cameras
Description
* Reliable outdoor performance with IP66 rating:This trail camera is designed to withstand harsh outdoor conditions with its dust and waterproof rating of IP66. You can be sure that it will function properly even in extreme weather conditions.
* Easy to use with APP acceptance method:The acceptance method of this trail camera is through an APP, making it easy to use and operate. You can easily control and manage the camera through your smartphone.
* Real-time preview with APP live function:With the APP live function, you can preview the camera's footage in real-time. This feature allows you to monitor the camera's activity and adjust its settings accordingly.
* Dual working mode for photo and video:This trail camera has a dual working mode that allows you to capture both photos and videos. You can choose the mode that best suits your needs and preferences.
* High thermal IR sensitivity for better detection:The trail camera has a thermal IR sensitivity of 65ft/20m, which means it can detect heat signatures from a distance. This feature makes it easier to capture images and videos of animals or people in low-light conditions.
Shipping
Free shipping worldwide
Securing trail cameras is important to prevent theft and damage. There are several ways to secure trail cameras, including using locking cables, security boxes, and camouflage. Locking cables can be used to secure the camera to a tree or other sturdy object. Security boxes can be used to encase the camera and protect it from damage and theft. Camouflage can be used to make the camera less visible and blend in with the surroundings. It is also important to choose a secure location for the camera, such as a high tree or a hidden spot. Regularly checking the camera and its security measures is also recommended to ensure that it is still secure and functioning properly.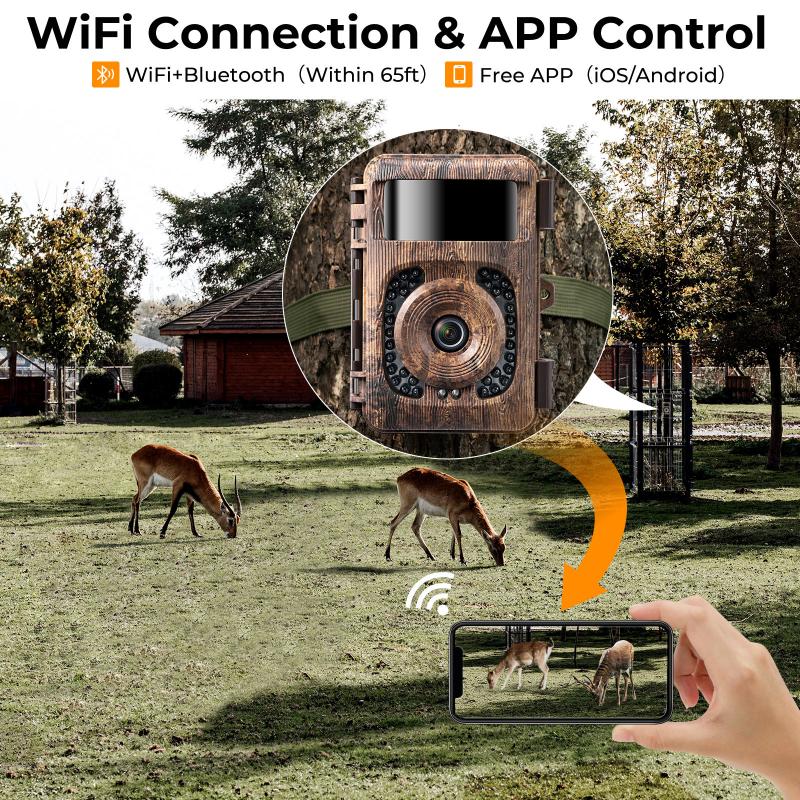 Maintenance:
1. Choose a sturdy mounting location: When securing trail cameras, it is important to choose a sturdy mounting location that can support the weight of the camera and withstand harsh weather conditions. This will prevent the camera from falling or getting damaged.
2. Use high-quality mounting equipment: It is important to use high-quality mounting equipment such as straps, brackets, and screws to secure the camera. This will ensure that the camera stays in place and does not move or shift.
3. Check the camera regularly: It is important to check the camera regularly to ensure that it is still securely mounted and functioning properly. This will help prevent any damage or theft of the camera.
4. Clean the camera regularly: Regular cleaning of the camera will help prevent dirt and debris from accumulating on the lens and affecting the quality of the images. This will also help prolong the life of the camera.
5. Replace batteries as needed: It is important to replace the batteries in the camera as needed to ensure that it continues to function properly. This will help prevent any loss of data or missed opportunities to capture images.
6. Service the camera annually: It is recommended to service the camera annually to ensure that it is functioning properly and to address any potential issues before they become major problems. This will help prolong the life of the camera and ensure that it continues to capture high-quality images.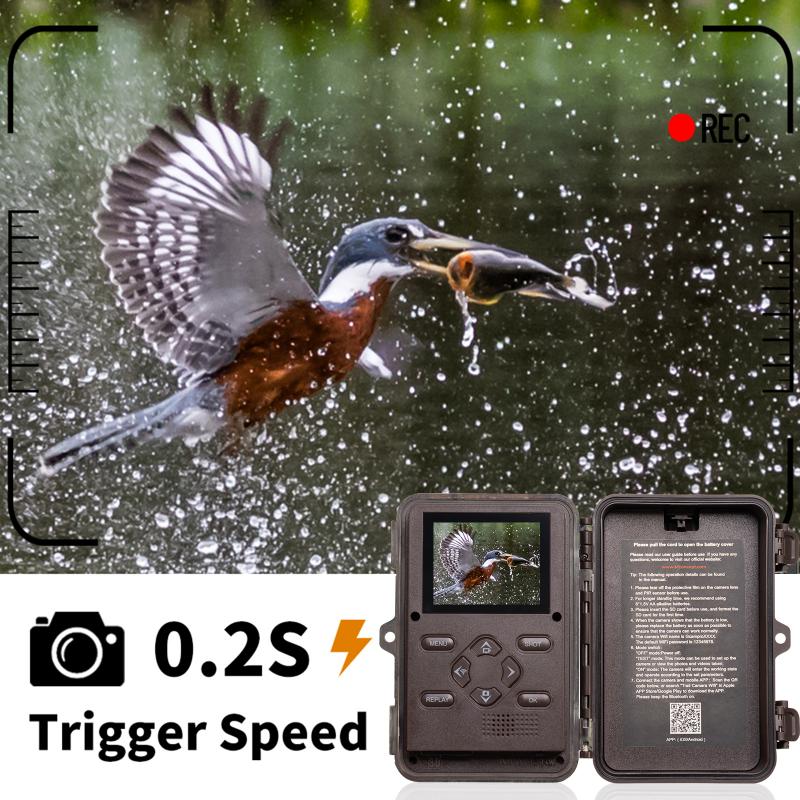 Related accessories:
1. Trail Camera Lock Box: A lock box is an essential accessory for securing trail cameras. It is a metal box that encases the camera and can be locked with a padlock. The lock box is designed to protect the camera from theft, vandalism, and damage caused by animals. It is made of durable materials that can withstand harsh weather conditions and rough handling.
2. Security Cable: A security cable is another accessory that can be used to secure trail cameras. It is a steel cable that can be looped around a tree or other stationary object and then locked to the camera. The cable is designed to prevent the camera from being removed or stolen. It is also useful for securing multiple cameras in the same location.
3. Camouflage Tape: Camouflage tape is a useful accessory for trail cameras. It is a self-adhesive tape that can be used to cover the camera and make it blend in with the surroundings. This is particularly useful for hunters who want to conceal the camera from game animals. The tape is easy to apply and remove and does not leave any residue.
4. Solar Panel: A solar panel is an accessory that can be used to power trail cameras. It is a small panel that can be attached to the camera and used to recharge the battery. This is useful for cameras that are located in remote areas where there is no access to electricity. The solar panel is designed to be weather-resistant and can withstand harsh conditions. It is also easy to install and use.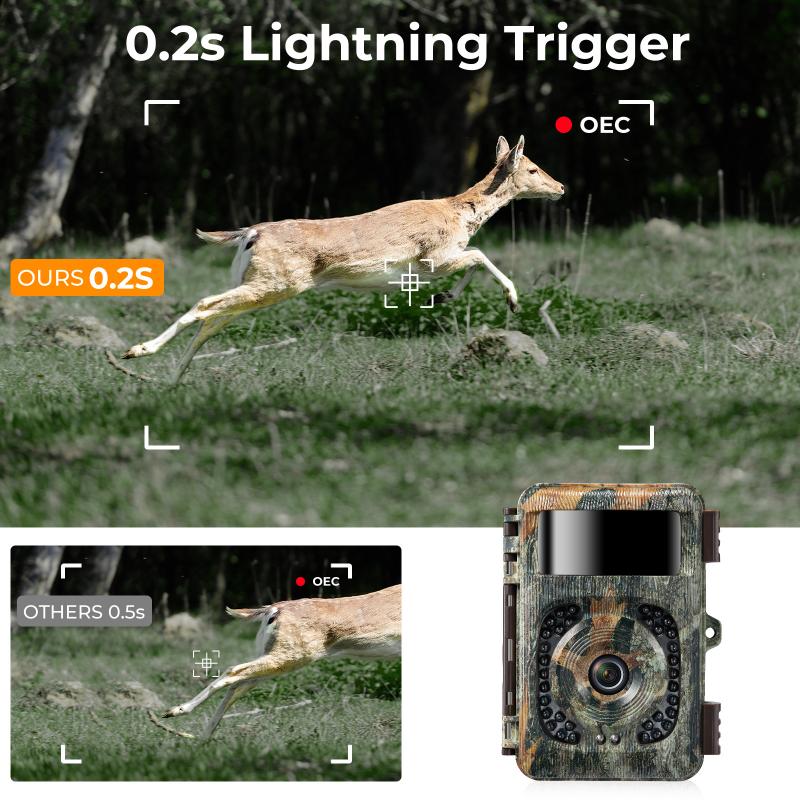 Common problems:
Error 1: The camera falls off the tree or post due to improper mounting. Solution: Ensure that the mounting strap or bracket is securely fastened to the tree or post. Double-check the tightness of the screws or bolts.
Error 2: The camera is not level, resulting in tilted or skewed images. Solution: Use a leveling tool to ensure that the camera is mounted straight and level. Adjust the mounting bracket or strap as necessary.
Error 3: The camera lens is obstructed by branches or leaves, resulting in blurry or distorted images. Solution: Trim any branches or foliage that may be blocking the camera's view. Adjust the camera angle if necessary.
Error 4: The camera batteries die quickly, resulting in missed photo opportunities. Solution: Use high-quality batteries and ensure that they are inserted correctly. Consider using rechargeable batteries or a solar panel to extend battery life.
Error 5: The camera is stolen or vandalized. Solution: Use a security box or cable lock to secure the camera to the tree or post. Consider using a GPS tracker or cellular camera to track the camera's location and receive real-time alerts.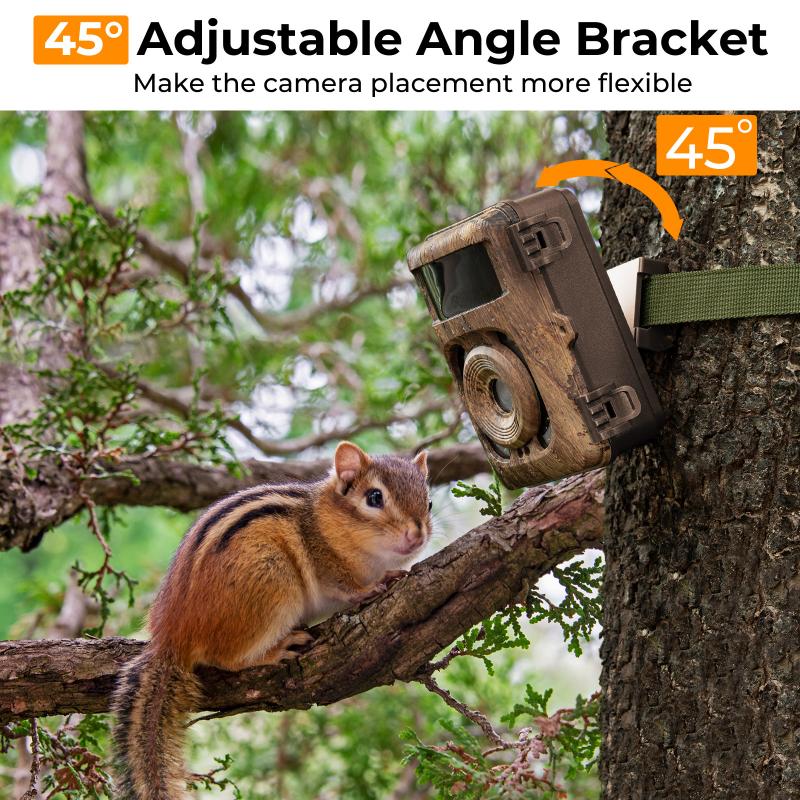 Product features:
1. Tamper-Proof Design: A tamper-proof design is essential for securing trail cameras. The camera should be designed in such a way that it cannot be easily removed or tampered with by unauthorized individuals. This can be achieved by using high-quality materials and incorporating features such as locking mechanisms and security cables.
2. Wireless Connectivity: Wireless connectivity is another important feature for securing trail cameras. With wireless connectivity, the camera can be remotely monitored and controlled, which reduces the risk of theft or damage. The camera can also be set up to send alerts to the owner's phone or email if it detects any suspicious activity.
3. High-Quality Images: High-quality images are essential for identifying potential threats and capturing evidence. The camera should be equipped with a high-resolution sensor and advanced image processing technology to ensure that the images captured are clear and detailed.
4. Long Battery Life: Long battery life is crucial for securing trail cameras, as it ensures that the camera remains operational for an extended period without requiring frequent battery changes. The camera should be designed to conserve power and use energy-efficient components to maximize battery life.
5. Weather Resistance: Weather resistance is another important feature for securing trail cameras. The camera should be designed to withstand harsh weather conditions, including rain, snow, and extreme temperatures. This can be achieved by using weather-resistant materials and incorporating features such as waterproof seals and protective covers.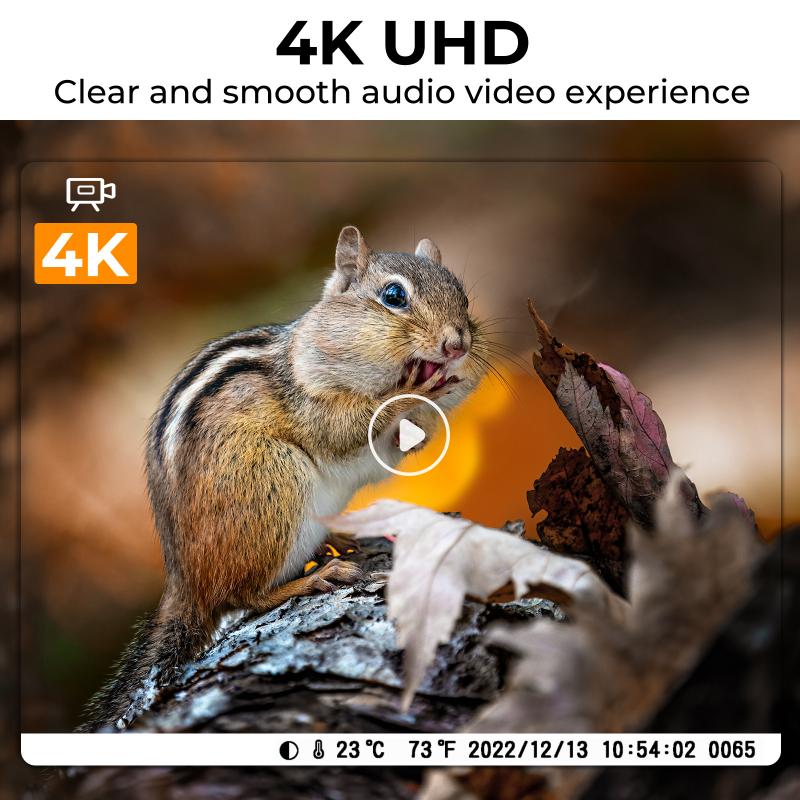 Product parameters:
Live function : APP real-time preview
PIR sensing angle : 120 degrees
Thermal IR Sensitivity : 65ft/20m
Timing shooting function : 3 seconds - 24 hours
Working mode : Photo + Video
Number of IR fill lights : 34pcs infrared fill light; 940nm
Acceptance method : APP
Ambient temperature watermarking : Support
Dust and waterproof rating : IP66
Monitoring period setting : 0-24 hours
All Reviews
Image

All Star

5 Star

4 Star

3 Star

2 Star

1 Star
An Impressive Trail Camera
This trail camera has proven to be a great choice with its solid build, ease of use, and bonus accessories. It's an impressive product that stands out from others I have tried in the past. Highly recommended!
29/04/2023
Good Performance and Satisfactory Mount
This camera serves its purpose well and works great, although the mount is not the best in terms of stability.
26/04/2023
The Best Value Trail Camera
Alpha trail camera is the clear winner when it comes to value and quality. After trying out multiple brands, it's the only one I purchase now. Its photos are top-notch, and it won't break the bank.
23/04/2023
Highly Recommended Trail Cameras
I highly recommend these trail cameras as they have exceeded my expectations.
28/03/2023
Flexible and Secure
This camera provides immense flexibility while still keeping your phone safe and secure.
27/03/2023
The Best Trail Cameras
Love Browning trail cameras for their great performance! Been using them for years and would not change it for anything else!
26/03/2023
A Must-have for Trail Cameras
These memory cards are essential for trail cameras, perfect for capturing high-quality images and videos and great for viewing on the computer.
19/03/2023
Excellent Choice for Trail Cameras
These cameras are incredibly durable and work great even in freezing temperatures. I've been using them for 6 months now and I'm very happy with my investment - I'll definitely be getting some more!
07/03/2023
The Ultimate Trail Camera
The Browning trail camera is the ultimate choice for capturing wildlife shots. With its superior performance compared to other brands, this camera is easy to set up and use, and provides perfect pictures even in low light. With its superior battery life, this camera is perfect for long-term use in the wild. Get the best results with the Browning trail camera.
30/11/-0001
The Best Trail Cameras
I have used a lot of trail cameras in the past 20 years, and these are the best. My first choice was cellular cameras, which transmit data very fast even when they are in remote locations. The pictures are great, with a great range. I got them on sale from the Tactacam site for a much better price. I chose the basic plan with 250 pictures for $5 per month. You can also adjust the settings, including the delay for many hours. I haven't tried the video yet, but the pictures are excellent.
30/11/-0001