37mm Black Mist Filter 1/4 Special Effects Filter Cinebloom Black Diffusion Effect Filter for Camera Lens Nano-X Series
Buy 99$-15$, 199$-30$, 299$-50$, 599$-120$(Black Friday Price)
To
United States
Expedited Shipping
3-5
business days
Free Shipping. 30 Day No Reason Return. K&F black mist filters feature Extraordinary Performance on Filter Coating, Premium Material Optical Glass, Ultra Slim & Sturdy Frame.

KF01.1620

SKU:

KF01.1620

27.99

https://www.kentfaith.com/KF01.1620_37mm-black-mist-filter-1-4-special-effects-filter-cinebloom-black-diffusion-effect-filter-for-camera-lens-nano-x-series
Buy 99$-15$, 199$-30$, 299$-50$, 599$-120$(Black Friday Price)
Description
* 【Professional Filter for Portrait Photography】 This K&F Concept black soft 1/4 filter could soften the wrinkles, freckles and pores of facial skin, making it more delicate, plump and gorgeous. The hazy film effect can be better realized, showing dreamily film effect. In order to ensure the ultra-high definition image quality, the double polishing process is adopted to ensure the high definition within 550mm focal length.Reconmending use it in video shooting.Photography Gear for Valentine's Day Shoot.
* 【28 Multi-Layer Coatings】 After optical grinding, the glass filter is coated with high-tech film. waterproof, scratch resistant and oil proof. It has the characteristics of hard scraping without any influence on the image quality. Even if it is contaminated with water droplets or oil, which can be easily removed and cleaned.
* 【Import Optical AGC Glass】 K&F Concept black cine diffusion filter Made by Japanese high precision optical glass, duel multi coats for extra transparency to 84% Transmittance, effectively reduce reflection of smooth surface,no vignetts and shadows.
* 【Ultra Slim Frame】 With Aviation grade aluminum,the width of frame measures only 3.3mm, ultra slim frame no dark corners and vignetting on wide angle and long focal lens. CNC system provides exquisite curve on frame,extra friction and antiskid.
* 【Note】This black soft 1/4 filter is compatible with all 37mm lenses. Please verify your camera's lens thread size before ordering. Your camera's lens thread size will be marked somewhere on the lens barrel or printed underneath your lens cap. This number is always preceded by a "ø" (diameter) symbol.
Shipping
To
United States
Expedited Shipping
3-5
business days
Sale
Buy 99$-15$, 199$-30$, 299$-50$, 599$-120$(Black Friday Price)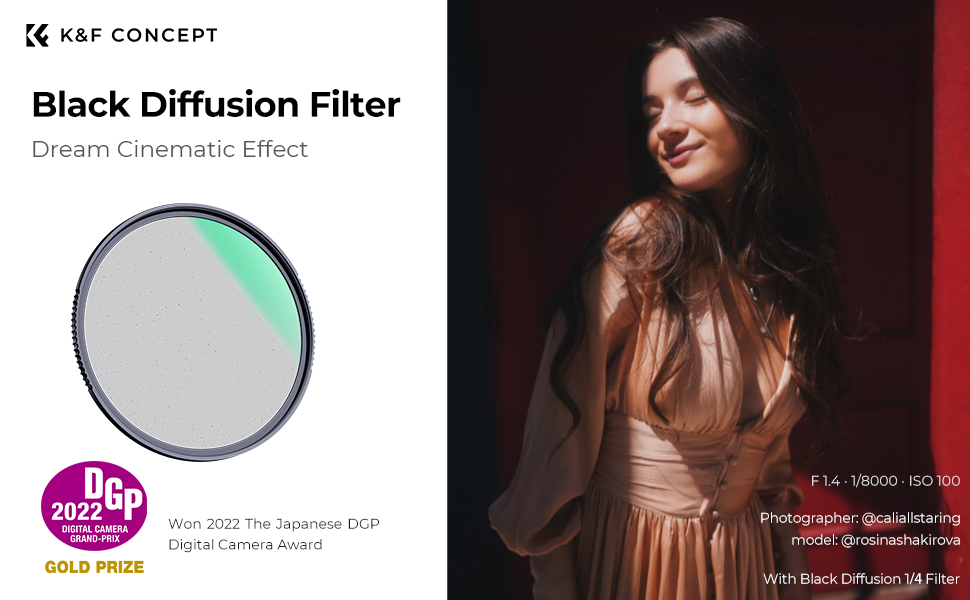 K&F Concept Black Diffusion 1/4 Filter Special Effect Filter Creates Dream Cinematic Hazy Effect for Image & Video
• Reduces highlights and lowers glare.
• The surface high-tech film is waterproof, scratch-resistant, and oil-proof, protects the black diffusion filter from all around, and extends the service life.
• Imported Japanese AGC optical glass with double-side polishing technology ensures high definite image quality.
• Soften wrinkles, blemishes, and pores while maintaining skin tone values, making wrinkles less noticeable.
• Creates a soft quality of light and pastel effect, delicate and hazy cinematic effect, provides a soothing effect on skin tones.
• Uses the K&F Concept nanometer coating process to protect the filter effect between two pieces of glass, dosen't affect image quality.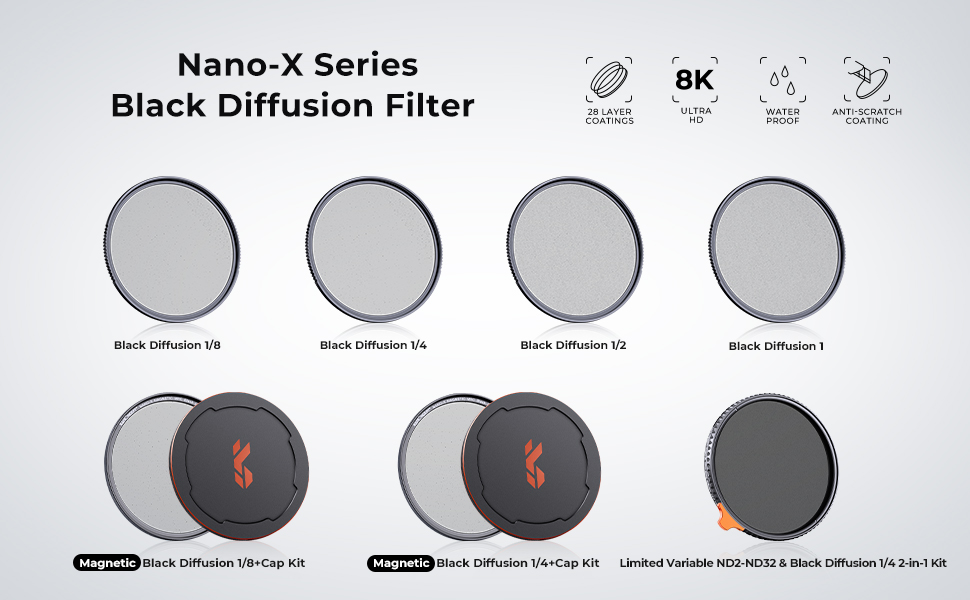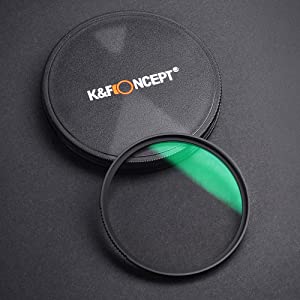 K&F Concept Black Diffusion 1/4 Special Effect Filter
The K&F Concept black diffusion 1/4 filter with its unique 28 multi-layer coating, function effectively reduced the reflection that came from both the ground and the filter itself, ensuring the light transmittance to 84%. Even at its lowest density this black diffusion 1/4 filter can soft wrinkle and pores of human skin, it delivers an effective increase in the halation which adds a pleasing depth of warmth showing the delicate and hazy movie effect in images but is not transported to the skin tone values.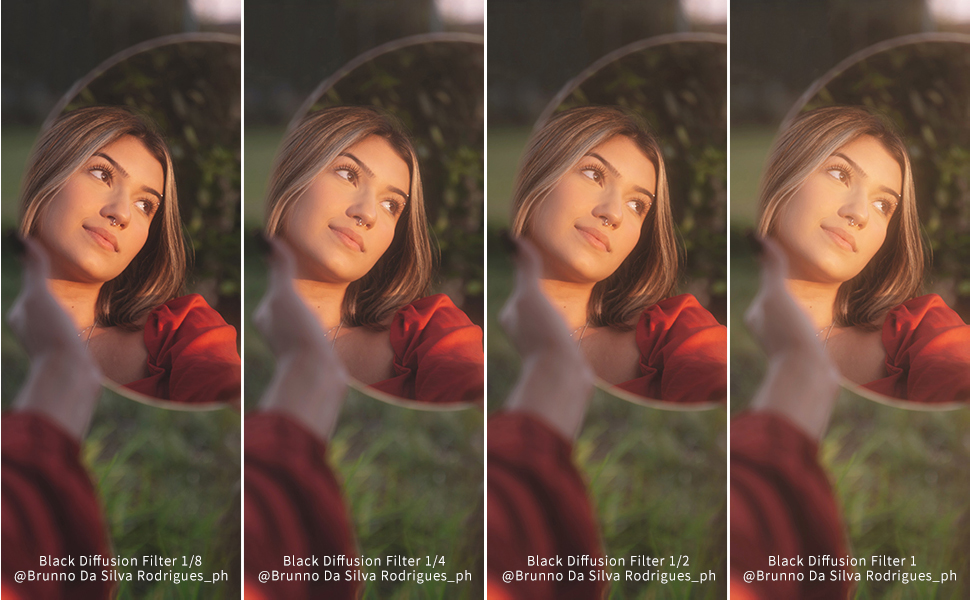 | | | | | | |
| --- | --- | --- | --- | --- | --- |
| | | | | | |
| | | | | | |
| | | | | | |
| Rating | 127 reviews. | 58 reviews. | 135 reviews. | 53 reviews. | 34 reviews. |
| Price | $27.99 | $21.99 | $26.99 | $40.99 | $40.99 |
| Model | KF01.1620 | KF01.997 | KF01.1624 | KF01.1162 | KF01.1443 |
| Reflectivity | 0.2% | 0.2% | 0.2% | 0.2% | 0.2% |
| Series | Nano-X series | Nano-X series | Nano-X series | Nano-X series | Nano-X series |
| Recommended Scenes | Video Shooting/Potrait Photography | Landscape Photography | Video Shooting/Potrait Photography | Video Shooting/Landscape Photography | Video Shooting/Landscape Photography |
| Function | Soft highlight | Light reduction effect | Soft highlight | No X cross/Light reduction effect | No X cross/Light reduction effect |
| Filter Material | Japanese AGC Glass | Japanese AGC Glass | Japanese AGC Glass | Japanese AGC Glass | Japanese AGC Glass |
| Multi-Coating | 28 layers | 28 layers | 28 layers | 28 layers | 28 layers |
| Waterproof | √ | √ | √ | √ | √ |
| Scratch-resistant | √ | √ | √ | √ | √ |
| HD | √ | √ | √ | √ | √ |
| Transmittance | 0.84 | 0.001 | | ∕ | |
| Size | | 37mm | | 37mm | |
| Stops | | 3.0(10 Stops) | | 0.3 to 1.5(1 to 5 Stops) | 0.9 to 2.1(3 to 7 Stops) |
| Antireflection | | √ | | √ | |
| Filter Thickness | | 3.3mm | | 7.3mm | |
| Ring Material | | Aviation aluminum alloy | | Aviation aluminum alloy | |
All Reviews
Image

All Star

5 Star

4 Star

3 Star

2 Star

1 Star
Gute Qualität
Ich habe ein paar Artikel von dieser Firma gekauft und sie waren alle von guter Qualität. Sie sind noch nicht in der Spitzengruppe, aber vielleicht eines Tages.
15/11/2023
I recommend
For the price, I was pleasantly surprised by the result!
22/10/2023
Adoro esta lente
Nunca quiero quitarlo de mi cámara.
Da un brillo suave realmente hermoso y me encanta esta adición a mi kit.
11/09/2023
Great value for money
Very happy with this filter, the diffusion is great.

The price is also great, I had one that cost me 3 times more but the quality is the same.

I recommend.
02/09/2023
Soft Mist Filter that have presence, but doesn't overpower the subject.
I've used this filter a couple of times for my creative photography and videography in a couple of instances and i can tell you K&F Concept nailed it again.

I can't post images of content i was paid for due to contractual reasons, but this is definitely a professional grade filter.

I noticed no image resolution degradation, no white balance issues, no vignetting or distortion when the filter was on.

It arrived on a rather large protecting case that i discarded right away and it was unwieldy, hard and larger than it needed to be, but i own a K&F filter pouch (shown on pictures, not included with the filter) that i use.

Despite not liking the carrying case, this is a GREAT Black Mist filter, it feels premium on your hands, mounting was smooth, it feels sturdy and while i did NOT test scratch resistance i trust K&F Concept products.

Great value for a premium filter, i would recommend it to anyone who is in the market for one.
25/05/2023
I was super impressed with this diffusion filter!
So I think a lot of folks involved in video product are very familiar with the Tiffen Black Pro Mist filters. This is K&F's version of that filter. I will go into what I think about the filter but you can also judge for yourself in one of the pictures in this review where I show you the same image; the first without the filter then with the filter.

One of the results you get with a filter of this type is blooming of the highlights. This filter does quite a good job of that. Comparing the bloom to the Tiffen line I would say it falls between Tiffen's 1/2 and 1/4 strength with it being closer to the 1/4. The highlight fall of was strong but natural in my opinion. Keep in mind the light in the image fills the frame so you are seeing this particular effect of this filter at it's most extreme. You won't see that much blooming in a more natural setting. Take a look at the highlights on the camera. To me the K&F filter had a great effect on the highlight roll off which was very smooth.

The other effect you get with a black mist filter is the slightly reduced contrast and the slight softening of the shadows. To me I thought this filter did this quite well. If you look at the texture on the handle of the camera in the image you can see how it's just sort of softened that texture. Imagine shooting a person and you can imagine how much you would be able to smooth out the skin.

It also comes in a nice little screw together plastic case. Inside the case are these little rubber stopper than prevent the filter from sliding around in the case. I love the attention to detail here.

So compared to the Tiffen version of this lens at the size I got which was 82mm the K&F Black Mist is about $40 cheaper. I think you are getting a lot of value for your money here. I can't wait to try out this filter on some upcoming shoots.

I think K&F is making a move into higher end filters and if this filter is an example of the kind of quality they can produce, I can't wait to see what filter they release next.
19/05/2023
Nice to have filter.
Nice filter. Definitely comes handy in certain situations. Great for sharp lenses especially with no character. This adds some mood to it. It's nice to have, looks well made and o love that I can apply to a lens and still be able to use the lens cover over the filter when not in use. I use it on my Sony 18-105 f/4 and the sigma 18-35 f/1.8 and am quite happy with the result. In my images the last image is the one without the filter, hopefully you can get an idea what it does.
07/05/2023
Muy fino
Le da un toque brutal a la imagen y la construcción es muy buena. Confianza 100%
06/05/2023
K&F black mist filter - FABULOUS
K&F contacted me to test the new Black Mist filter.
It is a filter designed for videos and to give a "vintage" touch to the final result.
In short: beautiful result even for photography. It is a useful filter for portraits or for landscape or storytelling reportage. You do not lose sharpness and you get a much less "shot" light that also expands in the shaded area.
It is a filter to be used in photography with large apertures and which "tells" an atmosphere.

But let's start from the beginning.
Packaging / handling: In addition to the plastic box, the filter is inserted in a very resistant and protective snap-on case. The filter is screw-type (rightly because it was created for videomakers and in any case up to a diameter of 82). I would have preferred a cardboard box. But the case that you can see in the photo (the round one) is very useful and sturdy. The filter is resistant and fits well to all the lenses to which I have mounted it.

Technical review:
It has no dominant details, so it leaves the colors similar to the photo taken without a filter. Great!
It does not lose light, there is no need to increase the ISO when it is mounted. Great!
The sharpness in the details (and here comes the beauty) remains almost unchanged. You DO NOT lose sharpness in the areas in focus even if I would not use it in ultra-defined landscape photography, but for a storytelling, outdoor or portrait set absolutely yes.
Autofocus is unaffected by the filter, at least not on the Nikon D750 with fixed lenses.

Usage / Effect: it is a filter that gives a "glow" effect to photos, very particular especially for videos and for portraits in harsh light or backlight.
The highlights are dimmed but without becoming dull, moreover the light "enters" the shadows, giving a very soft "glow" effect. Great for portraits or to give a more dreamy atmosphere, it removes clarity from the image in high contrast areas.

In the photos you can see a couple of unfiltered / filtered comparisons, two portrait photos set and what comes to you.

Result in short: it is a filter that you do not think can enter your kit, but when it does it has such a particular result that you would try it in any situation. A must try!
18/04/2023
Super happy with it
Does what it says for a very affordable price
13/04/2023
Do You Know How Your K&F Concept Filters be Produced? | One-day Tour in Production Line
How to check your lens size
Dreamy Cinematic Effects for Your Photos&Videos Ep3 | Photography Tips
Filter
Reflectivity
0.2%
Series
Nano-X series
Recommended Scenes
Video Shooting/Potrait Photography
Function
Soft highlight
Filter Material
Japanese AGC Glass
Multi-Coating
28 layers
Waterproof
√
Scratch-resistant
√
HD
√
Transmittance
0.84