37mm Black Mist Filter 1/4 Special Effects Filter Cinebloom Black Diffusion Effect Filter for Camera Lens Nano-X Series
Terms
Coupon Terms
Terms and Conditions:
Coupons are valid for a limited time only. Kentfaith reserves the right to modify or cancel coupons at any time.
You must purchase the qualifying items added to your Cart when the coupon is in effect for the discount to apply.
If you later modify or cancel the subscription or delivery date for the qualifying item, the discount will not apply.
The coupon applies only to qualifying items displaying the coupon offer.
If you buy more than one item from the same coupon, the maximum discount amount of the coupon will be equal to either the percentage discount off or the face value of the coupon on one eligible item. The coupon may only be used on www.kentfaith.com.
The promotion is limited to one coupon per customer.
If you return any of the items purchased with a coupon, the coupon discount or value may be subtracted from the return credit.
Buy 99$-9$, 199$-25$, 299$-39$, 599$-100$
Free shipping to eligible country
Free Shipping. 30 Day No Reason Return. K&F black mist filters feature Extraordinary Performance on Filter Coating, Premium Material Optical Glass, Ultra Slim & Sturdy Frame.

KF01.1620

SKU:

KF01.1620

26.99

https://www.kentfaith.com/KF01.1620_37mm-black-mist-filter-1-4-special-effects-filter-cinebloom-black-diffusion-effect-filter-for-camera-lens-nano-x-series
Buy 99$-9$, 199$-25$, 299$-39$, 599$-100$
Description
* 【Professional Filter for Portrait Photography】 This K&F Concept black soft 1/4 filter could soften the wrinkles, freckles and pores of facial skin, making it more delicate, plump and gorgeous. The hazy film effect can be better realized, showing dreamily film effect. In order to ensure the ultra-high definition image quality, the double polishing process is adopted to ensure the high definition within 550mm focal length.Reconmending use it in video shooting.Photography Gear for Valentine's Day Shoot.
* 【28 Multi-Layer Coatings】 After optical grinding, the glass filter is coated with high-tech film. waterproof, scratch resistant and oil proof. It has the characteristics of hard scraping without any influence on the image quality. Even if it is contaminated with water droplets or oil, which can be easily removed and cleaned.
* 【Import Optical AGC Glass】 K&F Concept black cine diffusion filter Made by Japanese high precision optical glass, duel multi coats for extra transparency to 84% Transmittance, effectively reduce reflection of smooth surface,no vignetts and shadows.
* 【Ultra Slim Frame】 With Aviation grade aluminum,the width of frame measures only 3.3mm, ultra slim frame no dark corners and vignetting on wide angle and long focal lens. CNC system provides exquisite curve on frame,extra friction and antiskid.
* 【Note】This black soft 1/4 filter is compatible with all 37mm lenses. Please verify your camera's lens thread size before ordering. Your camera's lens thread size will be marked somewhere on the lens barrel or printed underneath your lens cap. This number is always preceded by a "ø" (diameter) symbol.
Shipping
Free shipping to eligible country
Sale
Buy 99$-9$, 199$-25$, 299$-39$, 599$-100$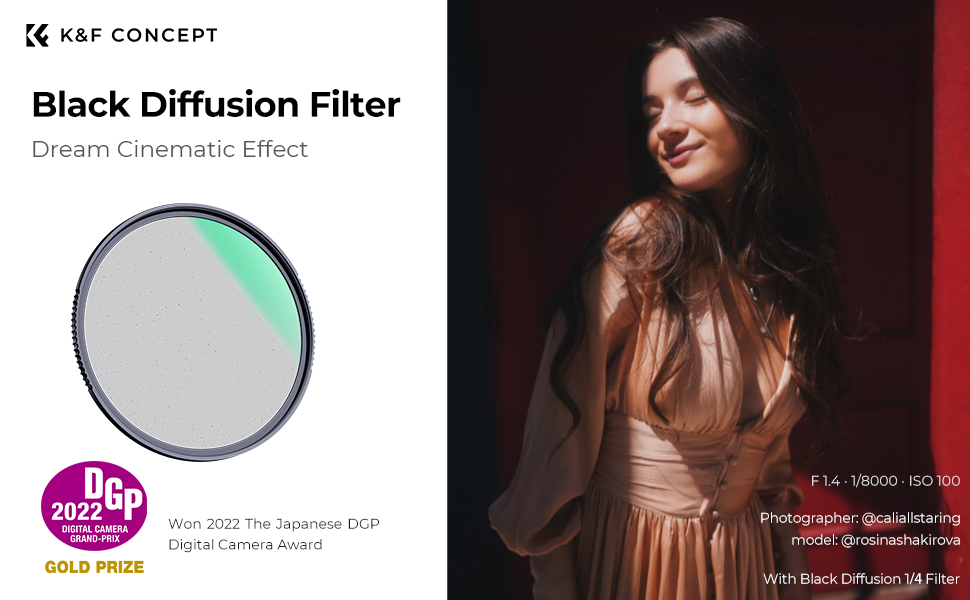 K&F Concept Black Diffusion 1/4 Filter Special Effect Filter Creates Dream Cinematic Hazy Effect for Image & Video
• Reduces highlights and lowers glare.
• The surface high-tech film is waterproof, scratch-resistant, and oil-proof, protects the black diffusion filter from all around, and extends the service life.
• Imported Japanese AGC optical glass with double-side polishing technology ensures high definite image quality.
• Soften wrinkles, blemishes, and pores while maintaining skin tone values, making wrinkles less noticeable.
• Creates a soft quality of light and pastel effect, delicate and hazy cinematic effect, provides a soothing effect on skin tones.
• Uses the K&F Concept nanometer coating process to protect the filter effect between two pieces of glass, dosen't affect image quality.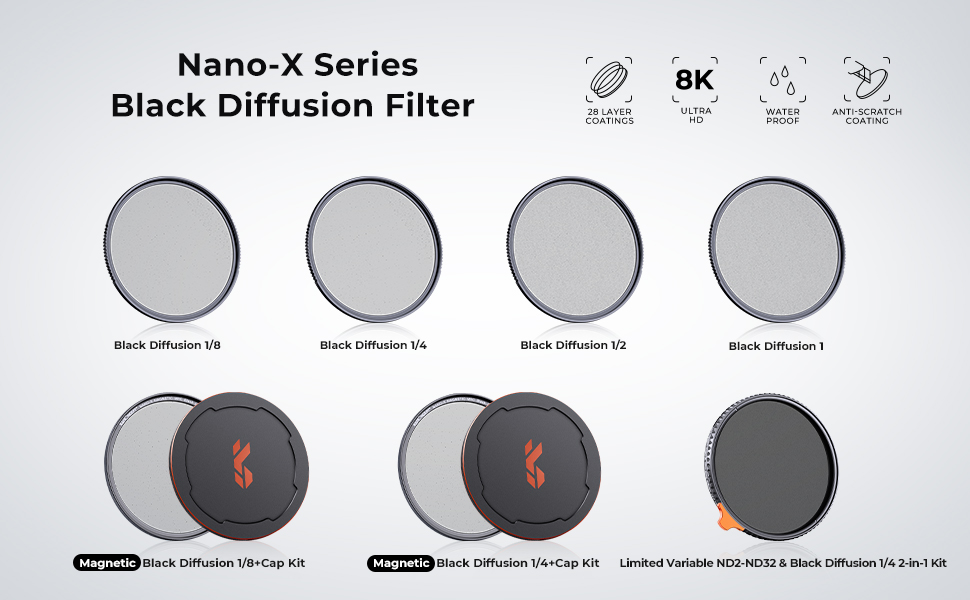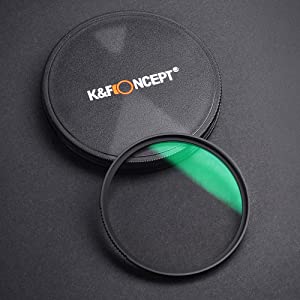 K&F Concept Black Diffusion 1/4 Special Effect Filter
The K&F Concept black diffusion 1/4 filter with its unique 28 multi-layer coating, function effectively reduced the reflection that came from both the ground and the filter itself, ensuring the light transmittance to 84%. Even at its lowest density this black diffusion 1/4 filter can soft wrinkle and pores of human skin, it delivers an effective increase in the halation which adds a pleasing depth of warmth showing the delicate and hazy movie effect in images but is not transported to the skin tone values.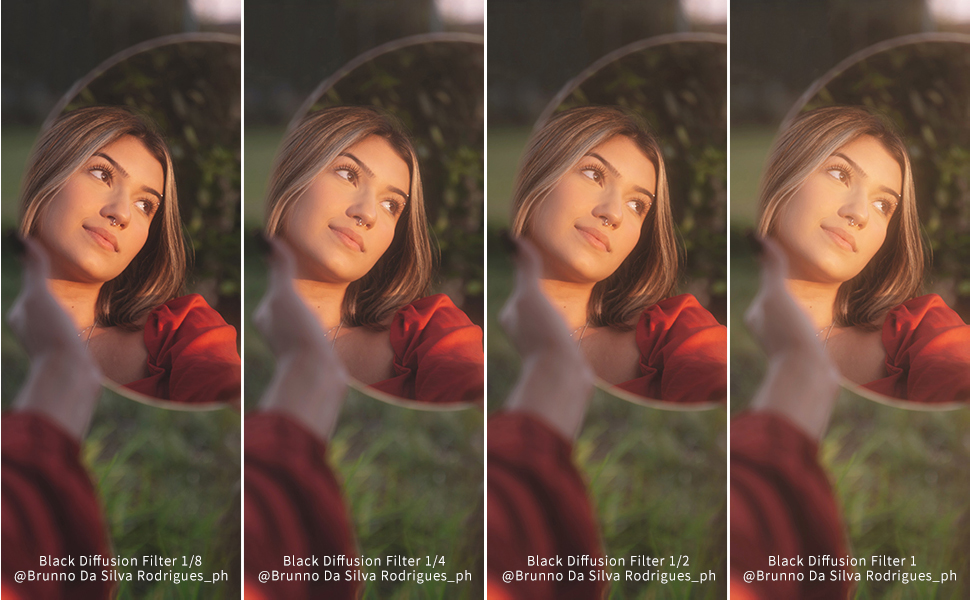 | | | | | | |
| --- | --- | --- | --- | --- | --- |
| | | | | | |
| | | | | | |
| | | | | | |
| Rating | 107 reviews. | 29 reviews. | 98 reviews. | 31 reviews. | 34 reviews. |
| Price | $26.99 | $21.99 | $26.99 | $36.99 | $40.99 |
| Model | KF01.1620 | KF01.997 | KF01.1624 | KF01.1162 | KF01.1443 |
| Reflectivity | 0.2% | 0.2% | 0.2% | 0.2% | 0.2% |
| Series | Nano-X series | Nano-X series | Nano-X series | Nano-X series | Nano-X series |
| Recommended Scenes | Video Shooting/Potrait Photography | Landscape Photography | Video Shooting/Potrait Photography | Video Shooting/Landscape Photography | Video Shooting/Landscape Photography |
| Function | Soft highlight | Light reduction effect | Soft highlight | No X cross/Light reduction effect | No X cross/Light reduction effect |
| Filter Material | Japanese AGC Glass | Japanese AGC Glass | Japanese AGC Glass | Japanese AGC Glass | Japanese AGC Glass |
| Multi-Coating | 28 layers | 28 layers | 28 layers | 28 layers | 28 layers |
| Waterproof | √ | √ | √ | √ | √ |
| scratch-resistant | √ | √ | √ | √ | √ |
| HD | √ | √ | √ | √ | √ |
| Transmittance | 0.84 | 0.001 | | ∕ | |
| Size | | 37mm | | 37mm | |
| Stops | | 3.0(10 Stops) | | 0.3 to 1.5(1 to 5 Stops) | 0.9 to 2.1(3 to 7 Stops) |
| Antireflection | | √ | | √ | |
| Filter Thickness | | 3.3mm | | 7.3mm | |
| Ring Material | | Aviation aluminum alloy | | Aviation aluminum alloy | |
All Reviews
Image

All Star

5 Star

4 Star

3 Star

2 Star

1 Star
Ottimo rapporto qualità prezzo
Ottimo rapporto qualità prezzo
23/01/2023
Mi dispiace che tu abbia tanta fretta di prenderne uno
È stato usato solo una volta. Non lo uso ogni volta
01/01/2023
Molto buona.
Ottima costruzione e definizione.
29/12/2022
Buono, ma troppo estremo per l'esterno
Un buon filtro che mantiene ciò che promette. Purtroppo l'ho comprato troppo tardi, sul sito del produttore costava per tanto tempo intorno ai 50€, ora tutto ad un tratto non costa più. Trovo l'effetto troppo estremo per gli scatti all'aperto, anche se ovviamente dipende sempre dalla scena e dal risultato desiderato. Ma puoi sicuramente consigliarlo.
26/12/2022
Ottimo rapporto qualità prezzo, molto pratico, nessuna dominante di colore
Ho il sistema magnetico K&F su tutti i miei obiettivi e, oltre al Black Mist, ho diversi filtri ND e CPL appropriati qui. Sono così maneggevoli, facilmente impilabili e la connessione è abbastanza forte da non dovermi preoccupare che uno di loro cada. L'effetto nebbia nera qui è molto ridotto e si nota solo con molta retroilluminazione. Molti filtri più economici hanno spesso una dominante di colore, ma non l'ho notato affatto con il K&F.

L'unico aspetto negativo è che con i miei obiettivi Sony, almeno i cappucci magnetici inclusi sono davvero difficili da rimuovere quando si ha il paraluce sull'obiettivo (in avanti o all'indietro). Un elemento aderente sulla parte anteriore del cappuccio avrebbe aiutato. Potrei stampare in 3D un supporto e incollarlo lì per ripararlo. Poiché i tappi non sono davvero il motivo principale per utilizzare un sistema di filtri magnetici, anche se do ancora 5 stelle, sarebbero stati un bel bonus se funzionassero bene, ma non sono davvero fondamentali per il prodotto.
23/12/2022
Ottimo filtro K&F Concept black mist
Ho comprato questo filtro per testarlo contro il marchio Tiffen Pro-Mist e non mi ha deluso. C'è un video su YouTube che confronta questi due filtri fianco a fianco e il K&F è sicuramente un concorrente. Il prezzo è onesto e mi è piaciuto, è arrivato anche in un bel contenitore. Non pagare troppo per il tiffen secondo me.
13/12/2022
effetto bagliore
Prima di tutto: ho già ordinato un paio di altri filtri da K&F Concept. Altrimenti sempre direttamente dal produttore.La consegna richiede sempre circa 14 giorni ma è più economica.Questa volta l'ho comprato qui perché c'era un'offerta qui su Amazon. Inoltre, la consegna richiede solo pochi giorni.Informazioni sul prodotto:Il filtro è confezionato in modo elegante e sicuro.L'effetto luminoso è particolarmente efficace di notte. Ciò conferisce alle immagini un aspetto cinematografico vintage
05/12/2022
grande effetto
Belli effetti, soprattutto per matrimoni e riprese di coppia. Con una lunghezza focale lunga userei quasi l'1/8. Le prestazioni di prezzo sono giuste.
03/12/2022
Funziona bene per il prezzo
Nessun reclamo. Le luci diffuse non sono travolgenti e sono divertenti da fotografare. Soddisfatto della qualità per il prezzo del prodotto.
02/12/2022
I was super impressed with this diffusion filter!
So I think a lot of folks involved in video product are very familiar with the Tiffen Black Pro Mist filters. This is K&F's version of that filter. I will go into what I think about the filter but you can also judge for yourself in one of the pictures in this review where I show you the same image; the first without the filter then with the filter.

One of the results you get with a filter of this type is blooming of the highlights. This filter does quite a good job of that. Comparing the bloom to the Tiffen line I would say it falls between Tiffen's 1/2 and 1/4 strength with it being closer to the 1/4. The highlight fall of was strong but natural in my opinion. Keep in mind the light in the image fills the frame so you are seeing this particular effect of this filter at it's most extreme. You won't see that much blooming in a more natural setting. Take a look at the highlights on the camera. To me the K&F filter had a great effect on the highlight roll off which was very smooth.

The other effect you get with a black mist filter is the slightly reduced contrast and the slight softening of the shadows. To me I thought this filter did this quite well. If you look at the texture on the handle of the camera in the image you can see how it's just sort of softened that texture. Imagine shooting a person and you can imagine how much you would be able to smooth out the skin.

It also comes in a nice little screw together plastic case. Inside the case are these little rubber stopper than prevent the filter from sliding around in the case. I love the attention to detail here.

So compared to the Tiffen version of this lens at the size I got which was 82mm the K&F Black Mist is about $40 cheaper. I think you are getting a lot of value for your money here. I can't wait to try out this filter on some upcoming shoots.

I think K&F is making a move into higher end filters and if this filter is an example of the kind of quality they can produce, I can't wait to see what filter they release next.
19/11/2022
A
devi guardare qual è il diametro del tuo obiettivo, di solito è scritto sia sulla scatola che sull'obiettivo stesso, all'interno vicino alla lente
Show more
Do You Know How Your K&F Concept Filters be Produced? | One-day Tour in Production Line
How to check your lens size
Gimbal Stabilizers
Reflectivity
0.2%
Filter
Series
Nano-X series
Recommended Scenes
Video Shooting/Potrait Photography
Function
Soft highlight
Filter Material
Japanese AGC Glass
Multi-Coating
28 layers
Waterproof
√
scratch-resistant
√
HD
√
Transmittance
0.84