K&F Concept 37mm Variable ND Filter ND8-ND128 (3-7 Stop) HD Hydrophobic VND Filter for Camera Lens No X Cross
Buy 99$-15$, 199$-30$, 299$-50$, 599$-120$(autumn sale Price)
Free shipping worldwide
Free Shipping. 30 Day No Reason Return. K&F CONCEPT XV39 37mm Variable ND8-ND128 Filter Nano Coated Made by german optical glasses, reduces the intake of light without affecting the overall color balance.

KF01.1443

SKU:

KF01.1443

40.99

https://www.kentfaith.com/KF01.1443_kf-xv39-37mm-variable-nd8-nd128-filter-nano-coated
Buy 99$-15$, 199$-30$, 299$-50$, 599$-120$(autumn sale Price)
Description
* 【Imported AGC Glass】Variable nd filter made by importing AGC glass, first-class filter material balancing the color batter, with no color cast and no effect for the image clarity and sharpness.
* 【Self-Lock Frame, No 'X' cross】Say goodbye to the "X" cross on images, K&F Concept utilizes cutting-edge technology to perfectly avoid the common "X" issue of variable nd filter on wide-angle and telephoto lenses.
* 【NANOTEC】K&F Concept optical engineers developed multi-layer nanometer coatings (total of 28), waterproof, scratch-resistant, and anti-glaring, protecting the valued lens and presenting high-quality photos.
* 【Ultra Slim Frame Avoid Vignetting】7.4mm Ultra-slim frame design utmost avoid the wide-angle vignetting (support 28mm focal length no vignetting). CNC-non-slip design helps install and remove the filter easily.
* 【NOTE】This filter kit is compatible with all 37mm lenses. Please verify your camera's lens thread size before ordering. The number is always preceded by a "ø" (diameter) symbol. For the 37mm nd filter, the lens cap/hood size should be 40.5mm.
Shipping
Free shipping worldwide
Sale
Buy 99$-15$, 199$-30$, 299$-50$, 599$-120$(autumn sale Price)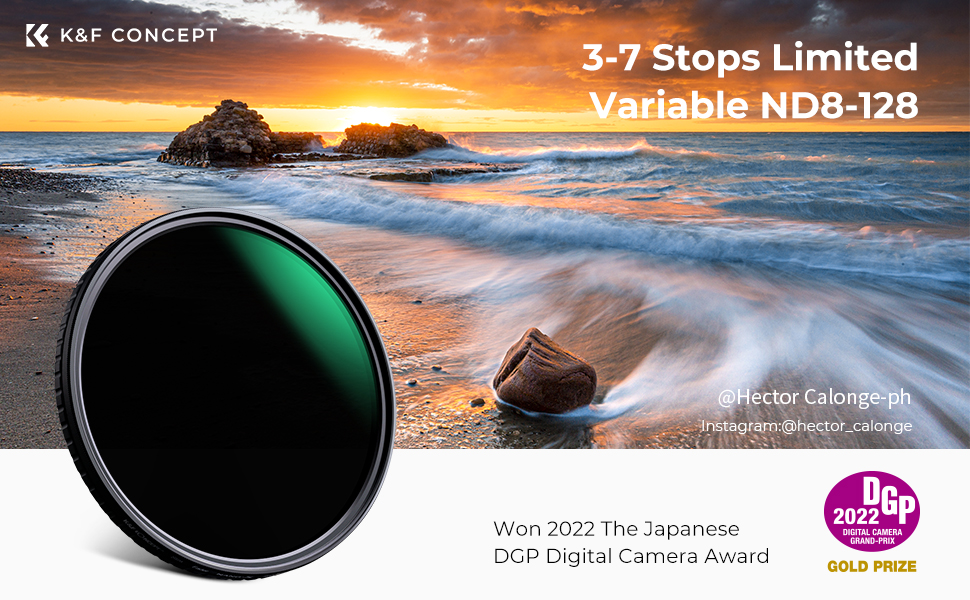 ND-------Extend exposure time. Try an ND, or neutral density, filter. ND filters reduce the amount of light entering the lens. This makes it easier to achieve effects such as a shallower depth of field or blurred motion.
• Neutral density can be adjusted from 3 to 7 stops(ND8/ND16/ND32/ND64/ND128), easy to create different neutral density by rotating the ring. • The front diameter is larger than the back diameter of this filter, which is specially designed to avoid vignetting at a wide-angle lens. • Allows the use of slow shutter speeds, with high-speed films or digital cameras, to record movement/image blur in subjects. • Decrease the depth of field by using wider apertures, which helps separate subjects from their background.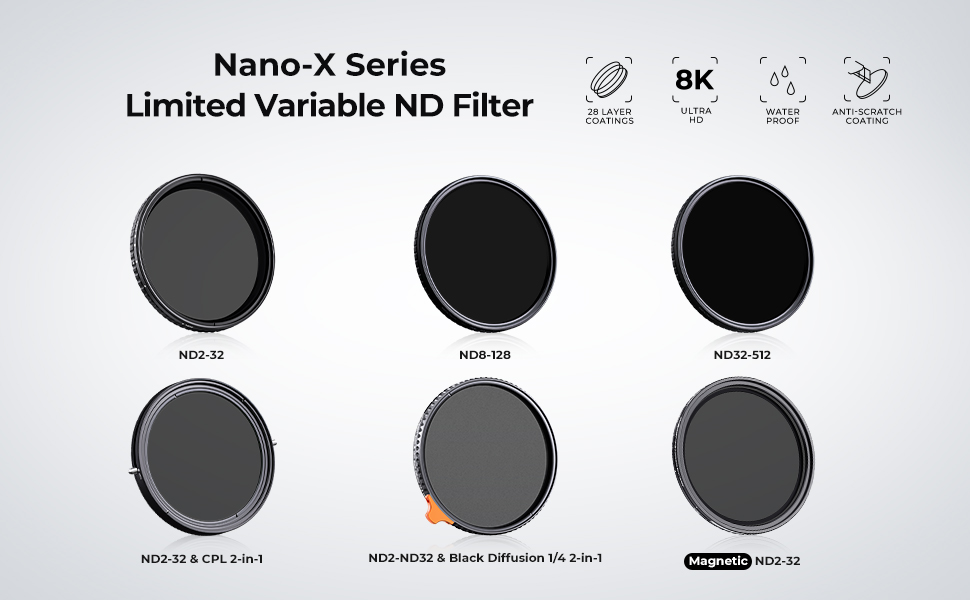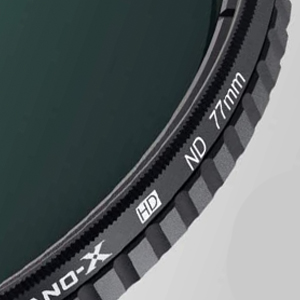 Double-Sided Multilayer Green Coating
Both sides of the filter with enhanced coating, effectively reducing the reflection that came from both the ground and filter itself, double-sided polishing technology balances the light well, ensuring image HD quality.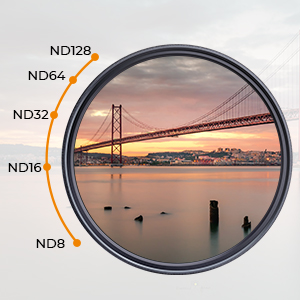 No "X" Cross on Images
K&F utilizes cutting-edge technology you're going to say goodbye to this common issue with wide-angle lenses and variable ND filters.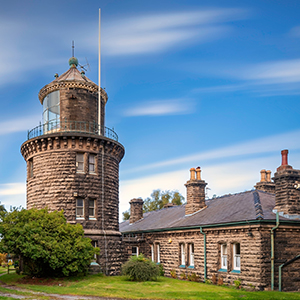 Hydrophobic& Scratch Resistant
In addition to state-of-the-art MRC, our optical engineers developed new nano-coating layer technology, called nanotech, from the ground up to repel dirt, water, and other elements by beading rather than absorbing and smearing. To withstand extreme wind, salt water, dust, and other abrasive conditions and elements.
Photos Taken by Photographer Around the World by Using K&F Concept ND8-ND128 Variable Neutral Density Filter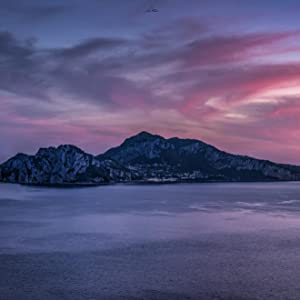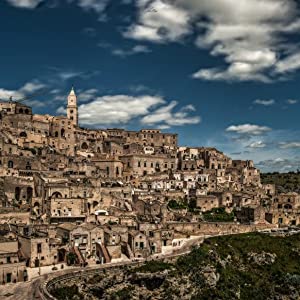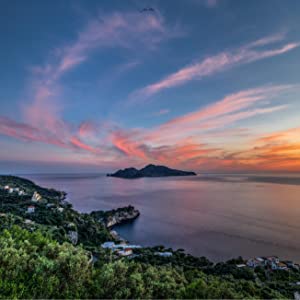 | | | |
| --- | --- | --- |
| | | |
| | | |
| | | |
| Rating | 34 reviews. | 31 reviews. |
| Price | $40.99 | $40.99 |
| Model | KF01.1443 | KF01.1162 |
| Reflectivity | 0.2% | 0.2% |
| Series | Nano-X series | Nano-X series |
| Recommended Scenes | Video Shooting/Landscape Photography | Video Shooting/Landscape Photography |
| Function | No X cross/Light reduction effect | No X cross/Light reduction effect |
| Stops | 0.9 to 2.1(3 to 7 Stops) | 0.3 to 1.5(1 to 5 Stops) |
| Filter Material | Japanese AGC Glass | Japanese AGC Glass |
| Multi-Coating | 28 layers | 28 layers |
| Waterproof | √ | √ |
| Scratch-resistant | √ | √ |
| HD | √ | √ |
| Size | | 37mm |
| Transmittance | | ∕ |
| Antireflection | | √ |
| Filter Thickness | | 7.3mm |
| Ring Material | | Aviation aluminum alloy |
All Reviews
Image

All Star

5 Star

4 Star

3 Star

2 Star

1 Star
Great Value
The item appears to be very well made and is nicely packaged. Having only recently acquired the filter, I haven't yet fully put it through its paces in all conditions. However, so far so very good. I haven't noticed any detrimental effects on image quality - no colour cast or X marks that afflict some other similar filters. It's just what I wanted and at a good price.
23/03/2023
Does the job
Always satisfied with KnF products. Nicely built with a very solid and long lasting feeling.
22/03/2023
Fantastic filters
82mm used on Nikon 24-70 F2.8, now have the 77mm for 70-200 F2.8, may try a 52mm to see if it will fit a 300mm F2.8 drop in, allowed me to shoot the Lancaster on a bright day at F6.3 (sweet spot) iso64 at 1/6th second to obtain perfect full discsCracking filter fully recommend
19/03/2023
This is going to provide my photos with more emphasis
This ND filter maintains the sharpness of the image to an acceptable level, in my humble opinion. There is some colour cast and vignetting, which can be adjusted in post, so it's not that big an issue. The build quality is decent, and it's very easy to clean.The ND8-ND128 is a good range that is suitable for most conditions, both for photography and videography. If you're trying to take long exposure shots in very bright sunlight, you will definitely need an ND filter with at least 10 stops (ND1000 or more).Overall, I'm satisfied with the purchase. It's definitely worth the money.
19/03/2023
Really good quality and prize
I can highly recommend this article. The delivery was really fast. The first view was nice, because it looks quite strong and it feels that I will not break so fast. Which is good because I take most of my picture while I am hiking.

This filter is really good also for filming and long exposures, so I don't have to change filters. I can use this one for many different situations. The prize is also really good and in the postproduction I saw no problem while I was editing in lightroom.

So if you want to have a good filter which is not to expensive then this is a good is good choice!
16/03/2023
This is a well made filter that fits and works very well, excellent value for money as w
This is a well made filter that fits and works very well, excellent value for money as w
16/03/2023
Great value
I wanted to try some daytime long exposure photography and didn't want to spend a fortune. Really happy with the build quality and - more importantly- the quality of the images.
12/03/2023
Right choice
I am using it since a year and I very happy
09/03/2023
amazing variable ND filter
well worth the money. quickly delivered... pair this with a set of step down rings to cover all of your lenses, and you have the perfect enthusiast nd filter set up...
03/03/2023
Best ND filter for tight budgets
I've tested some cheap variable ND filters and this one is by far the best for this really small price. The main feature is that this filter really does not deliver any cross image errors, unfortunately this is a problem that all cheap filters have but the one from K&F delivers a flawless image! The color shift is also only minimal and provides decent sharpness! I use this filter on a BMPCC 6K to shoot in daylight with the aperture completely open. If you can't spend more than 100 € on a good filter, this is pretty good for you.
28/02/2023
Do You Know How Your K&F Concept Filters be Produced? | One-day Tour in Production Line
How to check your lens size
Filter
Reflectivity
0.2%
Series
Nano-X series
Recommended Scenes
Video Shooting/Landscape Photography
Function
No X cross/Light reduction effect
Stops
0.9 to 2.1(3 to 7 Stops)
Filter Material
Japanese AGC Glass
Multi-Coating
28 layers
Waterproof
√
Scratch-resistant
√
HD
√