XC15 37mm CPL Filter 28 Layer Super Slim Circular Polarizing Filter Multi-coated Polarized MRC Filter NANO-X Series
Terms
Coupon Terms
Terms and Conditions:
Coupons are valid for a limited time only. Kentfaith reserves the right to modify or cancel coupons at any time.
You must purchase the qualifying items added to your Cart when the coupon is in effect for the discount to apply.
If you later modify or cancel the subscription or delivery date for the qualifying item, the discount will not apply.
The coupon applies only to qualifying items displaying the coupon offer.
If you buy more than one item from the same coupon, the maximum discount amount of the coupon will be equal to either the percentage discount off or the face value of the coupon on one eligible item. The coupon may only be used on www.kentfaith.com.
The promotion is limited to one coupon per customer.
If you return any of the items purchased with a coupon, the coupon discount or value may be subtracted from the return credit.
To
United States
Expedited Shipping
3-5
business days
Free Shipping. 30 Day No Reason Return. K&F CONCEPT XC15 37mm CPL Filter 28 Layer Super Slim Circular Polarizing Filter Multi-coated Polarized MRC Filter NANO-X Series

KF01.988

SKU:

KF01.988

29.99

https://www.kentfaith.com/KF01.988_37mm-circular-polarizers-filter-k-amp-f-concept-37mm-circular-polarizer-filter-hd-18-layer-super-slim-multi-coated-cpl-lens-filter
Description
* 【Premium Quality Glass】The Polarizing Filter is made of the best Japanese optical glass with almost zero light distortion. Featured with top level of filter function, effectively eliminate harmful reflective light.
* 【Double Coated】Adopted 28-Layer multi-resistant double coating technology, the green coating helps effectively reduce filter surface reflection and the ghosting while making the filter anti-scratch, water repellent, oil and dust resistant.
* 【Circular Polarising 】Effectively filter out harmful reflections on non-metallic surfaces such as water and glass, Rotate the filter to achieve the correct amount of filtration required. With CPL,you can make the sky bluer, the leaves greener, reduce or eliminate reflections, and the final image is clearer.
* 【Ultra Slim and Lightweight】Super slim and lightweight aluminum frame, maximum reduce impact on light and effectively avoid dark corner for wide-angle shooting.
* 【For all 37mm Lens】Compatible with all the major lens brands such as Canon, Nikon, Sony, Fuji, Leica, Panasonic and any other brands which have a 37mm diameter thread.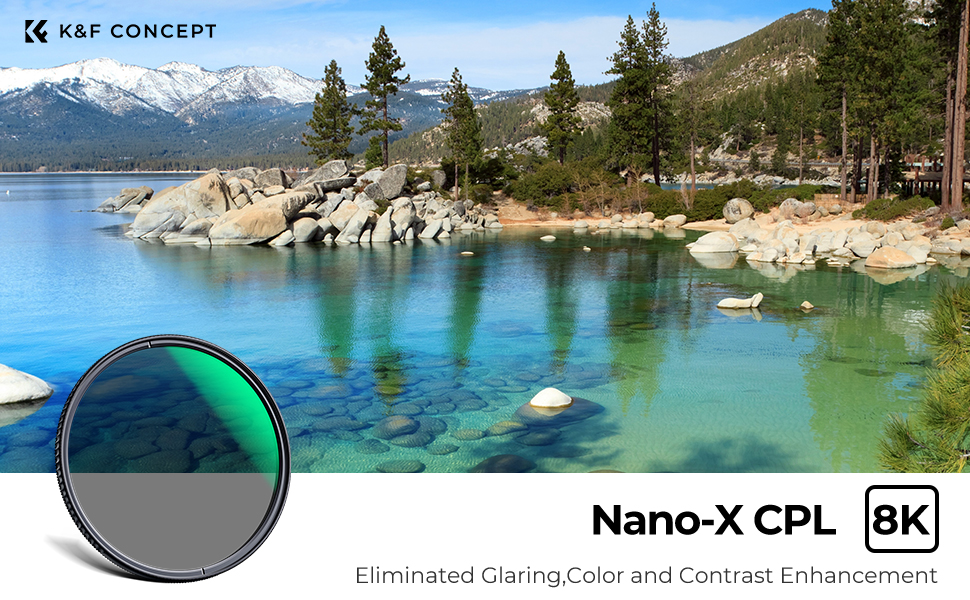 K&F Concept Nano-X Sereis Circular Polarizers Filter with 28 Multi-Layer Coatings for Camera Lens
• Polarizers provide color and contrast enhancement. Reflected light often shows up as a whitish glare that washes out color in an image. A Polarizer filter corrects this problem by producing deep, dramatically blue skies. It also removes glare from non-metallic surfaces, such as windows and water. Color saturation in general, especially outdoors, can be improved significantly. Think of it as sunglasses for your camera.
• A Circular Polarizer has the same effect as a Polarizer and is used on cameras with beam splitting metering systems commonly found on autofocus SLRs (for most 35mm auto-focus cameras see your camera manual).
• Area of sky most effectively polarized with a Circular Polarizer: Point your index finger at the sun. With your thumb extended at a right angle (90°), rotate it around the axis of the index finger. It will point out the band of deepest blue from horizon to horizon.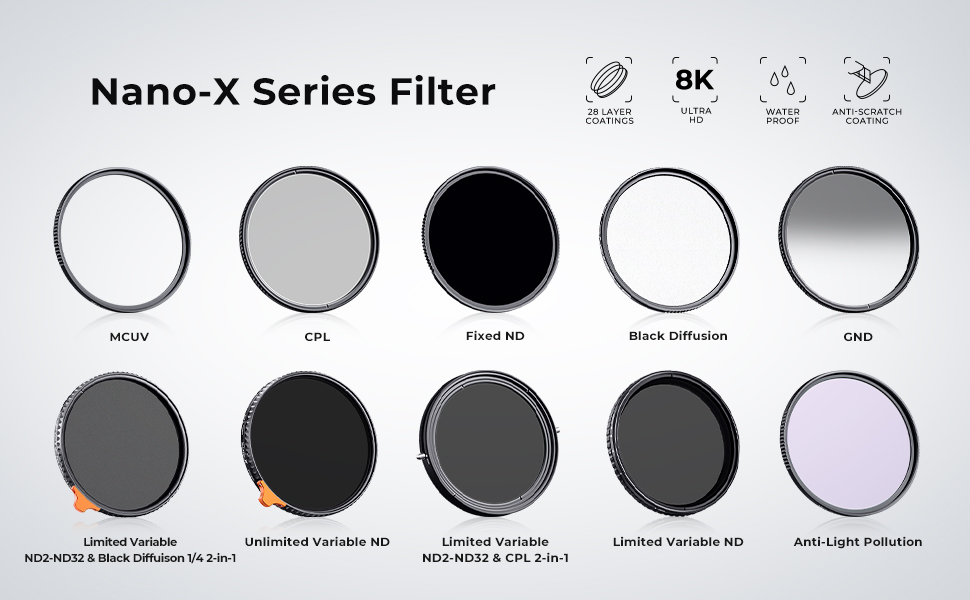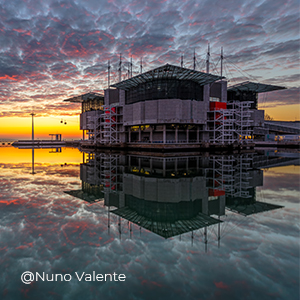 Filter function
• Polarizers provide color and contrast enhancement. Especially outdoors can be improved significantly. Think of it as sunglasses for your camera
• It also removes glare from non-metallic surfaces, such as windows and water. Often used on white clouds and blue sky photography.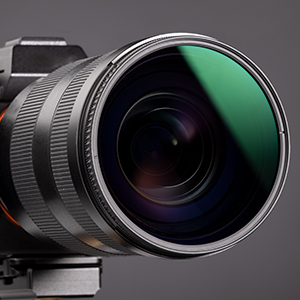 Digital Multi-Layer Coatings
• The K&F Polarizers Filter has 28 multi-layer of (MRC) helping repel water, dust, oil, and scratch resistance while also preventing ghosting.
Imported AGC Glass
• These filters are equipped with multi-layer nanometer coatings glass to reduce the chance of light reflecting off the edge.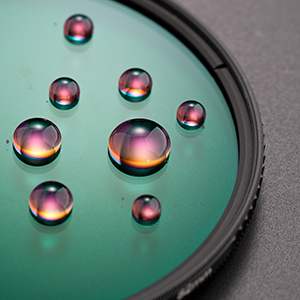 Low Profile Frame
• Ultra-thin filter frames to help avoid vignetting on super wide-angle lenses are also designed to hold a lens cap.
CNC-Non-Slip Edge Frame
• These filters are equipped with a straight knurling edge for non-slip, easy attachment, and removal.
NOTE: This filter is compatible with all same size lenses ONLY. Please verify your camera's lens thread size before ordering. This number is always preceded by a "∅ "(diameter) symbol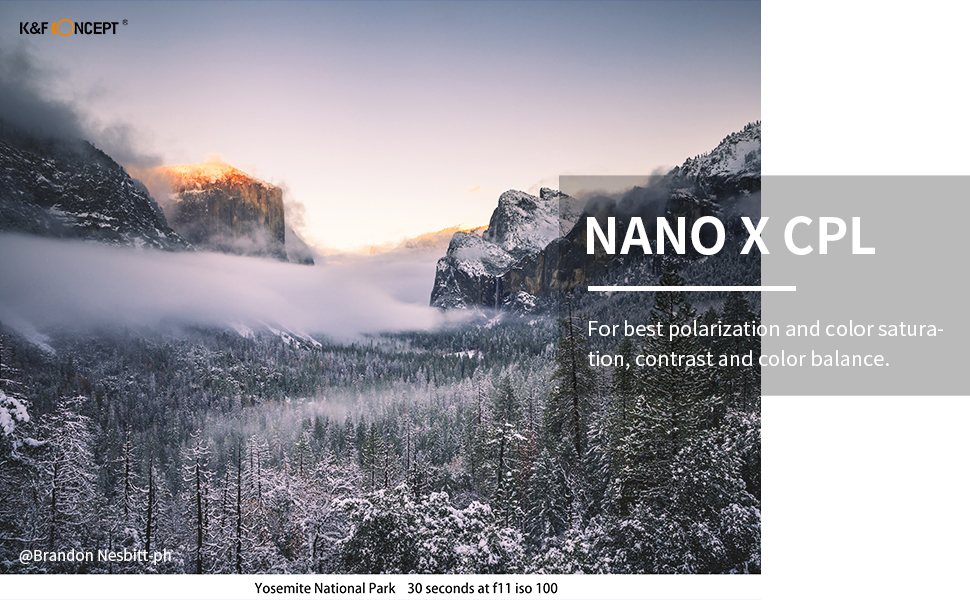 Rating

112 reviews.

42 reviews.

58 reviews.

123 reviews.
Price

$32.99

$29.99

$22.99
$21.99
$26.99
Model
KF01.988
KF01.979
KF01.997
KF01.1620

Reflectivity

0.2%
0.2%
0.2%
0.2%

Size

37mm
37mm
37mm

Series

Nano-X series
Nano-X series
Nano-X series
Nano-X series

Recommended Scenes

Landscape Photography
All Scenes
Landscape Photography
Video Shooting/Potrait Photography

Function

Eliminate stray light/ Color contrast enhancement
Protect Lens/Absorb UV Ray
Light reduction effect
Soft highlight

Filter Material

Japanese AGC Glass
Japanese AGC Glass
Japanese AGC Glass
Japanese AGC Glass

Multi-Coating

28 layers
28 layers
28 layers
28 layers

Waterproof

√
√
√
√

scratch-resistant

√
√
√
√

HD

√
√
√
√

Transmittance

∕
0.995
0.001
0.84

Antireflection

√
√
√

Filter Thickness

5.5mm
3.3mm
3.3mm

Ring Material

Aviation aluminum alloy
Aviation aluminum alloy
Aviation aluminum alloy

Stops

3.0(10 Stops)
All Reviews
Image

All Star

5 Star

4 Star

3 Star

2 Star

1 Star
Sorprendente la calidad de polarización y los tres pasos ND para aprender es ideal los dos en uno
good
14/05/2023
High Quality build at great price
Great build quality and image result. When putting on, twist slowlyuntil is stops, does not need to be forced closed as it can get stuck, this is not a quality problem at all in my eye would buy again.
08/05/2023
Value for money
Good filter to achieve good exposure of a photograph, thread that goes to the camera+rotating filter
06/05/2023
Super affordable
I got the 2-in-1 ND/black mist filter for my wife angle, quite pleased with it, I purchased this one for my 70-200mm, very affordable
03/05/2023
Enhancing color on Nikon Lenses
Just received this 77mm Circular Polarizers Filter to replace one I lost last year. Use this filter
for all my outdoor shots on deer, landscapes, Geese, etc., on a Nikon 18-105 Nikor lense.
So far very satisfied with results.
02/05/2023
Great filter but hard to remove
This is an awesome filter but sometimes its hard to remove off my sony a7II it seems to get too tight even though you try to keep it as loose as possible
30/04/2023
There are no faqs for this product.
K&F XC15 37mm CPL Filter 18 Layer Super Slim Multi Coated
How to check your lens size
How to remove CPL filter from a lens(US)
Gimbal Stabilizers
Reflectivity
0.2%
Filter
Size
37mm
Series
Nano-X series
Recommended Scenes
Landscape Photography
Function
Eliminate stray light/ Color contrast enhancement
Filter Material
Japanese AGC Glass
Multi-Coating
28 layers
Waterproof
√
scratch-resistant
√
HD
√
Transmittance
∕
Antireflection
√
Pattern
√
Filter Thickness
5.5mm
Shape
Circle
Ring Material
Aviation aluminum alloy