XV37 37mm Fader ND2-ND32 (1-5 Stop) Variable ND Lens Filter Neutral Density Filter for Camera Lens NO X Spot, Nanotec, Ultra-Slim, Weather-Sealed
Buy 2 get 5% off, Buy 3 get 10% off, buy 6 get 20% off
Free shipping to eligible country
Free Shipping. 30 Day No Reason Return. K&F ND2~ND32 lens filters feature Professional Optical Glasses, No "X" cross on images, advanced NANOTEC coating, Professional Design.

KF01.1162

SKU:

KF01.1162

37.99

https://www.kentfaith.com/KF01.1162_k-amp-f-concept-37mm-fader-nd-filter-neutral-density-variable-filter-nd2-to-nd32-for-camera-lens-no-x-spot-nanotec-ultra-slim-weather-sealed
Description
* 【Material】 ND Filter: Made by Completed Professional Optical Glasses instead of Optical Resin. filter reduces the intake of light without affecting the overall color balance.For this 37mm ND filter,the lens cap/hood should be 40.5mm. Because of the update of the product's package, the new and the old version will be sent randomly.
* 【No "X" cross on images】Say goodbye to the "X" cross on images, K&F utilize cutting edge technology you're going to say goodbye to this common issue with wide angle lenses and variable ND filters.
* 【NANOTEC】Our optical engineers developed new Nano coating layer technology, Waterproof, scratch-resistant, anti-reflective green coating, effectively prevent from oil, fingerprint, scratch, protect valued lens.
* 【Professional Design】Ultra slim rim design preventing wide angle vignetting. Extra tough aviation aluminum frame ensuring durability and jamming prevention.
* 【NOTE】This Filter kit is compatible with all 37mm lenses. Please verify your camera's lens thread size(usually marked somewhere on the lens barrel or printed underneath the lens cap) before ordering. The number is always preceded by a "ø" (diameter) symbol.
Shipping
Free shipping to eligible country
Sale
Buy 2 get 5% off, Buy 3 get 10% off, buy 6 get 20% off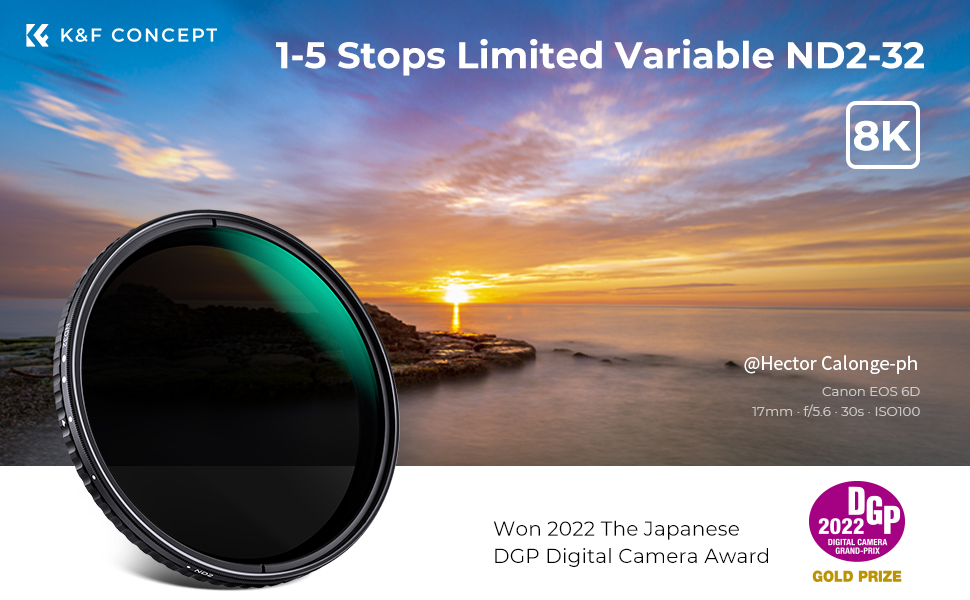 ND-------Extend exposure time. Try an ND or neutral density filter. ND filters reduce the amount of light entering the lens. This makes it easier to achieve effects such as a shallower depth of field or blurred motion.
• The neutral density filter can be adjusted from 1 to 5 stops, easy to create different light reduction effects by rotating the ring.
• The front diameter is larger than the back diameter of this filter, which is specially designed to avoid vignetting at a wide-angle lens.
• Allows the use of slow shutter speeds, with high-speed films or digital cameras, to record movement/image blur in subjects.
• Decrease the depth of field by using wider apertures, which helps separate subjects from their background.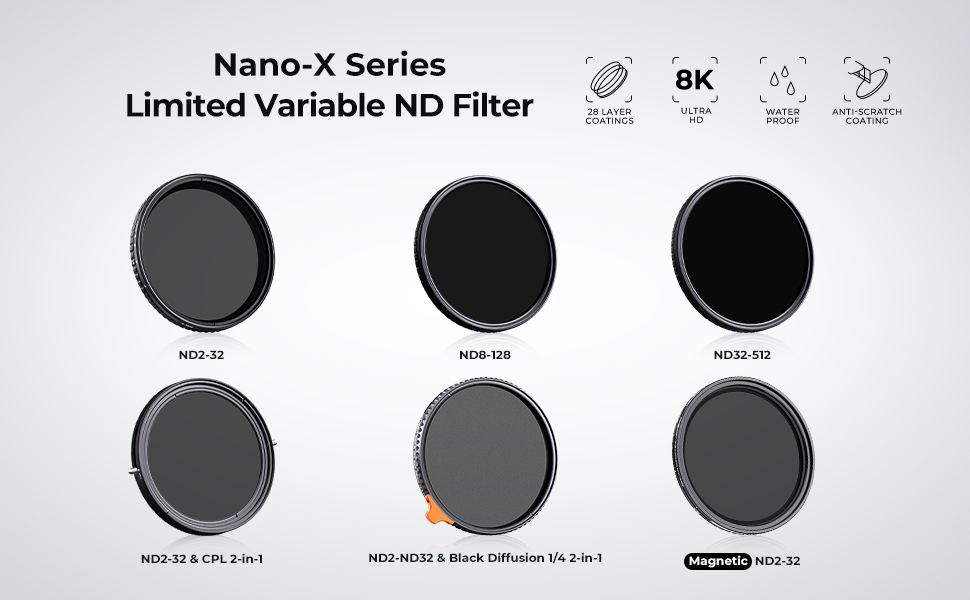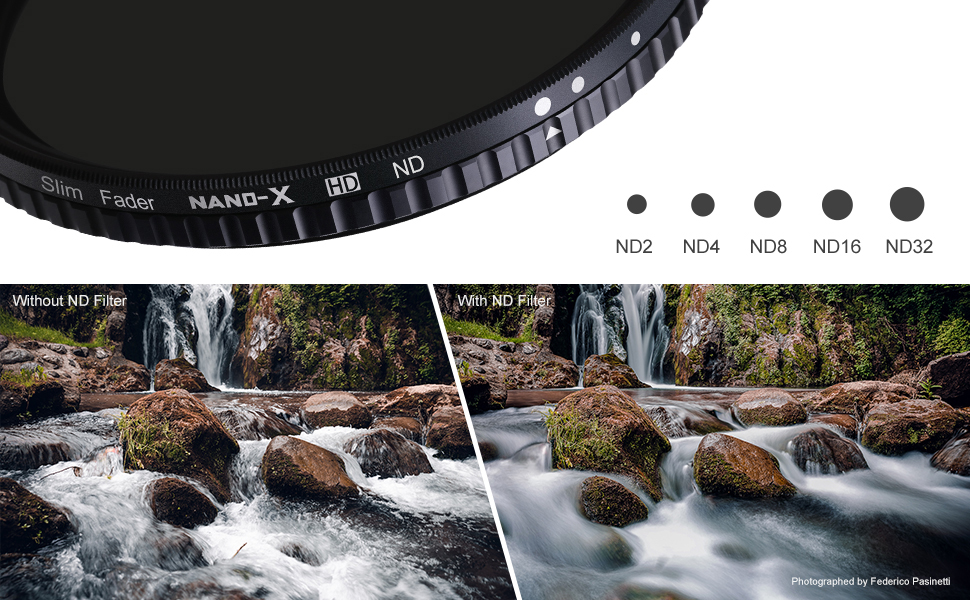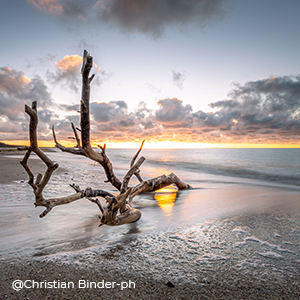 28 Multi -Layer Nanometer Coatings
In addition to state-of-the-art MRC, our optical engineers developed new nano-coating layer technology, called nanotech, from the ground up to repel dirt, water, and other elements by beading rather than absorbing and smearing. To withstand extreme wind, saltwater, dust, and other abrasive conditions and elements.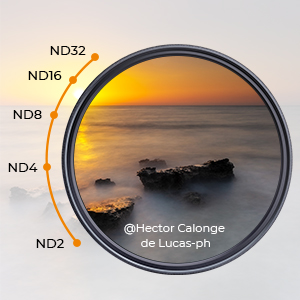 No "X" Cross on Images
K&F utilizes cutting-edge technology you're going to say goodbye to this common issue with wide-angle lenses and variable ND filters.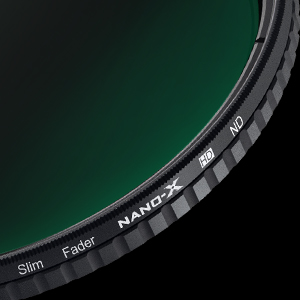 Hydrophobic & Scratch Resistant
The ND filters are made with premium Japan AGC optical glass, which could resist scratch, protecting your camera lens well.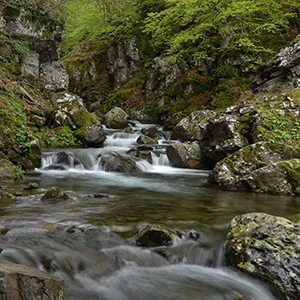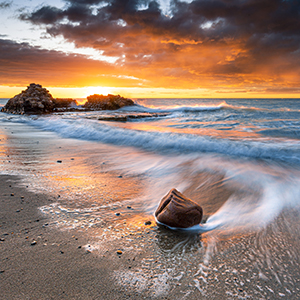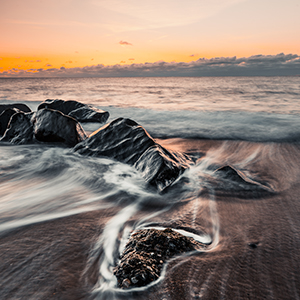 | | | |
| --- | --- | --- |
| | | |
| | | |
| | | |
| Rating | 28 reviews. | 23 reviews. |
| Price | $37.99 | $41.99 |
| Model | KF01.1162 | KF01.1443 |
| Reflectivity | 0.2% | 0.2% |
| Size | 37mm | |
| Series | Nano-X series | Nano-X series |
| Recommended Scenes | Video Shooting/Landscape Photography | Video Shooting/Landscape Photography |
| Function | No X cross/Light reduction effect | No X cross/Light reduction effect |
| Stops | 0.3 to 1.5(1 to 5 Stops) | 0.9 to 2.1(3 to 7 Stops) |
| Filter Material | Japanese AGC Glass | Japanese AGC Glass |
| Multi-Coating | 28 layers | 28 layers |
| Waterproof | √ | √ |
| scratch-resistant | √ | √ |
| HD | √ | √ |
| Transmittance | ∕ | |
| Antireflection | √ | |
| Filter Thickness | 7.3mm | |
| Ring Material | Aviation aluminum alloy | |
Overall very good quality for the price!
Product: 58mm Variable ND2-ND32

Description: The rim of the filter is made out of what I'd assume is aluminum, coated matte black, (which has a nice weight to it, and has hard stops at ND2 & ND32). The rim itself is actually fairly nice. It's easy to put on, and easy to take off due to the wide ridged design around the base of the filter. The high index optical glass is indeed nano coated to protect against water/oils from fingerprints, rain, & etc. Which are easily removed without struggle in my testing with a clean micro fiber cloth (not included). The glass itself has a slight yellow tint to it (which you can see from the photo comparison), which can also easily be corrected through your cameras auto white balance, or lightroom. The filter also doesn't loose to much detail if adjusted properly which is nice as you will see from the photos, and their description in the next section.

Photos: The first four photos of the product were taken without any filters. Though the next two of the black & red mouse pad were to show detail comparisons. These two photos were taken about 1-2ft away, but are cropped to show detail. Which were slighty adjusted to be as equal as possible.
Without the filter: F4.0 1/15s. ISO 400
ND32: F4.0 1s ISO 400

The next 6 photos of the flowers next to the bird bath were taken without adjusting any settings to show the darkness of the filter (F5.6 1/320s ISO 100), in this order: No Filter, ND2 1st, 2nd, 3rd, 4th, & ND32 5th stop.

Overall: The produce works well, and is well made! I would highly recommend picking one of these up, along with a circular polarizer. Though only notable things I found with the product is that it has a slight yellow tint of the filter, the front thread size of the filter in bigger then 58mm, and the top of the filter very slightly wiggles. Otherwise it gets a solid A from me!

Extra: I used a 49mm-58mm step up ring for the filter to fit my Canon 50mm F/1.8

Camera/Settings: Shot on a Canon Rebel SL3, with custom white balance settings set to +/-0,+/-0 for raw color quality.
26/05/2020
Must buy ND Filter for Video!
I use the anamorphic lens by Moment and FilmicPro to make movies using my iPhone. The 62mm K&F filter is very important to get that filmic look when I am shooting at 24fps. I have tried cheaper ND filters but they had vignetting and poor image quality. With the K&F filter the clarity is great and the build quality is solid and durable. The included case firmly holds the filter. This ND filter is a great value and much better than the other lesser ND filters I have tried. I have included photos with the same camera settings without any filter, with a cheap filter and with the K&F filter. I also included a photo of the setup I use. This filter pairs perfectly with the moment 62mm filter mount. It is a game changer for anamorphic video especially when filming outside. I could not be happier with the K&F ND filter. It is superb quality and value! I totally recommend it!
07/11/2020
I love this for video work!
I shoot with the Fujifillm X-T3 which arguably is the best video camera under $3000. However it lacked the variable ND filters that you would find built in to more professional video camera. I needed some more motion blur and lower my exposure when shooting video and this does it amazingly without any noticeable loss of details and colors. For the price this is a very valuable tool in my arsenal. The build quality is really nice with an all metal construction. The ring itself is smooth and allows for a nice variable exposure change. I really dig this ND filter and I think anyone should take a look at this since the image it produces are pretty clean.
18/08/2021
Works great for video work.
I have a Sony A7III with a couple of the Tamron lenses they recently release, 67mm thread on both. I used the ND for the first time on a shoot in broad daylight mid-day and loved the results. Best part is being able to dial in very easily the amount of stops I need to make the zebras go away. Smooth operation and sturdy construction. The only negative is that the lens hoods no longer fit once the ND is on. Not a deal-breaker but be aware.

EDIT: Also took it along for a trip to Lake Tahoe and it came in very handy for those longer exposures and to get more contrast out of the sky. Awesome and so easy to use!
20/05/2020
Sharp, no streaks, easy to use, and well made!
I enjoy this filter! I have it on a 24-105 lens that I have pretty much started using exclusively except for a couple of other lenses here and there. I used to shoot all the time with a Sony FS5, and its ND filters were pretty much on this level. The first screenshot is color graded somewhat, and the other screenshot is not graded and from a different camera. I don't think you should compare the two. The important thing for me is to show the versatility you get with your images.
23/09/2019
Man Oh Man`
I love this filter great for Photo & video.
But at 10mm on my 80D Crop sensor it casts a shadow above.
if I zoom in a bit like 14mm it goes away.

NO X, No Color cast. Great Filter... As Advertised. and Great Build...
24/08/2021
This product is very versatile.
1. If you throw this on your camera it makes your smaller flashes very powerful.
2. I used it for a 30 second exposure at the maximum ND and did find the x was in the image..I used live view and adjusted the shadow to add more depth to the image above where the darker "X" spot existed on the maximum darkness.
3. i will buy from them all the agin..the quality of this tool for me as a professional photographer is perfect. It evens come with alit circular case to tuck into your pocket when it's not needed.
4. It's also brilliant on the lens when using your DSLR for video work! It so much easier to spin the filter to adjust for the exposure instead of messing with your F stop or shutter speed.

Bottom Line..this thing is useful and what a bargain.

I've used very expensive Neutral Density filters in the past and this is better than those.
30 second long exposures at Noon are so much fun..buy this and go play! It's a lot of fun to use.
07/09/2019
Very nice glass
I was skeptical to buy any filters since I have very expensive glass but this is very impressive!! For the nerds out there, at sunset I can shoot at 1/160 and get the colorful clouds no problem
30/06/2021
Fantastic Quality & Build
I am so glad I bought this filter. I have a Sony a6300 that I have owned for about three years. I never dropped it until I got my K&F filter. Since then, I have dropped it on hard concrete and thank God I had my K&F filter on it. I have a $400 Sigma lens and it protected it. There are only tiny dings in the filter. BTW - the ND is fantastic. I really love the quality and strength of this filter. Fantastic filter and well worth buying many more in the future for me.
16/05/2021
Using on a Canon M6 with a 16mm Sigma 1.4
I haven't noticed any vignetting or X's in my images or videos. Seems like really good quality and love the flexibility of having multiple ND stops in one lens filter. Glad I bought it.
19/02/2021
These images belong to KENTFAITH end users.
How to check your lens size
K&F Concept Variable ND Filter | ND2-ND32
Filter
Reflectivity
0.2%
Size
37mm
Series
Nano-X series
Recommended Scenes
Video Shooting/Landscape Photography
Function
No X cross/Light reduction effect
Stops
0.3 to 1.5(1 to 5 Stops)
Filter Material
Japanese AGC Glass
Multi-Coating
28 layers
Waterproof
√
scratch-resistant
√
HD
√
Transmittance
∕
Antireflection
√
Pattern
√
Filter Thickness
7.3mm
Shape
Circle
Ring Material
Aviation aluminum alloy