40.5mm Fader ND2-ND32 (1-5 Stop) Variable ND Lens Filter Neutral Density Filter for Camera Lens NO X Spot Nanotec Ultra-Slim Weather-Sealed
Buy 99$-15$, 199$-30$, 299$-50$, 599$-120$(autumn sale Price)
Free shipping worldwide
Free Shipping. 30 Day No Reason Return. K&F ND2~ND32 lens filters feature Professional Optical Glasses, No "X" cross on images, advanced NANOTEC coating, Professional Design.

KF01.1163

SKU:

KF01.1163

39.99

https://www.kentfaith.com/KF01.1163_k-amp-f-concept-40-5mm-fader-nd-filter-neutral-density-variable-filter-nd2-to-nd32-for-camera-lens-no-x-spot-nanotec-ultra-slim-weather-sealed
Buy 99$-15$, 199$-30$, 299$-50$, 599$-120$(autumn sale Price)
Description
* 【Material】 ND Filter: Made by Completed Professional Optical Glasses instead of Optical Resin. filter reduces the intake of light without affecting the overall color balance.For this 40.5mm ND filter,the lens cap/hood should be 43mm. Because of the update of the product's package, the new and the old version will be sent randomly.
* 【No "X" cross on images】Say goodbye to the "X" cross on images, K&F utilize cutting edge technology you're going to say goodbye to this common issue with wide angle lenses and variable ND filters.
* 【NANOTEC】Our optical engineers developed new Nano coating layer technology, Waterproof, scratch-resistant, anti-reflective green coating, effectively prevent from oil, fingerprint, scratch, protect valued lens.
* 【Professional Design】Ultra slim rim design preventing wide angle vignetting. Extra tough aviation aluminum frame ensuring durability and jamming prevention.
* 【NOTE】This Filter kit is compatible with all 40.5mm lenses. Please verify your camera's lens thread size(usually marked somewhere on the lens barrel or printed underneath the lens cap) before ordering. The number is always preceded by a "ø" (diameter) symbol.
Shipping
Free shipping worldwide
Sale
Buy 99$-15$, 199$-30$, 299$-50$, 599$-120$(autumn sale Price)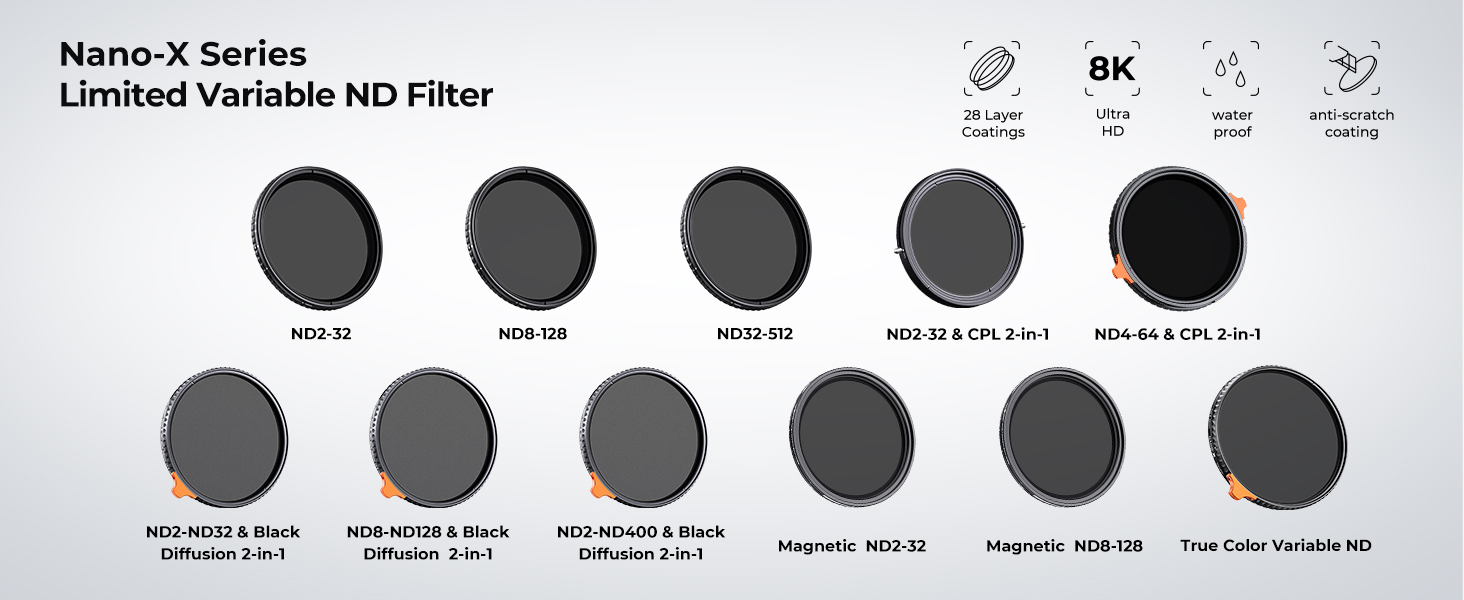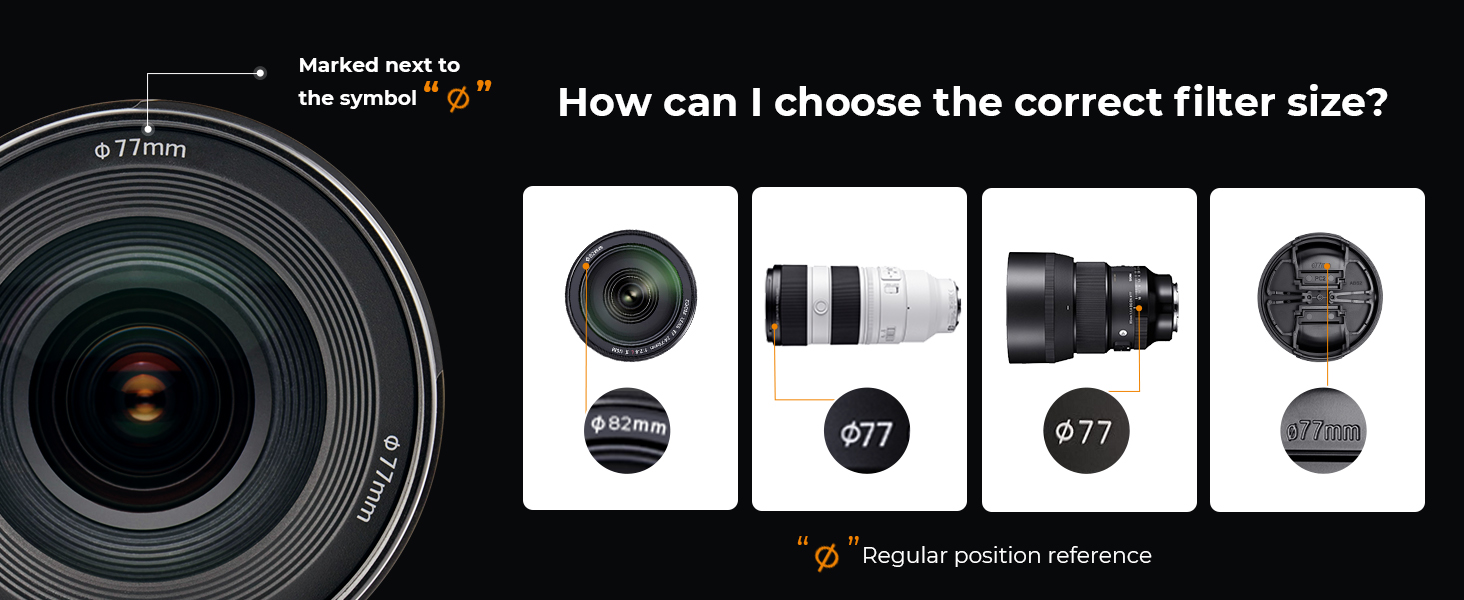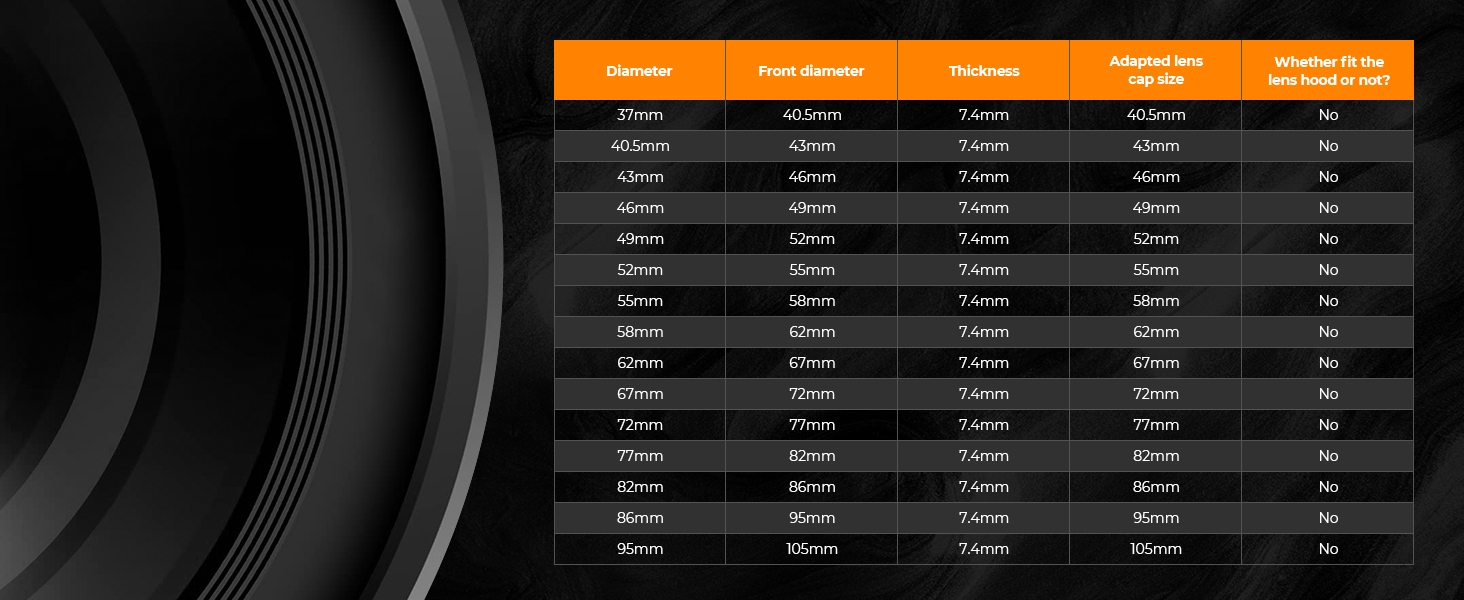 | | | |
| --- | --- | --- |
| | | |
| | | |
| | | |
| Rating | 32 reviews. | 32 reviews. |
| Price | $39.99 | $40.99 |
| Model | KF01.1163 | KF01.1444 |
| Reflectivity | 0.2% | 0.2% |
| Size | 40.5mm | 40.5mm |
| Series | Nano-X series | Nano-X series |
| Recommended Scenes | Video Shooting/Landscape Photography | Video Shooting/Landscape Photography |
| Function | No X cross/Light reduction effect | No X cross/Light reduction effect |
| Stops | 0.3 to 1.5(1 to 5 Stops) | 0.9 to 2.1(3 to 7 Stops) |
| Filter Material | Japanese AGC Glass | Japanese AGC Glass |
| Multi-Coating | 28 layers | 28 layers |
| Waterproof | √ | √ |
| Scratch-resistant | √ | √ |
| HD | √ | √ |
| Transmittance | ∕ | ∕ |
| Antireflection | √ | √ |
| Filter Thickness | 7.3mm | 7.3mm |
| Ring Material | Aviation aluminum alloy | Aviation aluminum alloy |
All Reviews
Image

All Star

5 Star

4 Star

3 Star

2 Star

1 Star
Great Value and Quality
Package arrived in just 4 days! Owned a couple of K&F's (ND 8 -128 and one fixed). All of them work great. Best result is between the ends. Don't push to max, just a wee lower. Works great for my a6400 and Sony 18-105 and Sigmas f1.4's
15/09/2022
Great, but how do you clean inbetween the glass?
I really like this filter. I've been using since November and have had pretty good luck. I can stop down and get some great shots. I was using the filter today and noticed that it's dirty in-between the 2 filter glass. Is there any way to separate the piece without breaking it to clean that? That's the only issue I have. Would love to know. Otherwise, great product. Love it! Thanks.
09/09/2022
Can use it with lens hood (Nikon Z 24-70 f/4 S)
I'm really happy that this filter can be screwed onto my Nikkor Z 24-70 f/4 S with the lens hood in place. Obviously I need to reach into the lens hood to adjust the filter, but that's ok. No vignetting that I can see.
The filter works great, nice smooth action and a great range of density.
04/09/2022
Extended warranty
I just received my ND filter today. Excited to get going with it.
04/09/2022
Received with the coating scratched.
The lens works as intended but I received it with the lens coating scratched. The package was undamaged so I'm guessing it's just poor quality control.. I haven't been able to use it for a gig but I tested it for vignetting and it's good as far as that goes.
01/09/2022
Excellent filter!
I use this for outdoor event videos photos, as well as landscape photos. I do wish I got the one with CPL, but I guess this is better for videography. No issues!
01/09/2022
This is Lit! Or is it Dark?
The way I use this filter is by combining it with a fast lens like the sigma 18-35mm f1.8 art. I use this filter in combination with the fast apertures to blur out the backgrounds in broad daylight without letting too much light into the picture. If I want to make it lighter or darker all I have to do is turn a ring at the edge of the filter.

The only thing that gets me is when I turn it too much and it ends up unscrewing the whole filter out of the threading a little bit. But that's not a bad thing, its just a part of the experience.

I bought it 8 months ago. This has been, thus far, an excellent purchase.
28/08/2022
Great optical quality
Easy to use and superb optical quality. I bought a larger size than I needed and a step up ring do I just needed to buy one that would cover up to my largest lens.
28/08/2022
Quality materials
It's a really well built nd filter. I bought it for video and it seems to be working perfect. There is a slight green tone to it but other than that I highly recommend this product
28/08/2022
Buy the largest one
If you look through your lens collection buy the size that fits your largest lens filter size. All you have to do after that is buy some step down rings to make it fit any lens smaller than your largest. This should also keep your wide angle lenses from getting cropped by the filter. The filter itself is awesome. Easy to turn from 2-32. Very easy to use.
25/08/2022
These images belong to KENTFAITH end users.
Do You Know How Your K&F Concept Filters be Produced? | One-day Tour in Production Line
How to check your lens size
K&F Concept Variable ND Filter | ND2-ND32
Filter
Reflectivity
0.2%
Size
40.5mm
Series
Nano-X series
Recommended Scenes
Video Shooting/Landscape Photography
Function
No X cross/Light reduction effect
Stops
0.3 to 1.5(1 to 5 Stops)
Filter Material
Japanese AGC Glass
Multi-Coating
28 layers
Waterproof
√
Scratch-resistant
√
HD
√
Transmittance
∕
Antireflection
√
Pattern
√
Filter Thickness
7.3mm
Shape
Circle
Ring Material
Aviation aluminum alloy