K&F Concept Auto Focus Lens Mount Adapter EF/EF-S to EOS M Electronic Lens Adapter Compatible for Canon EF EF-S Mount Lens to EOS M Mount Cameras
New customer gift package
Free shipping to eligible country
Buy KENTFAITH k&f concept auto focus lens mount adapter ef/ef-s to eos m electronic lens adapter compatible for canon ef ef-s mount lens to eos m mount cameras online, worldwide free shipping and 30 days return guarantee.

KF06.464

SKU:

KF06.464

59.99

https://www.kentfaith.com/KF06.464_canon-ef-ef-s-to-eos-m-mount-metal-can-autofocus
Description
* 1. Ultra-fast focusing speed, AF auto focus, providing fast and accurate detection of the focus direction and target;
* 2. Super powerful compatibility. Suitable for use on Canon EOS M mirrorless camera, you can transfer the EF/EF-S lens group to your Canon EOS M mirrorless camera, allowing you to shoot more beautiful works through the new combination;
* 3.Gold-plated electronic contacts, using high-precision injection molding technology to ensure efficient signal conductivity and corrosion resistance, allowing the camera and lens to maintain reliable communication, achieving autofocus, aperture control, EXIF ​​information transmission, lens anti-shake and other functions ;
* 4. Support the body aperture adjustment, which can realize the body adjustment and control the lens aperture, greatly improving the convenience of use;
* 5. Support lens anti-shake, effectively eliminating image ghosting and blurring caused by shaking during sports shooting or holding.
Shipping
Free shipping to eligible country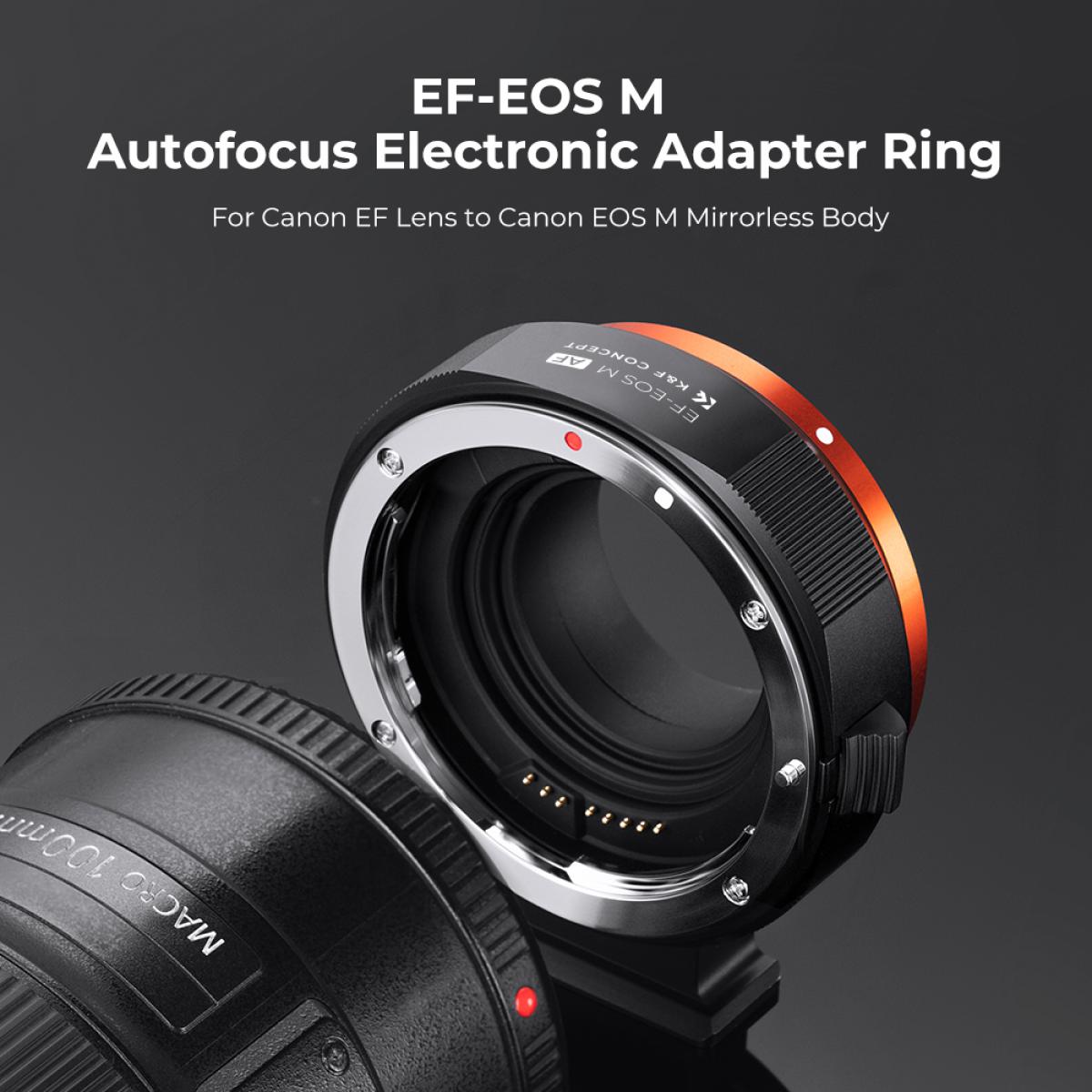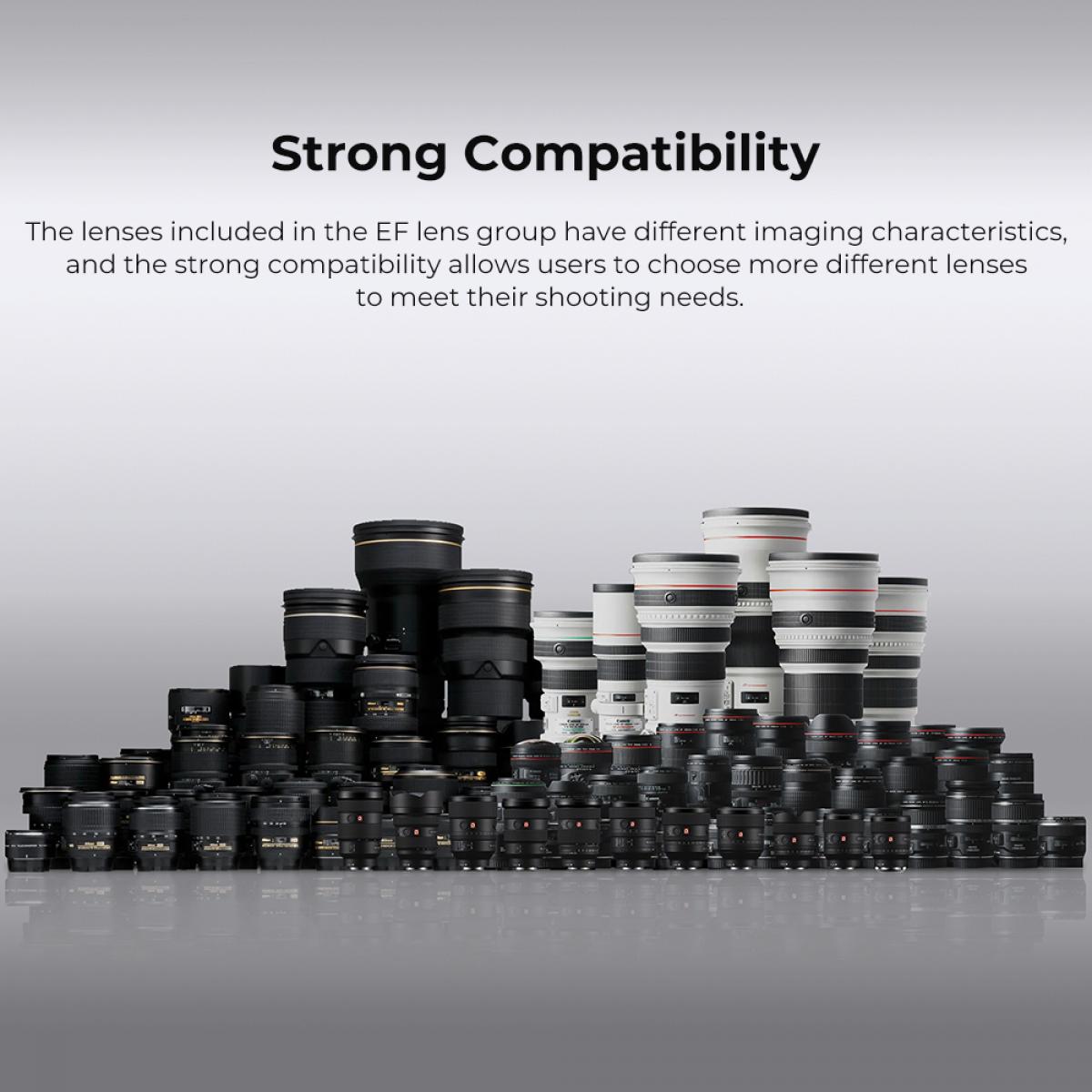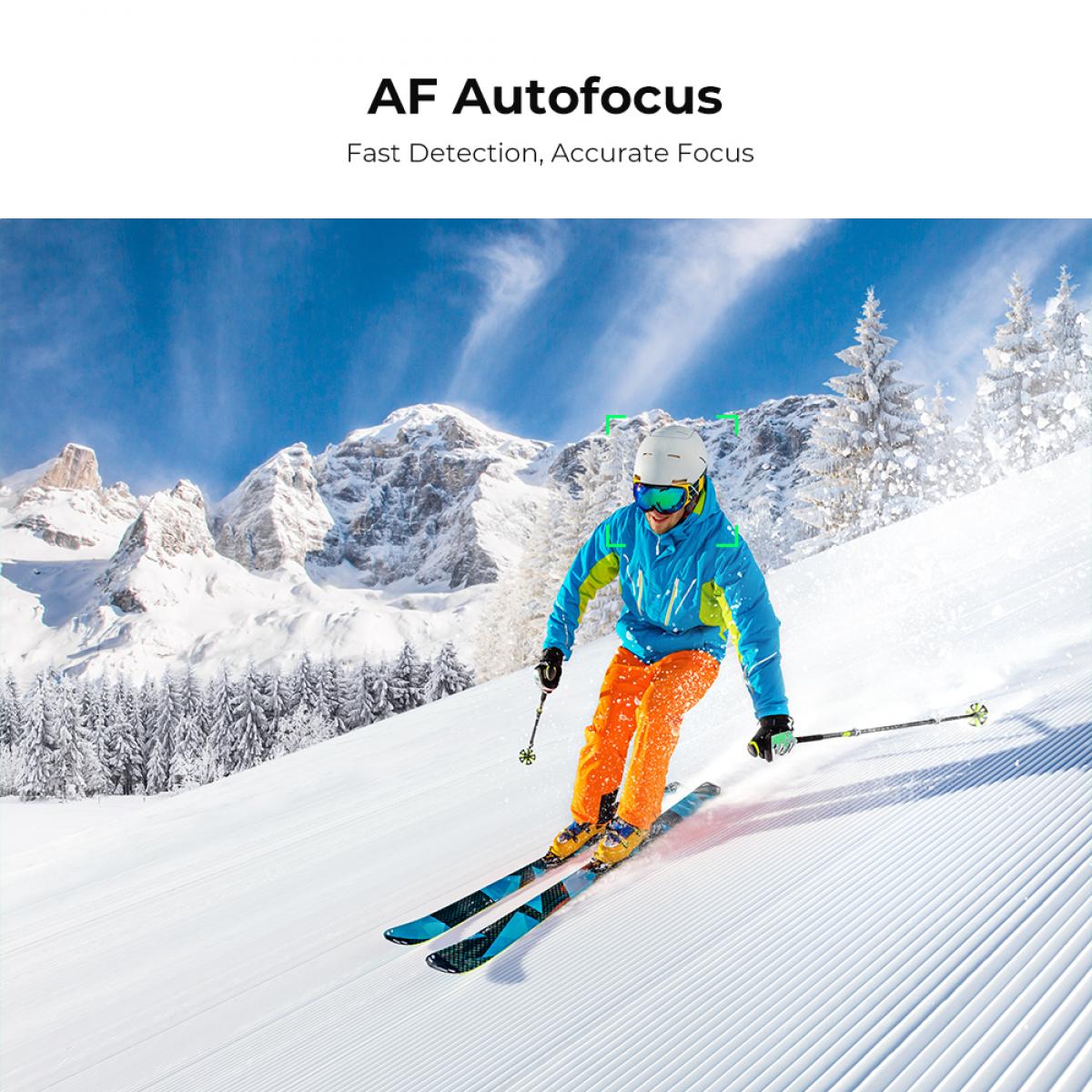 All Reviews
Image

All Star

5 Star

4 Star

3 Star

2 Star

1 Star
Excellent product. Very good value
Excellent product. Very good value. A great way to bring new life to an old lens. I am impressed with the quality of the K&F Concept and the service I received.
10/03/2023
just get this...
what can I say? just a fantastic piece of kit? get one.
09/03/2023
Simple and functional ring
Ring for adapting Canon FD lenses to EOS R mount housing without electronic contact so no autofocus You
must use the case in manual to adjust them. ISO and speed, the aperture adjustment is done on the lens
09/03/2023
Very Pleased
I have four Canon lenses that I didn't want to be obsolete, so this electronic adapter was a must.

It is solid and sturdy, but keep in mind that it's certainly not as quick and efficient as Canon lenses in their native environment, so don't think it's going to be flawless.

Having said that, I am extremely happy with the 98% or so efficiency that I'm getting with this device and I'm getting to use my Canon lenses on my Fuji, which is the whole point.

I would definitely buy this adapter again.
28/02/2023
K&F Concept always delivers, well built, works as well as Canon
The adapter works perfectly. My Nikon lenses now fit on my Canon camera. At this price you can not expect autofocus. Camera on program automatic, so aperture and exposure time automatically and with a little practice you have the sharpness quickly readjusted.
Good price-performance ratio. I am fully satisfied.
28/02/2023
Five Stars
Excellent works perfect and well worth money
27/02/2023
Great, my girlfriend loves it
A friend of mine has used KF K&F Concept's camera adapter, it fits very well and the quality is very good, I will try it too
22/02/2023
Very good adapter
Can easily adapt old FD lenses to the RF mount. Fits!
18/02/2023
Sturdy adapter
Was recommended this by a photographer friend and can agree, it's the best adapter ! Not at all wobbley. Great way to get more use out of some of the excellent lenses, that can be found quite inexpensively these days, on a modern camera.
16/02/2023
K&F Concept Auto Focus Lens Mount
Excellent product, very pleased
14/02/2023
A
About 300g,0.66 Ibs.
Show more