XV39 49mm ND8-ND128 (3-7 Stop) Variable ND Filter Neutral Density Filter NO X Spot 28-Layer Nano Coating
Free shipping to eligible country
Free Shipping. 30 Day No Reason Return. K&F CONCEPT XV39 49mm Variable ND8-ND128 Filter Nano Coated Made by german optical glasses, reduces the intake of light without affecting the overall color balance.

KF01.1447

SKU:

KF01.1447

41.99

https://www.kentfaith.com/KF01.1447_kf-xv39-49mm-variable-nd8-nd128-filter-nano-coated
Description
* 【Optical Glass Material】ND Filter: Made of complete professional optical glass instead of optical resin, which reduces the light intake without affecting the overall color balance.
* 【NANOTEC】 Our optical engineers developed new Nano coating layer technology, Waterproof, scratch-resistant, anti-reflective green coating, effectively prevent from oil, fingerprint, scratch, protect valued lens.
* 【No "X" cross on images】 Rotating ring between ND8 and ND128 giving great versatility in changing light. Say goodbye to the "X" cross on images, K&F utilize cutting edge technology you're going to say goodbye to this common issue with wide angle lenses and variable ND filters.
* 【Professional Design】 Ultra slim rim design preventing wide angle vignetting. Extra tough aviation aluminum frame ensuring durability and jamming prevention.
* 【NOTE】 This Filter kit is compatible with all 49mm lenses. Please verify your camera's lens thread size(usually marked somewhere on the lens barrel or printed underneath the lens cap) before ordering.This number is always preceded by a "Ø" (diameter) symbol. For example: Ø67 = 67mm lens thread size.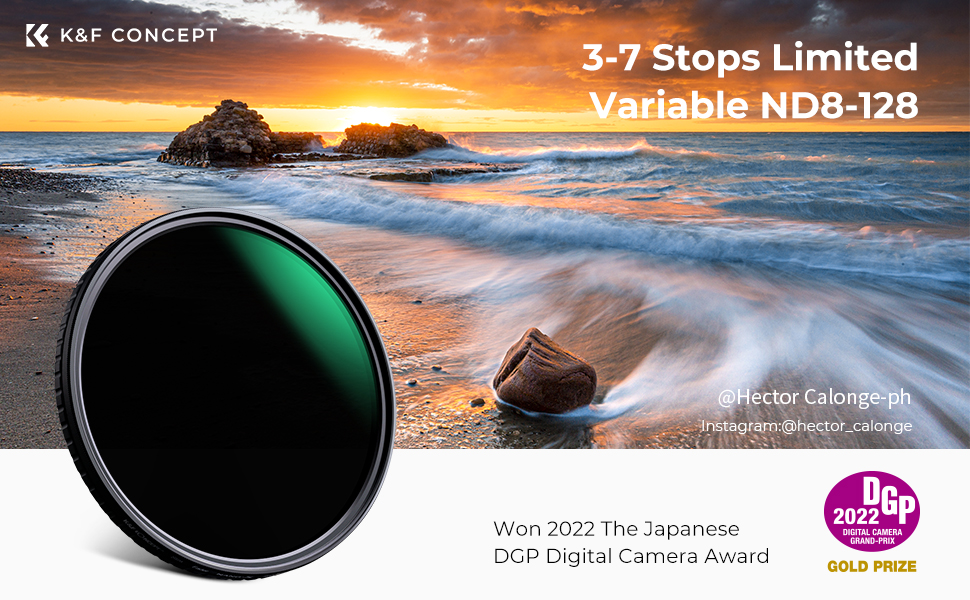 ND-------Extend exposure time. Try an ND, or neutral density, filter. ND filters reduce the amount of light entering the lens. This makes it easier to achieve effects such as a shallower depth of field or blurred motion.
• Neutral density can be adjusted from 3 to 7 stops(ND8/ND16/ND32/ND64/ND128), easy to create different neutral density by rotating the ring. • The front diameter is larger than the back diameter of this filter, which is specially designed to avoid vignetting at a wide-angle lens. • Allows the use of slow shutter speeds, with high-speed films or digital cameras, to record movement/image blur in subjects. • Decrease the depth of field by using wider apertures, which helps separate subjects from their background.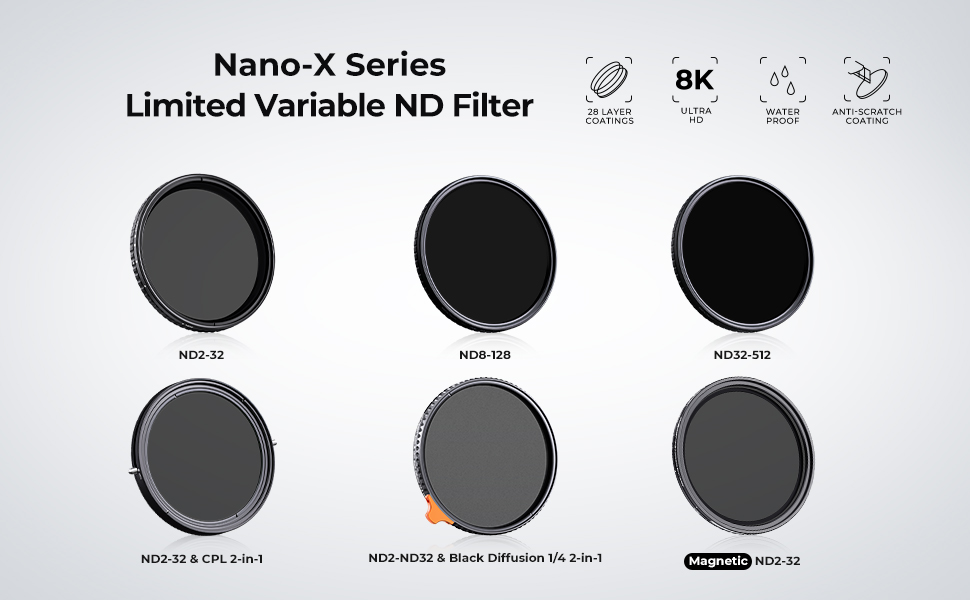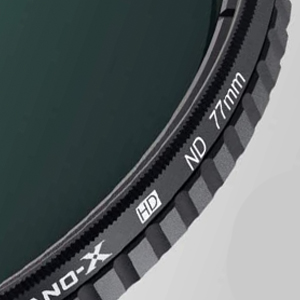 Double-Sided Multilayer Green Coating
Both sides of the filter with enhanced coating, effectively reducing the reflection that came from both the ground and filter itself, double-sided polishing technology balances the light well, ensuring image HD quality.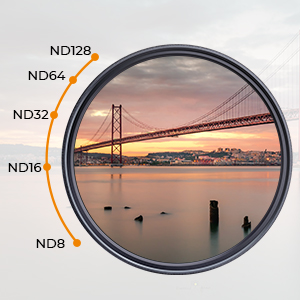 No "X" Cross on Images
K&F utilizes cutting-edge technology you're going to say goodbye to this common issue with wide-angle lenses and variable ND filters.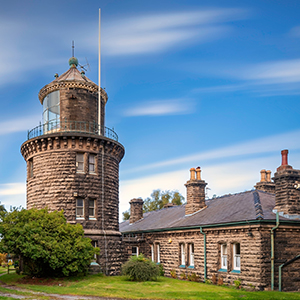 Hydrophobic& Scratch Resistant
In addition to state-of-the-art MRC, our optical engineers developed new nano-coating layer technology, called nanotech, from the ground up to repel dirt, water, and other elements by beading rather than absorbing and smearing. To withstand extreme wind, salt water, dust, and other abrasive conditions and elements.
Photos Taken by Photographer Around the World by Using K&F Concept ND8-ND128 Variable Neutral Density Filter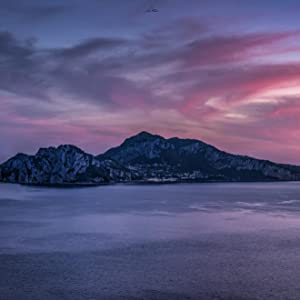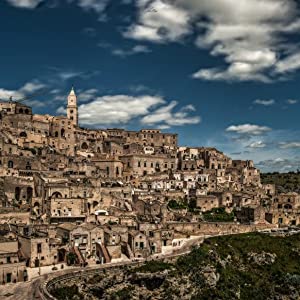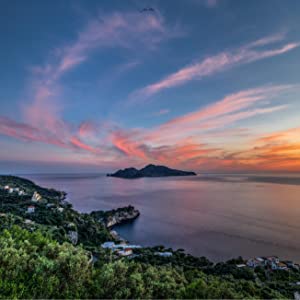 | | | | | | | |
| --- | --- | --- | --- | --- | --- | --- |
| | | | | | | |
| | | | | | | |
| | | | | | | |
| Rating | 24 reviews. | 34 reviews. | 33 reviews. | 0 reviews. | 65 reviews. | 2 reviews. |
| Price | $41.99 | $62.99 | $38.99 | $54.99 | $56.99 | $58.99 |
| Model | KF01.1447 | KF01.1467 | KF01.1166 | KF01.1846 | KF01.1319 | KF01.1808 |
| Size | 49mm | | 49mm | | 49mm | |
| Transmittance | ∕ | | ∕ | | ∕ | |
| Antireflection | √ | | √ | | √ | |
| Pattern | √ | | √ | | √ | |
| Filter Thickness | 7.3mm | | 7.3mm | | 9.3mm | |
| Shape | Circle | | Circle | | Circle | |
| Ring Material | Aviation aluminum alloy | | Aviation aluminum alloy | | Aviation aluminum alloy | |
Upgrade your footage
The ND filter itself is extremely high quality. Even the packaging is amazing. I love the case ,the ND filter works excellently with almost no artifacts introduced to your photos. I've got to say, hands down the best ND filter I have ever used. FINALLY!!!!Something that works for us, instead of the other way around. It's an VND that I can trust and use over and over again and still grade my slog3 footage with no issues. Amazing at reducing exposure while wide open during the day to make filming easier and look better. Helps expose your shot without sacrificing your aperture or shutter speed.
21/11/2021
WOW is all I can say.
This thing is a BEST! I did a shoot today in Texas heat and weather and all I can say is this ND filter is the real deal. I had never used a filter until now, I was pretty impressed. My strobe will last a lot longer now.
21/09/2021
Good for Long Exposure photography
I used this ND filter to shoot lot of waterfalls in Washington and Oregon state during my recent trip! Outcome is a smooth waterfalls! Happy with the purchase!
21/11/2021
Great bargain!
Mine works great, high quality, and no black x! I'm very satisfied with this filter and even more happy with the price paid. Hopefully it holds up for a long time.
21/11/2021
Great ND filter that I recommended.
Great ND filter. I never take it off when I am filming.
21/11/2021
Amazing for both Video and Photography
I use this both in the studio to drop my F-stop, and for Video. Used it on professional shoots with my RED, and smaller shoots with my Fuji. Haven't pixel peeped it, but during my edits, I notice no desegregation or X. The best variable I've seen, and absolutely a steal for the price.
21/11/2021
Worked well
Added this for my regular carry kit along with step up rings to accommodate different diameters. Works well for the purpose.
21/09/2021
Great!!
I use it on my Panasonic S1H with the Panasonic S line 24-70mm, works great, soft and well designed.
21/09/2021
Do You Know How Your K&F Concept Filters be Produced? | One-day Tour in Production Line
How to check your lens size
Filter
Reflectivity
0.2%
Size
49mm
Series
Nano-X series
Recommended Scenes
Video Shooting/Landscape Photography
Function
No X cross/Light reduction effect
Stops
0.9 to 2.1(3 to 7 Stops)
Filter Material
Japanese AGC Glass
Multi-Coating
28 layers
Waterproof
√
scratch-resistant
√
HD
√
Transmittance
∕
Antireflection
√
Pattern
√
Filter Thickness
7.3mm
Shape
Circle
Ring Material
Aviation aluminum alloy