49mm Variable ND Filter ND32-ND512 (5-9 Stops) Neutral Density Lens Filter with 28 Multi-Layer Coatings Hydrophobic/Scratch Resistant
Free shipping to eligible country
K&F CONCEPT Variable ND filter main function is to reduce the entry of light without affecting the overall colour balance, for long exposure and motion blur techniques in changing light.

KF01.1467

SKU:

KF01.1467

62.99

https://www.kentfaith.com/variable-nd-filter-nd32-nd512-49_kf-concept-49mm-variable-lens-filter-nd32-nd512-no-x-spot
Description
* 【ND Filter Function】The Variable ND filter main function is to reduce the entry of light without affecting the overall colour balance, for long exposure and motion blur techniques in changing light.
* 【No X Cross & frame self-locking technology】Say goodbye to the "X" cross on images with K&F peak technology. The filter will stop when rotating to Mini (ND32) or Max (ND512).
* 【Top optical glass】It is made of optical glass, which balances the light penetration trajectory and ensures that the sharpness of the image is not affected, also reduces glare and ensure HD image quality.
* 【28 Multi-Layer Coatings】Both sides of the glass with nanometer coatings, hydrophobic, reduces the reflectivity came from the filter surface, Waterproof & oil-resistant & scratch-resistant.
* 【No Vignetting】 The frame is made of aircraft-grade aluminium with oxidation sandblasting, avoid stray light from entering, and the thickness is only 7.6mm which can effectively avoid vignetting.
Shipping
Free shipping to eligible country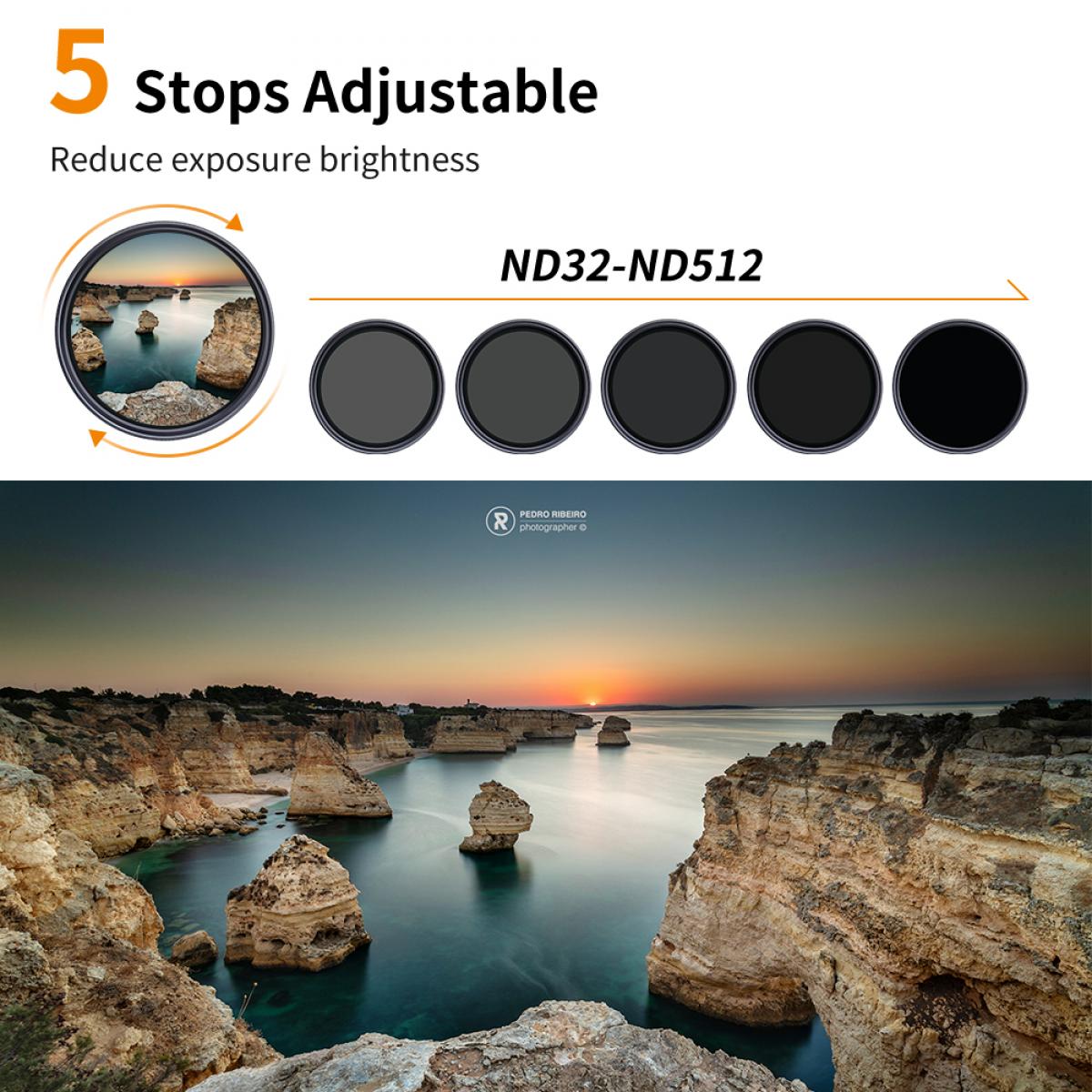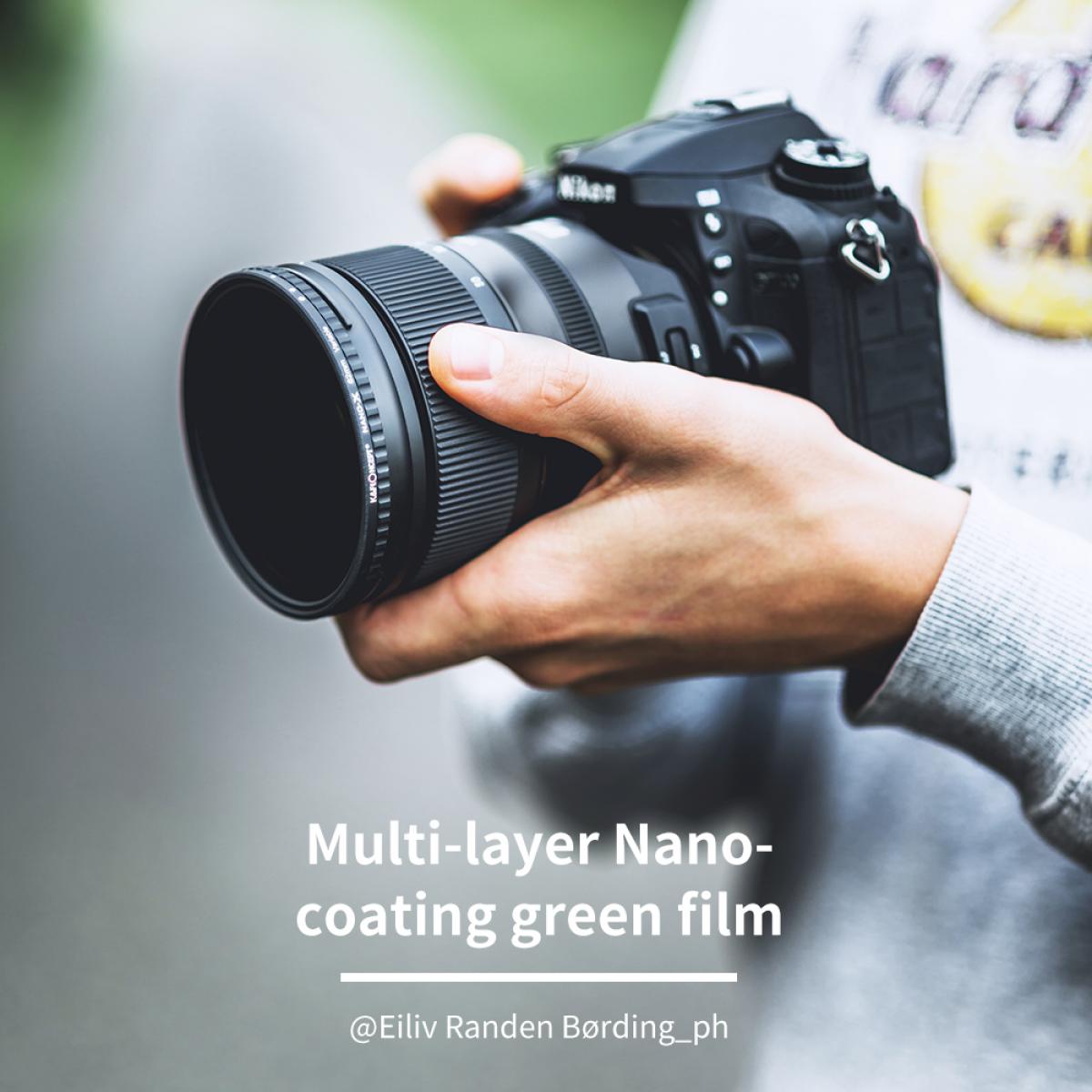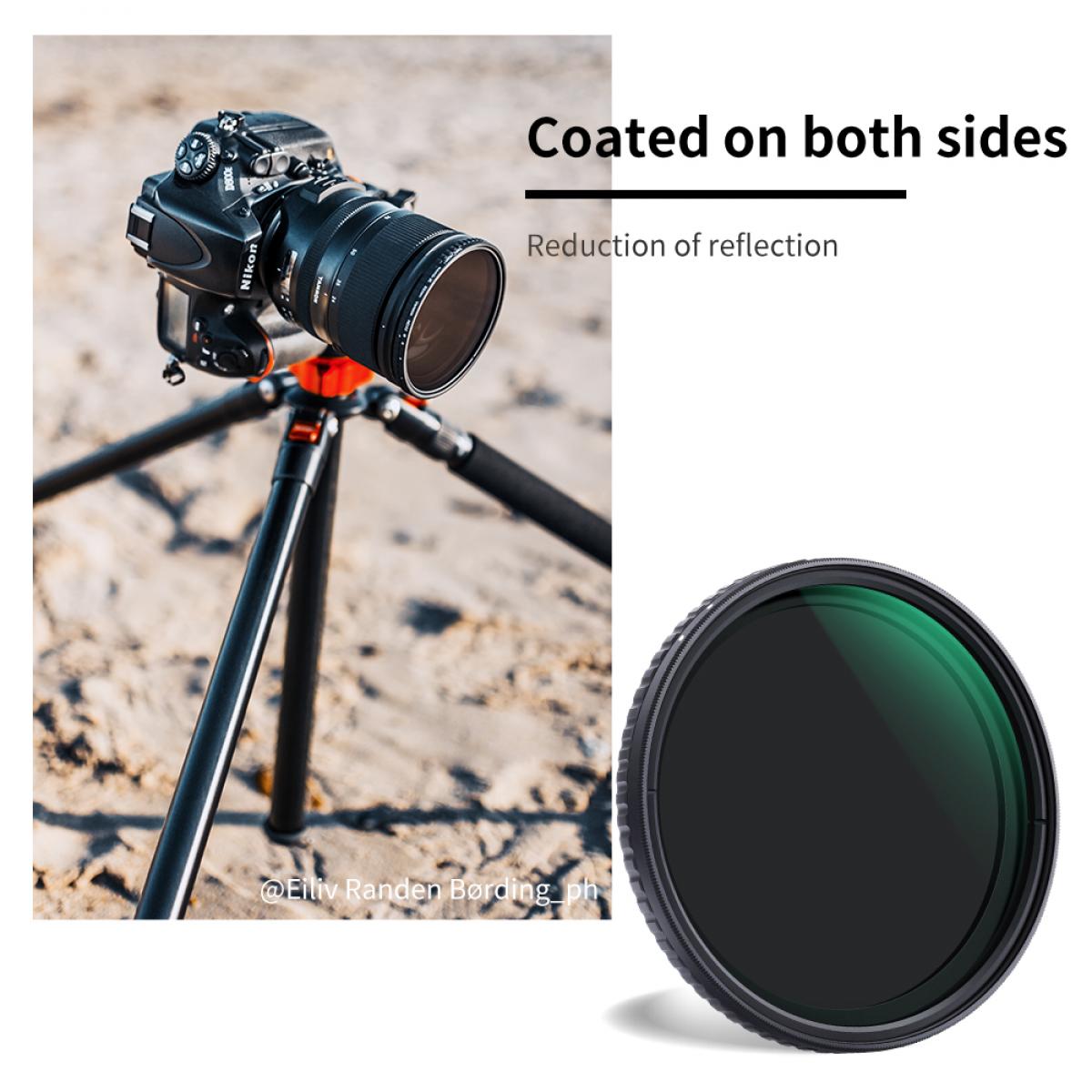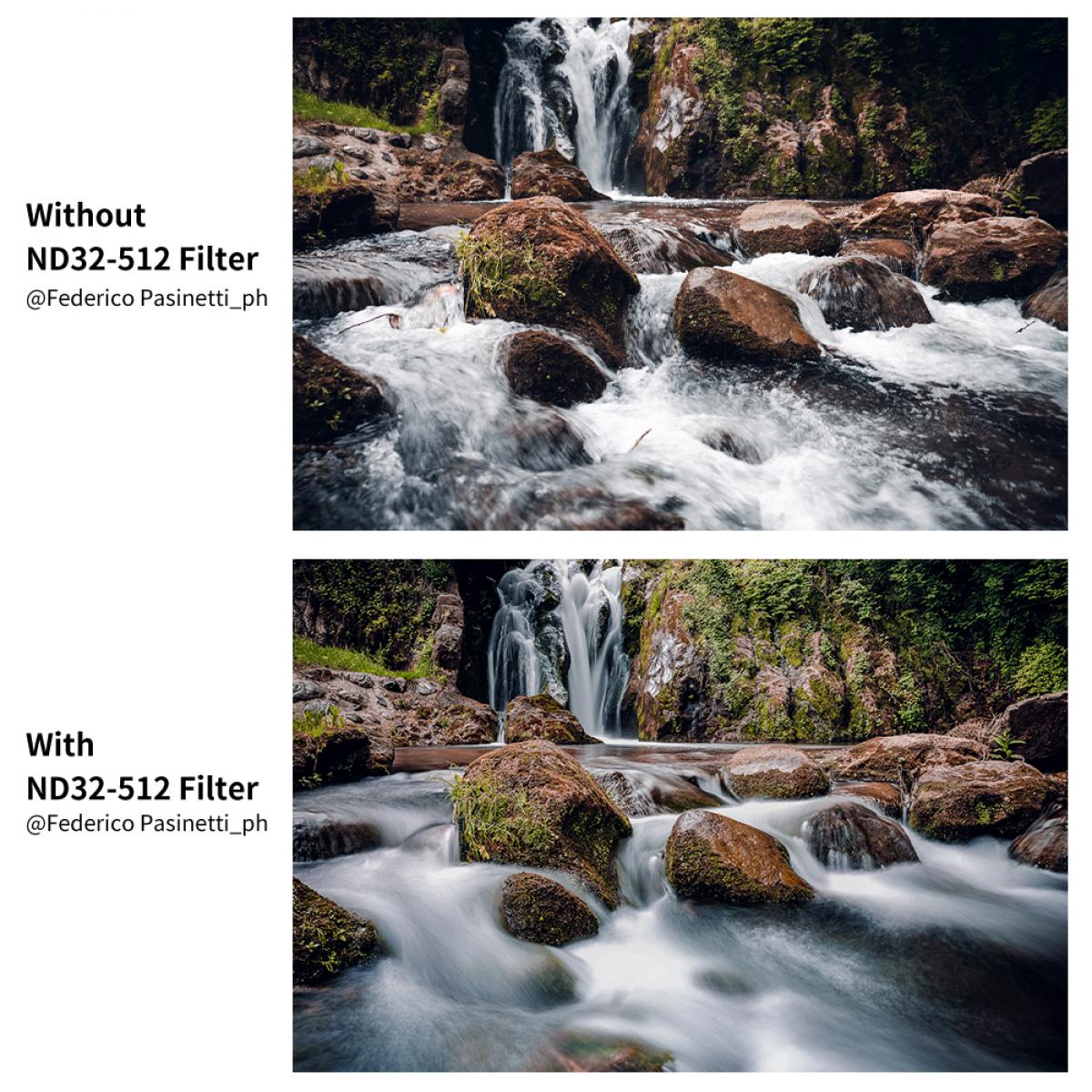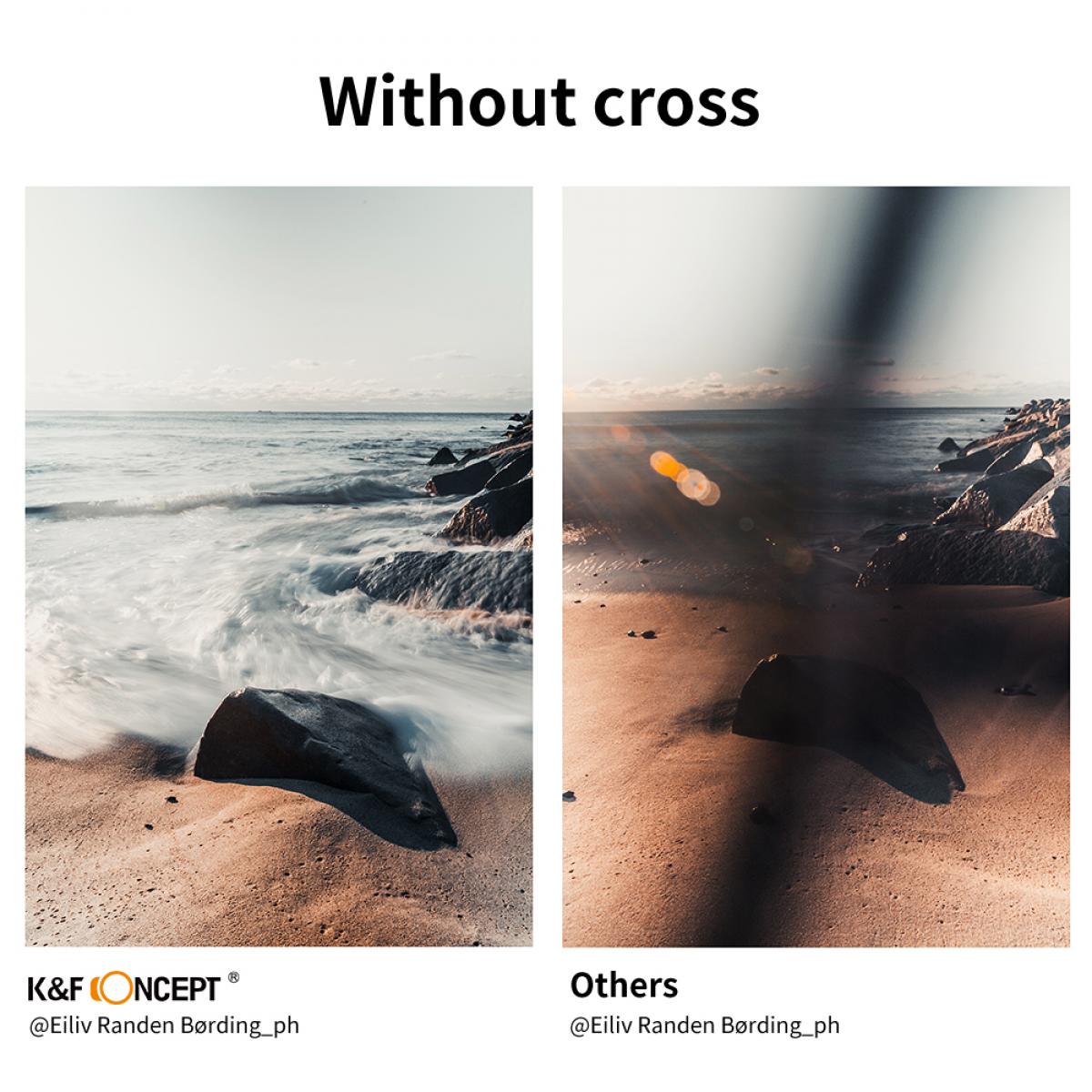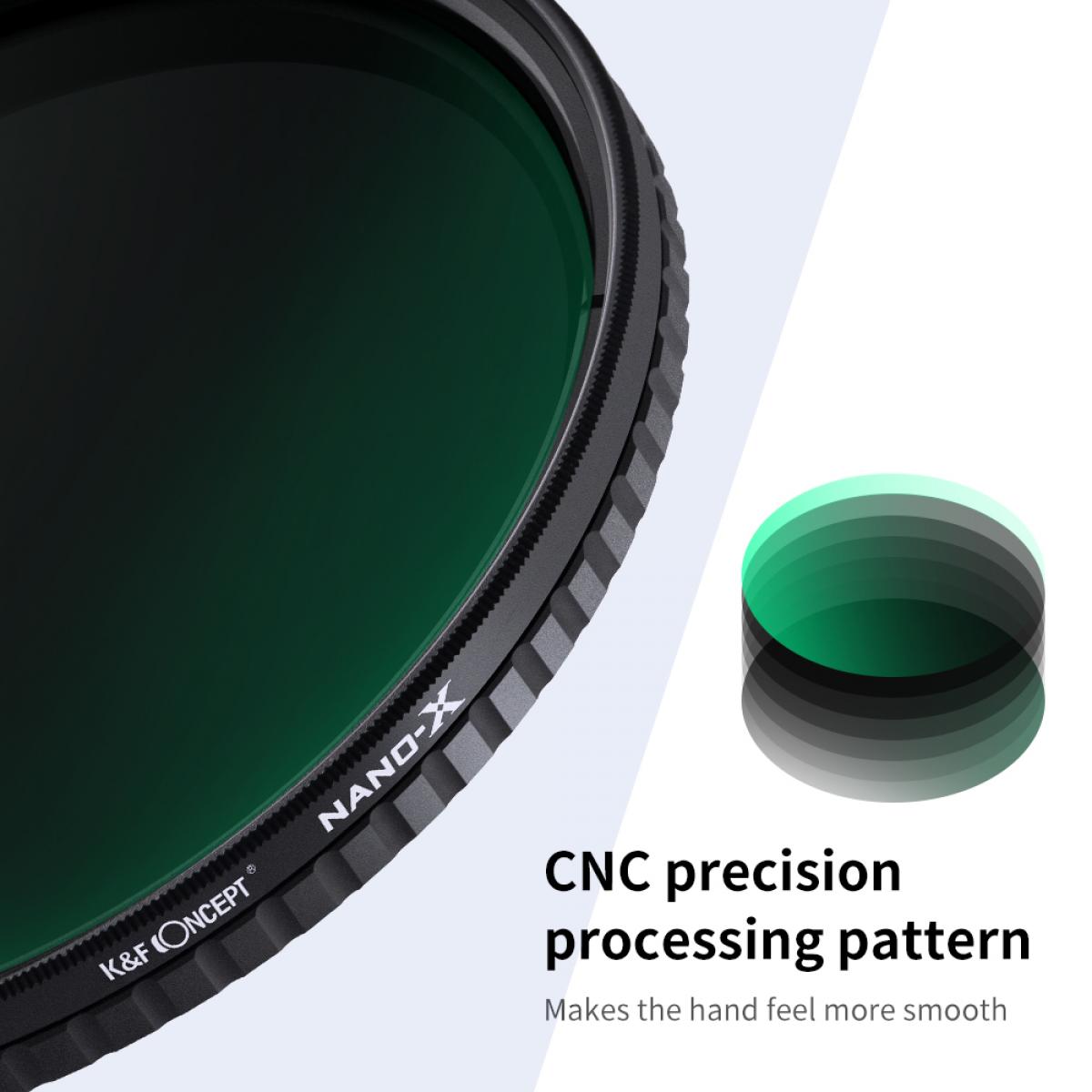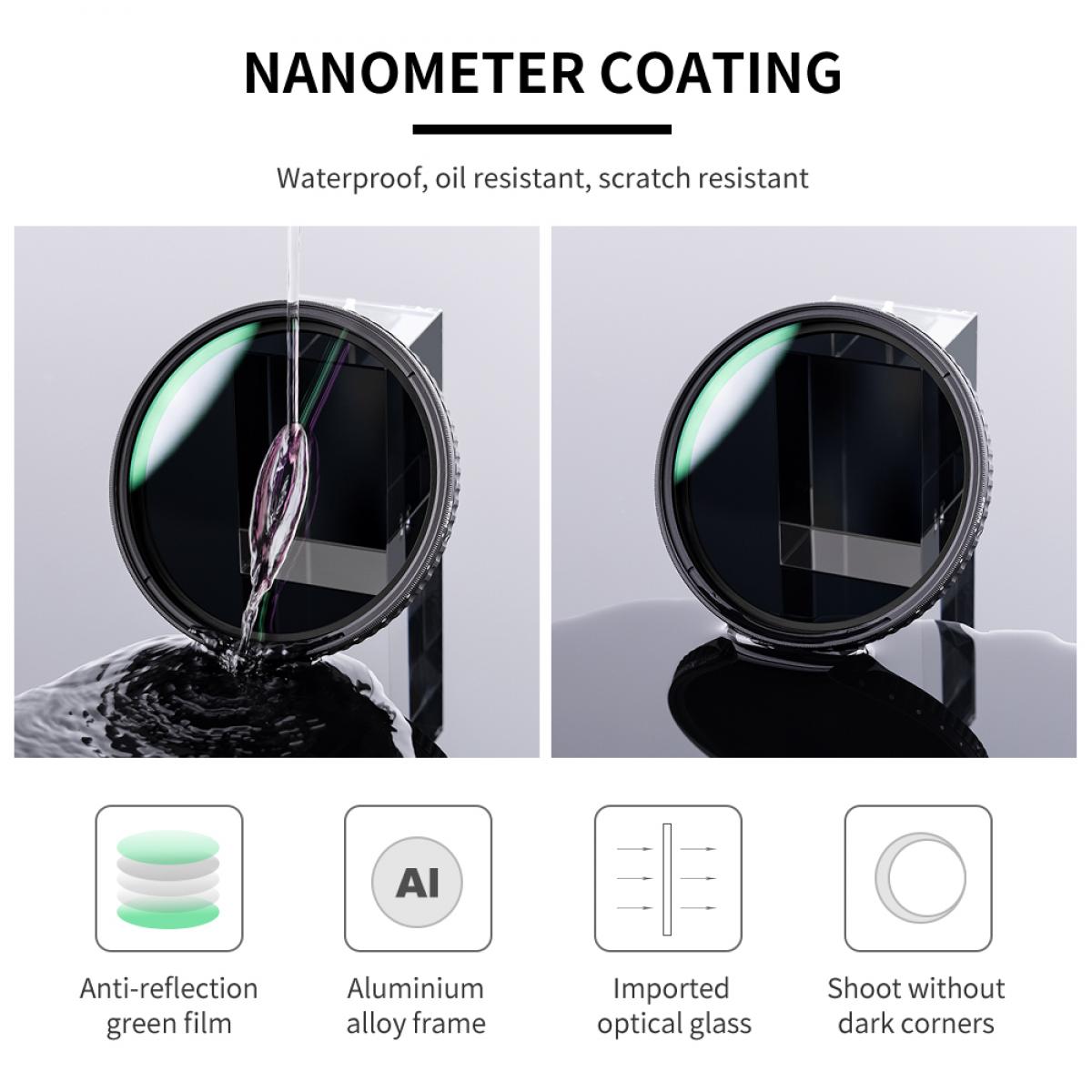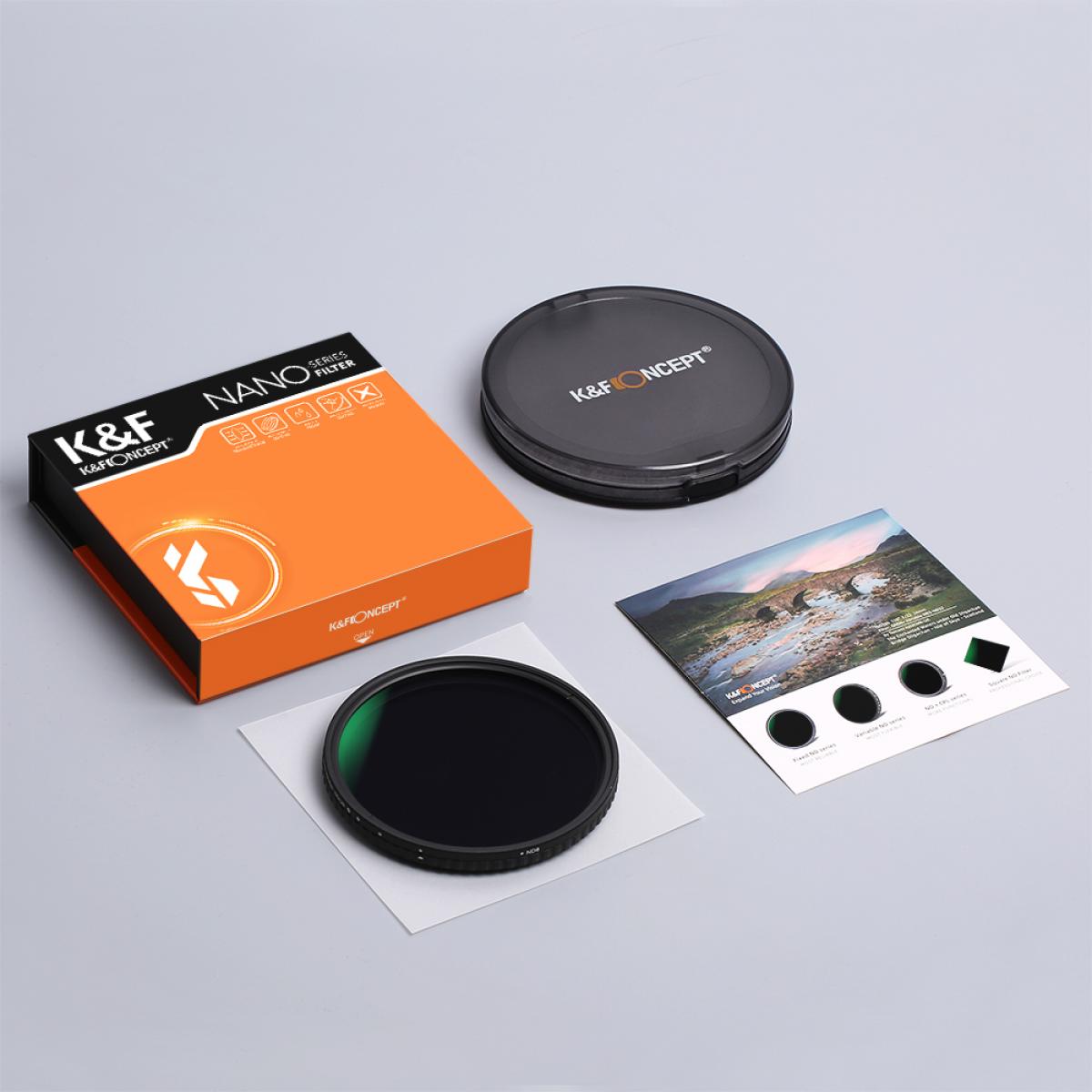 | | | | | | | |
| --- | --- | --- | --- | --- | --- | --- |
| | | | | | | |
| | | | | | | |
| | | | | | | |
| Rating | 34 reviews. | 24 reviews. | 33 reviews. | 0 reviews. | 65 reviews. | 2 reviews. |
| Price | $62.99 | $41.99 | $38.99 | $54.99 | $56.99 | $58.99 |
| Model | KF01.1467 | KF01.1447 | KF01.1166 | KF01.1846 | KF01.1319 | KF01.1808 |
| Reflectivity | 0.2% | 0.2% | 0.2% | 0.2% | 0.2% | 0.2% |
| Series | Nano-X series | Nano-X series | Nano-X series | Nano-X series | Nano-X series | Nano-X series |
| Recommended Scenes | Video Shooting/Landscape&Potrait Photography | Video Shooting/Landscape Photography | Video Shooting/Landscape Photography | Video Shooting/Landscape Photography | Video Shooting/ Landscape Photography | Video Shooting/ Landscape & Potrait Photography |
| Function | No X cross/Light reduction effect | No X cross/Light reduction effect | No X cross/Light reduction effect | 1 Second Switch/No X cross/Light reduction effect | Remove glare/No X cross/ Light reduction effect | Soft highlight/No X cross/Light reduction effect |
| Stops | 1.5 to 2.7(5 to 9 Stops) | 0.9 to 2.1(3 to 7 Stops) | 0.3 to 1.5(1 to 5 Stops) | 0.3 to 1.5(1 to 5 Stops) | 0.3 to 1.5(1 to 5 Stops) | 0.3 to 1.5(1 to 5 Stops) |
| Filter Material | Japanese AGC Glass | Japanese AGC Glass | Japanese AGC Glass | Japanese AGC Glass | Japanese AGC Glass | Japanese AGC Glass |
| Multi-Coating | 28 layers | 28 layers | 28 layers | 28 layers | 28 layers | 28 layers |
| Waterproof | √ | √ | √ | √ | √ | √ |
| scratch-resistant | √ | √ | √ | √ | √ | √ |
| HD | √ | √ | √ | √ | √ | √ |
| Size | | 49mm | 49mm | | 49mm | |
| Transmittance | | ∕ | ∕ | | ∕ | |
| Antireflection | | √ | √ | | √ | |
| Filter Thickness | | 7.3mm | 7.3mm | | 9.3mm | |
| Ring Material | | Aviation aluminum alloy | Aviation aluminum alloy | | Aviation aluminum alloy | |
Mørkere i forskjellige nivåer uten et fargeskjær
I use the filter both for filming with DSLR and for long exposure during the day with open blending, especially for filming it is quite nice with open blending. The ring can be easily snus. The sound should be picked up externally, because the ring clicks quietly in the intended positions.. The packaging is nice for transport and withstands the attacks of my 1 year old daughter. Bildekvaliteten ser bra ut. I could not see any color or other disturbances.I am very pleased with the ND filter.
12/11/2021
beste ND-filteret jeg har brukt
I ordered this filter for my Canon 800d and it works like a charm. The packaging it came in gives you an idea of the product's premium execution. Since this is a variable Nd filter I can leave it on my lens as the filter does not have to be removed to get more light. I had high expectations for this filter while ordering, and the results are better than my expectations. The filter ring is very smooth and does not shake when shooting video. There were no dark spots on the sides of my images as I have experienced for some other filters, Prime delivery was very quick and the product arrived safely in one day. I would definitely try other K&F Concept products as the ND filter lives up to the claim.
19/12/2021
1A filter
I bought the filters to expand my collection. I have now found the right ones.Delivered very quickly and came in a very stylish packaging with magnetic closure. Selve filteret ble pakket i en plastkasse av høy kvalitet.Ved hjelp av adapterringer ble filteret raskt festet och gjorde en kjempejobb. Simple to use and nice workmanship, I can recommend it to anyone looking for a filter.
15/11/2021
Flott utførelse, flott verktøy mot hardt lys
The filter comes in a nice stylish packaging with magnetic lock and has a small plastic box for transport The filter can easily be peeled off and on the lens.The grey filter has different settings, on mine it takes about half an f-stop down in brightness, estimated to maximum setting 3-4 full f-stops. The best way to see the effect in backlight or strong contrasts in the subject, I look forward to testing the filter in the midday sun in summer.
26/11/2021
Bytter utstyret mitt til dette!
As a photographer, I'm always looking for ways to save weight, and then save money. As a long-time Lee Filters user, I was skeptical about trading up to half the price of a product and always heard bad things about circular variable NDs. Man I was shocked at how good this product is. Really pleased and will be buying more.
05/11/2021
Flott variabelt ND-filter
I've had variable filters in the past, but I've never been satisfied with the dreaded X's on the screen when spinning or the uneven color cast across the screen, and these are great, very even light reduction across the frame and no X's. I have the 77mm filter, it is very well made, 77mm so no vignetting in the corners, the slight downside with it is that I can't fit the filter with my armour, but no big deal. We recommend.
04/01/2022
Mye for pengene
Brilliant for the price though you do go a bit heavy with these, but is still nice
02/01/2022
Krystallklart
I love this 77mm ND filter which fits perfectly with my Nikon 70-200 f2.8. I use step-up rings for other lenses like my 85mm f1.4. The ease of use is phenomenal and it glides so effortlessly. I love this filter. I would recommend it to anyone to cloud it down to the darkest, open the aperture wide and take a long exposure during the day for amazing results. New!
30/12/2021
Fantastisk kvalitet
ND filters are essential for some types of photography, such as moving vane effects - and as I suspect I am exaggerating litt.... And of course there are millions to buy and a huge range of costs. I've tried lots from super cheap kinesium resin to some anstendig quality, and reach this. First and foremost is optical glass. And that makes a difference because the resin type, while not bad if you treat it with extreme care, tends to rip easily, and of course the optical quality regardless of what the text says is not nearly as good as anstendig glass. On the other hand, it is very well made. I mean up there with the silly prices well made as I have tried and used in a well known camera store. This is a true 100% premium set considering the production standard and the overall feel of it. Smooth in action with perfect optical clarity across the density range. In use it is super simple. Fit - which is smoothly given to the well-made thread and then rotates the outer ring to the desired level of darkness. It saves a lot of time with different filters or stacking of them. Frankly, if you want a good selection of ND filters (not outdoors of course), this is a good choice. I used it on my Zeis Batis lens, and it worked a treat.
29/12/2021
Godt produkt
Works great when you start long exposure, but has litt vignetting and color sharpness
26/12/2021
There are no faqs for this product.
How to check your lens size
Filter
Reflectivity
0.2%
Series
Nano-X series
Recommended Scenes
Video Shooting/Landscape&Potrait Photography
Function
No X cross/Light reduction effect
Stops
1.5 to 2.7(5 to 9 Stops)
Filter Material
Japanese AGC Glass
Multi-Coating
28 layers
Waterproof
√
scratch-resistant
√
HD
√