58" Lightweight Camera Tripod, Beschoi Professional Aluminum Travel Tripod Monopod 22lbs Load Capacity with 360°Panorama Ball Head and Carrying Case Compatible with Digital Camera/DSLR/SLR Cameras
Buy 99$-15$, 199$-30$, 299$-50$, 599$-120$(Black Friday Price)
Free shipping worldwide
Brand:

KENTFAITH

Free Shipping. 30 Day No Reason Return.

809010001

SKU:

809010001

89.99

https://www.kentfaith.com/809010001_58-quot-lightweight-camera-tripod-beschoi-professional-aluminum-travel-tripod-monopod-22lbs-load-capacity-with-360-panorama-ball-head-and-carrying-case-compatible-with-digital-camera-dslr-slr-cameras
Buy 99$-15$, 199$-30$, 299$-50$, 599$-120$(Black Friday Price)
Description
* 【LIGHTWEIGHT & PORTABLE】The dslr tripod measures 15" long when folded and extends to 58". Weighs only 3.37lbs yet outstanding stability and loading capacity up to 22lbs
* 【 Detachable Monopod】Easily converts into a full size MONOPOD by screwing together the removable center column and tripod leg to work as a monopod or trekking pole which extends from 17" to 62.4" in in seconds
* 【EASY SET UP】5-section column legs with quick release rotating leg locks allows you to adjust the working height from 15"to 58" in seconds. The center axis inverted function ensures extreme low angle photography and macro shooting
* 【Super Stability】Stability hook is designed to support extra weights for additional stability. Rubber feet helps to ensure secure placement
* 【360°PAN HEAD】The video camera tripod comes with heavy-duty 360° ball head and standard 1/4"-20 screw mount quick release plate, perfect for digital cameras, camcorders, binoculars
Shipping
Free shipping worldwide
Sale
Buy 99$-15$, 199$-30$, 299$-50$, 599$-120$(Black Friday Price)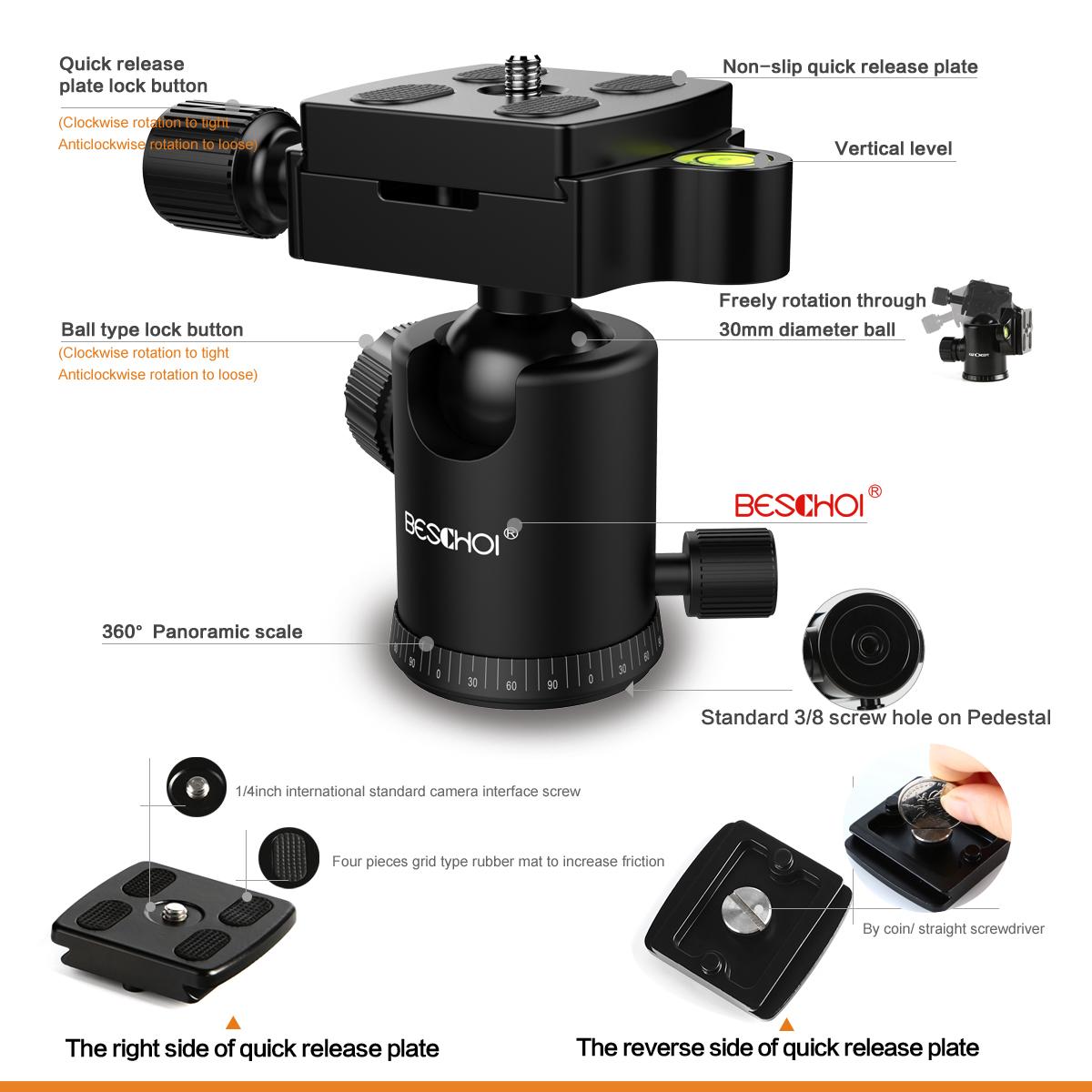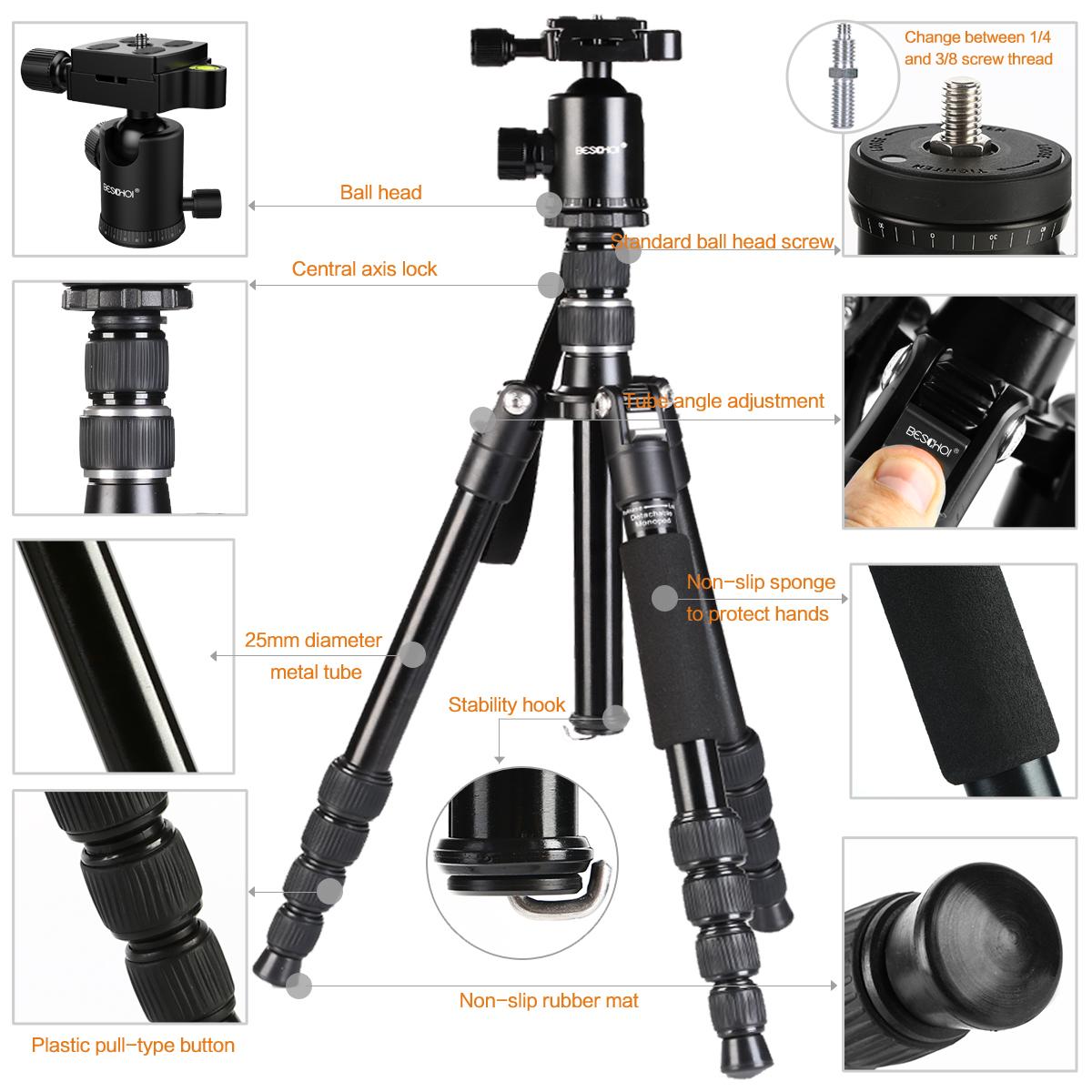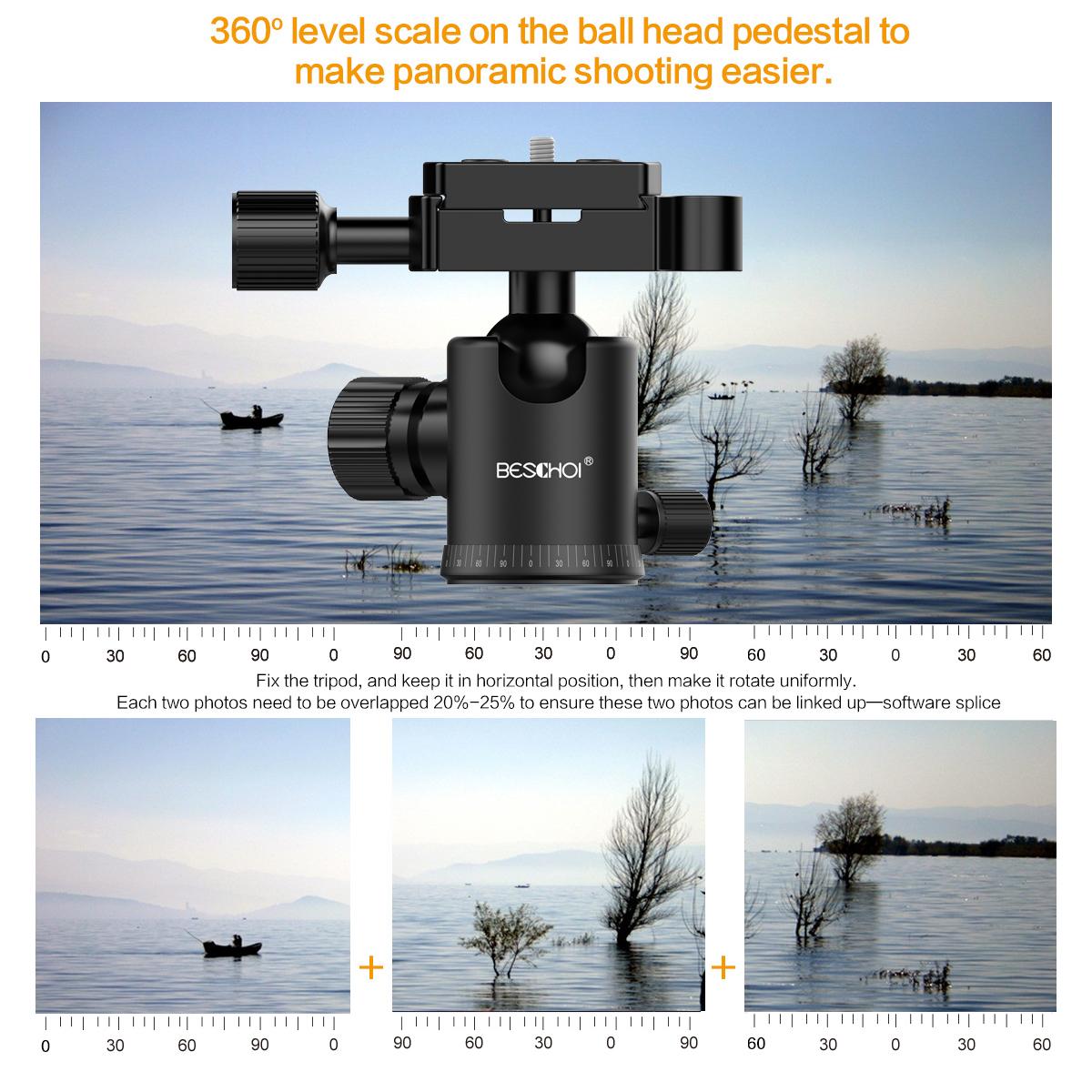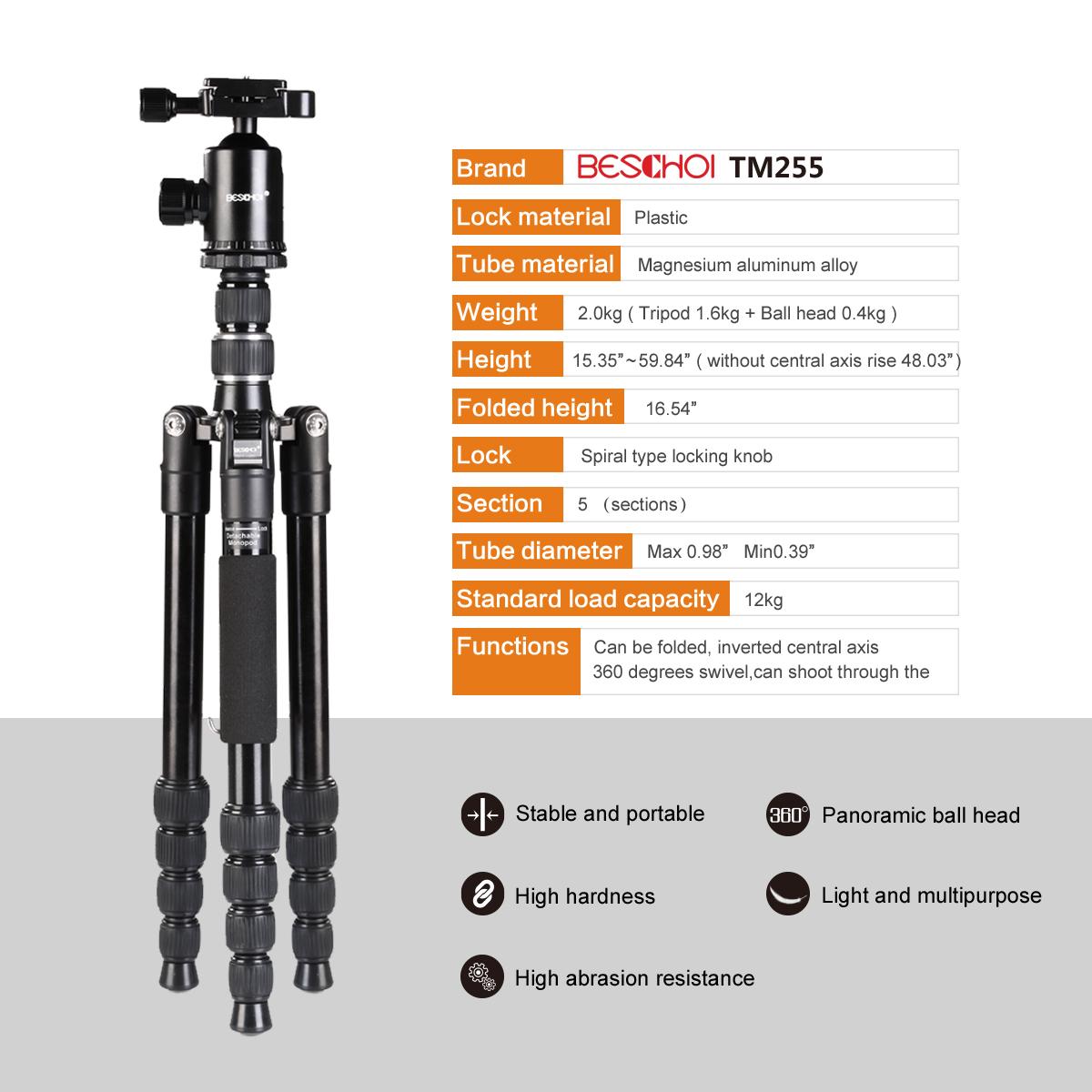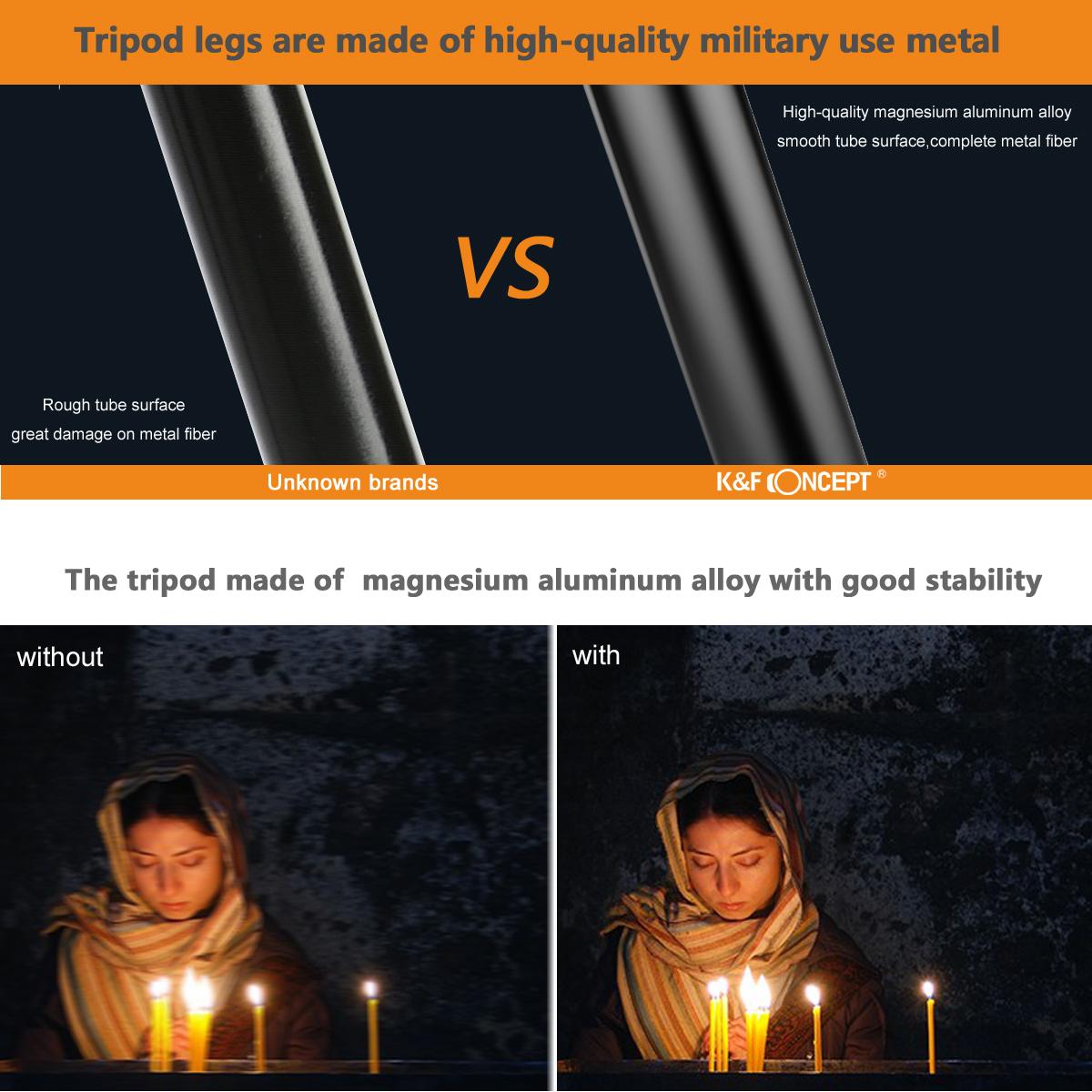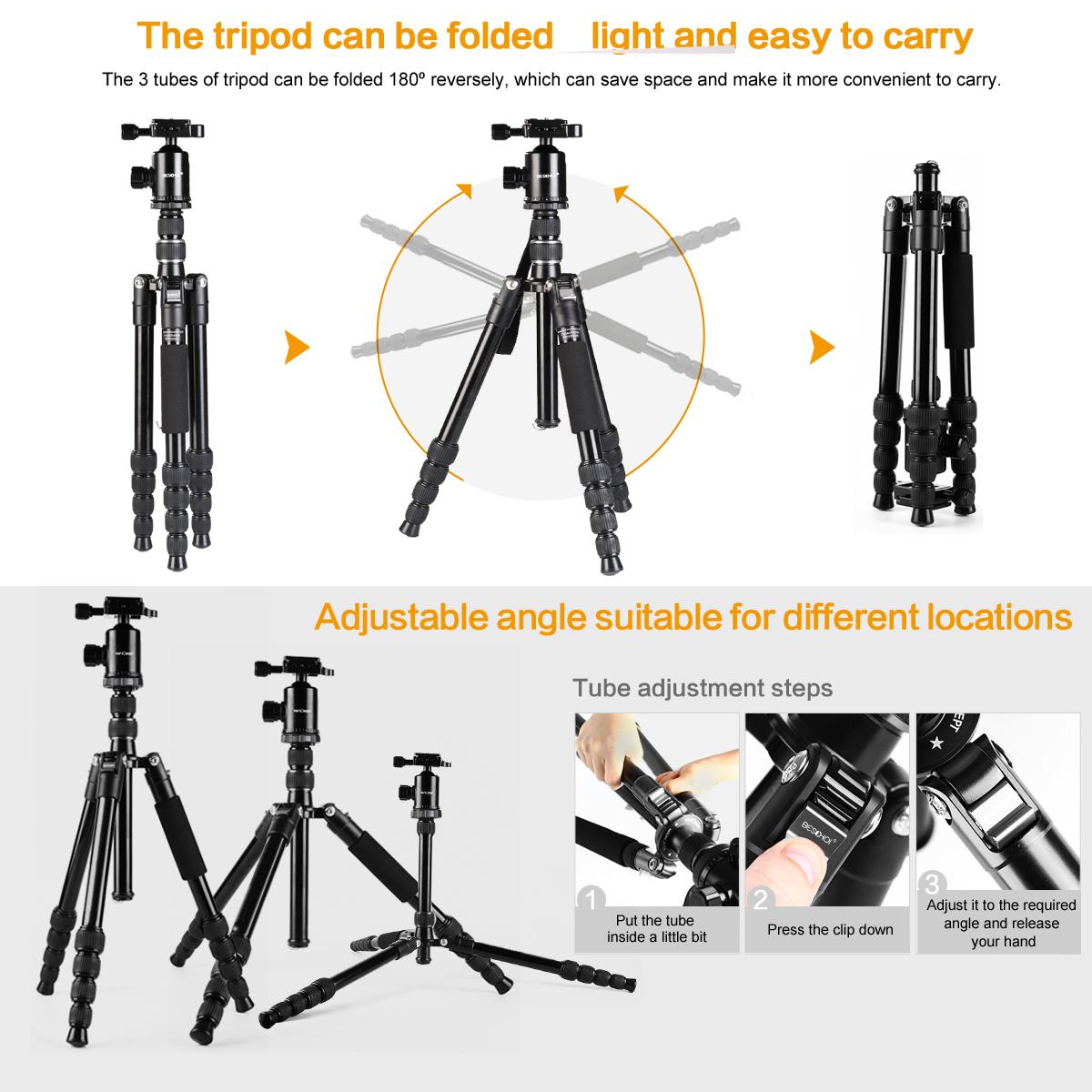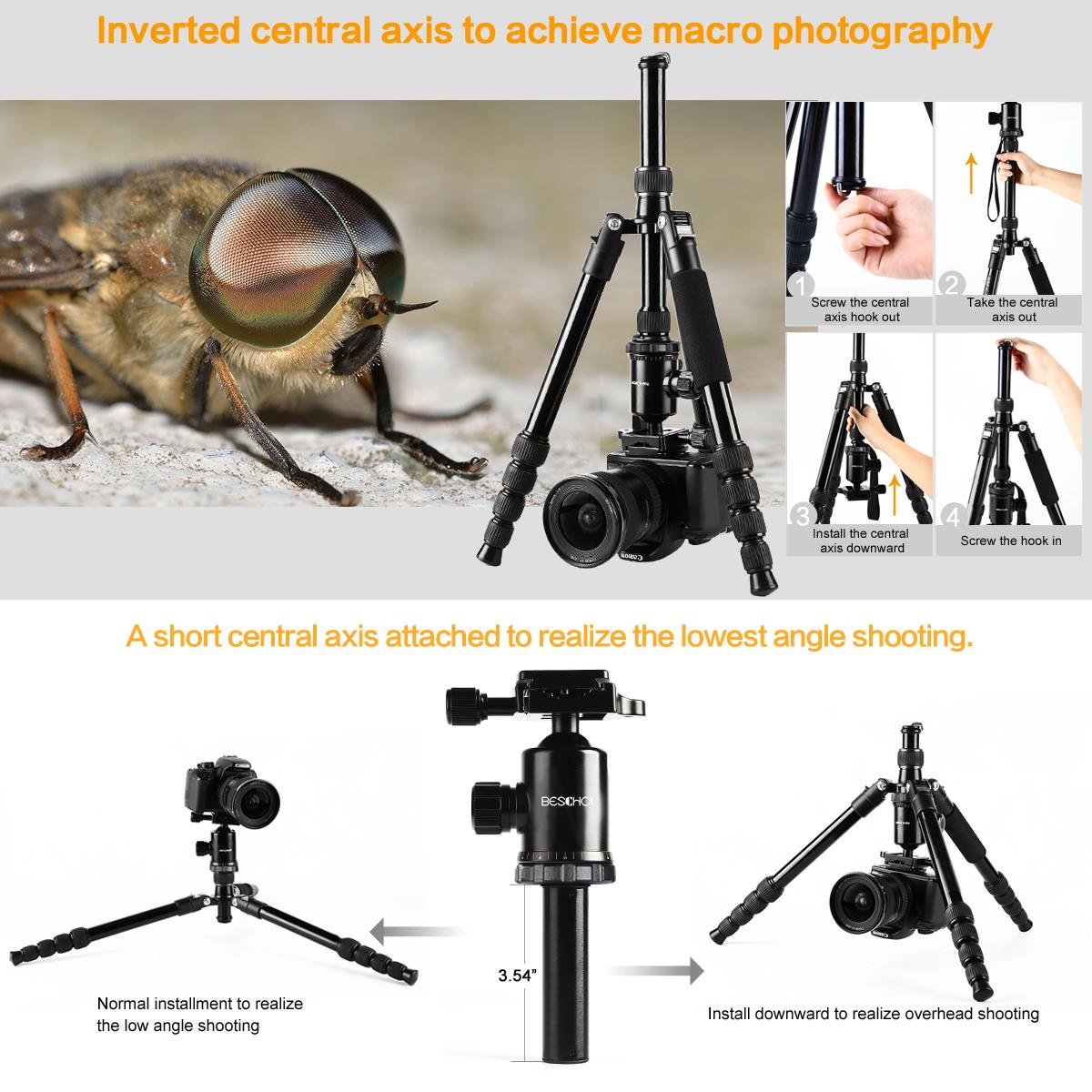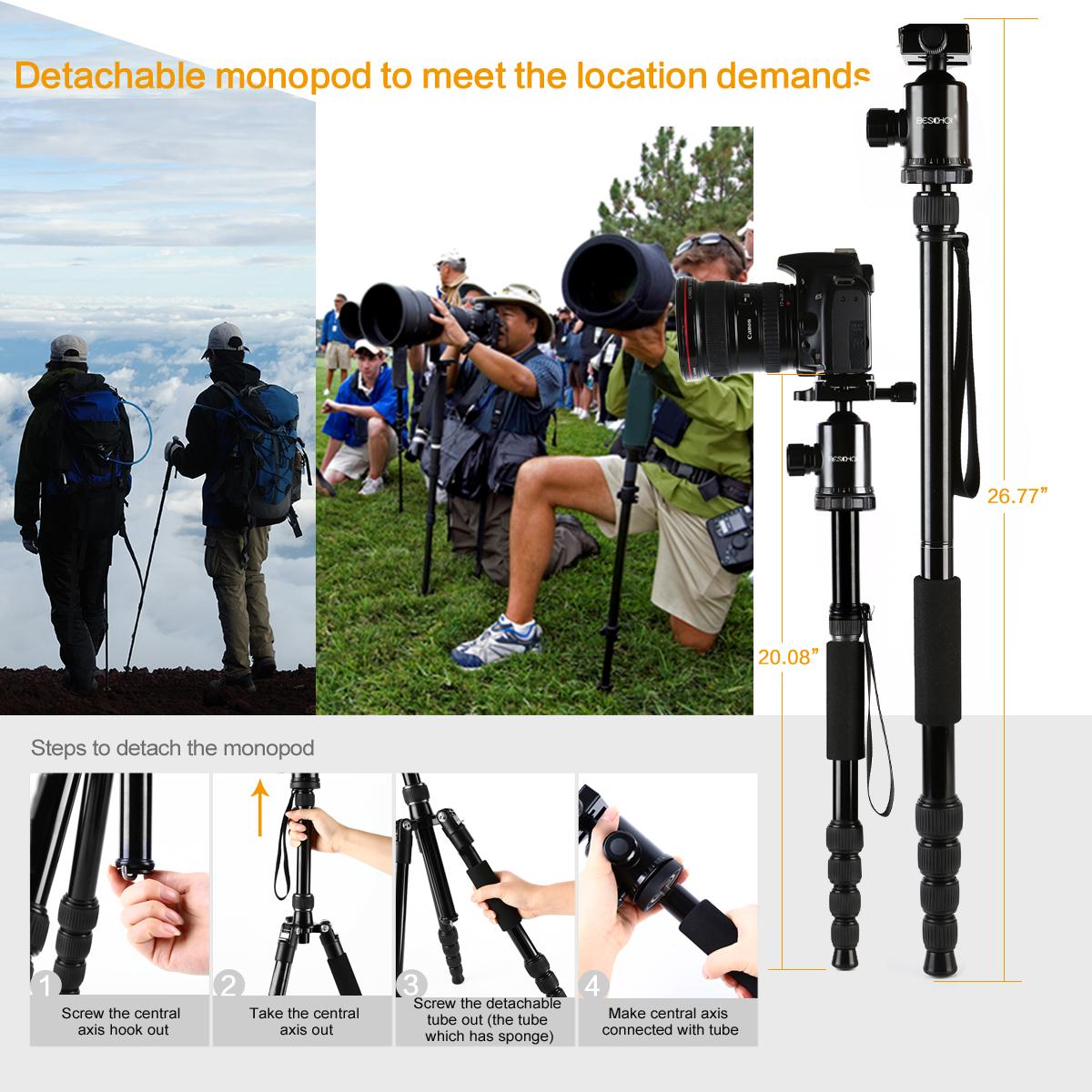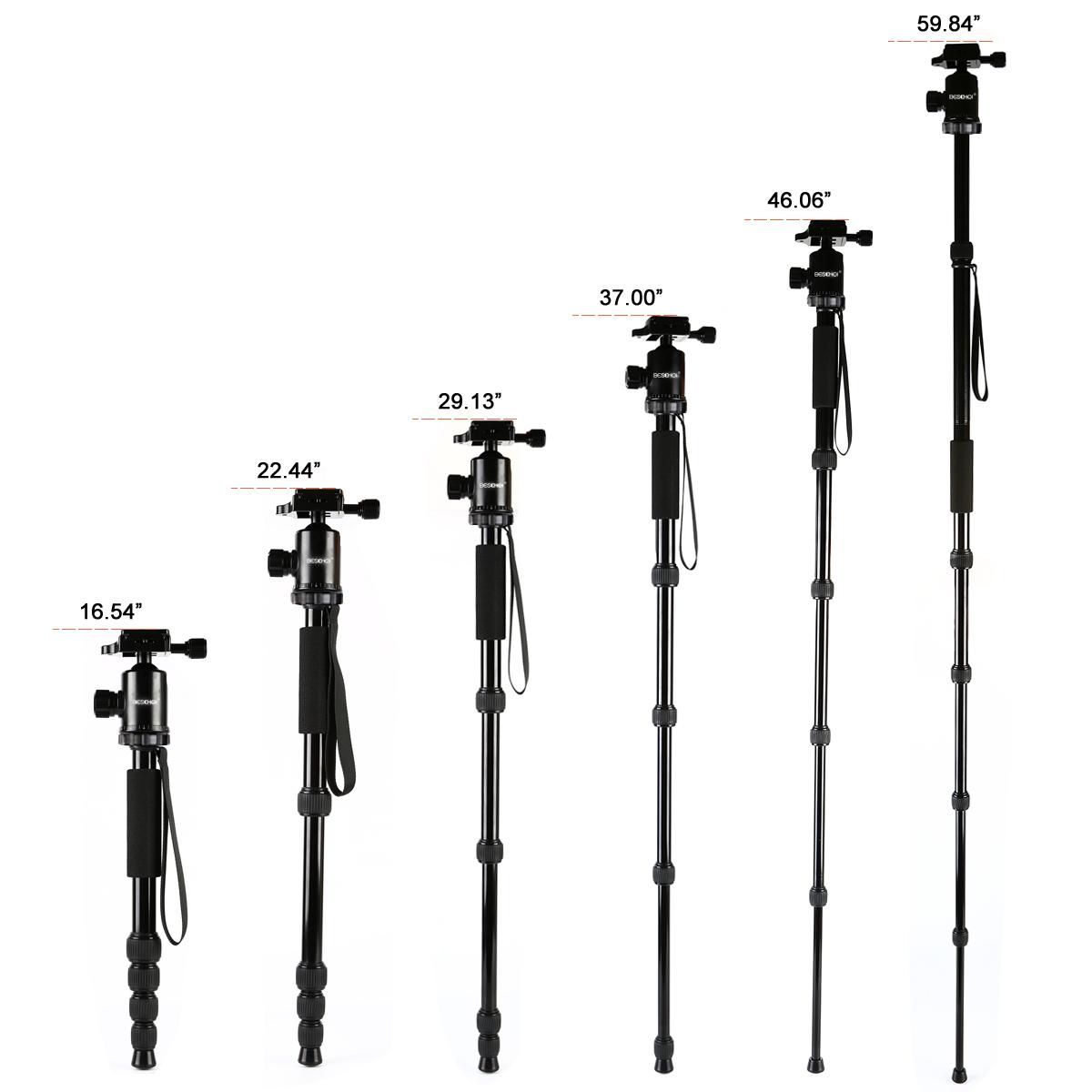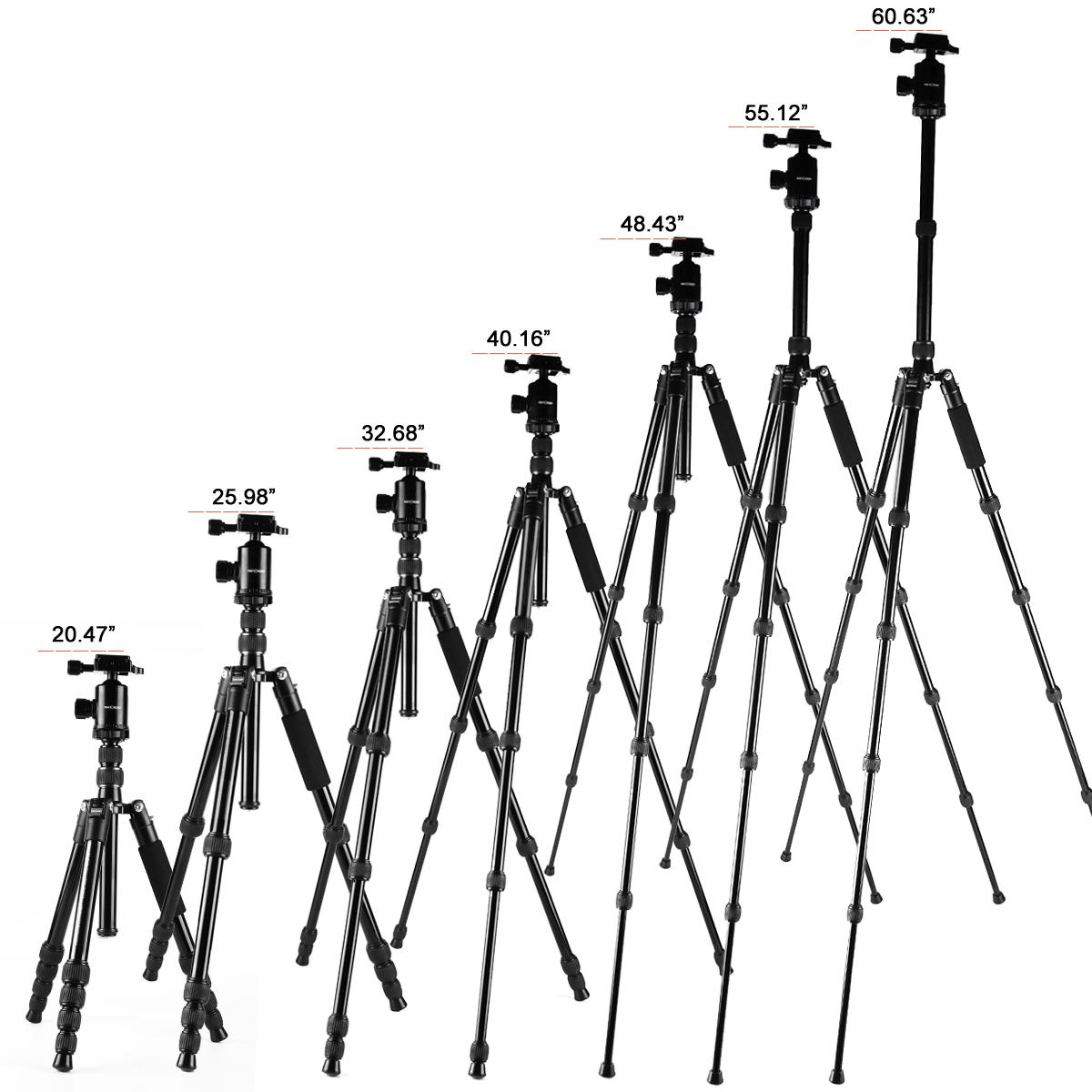 All Reviews
Image

All Star

5 Star

4 Star

3 Star

2 Star

1 Star
Nice Tripod for the Money
Workmanship is great and easy to use. The Ballhead is easy to use , also legs move great and hold rock solid..
18/02/2022
Very nice tripod for travelling
Nice tripod if the weight of your camera + lens combination is not an issue.
27/01/2022
Possibly my new favorite
Top quality, excellent features for the price and it costs half of the same Manfroto tripod. Super deal !
I love it.
10/01/2022
Easy to use, sturdy tripod
Very seedy and easy to use, while being easy to pick up and move around
20/06/2021
Overall good purchase.
Works great
18/03/2021
Worked great. Just needs a booger Travel bag.
Very nice sturdy. Tripod. Work great . It held my Sony a7Riii with grip and 70-200 2.8 lens very well. I only wish that the bag was a little bigger if you don't fold it the way it comes good luck putting it back in the bag.
18/12/2019
You get your money's worth
Positive: Truly collapses to 15 inches, very stable (therefore a bit heavy) Good twist type extension legs locks which lock and unlock easily. Negative: a The mounting shoe needs a bit of practice by the user and you might accidentally dismount your device if you turn the wrong screw. The manual was a nightmare of mangled English (but functionally discernible diagrams will answer most questions)
18/08/2019
Great for action sport photography
Used to take a season full of action photos for Fastpitch softball team. Takes the weight off of you and allows you 360 degree motion to capture every moment. Highly recommend !!
17/08/2019
Got this for my ten year old. She wants to be a YOUTUBER
So I kept hearing how she needed this.She needed a tripod to take Videos for YouTube bc apparently every American kid wants to make a livingRunning around making insanely dumb videos and for some reason 50 million people want to watch them. Lol! (Rant over) but when I picked this up from my porch to carry it in I knew we were in good shape by the weight of it. Don't get me wrong it's not heavy but it wasn't so light that you just know it's gonna be cheap. So I wrapped it up and gave it to her the next nightAnd she freaked. Man this thing can do everything. It can break down to pretty much work With every attachment that works with a 1/4" screw which in my "tripod experience" is extremely universal. So i got her a off brand go pro and an iPad attachment and we had those hooked up and ready to go In literally 5 min. The part she has used the most though has been breaking it down intoThe monopod bc she can run around with her sister making The videos. To sum this baby up. Unreal for the money. It's a cantMiss to me. And I have bought some more expensive that weren't half this nice over my lifetime.Divorced a photographer. Bye bye Tripods! Lol!!!!
03/06/2019
1/3 the price of a Manfrotto, just about the same.
This thing is really well built. I looked at a few Manfrotto tripods but I would have had to spend 3x as much and it would basically have been the same thing. It has an attachment point for ballast, as well and very heavy duty ratcheting leg positions. Definitely a great deal!
04/08/2018
There are no faqs for this product.