K&F M40131 Leica R Lenses to Canon EF Lens Mount Adapter
Free shipping to eligible country
Brand:

K&F Concept

K&F M40131 Leica R Lenses to Canon EF Lens Mount Adapter Allow Leica R mount lenses used on Canon EOS Rebel camera body.

KF06.153

Availability:

In Stock

24.99

https://www.kentfaith.com/KF06.153_leica-r-to-canon-eos-mount-adapter
Buy 2+ items get

10% off

!
Features
• Allow Leica R mount lenses used on Canon EOS Rebel camera body.
• Compatible with Canon EOS Rebel camera includes: Canon 300D, 350D, 400D, 450D, 500D, 550D/T2i, 600D/T3i, 650D/T4i, 700D/T5i, 750D/T6i, 760D/T6s, 800D/T7i, 100D, 200D, 1000D, 1100D/T3, 1200D/T5, 1300D/ T6,Canon 77D, D30, D60, 10D, 20D, 20Da, 30D, 40D, 50D, 60D 60Da, 70D, 77D, 80D, 7D, 7D Mark II, 5D, 5D Mark II, 5D Mark III, 5D Mark IV, 5Ds, 5Ds R, 6D, 6D Mark II,-1D,-1Ds,-1D X,-1D C etc.
• Made of brass and aluminum. Stable, precise and durable construction. Manually operated. Infinity focus allowed.
• For heavy medium format lenses, we suggest to use with a telephoto bracket and a tripod to balance its weight when shoot.
• 30 Days No Reason Return, 12 months quality guarantee, 100% satisfaction assurance.
Frequently Bought Together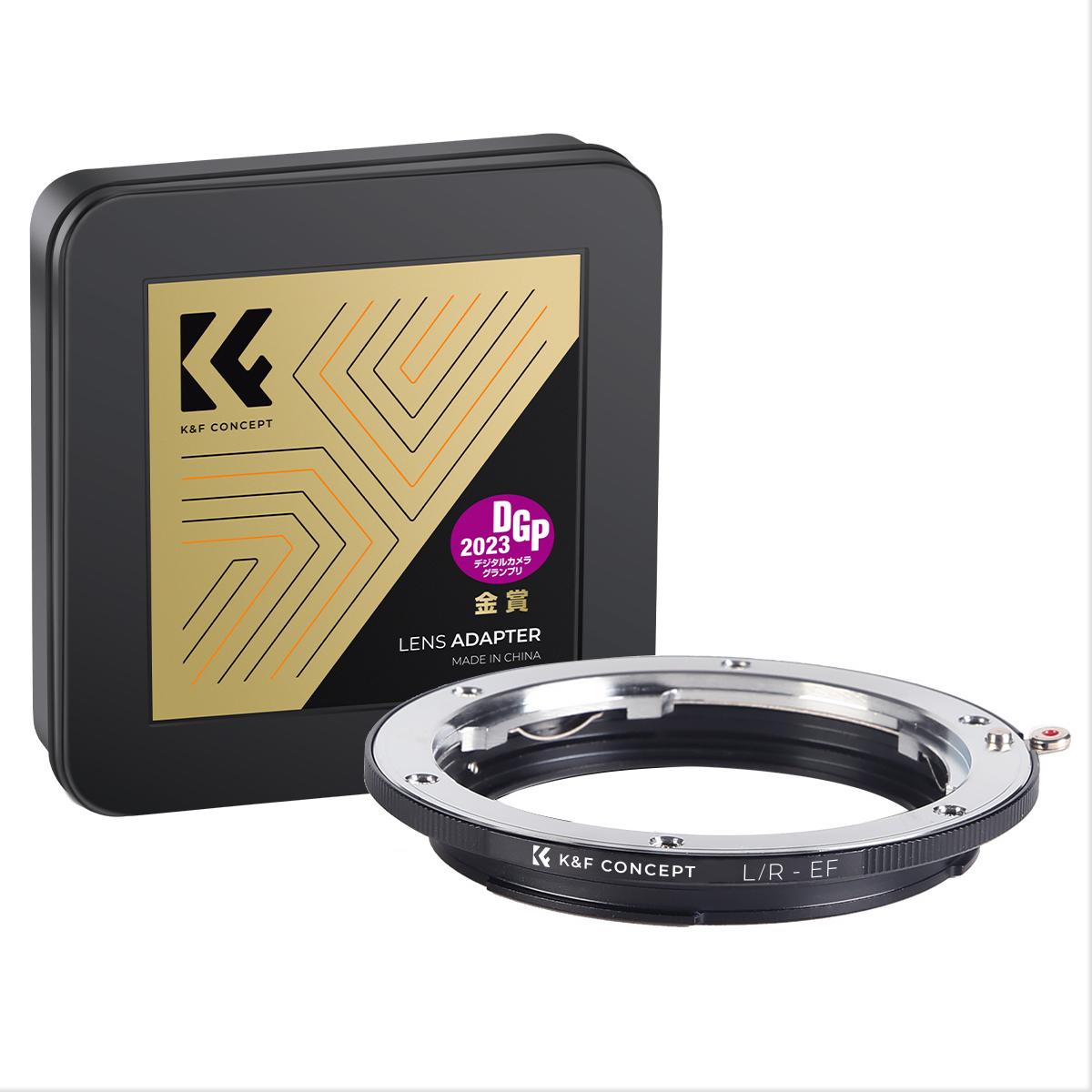 K&F Concept design and produce full range of lens adapters to fit lenses of Canon, Nikon, Pentax, Olympus, Leica, Contax Yashica, Minolta, Tamron, T2, C mount, Exakta, M39, M42, Pentacon etc used on Camera bodies of Canon, Nikon, Sony, Fujifilm, Pentax, Micro 4 3, Leica, M42, Cinema C mount etc.

Adapter Leica Objektiv an EOS Bajonett
Der Adapter ist sehr gut verarbeitet und ohne Werkzeug problemlos wieder vom Objektiv zu entfernen. Ich verwende den Adapter zusätzlich zu einem Adapter EOS auf Sony.
passt gut und erfüllt seinen Zweck.
Der Apadter passt gut und lässt sich nach etwas Einarbeitungszeit gut bedienen. Alte Leica-Objektive passen nun an meine Canon Kameras, die ich zum Filmen nutze.
Perfetto, ma meglio aspettare per un giudizio preciso
Si adatta alla perfezione sia alla lente che al corpo macchina, nessun gioco, tuttavia sono ai primi utilizzi e non si può mai dire col tempo come andrà a finire, dico questo perché dovete considerare che gli adattatori riconosciuti come i migliori, i Novoflex costano 120 euro circa, e quelli si che garantiscono nessuna sorpresa nel tempo, tuttavia per un uso sporadico di lenti vintage Leica R mi sento di consigliarli.
Ein Traum wird war
Habe heute am 29.32016 den Adapter erhalten . Einfach genial, perfekte Passung . Eos wie summicron r 1:2/50 . Aufnahmen ein Traum . Zurück in die Vergangenheit , wie ich es mir immer gewünscht habe
Adapter
camera
EOS
lens
L/R
Ring Material
| Image | Lens | Mount | Filter Size (mm) |
| --- | --- | --- | --- |
| | Hartblei 120mm f/ 2.8 TS-PC MC Super-Rotator | Leica R | 62 |
| | Hartblei 35mm f/ 2.8 TS-PC MC Super-Rotator | Leica R | 82 |
| | Hartblei 65mm f/ 3.5 TS-PC MC Super-Rotator | Leica R | 72 |
| | Hartblei 80mm f/ 2.8 TS-PC MC Super-Rotator | Leica R | 62 |
| | Komura 85mm f/ 1.4 | Leica R | 67 |
| | Leica Apo-Elmarit-R 180mm f/ 2.8 | Leica R | 67 |
| | Leica Apo-Macro-Elmarit-R 100mm f/ 2.8 | Leica R | 60 |
| | Leica Apo-Summicron-R 180mm f/ 2 | Leica R | - |
| | Leica APO-Telyt-R 280mm f/ 2.8 | Leica R | - |
| | Leica APO-Telyt-R 280mm f/ 2.8 Module | Leica R | - |
| Camera | Mount |
| --- | --- |
| Canon EOS 1000D/Rebel XS/Kiss F | Canon EF EF-S |
| Canon EOS 100D/Rebel SL1/Kiss X7 | Canon EF EF-S |
| Canon EOS 10D | Canon EF EF-S |
| Canon EOS 1100D/Rebel T3/Kiss X50 | Canon EF EF-S |
| Canon EOS 1200D/Rebel T5/Kiss X70 | Canon EF EF-S |
| Canon EOS 1300D/Rebel T6/Kiss X80 | Canon EF EF-S |
| Canon EOS 1500D/EOS 2000D/Rebel T7/Kiss X90 | Canon EF EF-S |
| Canon EOS 200D/Rebel SL2/Kiss X8 | Canon EF EF-S |
| Canon EOS 200D/Rebel SL2/Kiss X9 | Canon EF EF-S |
| Canon EOS 20D | Canon EF EF-S |