K&F M14101 Contax Yashica Lenses to Sony E Lens Mount Adapter
Free shipping to eligible country
Brand:

K&F Concept

K&F M14101 Contax Yashica Lenses to Sony E Lens Mount Adapter Allow Contax Yashica mount lenses used on Sony E NEX/Alpha camera body.

KF06.111

Availability:

In Stock

23.99

https://www.kentfaith.com/KF06.111_contax-yashica-to-sony-nex-e-mount-adapter
Buy 2+ items get
10% off
!
Features
• Allow Contax Yashica mount lenses used on Sony E NEX/Alpha camera body.
• Compatible with Sony E NEX/Alpha camera includes: Sony NEX-3, NEX-3C, NEX-3N, NEX-5, NEX-5C, NEX-5N, NEX-5R, NEX-5T, NEX-6, NEX-7, NEX-C3, NEX-F3, NEX-VG10, a7, a7R, a9, a3000, a3500, a5000, a5100, a6000, a6300, a6500, a7S, a7 II, a7S II, a7R II, a7R III etc.
• Made of brass and aluminum. Stable,precise and durable construction.Manually operated.Infinity focus allowed.
• For heavy medium format lenses, we suggest to use with a telephoto bracket and a tripod to balance its weight when shoot.
• 30 Days No Reason Return,12 months quality guarantee,100% satisfaction assurance.
Frequently Bought Together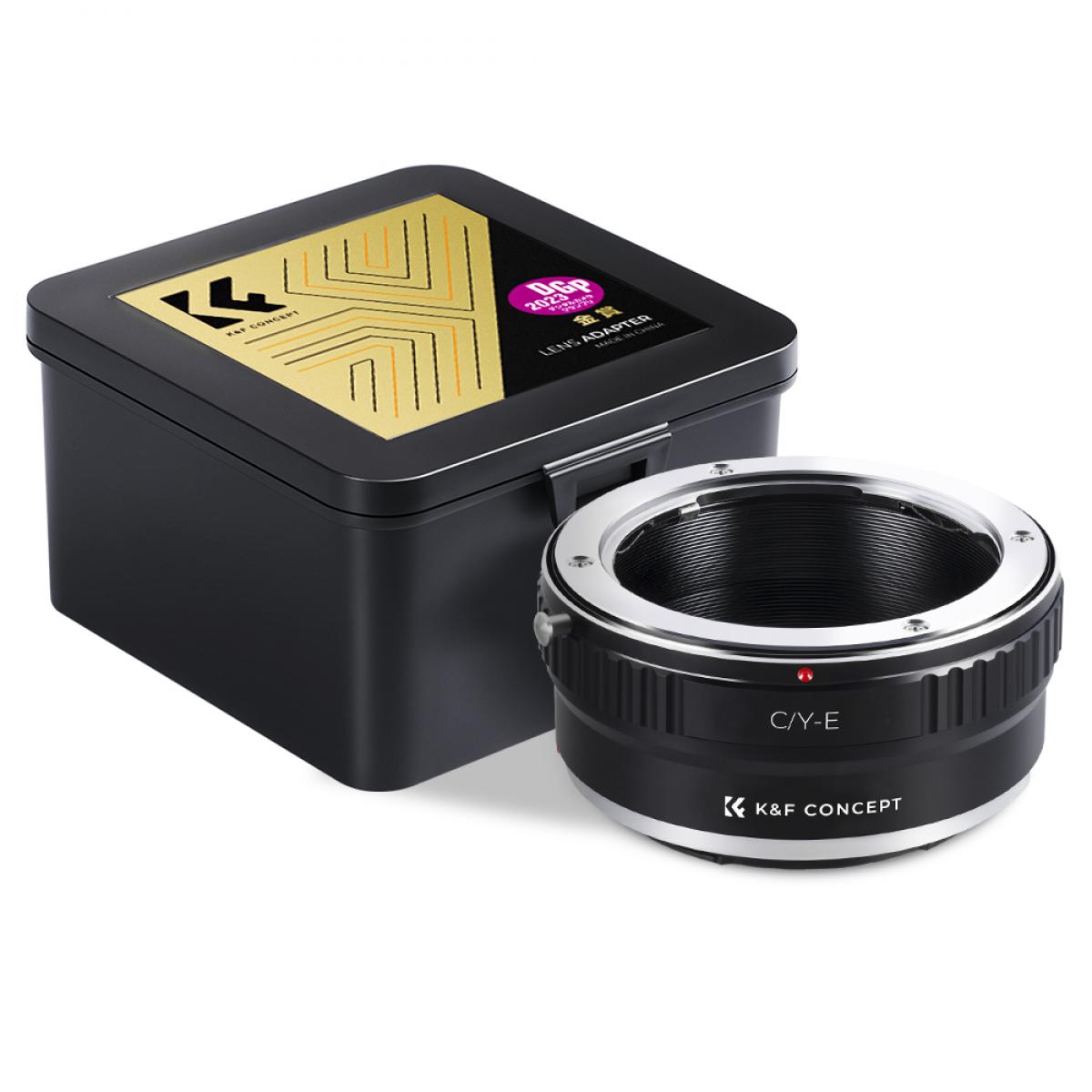 K&F Concept design and produce full range of lens adapters to fit lenses of Canon, Nikon, Pentax, Olympus, Leica, Contax Yashica, Minolta, Tamron, T2, C mount, Exakta, M39, M42, Pentacon etc used on Camera bodies of Canon, Nikon, Sony, Fujifilm, Pentax, Micro 4 3, Leica, M42, Cinema C mount etc.

Great adapter
The adapter works well on my Sony A7ii. The fit is spot on and it let's me use some great affordable zeiss glass. Would highly recomend this as a cheaper alternative to the metabones version.
Very solid and locks firmly
I've tried a few of these, and some work better than others. The K&F units all seem to lock in firmly and hold the lens securely. It's a pretty straightforward task, so it's nice when something does it well.
needs work
The fit and build quality is good. Unfortunately the inside is shiny and doesn't control internal reflections. I fixed it by mixing Matt Black paint with ground charcoal and coating the interior. As it dried I created a stippled surface with the paint brush. The flare has vanished.
My favourite adapters for vintage lenses!
Firstly, I have over 100 vintage lenses, so I've tried so many different adapters and this was the first K&F adapter that I bought in 2015 (I'm going through my old purchases to leave long-term reviews). Since then I've bought quite a few more K&F adapters for my other mount lenses, so at this point, you might be able to guess that I like these adapters a lot!So why do I like them so much? They are not the cheapest adapters out there, but for the price, they are the best adapters I've tried so far. They fit onto the camera quite snuggly which is obviously a good thing and the same can be said for the lens side on the adapter. Overall build quality is very good, even better than I would expect at this price point, so I highly recommend these to anyone using vitnage lenses on modern cameras!
Excellent
Excellent adapter, works brilliantly on my A7 with a 50mm Yashica. Have used this for a lot of paid work so continue to trust it completely. Robust.
Adapter
camera
NEX
lens
C/Y
Ring Material
These images belong to K&F Concept end users.
| Image | Lens | Mount | Filter Size (mm) |
| --- | --- | --- | --- |
| | Access P-MC 35-70mm f/ 2.5-3.5 | Contax/Yashica | 58 |
| | Access P-MC 70-210mm f/ 3.5 (one ring) | Contax/Yashica | 62 |
| | Access P-MC 70-210mm f/ 3.5 (two rings) | Contax/Yashica | 62 |
| | Admiral G.M.C. 135mm f/ 2.8 | Contax/Yashica | 55 |
| | Admiral MC Automatic 28mm f/ 2.8 | Contax/Yashica | 52 |
| | Albinar ADG MC 80-200mm f/ 3.9 | Contax/Yashica | 55 |
| | Angenieux 35-70mm f/ 2.5-3.3 | Contax/Yashica | 58 |
| | ARAX 80mm f/ 2.8 S&T | Contax/Yashica | 62 |
| | Asanuma 17mm f/ 3.5 | Contax/Yashica | 72 |
| | Asanuma Auto-Wide 28mm f/ 2.8 | Contax/Yashica | 52 |
| Camera | Mount |
| --- | --- |
| Sony NEX-3 | Sony E |
| Sony NEX-3N | Sony E |
| Sony NEX-5 | Sony E |
| Sony NEX-5N | Sony E |
| Sony NEX-5R | Sony E |
| Sony NEX-5T | Sony E |
| Sony NEX-6 | Sony E |
| Sony NEX-7 | Sony E |
| Sony NEX-C3 | Sony E |
| Sony NEX-EA50 | Sony E |