Olympus OM Lenses to Sony E Lens Mount Adapter K&F Concept M16101 Lens Adapter
Over 99$-10$ / 200$-25$ /300$-40$
New customer gift package
Free shipping to eligible country
K&F M16101 Olympus OM Lenses to Sony E Lens Mount Adapter Allow Olympus OM Zuiko mount lenses used on Sony E NEX/Alpha camera body.

KF06.072

SKU:

KF06.072

21.99

https://www.kentfaith.com/KF06.072_olympus-om-to-sony-nex-e-mount-adapter
Over 99$-10$ / 200$-25$ /300$-40$
Description
* Allow Olympus OM Zuiko mount lenses used on Sony E NEX/Alpha camera body.
* Compatible with Sony E NEX/Alpha camera includes: Sony NEX-3, NEX-3C, NEX-3N, NEX-5, NEX-5C, NEX-5N, NEX-5R, NEX-5T, NEX-6, NEX-7, NEX-C3, NEX-F3, NEX-VG10, a7, a7R, a9, a3000, a3500, a5000, a5100, a6000, a6300, a6500, a7S, a7 II, a7S II, a7R II, a7R III etc.
* Made of brass and aluminum. Stable,precise and durable construction.Manually operated.Infinity focus allowed.
* For heavy medium format lenses, we suggest to use with a telephoto bracket and a tripod to balance its weight when shoot.
* 30 Days No Reason Return,12 months quality guarantee,100% satisfaction assurance.
Shipping
Free shipping to eligible country
Sale
Over 99$-10$ / 200$-25$ /300$-40$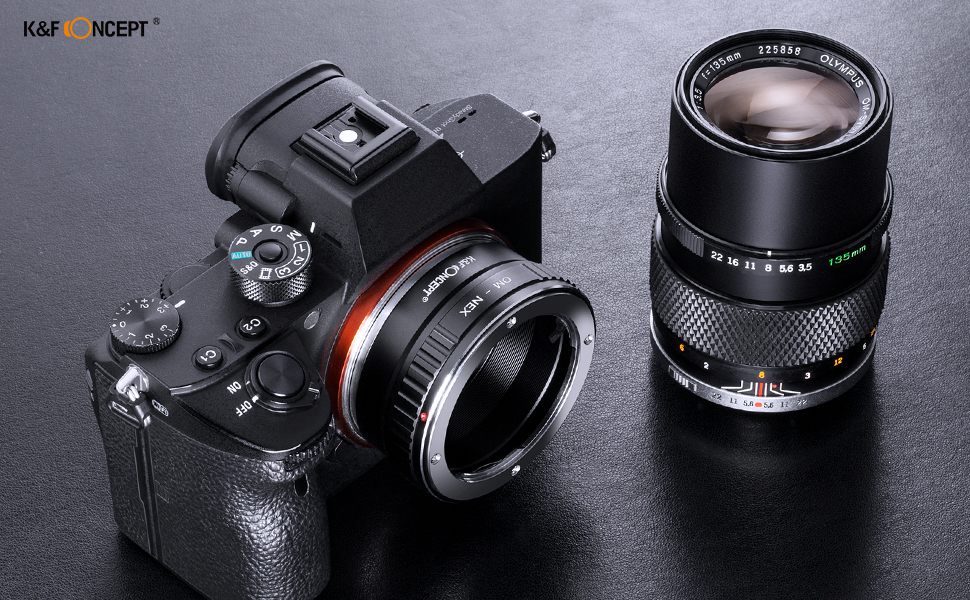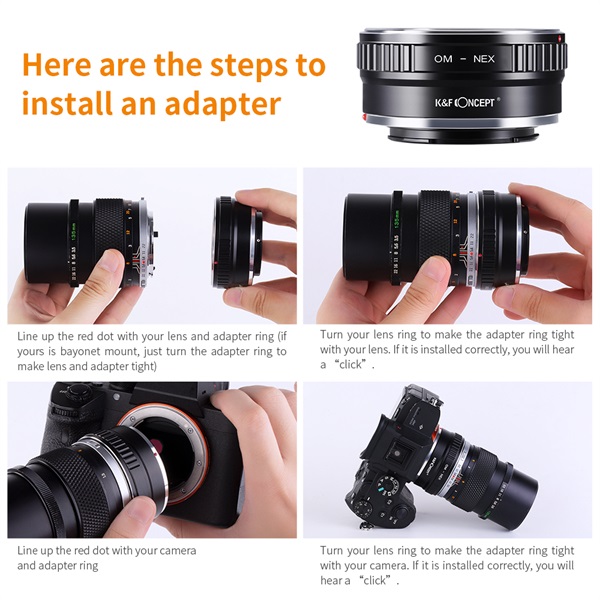 Application:
Manual adapter without electronic contacts, doesn't support autofocus/auto diaphragm/aperture control.
Adapting APS-frame lens to full-frame camera, it may generate vignetting, some cameras could correct it by adjust APSC.
Adapting full-frame lens to APS-frame camera provides excellent edge-to-edge sharpness. The smaller image field helps minimize the effects of lens distortion and aberration by using the 'sweet spot' or center of the larger lens image circle. And it will magnify the focal length by 1.6 on Canon, 1.5 on Nikon and Sony, 2.0 on M4/3 camera.
Set camera "release shutter without lens" to enable when using the adapter for the first time, or the camera will fail to recognize the lens and the shutter may not be released.
Why Should You Choose K&F Concept?
Professional camera accessory manufacturer.
Reliable partner in your photography life.
Premium picked up products.
Adapters are made of metal sealing ring, much tighter, with laser fonts, much durable.
Freely contact our professional after sales team for help or technical support in needed.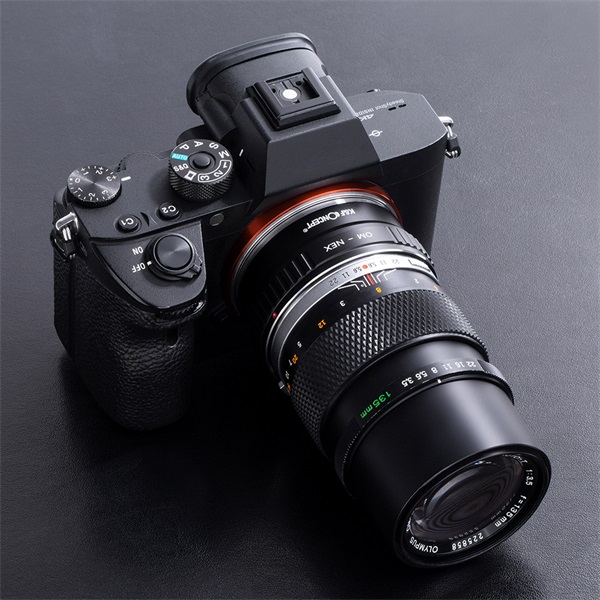 Suitable for:
Lens: Olympus Zuiko OM Lens
Camera: Sony Alpha E-mount Cameras (NOT for Sony A mount cameras)
Properly installed when you rotate about 90 degrees and hear a light "click".
Please screw the lens adapter lightly and skillfully, needn't too much force.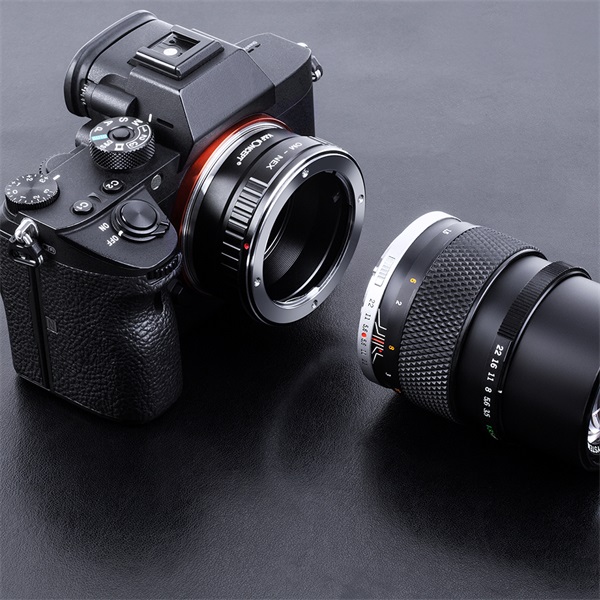 Infinity focus position:
The position of the infinity mark [∞] of the telephoto lens or super telephoto lens is shifted slightly to the positive side to enable focus adjustment even when focus shift is caused due to temperature changes. The shift range is denoted by an L-shaped line, Be sure to check the focus through the viewfinder even when you shoot at infinity.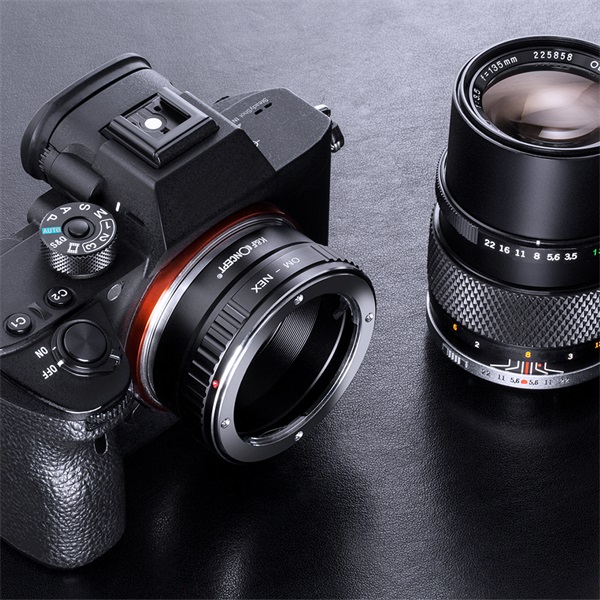 Note: 'No Lens Attached' - Warning Message Appears
The camera needs to be set to function without an E-Mount lens attached. You can do this by changing the following camera setting: 'Menu' -> 'Setup' -> 'Release w/o Lens' -> 'Enable' (Exact naming and location of this option may change depending on camera model). If your lens does not have a manual aperture control ring, it will stop down to its smallest f/stop by default.
All Reviews
Image

All Star

5 Star

4 Star

3 Star

2 Star

1 Star
Solid build but a bit wobbly fit
It's well made of metal with a nice milled lever to release the lens from the adapter. It comes in its own little box. The fit is a bit wobbly thoug, but I don't think this has affected my photos so far . This Is the only reason I didn't give 5 stars.
05/09/2020
Does what it says it will do!
Allows me to use my old om zuiko lenses on my Sony alpha camera. But the lenses only work completely manually. I have not found any advantage. I got from the seller exactly what I asked for. Thank you.
12/04/2020
Built-in mechanical stop prevents DoF preview button (but can be removed)
If you hold the Depth of Field preview button (the button opposite the unlock button on the lens), that will manually stop down the aperture. Meaning, you are not just stuck at wide-open aperture. The only minor caveat is that you must hold this button down while you snap the photo. For some reason, the manufacturers of this adapter chose to include a stop that prevents the slider on the back of the lens from moving and thus stopping down the lens. This makes no sense to me why they'd go out of their way to prevent this very useful function.Even more confusing is why it's so easily removed. You just need some precision screwdrivers and half a brain. Remove the four screws on the silver plate, lift the plate off the adapter, and then you will find one small screw holding the stop in place. Unscrew the screw and remove the stop. Then just reassemble the back plate with the orientation shown in the image (the notched blade is closest to where the text "OM" is printed).You should be good to go! Now, if you hold the DoF preview button down while snapping your picture, the lens will stop down to whatever aperture you have the ring set to and you will be able to use the lens to its fullest potential. In auto mode, the camera will automatically adjust exposure once the aperture is stopped down.
19/02/2020
Incredible value
Solid construction and tight fit. Wouldn't hesitate to order another from them!
17/01/2020
Good until I realized it had a light leak
I thought this was a great quality adapter until I realized how bad of a light leak it has. Tried with multiple OM lenses so I know its the adapter. I don't know if I just got a bad one, but I can't recommend this. Really hoped they would work good for the money.
06/11/2019
Not a tight fit to A6000 but works well.
There is a bit of play on connection to camera similar to other adapters I have had but never seems to be an issuewhen taking photos.
10/07/2019
Well made, good fit
Good quality and reasonable price
03/05/2019
Very good. Well made. Great no wobble fit.
Just ordered a second for another lens.
01/02/2019
Stoked
Fits perfectly on my A7iii with all my OM vintage manual lenses. Not to tight like other reviews say. Bought the adapter with low expectations based on the mixed reviews but its is absolutely amazing. Obviously the lenses have no automatic features (focus or aperture) but with sony focus peeking on the a7iii you can quickly find focus on your subject. Also the camera doesn't register it as having a mounted lens so make sure to set the camera to take photos "without a lens attached" which is in the camera menu. Saved myself thousands of $$ by not having to buy new lenses plus can find plenty on gumtree and at op shops. Excellent purchase worth every penny.
18/06/2018
Great product, highly recommended.
Fits very nicely on the a7 ii body.Works very well with my olympus 50 1.8 & olympus 200 f4.
01/06/2018
These images belong to KENTFAITH end users.
A
It should work just fine. I use it on the a6300 which is the exact same mount as the a7r.
K&F M16101 Olympus OM Lenses to Sony E Lens Mount Adapter
Adapter
Camera
NEX
Lens
OM
Ring Material