Olympus OM Lenses to Fuji X Lens Mount Adapter K&F Concept M16111 Lens Adapter
Buy 99$-9$, 199$-25$, 299$-39$, 599$-100$
New customer gift package
Free shipping worldwide
K&F M16111 Olympus OM Lenses to Fuji X Lens Mount Adapter Allow Olympus OM Zuiko mount lenses used on Fujifilm X series camera body.

KF06.106

SKU:

KF06.106

27.99

https://www.kentfaith.com/KF06.106_olympus-om-to-fuji-x-mount-adapter
Buy 99$-9$, 199$-25$, 299$-39$, 599$-100$
Description
* Allow Olympus OM Zuiko mount lenses used on Fujifilm X series camera body.
* Compatible with Fujifilm camera includes: Fuji X-A1, X-A2, X-A3, X-E1, X-E2, X-E3, X-M1, X-Pro1, X-Pro2, X-S1, X-T1, X-T10, X-T20, X-T2, X10, X20, X30, XF1, XQ1, XQ2 etc.
* Made of brass and aluminum. Stable,precise and durable construction.Manually operated.Infinity focus allowed.
* For heavy medium format lenses, we suggest to use with a telephoto bracket and a tripod to balance its weight when shoot.
* 30 Days No Reason Return,12 months quality guarantee,100% satisfaction assurance.
Shipping
Free shipping worldwide
Sale
Buy 99$-9$, 199$-25$, 299$-39$, 599$-100$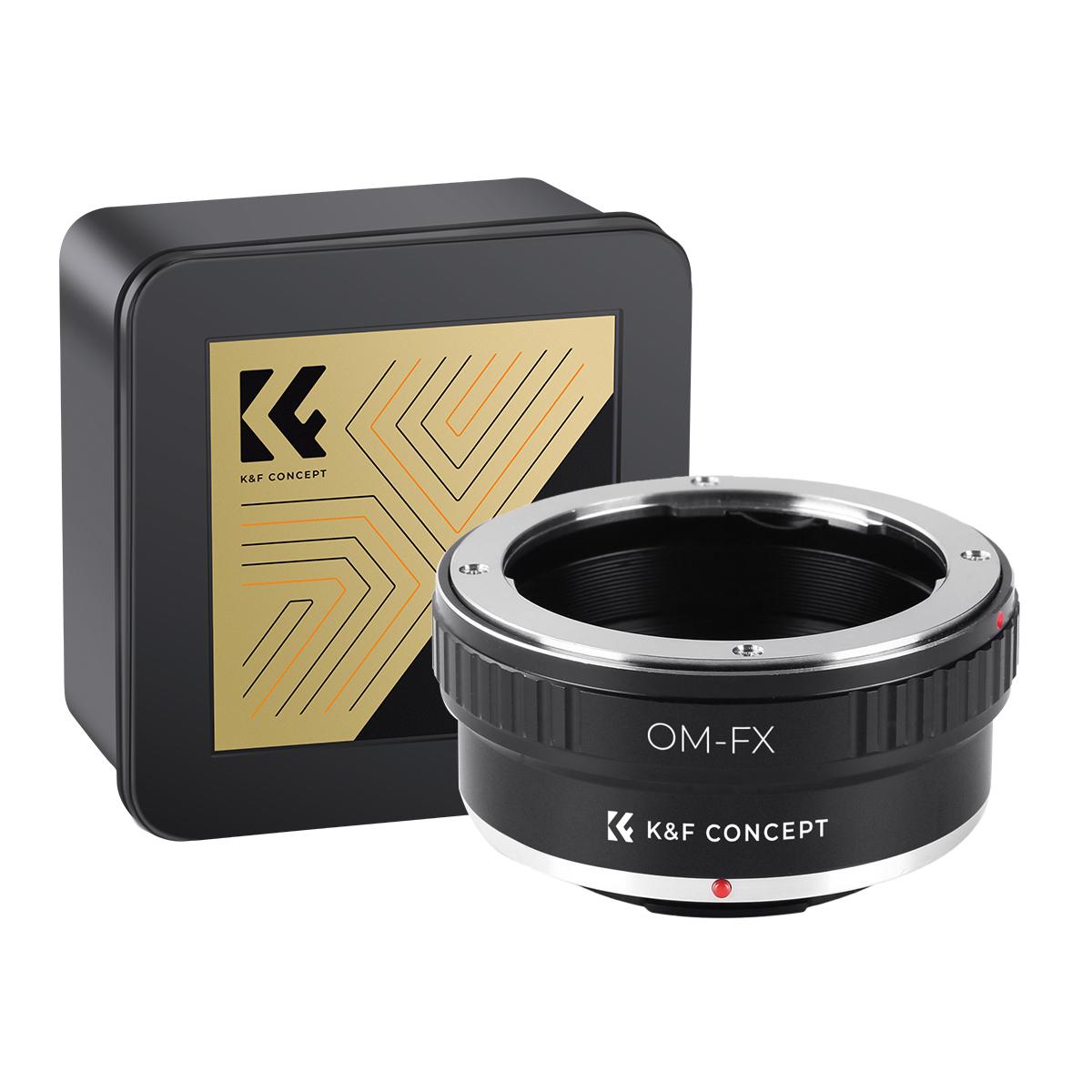 K&F Concept design and produce full range of lens adapters to fit lenses of Canon, Nikon, Pentax, Olympus, Leica, Contax Yashica, Minolta, Tamron, T2, C mount, Exakta, M39, M42, Pentacon etc used on Camera bodies of Canon, Nikon, Sony, Fujifilm, Pentax, Micro 4 3, Leica, M42, Cinema C mount etc.

All Reviews
Image

All Star

5 Star

4 Star

3 Star

2 Star

1 Star
Good for using older lenses.
I have a large collection of old Olympus Zuiko lenses from the 1970's - 80's that were sold for their excellent film cameras. These Zuiko lenses produced tack sharp images and I wanted to use them with my new Fuji XT-3. The lenses fit perfectly but they require manual focusing (obviously) and the aperture needs to be stopped down manually as well. But for the price of the adapter I have some excellent prime lenses at my disposal.
05/06/2020
Must have if you have OM lenses!
Really great adapter, made really well and looks like it'll last me a lifetime!
26/10/2019
Good quality good results.
Lets me use my old Olympus OM lenses on mu Fujfilm X-H1 body --- COOL! Manual focus only of course, but COOL all the same
04/05/2019
Pretty awesome
Using this with my Fuji XT3 and 2 lenses - a 28mm and a 50mm. Long story short, you can actually achieve a nice bokeh with a crop sensor camera. This adaptor is a blessing <3
20/04/2019
Does what it's designed for
Well made perfect fit. Just need to figure out how to work the manual focus setting on my camera.
30/09/2018
Great precession of the product fits well nothing loose
Liked it but ordered the wrong one. Needed the Md to FX which I ordered plus the m42 to FXWould but it again and again love their products
09/05/2018
Superb quality.
Excellent build quality and highly recommended. Basically you cannot fault K&F.
20/04/2018
5 lens on Fuji xe 1 camera and it worked fine. Great way to buy cheap vintage lens and ...
I mounted vintage zuiko 135mm 3.5 lens on Fuji xe 1 camera and it worked fine. Great way to buy cheap vintage lens and use on fuji x system
09/03/2018
Fits well, good product, good value.
The product is the Olympus OM mount to a Fuji X series mount.The object of the exercise is to try and use 3 OM prime lenses, 35mm, 50mm and 135mm, on the Fuji X-A2 mirrorless camera.Very fast delivery, well packaged.The adapter is well made and looks good.Initially the OM lenses did not seem to lock in the adapter and fell off, other reviewers have had the same problem, but... the OM lens have a little button on the side which you press to hold in the metal latching catch, if I held in the catch and then turned the lens firmly in the adapter it locked perfectly. The adapter was easy to attach to the Fuji camera, turn and click.So the adapter now fits snugly.I have only had chance to take a few photographs, remember the lenses are manual lenses, so set the aperture on the lens, perhaps set the focus to infinity on the lens and then on the camera(Fuji specific) set the option take photos without a lens, use aperture priority and manual focus. To get good photos you need to understand and practice these techniques.To buy 3 almost equivalent Fuji lenses would cost nearly 4000 pounds, the adapter with delivery was less than 25 pounds.
24/02/2018
Simple and does what it needs to.
Not much more to be said really. It's a simple bit of kit but if you've got some old lenses knocking about it's great to be able to use them again.
22/08/2017
These images belong to KENTFAITH end users.
There are no faqs for this product.
Adapter
Camera
FX
Lens
OM
Ring Material