NIK Mount Lens to Fujifilm FX Mount Camera Adapter for Fujifilm FX Mount Camera K&F Concept Lens Mount Adapter
Buy 99$-9$, 199$-25$, 299$-39$, 599$-100$
New customer gift package
Free shipping to eligible country
Shop Best Lens Adapter/Lens Converter Ring Made by K&F Concept. Find Top-Rated Canon EF, RF, EOS-M, Fujifilm X-mount, Fujifilm G-mount, Leica L-mount, Nikon F, Nikon Z mount, etc. Enable the use of camera and lens combinations from otherwise incompati

KF06.101

SKU:

KF06.101

23.99

https://www.kentfaith.com/KF06.101_nikon-to-fuji-x-mount-adapter
Buy 99$-9$, 199$-25$, 299$-39$, 599$-100$
Description
* Allow Nikon F mount lenses used on Fujifilm X series camera body.
* Compatible with Fujifilm camera includes: Fuji X-A1, X-A2, X-A3, X-E1, X-E2, X-E3, X-M1, X-Pro1, X-Pro2, X-S1, X-T1, X-T10, X-T20, X-T2, X10, X20, X30, XF1, XQ1, XQ2 etc.
* Made of brass and aluminum. Stable,precise and durable construction.Manually operated.Infinity focus allowed.
* For heavy medium format lenses, we suggest to use with a telephoto bracket and a tripod to balance its weight when shoot.
* 30 Days No Reason Return,12 months quality guarantee,100% satisfaction assurance. Please note Infinity focus position: the position of the infinity mark 【∞】of the telephoto lens or super-telephoto lens is shifted slightly to the positive side to enable focus adjustment even when focus shift is caused due to temperature changes. The shift range is denoted by an L-shaped line, Be sure to check the focus through the viewfinder even when you shoot at infinity.
Shipping
Free shipping to eligible country
Sale
Buy 99$-9$, 199$-25$, 299$-39$, 599$-100$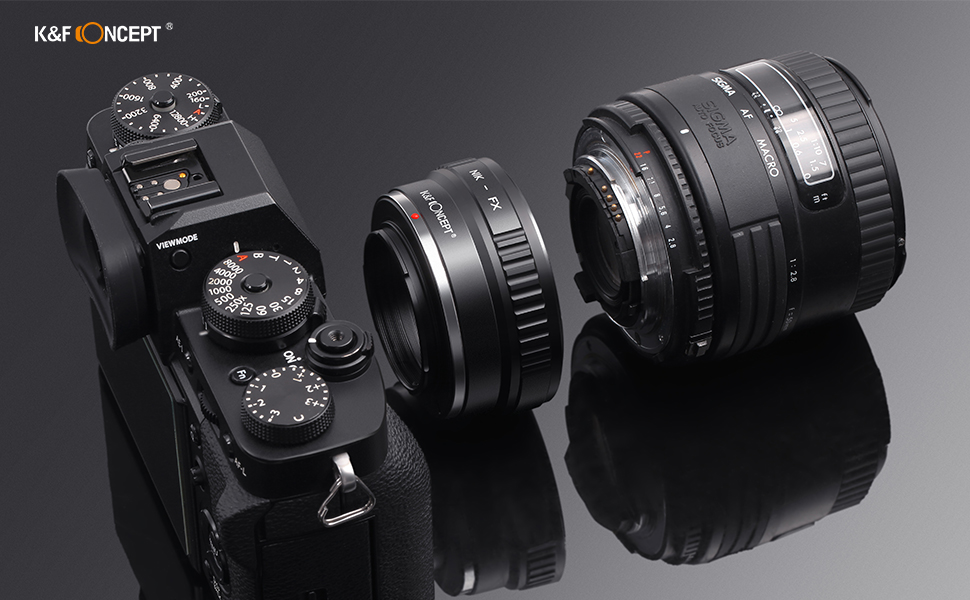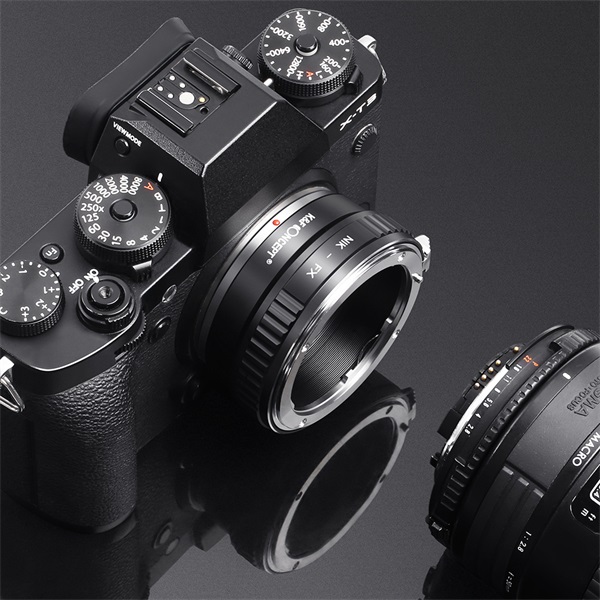 Why Should You Choose K&F Concept?
·Professional camera accessory manufacturer.
·Reliable partner in your photography life.
·Premium picked up products.
·Adapters are made of metal sealing ring, much tighter, with laser fonts, much durable.
·Official authorized store for reliable service.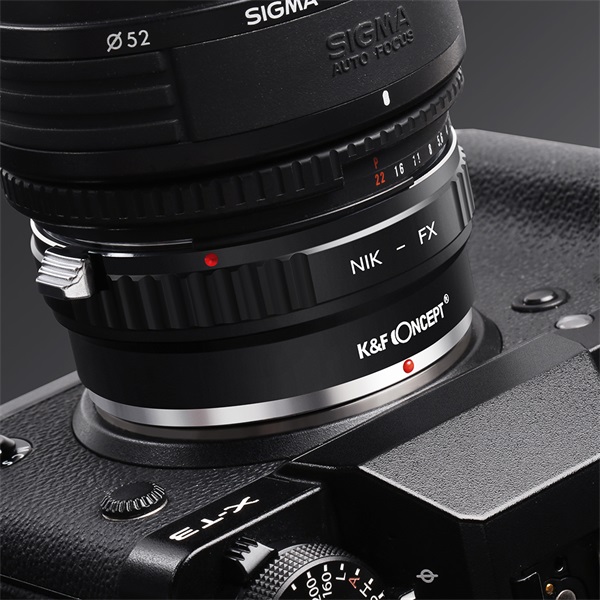 Features:
·Nikon AI/F to Fuji X Adapter, manual adapter without autofocus/auto diaphragm/aperture control
·Camera: Fujifilm Fuji X-Series Mirrorless Camera, X-Pro1, X-Pro2, X-T1, X-T2, X-T10, X-T20, X-E1, X-E2, X-E2S, X-A1, X-A2, X-A3, X-A10, X-M1 etc.
·Compact and high quality with metal material
·Precise production to ensure the perfect fit
·Allows focus infinity
·Elegant clear appearance
·Properly installed when you rotate about 90 degrees and hear a light "click".
·Please screw the lens adapter lightly and skillfully, needn't too much force.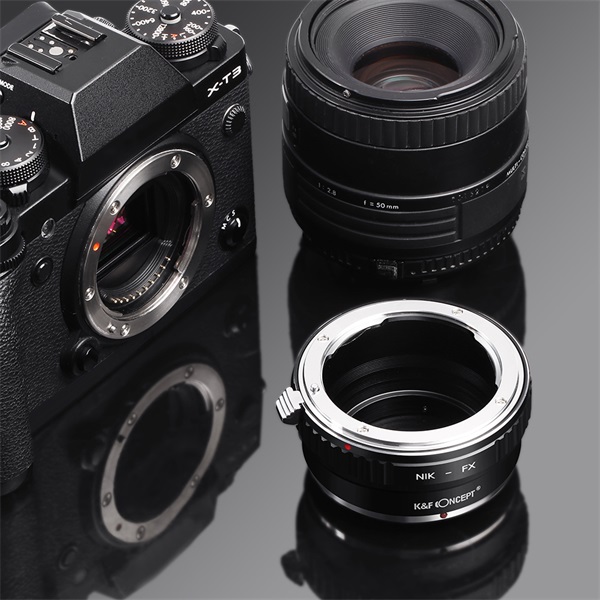 Advices:
Infinity focus position:
·The position of the infinity mark [∞] of the telephoto lens or super telephoto lens is shifted slightly to the positive side to enable focus adjustment even when focus shift is caused due to temperature changes. The shift range is denoted by an L-shaped line, Be sure to check the focus through the viewfinder even when you shoot at infinity.
'No Lens Attached' - Warning Message Appears:
·The camera needs to be set to function without an E-Mount lens attached. You can do this by changing the following camera setting: 'Menu' -> 'Setup' -> 'Release w/o Lens' -> 'Enable' (Exact naming and location of this option may change depending on camera model). If your lens does not have a manual aperture control ring, it will stop down to its smallest f/stop by default.
·Set camera "release shutter without lens" to enable when using the adapter for the first time, or the camera will fail to recognize the lens and the shutter may not be released.

All Reviews
Image

All Star

5 Star

4 Star

3 Star

2 Star

1 Star
Good unite
An upgraded model was available which was purchased instead- although higher in cost it had an extra appature feature
26/08/2020
Great lens adapter for Fuji X-T10!
I was skeptical, A good adapter for my Fujifilm body and my old Nikon lenses for under $100? It is possible and this is the one! I wanted to do more street photography and have a easy and light camera to pack around. My X-T10 came with a really good kit lens but is a 2.8-4 18-55mm. I wanted to have my days old when I was carrying around my Nikon FE with a fast 50mm lens. My old 1:4 50mm lens was sitting on my DSLR Nikon D610 and though I enjoyed the lens, it was married to such bulky body. Enter this adapter. FINALLY! My old lens on a body the same size as an old Nikon film body! The idea that I can shoot in full manual mode or change to a program mode is great! I have been shooting like I did before! Taking time, manipulating focus and shooting like film again without that expense. I highly recommend this product and think I may even get another.
08/07/2020
Well made adapter
I already have an adapter for my Olympus OM lenses. I also have a few Nikon AI lenses that I decided to use on my FUJI XT3. This adapter is very well made and fits the camera perfectly allowing me to use my old lenses again.
29/06/2020
Lens Adaptor
As described, excellent product
29/06/2020
Good quality, affordable adapter!
The adapter is light and It does what it supposed to. My Nikon lenses on a Fujifilm work without any problems. I can highly recommend this product to anyone trying to adapt Nikon Ai-s Lenses to their Fujifilm X camera body.
10/05/2020
All you need to adapt a non AF-S Nikon Lens on to a Fujiflm X Series Camera
I bought this to adapt a Nikon 85mm AF-D f/1.8 lens onto a Fujifilm X-H1.This combination works really well. The aperture ring on the 85mm is nice to use (some nikon lenses are not as good in this respect) and the fit and finish of the adapter is good. Manual focus with the 85mm is very nice too.The results (actual images) are great too.It is lottery when adapting vintage lenses. For me, this combination is superb. I have had had mixed results with other Nikon lenses - the 50mm f/1.8 AF, for example, has a particularly unpleasant aperture ring and is not as pleasant to focus manually.
30/03/2020
Very well constructed and achieves perfect focus with Nikon lens on Fuji camera.
Very well constructed. Nikon lens fits snugly and connection to Fuji camera is perfect. Focus is accurate. Resulting photographs are excellent.
09/02/2020
Can be Tight fit on Nikon
I bought this to use my Nikon 50mm F1.8. A relatively cheap lens which fuji's offering apparently will blow out of the water, but the fuji lense is expensive and I already had it. Obviously lacking auto focus, be aware that you must have a mechanical aperture on your lens for this adapter. So AF-S lenses are out. Given that initially it felt tight and the lock didn't feel great. However after twisting harder than I'm used to it went on and it's "wearing in". For this exceeding tight fit I'm knocking off a star as it would be very easy to put on a lens and think it's on and have it fall off, like I did initially and feel uncomfortable twisting it. I would have concerns if I was mounting a lens with a plastic mount such as kit lenses. Metal I'd feel fine. Overall it's good value. Turn on Focus Peaking is a must on your Fuji camera.
26/11/2019
Good value and works
Works great. Clicks into place well, and is not too easy to accidentally unscrew. Simple piece of metal, no glass.
01/11/2019
Does exactly what you want, with good quality without high price.
Perfect fit, solid build and does what I expected. OK instructions, just needs trial and error as focussing and exposure need to be set manually.
11/06/2019
These images belong to KENTFAITH end users.
There are no faqs for this product.
Adapter
Camera
FX
Lens
NIKON
Ring Material