K&F M22111 Sony A Lenses to Fuji X Lens Mount Adapter
Brand:

K&F Concept

K&F M22111 Sony A Lenses to Fuji X Lens Mount Adapter Allow Minolta A / Sony A mount lenses used on Fujifilm X series camera body.

Availability:

In Stock

29.99

https://www.kentfaith.com/KF06.159_minolta-af-to-fuji-x-mount-adapter
Buy 2+ items get
10% off
!
Features
• Allow Minolta A / Sony A mount lenses used on Fujifilm X series camera body.
• Compatible with Fujifilm camera includes: Fuji X-A1, X-A2, X-A3, X-E1, X-E2, X-E3, X-M1, X-Pro1, X-Pro2, X-S1, X-T1, X-T10, X-T20, X-T2, X10, X20, X30, XF1, XQ1, XQ2 etc.
• Made of brass and aluminum. Stable, precise and durable construction. Manually operated. Infinity focus allowed.
• For heavy medium format lenses, we suggest to use with a telephoto bracket and a tripod to balance its weight when shoot.
• 30 Days No Reason Return, 12 months quality guarantee, 100% satisfaction assurance.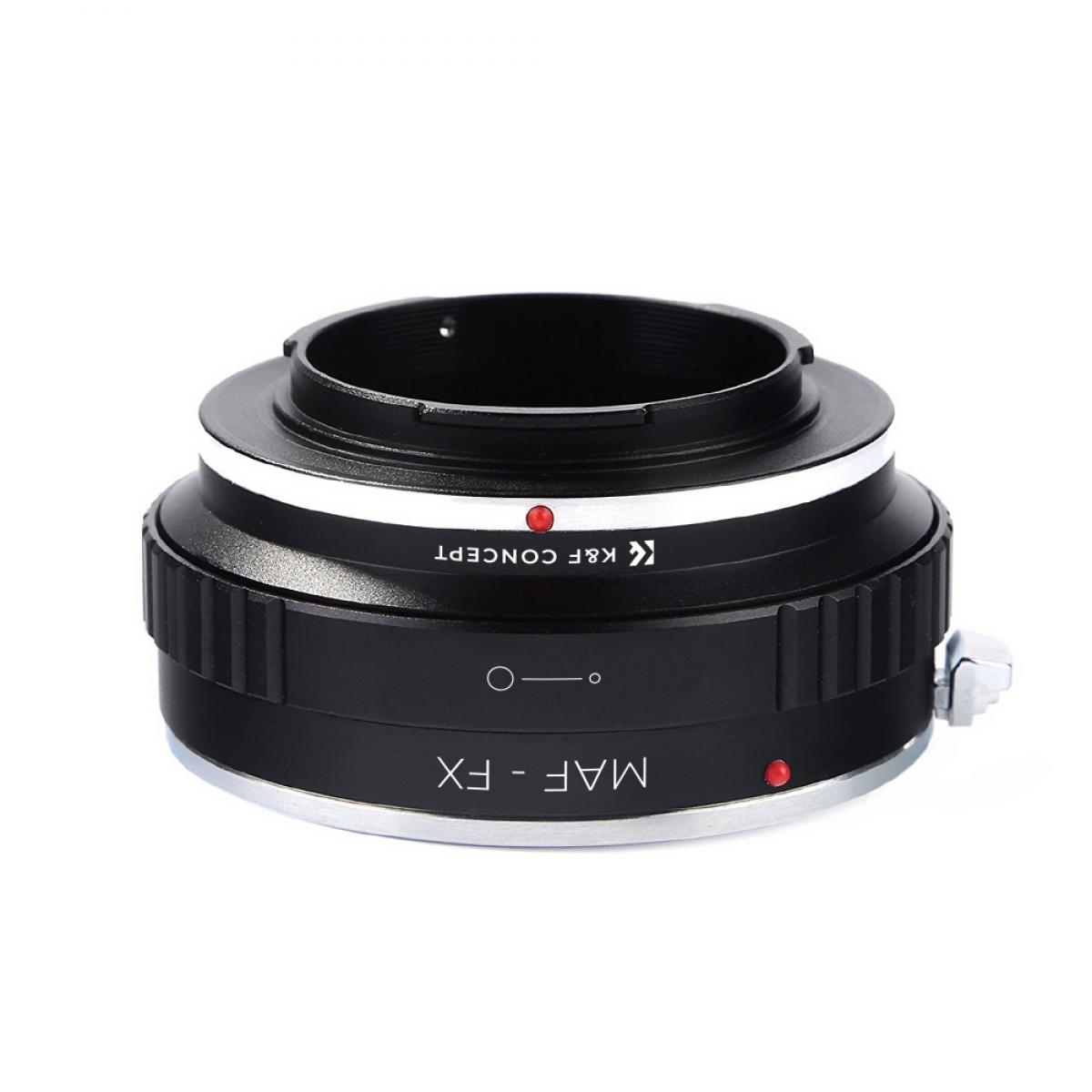 K&F Concept design and produce full range of lens adapters to fit lenses of Canon, Nikon, Pentax, Olympus, Leica, Contax Yashica, Minolta, Tamron, T2, C mount, Exakta, M39, M42, Pentacon etc used on Camera bodies of Canon, Nikon, Sony, Fujifilm, Pentax, Micro 4 3, Leica, M42, Cinema C mount etc.

K&F M22111 Sony A Lenses to Fuji X Lens Mount Adapter
Just received mine today. Very nice fir on the Xt-2 with my minolta apo 400 telefoto. With focus peak on and some patience it is definitely worth it. I am happy!
K&F M22111 Sony A Lenses to Fuji X Lens Mount Adapter
Great for AF lenses, but not for some manual A-mount lenses.
Very tight fit on my X-H1. Sony and Minolta AF lenses fit fine, with nice clicked aperture control. However, my manual A-mount lenses don't work: so far I've tried: Rokinon 16mm f/2 and Venus Optics Laowa 15mm f/4. These are modern lenses officially fitted with A-mount from their respective manufacturers, and worked great on my Sony a77 body.The adapter has a prong that pushes the aperture lever in AF lenses, to adjust their aperture. However, this prong sticks out a bit too much. As a result, the manual lenses mentioned above won't fit, as the prong keeps their A-mount from engaging with the adapter. I will try to file it down a bit, hopefully without breaking it.
K&F M22111 Sony A Lenses to Fuji X Lens Mount Adapter
Good
If you have manual lens, this works good so that you can reuse them on the fuji
K&F M22111 Sony A Lenses to Fuji X Lens Mount Adapter
Passt perfekt…
…auf die Fuji und auf die Minolta-AF-Objektive. und die Blende lässt sich optimal verstellen.Was soll ich noch schreiben? Ah, jetzt habe ich die fehlenden Wörter schon weit überschritten.
K&F M22111 Sony A Lenses to Fuji X Lens Mount Adapter
Passt perfekt an Fuji XT-20 mit positivem Nebeneffekt.
Für meine Fuji XT-20 suchte ich noch einen Adapter der kompatibel mit meinen Sony Alpha Objektiven war. Hier bei Amazon wurde ich fündig. Wer Fuji Kamera sein eigen nennen darf, weiß, dass die entsprechenden Fuji Objektive sehr teuer sind. Ich kaufte diesen Adapter also, um meine alten Sony Alpha Objektive weiter zu nutzen. Wohl wissend, dass ich nun alles manuell einstellen musste. Der Ring am Adapter fiel mir direkt auf. Damals dachte ich noch, das es sich hier um einen Ring handelt, womit man das Objektiv mit dem Adapter sichert. Als ich dann einige Wochen später mein Makroobjektiv anschloss und die Blende verstellen wollte, stellte ich fest, dass bei den neueren Objektiven kein Blendenring vorhanden ist. Ich kaufte mir also einen weiteren Adapter gleicher Konfiguration, doch diesesmal mit Blendenring. Durch Zufall (Gott sei Dank noch in der regulären Umtauschzeit) fiel mir auf, dass der Adapter von K&F Connect obwohl es nicht in der Produktbeschreibung steht einen Blendenring integriert hat.Positiv: - sitzt perfekt an der Fuji XT-20 - sitzt perfekt an Sony Alpha Objektiv seitig. - Blendenring funktioniert einwandfrei. (somit gute Alternative zu teurerer Marke)Ich hoffe ich konnte so manchem hier helfen, der ebenfalls mit dem Gedanken spielt an sein X-Bajonett Sony Alpha Objektive zu adaptieren.
| Image | Lens | Mount | Filter Size (mm) |
| --- | --- | --- | --- |
| | Albinar-S 35mm f/ 2.8 Auto | Sony A / Minolta A | - |
| | Angenieux 28-70mm f/ 2.6 | Sony A / Minolta A | 77 |
| | ARAX 80mm f/ 2.8 S&T | Sony A / Minolta A | 62 |
| | Bell+Howell 14mm f/ 2.8 ED Aspherical IF | Sony A / Minolta A | - |
| | Bell+Howell 85mm f/ 1.4 Aspherical IF | Sony A / Minolta A | 72 |
| | Bell+Howell 8mm f/ 3.5 Fish-Eye CS | Sony A / Minolta A | - |
| | Bower 14mm f/ 2.8 ED AS IF UMC | Sony A / Minolta A | - |
| | Bower 24mm f/ 1.4 | Sony A / Minolta A | 77 |
| | Bower 85mm f/ 1.4 Aspherical IF | Sony A / Minolta A | 72 |
| | Bower 8mm f/ 3.5 Fish-Eye CS | Sony A / Minolta A | - |
| Camera | Mount |
| --- | --- |
| Fujifilm X-A1 | Fuji X |
| Fujifilm X-A10 | Fuji X |
| Fujifilm X-A2 | Fuji X |
| Fujifilm X-A3 | Fuji X |
| Fujifilm X-A5 | Fuji X |
| Fujifilm X-E1 | Fuji X |
| Fujifilm X-E2 | Fuji X |
| Fujifilm X-E2s | Fuji X |
| Fujifilm X-E3 | Fuji X |
| Fujifilm X-H1 | Fuji X |