EOS EF/EFS Lens to Fuji FX Mount X-Pro1 X Camera X-Series Mirrorless Cameras K&F Concept Lens Mount Adapter
To
United States
Expedited Shipping
3-5
business days
Shop Best Lens Adapter/Lens Converter Ring Made by K&F Concept. Find Top-Rated Canon EF, RF, EOS-M, Fujifilm X-mount, Fujifilm G-mount, Leica L-mount, Nikon F, Nikon Z mount, etc. Enable the use of camera and lens combinations from otherwise incompati

KF06.061

SKU:

KF06.061

22.99

https://www.kentfaith.com/KF06.061_canon-eos-to-fuji-x-mount-adapter
Description
* Allow Canon EOS EF, EFS mount lenses used on Fujifilm X series camera body.
* Compatible with Fujifilm camera includes: Fuji X-A1, X-A2, X-A3, X-E1, X-E2, X-E3, X-M1, X-Pro1, X-Pro2, X-S1, X-T1, X-T10, X-T20, X-T2, X10, X20, X30, XF1, XQ1, XQ2 etc.
* Made of brass and aluminum. Stable,precise and durable construction.Manually operated.Infinity focus allowed.
* For heavy medium format lenses, we suggest to use with a telephoto bracket and a tripod to balance its weight when shoot.
* 30 Days No Reason Return,12 months quality guarantee,100% satisfaction assurance. Please note Infinity focus position: the position of the infinity mark 【∞】of the telephoto lens or super-telephoto lens is shifted slightly to the positive side to enable focus adjustment even when focus shift is caused due to temperature changes. The shift range is denoted by an L-shaped line, Be sure to check the focus through the viewfinder even when you shoot at infinity.
Shipping
To
United States
Expedited Shipping
3-5
business days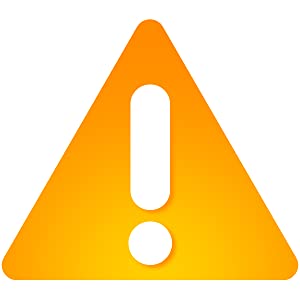 Notices before purchasing:
•Canon STM series lenses don't work with our EOS adapters.
•STM lens (such as EF 50mm f/1.8 STM, EF 18-135 IS STM) requires to be powered to drive the motor to focus, so cannot achieve focus with manual adapters.
•Manual adapters have no electronic contacts, which therefore don't support auto-focus or aperture control. K&F Concept lens mount adapters are all manual ones.
•Please figure out the mount of your camera and lens in case of buying the wrong adapter.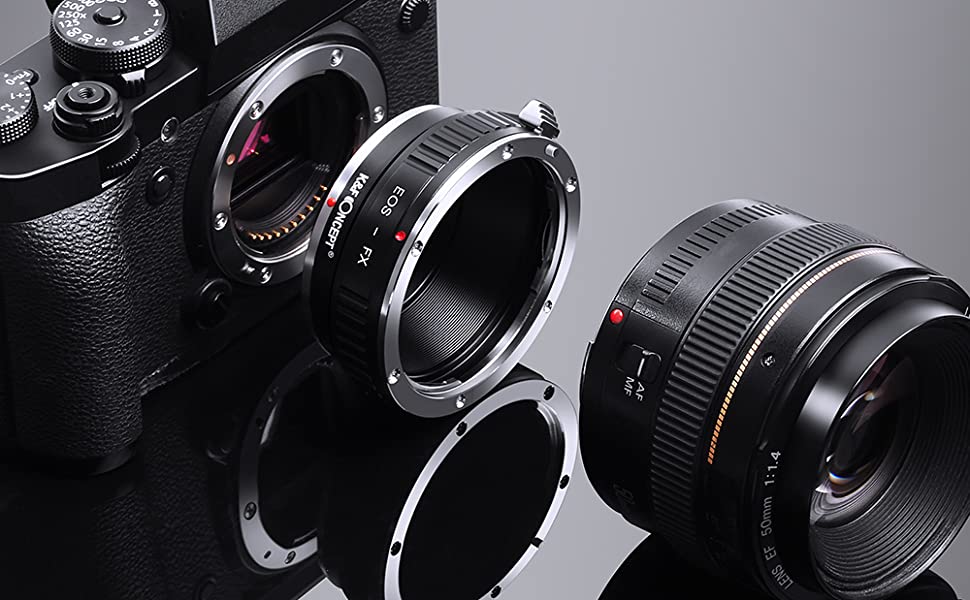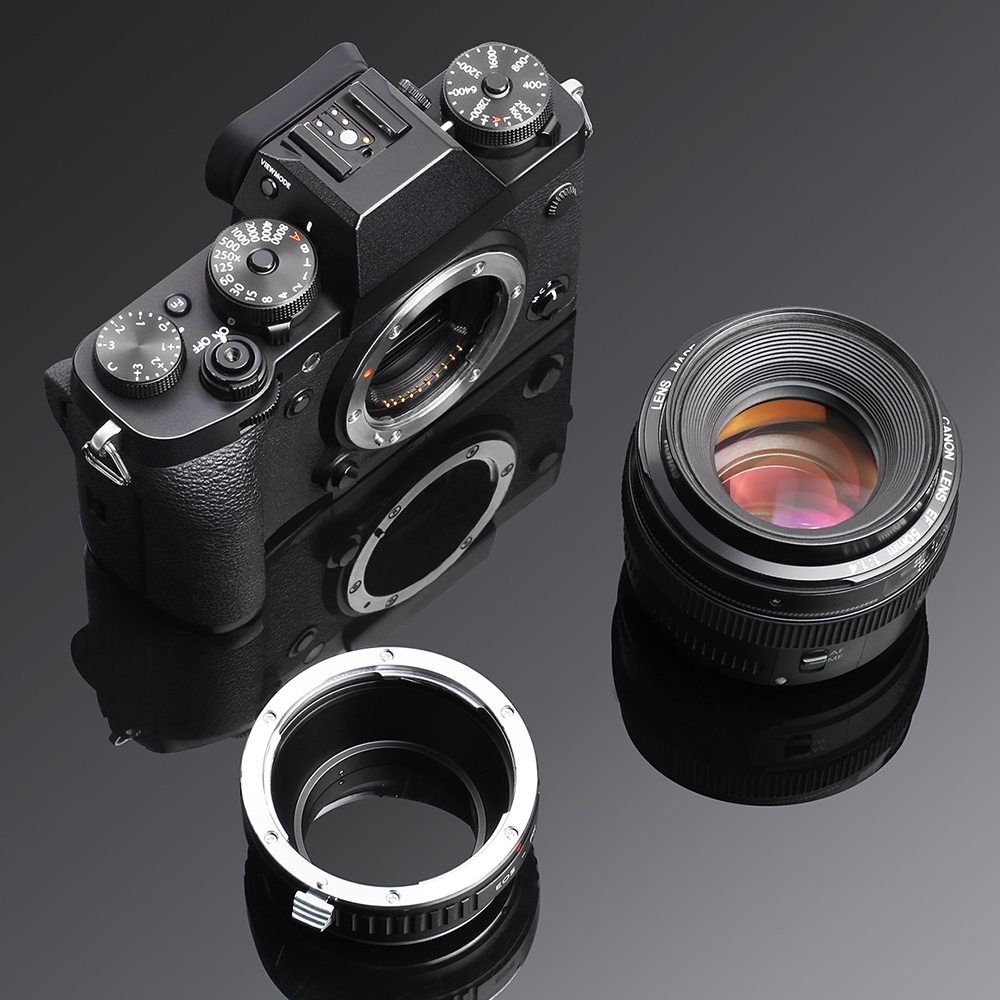 Why Choose K&F Concept?
• professional camera accessory manufacturer.
• Premium Picked up Product.
• Dedicated to provide products in high quality.
• Made of metal sealing ring, much tighter. Laser fonts, much durable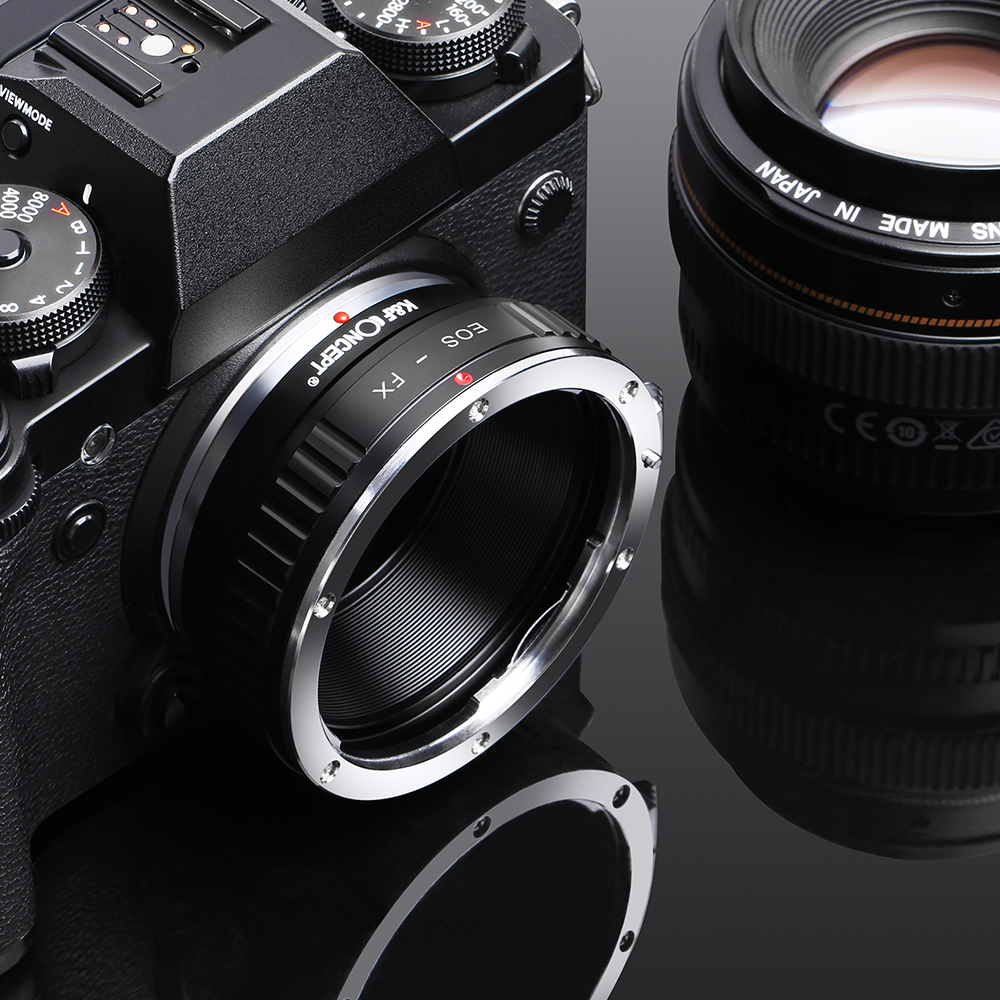 Features:
• This adapter gives you the ability to use your irreplaceable prime lens and saves you the cost of purchasing new lenses
• The adapters are precision made to insure the perfect fit.
• Allows focus infinity.
• Diaphragm control of the lens is set manually.
• High quality and compact.
• EOS to FX mount adapter
• Made of brass and aluminum (not plastic).
• Color: Black 100% Brand New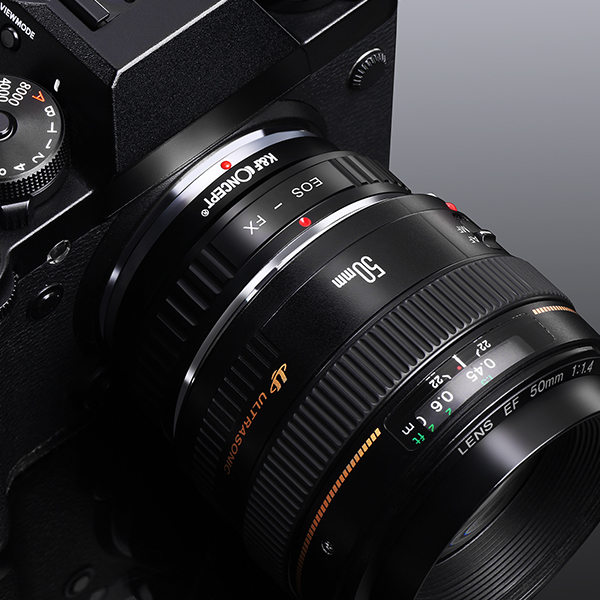 Suitable for:
• EOS EF/EFS Lens
• FujiFX Mount X-Pro1 X Camera X-Series Mirrorless Cameras
Package Includes:
• 1X EOS EF/EFS to FX Lens Mount adapter ring
Note:
• if your camera indicated "lens is not properly installed", please modify the camera menu settings.
Usually called the release the shutter the lens is not installed", you can modify the settings to allow.
Specifically refer to the camera manual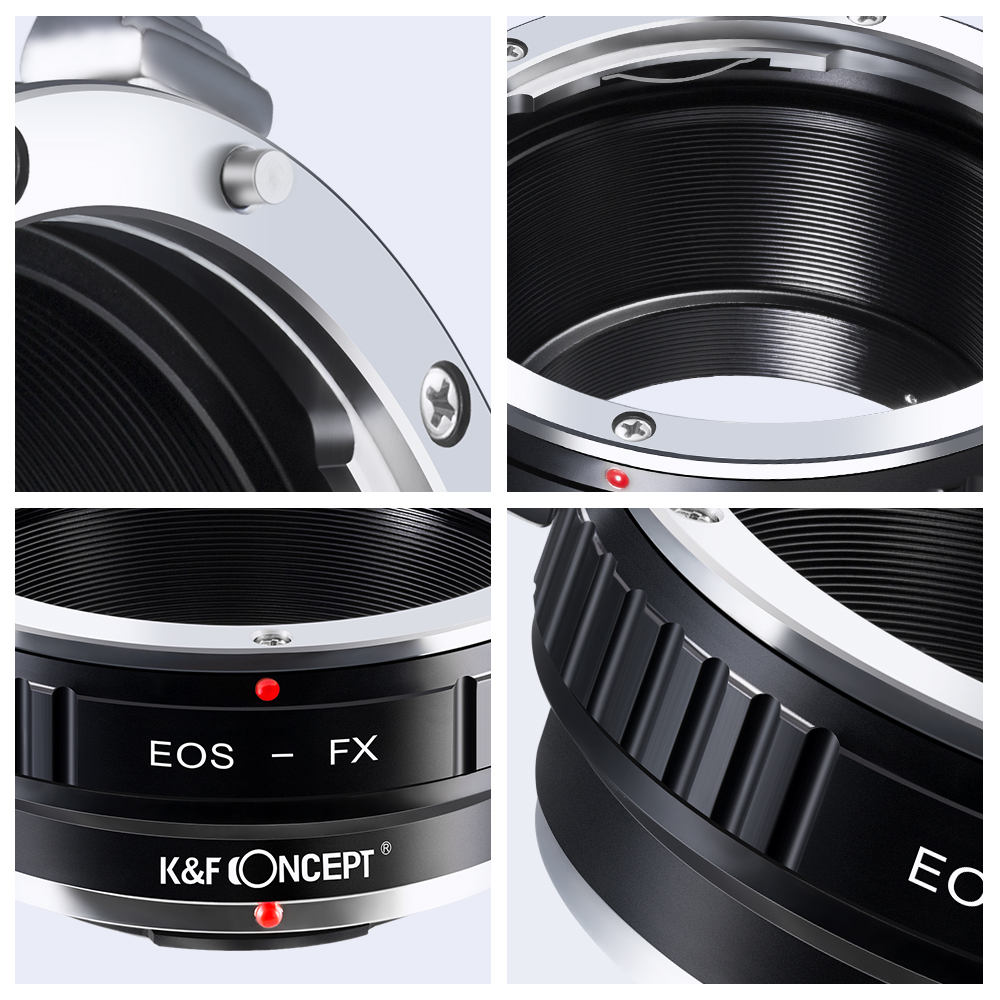 • Although the lens will fit physically, automatic diaphragm, auto-focusing, or any other functions will not operate while using this adapter.There is no electrical contacts in the adapter ring. Full manual operation,manual focus, manual iris adjustment can be achieved with body manual exposure,aperture priority exposure.In this case "stop-down mode" will need to be used when metering since the lens does not have the ability to have its aperture controlled by the camera body.You can shoot in Manual or Aperture Priority Mode. Before use,set your camera Menu: "Shoot without lens".
All Reviews
Image

All Star

5 Star

4 Star

3 Star

2 Star

1 Star
Well made product
Well designed with solid metal casing. The locking pin is well constructed and unlike other adapters I have tried should not fall out. Recommend.
04/06/2020
Excellent product.
Excellent product. Nice tight fit on both the camera and the adapted lens. I will be buying more of these for my other lenses in the future.
29/07/2018
EASY-TO-USE
Easy to use and my shots are pretty clear.. still playing with all the settings on my xpro1.. i will upload pictures next time.. overall - VERY GOOD
20/07/2018
it connect lens to fuji xe1 body perfectly, but ...
it connect lens to fuji xe1 body perfectly, but I have not found how to change aperture .
14/05/2018
Canon to Fuji x mount
Canon to Fuji x mount adapter works well on Fuji XT20. Some adjustments to Fuji camera are required. No autofocus.
23/03/2018
Manual focus is fine as soon as you have phase detection pixels in your camera body (XT2)
I got this adapter to use my Canon lenses with my new Fuji XT2. Because this camera body features phase detection pixels manual focusing is made very easy. The camera highlights edges which are in focus so you always know exactly how to turn the MF ring to get a sharp image. I highly recommend this adapter for people who are new to Fuji and migrated from an SLR ecosystem. Make sure you get a camera body with phase detection pixels though.
11/02/2018
Quality consistent with the price
Better than many of the inexpensive brands.
10/11/2017
Quite useful
You get what you pay for. Fits reasonably okay. Make sure that shooting is on without lens. I plan to leave the adapter attached to some of my canon lenses as frequently removing them might cause slackness. Prompt delivery.
26/09/2017
Great quality, fits perfectly.
High quality adapter. Precisely manufactured, fits perfectly on my Fuji X-E1. It has a perfect, tight fit both on the lens side and to the camera body. Nice to have if you already have a bunch of adapters for Canon EOS and don't want to re-purchase new adapters when switching to Fujifilm cameras.
11/09/2017
These images belong to KENTFAITH end users.
There are no faqs for this product.
Adapter
Camera
FX
Lens
EOS
Ring Material