K&F M17111 Pentax K Lenses to Fuji X Lens Mount Adapter
Free shipping to eligible country
Brand:

K&F Concept

K&F M17111 Pentax K Lenses to Fuji X Lens Mount Adapter Allow Pentax K mount lenses used on Fujifilm X series camera body.

Availability:

In Stock

29.99

https://www.kentfaith.com/KF06.059_pentax-pk-to-fuji-fx-mount-adapter
Buy 2+ items get
10% off
!
Features
• Allow Pentax K mount lenses used on Fujifilm X series camera body.
• Compatible with Fujifilm camera includes: Fuji X-A1, X-A2, X-A3, X-E1, X-E2, X-E3, X-M1, X-Pro1, X-Pro2, X-S1, X-T1, X-T10, X-T20, X-T2, X10, X20, X30, XF1, XQ1, XQ2 etc.
• Made of brass and aluminum. Stable,precise and durable construction.Manually operated.Infinity focus allowed.
• For heavy medium format lenses, we suggest to use with a telephoto bracket and a tripod to balance its weight when shoot.
• 30 Days No Reason Return,12 months quality guarantee,100% satisfaction assurance.
Frequently Bought Together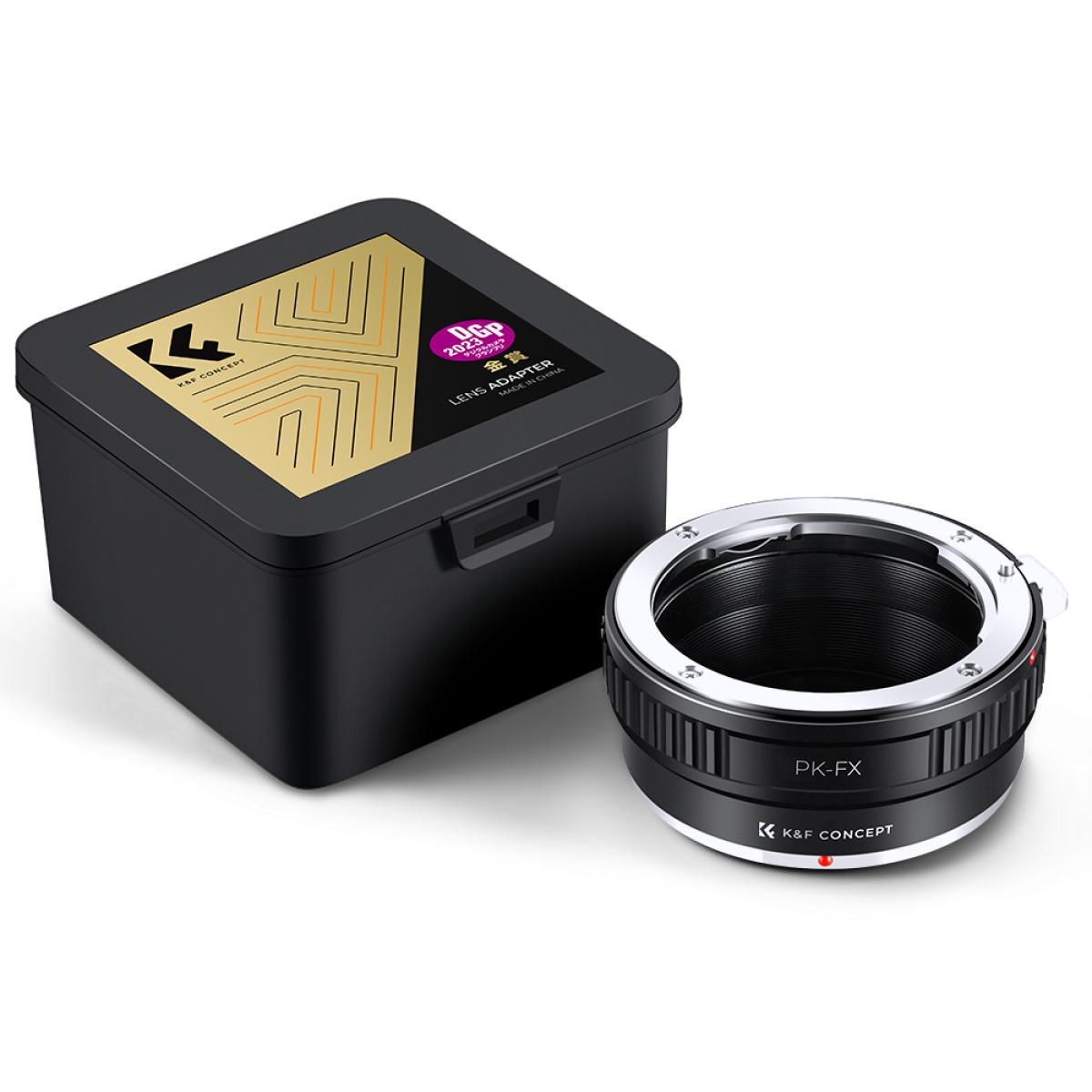 K&F Concept design and produce full range of lens adapters to fit lenses of Canon, Nikon, Pentax, Olympus, Leica, Contax Yashica, Minolta, Tamron, T2, C mount, Exakta, M39, M42, Pentacon etc used on Camera bodies of Canon, Nikon, Sony, Fujifilm, Pentax, Micro 4 3, Leica, M42, Cinema C mount etc.
K&F M17111 Pentax K Lenses to Fuji X Lens Mount Adapter
Very nice on my Fuji X-T2 with manual PK lenses
Good quality construction. Seems a bit stiff on a pair of Pentax-M K mount primes I tried, but smooth on the Pentax-A 70-210mm f/4 zoom, and even a bit loose on the off-brand 2x TC, but no discernible light leaks and excellent image quality on my Fuji X-T2 body.
K&F M17111 Pentax K Lenses to Fuji X Lens Mount Adapter
The Best Straight Lens Adapter I've Purchased
This is my third lens adapter and thankfully the last one I will buy. I was beginning to think they all would feel like things were going to either get stuck together permanently or fall apart when using, until I I got this one. My Pentax 50mm 1.7 mounts smoothly and securely and the adapter mounts to my X-T20 just the same. The adapter and lens line up so your aperture indicator and distance gauge are properly oriented to the camera (facing up). This adapter has made me want to buy a few more lenses to try on my Fuji.
K&F M17111 Pentax K Lenses to Fuji X Lens Mount Adapter
Excellent quality
Have adapters from other suppliers, these are much better.Well made and finished, fit properly to the camera and lens.Have both M42 and Pentax adapters.
K&F M17111 Pentax K Lenses to Fuji X Lens Mount Adapter
Great Adapter!
This adapter fits perfectly on my XT-2. Quality product, and super fast delivery. Highly recommended.
K&F M17111 Pentax K Lenses to Fuji X Lens Mount Adapter
Quality Buy
This was exactly what I needed to use my vintage Pentax lenses with my Fujifilm. If you're like me and lucky enough to inherit quality lenses, but this adaptor. Or try your luck on eBay or vintage shops! It is definitely worth it! Just know going in this does NOT autofocus (so more traditional manual lens) and it will use the aperture settings on the lens. It might be a learning curve for new photographers but if you learn it the "old way" you'll be an expert the "new way".
These images belong to K&F Concept end users.
| Image | Lens | Mount | Filter Size (mm) |
| --- | --- | --- | --- |
| | 3M-5SA 500mm f/ 8.0 | Pentax K | 72 |
| | 3M-7 300mm f/ 5.6 | Pentax K | 67 |
| | Access P-MC 35-70mm f/ 2.5-3.5 | Pentax K | 58 |
| | Access P-MC 70-210mm f/ 3.5 (one ring) | Pentax K | 62 |
| | Access P-MC 70-210mm f/ 3.5 (two rings) | Pentax K | 62 |
| | Admiral G.M.C. 135mm f/ 2.8 | Pentax K | 55 |
| | Admiral MC Automatic 28mm f/ 2.8 | Pentax K | 52 |
| | Aetna Rokunar MC Auto Zoom 35-200mm f/ 3.8-5.6 | Pentax K | 67 |
| | Agfa Color 135mm f/ 2.8 MC | Pentax K | 52 |
| | Agfa Color 50mm f/ 1.9 Coated | Pentax K | 49 |
| Camera | Mount |
| --- | --- |
| Fujifilm X-A1 | Fuji X |
| Fujifilm X-A10 | Fuji X |
| Fujifilm X-A2 | Fuji X |
| Fujifilm X-A3 | Fuji X |
| Fujifilm X-A5 | Fuji X |
| Fujifilm X-E1 | Fuji X |
| Fujifilm X-E2 | Fuji X |
| Fujifilm X-E2s | Fuji X |
| Fujifilm X-E3 | Fuji X |
| Fujifilm X-H1 | Fuji X |