GND8 Lens Filter 100*150mm Soft 3 f-stop Square Graduated Neutral Density Filter Multi Coated with Holder Bag
Terms
Coupon Terms
Terms and Conditions:
Coupons are valid for a limited time only. Kentfaith reserves the right to modify or cancel coupons at any time.
You must purchase the qualifying items added to your Cart when the coupon is in effect for the discount to apply.
If you later modify or cancel the subscription or delivery date for the qualifying item, the discount will not apply.
The coupon applies only to qualifying items displaying the coupon offer.
If you buy more than one item from the same coupon, the maximum discount amount of the coupon will be equal to either the percentage discount off or the face value of the coupon on one eligible item. The coupon may only be used on www.kentfaith.com.
The promotion is limited to one coupon per customer.
If you return any of the items purchased with a coupon, the coupon discount or value may be subtracted from the return credit.
Buy 99$-9$, 199$-25$, 299$-39$, 599$-100$
To
United States
Expedited Shipping
3-5
business days
Free Shipping. 30 Day No Reason Return. K&F Concept square GND8 filter features nano-coating layer technology and ensures the high sharpness of image. Holder bag included.

KF01.1147

SKU:

KF01.1147

89.99

https://www.kentfaith.com/KF01.1147_soft-graduated-neutral-density-gnd8-3-f-stop-filter-100-150mm
Buy 99$-9$, 199$-25$, 299$-39$, 599$-100$
Description
* 【Function】: K&F Concept graduated Neutral Density (ND) Filters allow you to reduce the amount of light reaching the sensor on a portion of your picture. This helps control the exposure difference between Highlights and Shadows for a more balanced exposure and dramatic effect.
* 【28-Layer Nano Coating】: 28-Layer super anti-reflection multi-coated(water repellent/anti-oil/anti-dust/anti-soil/scratch resistant) Coating Technology to withstand almost any conditions.
* 【Material】: With only 2mm thickness and 100*150mm size, No Color Cast is made with premium Japanese Optics glass.
* 【Compatibility】: Compatible with Cokin Z-PRO Series, need to work with Z Series holder and adapter ring
* 【Application】: Perfect for running Water, River, Waterfall, Cloud, Sun, Solar Eclipse, etc Photography;Reduce Exposure in Selective Area (the light is big different between the ground and sky)
Shipping
To
United States
Expedited Shipping
3-5
business days
Sale
Buy 99$-9$, 199$-25$, 299$-39$, 599$-100$
Soft Graduated Neutral Density
GND8 3 f-stop Filter 100*150mm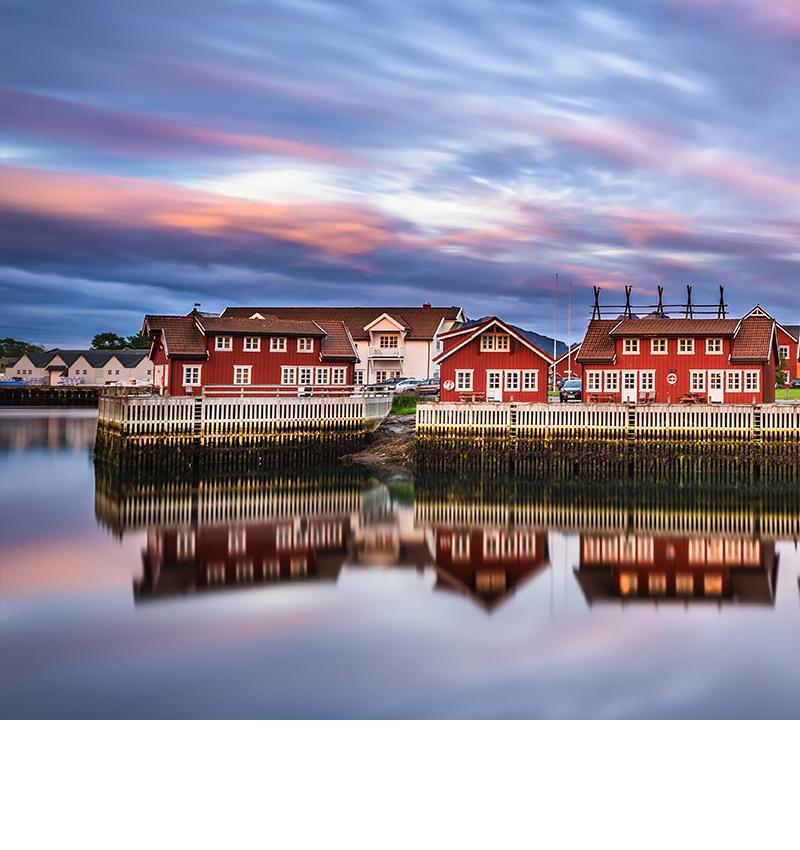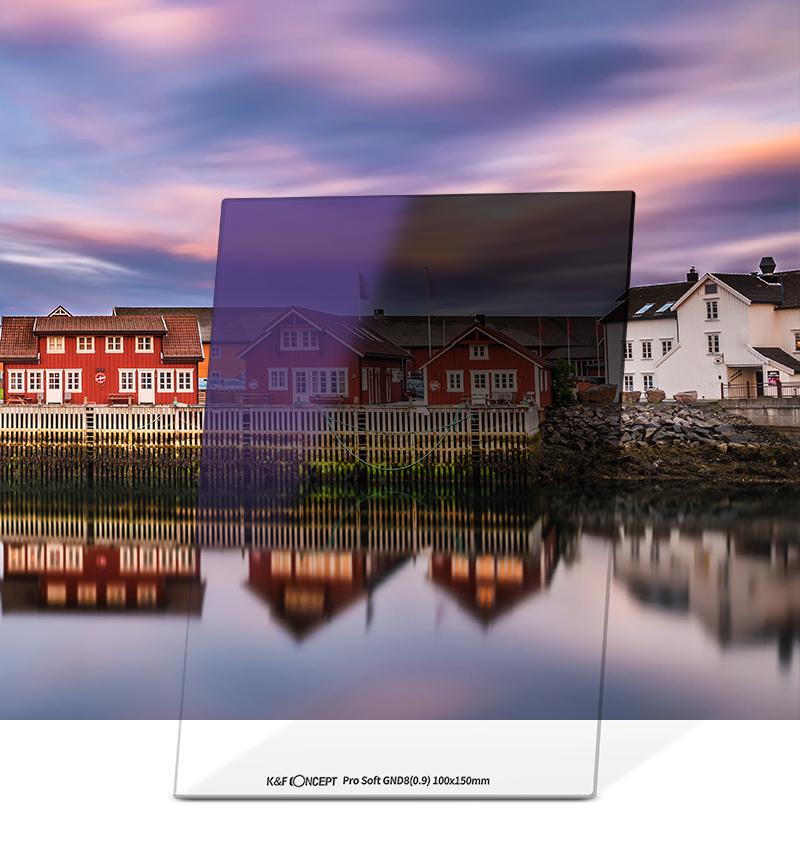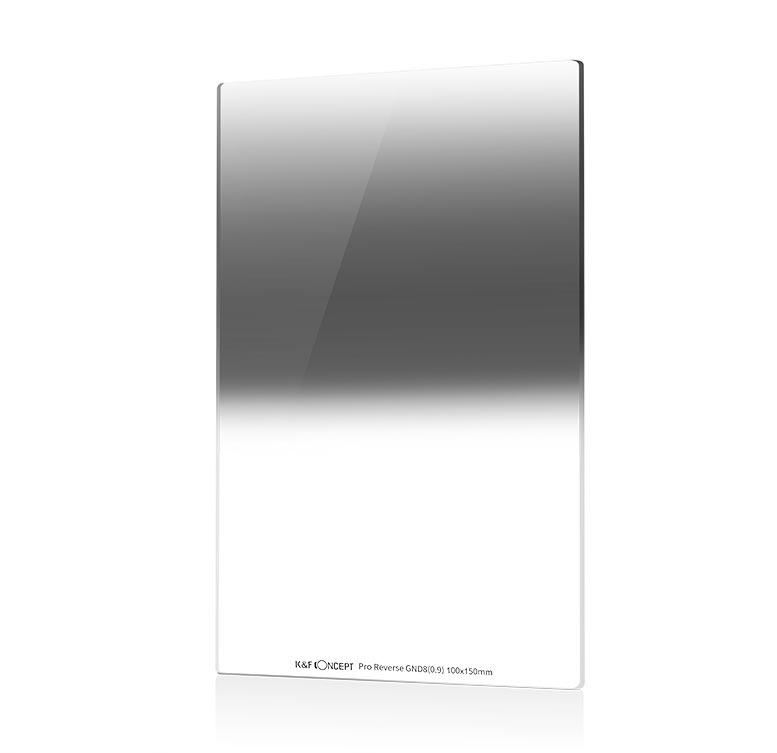 Feature
Soft Graduated Neutral Density GND8 3 f-stop Filter
and is made with premium Japanese Optics glass.

Optical glass

Multi-layer coating

No
vignetting

Low reflectivity

Waterproof
and antifouling

High light
transmittance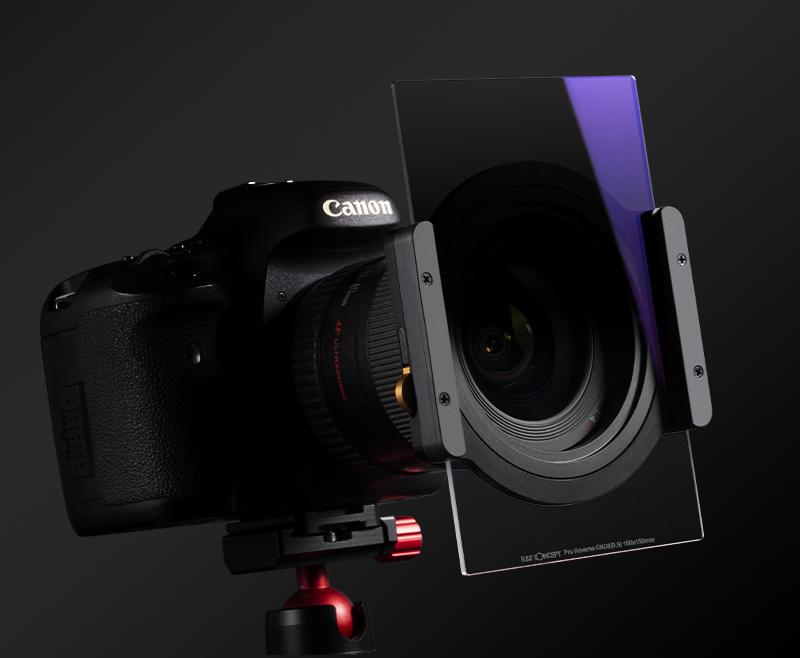 Double-sided Anti-reflective Coating
By double-sided multi-layer anti-reflective coating, the reflected light can
be reduced to below 0.4% to eliminate the influence on imaging.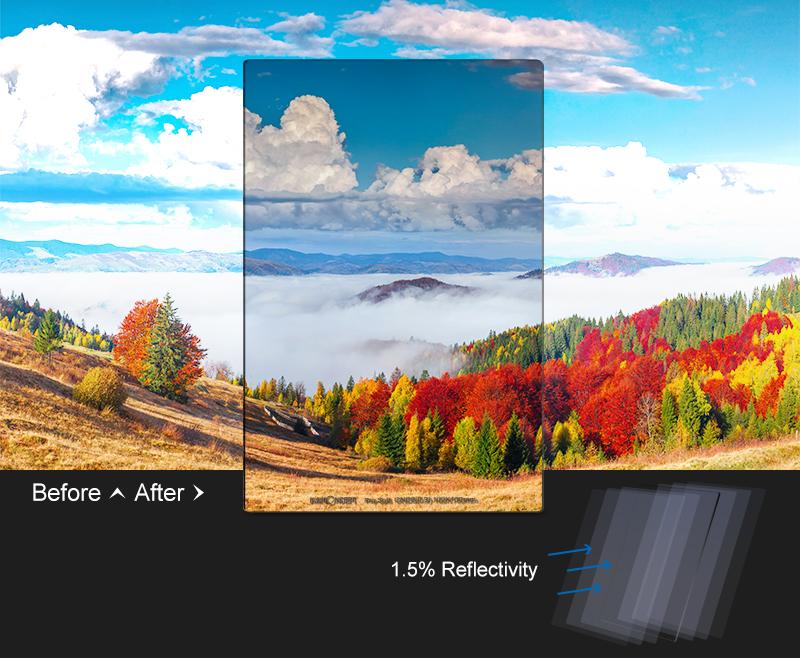 Multi-layer Coating Low Reflectivity
Reduce glare caused by diffuse reflection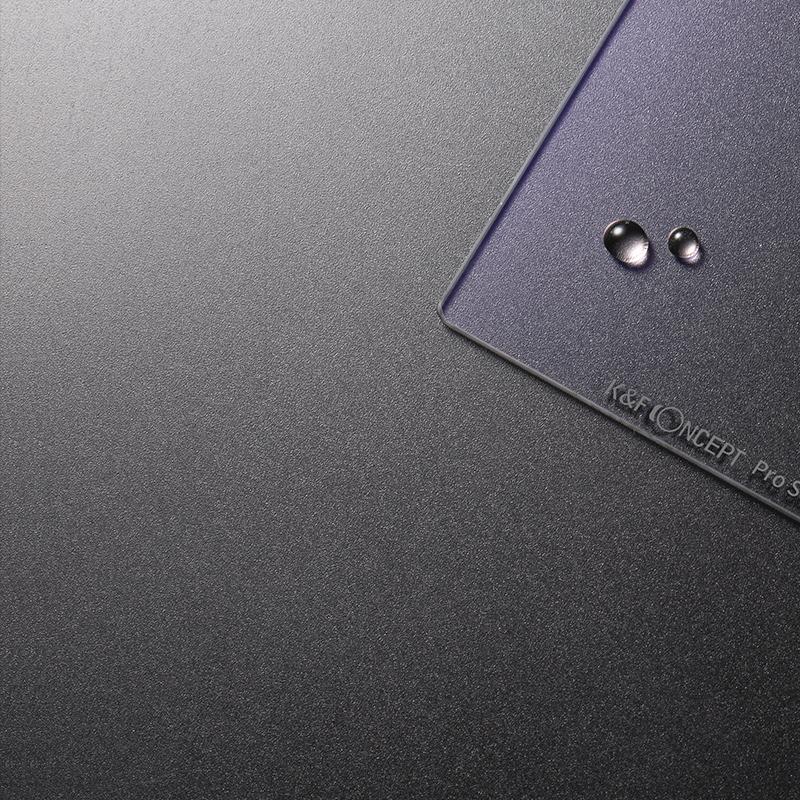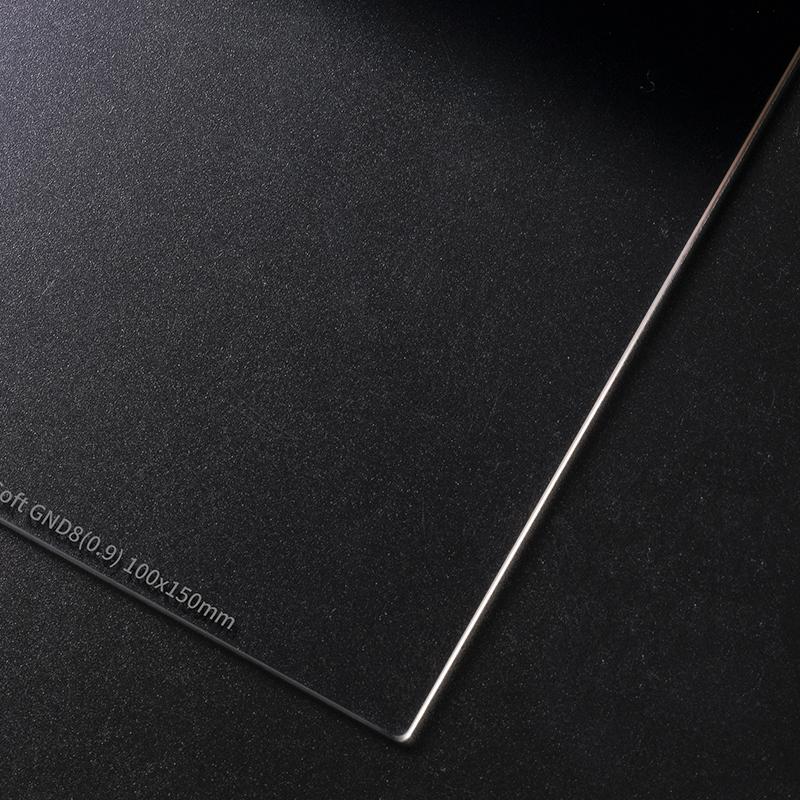 Nanometer Coating
Waterproof,Oil Resistant,Scratch Resistant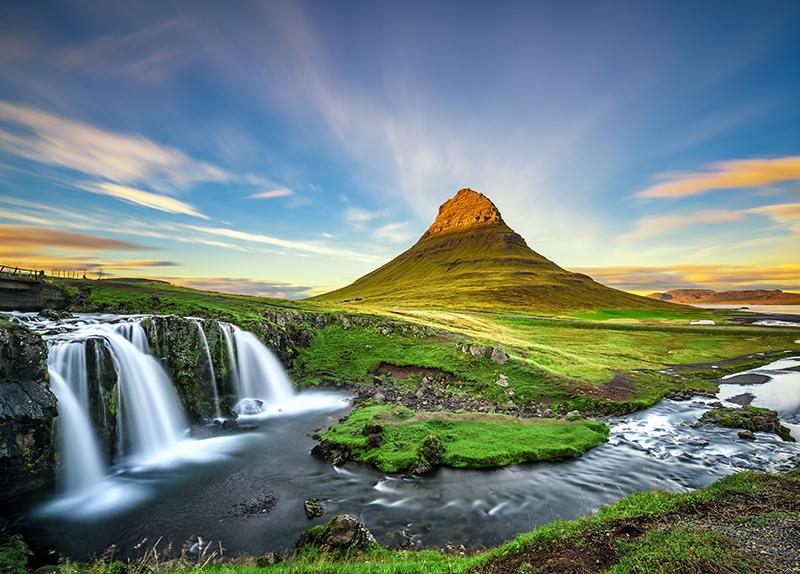 With GND8 Filter
Fix the exposure transition to render the perfect photo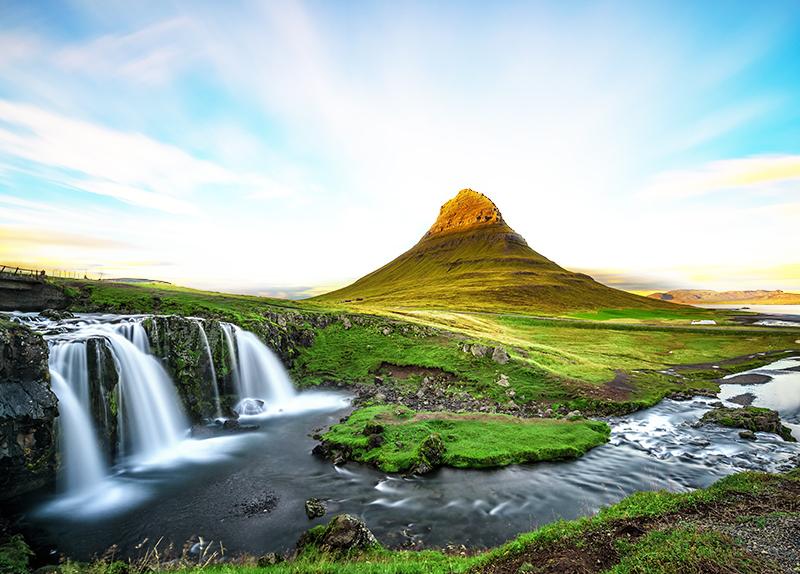 Without GND8 Filter
Sky transition exposure photo is flawed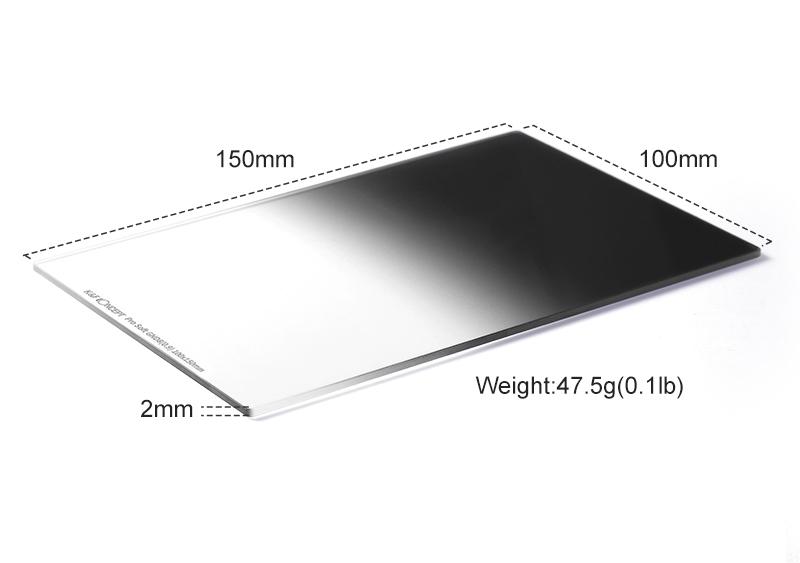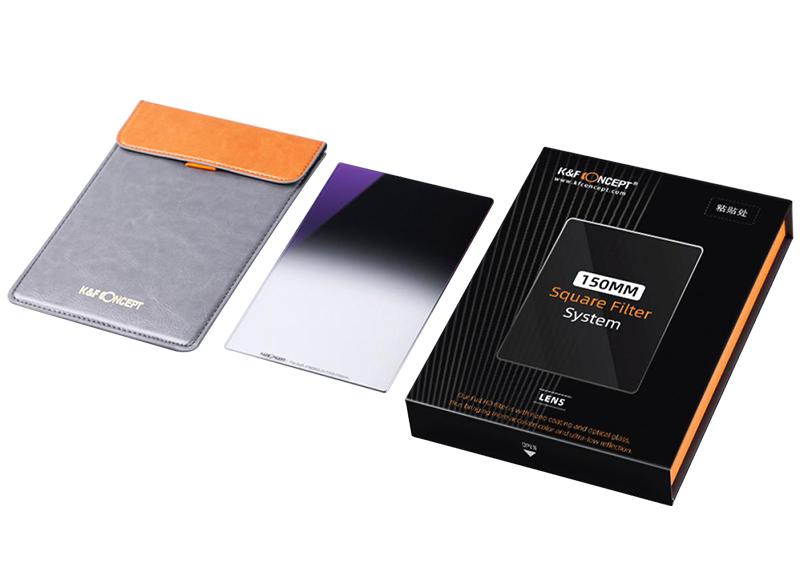 | | | | | | |
| --- | --- | --- | --- | --- | --- |
| | | | | | |
| | | | | | |
| | | | | | |
| Rating | 11 reviews. | 3 reviews. | 84 reviews. | 1 reviews. | 3 reviews. |
| Price | $89.99 | $101.99 | $139.99 | $89.99 | $89.99 |
| Model | KF01.1147 | SKU.1600 | SKU.1601 | KF01.1168 | KF01.1148 |
| Reflectivity | 0.15% | | | | |
| Size | 100*150*2mm | | 100mm/150mm | 100*150mm | 100*150mm |
| Series | Nano-X series | X-series | X-series | | |
| Recommended Scenes | Landscape Photography | Landscape Photography | Landscape Photography | | |
| Function | Light Reduction Effect/Reduce Exposure in Selectiv | Light Reduction Effect | Light Reduction Effect | | |
| Stops | 0.9(3 Stops) | | | | |
| Filter Material | Japanese AGC Glass | Japanese AGC Glass | Japanese AGC Glass | Optical glass | Optical glass |
| Multi-Coating | 28 layers | 28 layers | 28 layers | √ | √ |
| Waterproof | √ | √ | √ | √ | √ |
| scratch-resistant | √ | √ | √ | √ | √ |
| HD | √ | √ | √ | √ | √ |
| Transmittance | ∕ | | 12.5% (GND8) | ∕ | ∕ |
| Antireflection | √ | | √ | √ | √ |
| Filter Thickness | 2.0mm | | 2mm | 2.0mm | 2.0mm |
| Ring Material | Optical glass | | Aviation aluminum alloy | Optical glass | Optical glass |
All Reviews
Image

All Star

5 Star

4 Star

3 Star

2 Star

1 Star
Interesting filter effect
An accessory with variable uses, the case is the best
08/10/2022
Great filter!
Buy several of K&F's filters, and while the brand disappoints when it comes to tripods, it more than makes up for it when it comes to filters. This kit is excellent, at the level of optical quality, and materials.
They have almost no color cast or chromatic aberrations, as well as no loss of image sharpness.
Highly recommended, especially since the ND1000 can go head to head with a Lee Big Stoper, and deliver better results for a fraction of the price.

The only drawback that it has, like all KITs, is that it does not come with a case to store everything (the K&F case is sold separately and is quite small for my needs).
02/10/2022
Swapping my gear for this!
As a photographer I'm always looking for ways to save weight, then save money. Being a longtime Lee Filters user I was skeptical about changing to a product half the price and always heard bad things about circular variable ND's. Man I was shocked by how good this product is. Really happy and will be buying more.
01/10/2022
This product is very versatile.
1. When you run it on your camera, your little flashes will be very strong. 2. I used it for a 30 second exposure at max ND and found that the x was in the frame. maximum darkness. 3. I buy everything else from K&F. The quality of this tool is perfect for me as a professional photographer. It even comes with a circular case that you can slip in your bag when you don't need it. 4. It's also great for the lens when using your DSLR for video work!
26/09/2022
Great amazing price, no color cast
Quality filter, there are 5 steps, it is convenient for sunny days, it comes with a leather case with a magnet to close it, the filter is made of glass and not resin, the quality and price are luxury, I have more expensive filters from other brands and they are worse.
21/09/2022
Fantastic ND filter
For auto rigshots I needed a quality filter at a good price, this would be worth buying at a much higher price! It comes beautifully packaged with a high quality holder for the filter, all made from non-animal products! But none of this matters if it doesn't work, but it does! High quality glass with no tolerable impact on my A7R IV's picture quality. If you need a great ND, this is it!
12/09/2022
Great filter! Great price on sale
I got this on sale and for the price it is has been fantastic.
09/08/2022
Wow... Really surprised by this. K&F works wonders here
I find this filter ideal for photo and video. But at 10mm on my 80D Crop captUKr it casts a shadow over it. When I zoom a pUK like 14mm it disappears. NO X, no coulUKr dominant. Excellent filter... As advertised. and nice build...
09/08/2022
Top filters
You don't need to waste a lot of words about KF, the quality is undoubtedly outstanding. The medium filter fits in seamlessly there.
22/07/2022
Filter for high dynamic range
This filter is super high quality, I used it both for video and photo. For video I used it to expose the sky and the foreground. Especially if you own a cheap dslr this filter will make it look like you have a cinema camera. Highly recommend it.
05/08/2020
These images belong to KENTFAITH end users.
There are no faqs for this product.
K&F SJ51 GND8 100*150mm Soft 3 f-stop Graduated Neutral Density Filter
Do You Know How Your K&F Concept Filters be Produced? | One-day Tour in Production Line
How to check your lens size
Gimbal Stabilizers
Reflectivity
0.15%
Filter
Size
100*150*2mm
Series
Nano-X series
Recommended Scenes
Landscape Photography
Function
Light Reduction Effect/Reduce Exposure in Selectiv
Stops
0.9(3 Stops)
Filter Material
Japanese AGC Glass
Multi-Coating
28 layers
Waterproof
√
scratch-resistant
√
HD
√
Transmittance
∕
Antireflection
√
Pattern
Filter Thickness
2.0mm
Shape
Square
Ring Material
Optical glass