100*100mm Natual Night Square Filter Light Pollution Filter for Night /Sky/Star/Astrophotography Waterproof & Oil Resistant Nano Coating
To
United States
Expedited Free Shipping
3-5
business days
Free Shipping Worldwide. 30 Day No Reason Return. K&F Concept Natural Night Square Filter uses double-sided optical glass, multi-layer coated, waterproof, oil-proof.

KF01.1144

SKU:

KF01.1144

90.99

https://www.kentfaith.com/KF01.1144_100-100mm-natural-night-square-filter
Description
* Light pollution doesn't only adversely affect the quality of night-time city and architectural photographs but also scientific astrophotography in urban areas. K&F Concept Round Filter helps to reduce the unwanted effect of light pollution, giving photographs more contrast and clarity as a result.
* K&F Concept Natural Night Filters made of double side Nano-Coating use waterproof and scratch-resistance technology ,bring the high-quality definition, low-reflection and no Vignetting.
* Block the most common wavelengths of light pollution in the night sky,Significant improvement in the colours throughout the whole scene
* With only 2mm thickness and 100*100mm size,No Color Cast and is made with premium Germany Optics glass.
* Suitable for Canon 16-35,Canon 24-70,Nikon 24-70,Nikon 70-200 and other 52mm,55mm,58mm,62mm,67mm,72mm,77mm,82mm lens, compatible with Lee Cokin Hitech Singh-Ray and other brand holder
Shipping
To
United States
Expedited Free Shipping
3-5
business days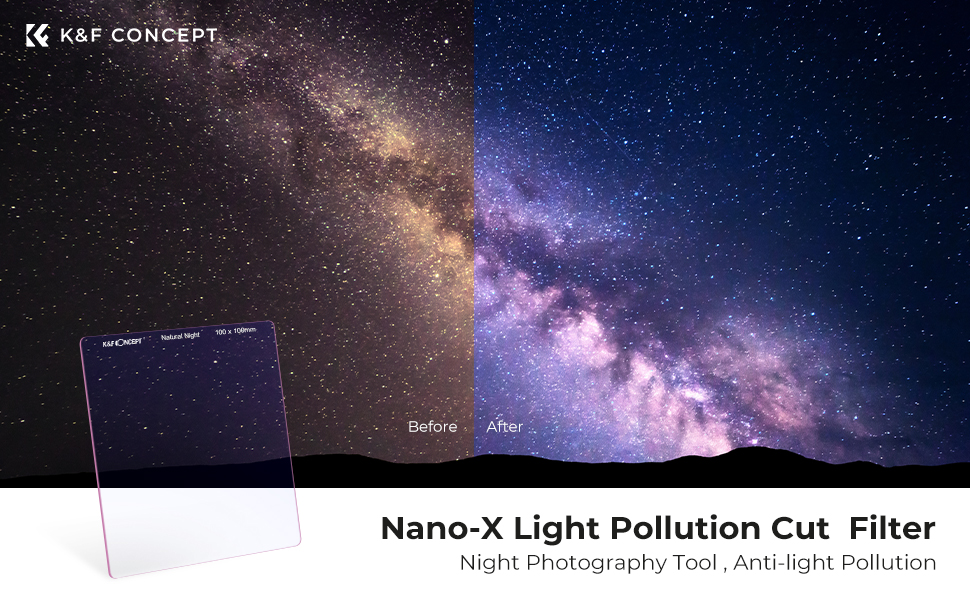 K&F Concept 100 x100x2mm Square Light Pollution Filter
• Between mercury vapor, sodium, and low CRI LED streetlights, there are many undesirable wavelengths of light that pollute the night sky. The glow from these can keep your camera from seeing the sky properly and ruin your night images. The new K&F Concept Filter is available for DSLR and DSLM photographers in 100mm and 100mm widths and helps to reduce the effects of light pollution.
• The special coating on the filter helps stop the yellow and orange wavelengths of light from entering the lens resulting in clearer photographs of the night sky.
• For architectural shots or long exposures in the urban environment even delicate structures and contrasts are maintained in the subject and no longer overexposed.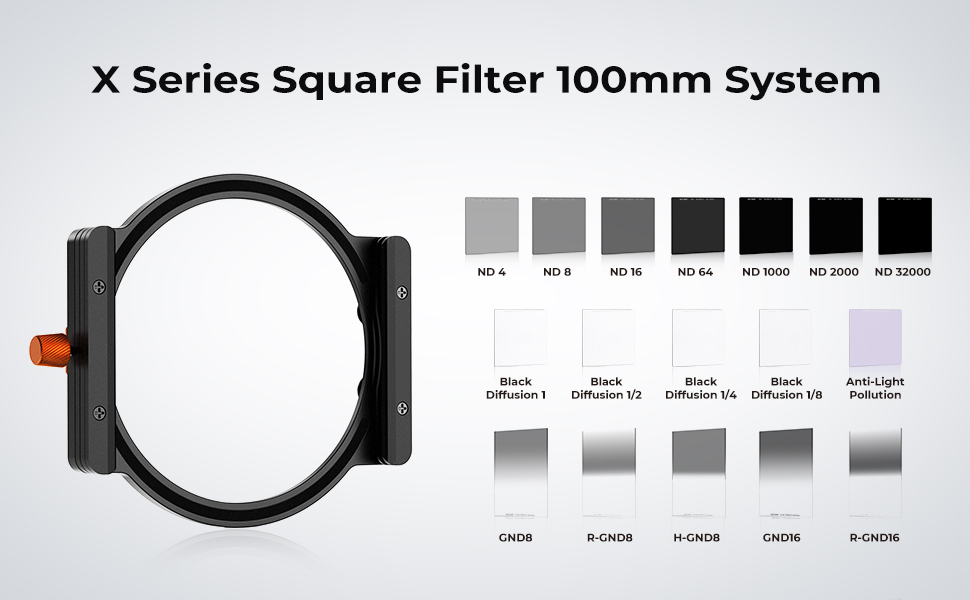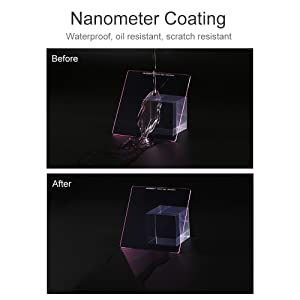 Nanometer Coating
Optical Nano Coating provides for a perfectly neutral filter that has no color shift or color cast. This optical Nano coating is also anti-glaring and anti-reflective, alleviating solar glare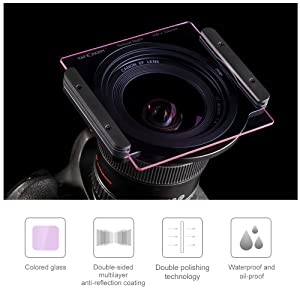 Premium Germany Optics Glass Material
20-Layer double sided Nano Coating,water repellent/anti-oil/anti-dust/anti-soil/scratch resistant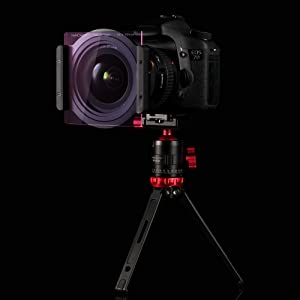 Compatible Holders
Suitable for Canon 16-35,Canon 24-70,Nikon 24-70,Nikon 70-200 and other 52mm,55mm,58mm,62mm,67mm,72mm,77mm,82mm lens, compatible with Lee Cokin Hitech Singh-Ray and other brand holder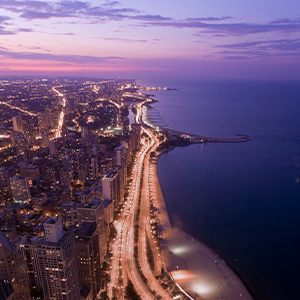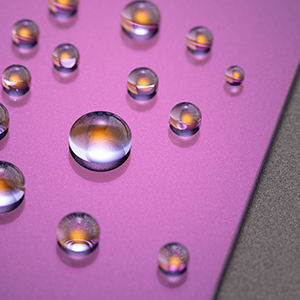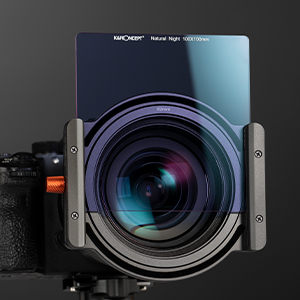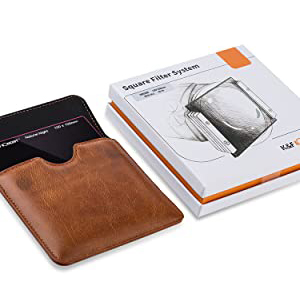 What's in Box
• 1*100*100mm Light Pollution Square Filter
• 1* Leather Filter Protection Pouch
• 1* Outer Hard Color Box
Rating

3 reviews.

97 reviews.

86 reviews.

8 reviews.

3 reviews.
Price

$199.98

$90.99

$162.48

$66.99

$299.99

$152.99

$119.99

$63.99

$177.47

$89.99

Model
KF01.1144
SKU.1596
SKU.1601
KF01.1410
KF01.1147

Reflectivity

0.15%
0.15%
0.15%

Size

100*100mm
100x100mm
100mm/150mm
100*100*2mm
100*150*2mm

Series

Nano-X series
X-series
X-series
Nano-X series
Nano-X series

Recommended Scenes

Night Sky/Starry Sky
Landscape Photography
Landscape Photography
Landscape Photography
Landscape Photography

Function

Block yellow wavelengths of light
Light Reduction Effect
Light Reduction Effect
Light Reduction Effect
Light Reduction Effect/Reduce Exposure in Selectiv

Filter Material

Japanese AGC Glass
Japanese AGC Glass
Japanese AGC Glass
Japanese AGC Glass
Japanese AGC Glass

Multi-Coating

28 layers
28 layers
28 layers
28 layers
28 layers

Waterproof

√
√
√
√
√

scratch-resistant

√
√
√
√
√

HD

√
√
√
√
√

Transmittance

∕
12.5% (GND8)
∕

Antireflection

√
√
√

Filter Thickness

2.0mm
2mm
2.0mm

Ring Material

/
Aviation aluminum alloy
Optical glass

Stops

3.0(10 Stops)
0.9(3 Stops)
Works as Advertised--Highly Recommended
I've used this filter a few time now and it provides excellent contrast to city lights, structures and starry skies.I would buy this filter again!Rich
04/12/2019
Great filter for reducing light pollution
Loving this filter! Fits perfectly in my holder and greatly reduced the amount of light pollution and makes the stars really pop. Highly recommended it to anyone looking to bring out their astrophotography
10/10/2019
Good quality product well priced
Just received this so haven't been out and tried it yet but I've compared it's colour tone to a (much more expensive) Kase 150mm filter which makes me believe it'll be fine. It's packaged really well and has a brown leather-style pouch to store the filter which actually fits quite nicely into my Lowepro filter pouch - I think I'll keep it in that even in the pouch, not only to protect it but I'll be easily able to spot it in the dark! This glass filter fits perfectly in both my Nisi and Lee holder systems so I've given it five stars for the build quality and the fact it looks like it'll do what I need. I'll adjust this review if I discover otherwise when I've taken the first batch of photos with it.
01/08/2019
These images belong to KENTFAITH end users.
A
hey, the square filter is only for basic square holder, but you can combine our square filter frame, the can be used on pro filter system: https://www.kentfaith.com/search_KF31.038 and we will have combo one for selling soon
100*100mm Natural Night Square Filter Light Pollution Filter
Do You Know How Your K&F Concept Filters be Produced? | One-day Tour in Production Line
How to check your lens size
Filter
Reflectivity
0.15%
Size
100*100mm
Series
Nano-X series
Recommended Scenes
Night Sky/Starry Sky
Function
Block yellow wavelengths of light
Filter Material
Japanese AGC Glass
Multi-Coating
28 layers
Waterproof
√
scratch-resistant
√
HD
√
Transmittance
∕
Antireflection
√
Pattern
Filter Thickness
2.0mm
Shape
Square
Ring Material
/