Square Filter Kit 100mm ND1000 + 150mm GND8 + Metal Square Filter Holder Set
Terms
Terms and Conditions:
Coupons are valid for a limited time only. Kentfaith reserves the right to modify or cancel coupons at any time.
You must purchase the qualifying items added to your Cart when the coupon is in effect for the discount to apply.
If you later modify or cancel the subscription or delivery date for the qualifying item, the discount will not apply.
The coupon applies only to qualifying items displaying the coupon offer.
If you buy more than one item from the same coupon, the maximum discount amount of the coupon will be equal to either the percentage discount off or the face value of the coupon on one eligible item. The coupon may only be used on www.kentfaith.com.
The promotion is limited to one coupon per customer.
If you return any of the items purchased with a coupon, the coupon discount or value may be subtracted from the return credit.
Buy 99$-15$, 199$-30$, 299$-50$, 599$-120$(autumn sale Price)
To
United States
Expedited Shipping
3-5
business days
Free Shipping Worldwide. 30 Day No Reason Return. K&F Concept square filter set features PREMIUM GLASS. Anti-glaring. Metallic filter holder All in one set.

SKU.1601

SKU:

SKU.1601

143.99

https://www.kentfaith.com/SKU.1601_kf-concept-square-nd1000-gnd8-metal-square-filter-holder-set
Buy 99$-15$, 199$-30$, 299$-50$, 599$-120$(autumn sale Price)
Description
* 【Kit Includes】 This square filter set includes 1x ND1000 Filter + 1x Soft GND8 Filter + 1x Metal Filter Holder + 2 x Filter Carry Case + 8 x Filter Adapter Rings (49mm/52mm/58mm/62mm/67mm/72mm/77mm/82mm).
* 【ND Filter Function】 ND1000 filter: 100x100mm super slim and only 47.5g, has 10 stops (3.0), the main advantage of the square ND1000 filter can prevent overexposure and prevent excess light from entering the lenses when shooting; Soft GND8 filter: 100x150mm, has 3 stops (0.9), for shooting while the sky and the floor have a great contrast of light, balancing the light.
* 【Import Optical Glass】All of ND filter offers reduction is made with high quality import optics glass. superfine polishing for maximum resolution and quality. Optical definition much higher than resin.
* 【Anti-Glaring】 Both sides of filter glass with anti-reflective coating, to avoid unwanted reflections even with lateral sun. There is also an anti-reflection coating on the entire filter, a "gradual" coating that allows a very high chromatic correspondence and avoids the dominant colors.
* 【Metal Filter Holder】 Allows creative use of light correction or special effects. Just swipe through different filters to take beautiful and colorful photos. This filter holder can be equipped with adapter rings of various sizes.
Shipping
To
United States
Expedited Shipping
3-5
business days
Sale
Buy 99$-15$, 199$-30$, 299$-50$, 599$-120$(autumn sale Price)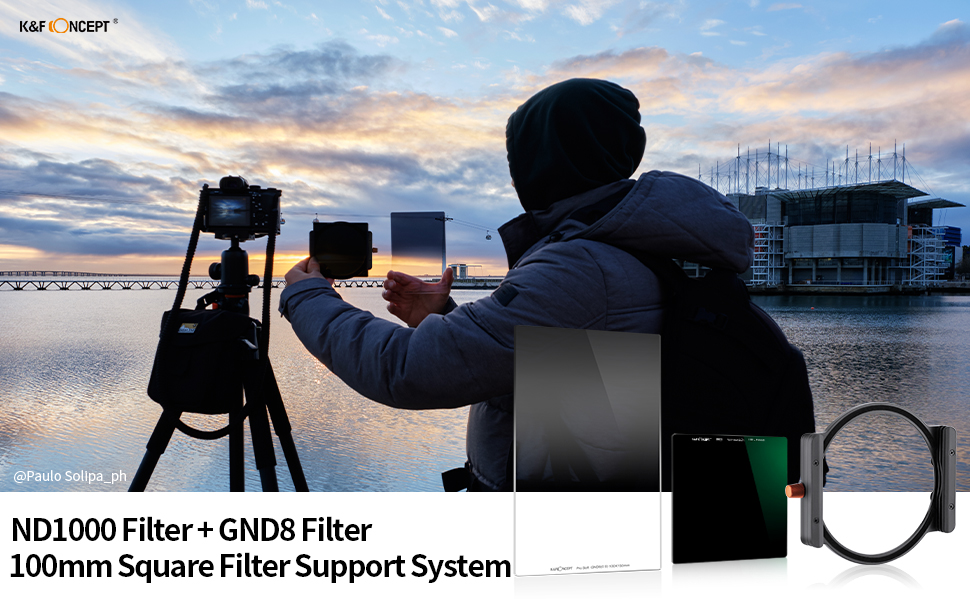 K&F Concept Square ND1000 (10 Stop) + Soft GND8 (3 Stop ) +Metal Filter Holder+ 8* Filter Adapter Rings Filter Kit with 28 Multi-Layer Coatings
Set inldudes: ND1000 + Soft GND8 + 8 * Adapter Rings (49mm/52mm/58mm/62mm/67mm/72mm/77mm/82mm)+ Leather Filter Bag
Filter Material : Import Japanese AGC Glass
ND Filter Function : Reduce the amount of light from Soft GND8 (3 stops) / ND1000(10 stops).
Filter Holder: Ultra slim(12mm thickness ) to avoid vignetting on wide-angle lens.
Coatings : 28 multi-layer coatings with double side polishing technology.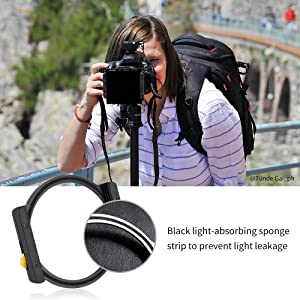 Metal Filter Holder
Made by aviation aluminum, surface using oxidation sandblasting to avoiding extra light enter in lens.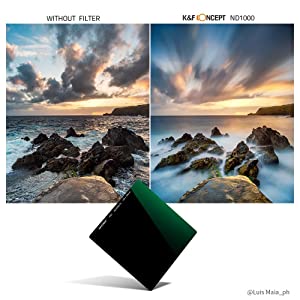 ND1000 Filter
The ND1000 filter size is 100x100mm, 10 stops (3.0), fit 82mm or smaller lens size, the filter with double side multi-layer coating , effectively reducing the filter reflect and glare came from filter itself, ensuring the first class images quality.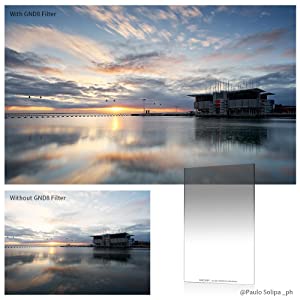 Soft GND8 Filter
The main function of Soft Graduated Neutral Density Filter (GND8) is to balancing the light between the sky and ground in shooting effectivly , the size is 100x150 x2mm,12.5% transmittance, 1.5% reflectivity, 3 stop(0.9).
Rating

99 reviews.

124 reviews.

224 reviews.

119 reviews.

102 reviews.

122 reviews.
Price
$143.99

$299.99

$289.99

$259.99
$159.99
$101.99
$65.99
Model
SKU.1601
SKU.1877
SKU.1808
SKU.1878
SKU.1600
SKU.1596

Size

100mm/150mm
/
/
/
100x100mm

Series

X-series
X-PRO series
X-PRO series
X-PRO series
X-series
X-series

Recommended Scenes

Landscape Photography
Landscape Photography
Landscape Photography
Landscape Photography
Landscape Photography
Landscape Photography

Function

Light Reduction Effect
Light Reduction Effect/Remove Glare
Light Reduction Effect/Remove Glare
Light Reduction Effect/Remove Glare
Light Reduction Effect
Light Reduction Effect

Filter Material

Japanese AGC Glass
Japanese AGC Glass
Japanese AGC Glass
Japanese AGC Glass
Japanese AGC Glass
Japanese AGC Glass

Multi-Coating

28 layers
28 layers
28 layers
28 layers
28 layers
28 layers

Waterproof

√
√
√
√
√
√

Scratch-resistant

√
√
√
√
√
√

HD

√
√
√
√
√
√

Transmittance

12.5% (GND8)

Antireflection

√

Filter Thickness

2mm

Ring Material

Aviation aluminum alloy
All Reviews
Image

All Star

5 Star

4 Star

3 Star

2 Star

1 Star
Excellent product
This has got to be onc of the best value for money filter sets on the market. With all the adaptor rings this works on all 3 of my camera's lenses which means no purchasing separate filters. Filter slides in and our with ease but has good enough resistance that you arnt worries about the glass falling out. Very good hydrophobic properties and quick to insert or remove. Allowed me to capture the above image around midday sun.
10/07/2023
Top quality
Bought this to replace the cheap graduated filter set which provided terrible pictures. First thought as soon as you open the boxes is how well everything is presented and the build quality. All metal parts precisionally made. The graduated glass is of high quality. The pouch looks like leather and has an easy pull tab to gain access to the filter. The filter folder can rotate on the adapter. This is sprung loaded and is easy to attache and remove on the adapter. Anyone looking for good quality and value should consider this kit.
03/05/2023
A great budget-friendly option for filters
A few years ago, I started beefing up my camera equipment. I had a Canon 5D Mark IV camera body, but didn't have great glass. So, I started my gear journey by upgrading my lenses. I now have four amazing lenses including a 70-200, 24-70, 100mm Macro, and a Wide Angle lens. After I finalized my collection of lenses, I started looking at accessories I needed to accompany those lenses and came up with a short list of items that included high-quality filters. The problem I had was that I needed to be able have filters that works with all my lenses. Buying filters for each one of your lenses can get really cost prohibitive. So, one solution I found was to get a square filter with step-down rings. K&F Concept has a great option for this type of set-up so I gave it a try.

About a month ago, I shot photos at a wedding on a mountaintop in Tennessee. It was in the middle of the afternoon and the sun was super bright at the location of the ceremony. The venue was huge and I wanted to pack my camera bag somewhat light so that I didn't have to struggle with tons of equipment. The square filter set from K&F concept was perfect for this type of work. The kit is lightweight and it makes it possible to use the one filter for several different sizes of lenses. During this wedding I was working with an 82mm lens and a 77mm lens as my primary glass. At the ceremony site, I had to quickly swap lenses and reapply the filter in order to get the shots the couple wanted. I found gaps in the ceremony where I could quietly and quickly change lenses and attach the filters without disturbing the event. It worked perfectly and even though some people might consider it cumbersome, I thought it was a lot easier than having to swap lenses and then screw filter into each lens.

When using these filters, I shot exclusively in RAW, but did not perceive any color cast from the filters. The mount is solid and the filter is well-protected by the soft lining in the case. It's very easy to attach the mount to the lenses and in my opinion is actually easier to work with than individual filters.

I do feel like the lens adapter could fit a little more snuggly onto the camera lens, but I'm definitely not complaining about that and it is certainly not a dealbreaker. It's just a tweak that could make the product even better than it already is.

One of the most appealing features of this product is its price. At $73, it's much more budget-friendly than purchasing a single ND1000 filter. This is a great set-up for beginners and professionals alike.
02/05/2023
Awesom ND Filter 100% Recommended!!!
Excellent Filter. Fast shipping, reasonable price and a quality product. Highly recommended
01/05/2023
Muy bueno
Ya van varias fotos y es muy buen producto. No distorsiona la imagen y cumple muy bien su función.
19/04/2023
Working great cheaply
No, they're not super cheap, but check the price on the bigger named product makers and you'll see these ARE a value. They work like a champ, I can use any 100mm wide filter and they are solidly in place. If you're thinking of going with a filter holder system, this is one to consider.
18/04/2023
I am happy with the purchase
I don't regret buying it, I was afraid because I spoke well about the product but they said they were too tight to get it out of the ring, but the truth... I prefer it to be like this and I feel sure it won't fall out
18/04/2023
These images belong to KENTFAITH end users.
K&F Concept Square Filter Kit ND1000 + GND8 + Metal Square Filter Holder Set SNJ51T
K&F Concept SNJ51T Square ND1000 + GND8 + Metal Square Filter Holder Set
How to check your lens size
Filter
Size
100mm/150mm
Series
X-series
Recommended Scenes
Landscape Photography
Function
Light Reduction Effect
Filter Material
Japanese AGC Glass
Multi-Coating
28 layers
Waterproof
√
Scratch-resistant
√
HD
√
Transmittance
12.5% (GND8)
Antireflection
√
Filter Thickness
2mm
Shape
Square
Ring Material
Aviation aluminum alloy