100 mm Pro Square Filter System CPL+ND1000 Filter med 67 mm 72 mm 77 mm 82 mm adapterringar
Terms
Coupon Terms
Terms and Conditions:
Coupons are valid for a limited time only. Kentfaith reserves the right to modify or cancel coupons at any time.
You must purchase the qualifying items added to your Cart when the coupon is in effect for the discount to apply.
If you later modify or cancel the subscription or delivery date for the qualifying item, the discount will not apply.
The coupon applies only to qualifying items displaying the coupon offer.
If you buy more than one item from the same coupon, the maximum discount amount of the coupon will be equal to either the percentage discount off or the face value of the coupon on one eligible item. The coupon may only be used on www.kentfaith.com.
The promotion is limited to one coupon per customer.
If you return any of the items purchased with a coupon, the coupon discount or value may be subtracted from the return credit.
Buy 99$-9$, 199$-25$, 299$-39$, 599$-100$
To
United States
Expedited Shipping
3-5
business days
K&F Concept Pro Square Filter System won the iF DESIGN AWARD and Red Dot Design Award. Filter holder can holder both cpl and nd1000 filters. ultra slim frame and large diameter ensures no vignetting on wide-angle lens, rear cpl design for convenient i

SKU.1878

SKU:

SKU.1878

149.99

https://www.kentfaith.com/SKU.1878_100mm-pro-square-filter-system-cpl-nd1000-filter-with-67mm-72mm-77mm-82mm-adapter-rings
Buy 99$-9$, 199$-25$, 299$-39$, 599$-100$
Description
* K&F Concept Pro Square Filter System vann iF DESIGN AWARD och Red Dot Design Award.
* Allt du behöver för att komma igång, inklusive 95 mm CPL och ett set med 4 adapterringar i 67, 72, 77 & 82 mm diametrar.
Shipping
To
United States
Expedited Shipping
3-5
business days
Sale
Buy 99$-9$, 199$-25$, 299$-39$, 599$-100$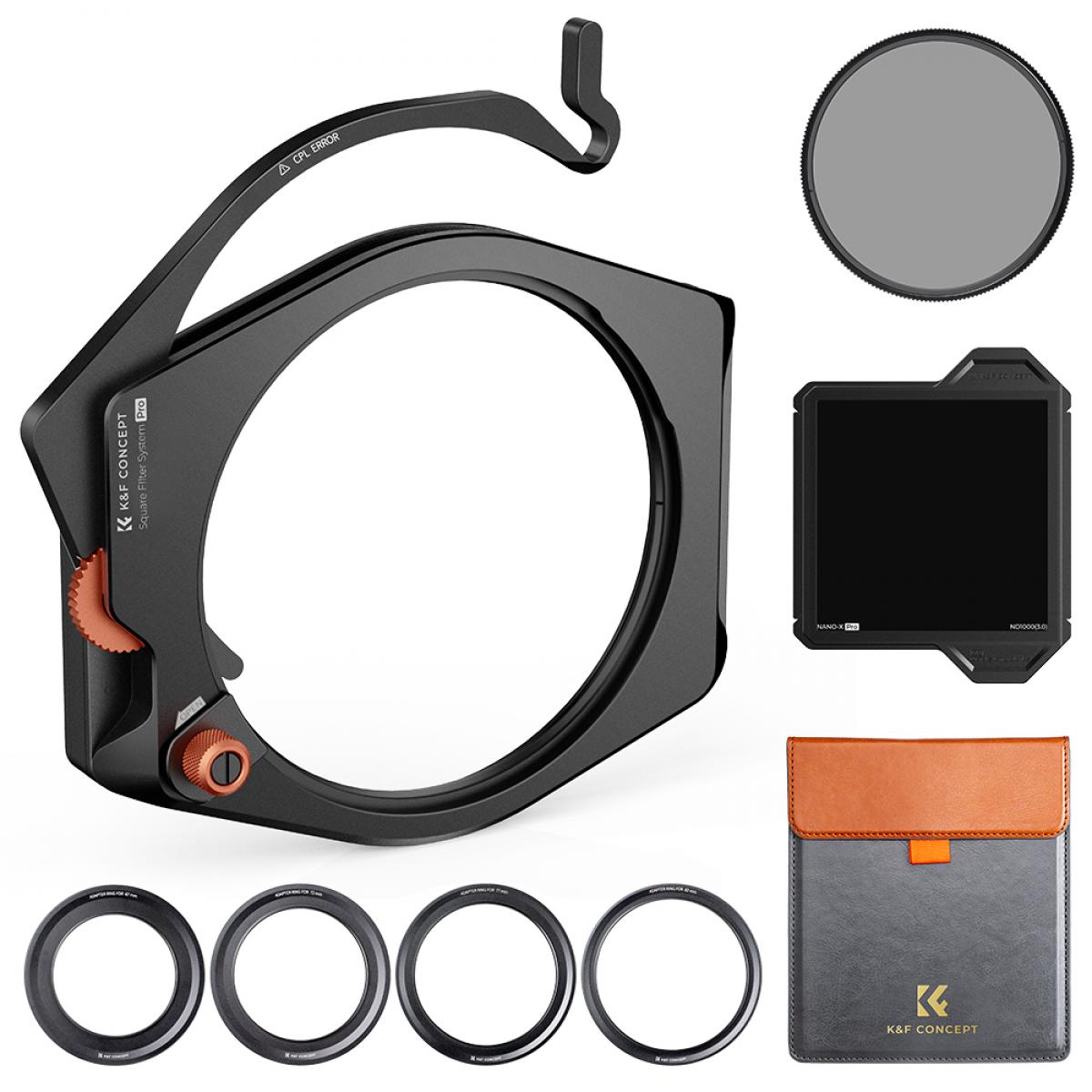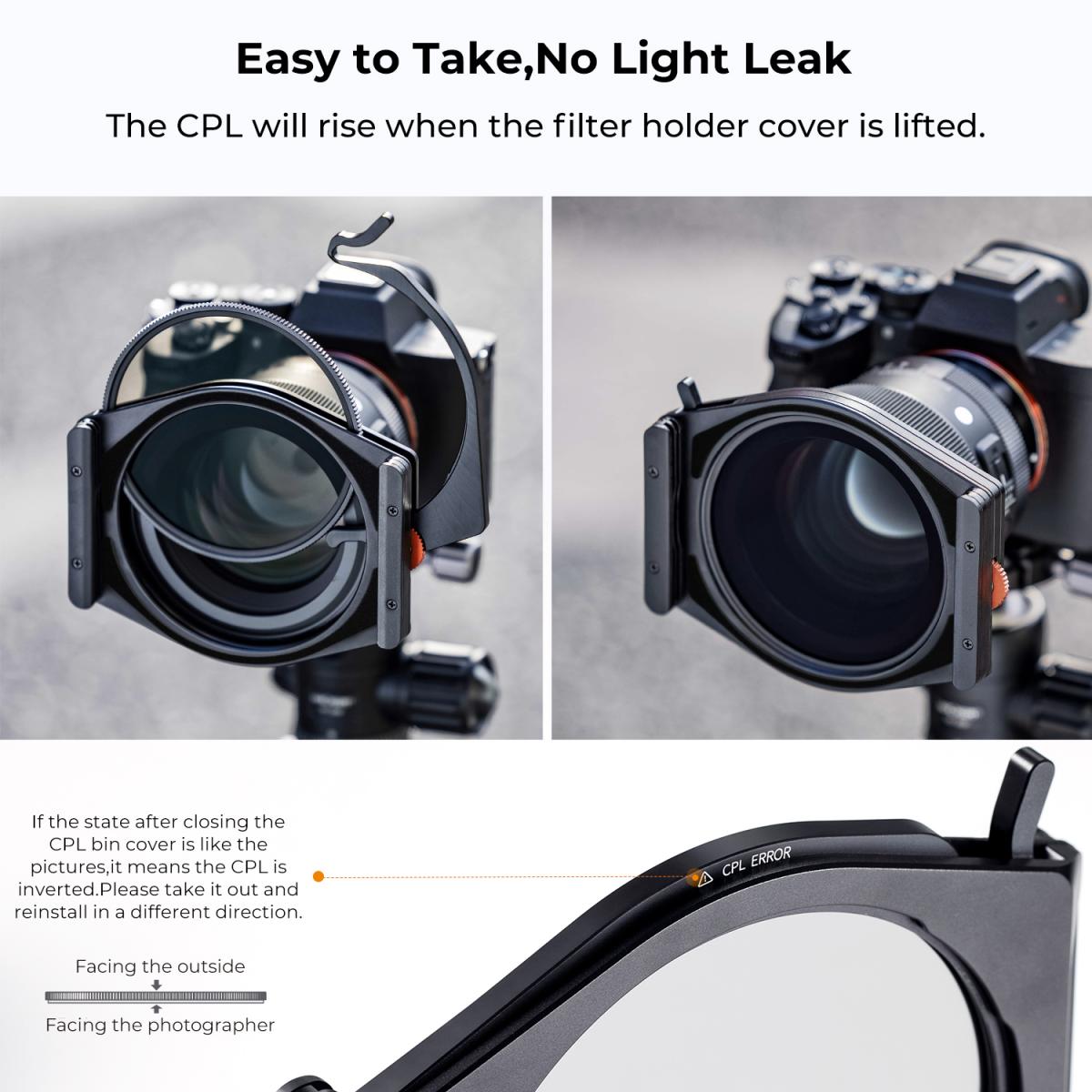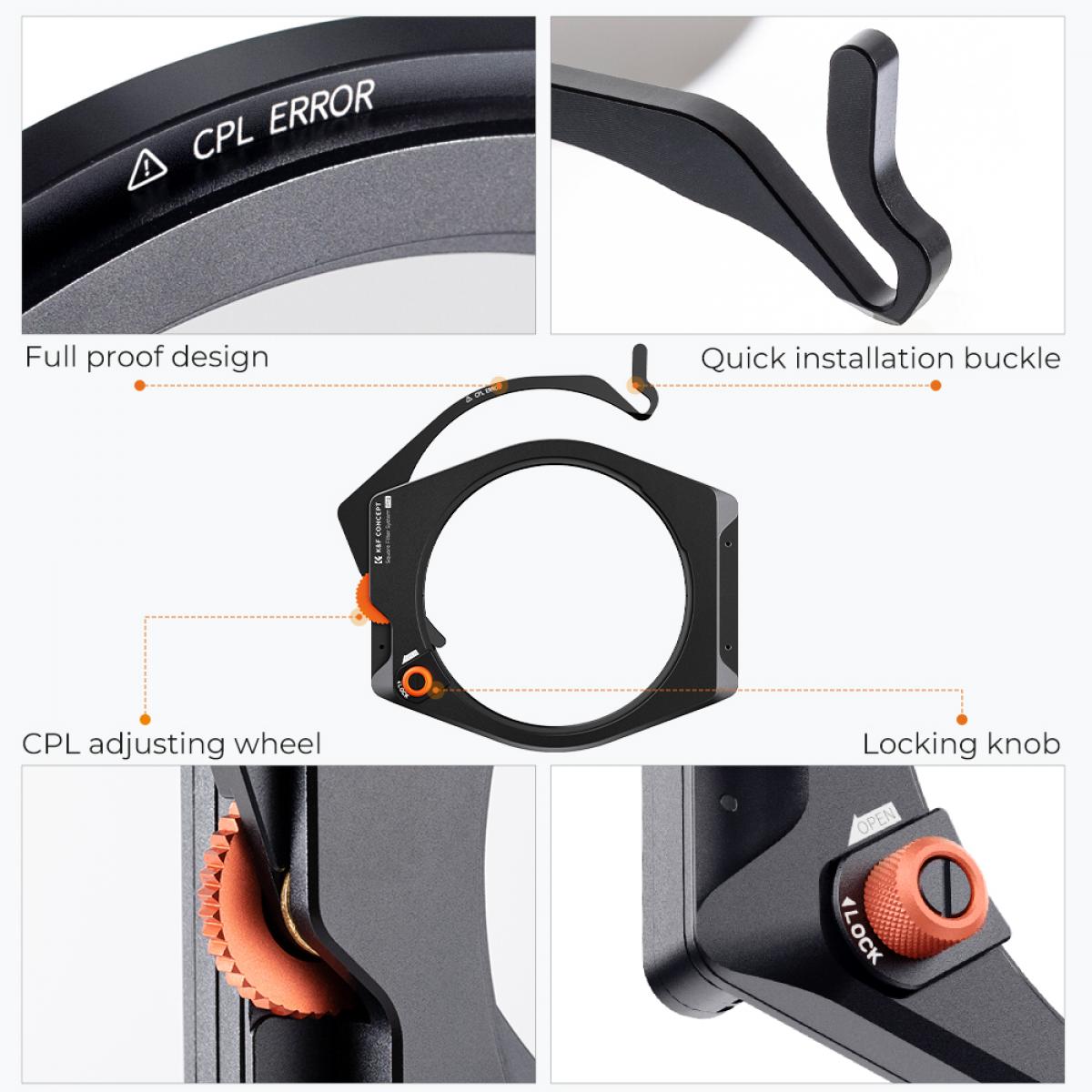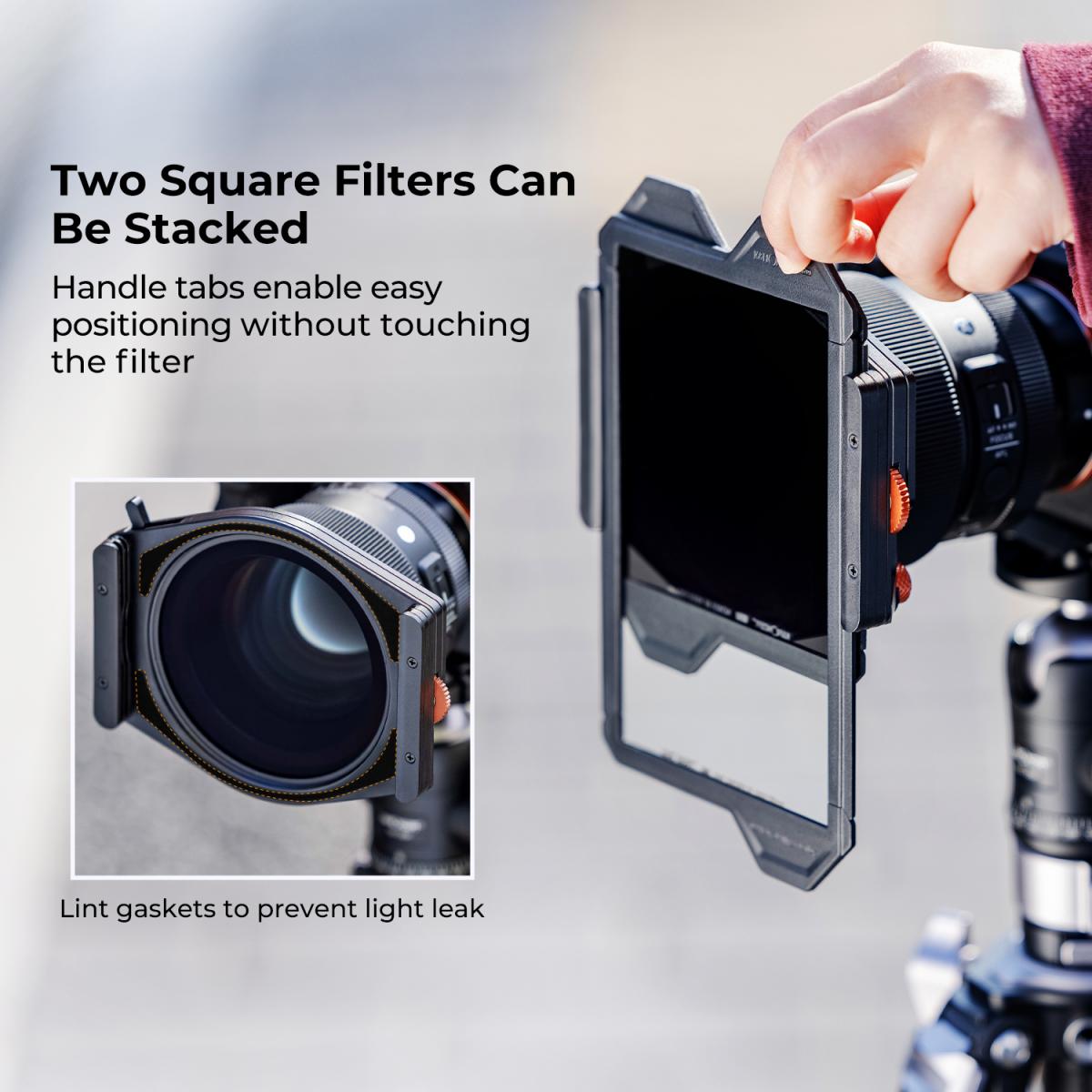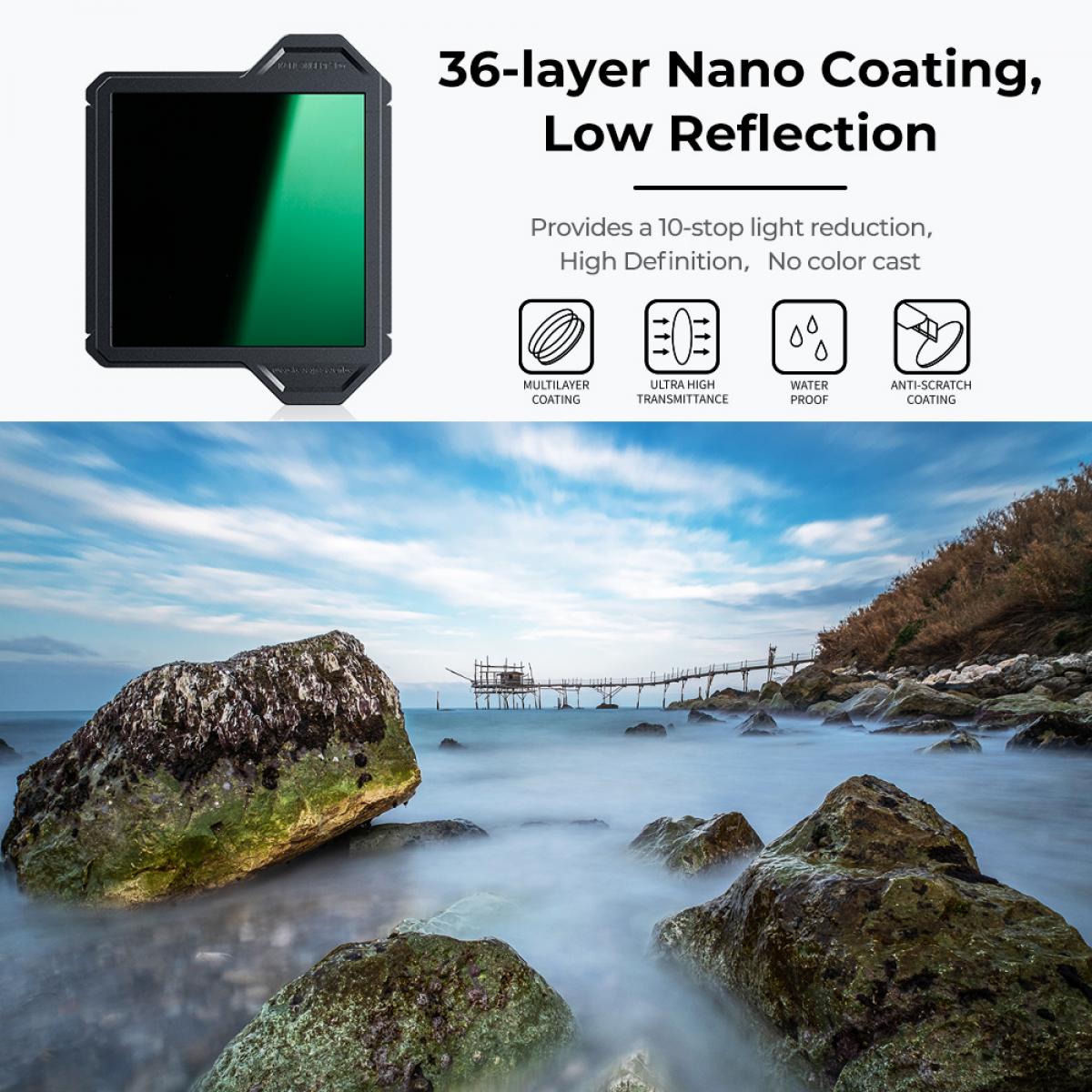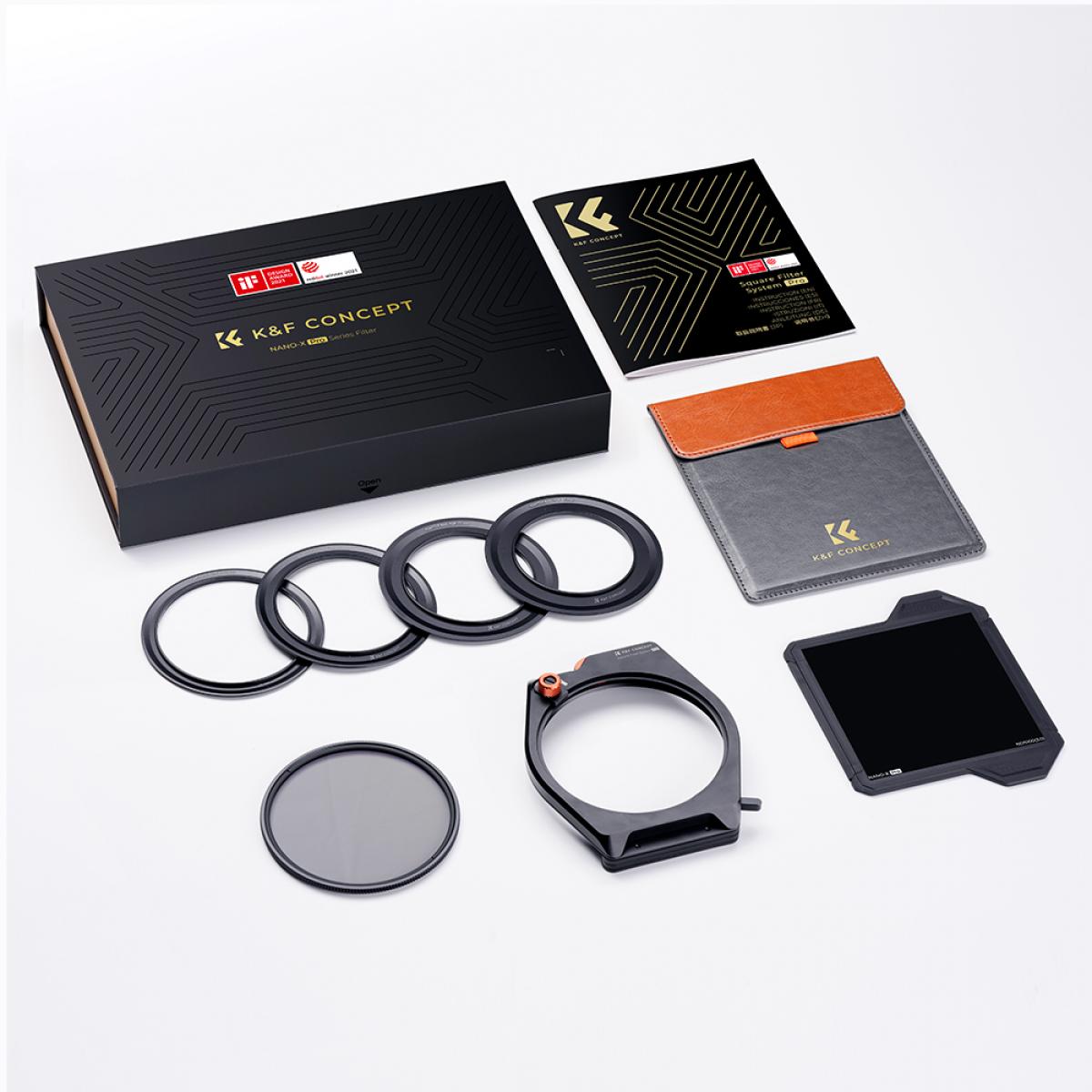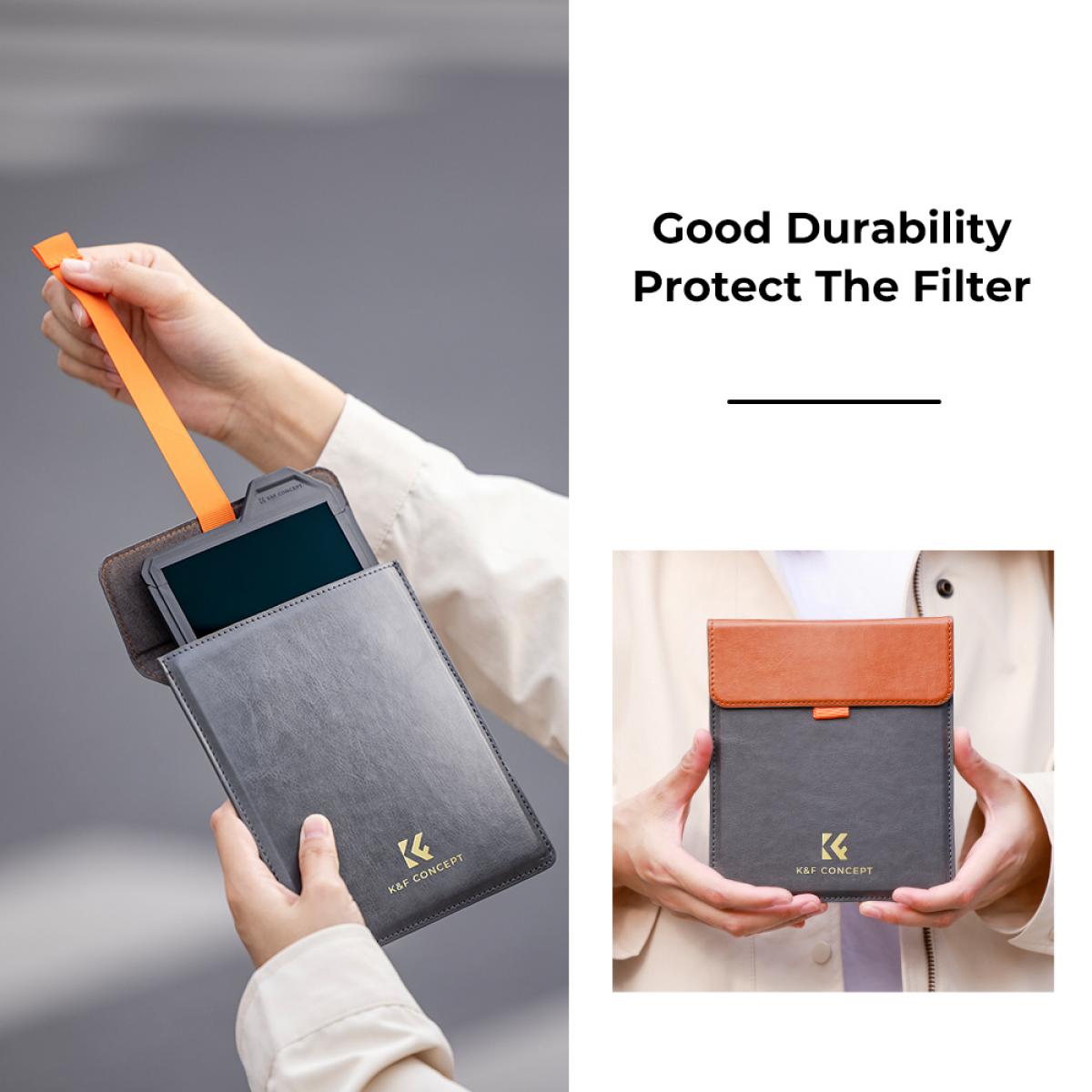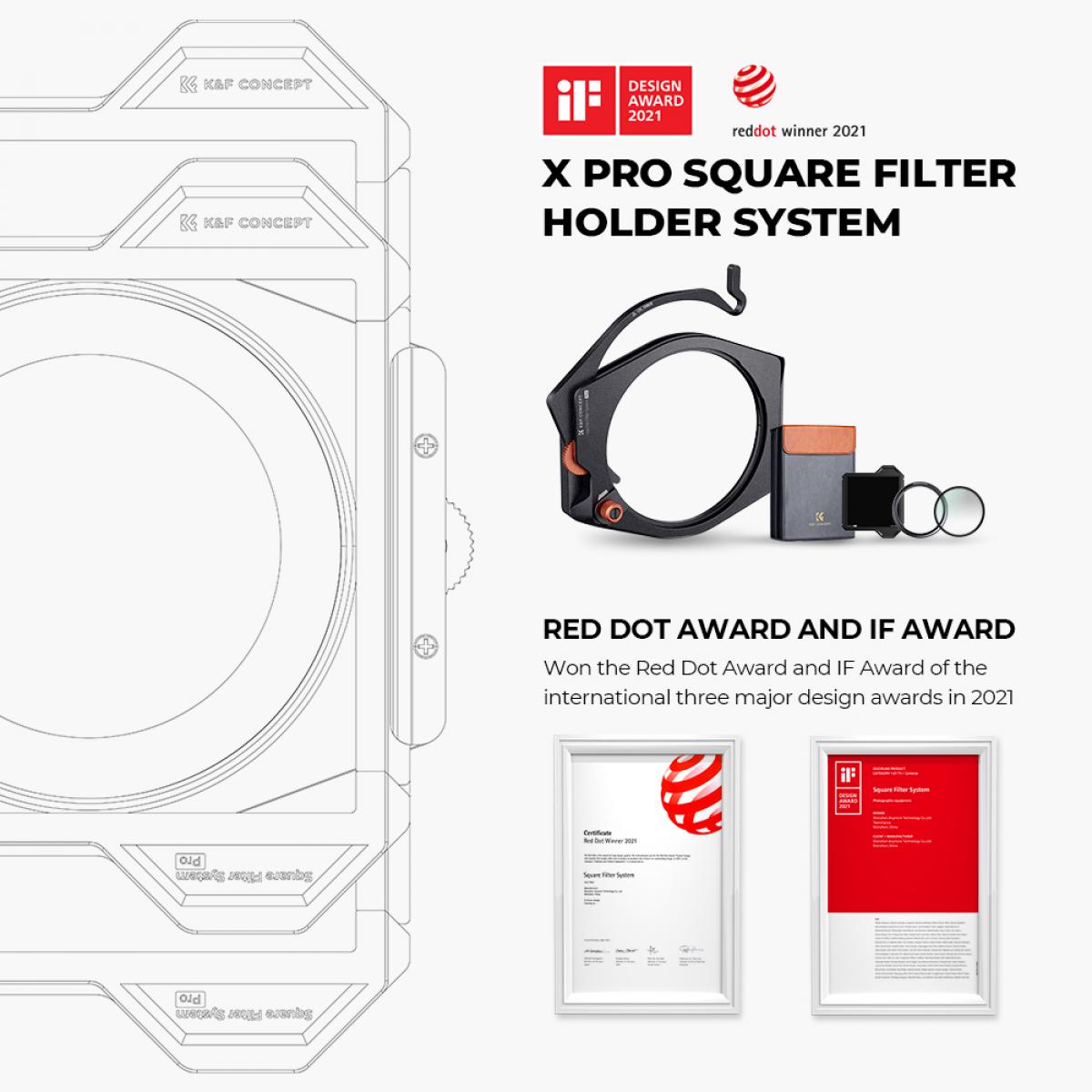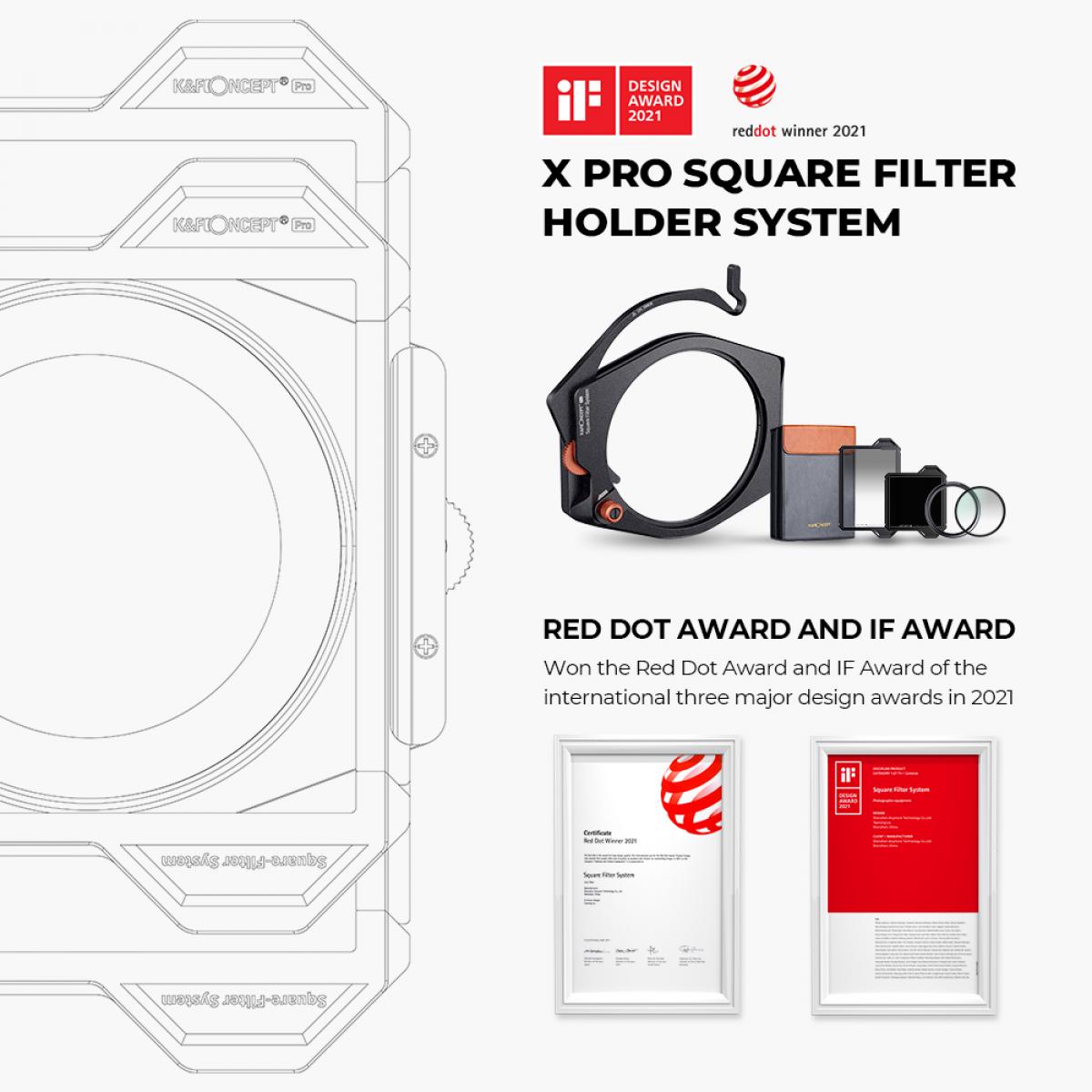 | | | | | | |
| --- | --- | --- | --- | --- | --- |
| | | | | | |
| | | | | | |
| | | | | | |
| Rating | 102 reviews. | 104 reviews. | 104 reviews. | 84 reviews. | 3 reviews. |
| Price | $149.99 | $289.99 | $259.99 | $139.99 | $101.99 |
| Model | SKU.1878 | SKU.1877 | SKU.1808 | SKU.1601 | SKU.1600 |
| Size | / | / | / | 100mm/150mm | |
| Series | X-PRO series | X-PRO series | X-PRO series | X-series | X-series |
| Recommended Scenes | Landscape Photography | Landscape Photography | Landscape Photography | Landscape Photography | Landscape Photography |
| Function | Light Reduction Effect/Remove Glare | Light Reduction Effect/Remove Glare | Light Reduction Effect/Remove Glare | Light Reduction Effect | Light Reduction Effect |
| Filter Material | Japanese AGC Glass | Japanese AGC Glass | Japanese AGC Glass | Japanese AGC Glass | Japanese AGC Glass |
| Multi-Coating | 28 layers | 28 layers | 28 layers | 28 layers | 28 layers |
| Waterproof | √ | √ | √ | √ | √ |
| scratch-resistant | √ | √ | √ | √ | √ |
| HD | √ | √ | √ | √ | √ |
| Transmittance | | | | 12.5% (GND8) | |
| Antireflection | | | | √ | |
| Filter Thickness | | | | 2mm | |
| Ring Material | | | | Aviation aluminum alloy | |
All Reviews
Image

All Star

5 Star

4 Star

3 Star

2 Star

1 Star
Square Filter Holder System Pro Kit (Filter Holder + 95mm Circular Polarizer + Square GND8 Filter + ND1000 (10 Stop) + 4 Filter Adapter Rings
Visually, the filter set is of very high quality. The optical quality will have to prove itself, but I don't have the slightest doubt about this.
The only point of criticism is that the very nicely executed leather storage box/pouch is very large in size, which makes transport in a backpack almost impossible. It would be better to provide the filters individually with a protective pouch. Transport would be easier and more customizable.

17/02/2023
Outstanding Filter System
Innovative design; gorgeous packaging, very efficient and prompt delivery -- what more could you ask for?
22/01/2023
square Filter Holder System Pro Kit
excellent filter system. Very easy to use. Ordering from k&F Concept is easy. Highly recommended.
19/01/2023
Good!!
Very high quality ND1000 K&F Concept square filter set consisting of glass filter, filter holder and lens adapters for the filter holder.

The package is divided into 3 parts:
1. a bag with metal adapter rings for lenses with different diameters.
2. a box with the filter and its leather carrying case.
3. a box with the filter holder.

The adapter rings allow us to put the filter holder on any lens, since we have a large number of different diameters. They are made of black metal and well made. With inscription on each ring of the corresponding diameter.

It is a square filter ND1000 100x100 mm and 2 mm thick. It allows us to remove 10 light levels to make long exposures in daylight perfect. In the example photo I posted, it is taken at noon at 30 ". I love the play that can be taken from this filter.

The filter comes in a leather case and is covered with tissue paper. The case is sturdy enough to protect it properly.
The glass is not easily marked by fingers and does not attract dust.

The filter holder is metallic, with the part where the filters rest being made of some kind of very hard plastic. They easily fit two 100x100 filters
24/12/2022
Good filter and bracket kit
Advantages: large, 92 mm polarizing filter, easy to rotate in the filter holder, filters come with plastic frames with grip lip, practical filter pocket, unfortunately only for the square filters, polarizing filter and holder, graduated filter too large. Disadvantages: Filter does not seal the light on the holder properly, there is a gap of 0.5 mm, only 2 sliding filter inserts, filter holder has some play and rattles a bit.
The ND 1000 has a magenta color cast and is easy to correct in image editing. All in all, the advantages outweigh the benefits, I can only recommend it. At Rico Best "filter photographer", you can buy a plastic protection, "filter guard", there are different sizes, order the right one.
23/12/2022
Great filter set!
I bought this filter set for landscape photography.

Before that, I had been traveling with a screw set from another company. I was then able to screw that onto exactly 1 lens. (I got it for a 24-105).

Experience has shown that screw filters can only be used in part (in my opinion).
If you use an ND 8x filter, you can safely screw it onto the lens and work with it. However, as soon as it gets higher, the camera is overwhelmed. Setting a focus manually, for example, is an impossibility, with a permanently installed 1000x filter.

This set allows you to set up the camera in peace. To compose the picture, to set a focus. Adjust the polarizing filter. When everything is done so far, you can relax and add 64x or 1000x and take care of the exposure.

The whole set is incredibly easy to use. Each filter is placed in a frame, which in turn has special handles.

The set comes in a handy bag.

I don't really want to talk about space requirements. The screw set is definitely more compact, but handling is simply more important to me at this point.
This kit allows me to mount the filters without leaving grease finger marks on the filter. That's worth more to me at this point.

What I particularly like about this concept is the fact that you can now buy graduated filters and the like at a later date and adapt the set as you like it.
22/12/2022
The most sophisticated system
Among several domestic and foreign companies offering square filters, I decided on this one because it is easy to put on and take off from the lens, it is thin in the front and back, and it comes with a C-PL filter
For C-PL filters, just open the lid and drop in from above. If you make a mistake in front and back, it will not fit.
The square filter has just the right amount of friction and doesn't feel like it's going to fall off.
Almost all metal, except for the four metal adapter rings and C-PL filter, the holder alone weighs 110g.
In terms of design, the overall impression is sophisticated.
21/12/2022
K&F Pro Filter unboxing - The Next Gen of Filters?
WOW! - This is a fully professional filter system for a budget price!
How to install 100mm Pro Square Filter System - UK
Filter
Size
/
Series
X-PRO series
Recommended Scenes
Landscape Photography
Function
Light Reduction Effect/Remove Glare
Filter Material
Japanese AGC Glass
Multi-Coating
28 layers
Waterproof
√
scratch-resistant
√
HD
√
Transmittance
Antireflection
Filter Thickness
Shape
Ring Material