Square Filter Holder System Pro Kit (Filter Holder + 95mm Circular Polarizer + Square ND1000 Filter + ND8 + ND64 + 4 Filter Adapter Rings) for Camera
Terms
Terms and Conditions:
Coupons are valid for a limited time only. Kentfaith reserves the right to modify or cancel coupons at any time.
You must purchase the qualifying items added to your Cart when the coupon is in effect for the discount to apply.
If you later modify or cancel the subscription or delivery date for the qualifying item, the discount will not apply.
The coupon applies only to qualifying items displaying the coupon offer.
If you buy more than one item from the same coupon, the maximum discount amount of the coupon will be equal to either the percentage discount off or the face value of the coupon on one eligible item. The coupon may only be used on www.kentfaith.com.
The promotion is limited to one coupon per customer.
If you return any of the items purchased with a coupon, the coupon discount or value may be subtracted from the return credit.
Free shipping worldwide
K&F Concept Pro Square Filter System won the iF DESIGN AWARD and Red Dot Design Award. Filter holder can holder both cpl and nd1000 filters. ultra slim frame and large diameter ensures no vignetting on wide-angle lens, rear cpl design for convenient i

SKU.1877

SKU:

SKU.1877

289.99

https://www.kentfaith.com/SKU.1877_100mm-pro-square-filter-system-cpl-nd8-nd64-nd1000-filter-67mm-72mm-77mm-82mm-adapter-rings
Description
* 【Original Design-Super-Diameter & Ultra-Slim 】K&F Concept Pro Square Filter System won the iF DESIGN AWARD and Red Dot Design Award. The filter holder can hold both CPL and nd1000 filters. Holder thickness 12mm, 91mm large clear aperture. Effectively reduce the chance of vignetting when using an ultra-wide-angle lens. ultra-slim frame and large diameter ensure no vignetting on a wide-angle lens, rear CPL design for convenient install and removal. Photography Gear for Valentine's Day Shoot.
* 【Kit Includes 】Filter holder + ND8 filter(3-Stop) +ND64 filter(6-Stop) + ND1000 filter(10-Stop)+ CPL filter +4 * adpter rings(67mm/72mm/77mm/82mm)+ Leather filter pounches.
* 【ND Filters Function 】ND filter to expend the exposure time to achieve to slow shutter to be used to record movement in subjects such as waterfalls, providing a silky smooth effect to flowing water. The filter frame avoids filter for accidental fall damage(≤1.5m).
* 【CPL Filters Function 】Allow you to remove reflections from non-metallic surfaces, such as water and glass, also in color and contrast enhancement, especially for the blue sky and white clouds.
* 【Import AGC Optical Glass 】The filters in this kit are made of Japan-made optical glass, both sides with nanometer coatings (total 28 layers), waterproof, scratch-resistant, oil proof.
Previous
Next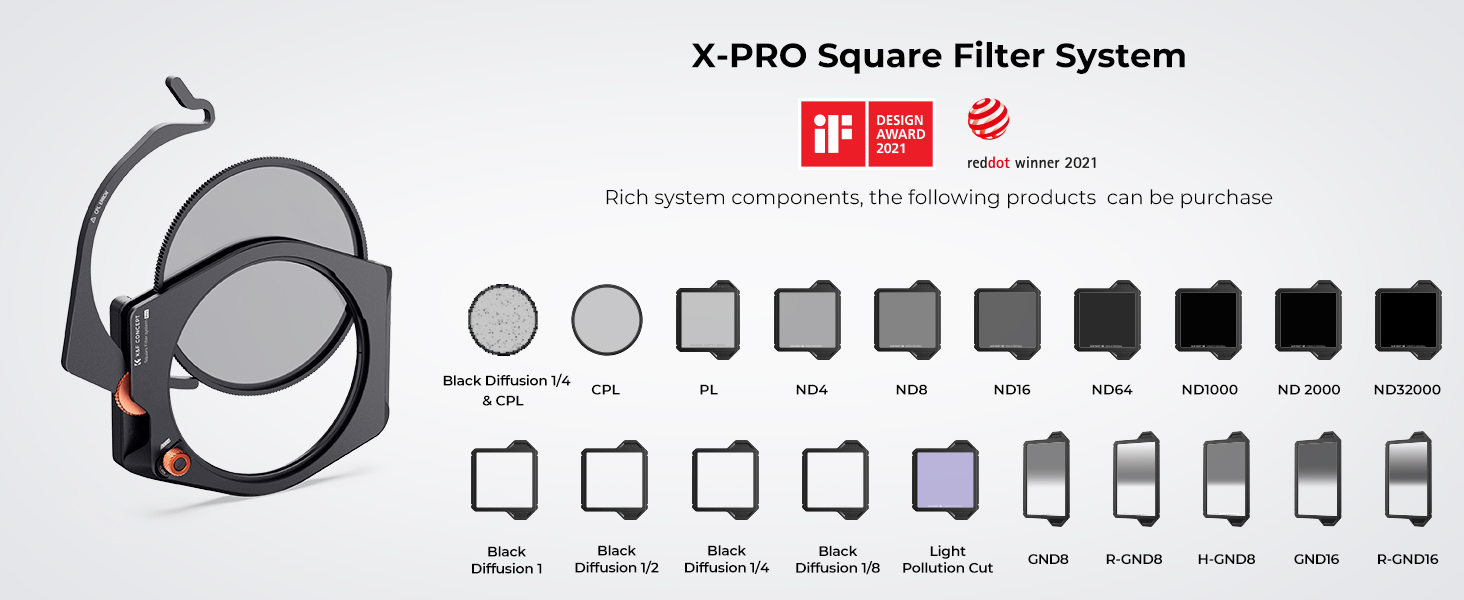 36 Layer Nanometer Coatings
Easy Cleaning
Wear-resistant Scratch-resistant
Ultra HD Image
Creativity Design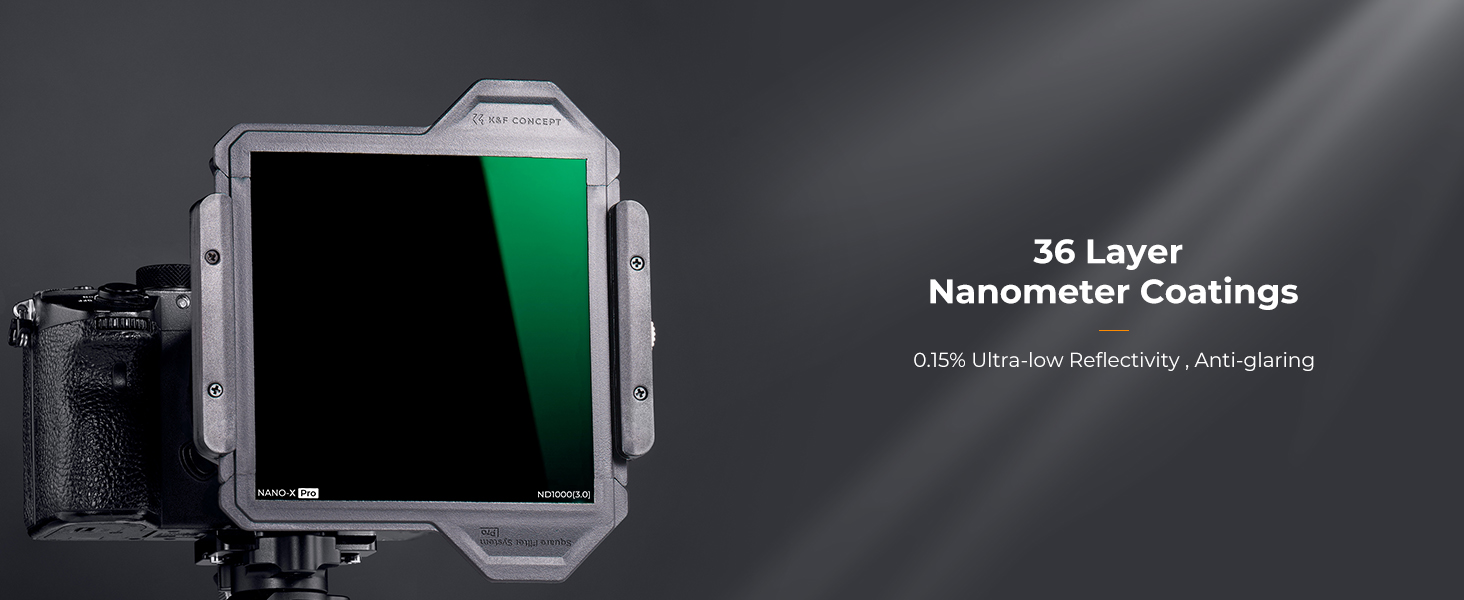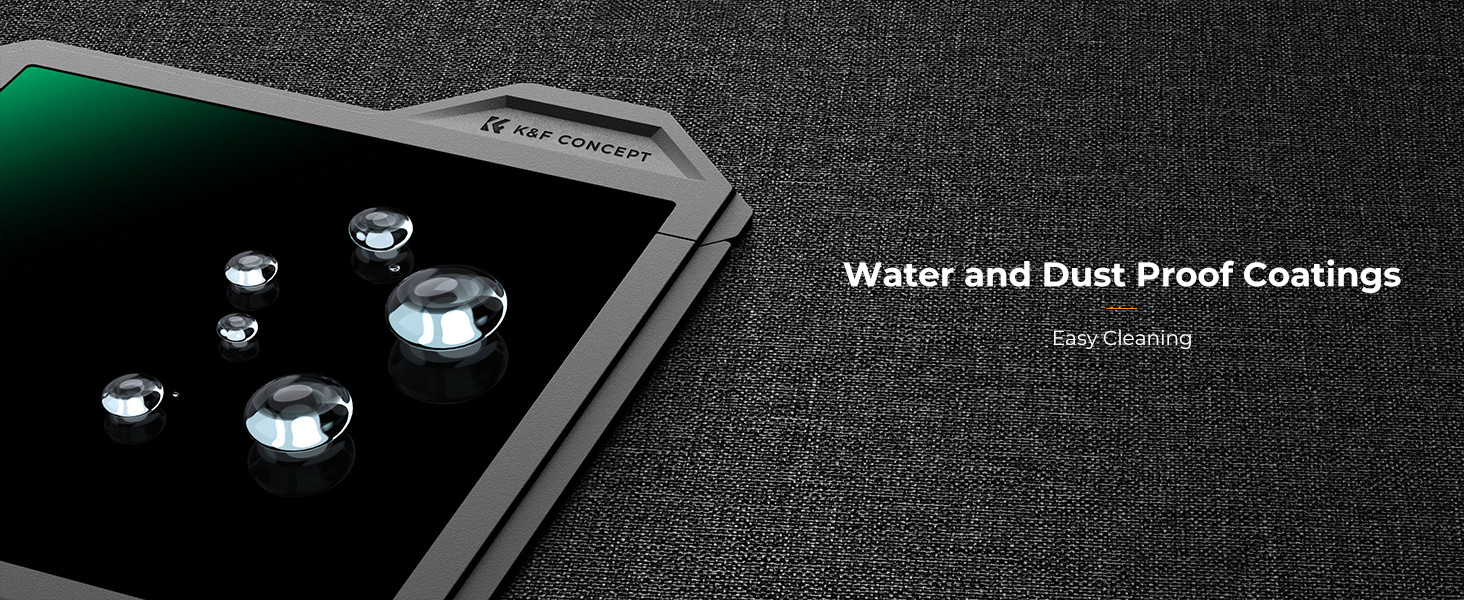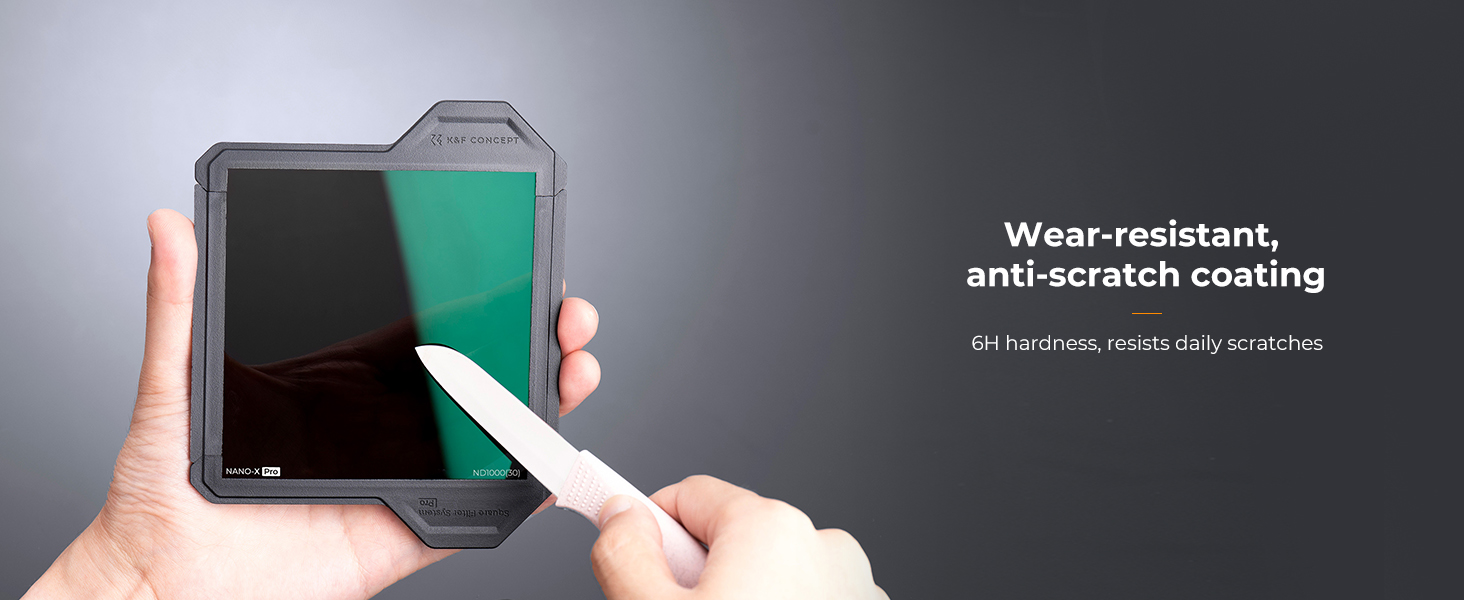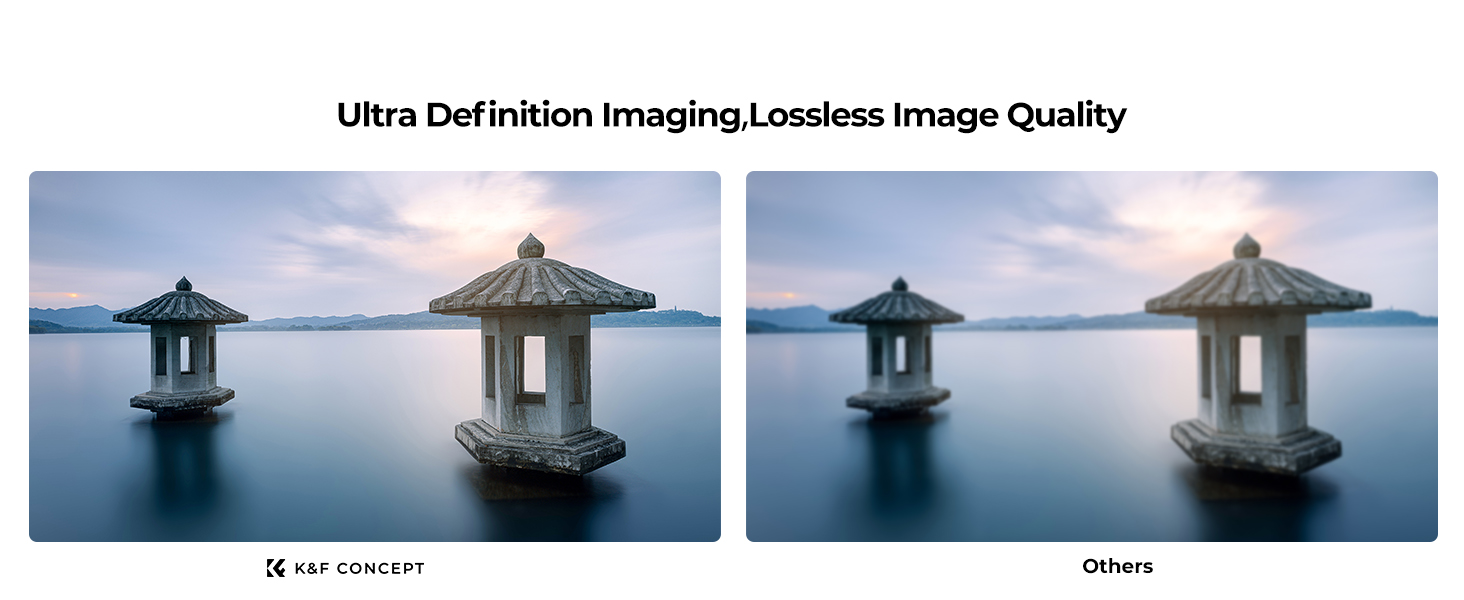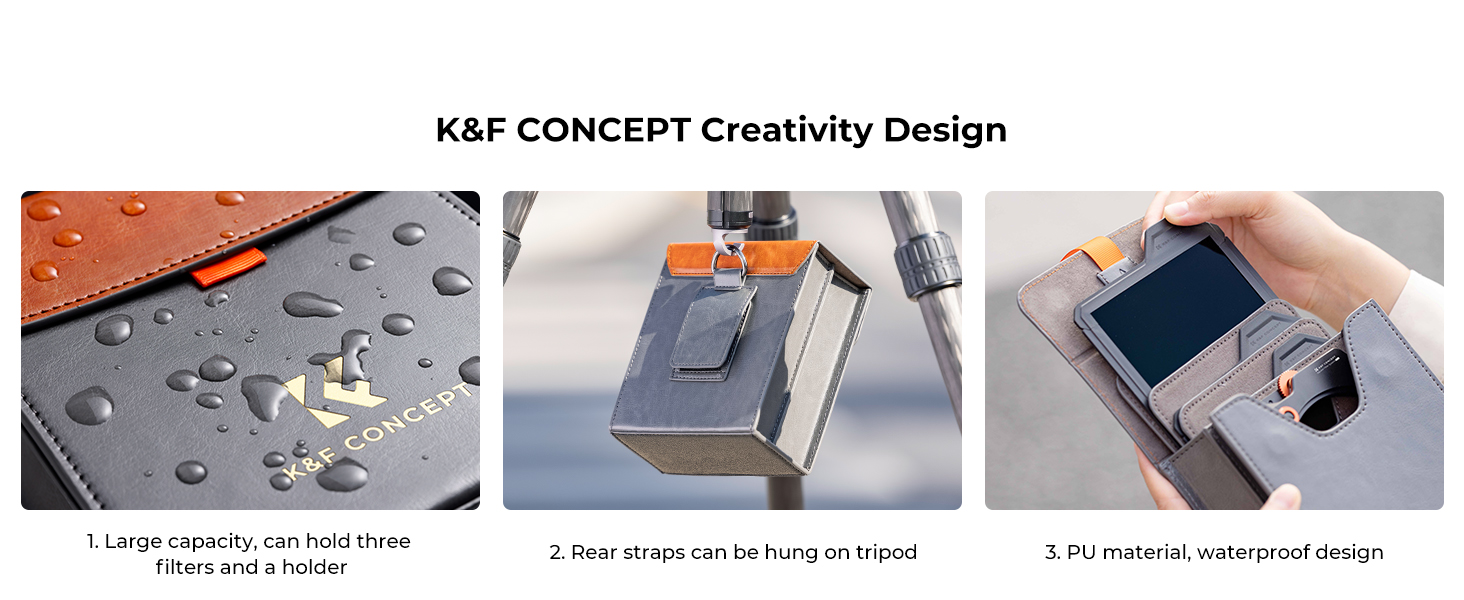 Previous
Next
Rating

124 reviews.

224 reviews.

119 reviews.

99 reviews.

102 reviews.
Price

$299.99

$289.99

$259.99
$159.99
$143.99
$101.99
Model
SKU.1877
SKU.1808
SKU.1878
SKU.1601
SKU.1600

Size

/
/
/
100mm/150mm

Series

X-PRO series
X-PRO series
X-PRO series
X-series
X-series

Recommended Scenes

Landscape Photography
Landscape Photography
Landscape Photography
Landscape Photography
Landscape Photography

Function

Light Reduction Effect/Remove Glare
Light Reduction Effect/Remove Glare
Light Reduction Effect/Remove Glare
Light Reduction Effect
Light Reduction Effect

Filter Material

Japanese AGC Glass
Japanese AGC Glass
Japanese AGC Glass
Japanese AGC Glass
Japanese AGC Glass

Multi-Coating

28 layers
28 layers
28 layers
28 layers
28 layers

Waterproof

√
√
√
√
√

Scratch-resistant

√
√
√
√
√

HD

√
√
√
√
√

Transmittance

12.5% (GND8)

Antireflection

√

Filter Thickness

2mm

Ring Material

Aviation aluminum alloy
All Reviews
Image

All Star

5 Star

4 Star

3 Star

2 Star

1 Star
Quality and Complete Beginner Kit.
As a beginner to experimenting with filters, it comes with all I need to start with, at an affordable price given such quality and design.
17/09/2023
good but a bit expensive
Good quality. Relatively easy to use. A bit pricey.
13/08/2023
Klare Empfehlung
Super leicht zu handhaben. Kommt in einer mitgelieferten Tasche. Qualität ist Mega. Habe den Kauf nicht bereut. Es macht Spass und die Bilder sind aus der Kamera schon sehr schön.

Mit besten Grüßen
04/08/2023
Good Deal
Works great on my Nikon Z6 16-30
13/07/2023
Square filter system Pro Kit
Very nice kit with CPL, adapter rings, and ND filters. Came nicely packaged in a leatherette case. Overall build quality is excellent.
04/07/2023
Parfait
Produit parfait qui s'adapte vraiment bien à tous les objectifs ! Ça permet d'avoir qu'un seul support. Très belle qualité avec la pochette de rangement.
J'avais perdu une visse et le SAV a été très réactif et ils m'ont renvoyé un lot de visses.
04/07/2023
Geiles Teil
Ist alles so wie beschrieben.
30/06/2023
Super produit
Très bonne qualité de produit
Répond entièrement à mes attentes.
Seul petit bémol, le porte filtre n'est pas
Compatible avec les filtres en 100 mm
Pourtant de la même marque.
C'est mesquin surtout au prix du bébé.
26/06/2023
Very well engineered product
Exceed my expectations, its a really well made filter holder and set of filters and very easy to handle.
10/10
19/06/2023
The most sophisticated system
Among several domestic and foreign companies offering square filters, I decided on this one because it is easy to put on and take off from the lens, it is thin in the front and back, and it comes with a C-PL filter
For C-PL filters, just open the lid and drop in from above. If you make a mistake in front and back, it will not fit.
The square filter has just the right amount of friction and doesn't feel like it's going to fall off.
Almost all metal, except for the four metal adapter rings and C-PL filter, the holder alone weighs 110g.
In terms of design, the overall impression is sophisticated.
12/05/2023
K&F Pro Filter unboxing - The Next Gen of Filters?
WOW! - This is a fully professional filter system for a budget price!
How to install 100mm Pro Square Filter System - UK
Filter
Size
/
Series
X-PRO series
Recommended Scenes
Landscape Photography
Function
Light Reduction Effect/Remove Glare
Filter Material
Japanese AGC Glass
Multi-Coating
28 layers
Waterproof
√
Scratch-resistant
√
HD
√
Transmittance
Antireflection
Filter Thickness
Shape
Ring Material