77MM Circular Polarizer Glass Filter Ultra-Slim, Multi Coated
To
United States
Expedited Free Shipping
3-5
business days
Buy KENTFAITH 77mm circular polarizer glass filter ultra-slim, multi coated online, worldwide free shipping and 30 days return guarantee.

KF01.1317

SKU:

KF01.1317

22.99

https://www.kentfaith.com/KF01.1317_77mm-circular-polarizer-glass-filter-ultra-slim-multi-coated
Buy 2 get 5% off, Buy 3 get 10% off, buy 6 get 20% off
Description
* K&F Concept circular polarizer made of Japan optical glass,deepens the intensity of blue skies; reduces or eliminates glare.
* Multi-coating reduces reflection, reduce glare and improve saturation.
* Aluminum alloy frame, Ultra slim rim profile to avoid vignetting on wide angle lenses.
* CPL filters are good for skies, waters, foliage. They can dramatically enhance these natural elements, giving images better appearance.
* Rotating a CPL filter on your lens can make dramatic changes to a simple image.
Shipping
To
United States
Expedited Free Shipping
3-5
business days
Sale
Buy 2 get 5% off, Buy 3 get 10% off, buy 6 get 20% off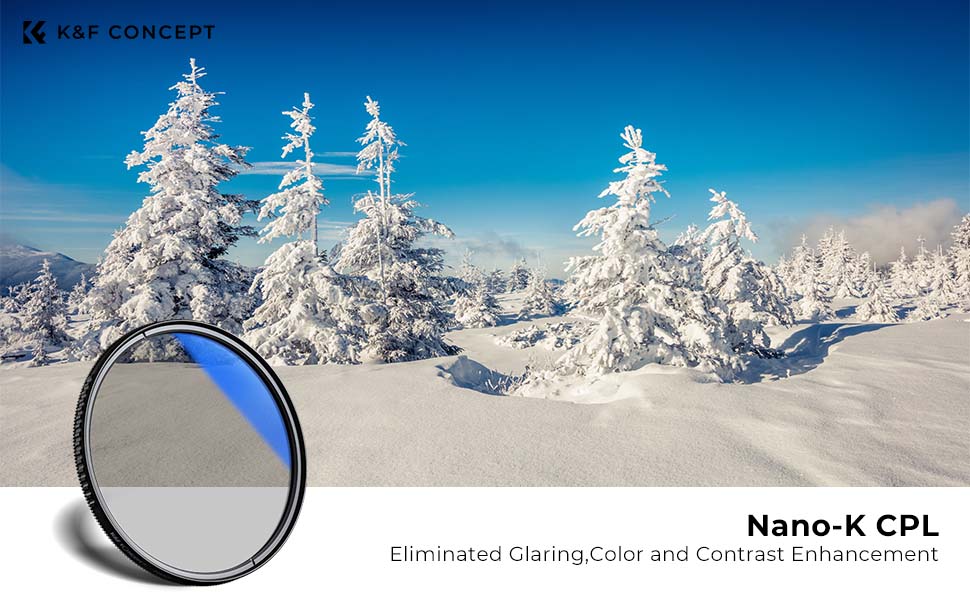 K&F Concept Polarizers Filter
Polarizers provide color and contrast enhancement. Reflected light often shows up as a whitish glare that washes out color in an image. A Polarizer corrects this problem by producing deep, dramatically blue skies. It also removes glare from non-metallic surfaces, such as windows and water. Color saturation in general, especially outdoors, can be improved significantly. Think of it as sunglasses for your camera.
---
Area of sky most effectively polarized with a Circular Polarizer: Point your index finger at the sun. With your thumb extended at a right angle (90°), rotate it around the axis of the index finger. It will point out the band of deepest blue from horizon to horizon.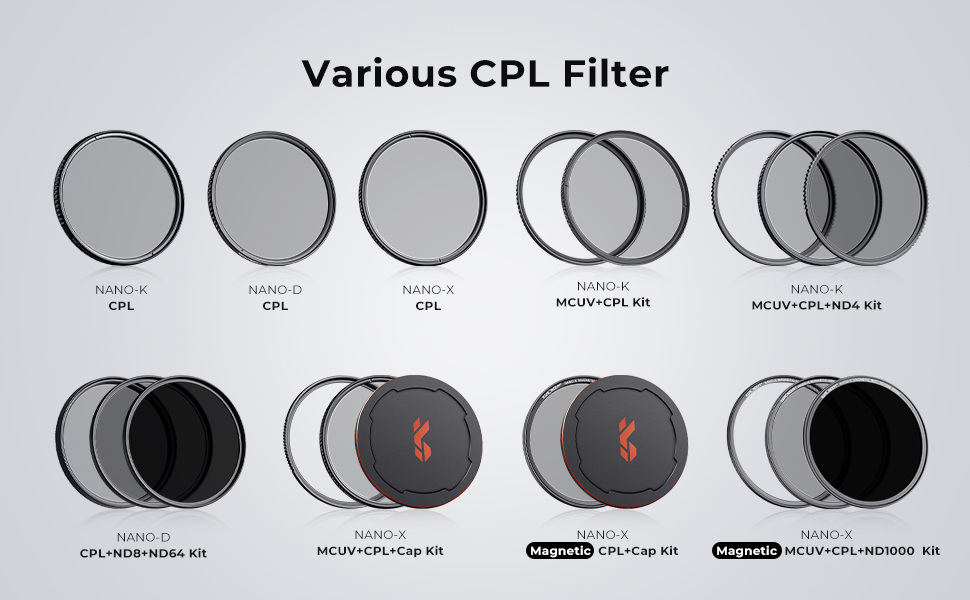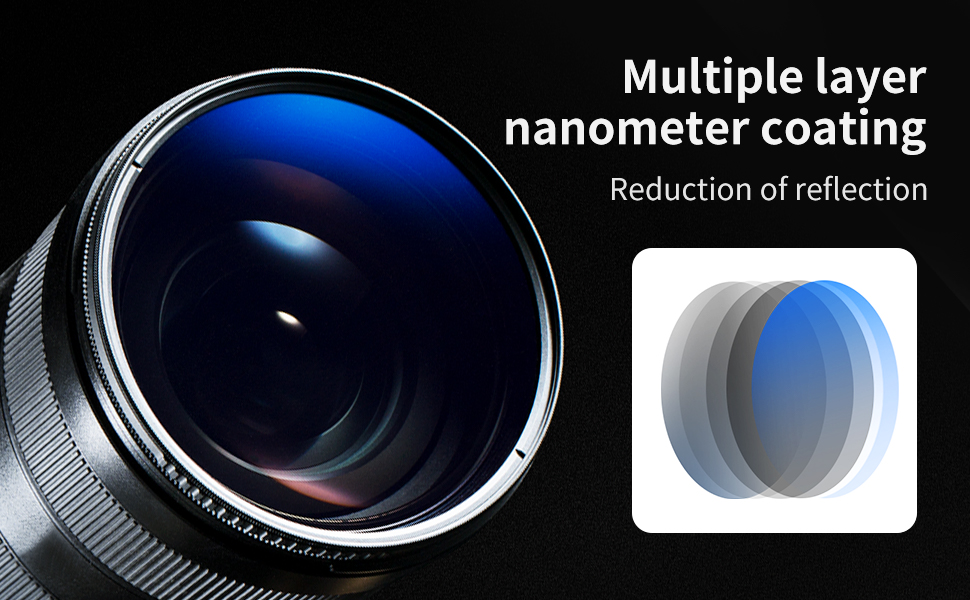 • The K&F Polarizers Filter Multi Resistance Coating (MRC) helps repel water, dust & grease, while also preventing ghosting.
• Ultra-thin filter frames to help avoid vignetting on super wide-angle lenses are also designed to hold a lens cap.
• These filters are equipped with a straight knurling edge for non-slip, easy attachment, and removal.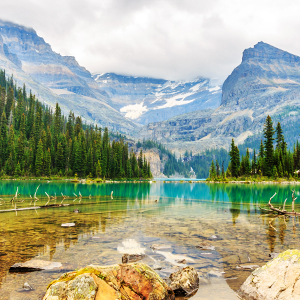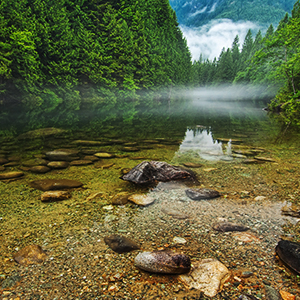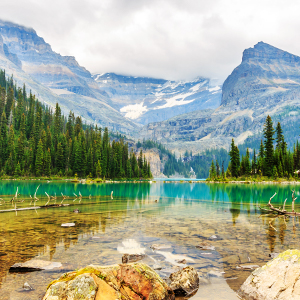 Rating

9 reviews.

0 reviews.

23 reviews.

1 reviews.

20 reviews.
Price
$22.99
$31.99

$50.99

$40.99

$38.99
$15.19
Model
KF01.1317
KF01.1792
KF01.973
SKU.1613
KF01.K77

Reflectivity

0.6%
0.2%
0.6%
0.6%

Size

77mm
77mm
77mm

Series

Nano-K series
Nano-X series
Nano-K series
Nano-K series

Recommended Scenes

Landscape Photography
Landscape photography
All Scenes
All Scenes

Function

Remove Glare/Enhance Color & Contrast
Eliminate stray light/ Color contrast enhancement
Protect Lens/Enhance Color & Contrast/Light Reduct
Protect Lens

Filter Material

Japanese AGC Glass
Japanese AGC Glass
Japanese AGC Glass

Multi-Coating

18 layers
28 layers
18 layers
18 layers

Waterproof

/
√
/
/

scratch-resistant

/
√
/
/

HD

/
√
/
/

Transmittance

∕
∕
0.94

Antireflection

√
×

Filter Thickness

5.5mm
5.5mm
3.3mm

Ring Material

Aviation aluminum alloy
Aviation aluminum alloy
Aviation aluminum alloy
Deeper, richer colors. Nice filter.
TIP: This filter is made to be able to rotate w/o unscrewing...make sure you realize there is a second/thinner ring that does the tightening to your lens. I didn't realize this at first and thought the filter was stuck on the lens.I compared this filter to a competitors UV and no filter. Both at F4.0, 50mm, 1/1000 on my Sigma 17-50 f2.8 lens on my Canon. I could clearly see that the colors have more depth and richness to them. It is a lot more evident in the orange and greens of the plants in my photos. It does darken the image a bit but in well lit environments this will be on my lens from now on!Filter arrived in a plastic hardcase, sealed in a plastic bag. Filter ring has a nice grip knurl for adjustment.
22/12/2019
Great filter
Got this filter to go to on my trip and was impressed. Helped me get the best shots and did not have distortion on the pictures. Helped bring out the blues in the sky and paired with the nd helped me get some nice shots where the water looks clearer vs when using it without it. I would recommend this to filter to anyone. Great value for great features.
20/02/2020
6 out of 10******
Not every camera product works on every camera.That is why I'm not like others rating this at zero or one.Just returning it.Ghost double images, and blurry photos. Remove the filter,and images return to pure sharp. Put on a 100mm-400mm f5.6 Lii.With 6dii in bright sunlight. Who knows?Hitting the return button now.
12/11/2020
Love this filter
Excellent filter for the price. I think every lens should have a polarizing filter, so bought this for my new lens. I can't tell you how nice the glass is....just buy it and see what you think. I don't think that you will be disappointed at this price-point!
16/08/2020
Great quality
I bought a new 77 mm circular polarizer glass filter and I am surprised how well it removes glare and reflection for the low price it is offered. And how it makes color deeper and dramatic especially when shooting the sky. Overall, it's great quality and very useful to have as a photographer.
25/02/2020
These images belong to KENTFAITH end users.
There are no faqs for this product.
K&F Circular Polarizer Glass Filter Ultra-Slim, Multi Coated
Do You Know How Your K&F Concept Filters be Produced? | One-day Tour in Production Line
How to check your lens size
Filter
Reflectivity
0.6%
Size
77mm
Series
Nano-K series
Recommended Scenes
Landscape Photography
Function
Remove Glare/Enhance Color & Contrast
Filter Material
Japanese AGC Glass
Multi-Coating
18 layers
Waterproof
/
scratch-resistant
/
HD
/
Transmittance
∕
Antireflection
Pattern
√
Filter Thickness
5.5mm
Shape
Circle
Ring Material
Aviation aluminum alloy