NV5100 Night Vision Binoculars, Digital Infrared 2K HD Telescope, 500-600m Visible Distance in Dark, with 2.5 inch TFT Screen, with Day and Night 7 Class IR, for hunting, monitoring wildlife
Brand:

KENTFAITH

Buy KENTFAITH nv5100 night vision binoculars, digital infrared 2k hd telescope, 500-600m visible distance in dark, with 2.5 inch tft screen, with day and night 7 class ir, for hunting, monitoring wildlife online, worldwide free shipping and 30 days return guarantee.

KF33.063

SKU:

KF33.063

160.99

https://www.kentfaith.com/KF33.063_nv5100-night-vision-binoculars
Description
* 【Day and night dual-purpose FHD high-definition shooting】 Infrared night vision telescope with 6x large window eyepiece magnification and shooting function, using 5W 850nm infrared LED and CMOS starlight sensor to ensure long-distance observation without infrared light in low light; 7-level infrared at night mode, the farthest visible range is 500-600m. Superior optical clarity allows you to hunt in the dark, monitor wildlife, explore wilderness or protect your farm without external lighting;
* 【2.5-inch TFT inner screen】 The night vision binoculars use a 2.5-inch TFT 2K high-definition screen, and 4x digital zoom allows you to see farther. If you like hunting at night, reconnaissance, surveillance, camping, exploring caves, fishing and boating at night, wildlife observation and photography, etc., this night vision goggle can shoot 2048x1536 pixel images and 1920x1080P@30FPS video;
* 【Easy Operation】The night vision goggles are made of high-quality materials and ergonomic grip design, which is very comfortable and non-slip. The hidden design of binoculars and 6 large silicone buttons make the product more beautiful and practical. In addition, the brightness of the night vision device can be adjusted, so that you can observe things at night without being noticed;
* 【2-in-1 charging mode】Can install 8 AA batteries or use power bank to charge, long battery life. This night vision binoculars can be used for at least 6 hours when the infrared night vision function is turned on, and at least 20 hours during the day when the infrared function is turned off; (battery not included)
* 【Adventurer Essentials】Whether you are a nature adventurer who likes to explore and observe the wilderness, a camper, or just want to enjoy the occasional hunting or fishing trip. It is a really efficient digital infrared night vision binoculars with 4 modes. IP54-rated waterproof, suitable for use in harsh weather conditions, plus a carrying strap and storage bag for easy portability, these adult binoculars are just what you need!
Shipping
Free shipping worldwide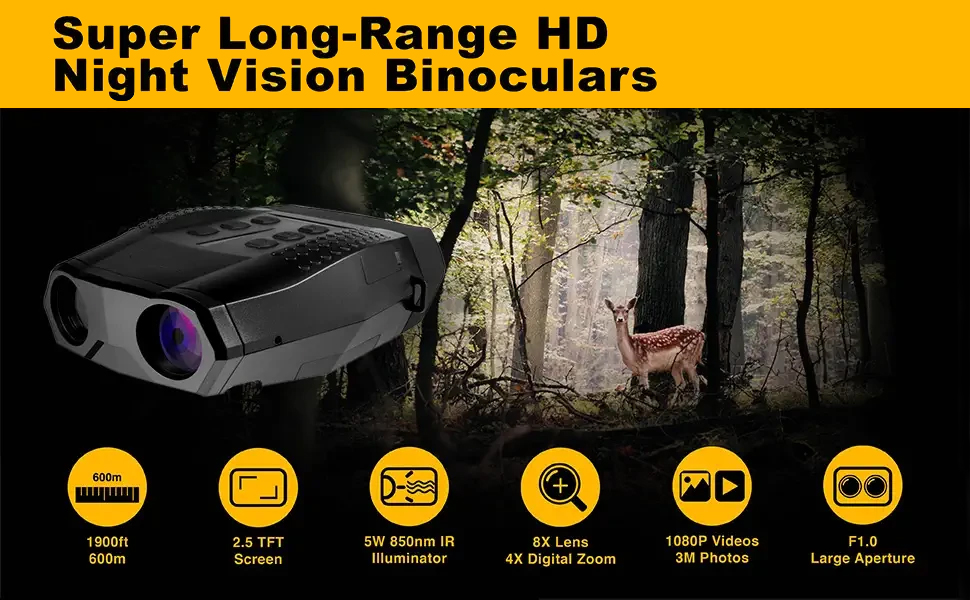 True automatic infrared night vision binoculars,a professional grade and portable IR night vision device, are specially developed for hunting and outdoor enthusiasts. It can capture a distance of 1900 feet in 100% darkness, obtain 1080P high-definition videos and 3MP photos, and transfer them to computers via USB, share your wonderful moments on social media with your friends. 5W 850nm strong infrared spotlight, with 7-level adjustment, you can adjust it according to different outdoor environments. We hope them make your outdoor exploration fun.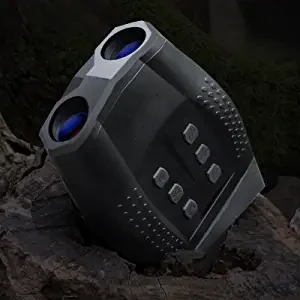 Specification
Super long viewing range in 100% darkness, 1900ft/600m
Picture resolution: 3M (2048x1536), 2M (1600x1200), 1M (1280x960), VGA (640x480)
Video resolution: 1080P (1920x1080P@30FPS ), 960P (1280x960@30FPS ), VGA (640x480@30FPS)
5W 850nm strong infrared spotlight with 7-level adjustment
8x lens, 4x digital zoom, 6x eyepiece magnifying window-4 observation modes
Lens: F1.2 large aperture, f=35mm, automatic filter
Lens angle: 10.3°
Automatic shutdown: 1 min/3 min/5 min/OFF
Storage: up to 32GTF card(The card not included
IP54 waterproof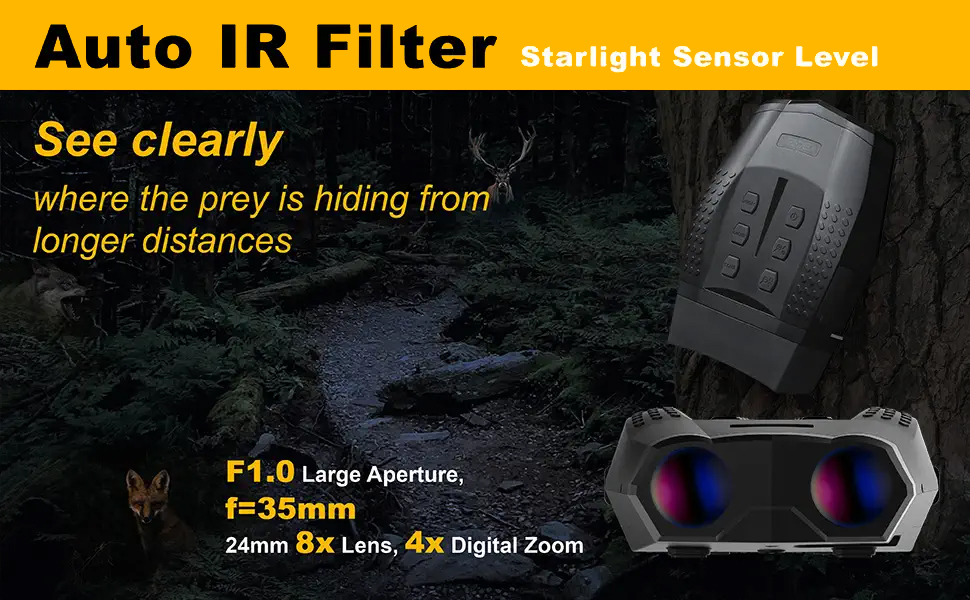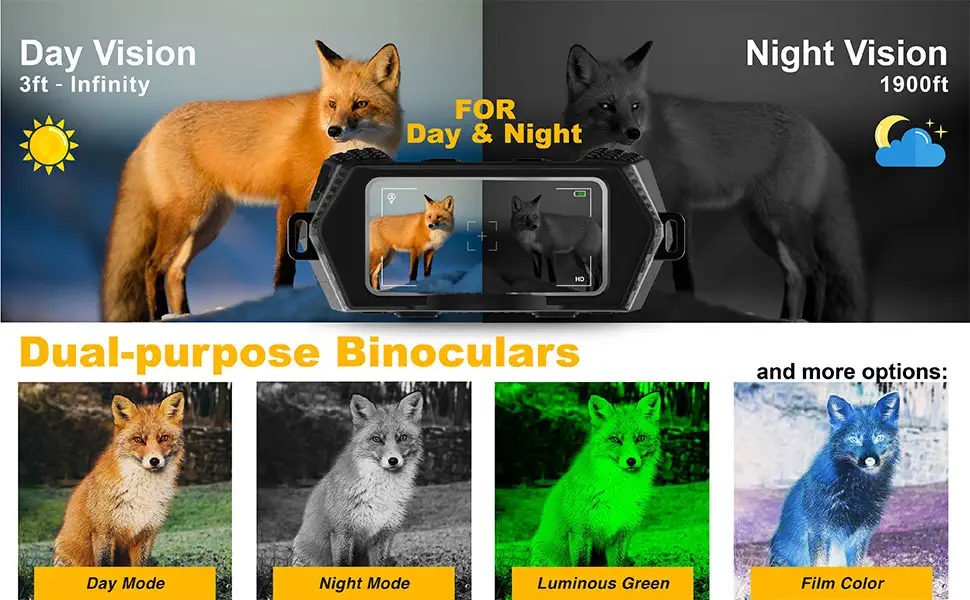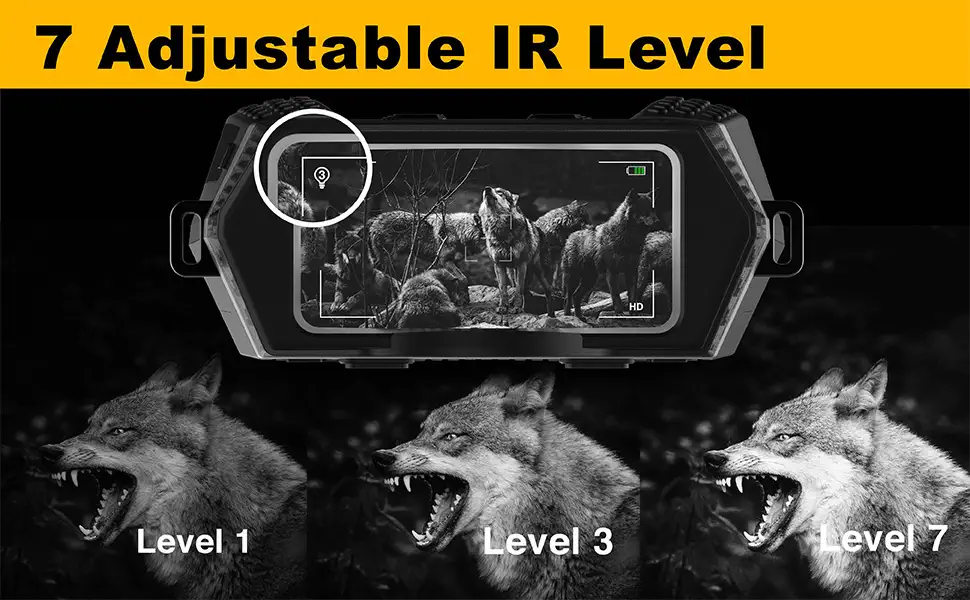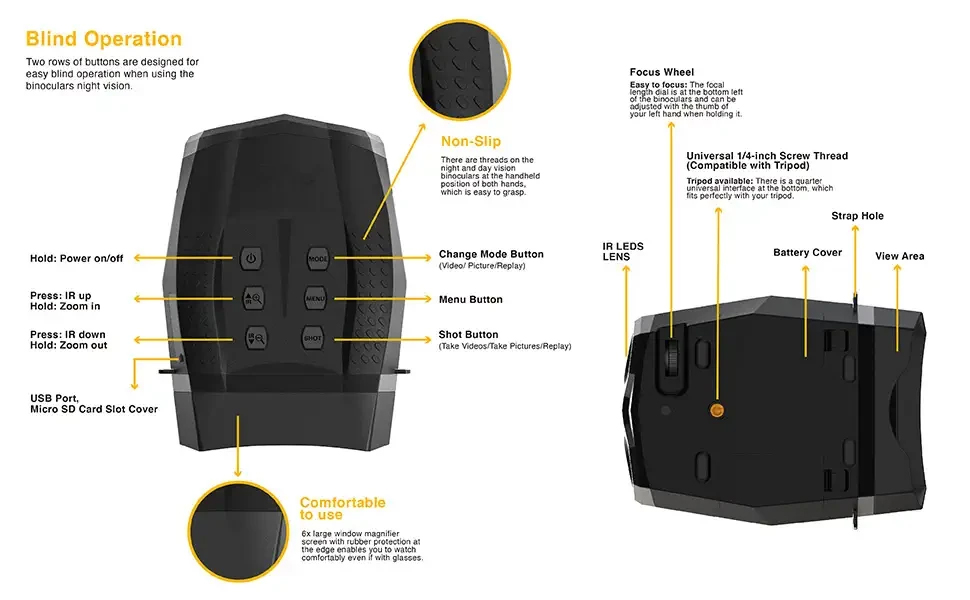 There are no reviews for this product.
There are no faqs for this product.