Large Camera Backpack DSLR/SLR Camera Bag Fits 14-15 Inch Laptop 15L with Tripod Holder&Laptop Compartment Compatible with Canon/Nikon/Sony/Olympus Black + Grey
To
United States
Expedited Shipping
3-5
business days
Buy KENTFAITH large camera backpack dslr/slr camera bag fits 14-15 inch laptop 15l with tripod holder&laptop compartment compatible with canon/nikon/sony/olympus black + grey online, worldwide free shipping and 30 days return guarantee.

KF13.044V5

SKU:

KF13.044V5

68.99

https://www.kentfaith.com/KF13.044V5_camera-backpack-professional-large-capacity-waterproof-photography-bag-for-dslr-cameras-14-15-inch-laptop-tripod-lenses
Description
* 【Large-Capacity】Dimension: 11"* 5.5"* 16.9"; Holds 2 DSLR cameras + 4 lenses + tripod + laptop and other photography accessories.
* 【Independent Laptop Compartment】There is a special designed compartment for laptop up to 14-15 inch, which separates the laptop from other items.
* 【Quality Material】Water-repellant and tear-resistant 840D high-density nylon, sturdy and durable. PE board + EPE foam divider,strong and solid, shock relief and decompression, to protect your equipment well.
* 【Easy Travel】Breathable air-mesh straps and ergonomic well-padded back keep you cool and comfortable; Adjustable chest belt keeps the straps tight on you shoulders to reduce weight; Also can easy mounting onto a draw-bar box through the back part when travel.
* 【More Storage Pockets】Special internal pockets designed for storing photographic spare parts, such as filters, adapter rings, etc. There is also pockets for card that is made of elastic band; Side pockets can carry tripod and water bottle.
Shipping
To
United States
Expedited Shipping
3-5
business days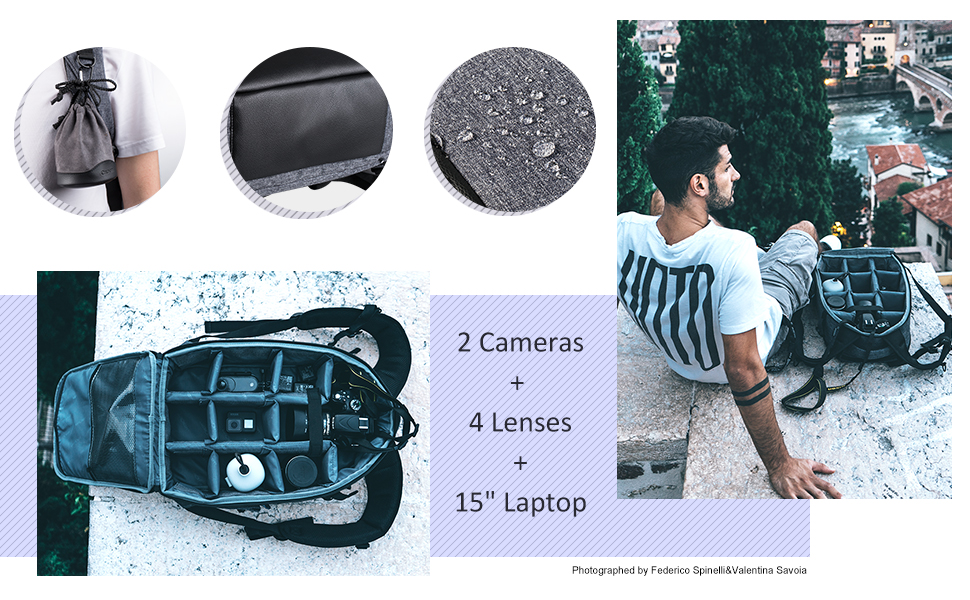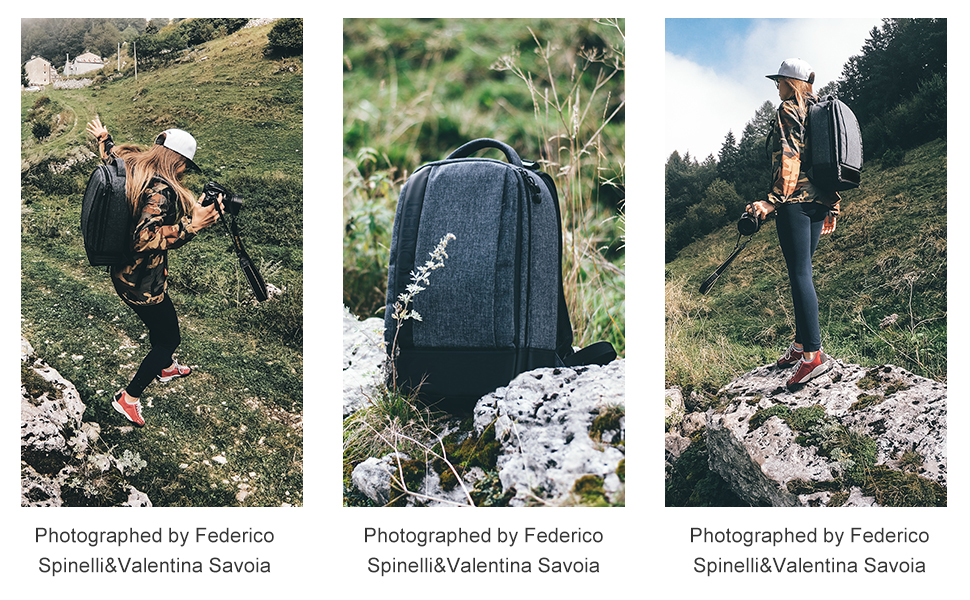 All Reviews
Image

All Star

5 Star

4 Star

3 Star

2 Star

1 Star
Strong bag with lots of room
I'm so happy with this bag. I can fit just about everything I need in it. Seems to be made of good strong material. Not waterproof but it comes with a waterproof cover.
26/03/2021
Love it!!
Durable. Easy to arrange
15/02/2021
New to This
I only just decided to get a full camera bag to carry more gear. I wanted to invest in an essay familiar way with carrying around camera equipment for my novice camera habits. This bag proved to be a good purchase thus far. I enjoy the padding and strength of the velcro. I do have to play around with how everything fits inside, but no real complains. I don't do anything over the top with it our outdoor and rugged but the bag seems to be really good quality. Happy with my purchase thus far.
26/12/2020
Pleased with purchase
Product well made, seems durable and is stylish
04/12/2020
Too new to review well
The bag is a good size and has plenty of separators. I was able to put everything I wanted into it with separators left. I only carry one camaera body and 2 lenses. A lot of other stuff however. I have not taken it far yet so I am unable to speak to its durability.
29/11/2020
wish I had switched to one of these years ago
I work a lot (40-50 weddings per year and another 100 or so commercial and portrait shoots) and I've been plotting along with my old camera bag for the longest time. I wasn't sure if I'd like something like this but it is ideal for a photographer that uses more than one camera and likes to leave a 70-200mm lens on one and a wider lens on another camera and avoid having to remove lenses a lot. I can lay the down in their little areas and still fit in a speedlight, card wallet and laptop and the cameras don't rub or move and I can carry easily on my back freeing up my hands and no longer having the camera bag slide off of my shoulder while my hands are full. It's great! I should buy another in case these aren't available when my current one wears out.
18/11/2020
Classy Camera bag
Enough separators and protects my camera gear secured.
30/10/2020
Great for any photographer
I saw the initial reviews about the poor Velcro. Figured I could return if it wasn't supporting my camera and lenses. I first took it to the beach for a week. It worked extremely well, I didn't use the waterproof bag, the resistant material was more than enough. i was able to store 2 camera bodies and with 4 of my lens along with other accessories. Also held my tripod well, wasn't falling off or knocking around. i don't know why other reviews say the Velcro is bad. i had no issue with it. i do know Velcro gets weaker the more they apply and remove. Perhaps they kept wearing it out, im unsure. i do know that my experience was seamless. i would buy again, already referred to friends interested in photography/videography
22/10/2020
Small but can fit a lot of gear.
I like the size of this backpack, it's not too big it's the perfect size and I can fit a lot of gear. I also like that it doesn't look like a camera backpack. It's solid and durable, this bag is perfect if your not planning on carrying a lot of gear. This can be a great everyday camera bag.
16/10/2020
Just do it already!
Great bag for all my camera gear and drone. Easy to configure!
13/10/2020
These images belong to KENTFAITH end users.
Bag Compartment
Carrying/Transport Options
Backpack
Camera Support Strap
Yes
Camera Compartment
2
Lens Compartment
4
Laptop Compartment Screen Size
14 inch
Bag Exterior
Exterior Color
Black + Grey
Exterior Dimensions
28*15*43cm
Exterior Material
Polyester
Type of Closure
Buckle
Rain Cover
Yes
Bag Interior
Maximum Volume
14L
Weight
1.05kg