Camera Backpack Professional Large Capacity Waterproof Photography Bag for DSLR Cameras,14-15 inch Laptop,Tripod,Lenses
New customer gift package
To
United States
Expedited Shipping
3-5
business days
Buy KENTFAITH camera backpack professional large capacity waterproof photography bag for dslr cameras,14-15 inch laptop,tripod,lenses online, worldwide free shipping and 30 days return guarantee.

KF13.044V5

SKU:

KF13.044V5

74.99

https://www.kentfaith.com/KF13.044V5_camera-backpack-professional-large-capacity-waterproof-photography-bag-for-dslr-cameras-14-15-inch-laptop-tripod-lenses
Description
* 【Large-Capacity】Dimension: 11"* 5.5"* 16.9"; Holds 2 DSLR cameras + 4 lenses + tripod + laptop and other photography accessories.
* 【Independent Laptop Compartment】There is a special designed compartment for laptop up to 14-15 inch, which separates the laptop from other items.
* 【Quality Material】Water-repellant and tear-resistant 840D high-density nylon, sturdy and durable. PE board + EPE foam divider,strong and solid, shock relief and decompression, to protect your equipment well.
* 【Easy Travel】Breathable air-mesh straps and ergonomic well-padded back keep you cool and comfortable; Adjustable chest belt keeps the straps tight on you shoulders to reduce weight; Also can easy mounting onto a draw-bar box through the back part when travel.
* 【More Storage Pockets】Special internal pockets designed for storing photographic spare parts, such as filters, adapter rings, etc. There is also pockets for card that is made of elastic band; Side pockets can carry tripod and water bottle.
Shipping
To
United States
Expedited Shipping
3-5
business days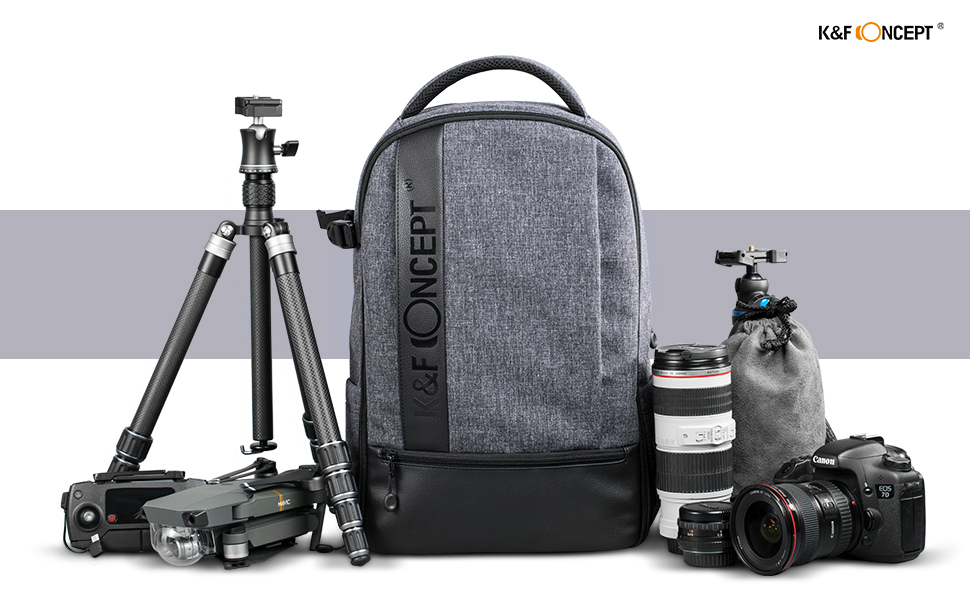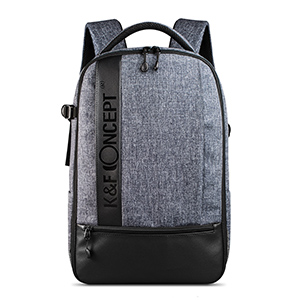 K&F Concept Camera Backpack 044V5
1. Updated the rear independent computer compartment.
The rear bag can hold a laptop up to 15", more comfortable to carry.
2. Removable padded dividers & rich storage
The front layer of the bag has 3 transparent mesh bags, which can conveniently store photographic spare parts, such as filters, adapter rings, chargers, data cables, etc.
The elastic band is easy to access and put in order to ensure the safety of the camera.
3. External loading with a water bottle bag on the side.
4. Front pocket for quick access to small items, such as cleaning supplies.
5. Rear panel can be placed on the trolley case, making travel easier.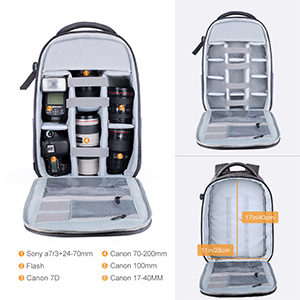 1. Large Capacity & Free Combination
Holds 2 cameras + 4 lenses + 15" laptop + flashes and other accessories to meet your needs.
Adjustable padded dividers for freely manage the room as you like. Place internal compartment upward so it won't falling when your camera is on it.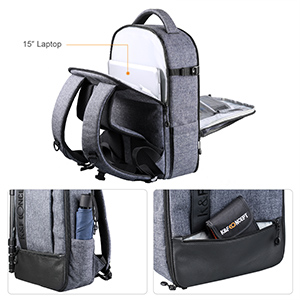 2. Separate Functional Compartments
Dedicated compartment for carrying laptop up to 15" with back padded.
Side pocket for water bottle or umbrella on the one side, and a compact tripod can be held with a strap on the one side.
Front pocket for easily accessing to small accessories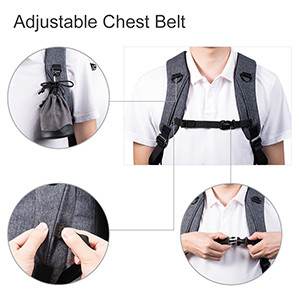 3. Special Designed Straps & Belts
Ergonomic shoulder harness and waist belt provide excellent support and even weight distribution for all day shooting.
Hanging buckles on the shoulder straps for small lens pouch or other accessories, save the space inside the bag and free your hands while walking.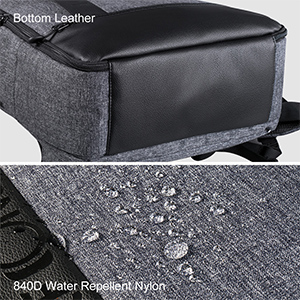 4. Waterproof & High Density Material
Bottom leather for reducing the wear and tear of placing outdoors, and easy to clean the dust and stains by wiping.
840D high density water repellent nylon with an extra rain cover with the backpack, being along with you through rainy days in UK.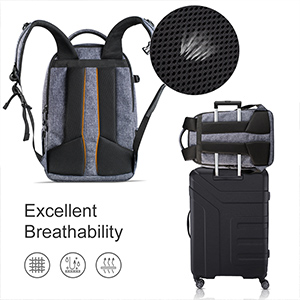 5. Comfortable & Convenient
Breathable mesh pad keeps your back from stuffy, comfortable to wear for long time shooting.
The camera backpack can be placed on the trolley case, convenient for long distance shooting and making travel easier.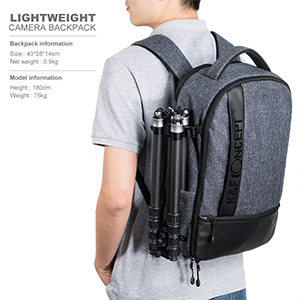 6. Tripod Holder & Reflective Logo
A tripod belt on the side for fastening the tripod, and put part of legs in the side pocket to get more stable storage.
The logo on the front of the bag has a reflective effect, makes you more visible and safe with the bag at night.
Strong bag with lots of room
I'm so happy with this bag. I can fit just about everything I need in it. Seems to be made of good strong material. Not waterproof but it comes with a waterproof cover.
26/03/2021
Love it!!
Durable. Easy to arrange
15/02/2021
New to This
I only just decided to get a full camera bag to carry more gear. I wanted to invest in an essay familiar way with carrying around camera equipment for my novice camera habits. This bag proved to be a good purchase thus far. I enjoy the padding and strength of the velcro. I do have to play around with how everything fits inside, but no real complains. I don't do anything over the top with it our outdoor and rugged but the bag seems to be really good quality. Happy with my purchase thus far.
26/12/2020
Pleased with purchase
Product well made, seems durable and is stylish
04/12/2020
Too new to review well
The bag is a good size and has plenty of separators. I was able to put everything I wanted into it with separators left. I only carry one camaera body and 2 lenses. A lot of other stuff however. I have not taken it far yet so I am unable to speak to its durability.
29/11/2020
wish I had switched to one of these years ago
I work a lot (40-50 weddings per year and another 100 or so commercial and portrait shoots) and I've been plotting along with my old camera bag for the longest time. I wasn't sure if I'd like something like this but it is ideal for a photographer that uses more than one camera and likes to leave a 70-200mm lens on one and a wider lens on another camera and avoid having to remove lenses a lot. I can lay the down in their little areas and still fit in a speedlight, card wallet and laptop and the cameras don't rub or move and I can carry easily on my back freeing up my hands and no longer having the camera bag slide off of my shoulder while my hands are full. It's great! I should buy another in case these aren't available when my current one wears out.
18/11/2020
Classy Camera bag
Enough separators and protects my camera gear secured.
30/10/2020
Great for any photographer
I saw the initial reviews about the poor Velcro. Figured I could return if it wasn't supporting my camera and lenses. I first took it to the beach for a week. It worked extremely well, I didn't use the waterproof bag, the resistant material was more than enough. i was able to store 2 camera bodies and with 4 of my lens along with other accessories. Also held my tripod well, wasn't falling off or knocking around. i don't know why other reviews say the Velcro is bad. i had no issue with it. i do know Velcro gets weaker the more they apply and remove. Perhaps they kept wearing it out, im unsure. i do know that my experience was seamless. i would buy again, already referred to friends interested in photography/videography
22/10/2020
Small but can fit a lot of gear.
I like the size of this backpack, it's not too big it's the perfect size and I can fit a lot of gear. I also like that it doesn't look like a camera backpack. It's solid and durable, this bag is perfect if your not planning on carrying a lot of gear. This can be a great everyday camera bag.
16/10/2020
Just do it already!
Great bag for all my camera gear and drone. Easy to configure!
13/10/2020
These images belong to KENTFAITH end users.
Bag Compartment
Carrying/Transport Options
Backpack
Camera Support Strap
Yes
Camera Compartment
2
Lens Compartment
4
Laptop Compartment Screen Size
14 inch
Bag Exterior
Exterior Color
Black + Grey
Exterior Dimensions
28*15*43cm
Exterior Material
Polyester
Type of Closure
Buckle
Rain Cover
Yes
Bag Interior
Maximum Volume
14L
Weight
1.05kg