K&F Concept Alpha Backpack 25L Single & Double Shoulder Free Switch Photography Bag, Fits 16" Laptop & Tripod for DSLR/SLR with Raincover
Free shipping to eligible country
Brand:

KENTFAITH

Buy KENTFAITH k&f concept alpha backpack 25l single & double shoulder free switch photography bag, fits 16" laptop & tripod for dslr/slr with raincover online, worldwide free shipping and 30 days return guarantee.

KF13.105

SKU:

KF13.105

189.99

https://www.kentfaith.com/KF13.105_kf-concept-alpha-backpack-25L-camera-backpack-for-men-and-women-16inch-laptop-backpack-for-photographer
Buy 2 get 5% off, Buy 3 get 10% off, buy 6 get 20% off
Description
* 【K&F Concept Alpha Backpack 25L Large-Capacity】Dimension: 17.3" * 11.6" * 9.4" . The camera bag holds 2 Cameras + 4 Lenses + 15.6" laptop (Independent) +10.5" tablet (Independent)+ Tripod,and other essentials. The suspended top layer can hold the travel necessity like clothes, towels, or other personal stuff. The Alpha Backpack is designed for professional photographers and enthusiasts alike, with a high degree of freedom and detail to meet different loading and protection needs. It can be used to take professional video equipment with a full range of focal lengths on a road trip; whether it's a professional shoot or a commuter holiday, the Alpha backpack is well suited to a diverse range of users and changing environments.
* 【Customizable Compartments & Quick Access】As a product that covers the professional photography crowd, the Alpha backpack has the same modular divider components as other professional backpacks. In addition to this, an exclusive magic top compartment design allows the top compartment to effectively secure and protect equipment while allowing the user to allocate the top and bottom compartments in proportion to their needs in order to carry unconventional sizes of equipment. At the same time, the interior has a large number of individual compartments to provide the user with an organized way of organizing. Multiple opening options and double side opening structure allow both left-handed and right-handed users to quickly access their equipment, and for larger equipment, the larger opening top compartment is also a good access location. The front-opening door makes it easy for users to organize their equipment before setting off.
* 【Backpack to Sling Free to Switch】 The shoulder straps are attached with an exclusive swivel quick release buckle and the two straps can be detached and combined to suit the user's needs. Whether you prefer the heavy-duty shoulder mode or the slanting ranger mode, the Alpha backpack has it all.
* 【Extended Loading Function】The Alpha backpack has a number of loading points on the outside, and with the two included accessory straps, you can carry extra equipment such as tripods and sleeping bags, or tie off your clothes to the outside of the backpack after warming up to avoid taking up equipment space. The top compartment is expandable, with an additional capacity of about 5 cans of Coke.
* 【Safety & Comfort】The original H-shaped flexible frame structure provides excellent protection against crushing during commuting and travel. The Alpha backpack is made of waterproof and abrasion-resistant fabric with high-performance waterproof zips to handle different environments with ease. The main zip is designed with an anti-theft clasp to prevent accidental opening of the zip, and in case of unexpected bad weather, the user can remove the rain cover stored at the bottom of the backpack for enhancing protection. The zoned support back structure takes full account of support and comfort for long periods of carrying. In dual shoulder mode, the angle of the shoulder straps automatically adjusts to the user's shoulder width body type, providing the same level of comfort for different users.
Shipping
Free shipping to eligible country
Sale
Buy 2 get 5% off, Buy 3 get 10% off, buy 6 get 20% off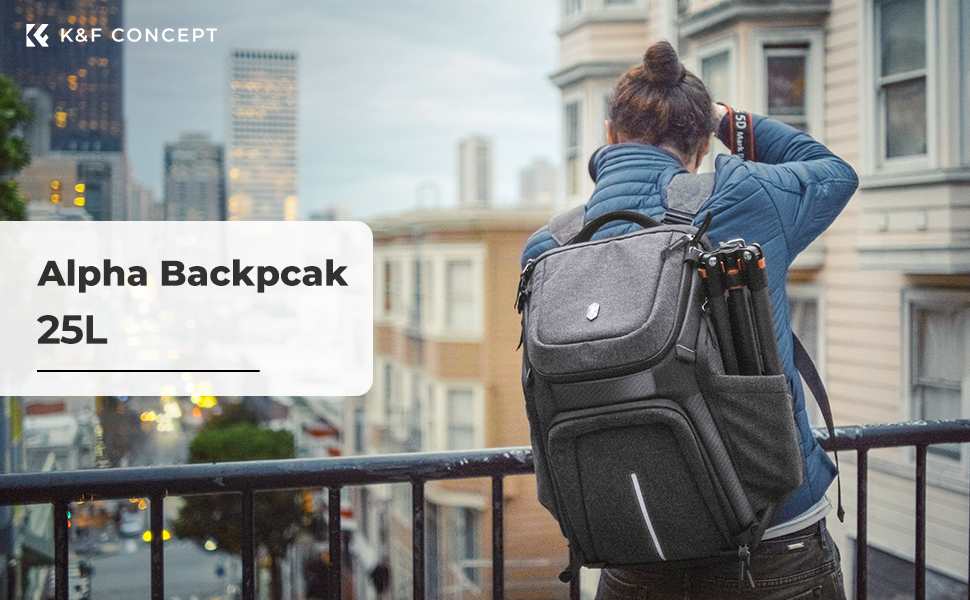 K&F Concept Alpha Camera Backpack 25L with Tripod Holder and 16 inch Laptop Compartment
Features:
• Multifunctional camera and laptop backpack for Photographers
• Dedicated camera compartment with removable padded dividers,free Combination;
fits 2 cameras + multiple lenses, more possibilities for you to explore
• Dedicated computer space fits up to 15.6 inch laptop
• 2 sides multiple point for hang things, can be used to hold stabilizers, tripods and bottle, etc
• Patented design with movable shoulder straps to suit different body types
• Detachable shoulder straps, single and double free shoulder switchable
• This camera backpack is made of waterproof material and comes with an additional rain cover to give your equipment double protection
• Dimensions & Weight: 17.3 x 11.6 x 9.4inches / 30 x 24 x 45cm, 4.63lb / 2.1kg
Package includes:
• 1 x Alpha Camera backpack
• 1 x Waterproof Raincover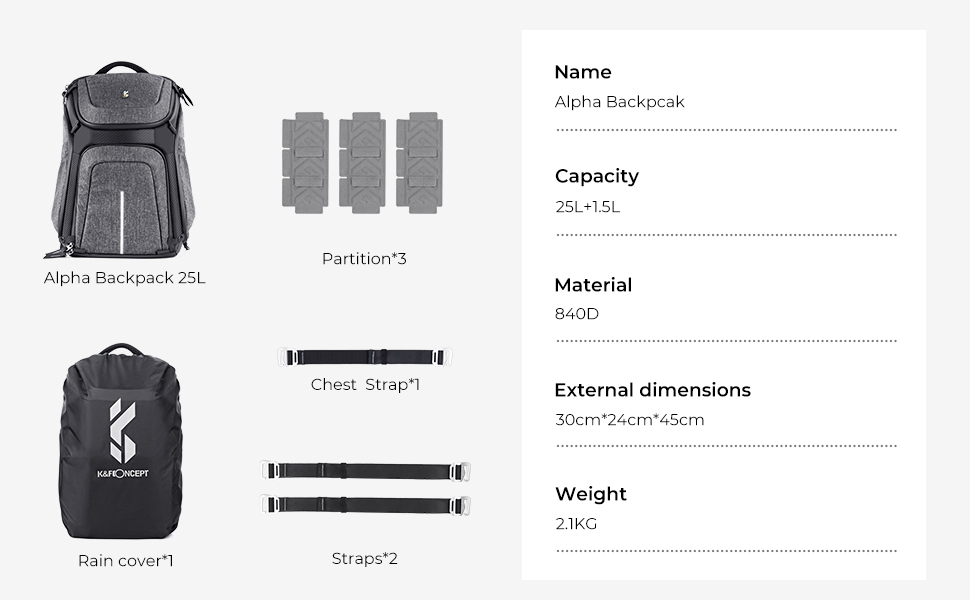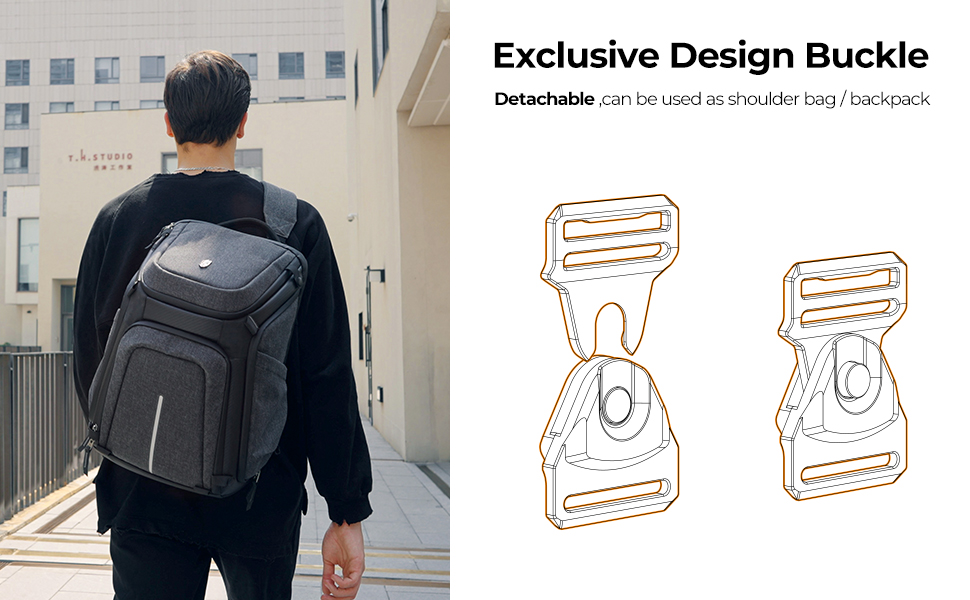 2 in 1 - Professional Camera Backpack
The detachable shoulder strap allows the bag to be switched freely between one and two shoulders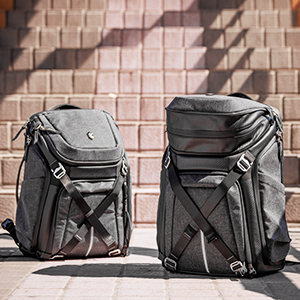 Magic top extension design
Expandable top for flexible storage and capacity at your fingertips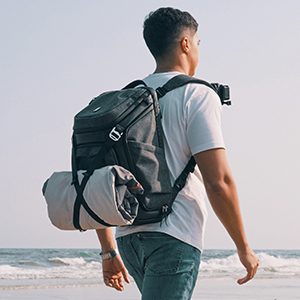 Back lightweight load-carrying system
The back can store blankets, Out shooting or picnics, take your pick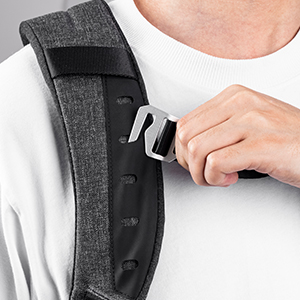 Chest clasp setting
The quick-access chest buckle takes the weight off your shoulders and allows you to move with less swaying
Thoughtful side pocket design
Side accessory bag easy to stored battery, lens cap, Data cables, SD card and some small items.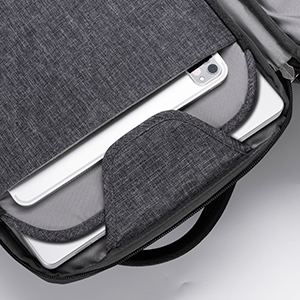 15.6" laptop compartment
Fits up to 15.6 inch thin laptop & 12.9 inch Ipad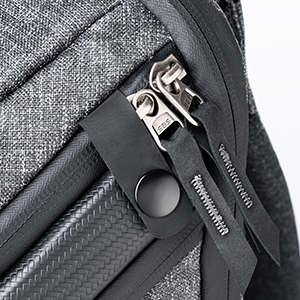 Anti-theft zip design
Anti-theft zips for better protection of our property and equipment, no more worries when travelling

Rating

0 reviews.

44 reviews.

24 reviews.

225 reviews.

25 reviews.
Price
$189.99

$154.99

$104.99

$169.99

$79.99

$359.99

$179.99

$209.99

$99.99

Model
KF13.105
KF13.096
KF13.087
KF13.107
KF13.104

Camera Support Strap

Yes
Yes
Yes
Yes
Yes

Camera Compartment

2
1
1
2
2

Lens Compartment

Multiple Lenses
2
3+
6
Multiple Lenses

Laptop Compartment Screen Size

15.6"
15 inch
15 inch
17 inch
15.6 inch

Exterior Dimensions

30*24*45cm
30*17*45cm
27.5*14.5*44cm
34*22*54cm
32*18*45cm

Exterior Material

Polyester
Nylon
Nylon
Polyester
Washed Canvas

Type of Closure

Buckle
Metal button
Buckle
Buckle
Buckle

Rain Cover

Yes
Yes
Yes
Yes
Yes

Maximum Volume

25L
18L
20L
32L
20.6L

Weight

2.1kg
1.2kg
1.56kg
2.9kg
1.76kg
There are no reviews for this product.
There are no faqs for this product.
K&F Concept Alpha Backpack 25L Camera Backpack for Men and Women
Bag Compartment
Carrying/Transport Options
Single & Double Shoulder Free Switch
Camera Support Strap
Yes
Camera Compartment
2
Lens Compartment
Multiple Lenses
Laptop Compartment Screen Size
15.6"
Bag Exterior
Exterior Color
Gray/Black
Exterior Dimensions
30*24*45cm
Exterior Material
Polyester
Type of Closure
Buckle
Rain Cover
Yes
Bag Interior
Maximum Volume
25L
Weight
2.1kg