Minolta MD MC Lenses to Sony E Lens Mount Adapter K&F Concept M15101 Lens Adapter
K&F M15101 Minolta MD MC Lenses to Sony E Lens Mount Adapter Allow Minolta MD MC mount lenses used on Sony E NEX/Alpha camera body.

KF06.073

SKU:

KF06.073

27.99

https://www.kentfaith.com/KF06.073_minolta-md-to-sony-nex-e-mount-adapter
Description
* Allow Minolta MD MC mount lenses used on Sony E NEX/Alpha camera body.
* Compatible with Sony E NEX/Alpha camera includes: Sony NEX-3, NEX-3C, NEX-3N, NEX-5, NEX-5C, NEX-5N, NEX-5R, NEX-5T, NEX-6, NEX-7, NEX-C3, NEX-F3, NEX-VG10, a7, a7R, a9, a3000, a3500, a5000, a5100, a6000, a6300, a6500, a7S, a7 II, a7S II, a7R II, a7R III etc.
* Made of brass and aluminum. Stable,precise and durable construction.Manually operated.Infinity focus allowed.
* For heavy medium format lenses, we suggest to use with a telephoto bracket and a tripod to balance its weight when shoot.
* 30 Days No Reason Return,12 months quality guarantee,100% satisfaction assurance.
Shipping
Free shipping worldwide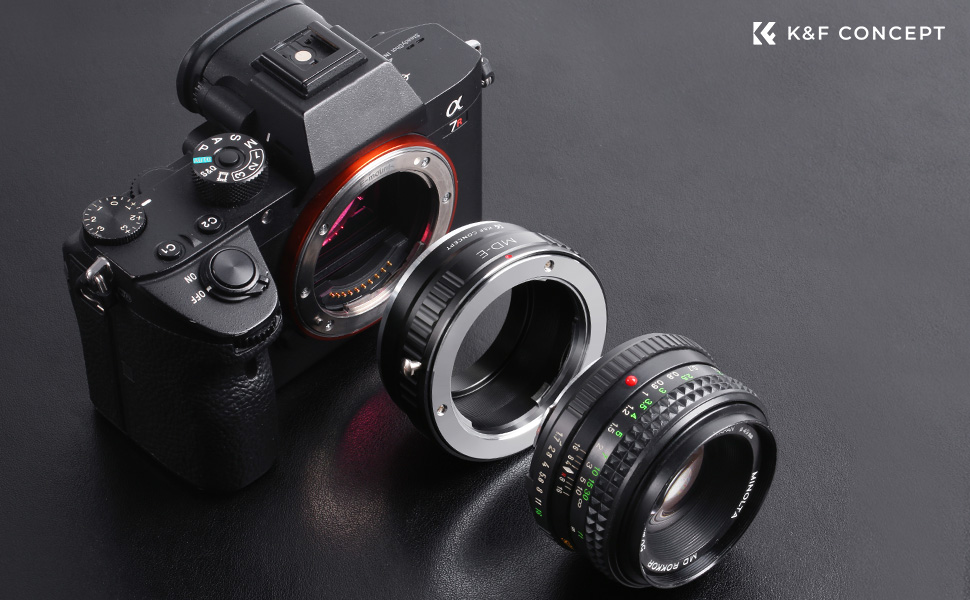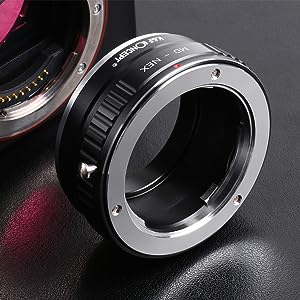 Why Choose K&F Concept?
• Professional camera accessory manufacturer.
• Premium Picked up Product.
• Dedicated to provide products in high quality.
• Made of metal sealing ring, much tighter. Laser fonts, much durable.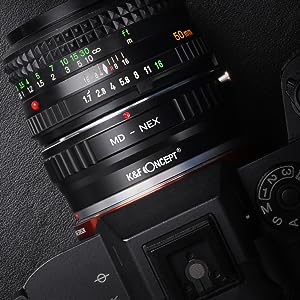 Features:
• This adapter gives you the ability to use your irreplaceable prime lens and saves you the cost of purchasing new lenses.
• The adapters are precision made to insure the perfect fit.
• Allows focus infinity.
• Diaphragm control of the lens is set manually.
• High quality and compact.
• Made of brass and aluminum (not plastic).
• 100% Brand New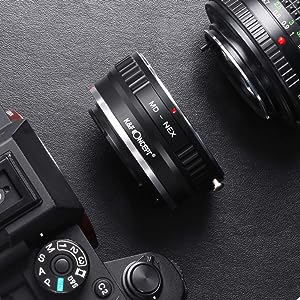 Suitable for:
• Minolta MD Lens

• Sony E-Mount Mirrorless Cameras - Popular models include: • Sony Alpha α7 I / II / III, α7R I / II / III / IV, α7S I / II / III, α9 I / II, α1

• Sony Alpha α3000, α3500, α5000, α5100, α6000, m α6100, α6300, α6400, α6500, α6600
• Sony Alpha NEX-3, NEX-C3, NEX-F3, NEX-3N, NEX-5, NEX-5N, NEX-5R, NEX-5T, NEX-6, NEX-7
• Sony Smartshot QX1, QX10, QX30, QX100, Sony Security SNC-VB770, UMC-S3C
• Sony Handicam NEX-VG10, NEX-VG20, NEX-VG30, NEX-VG900,NXCAM NEX-EA50, NEX-FS100, NEX-FS700, NEX-FS700R
• Sony XDCAM FS5, FS5 II, FS7, FS7 II, FX3, FX6, FX9, Sony CineAlta VENICE

Note: If your camera indicated "lens is not properly installed", please modify the camera menu settings. Usually called the release the shutter the lens is not installed", you can modify the settings to allow.Specifically refer to the camera manual.
All Reviews
Image

All Star

5 Star

4 Star

3 Star

2 Star

1 Star
100% Solid
The product arrived very quickly. It feels heavy and of good quality. I have not been able to attach it to my Sony Alpha7ii yet, but it works well with the four legacy Minolta MD or MC lenses I have. Here's an image of a MD TELE ROKKOR-X 200mm 1:4 lens with the adapter in place. It fits VERY snuggly, and locks in place with a solid click. NO looseness whatsoever. The silver push pin on the adepter is a bit loose but does its job. Just line the adapter's red dot up with the red dot on the lens body and turn clockwise until it stops, (it will still feel a little loose at that point), then push a little harder for another eighth of a turn until you hear the adapter "click" and lock to the lens. The red dots on the adapter and on the lens body will be about an inch and a quarter from each other once the adapter is fully locked to the lens. If the adapter fits as snugly to the camera body as it does to the lens, it is going to be a very solid feeling experience. Note image #3 where the point of the pencil shows the adapter's pin locking in to a notch in the lens's stock Minolta mount.
02/09/2020
It works as it is supposed to without compromise
Fits correctly and the price is competitive.
24/07/2020
Awesome adapter
Update: Aug 14th 2020:I first want to say that you need to ignore a whole lot of the negative comments. Somebody said that the adapter puts the lens "too far away" from the sensor so the pictures are soft and how it's not god... then they use a different brand which it's this product with a different name. First off the images I provided are from my vintage lenses. NOTHING is wrong with the adapter. Even the vintage kit lens shoots fine if not better than the stock lens. People, if you are trying to mount an MD lens to your sony then well yea, expect it to be a tad longer... or do you want that aperture rod to bust your sensor?Secondly the images you see were taken with this adaptor. Specs are belowThe portraits were taken with the Vivitar 70-210mm VMC No: 22521094 literally todayCamera: Sony A6000Aperture: F8,Speed: 1/60ISO: 500The food shot was taken with a Vivitar VMC Series 1 VMC No 28209039Camera: Sony A6000Aperture: F5.6,Speed: 1/140ISO: 320The last portrait was the first frame I took starting the session and it was before I noticed there was some piece of eyelash/hair on it and she was literally nano inches in-front of the focal plain. NOT the adapters fault. Anyways nothing is soft and is dead on every time. Learn to introduce lighting into your shots the right way to induce sharper images. Don't fall for people leaving false reviews because they can't shoot and/or can't clean their sensors/lenses.Bought it by mistake but took an old lens and it worked just fine. Ignore the ignorant comments about how the lens was hard to come off. You can clearly see if you simply take your thumb and slide it back(not push it down, not slide it over up and down...) if you slide it back from the lens, you can easily remove your lens without any work at all.It's sturdy and works like a charm for what it does. I will have to buy me some lenses that I can use but I mean the quality of this product is trusted. Look them up on youtube. hands down the best.
14/07/2020
Fits A7iii well
This is a basic adaptor so it doesn't transfer any information from lens to camera and obviously auto focus is out of the question. It's a cheap way of using old lenses on newer cameras and seems well built. It fits lens and camera very well. I'm using it to convert an old Minolta 50mm for my A7iii and it works great.
19/06/2020
Good fit with my Sony A7ii
The built quality of the adapter is great. It's all made of metal and it allows for infinity focus.It's a bit more difficult to fit in the MD/MC mount lenses on the adapter than it is on my Md mount cameras like my Minolta SRT101 and SRT201 but I prefer it this way as the lens sits tight in the adapter.
15/05/2020
Qualité excellente !!
Fonctione très bien aucun défaut sur l'image vraiment bonne qualité de fabrication
08/03/2020
Great way to upgrade old equipment.
Inherited a 60s Minolta camera and several lenses. Bought a Sony a6000 a few weeks ago and this has allowed me to use the better zoom lenses from my film camera. I get the best results in shutter priority mode and adjust aperture and iso as needed. Everything is manual, but it's a good refresher for photography skill.
26/02/2020
Superior product
This was the perfect marriage for my new Sony A6000 and some 40 year old glass that I inherited from a relative. It has given my photography a fresh breath of life by allowing me to use Minolta lenses that are nearly as old as I am on newer technology photographic equipment. Some of that vintage stuff is spectacular.
21/02/2020
Great adapter for Minolta camera!
Adapter allows us to use old lenses with our digital camera. Perfect!
14/01/2020
Great and solid adapter
Lets start by the point that its an adapter for manual lens. However, Its a solid product. Most of my minolta md lens work smoothly with it. The release button looks a little loose compared to the sturdiness of the whole piece but not a problem till now.
17/12/2019
These images belong to KENTFAITH end users.
K&F Objektiv Adapter (MD-NEX) - Alt- und Fremdobjektive benutzen
Adapter
Camera
NEX
Lens
MD
Ring Material