Nikon G/F/AI/AIS/D Lenses to Sony E Lens Mount Adapter K&F Concept M18101 Lens Adapter
Buy 99$-9$, 199$-25$, 299$-39$, 599$-100$
New customer gift package
To
United States
Expedited Shipping
3-5
business days
K&F M18101 Nikon G/F/AI/AIS/D Lenses to Sony E Lens Mount Adapter Allow Nikon G/F/AI/AIS/D mount lenses used on Sony E NEX/Alpha camera body.

KF06.070

SKU:

KF06.070

24.99

https://www.kentfaith.com/KF06.070_nikon-g-to-sony-nex-e-mount-adapter
Buy 99$-9$, 199$-25$, 299$-39$, 599$-100$
Description
* Allow Nikon G/F/AI/AIS/D mount lenses used on Sony E NEX/Alpha camera body.
* Compatible with Sony E NEX/Alpha camera includes: Sony NEX-3, NEX-3C, NEX-3N, NEX-5, NEX-5C, NEX-5N, NEX-5R, NEX-5T, NEX-6, NEX-7, NEX-C3, NEX-F3, NEX-VG10, a7, a7R, a9, a3000, a3500, a5000, a5100, a6000, a6300, a6500, a7S, a7 II, a7S II, a7R II, a7R III etc.
* Made of brass and aluminum. Stable,precise and durable construction.Manually operated.Infinity focus allowed.
* For heavy medium format lenses, we suggest to use with a telephoto bracket and a tripod to balance its weight when shoot.
* 30 Days No Reason Return,12 months quality guarantee,100% satisfaction assurance.
Shipping
To
United States
Expedited Shipping
3-5
business days
Sale
Buy 99$-9$, 199$-25$, 299$-39$, 599$-100$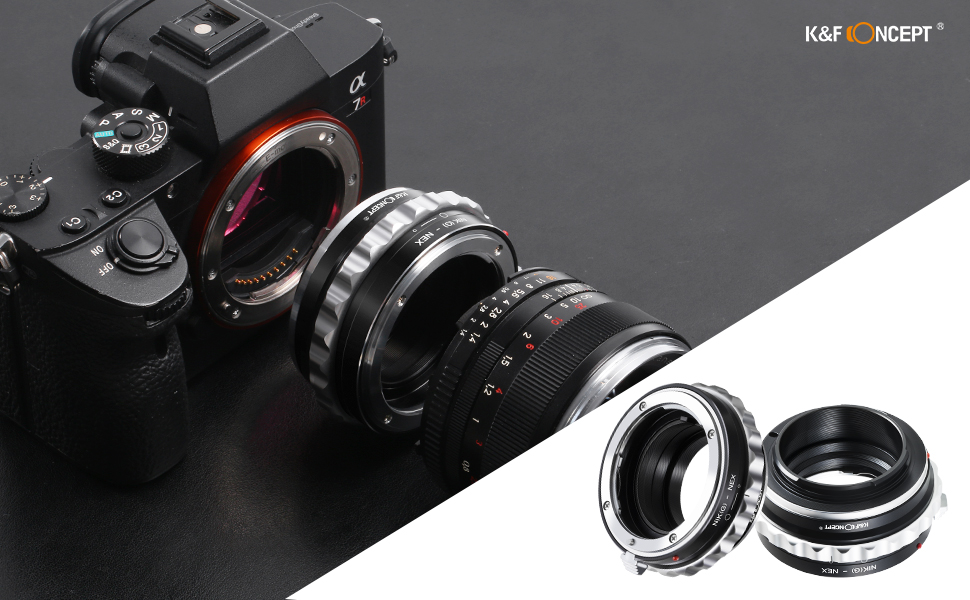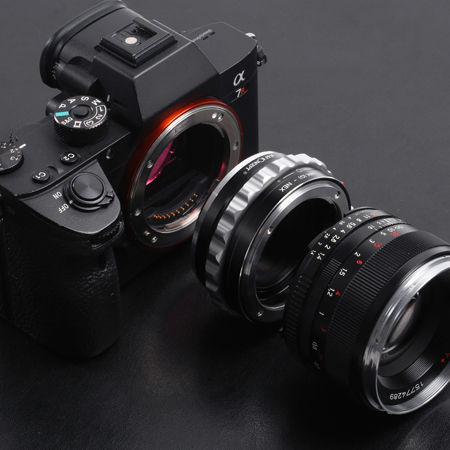 Why Choose K&F Concept?
• professional camera accessory manufacturer.
• Premium Picked up Product.
• Dedicated to provide products in high quality.
• Made of metal sealing ring, much tighter. Laser fonts, much durable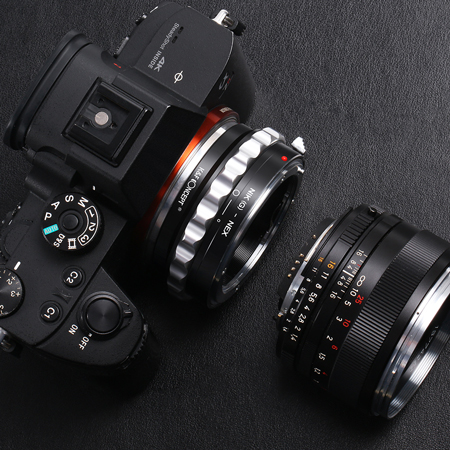 Features:
•This adapter gives you the ability to use your irreplaceable prime lens and saves you the cost of purchasing new lenses
•The adapters are precision made to insure the perfect fit.
•Allows focus infinity.
•Diaphragm control of the lens is set manually.
•High quality and compact.
•Nikon sony e mount adapter
•Made of brass and aluminum (not plastic).
•Color: Black 100% Brand New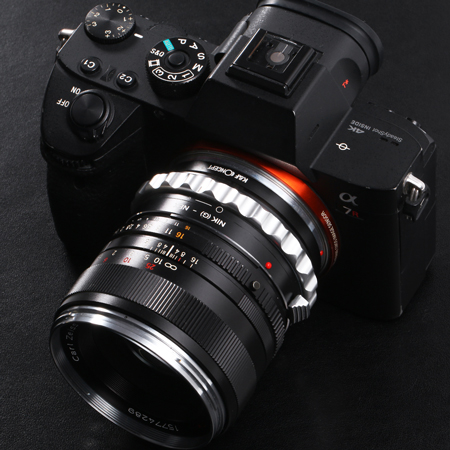 Suitable for:
•NIKON G lens
• Sony E Mount Camera
Package Includes:
• 1X Nikon(G)-NEX Lens Mount adapter ring
Note:
• if your camera indicated "lens is not properly installed", please modify the camera menu settings.
Usually called the release the shutter the lens is not installed", you can modify the settings to allow.
Specifically refer to the camera manual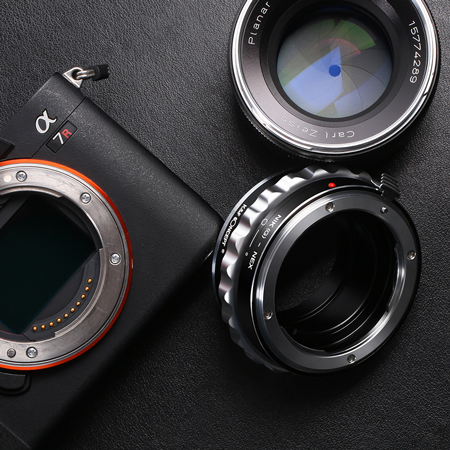 • Although the lens will fit physically, automatic diaphragm, auto-focusing, or any other
functions willnot operate while using this adapter.There is no electrical contacts in the
adapter ring. Full manual operation,manual focus, manual iris adjustment can be
achieved with body manual exposure,aperture priority exposure.In this case "stop-down mode"
will need to be used when metering since the lens does not have the ability to have its
aperture controlled by the camera body.You can shoot in Manual or Aperture Priority
Mode. Before use,set your camera Menu: "Shoot without lens".
All Reviews
Image

All Star

5 Star

4 Star

3 Star

2 Star

1 Star
Digital Lens Adapter [Nikon G to Sony E Lens Adapter]
Very good & good value Lens adapter for Nikon G to Sony E Lens Adapter. Very useful to exchange different makes of Lens to camers bodies. Extremely, handy & good value lens -Adapter.
30/08/2020
Very well made adapter
I'm now glad I can mount all of my Nikon lenses onto Sony a7ii. This Nikon G adapter can be used for my manual nikon mounted lens as well. What a bargain.
23/08/2020
Very well made and solidly built but infinity focus issue
I haven't tried it out yet but for the money it's excellent value - solidly built and feels like a quality lens adaptor. The aperture ring is click-stepped from open to closed but with a mirrorless camera body I'd recommend just leaving it in the closed position (the small hole icon on the barrel) and changing the aperture on the Nikon lens itself. It's much better than the other adaptor I bought a number of years ago for less than half the price. I'll be trying it out soon so I'll report back if any issues.UPDATE 01-Jun-2020:When using with a Nikkor macro lens I found that with the lens set at infinity, faraway objects are out of focus so if you're using this adaptor for landscapes or astro photography, be careful about getting the focus right.
28/05/2020
Was very oily - not the best machining and fit
The adapter works OK in general. Mounting smoothness is not close even to my cheapest Yashica body. After my first try, I notice the lens mount had oil on it. I looked again at the adapter and I found it was very oily. I took it apart and it turned out that there was a generous amount of grease inside. I dipped everything in mineral spirit then wash them using soap. I put the elements together without putting any grease and everything works fine as the moving elements are pretty loose. There are small paint losses here and there.
14/05/2020
pretty good for the price
for the price, theres no complaints, its high quality metal, came in a nice little box and seems very durablethe only downside i can think of is that if you decide to put the adapter on the lens before the body, its a bit tricky to get the lock to click into place but if you put the adapter onto the body first then put a lens on its perfectly fine.
22/03/2020
One must have product
Looking to get your nikon lenses work on sony. Go for this adapter. It is manual but focus peeking is going to help you in that matter. I am using most of my nikon lenses on my sony camera and this adapter allows aperture control through the aperture ring. Definitely a good product
13/03/2020
Good way to use your old vintage lenses
Excellent build quality!
10/01/2020
No Electrical communnication between lens & Camera
In my case I was looking to connect a Nikon fit Sigma Fisheye to a Sony A6300.The adapter successfully mated this lens & camera except that it is a "dumb" adapter in that there is no electrical control of lens features from the camera. So in my case, the lens had a manual focus ring, but Aperture was electrical so I was unable to change the F-stop from whatever setting the lens was at.So, if you are using this connector, ensure that any lens you wish to use has manual rings for all functions you need to be able to change.
24/11/2019
Big steps between clicks
Overall - did the job pretty well for what it is. Negatives - the apeture clicks have very long step in between the f stops (4 clicks in total). I would prefer it declicked and smooth, with an f stop mark on the body). It is possible to declick it following some tutorials online, though.
05/11/2019
Fits nice and works well!
Great quality adapter. Now I can use both my ais Nikkors and also my G series Nikons.
24/10/2019
These images belong to KENTFAITH end users.
There are no faqs for this product.
K&F Concept Nikon G Mount Lens to Sony E Mount Lens Adapter Unboxing and Quick Review (4K HD)
K&F Concept Sony a6000 mount adapter
K&F Concept Nikon AI(G) to NEX Adapter - Pemasangan, Pengoperasian, dan Kelebihan
Adapter
Camera
NEX
Lens
NIKON
Ring Material