67"/1.7m Aluminum Video Camera Tripod Transverse Center Column 22lbs/10kg Load Flexible for Canon Nikon Sony DSLR,T255A4+BH-28L (TM2515T1)
New customer gift package
To
United States
Expedited Shipping
3-5
business days
Free Shipping Worldwide. 30 Day No Reason Return. K&F Concept TM2515T1 67" Camera Tripod. Transverse Center Column. Strong Stability. Compact & Flexible.

KF09.085

SKU:

KF09.085

109.99

https://www.kentfaith.com/KF09.085_kf-concept-tm2515t-professional-60-inch-camera-tripod-horizontal-aluminium-tripods-portable-monopod-with-360-degree-ball-head-quick-release-plate-for-canon-nikon-sony-dslr-cameras
Description
* 【Transverse Center Column】Central column moves from 0 to 180 degrees, can be rotated 360°horizontally, to realize panorama shooting.
* 【Strong Stability】The weight of tripod is 1.65kg. 25mm large diameter aluminum alloy tube,the load capacity can reach 22.04lbs (10kg), provide security and stability support for your dslr Canon Nikon camera.
* 【Compact & Flexible】5 sections leg can adjust the height from 15.35'' to 60.62''; the N. weight with ball head is only 3.63lbs; can be 180°reflexed, which is super portable with tripod carrying bag.
* 【Metal Ball Head】Can be rotated 360 degrees, helping to expand camera activity range when panoramic shooting.(the bubble level help to judge the level and the accurate composition)
* 【Detachable Monopod】It can be turned into a monopod or walking stick alone to make your photography more diverse. (Note: For a camera with a telephoto zoom lens, you need to buy a tripod mount ring additionally or a telephoto lens bracket for better balance) . Note: two types of quick release plates will be shipped randomly.
Shipping
To
United States
Expedited Shipping
3-5
business days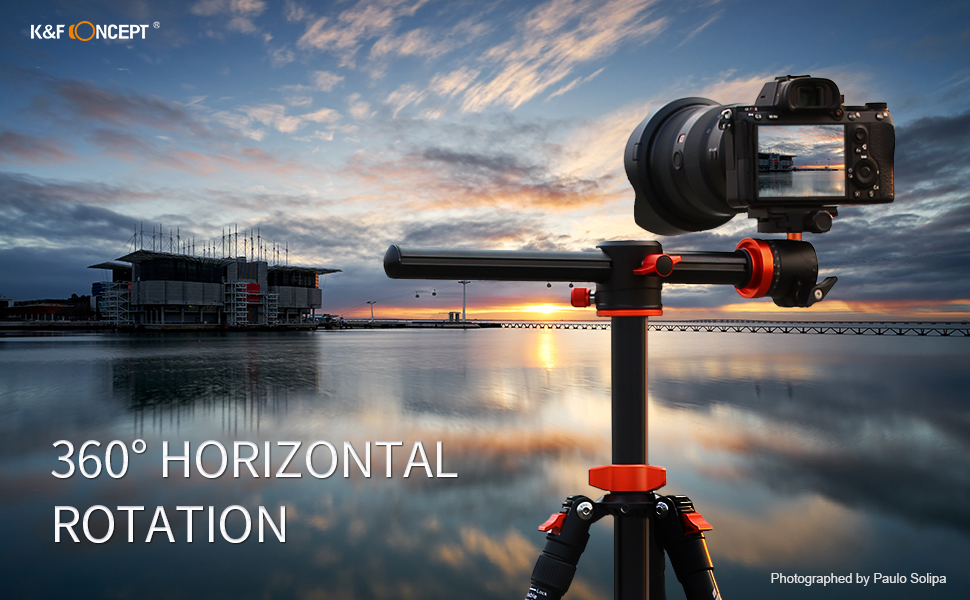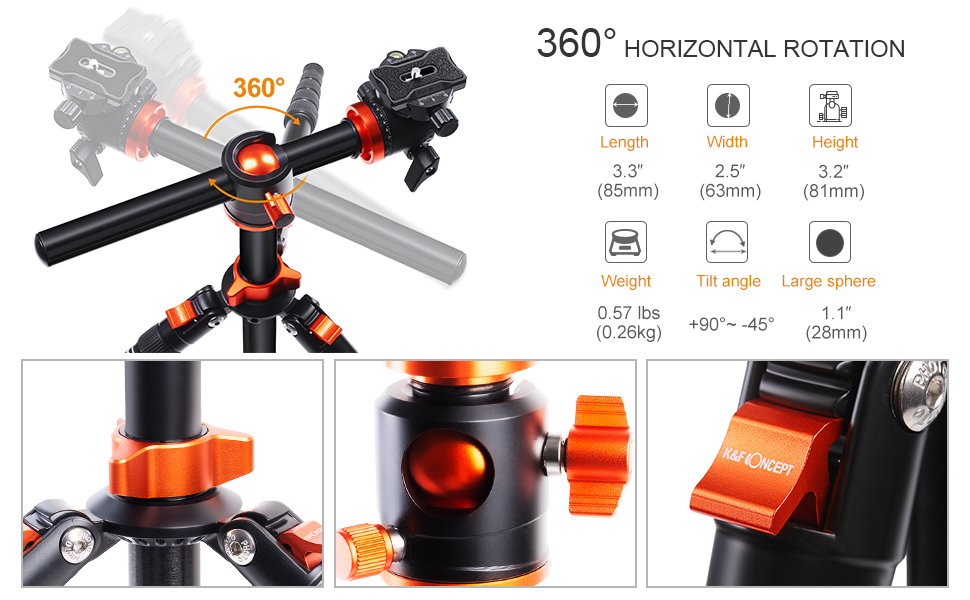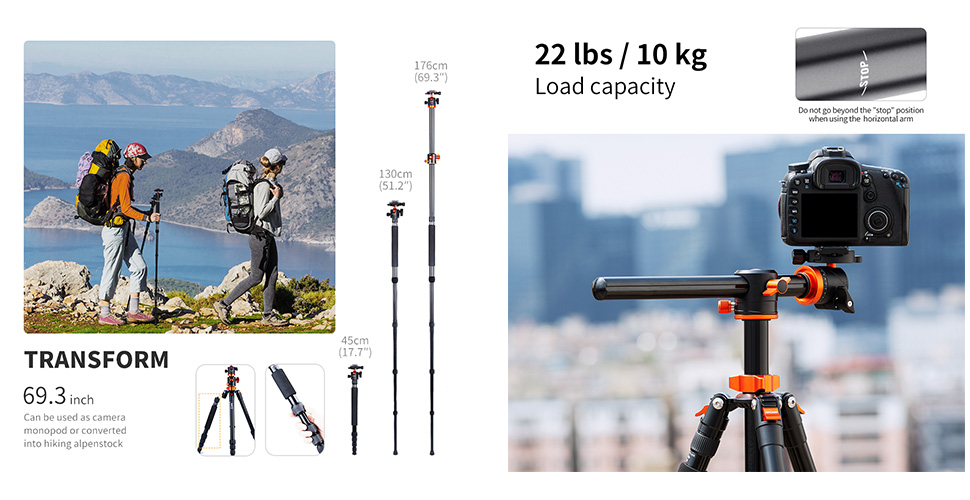 Specifications
| | |
| --- | --- |
| Material | Aluminum Aolly |
| Sections | 5 sections leg |
| Max Tube Diameter | 25mm diameter tube |
| Folded Height | 16.9 inch/43cm |
| Tripod Max Height | 67 inch/170cm |
| | |
| --- | --- |
| Load Capacity | Up to 22.04lbs (10kg) |
| Item weight with ball head | 3.72 ibls/1.69kg |
| Locking System | Metal spiral locking |
| With Monopod | Can be turned into a monopod |
| Transverse Center Column | Have Transverse Center Column Function |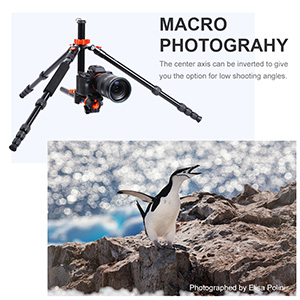 Inverted installation function
Center column inverted installation can realize the lowest angling shooting, macro shooting, panorama shooting and special photography.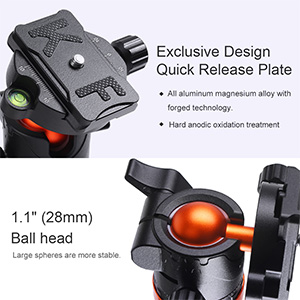 360° panorama ball head
The ball head can be rotated 360 degrees, then helps to improve camera activity range when panoramic shooting.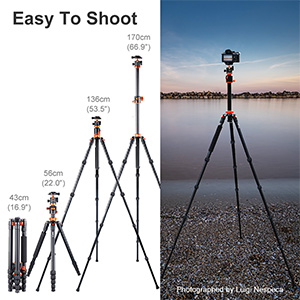 2 in-1 tripod monopod
This Tripod can be detached to be monopod and converted into alpenstock when removing one leg; Can be used in different occasions; suitable for high-angle tilt shooting and low-angle shooting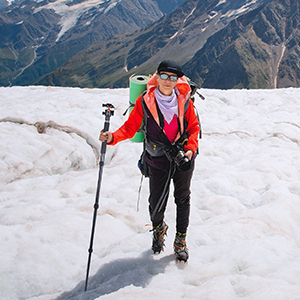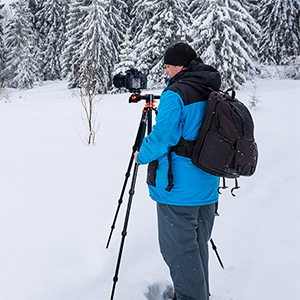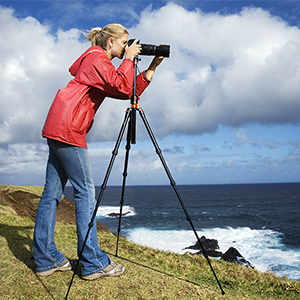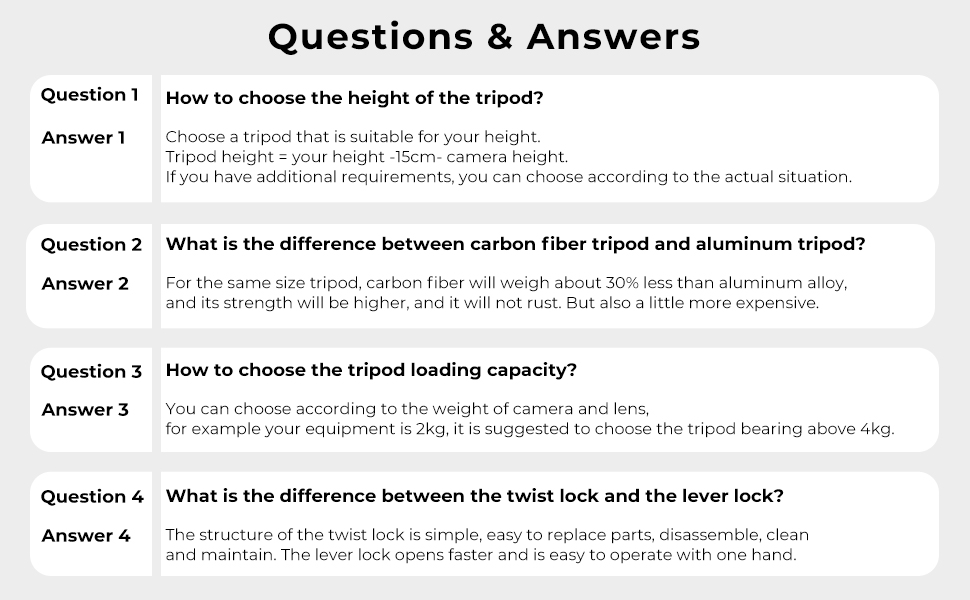 Rating

169 reviews.

69 reviews.

69 reviews.

128 reviews.
Price

$185.99

$109.99

$192.99

$119.99

$195.99

$125.99

$209.99

$129.99

Model
KF09.085
KF09.079V1
KF09.096
KF09.086

Load Capacity

10kg/22.05lbs
10kg/22.05lbs
10kg/22.05lbs
10kg/22.05lbs

Maximum Working Height

1700mm/67"
1830mm/72.05"
1920mm/75.59"
2385mm/93.90"

Minimum Working Height

560mm/22"
600mm/23.62"
615mm/24.21"
690mm/27.17"

Folded Length

430mm/17"
490mm/19.29"
500mm/19.69"
570mm/22.44"

Weight

1690g/3.7lbs
1835g/4.05lbs
1845g/4.07lbs
2000g/4.41lbs

Materials

Magnesium aluminum alloy
Magnesium aluminum alloy
Magnesium aluminum alloy
Magnesium aluminum alloy

Leg Lock Type

Twist Lock
Flip Lock
Twist Lock
Twist Lock

Leg Diameter

13-25mm/0.51-0.98"
16-25mm/0.63-0.98"
16-25mm/0.63-0.98"
16-25mm/0.63-0.98"
All Reviews
Image

All Star

5 Star

4 Star

3 Star

2 Star

1 Star
The perfect tripod!
ordered this tripod to hold my camera facing downwards, to record nail art videos. The tripod is exceptionally high quality and well worth the money. It also packs away into a bag so you can carry it around quickly.
17/04/2023
Very nice quality tripod
Got this on a daily deal and it really is a quality tripod Dampened head allows very smooth panning and the overhead boom is great Very well made and of a high quality build very stable and weight can be added to the centre from the centre hook
15/04/2023
great choice
great tripod for all situations. It's easy and quick to set up and lots to adjust for right setting and fine tuning. Not quite the lightest but it is sturdy so an acceptable payoff. Would highly recommend.
15/04/2023
Tripod for Photographer & Videographer
Try & Tested, Excellent Product, I would also recommend this Tripod for a hand held video camera. Had a very small problem, but the Excellent Customer Services, I got put it right straight away with No problem. Reccomend for Photograper & Videographer, and Excellent Customer Services.
12/04/2023
Good for the price, check the weight and hight before ordering.
bit heavier than I though, but that just means it doesn't move. Folds down to a very neat size. In hindsight I should have bought the taller one but the main reason I wanted this was to get close to the ground without the camera being upsidedown. For that purpose it's brilliant.
10/04/2023
Best tripod ever!!!
Best tripod I ever had in my entire life!!!!! That's all I have to say.
10/04/2023
Good for the price
Very good for a first tripod, several interesting features
10/04/2023
Well made and sturdy
Not had it long but it seems sturdy and well made. This is the first tripod I've had with a ball type fitting at the head. I must admit I'm not that keen, my camera with a telephoto lens fell forward (pointing to the ground) because I hadn't tightened it enough. With my old tripod that couldn't happen. This was my fault though and I'll have to get used to it. Just to add. With a heavy telephoto lens it's not so good. When mounted, the ball section is rigid enough but where the top section fits into the platform, it wobbles. So not the ball joint itself but where it's attached to the platform. This can be tightened I've since found, with the provided allen key.
08/04/2023
Brilliant piece of kit
My first experience with this type of tripod, and I am not disappointed. Feels as good as other bigger brands which cost much more. Thoroughly recommend it.
08/04/2023
Extremely versatile
have been very please with this lightweight travel tripod. It is extremely versatile and can be used in a range of configurations as shown in the attached photos. The build quality is very good, each of the legs has a latch that locks into place when extended. One of the legs is fully removable and can be used as a monopod. The tripod head has a fluid motion which is excellent for videography. Very pleased.
07/04/2023
These images belong to KENTFAITH end users.
K&F Concept Professional Camera Tripod Model KF09.086& KF09.102
TM2515T Professional 60 inch Camera Tripod Horizontal Aluminium Tripods
K&F Concept Lightweight Travel Tripod Model KF09.086
Tripod General
Load Capacity
10kg/22.05lbs
Maximum Working Height
1700mm/67"
Max Height without Center Column
1360mm/53.5"
Minimum Working Height
560mm/22"
Folded Length
430mm/17"
Weight
1690g/3.7lbs
Materials
Magnesium aluminum alloy
Tripod Head
Ball Head
Color
Orange/Black
Bubble Level
Tripod Legs
Leg Lock Type
Twist Lock
Leg Positions
3
Independent Leg Spread
Leg Sections
5
Leg Diameter
13-25mm/0.51-0.98"
Feet Features
Can be reversed 180° and folded
Tripod Center Column
Center Column Features
Transverse Center Column, Center Column Inversion
Center Column Sections
2